15 Sweet Baby Girl Bedroom Designs for Your Princess
As always, parents would allocate time in preparing for their little one's arrival. Having a nursery would lift the excitement of the parents to be. Designing and decorating it would be so much fun too. If you are expecting a girl, then the color pink would be the first to come in mind but there are also other colors that will look good for a baby girl bedroom too and you will see that in this list today.
We have gathered some images of baby girl bedrooms that have different motifs, styles and color schemes. Well, most of them are sort of traditional because of the use of laces and floral but we think that would be the case since we are dealing with baby girl nurseries here. But there are also other design approaches that you might like. So, come take a look at what we have gathered for you today.
Draw Me a Sheep Baby Design Boutique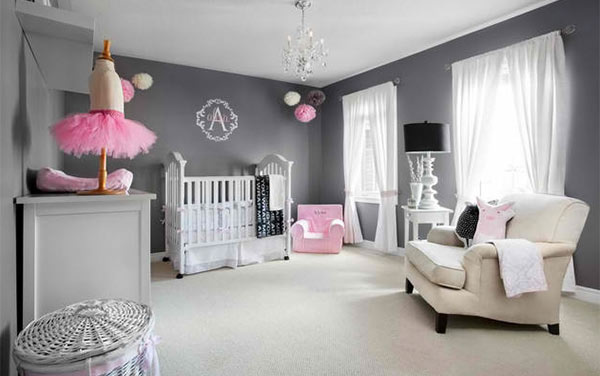 Pink and gray look pretty together! We like that tutu on top of the cabinet as well as the pink small chair from Land of Nod.
Girl Nursery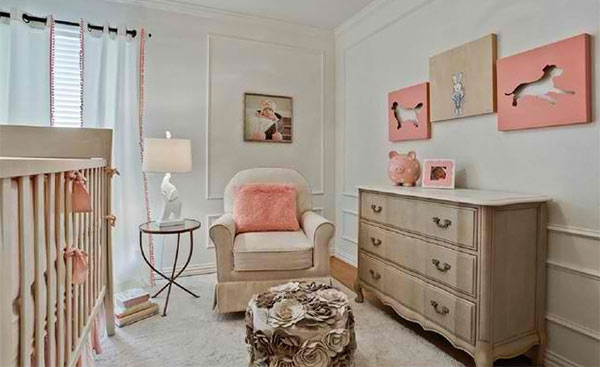 The walls and trim of the bedroom is both Dover White. The colors here are just relaxing with minimal decors.
Lakeside Home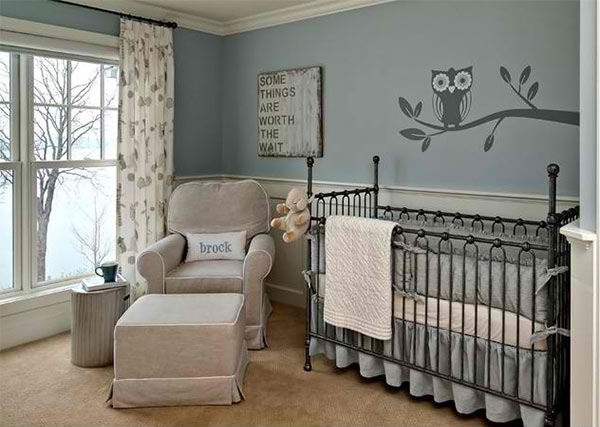 The homeowner purchased the chair for this space with a fabric that is natural linen color and the welt was a lighter color. The crib is from Restoration Hardware. That owl wall decal is so sweet!
Baby Girl Nursery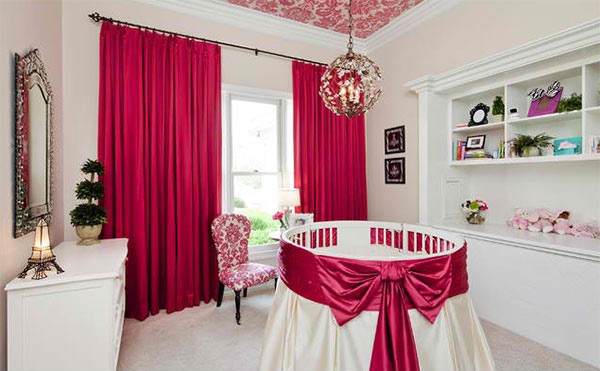 A bedroom really fit for a princess with a round crib wrapped in stunning hot pink ribbon. The chandelier is very pretty too!
Young & Fresh in Hoboken, NJ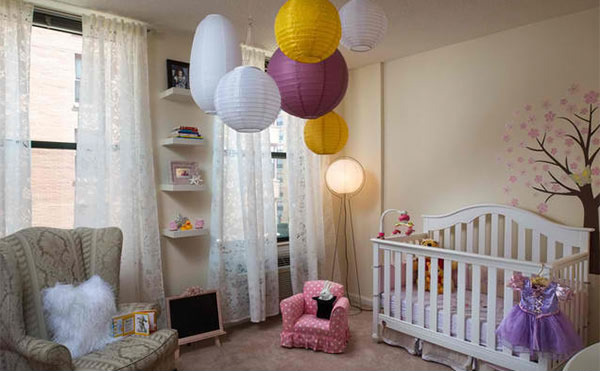 You could simply add some lanterns in different colors and shapes to bring some drama into a simple nursery like this.
Franklin Lakes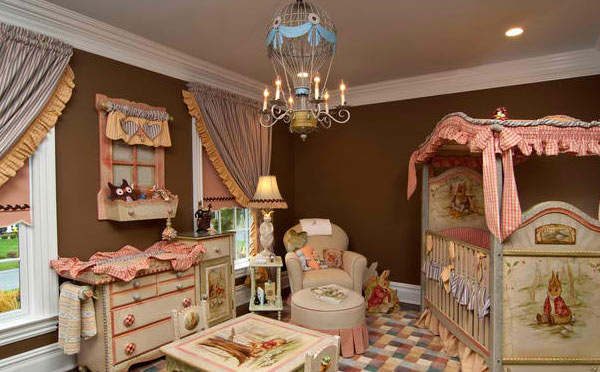 This Peter Rabbit traditional girl's nursery is a stunner! Its combination of colors and patterns are really cute. But what we really love most is the chandelier shaped like a hot air balloon!
Addison's Nursery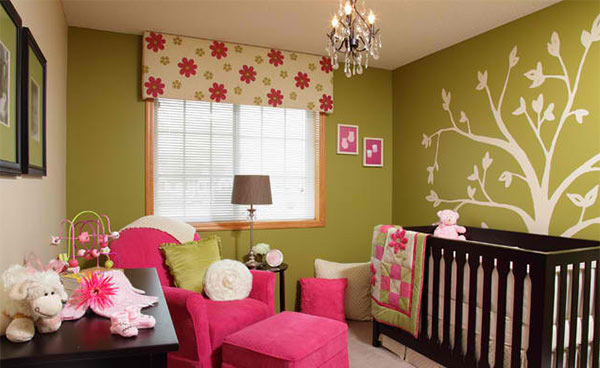 "Our clients were looking for a bright color palette for their daughter's nursery. A bright floral-print fabric in fuchsia and green became the starting point for the design, and was used to cover a cornice board above the window. Che Bella Interiors also had an artist paint a whimsical tree design on the wall behind the crib. The couple was able to purchase their fuchsia chair secondhand – a great find! The clients grandmother got wind of the project and created a quilt to match the room as a surprise for the parents to be," defined Che Bella Interiors.
Gray and Yellow Chevron Crib Bedding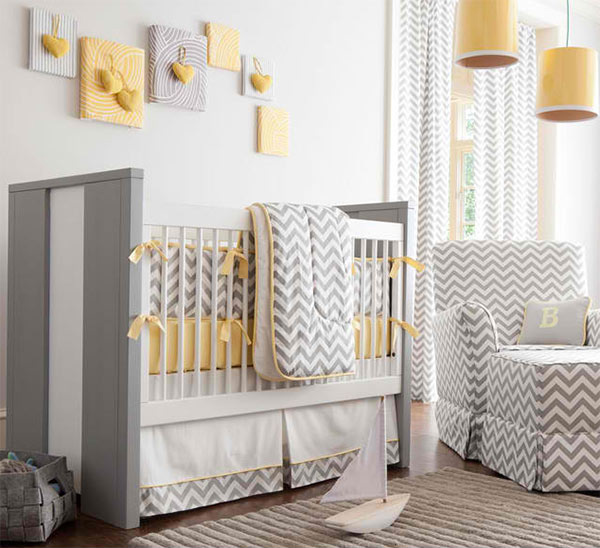 Crib bedding is from Carousel Designs using a gray and white chevron stripe while the crib was purchased from Newport Cottage, and the name of this style is called Cody.
Nursery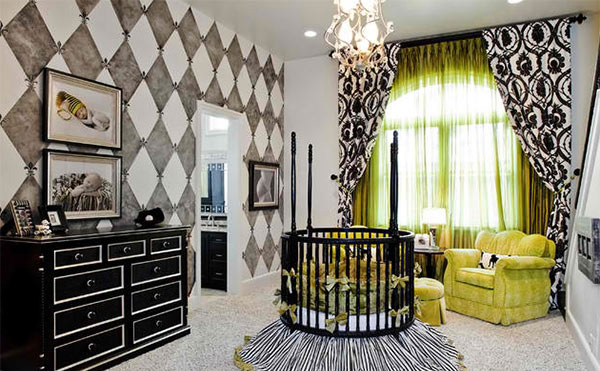 Combine chartreuse with black and white for a sophisticated nursery like this one. The round crib has a lovely skirt in stripes and some ribbons too. Meanwhile, the dresser is by AFK Furniture.
Tustin Mediterranean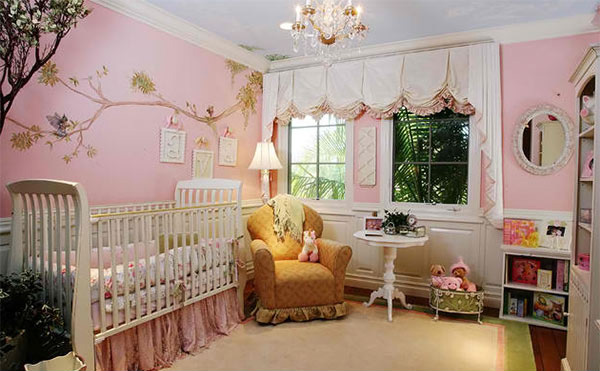 This sweet baby bedroom is designed for a home in Tustin, California, Orange County. The tree murals are charming additions to this bedroom.
English Country Home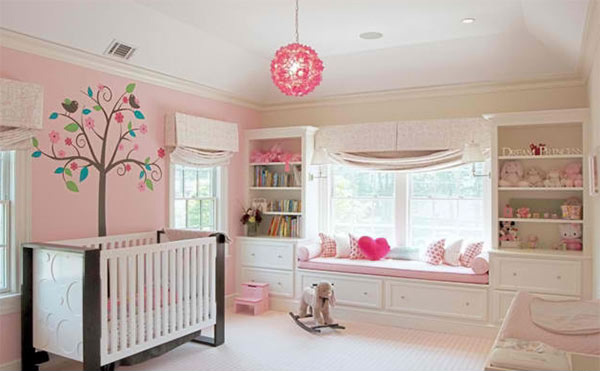 Pretty nursery with many shades of pinks and cream. Ruth Richards said that "the inspiration for the wall decal came from the client's existing crib. Pops of hot pink in the pillows, decal and chandelier keep the room fun!"
Pink Toile Nursery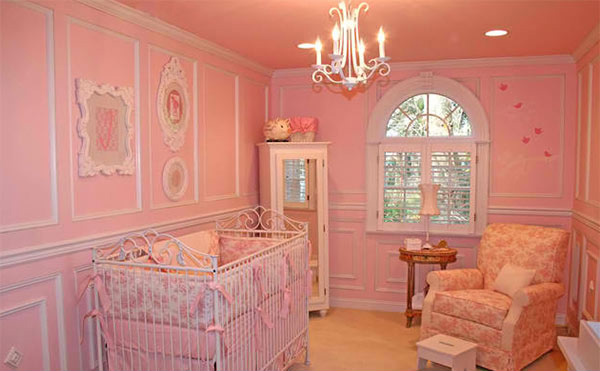 "Every item was selected to fit perfectly into a room with a vaulted ceiling, an entire wall of windows and another wall with a built-in shelving unit on which we were going to place pretty lined baskets and other baby goodies. The overabundance of picture-frame molding was especially challenging including a very wide branch with birds decal and another decal featuring a favorite inspirational quote from mom-to-be. But in the end, we're all very pleased with this nursery," Jack and Jill Interiors said about the room.
Babygirl's Nursery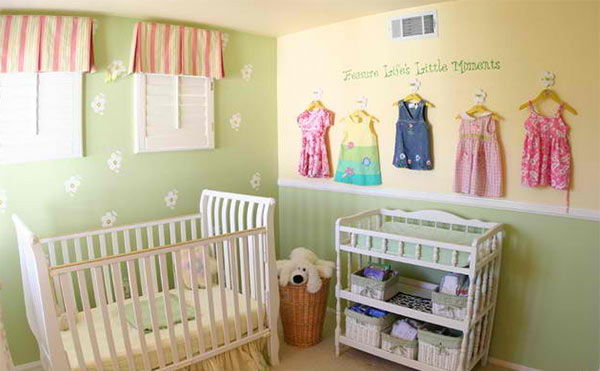 A simple bedroom for a baby girl in pink and green. But what attracted us to this picture are the hanged dresses on the wall! This is such a good idea for a decor! Now we know where our little one's fave dresses could go!
Ivory and Pink Glamorous Girl's Nursery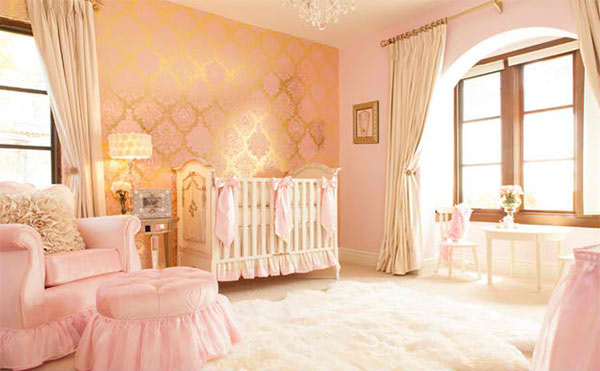 Fruits of Design Damask Wallpaper was used for one side of the wall. And we admit it, that wallpaper really nailed it for this bedroom! The floral design of the shade as well as the pink furniture is a plus.
Neutral and Lavender Girl's Nursery for Mel B.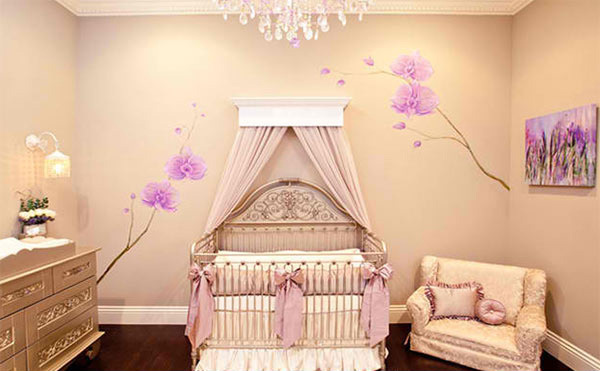 A cute bedroom in lavender! Behind the canopy box is a rod that holds the fabric above the intricately designed crib.
They do look sweet especially those that have totally girly spaces. If these baby girls who use these bedrooms could speak, they are surely overwhelmed with joy upon having bedrooms like these. If you still want more list of exciting and interesting baby girl's bedroom, then the round-up of pink nursery rooms for girls is what you need. Also, you will be pleased to get some nice tips in designing a baby's nursery. Now, can you tell us, which one is your favorite from the list?