Contemporary Home in an Exposed Corner Site in Sydney
The home has various levels that will blow you away!
What impressed me most about home designs is how creative architects and engineers put together a home n a unique manner that would surprise us. Yes, there are homes that go far from the usual home design and it is acceptable no matter how unique it is. It does look challenging for the designer but it functions well as a home and looks very beautiful and unique. Most homes can be accessed from one floor and would reach to the rest of the house but for some, it isn't the case. This is what we will see in the house that we will feature today.
This house is a sculptural response to an exposed corner site overlooking Middle Harbour in Sydney that "builds on the materiality of the existing sandstone base to create a dramatic and layered form". The designers observed a careful manipulation of openings to achieve a balance of privacy and outlook, light and shelter, texture and warmth. It is indeed a privilege to be able to build a house in Sydney and that opportunity is taken seriously by the owners and designers. The goal is to create a contemporary dwelling "which harbors the everyday experiences, aspirations and interactions of a family and contributes to the rich context of the populated slopes and fingers of bush land that reach into the waterway". The location of the house is exposed to two road frontages while it slopes on the east. The house sits on this dramatic corner site with a stratified assembly that is being overlaid by a simple skillion roof which reflects the slope of the land. The stepping form gloriously creates terraces that extend the indoor living areas to the outside. Let us take a look at the house below.
Location: Sydney, Australia
Designer: Richard Cole Architecture
Style: Contemporary
Number of Levels: Two-storey
Unique feature: The house has a unique layout that offers different levels.
Similar House: Prevailing and Unexpected Features of the Remodeled Waterfront House in Sydney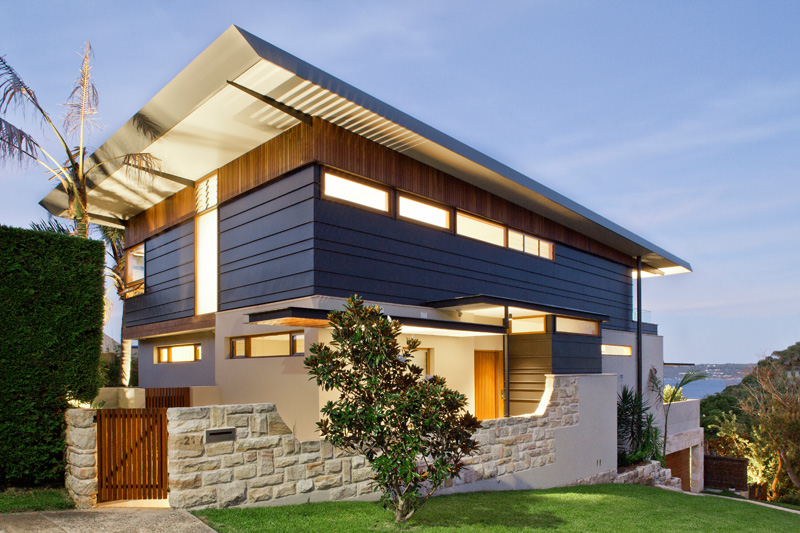 This is such a beautiful house! I love its design and the materials it used for the exterior. This is indeed a building that "aspires to beauty, substance and place making in order to provide a vessel in which a family can grow". Love all the variety of textures we can see in the house.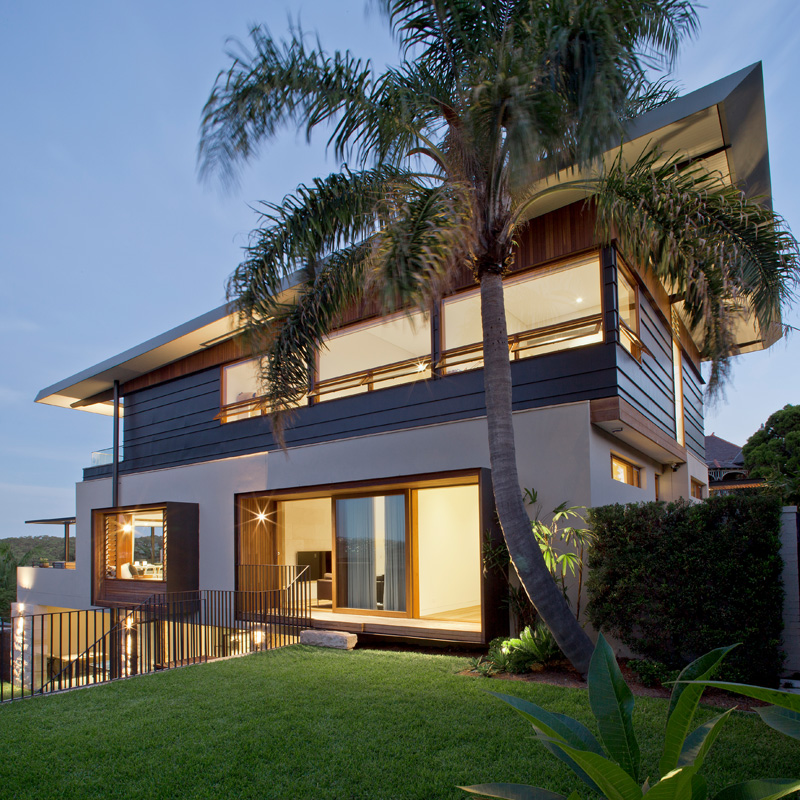 The second level of the house is seen here. Well, if you think what you saw in the previous photo is all that comprise the house, you are wrong. There is actually more to the house which we can see in this photo. This area leads into a garden with green lawn and a tropical feel.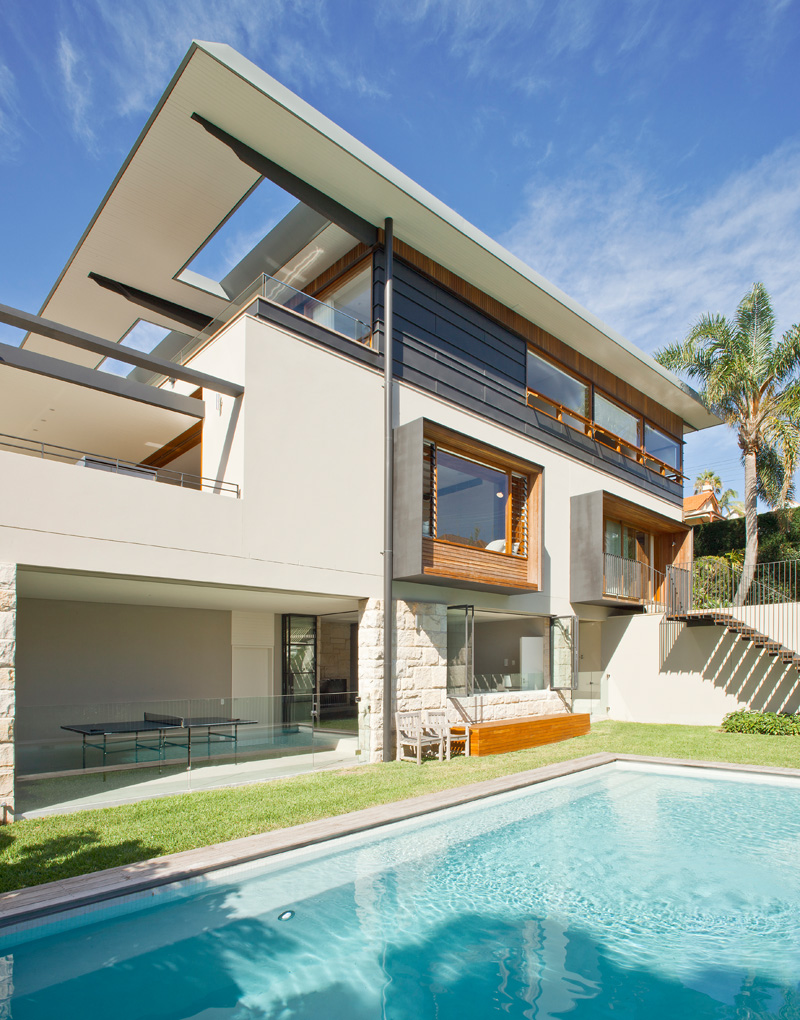 And that's not all. There is also a lower portion where the pool and a game area are seen. Well, I can say that this house has so many secrets indeed. At first glance, you will not expect that the house is spacious and has everything one would want for a home. Isn't this very beautiful?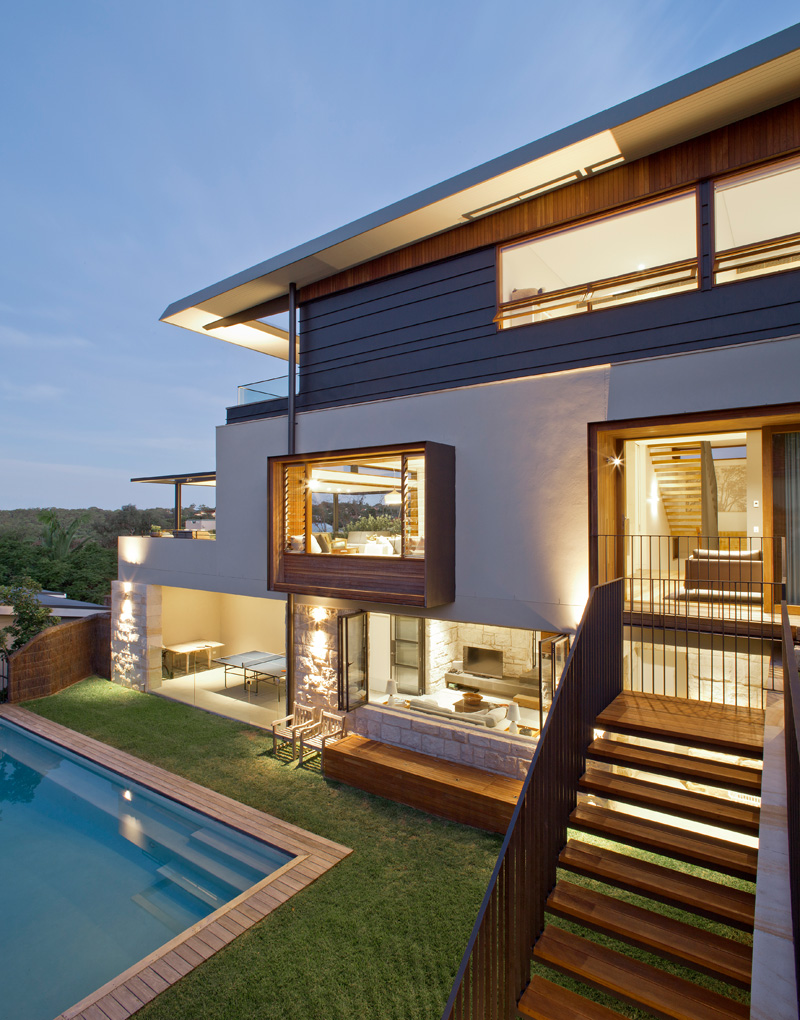 Take a look at that window. That is indeed a unique design that added more appeal to the home's exterior. Love it! In this shot, we are given a better view of the pool area where a gaming area and a living room can be accessed. You can also see how it used stones for the exterior walls of the area as well as on the fireplace inside.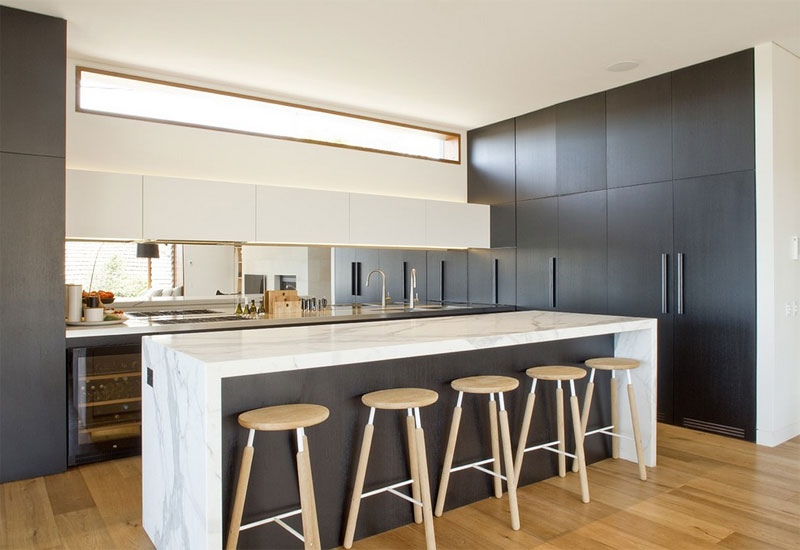 A palette of tactile natural materials is used in the house where you can also see a careful manipulation of light, resulting into a warm, substantial character of the house. The house has a double height space that allows light to permeate through it from the stairwell to the lower ground floor. The living room looks very grand and beautiful like what you can see in this photo. I like its choice of furniture and decors too.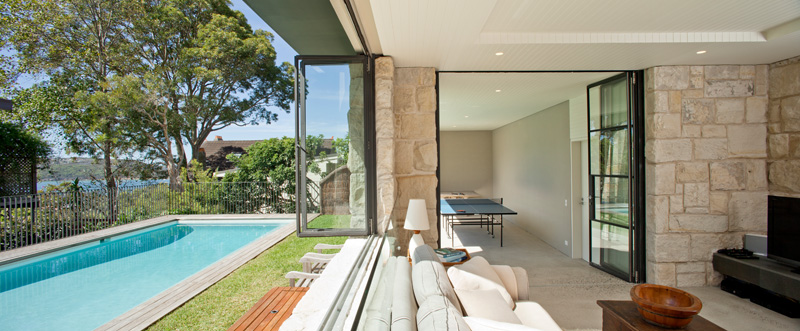 This area has a fireplace and a television set on the lower ground floor. It connects to the table tennis table and play area as well as to the pool. You can see here how it used stones for the walls and glass doors.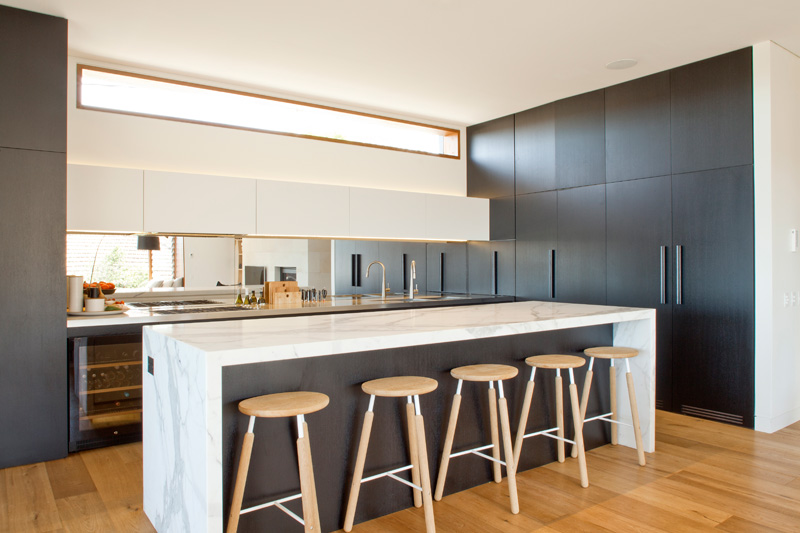 The kitchen used a contrast of colors and materials. From black and white colors, it also used wood and hard materials too which all together created a very appealing and functional kitchen design. Neat cabinets, right?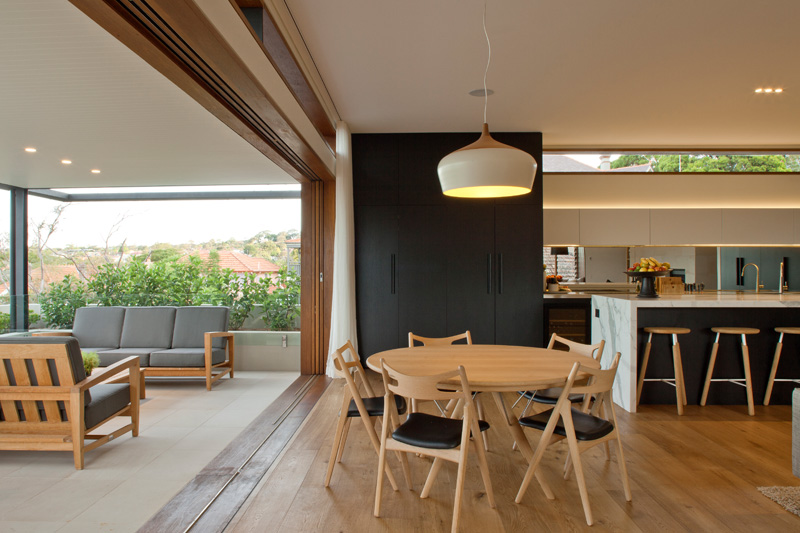 Seen here is the kitchen and dining area with wooden materials seen on the flooring and the dining set too, as well as other parts of the house. I like how the black cabinets became a backdrop of the dining area.
Read Also: Noticeable Structural Engineering in the Queens Park House in Sydney, Australia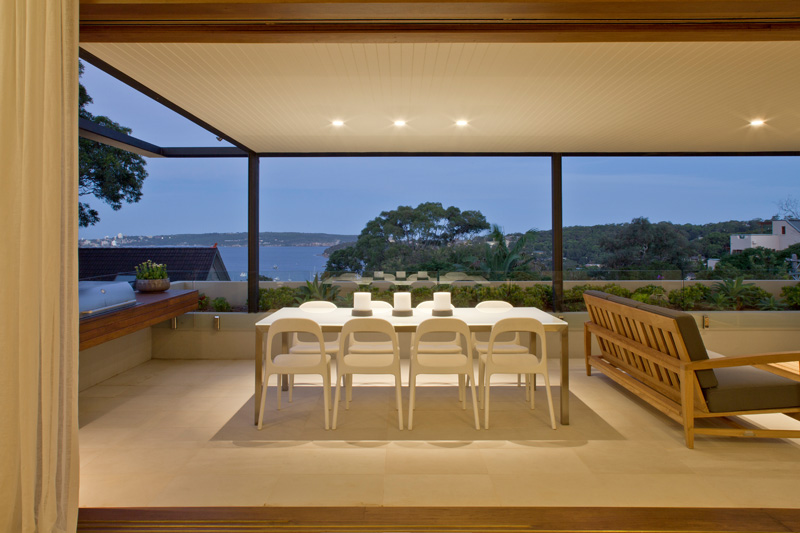 This is a more formal dining area with white dining set that faces the outdoor space. What a view! For sure, one will have increased appetite seeing this lovely view. It has candles as centerpieces which makes it more inviting.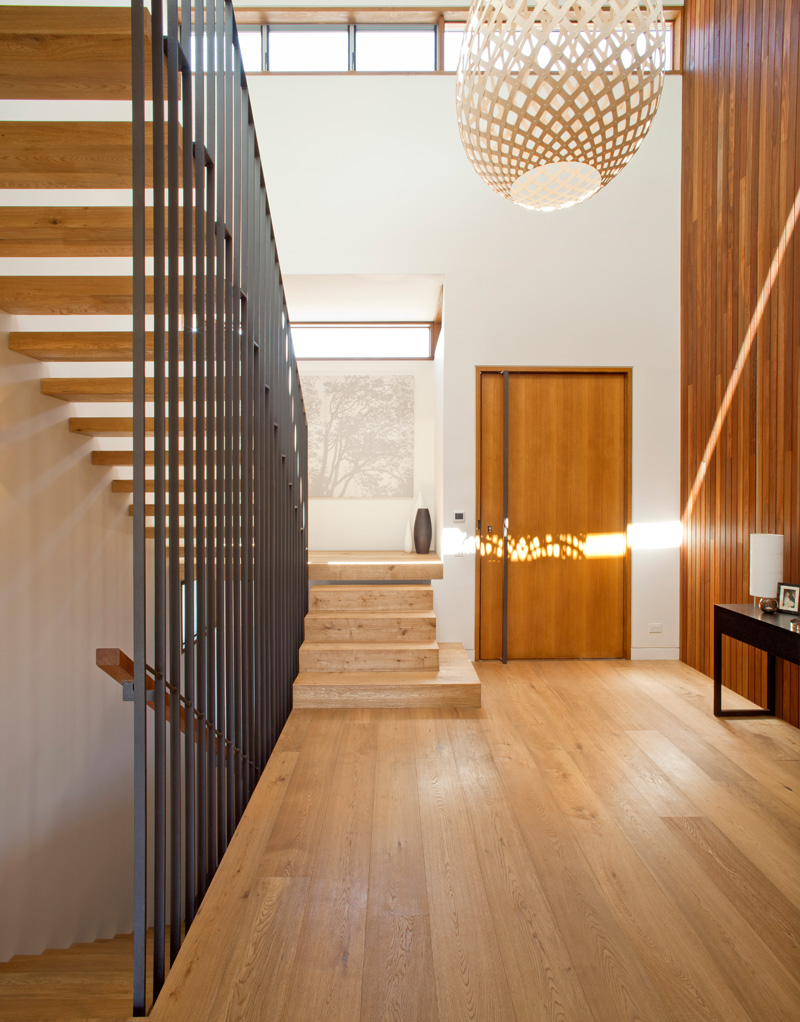 Seen here it the landing of the upper level and the sculptural staircase with steel and wood combined. You can also see here a pendant light that brought much beauty to the area. Windows are rectangular and small that allows lights to get into the home.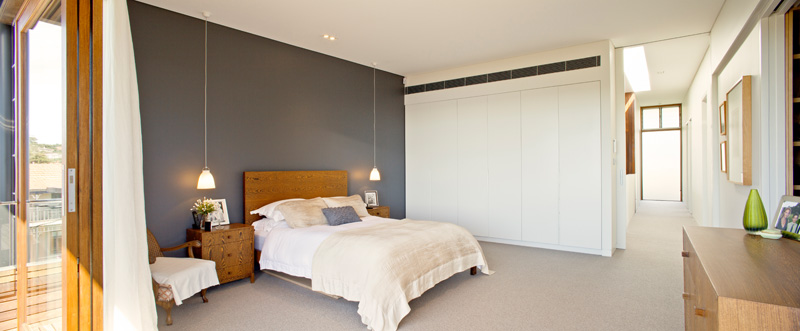 This is the bedroom with a similar color palette with gray and white and wood too. Despite the available space, it wasn't filled with many items to avoid a cluttered and noisy look. This way, the bedroom just looked minimal and inviting.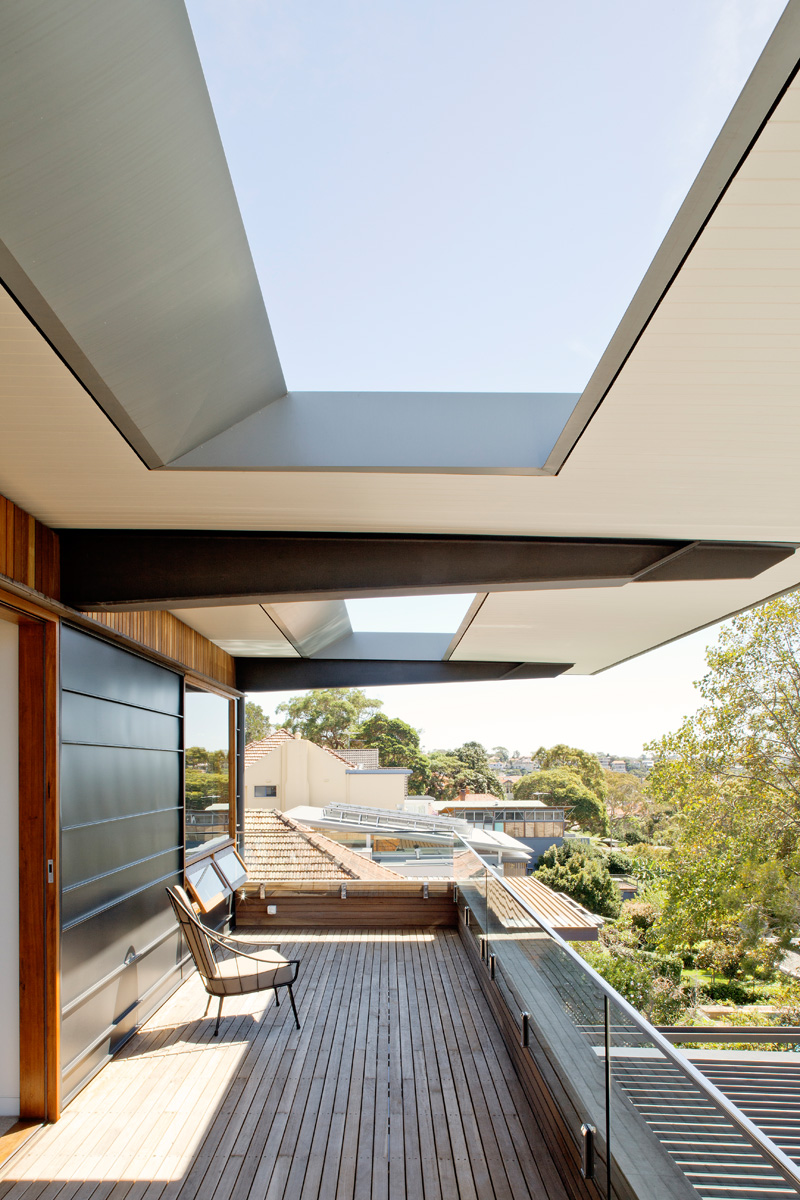 This is the porch that overlooks the surrounding of the house. It has wooden flooring and half of the railing is made from wood but is finished with glass and stainless steel. It has skylights too!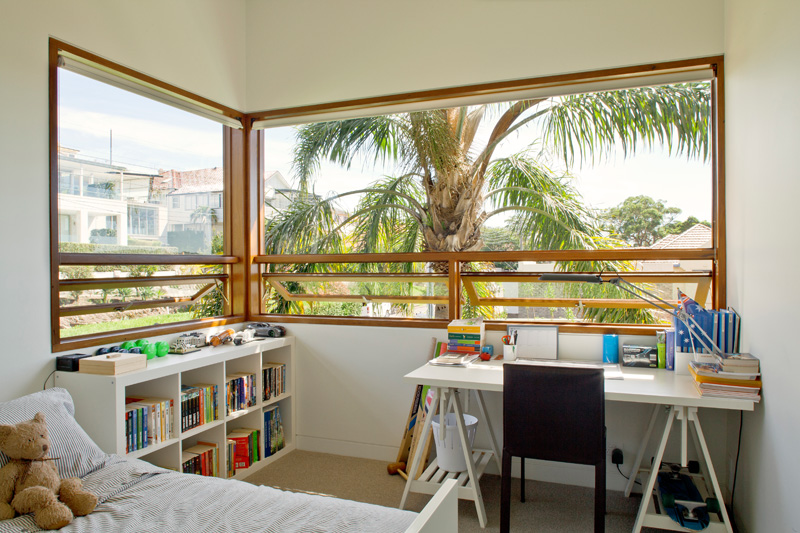 The children's bedroom has a large window that will allow them a view of the beautiful surroundings. It would be nice to study and do home works when you get a view like that. The bedroom used white furniture.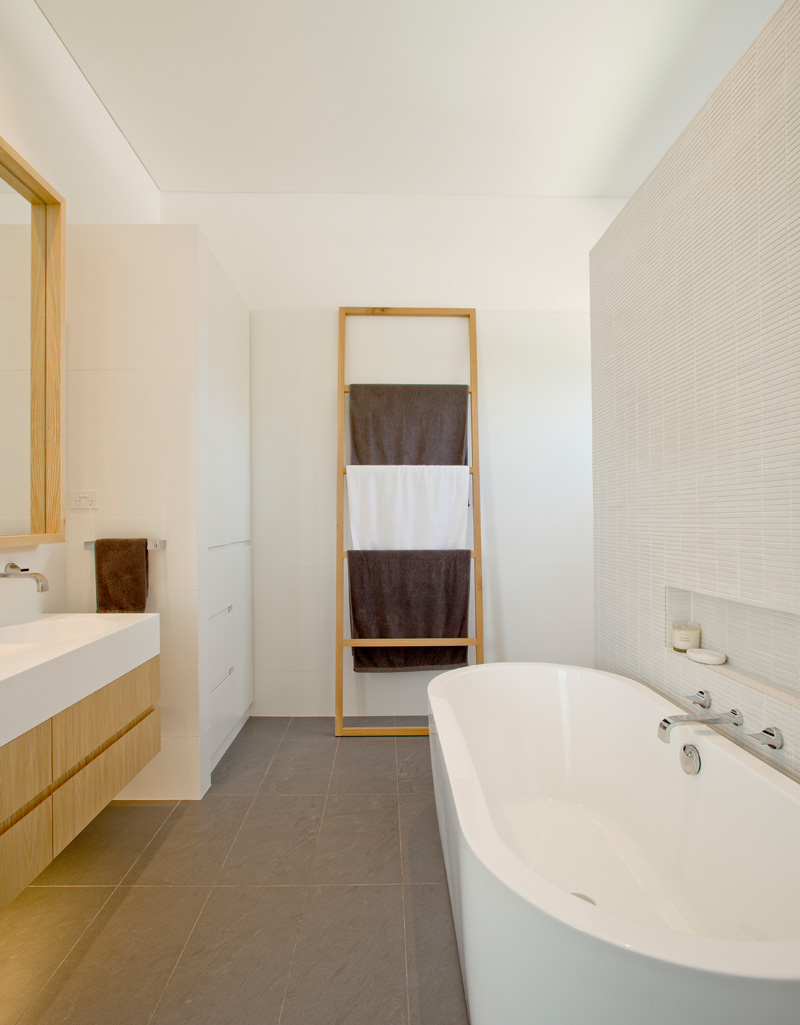 This is the bathroom with a white tub and white walls. When white and wood is combined, the result is always stunning! And yes, that ladder towel holder is so cute!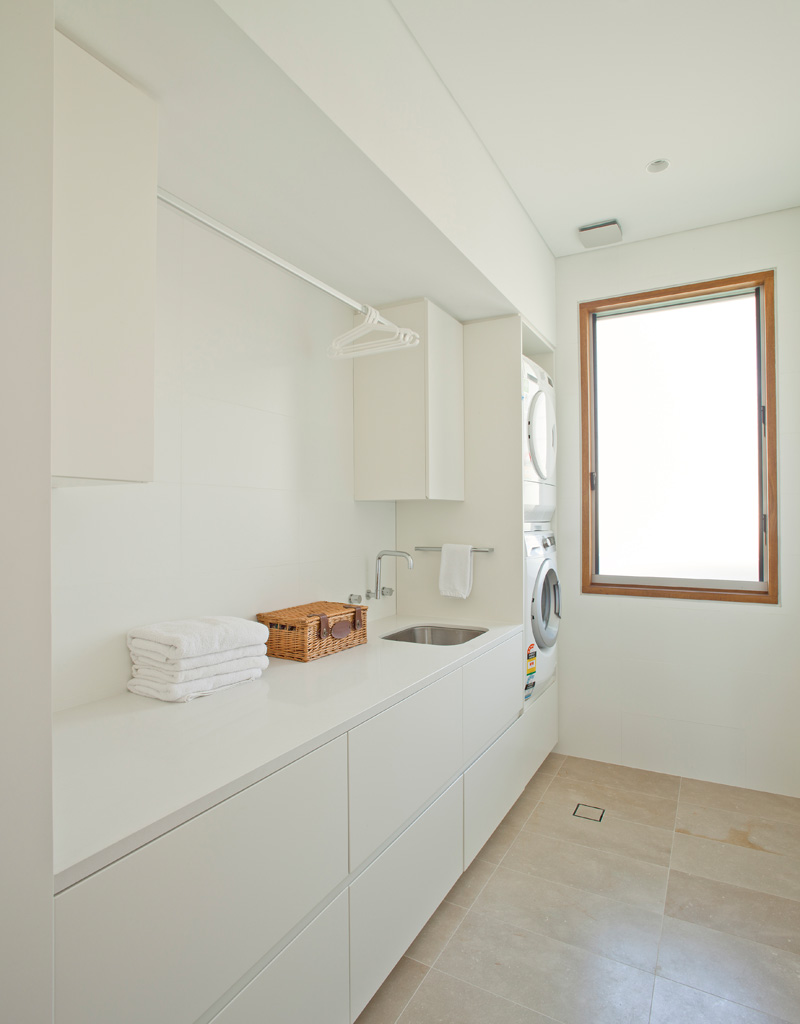 And this one is the laundry area. Beautiful, right? Totally neat in white and it has everything one needs for doing the laundry. I like it that everything is white!
I honestly love how this house turned out! Very lovely indeed! What I love about this the most its different levels and its upper area that leads to a garden. Aside from that, I also like the way the interior is designs with that modern contemporary look. This home that is designed by Richard Cole Architecture has certainly captivated hearts because of its unique look. Even the texture of the exterior is very unique as it used a combination of various materials. I can also say that the layout was well thought of because you can clearly see how it was done in this house! Lovely, right? What can you say about this house?