15 Geometrical and Artisitc Modern Round Area Rugs
Making one's home beautiful is sometimes a challenge for some. It can even eat up one's time in merely designing the entire home. In doing that, one would get items like displays, window treatments, jars, centerpieces, throw pillows, rugs and many others. Rugs particularly are used in every home. It serves not just for aesthetics but it also serves as a soft and warm floor covering especially for cold floorings like ceramic tiles and marble. Rugs adds up the beauty together with the interior design of every home. It comes in different design and colors depending on what the home's interior design concept is.
Your home could be modern or contemporary, traditional or eclectic or whatever it may be. But whichever design concept or theme you have in your homes, it will surely make use of rugs. But for today's post, we will give you a showcase of modern round rugs that are usually seen in today's homes. Most of them make use of neutral and warm colors. They also use geometric shapes and curves. Most of them look very creative and artistic in a minimal point of view. Well, you will get to understand what we are talking about when you scroll down and see what we have collected for you.
Custom Design
Kinetic and Network Round Rugs
Mickey Modern Round Rug
Modern Rug Green
Tricolour Spiral
Mondarian 24 Circle
Mohawk Home Ink Swirl Cocoa
Round Area Rugs
Parcello Cosmos Rugs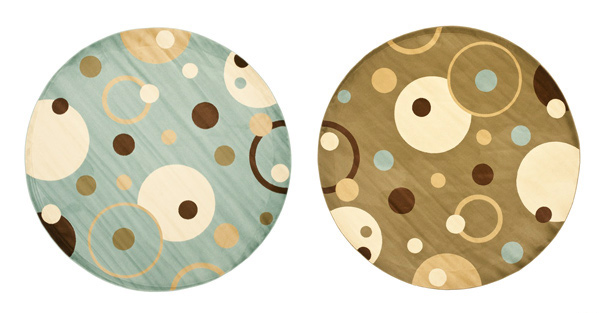 Pinwheel Round Rug
Handmade Rodeo Drive Round Rugs
Round Rug
Modern Round Rug Brown
Onitiva Rug
Permafrost Rugs
Well, this collection is just a simple glimpse at other interesting designs of area rugs and carpets. The design you will choose will surely affect how your interior would look like. It can also tell the kind of personality you have. So, be careful in choosing rugs for they could only be part of your home's accessories and decorations but it can actually create a great impact to the entire look of your home. So, choose the ones that truly suit your home. You can also consult interior designers to make sure that you are on the right track.