20 Contemporary Eco-Friendly Kitchen Designs
Before any building or structure is built, there are requirements to be filled for them to be allowed to construct their homes or buildings. Among those tons of requirements is the certification that the home/building design is not harmful to the environment. Although the materials to be used are not specified in the requirements, it is surely is appreciated when you use eco-friendly materials.
For today, we have a list that will show you that they all have a thumbs up for the materials that were used in their construction. True, the use of eco-friendly materials is expensive, but when you think about the length of time you can use these can be remarkable. Though people are already aware of this existing materials available in the market, we lack practice and use – but still, it is good of we consider them too. Check out the pictures below to get some ideas and inspirations.
1. 6th Street Residence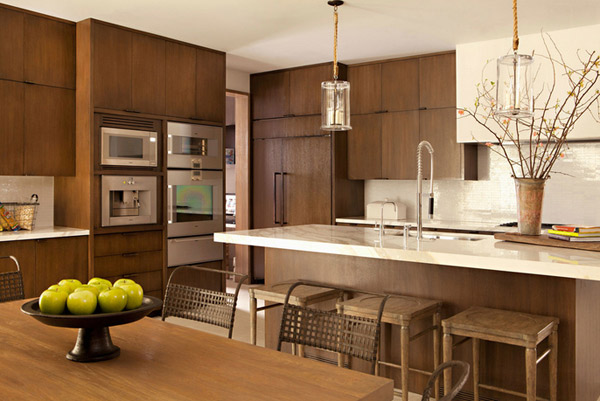 Possible color for re-staining of existing cabinetry – the eco-friendly materials are used in this kitchen.
2. 7RR – Ecohome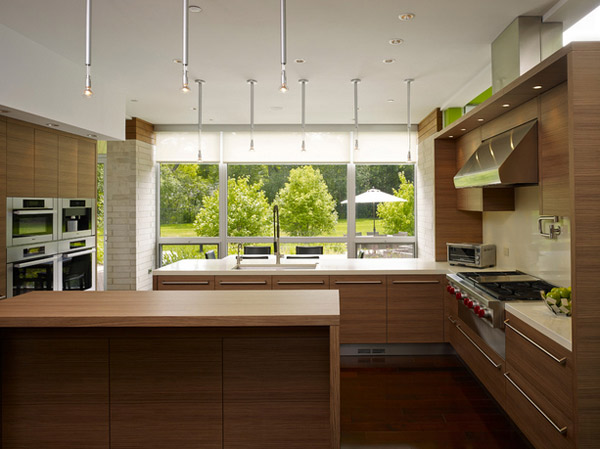 The kitchen benefits from a large window overlooking the backyard. A seating area adjacent to the kitchen allows for informal meals. Here we can see the shades pulled down slightly below the ceiling.
3. Balmain House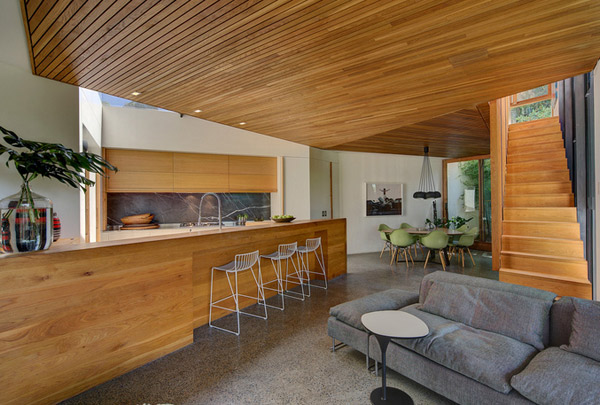 The timber flooring, ceiling and island is stunning.
4. Huntington Beach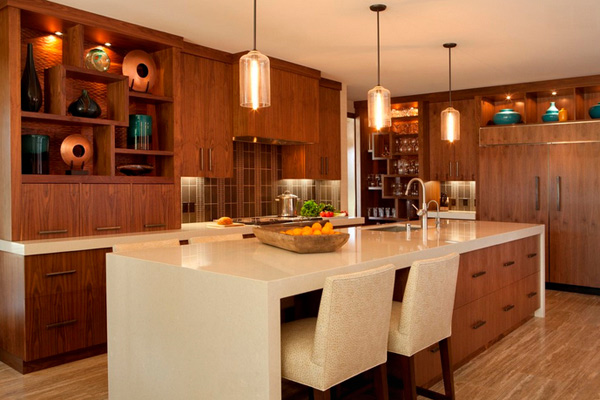 If you're considering an island as your main gathering spot, be aware of the intersection between work areas and guest hangouts.
5. Kenilworth Residence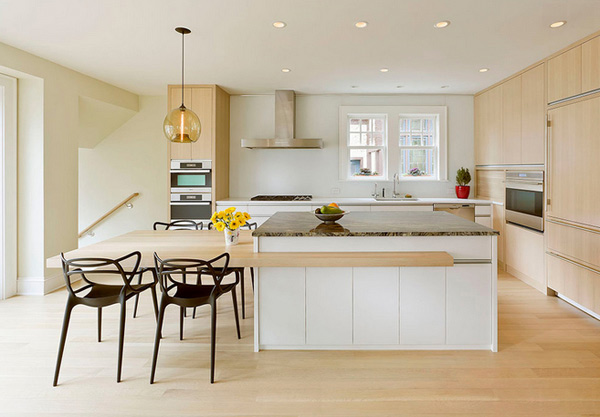 The cook should be able to work efficiently and unhindered even with friends hanging out during final prep time. In this kitchen, the seating area is moved to one end of the kitchen, opposite of the working end, allowing both areas plenty of space to function properly.
6. Laurentide Contemporary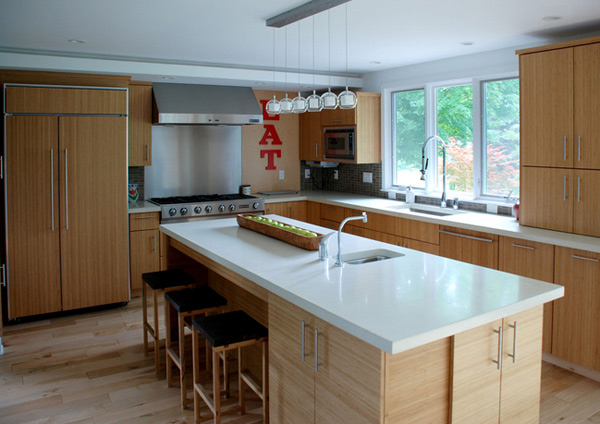 White countertop looks good with oak – stunning showcase of eco-friendly materials.
7. Modern Silo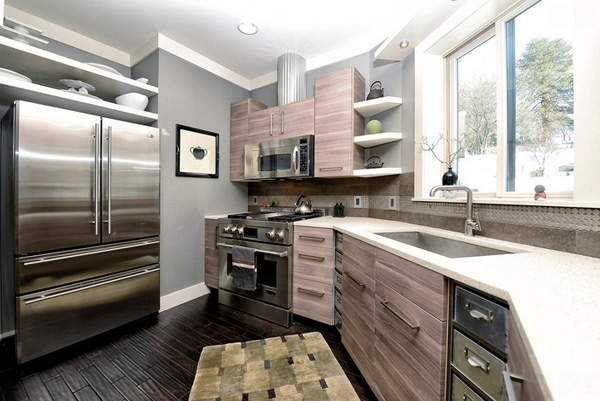 The curved kitchen has cabinets from Ikea in a farm-friendly weathered-wood finish; corrugated metal covers the vent over the cook top.
8. Montclair Residence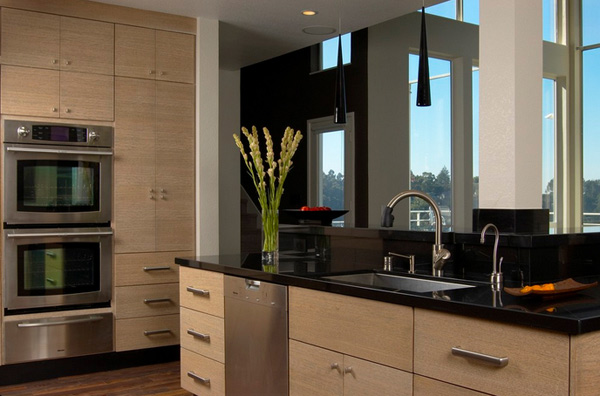 Simple but stylish, the flat-panel cabinet door is void of any expensive details. Its hard lines and minimalist form make it a great fit for contemporary and modern interiors.
9. Nashville LEED Platinum Certified Residence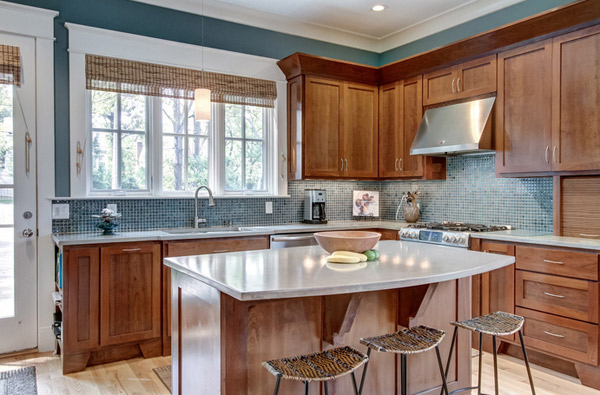 Love the shades, cabinets, and stools too. Nice job! Did we forget to mention that this home is has an LEED Platinum certificate?
10. Northcote House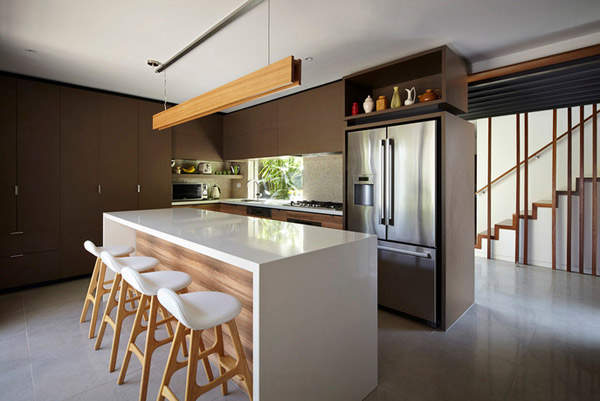 The linear lighting above the kitchen bar is stunning and simple but sure made this space a bit classier.
11. Oakland Loft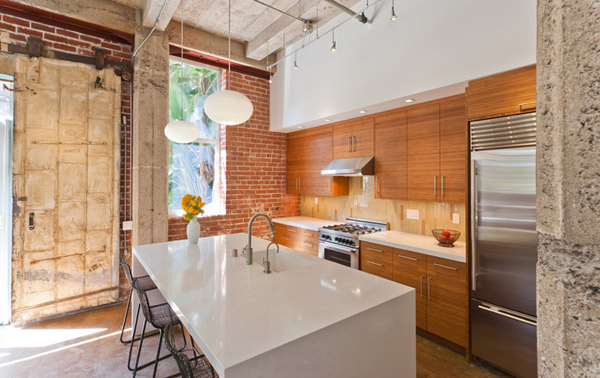 AlterECO modern bamboo kitchen cabinetry in eclectic Oakland loft. Perspective view highlights island countertop with waterfall ends & integrated sink.
12. Oxford Eco Barn Conversion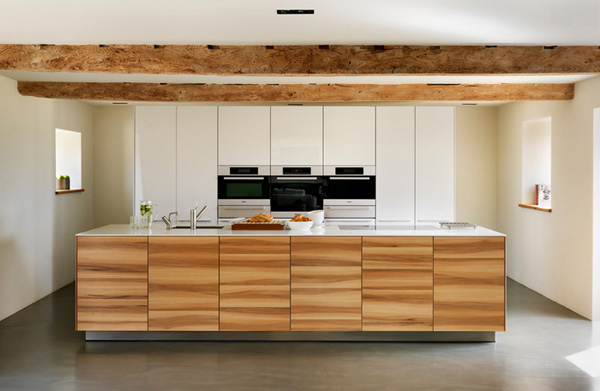 I like the clean layout of this kitchen along with the materials used in it too.
13. Sacramento Contemporary Kitchen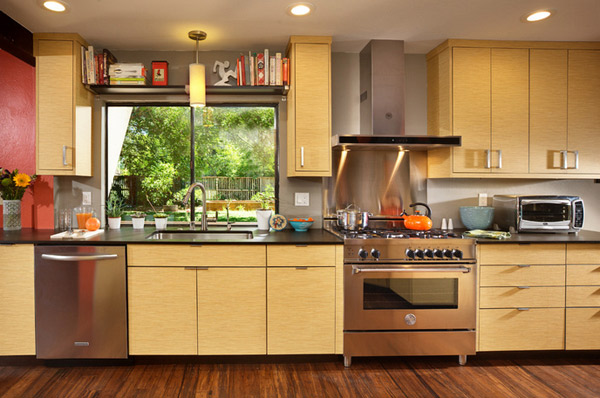 Having a view of the outside from the kitchen is always a good thing – aside from the window that allows light and ventilation – a breather is always great.
14. Simbithi 07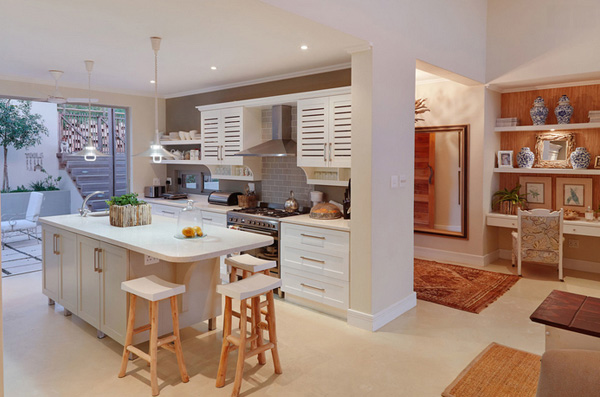 Like the bar stools of this kitchen also the color palette.
15. Stinson Beach Modern Retreat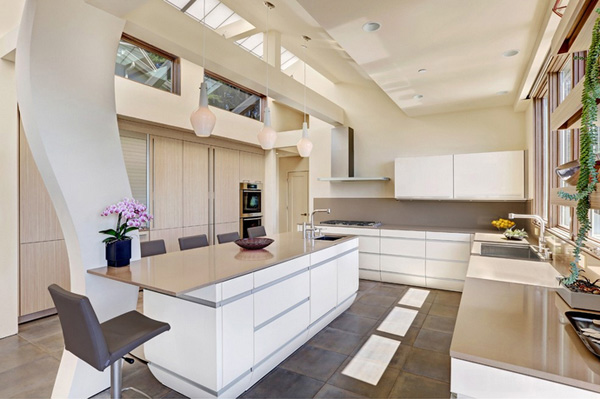 As you enter an open living room space that encompasses a kitchen, dining area, and living room, the inspiring contemporary interior invokes a sense of relaxation, that stimulates the senses.
16. Tampa Eco Elegant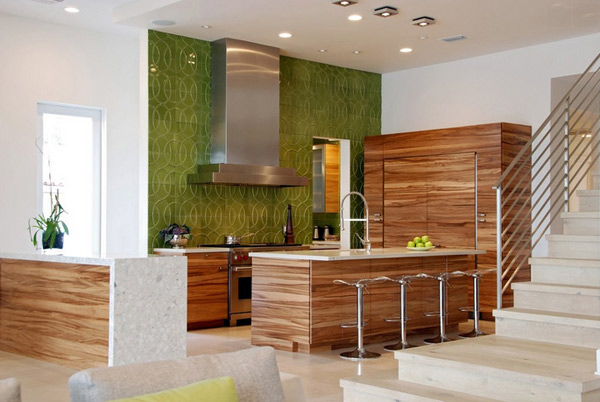 Create an eye-catching feature wall in your kitchen by extending a bold-colored textured backsplash tile all the way to the ceiling. This larger-format tile works best on a wall where you are forgoing upper cabinets, so the pattern can be fully appreciated.
17. Transformed Eco Kitchen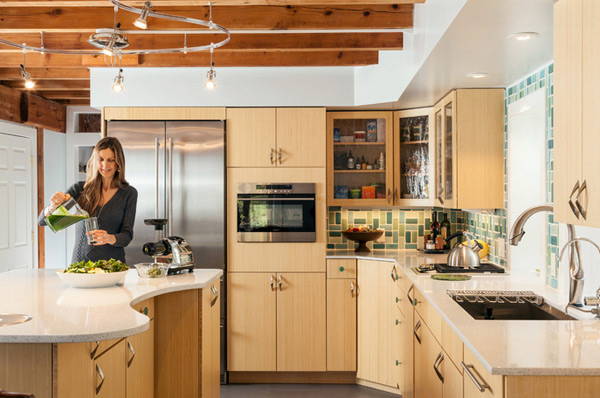 The remodeled kitchen features recycled glass tiling that immediately draws you into the space and the lightly colored, frameless bamboo cabinetry brightens the room.
18. Walnut Kitchen Remodel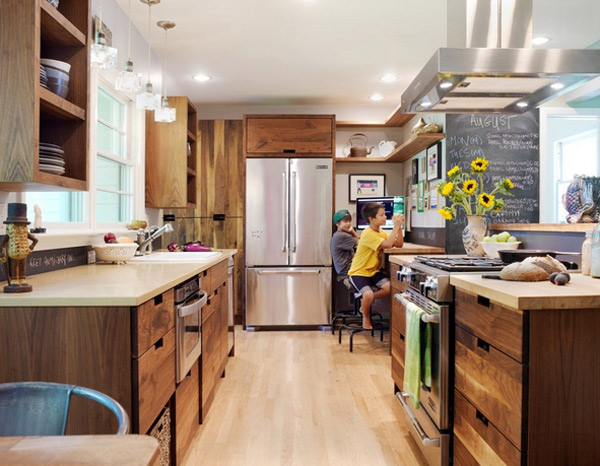 All of the wood used was from Wisconsin, all of the plywood used was Pure-Bond (formaldehyde-free), and we used 100% Tung Oil as a finish. For a cozy little ranch, this open and airy kitchen is now the true heart of the home.
19. Westgarth Timber Project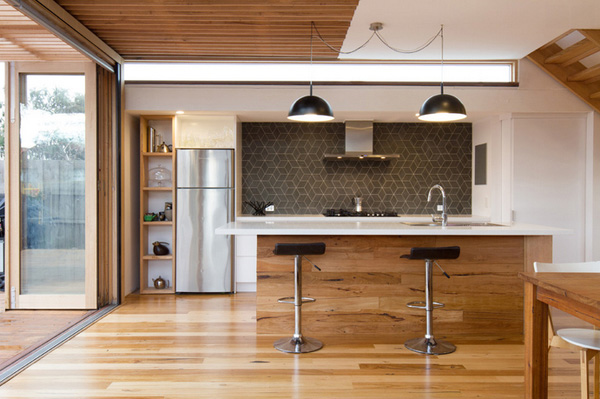 Fancy looking kitchen? Look again. This Melbourne kitchen may look super expensive but the materials used in this one will be used for a long time because they are eco-friendly.
20. Willow Glen Kitchen Remodel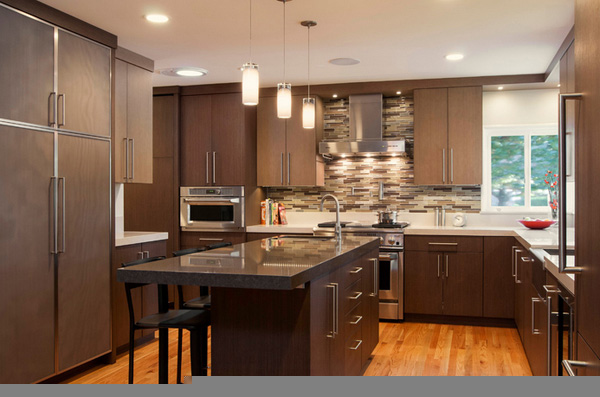 The main counters are by Zodiaq in Crème Botticino. The island is Iron Ore Eco Quartz by Constentino – super stunning but still eco-friendly.
What do you think about the kitchen spaces above? The materials used in these kitchen spaces may look like your regular materials at home but they are certified with the necessary standards that they actually passed. There are also more eco-friendly spaces that you can check that we collected before.