15 Clean-lined Modern Bedroom Dressers
When modern design is adapted for the interior, it means that everything inside would also get that look from furniture to decorations. That is why there are so many design variations for home items no matter what kind of interior you decide to have. Since we were talking about modern interiors at the start, we will be featuring modern dressers in this post. Dressers are placed in the bedroom which has storage spaces in it. Displays and other items can be placed on top of it.
Every bedroom would have a dresser which is a low chest of drawers where clothes and other personal items are stored. This is one important item in the bedroom to keep things well-arranged and to make sure that you will spend lesser time in looking for your stuffs since they are organized in the drawers. Most of the time, a dresser supports a mirror on top of it but today, we will feature mere dressers minus the mirror. Now, take a look at these modern dressers below and tell us what are the common features of every item.
Square Dresser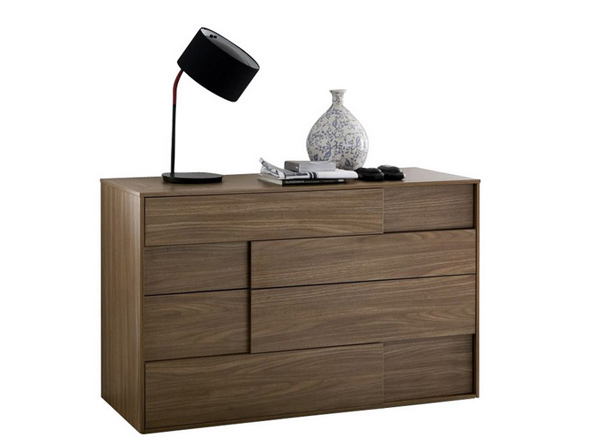 Beautiful walnut finish could dress your bedroom to the current design trends in its asymmetrical style.
TrueModern – Low Dresser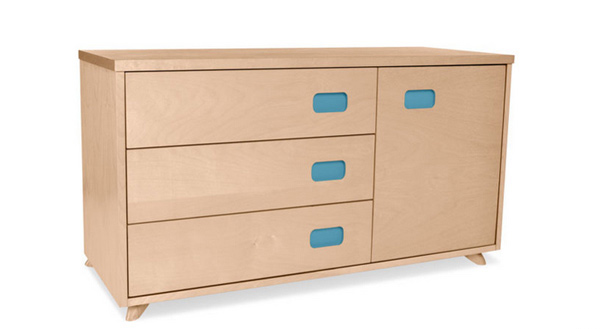 Perfect for a teen as its interior is painted in three colors of Lime Green, Popsicle Orange, and Cool Blue. This three drawer dresser has extra deep drawers with solid birch wood and wood veneer.
Square Cutout 6-Drawer Dresser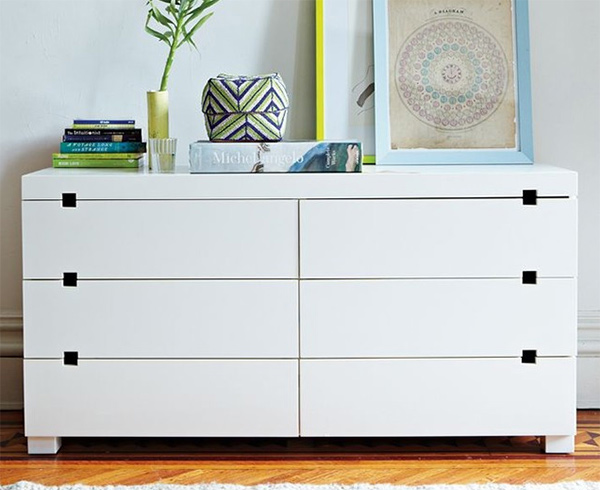 A sleek and modern dresser that will grow with your toddler as you place it in your little one's bedroom.
Shale Two-Drawer, Two-Door Dresser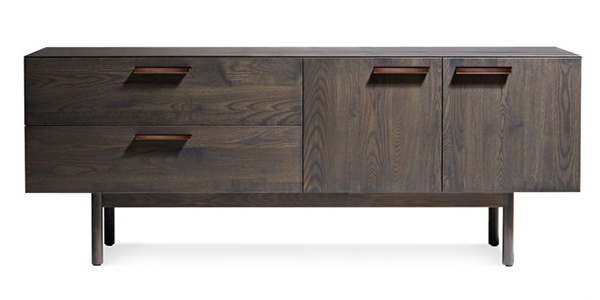 Who would not love a storage unit that can also be a TV stand at the same time?
Domino Dresser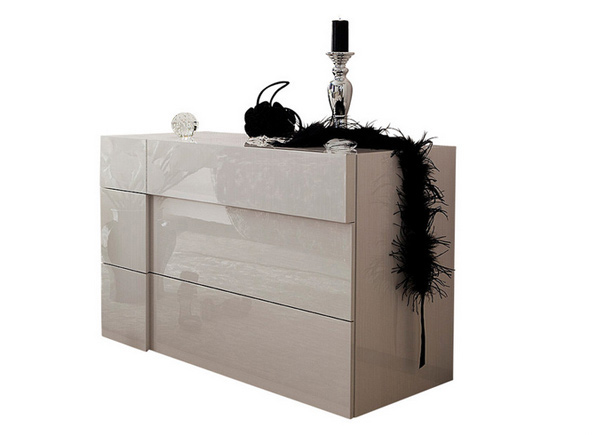 Lavish details and high-gloss lacquer finish for this lovely modern dresser that has an inlay of Swarovski crystal elevating the appeal of your bedroom.
Kalon Studios Caravan Dresser Black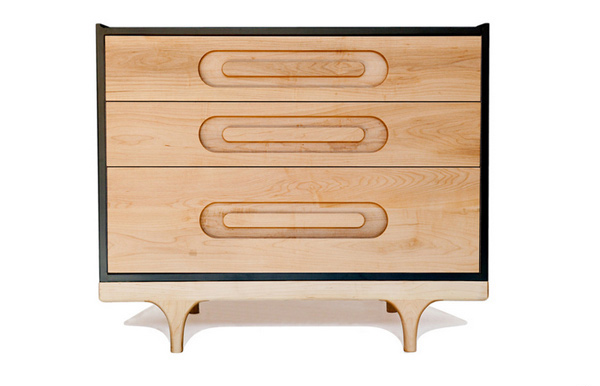 Looking for a chic and modern storage? This dresser crafted from solid maple that comes in a variety of colors is a perfect choice.
Latitude Grellow Low Dresser CB2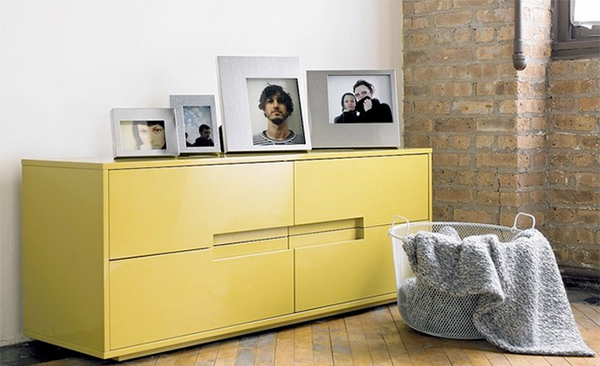 This stunning dresser pops in a bedroom as it boasts its long and low design with unique pull design.
Moda Dresser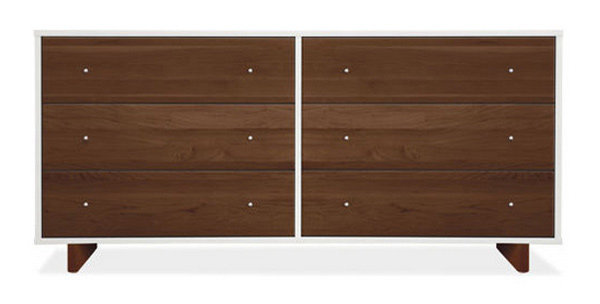 Both painted and wooden items in a bedroom will match well with this dresser.
AICO Beverly Blvd Upholstered Dresser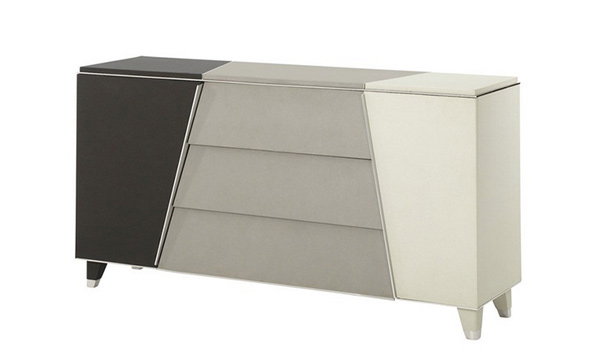 Bring in an interesting visual element with this multi-tonal pattern that gets into the cutting edge fashion of today. The drawers are Velvet lined outside with self-closing slides, two pull out velvet-lined jewelry drawers behind each door, and two framed glass front drawers behind left door.
Oyster Dresser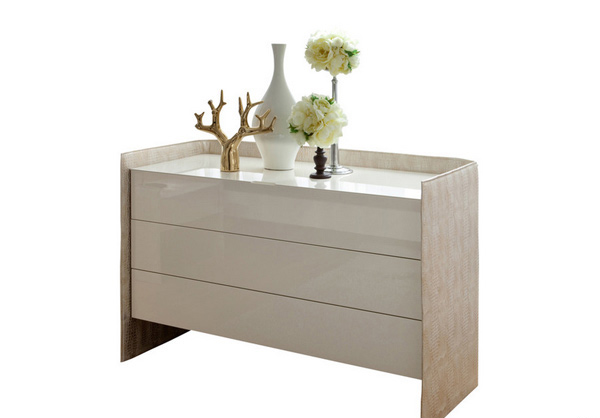 This exquisite, lacquer-finished dresser is streamlined and is free of obtrusive hardware giving your room a designer touch.
Montecristo – Modern Bedroom Dresser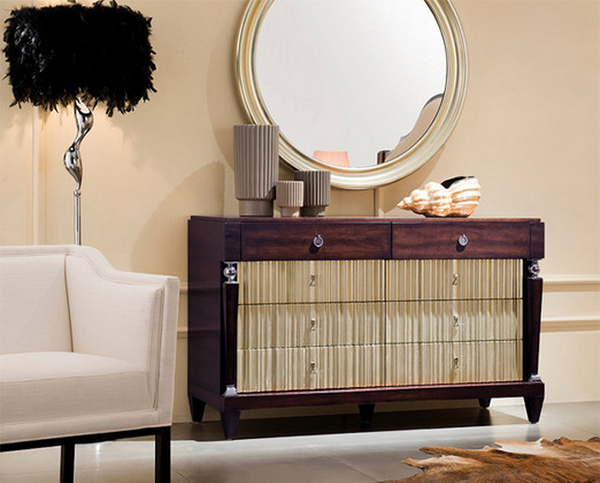 A unique modern bedroom dresser crafted with solid Birch wood in intricate details carved to perfection.
Midcentury Modern Dresser by Revitalized Artistry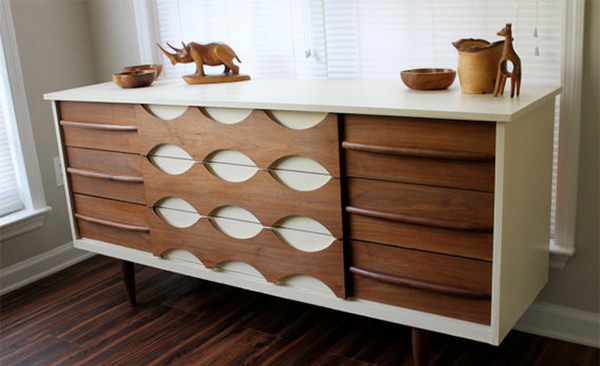 Geometric lines in this modern dresser made it look very beautiful and in style.
Patchwork Dresser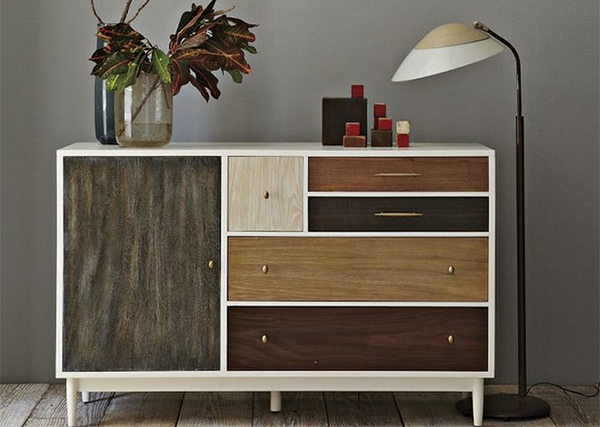 Looking vintage right? But this is a modern piece featuring different wood finish for its drawer making it a unique piece for a bedroom. This storage piece from West Elm almost looks like an amazing vintage find — except you would never find anything quite this cool in a vintage shop. You could use this in your bedroom, but it's just as well suited for use as an entertainment center in the living room or den.
Moon Dresser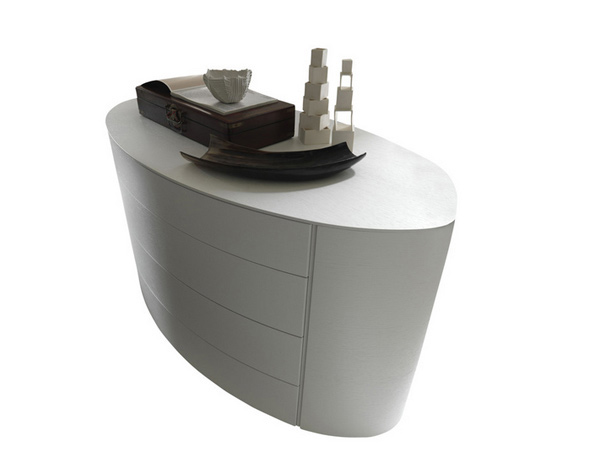 An enchanting oval dresser that has a stylish shift from the usual shapes we use for a dresser.
Three Wide Dresser, Dark Platform w/ Circle Door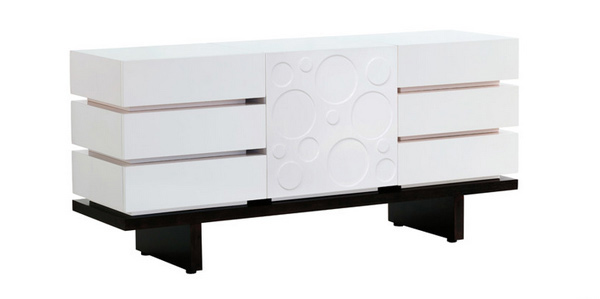 Modular storage with the three-Wide dresser that has a composed look fitting for any space-even for a nursery or a child's bedroom.
Clean-lined bedroom dressers bring in style in your bedroom. Aside from being an added appeal to your bedroom, it has function from storage to TV stand. Get one that fits in your bedroom in terms of style and size. And don't forget to check your pockets if your budget could suffice the kind of dresser you want. You can even have a customized dresser created based on the design you want. How about adding a bedside table to your bedroom too? It is also a useful furniture and can also be an additional accent to your private hub.