16 Crafting Table with Storage to Indulge in Creativity
Have a knack of creating handmade ornaments and other personal or art projects? Why not have your very own personal crafting space where you can work until your heart contents? To have this certain space, use a crafting table. Crafting table can't only be used for your crafting project but also it can be used as additional furniture for your house when not in used. Furthermore, it does require having its very own room because it doesn't need large room space, just as long as it has enough storage areas where you can have easy access to your crafting materials.
Today 16 Ideal Crafting Table with Storage Areas will be featured. These crafting tables are the perfect choice for anyone who indulges in creativity. Since it has ample of storage areas, you will have an easy-access to your crafting materials and you also can arrange them in any way you want. So, scroll down and check out these ideal crafting tables.
Mill Valley Studio Contemporary Home Office San Francisco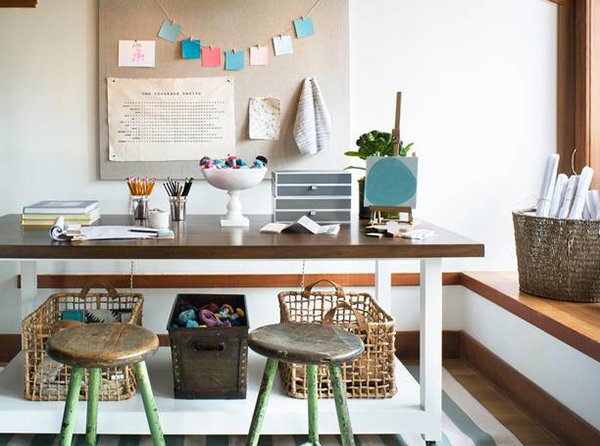 A big-sized crafting can be very useful in creating handmade accessories, centerpieces, ornaments and other art projects especially when it uses many materials.
Craft Room Eclectic Kids Other Metro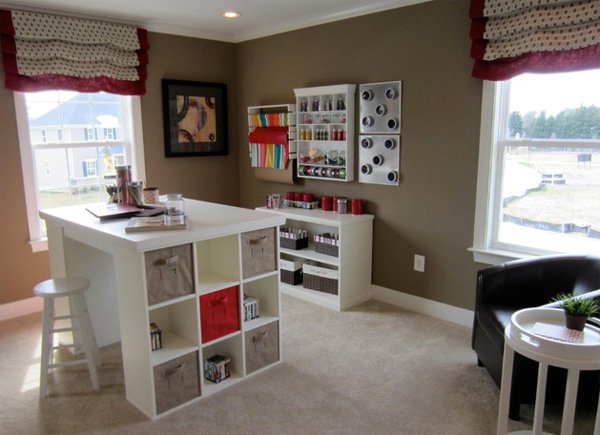 A crafting table with drawers for storing different materials or tools used in creating handmade objects.
Counter Height Craft Table White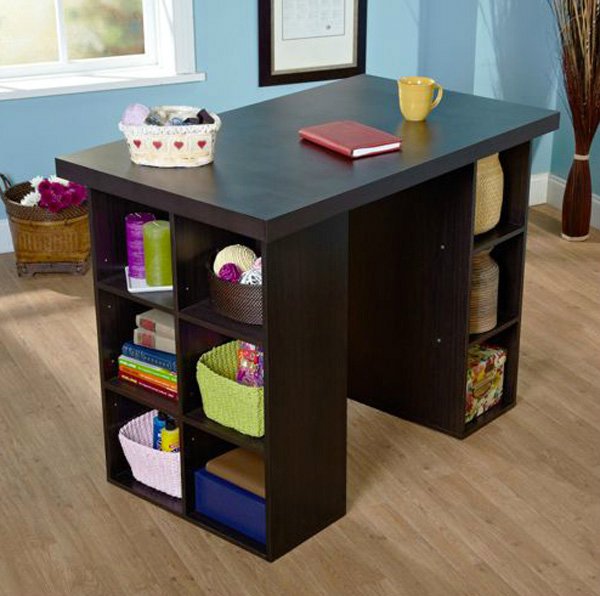 Having four adjustable shelves and two fixed shelves can be useful in storing your tools and materials used for crafting.
South Shore Crea Craft Table Pure White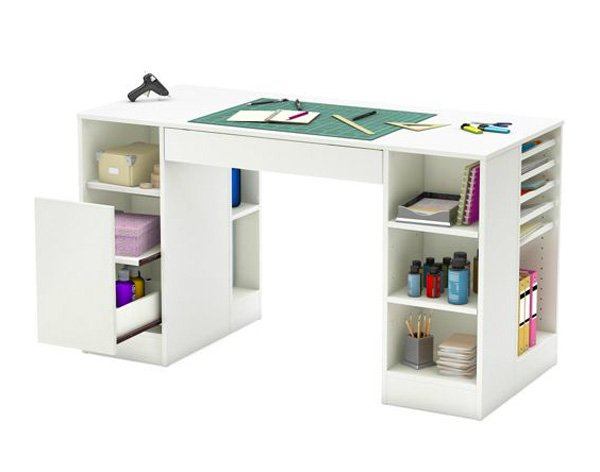 This crafting table has large work surface with storage and divided drawer which is perfect for keeping crafting materials.
Scrapbox View Craft Desk White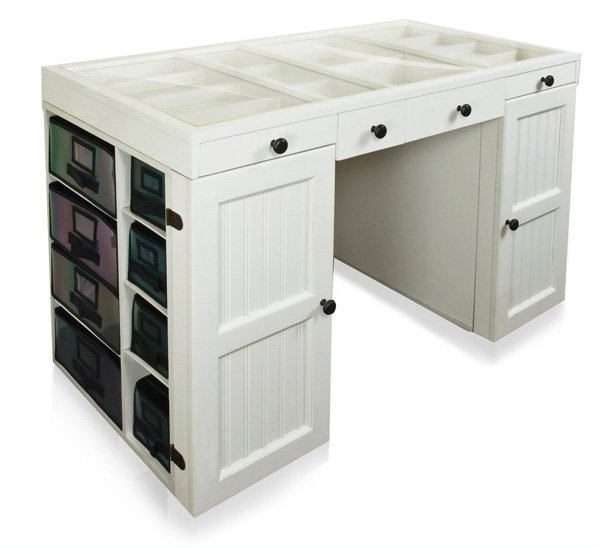 Scrapbox View Craft Desk has drawers, nooks and spaces for all your crafting materials with a clear glass-like surface which allows you to see your materials.
Sauder Harbor View Craft Armoire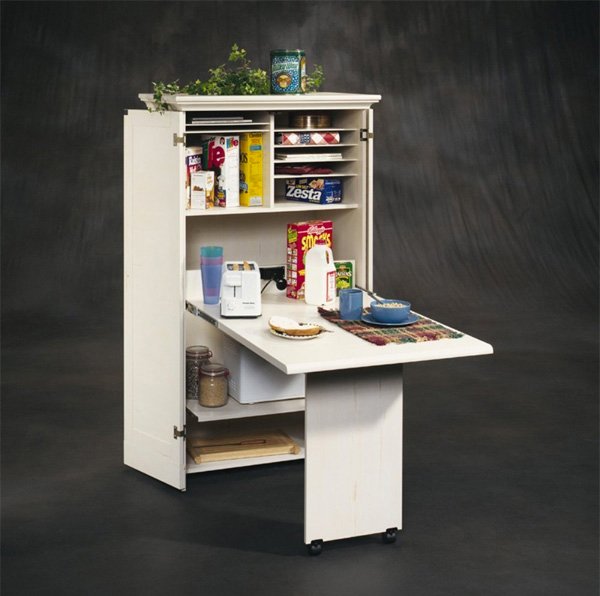 This kind of crafting table is perfect, for you don't have to give a whole room to your craft projects because it can turn into a cabinet once you finish using it.
Venture Horizon Project Center Bookcases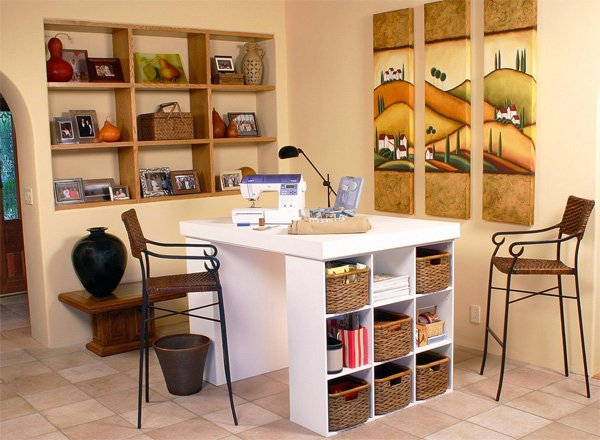 With its six adjustable shelves, you can easily store and organize your crafting materials. Having an expansive work surface is very useful for wide range plans.
Sewingrite Maximum Storage, Limited Space Sewing Desk With Electric Lift Rustic Maple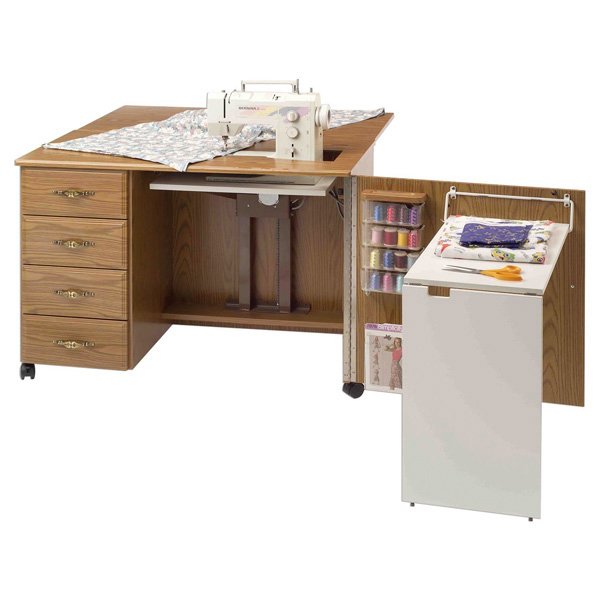 A crafting table with an extendable drop leaf and sufficient storage.
Beldin Craft Table – Walnut / Black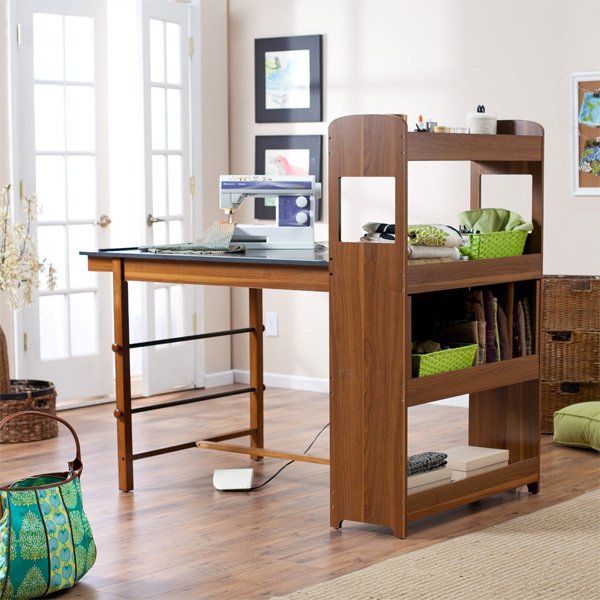 Has a perfect storage supplies and rollers between two table top supporters which can be used to place fabric or papers.
Sewing Rite Adjustable White Sewing Craft Table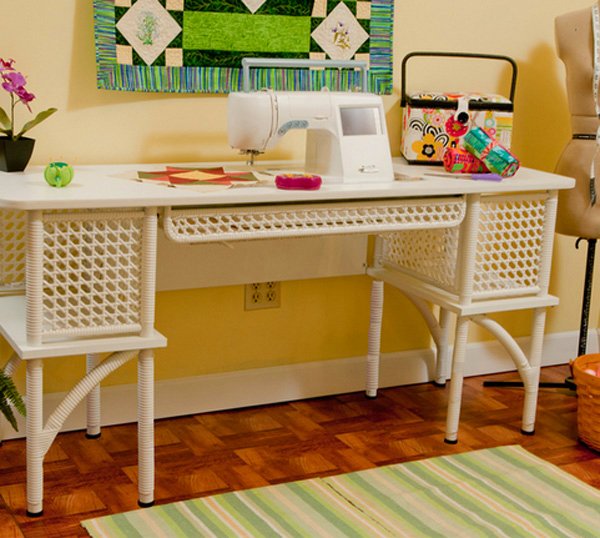 A crafting table with adjustable mechanism that moves the sewing machine into flatbed and free arm position.
TMS Wood Craft Table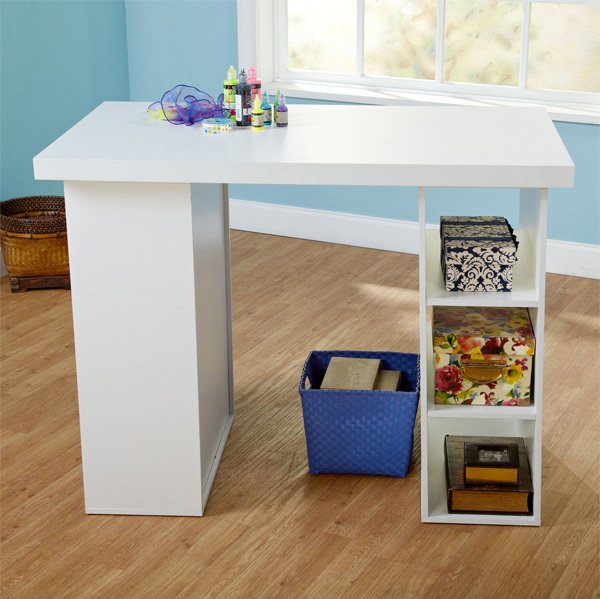 A counter height crafting table with enough storage for crafting materials and tools.
Frank Fold Out Craft Desk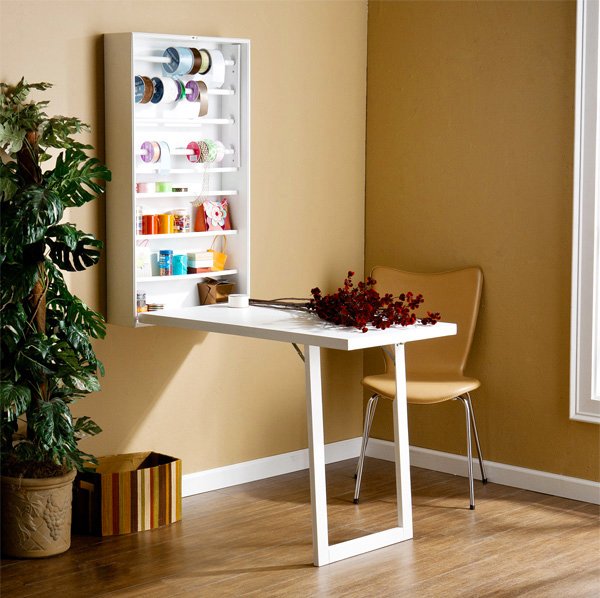 A wall mount craft table with four hanging racks and four shelves and that folds up when not in use.
Calder Bistro Desk Table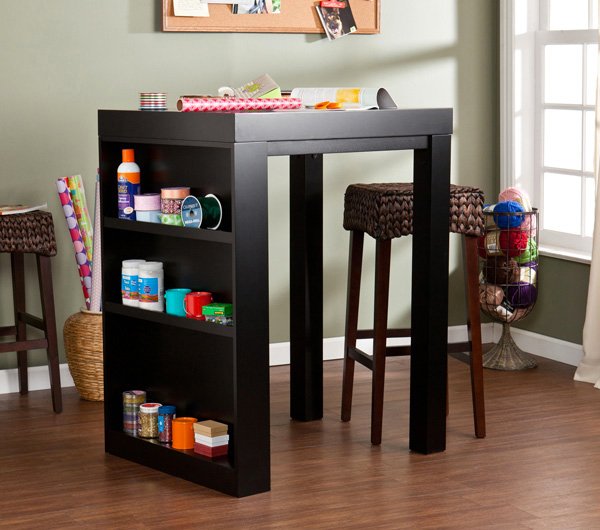 A simple design crafting table with ample storage for your crafting materials.
Lydia White Sewing Table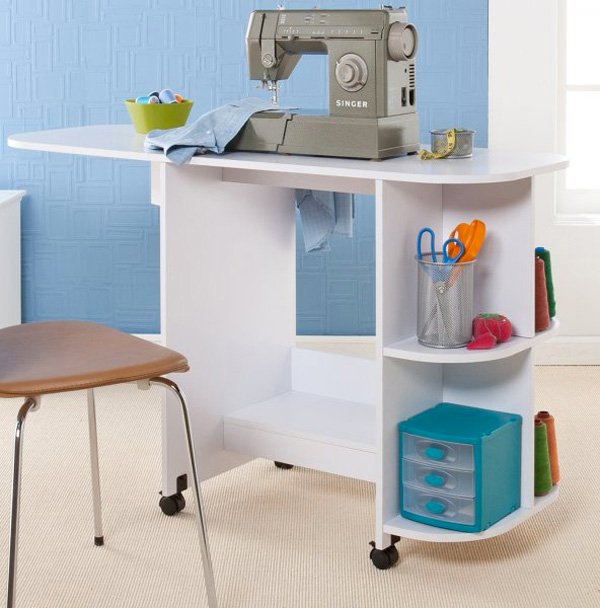 This crafting table has a fold-down table top extension that can be folded when not in used.
Project Table with Bookcase & Bin Storage in Dark Walnut Finish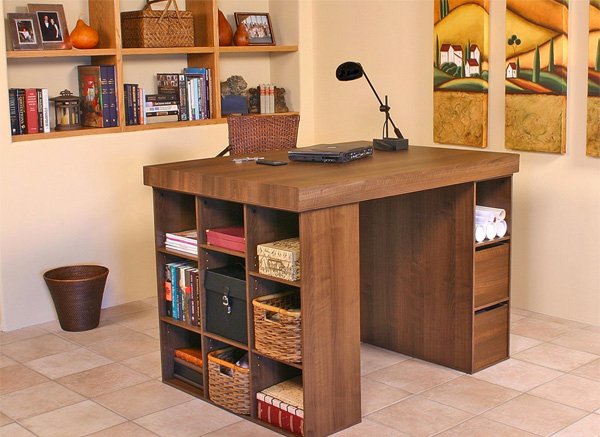 A crafting table that has much storage for your crafting supplies and can be very useful.
Cubby Table w/ 12 Clear Trays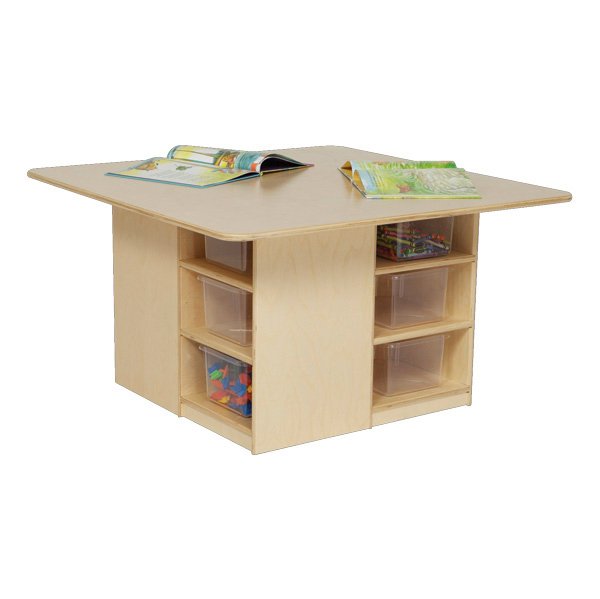 A user friendly crafting table because of its sizeable work surface with three cubbies on each side for storage.
Simple yet idealistic right? Idealistic in the sense that it doesn't consume big space in a room and also all crafting materials are within your reach since there are specific storage areas either just below or beside the table top. However, it doesn't necessarily mean that you must buy your own crafting table. You can be creative and just use an ordinary and simple table. While for its storage areas, you can either use plastic storage, baskets, boxes and others. You can also install or create small cabinets and drawers on your table. So, choose which is more convenient for you.