20 Impressive Beaded Chandelier Designs
In my search for a focal piece that is something unique and versatile, I came across beaded chandeliers. It is refreshing to look at and sophisticated as it is intriguing. It can be made from different materials that you can practically see everywhere. It has a wide variety of gorgeous designs and sizes that can fit in any kind of space in your home. It is an eye-catching piece that can be elegant, fun or dramatic, however you want it to be.
So I have gathered 20 impressive beaded chandelier designs that will absolutely standout in any space. These beaded light fixtures varies from rustic to eclectic. There are unexpected flairs and touches you can see in this wonderful piece. It is fitting for a special place in your home to be a delightful statement. I fell in love instantly at these beautifully made beaded lighting and I think you will too.
1. Whisper Pendant Chandelier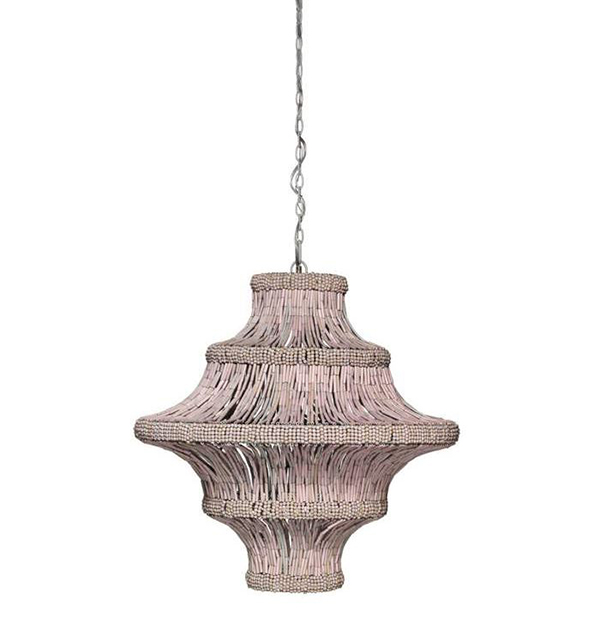 This four-light pendant chandelier is embellished with wood beads that gives its organic charm and its blush finish that adds whimsy and elegance.
2. Crystal Beaded Chandelier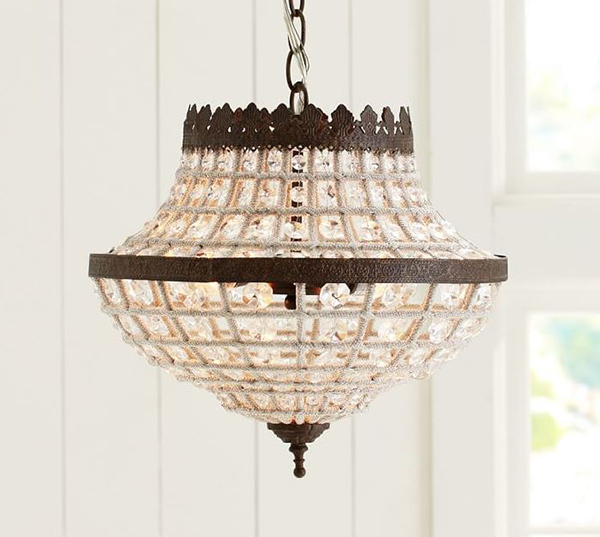 This chandelier with its antique bronze finish and glass beads can be a perfect accent to your shabby-chic dining room.
3. Canopy Designs Beaded Flower Chandelier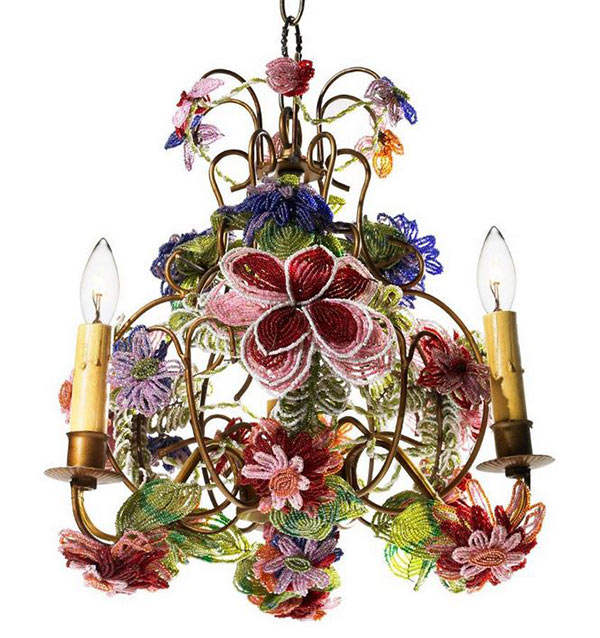 This lovely chandelier in antique, gold-finished steel frame is adorned with colorful glass beads in floral design that is sure to bring glamour and eclectic appeal to any space.
4. Brass Beaded Metal Chandelier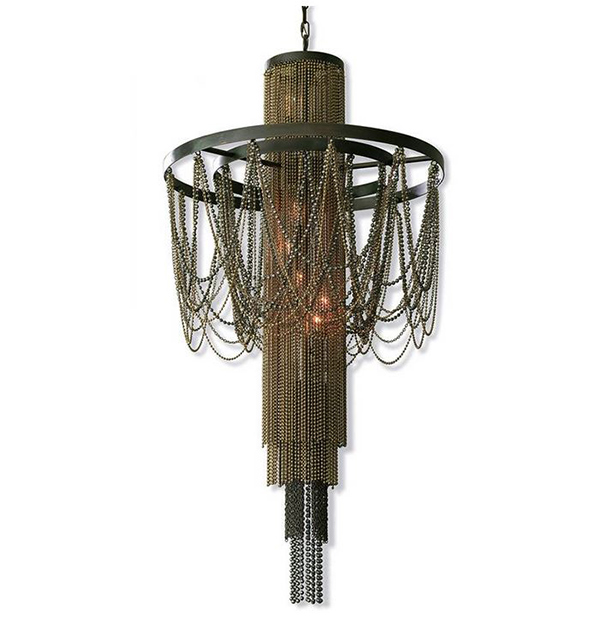 This luxurious chandelier, draped in gold and silver beads will illuminate your home in Old Hollywood elegance.
5. Socialite Chandelier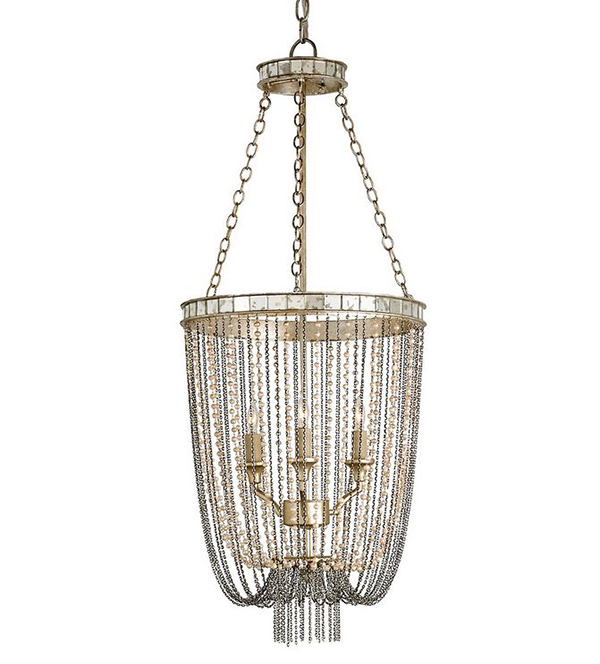 A stunning accent to exude elegance and style in your home!
6. Malibu Chandelier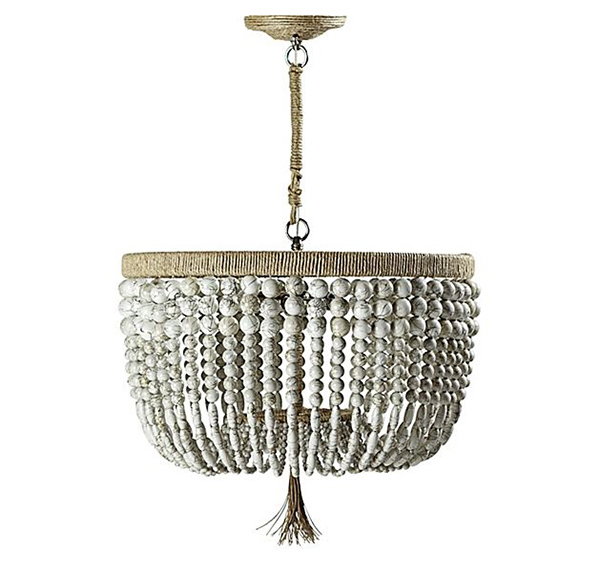 A combination of white-colored beads and bronze brings natural charm, while the natural hemp wrapped around the sturdy steel gives its rustic appeal.
7. Alberto Orb Chandelier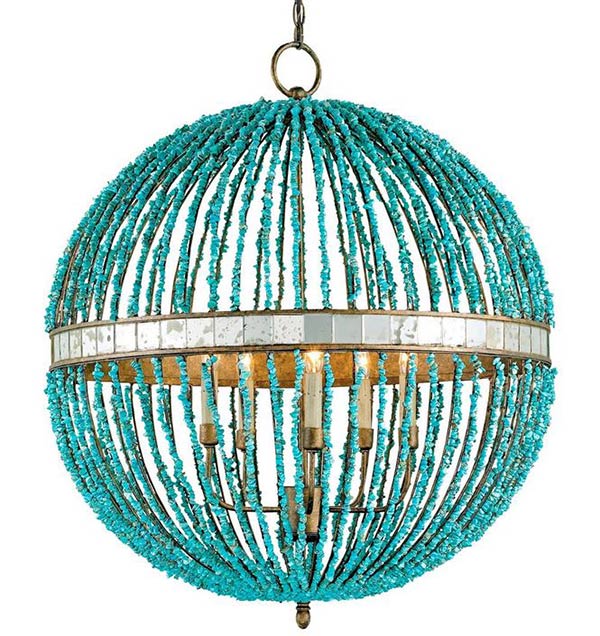 This globe-style chandelier in turquoise marble beads, offers a contemporary focal point that is chic and glam.
8. 18th Century Italian Bead Chandelier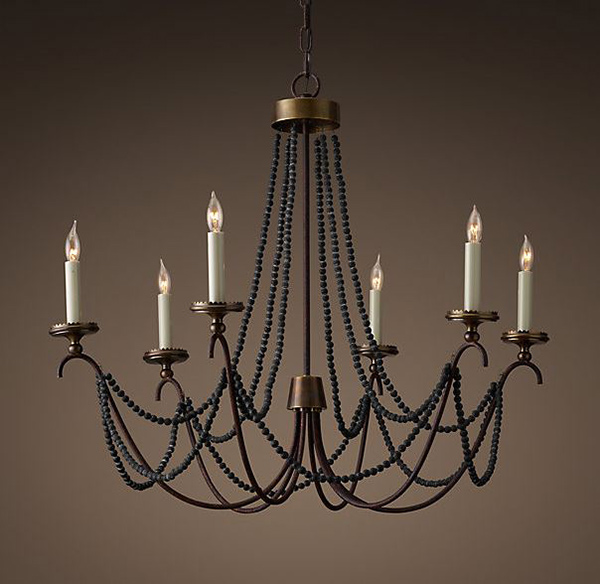 The strands of black wooden beads in this Italian chandelier brings rustic elegance.
9. Flowered Ball Chandelier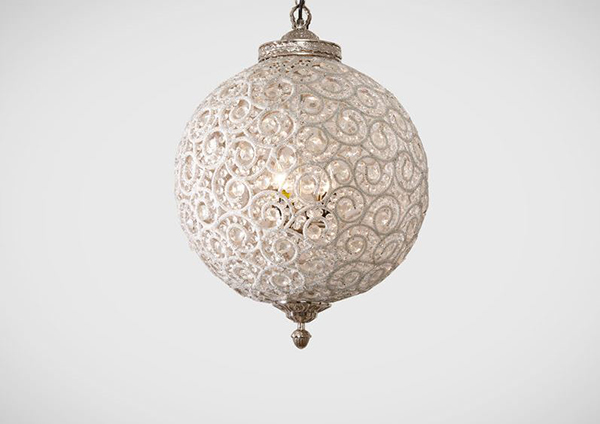 The intricate details on this glass-beaded chandelier gives a feminine touch and sophisticated glamour.
10. Empire Chandelier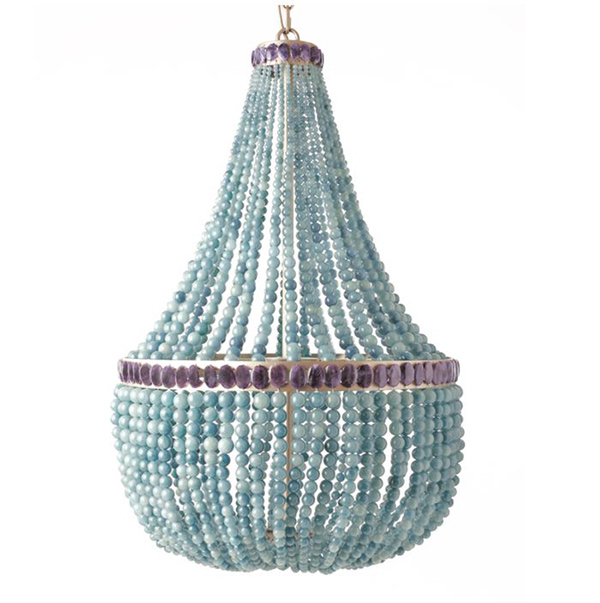 A spectacular chandelier dressed with light blue quartz and amethyst accent stones will be a jewel in any interior.
11. Frankie Malibu Chandelier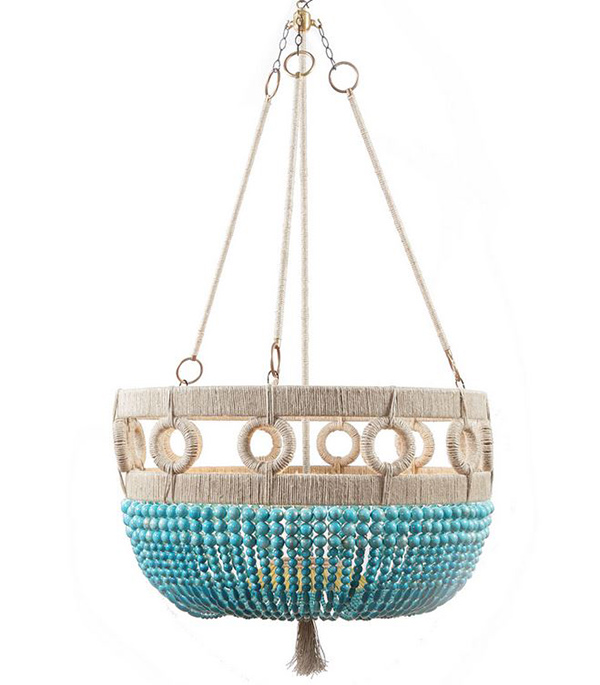 Give your home a chic yet casual flair with this turquoise beaded bowl chandelier!
12. Spellbound Art Deco Draped Mercury Glass Balls 8 Light Chandelier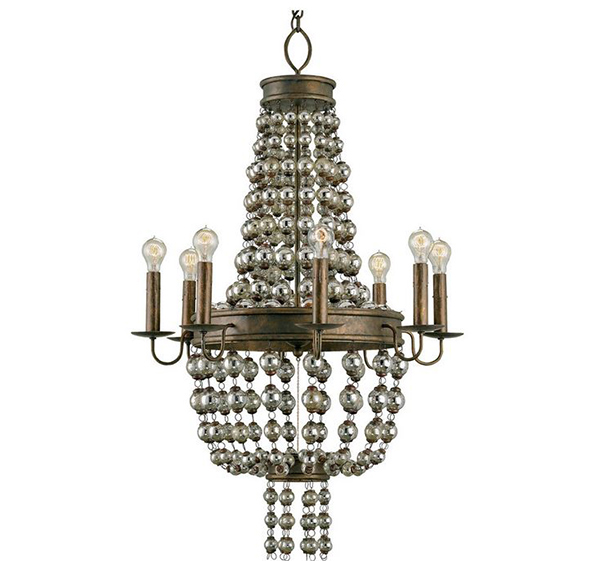 A draped of stunning mercury glass beads with eight bulbs make this beaded chandelier a bold statement piece that can lend a contemporary look to your home.
13. Cupid Chandelier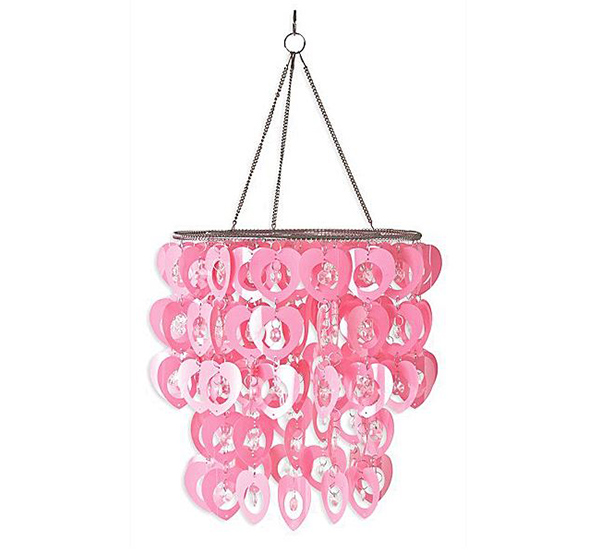 This Cupid chandelier makes a charming 3D effect with its two tiers of pink hearts and clear beads. It can make any girl's room glow in sweet glamour.
14. Regency Style White Beaded Chandelier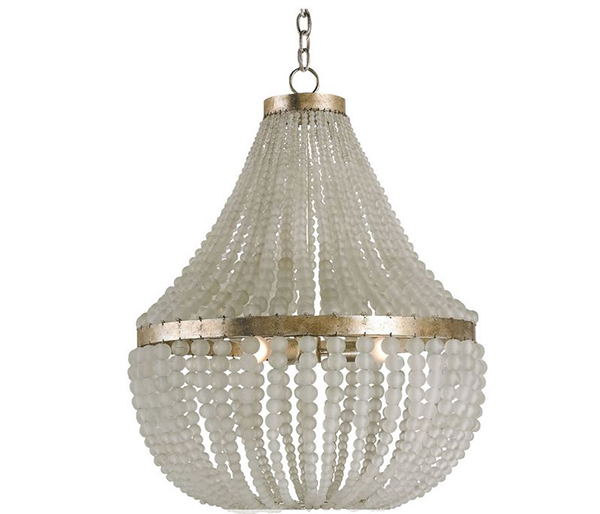 Bring in the Hollywood Regency glamour to your home with this classic matte-clear beaded chandelier!
15. Fiona Chandelier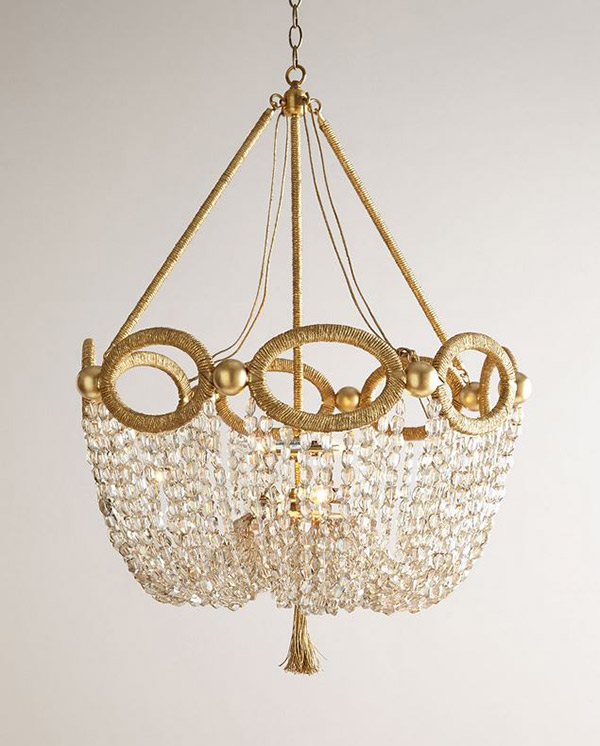 Beautiful glass beads draping from a gold-finished frame of steel brass with hemp accents, give this chandelier an exquisite look that can give your home a feel of luxury and style.
16. Smoke Crystal Chandelier 41″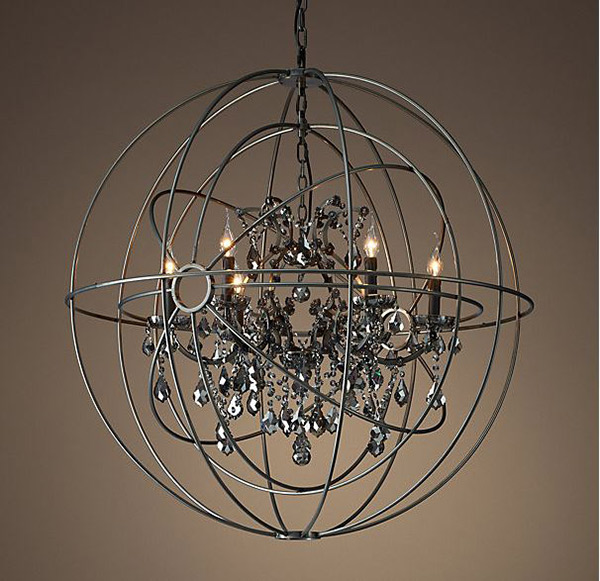 A true stunning focal piece that offers a bold and industrial appeal to your home.
17. Canopy Designs Parisian Medallion Chandelier
Infuse your space with eclectic glamour from this gorgeous beaded chandelier accentuated with gems in pink and fuchsia.
18. Palace Acrylic Chandelier
This vividly-colored-beaded-chandelier is one bold statement that will illuminate your home in a regal and fun style.
19. French Empire Chainmail Chandelier 30″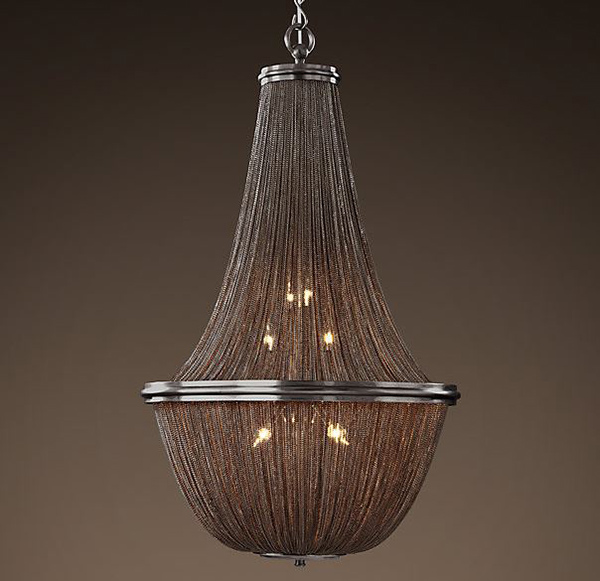 Let this silvery-beaded chandelier add an industrial sparkle to your home!
20. Crystoria 4-Light 31″ Polished Chrome Crystal Pendant Chandelier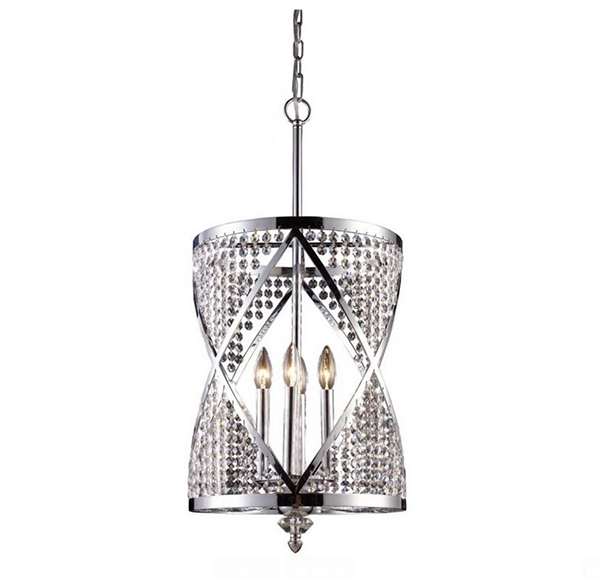 This lantern-style beaded pendant chandelier is a combination of traditional and modern elegance. The geometric crystal beaded motif and its chrome finish give its mod-vibe perfect for entryways, over a dining table, nook area or bedroom.
Add bling, a bold statement or a stunning featured item with these beaded chandelier designs! These beautiful centerpieces are all wow-worthy and will dress-up any interiors. It has its own character that can adapt to any environment. Showcase these glamorous finds in your home and get spectacular look and feel.