20 Beautiful Bedrooms in White Bed Skirts
Have you ever thought of adding a bed skirt to your bed? Check this list and be inspired!
We all know what a bedding set is. Well, that is so easy to understand but have you seen bedding sets with a bed skirt or valance? Bed skirts are decorative fabric that is usually placed between the mattress and the bed. Aside from giving the bed a stylish look, bed skirts also cover the area under the bed and avoid exposure of the sides of the bed's box spring. When you store items under the bed, your bedroom will not look cluttered at all. Bed skirts can of course be made from various fabrics in different prints and colors. You can choose those that match with your bedroom's motif and style.
Today, you will be seeing 20 photos that showcase a whole new look for traditional bed skirts – if you notice nowadays, more and more people prefer the more modern designs for beds with less skirts but still huge beddings or duvet with a high thread count; but whatever the design or type of bed you would prefer for your bedroom, take a look at the designs of the bed skirts below. This might inspire you to get your own bed skirts and add more style and a good fashion sense in the bedroom too. So, if you wonder how it actually looks like to have a bed with a skirt, this list will give you an answer and would help you decide if you could get one for your own space or not.
1. Baldwin Street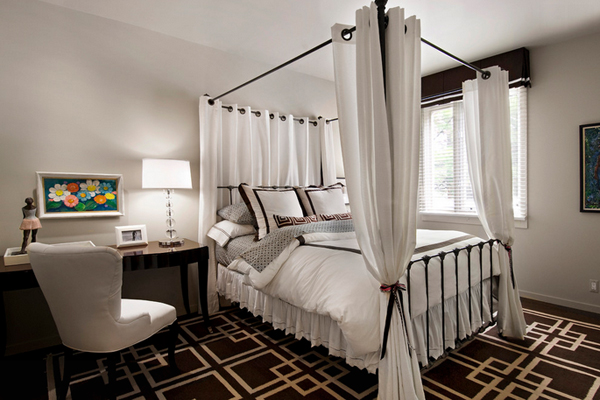 The bedding here includes a skirt and hotel-style duvet pulled all the way up, then slightly turned down. Euro-size pillows are placed in front of the sleeping pillows. They can also be placed behind the sleeping pillows for a cushy backdrop.
2. Beverly Hills Contemporary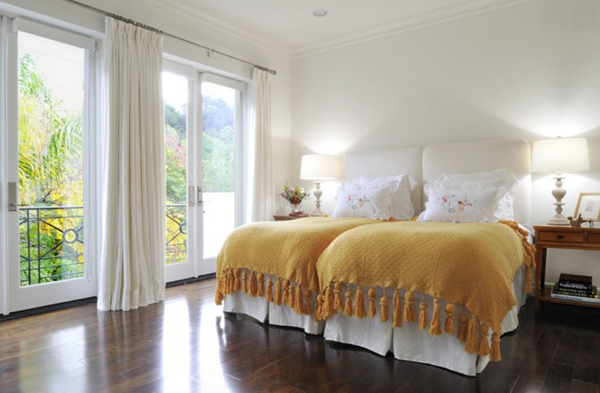 I love how clean this bedroom feels because of the color palette used for this Los Angeles bedroom; white bed skirting and colored duvets.
3. Boston Traditional Bedroom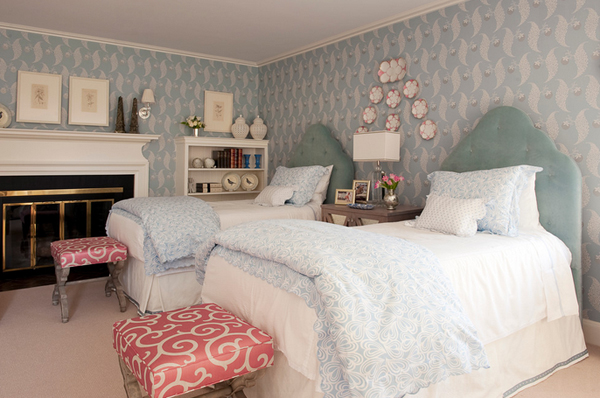 Pretty color combination for this Boston bedroom; love the decor too.
4. Carcary Residence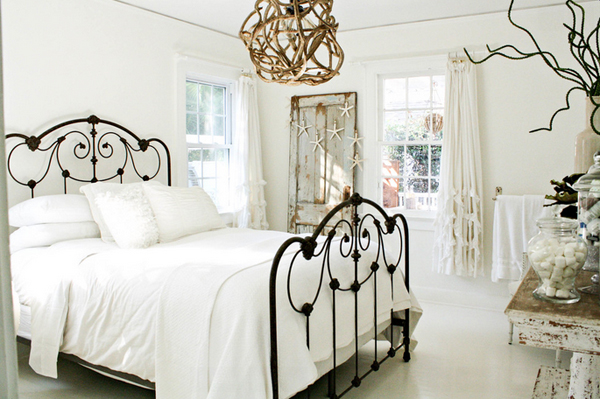 Strong and sturdy but with a romantic vibe, wrought iron beds work equally well in bohemian- and rustic-style spaces. A well-made wrought iron bed is built to last and can take more of a beating than other types – which is great if you move frequently. Those who like to read in bed, take note: You'll need to prop up on plenty of pillows to make that bumpy metal headboard comfortable.
5. Chicago Eclectic Bedroom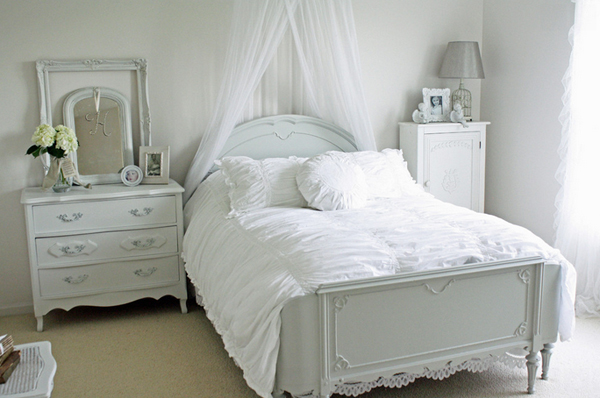 The relaxed, lived-in, beach cottage look is the perfect feel for the summer months ahead. Romantic, breezy and feminine shapes and textures inspire many days of sleeping in followed by breakfast in bed.
6. Fish Camp Beach Cottage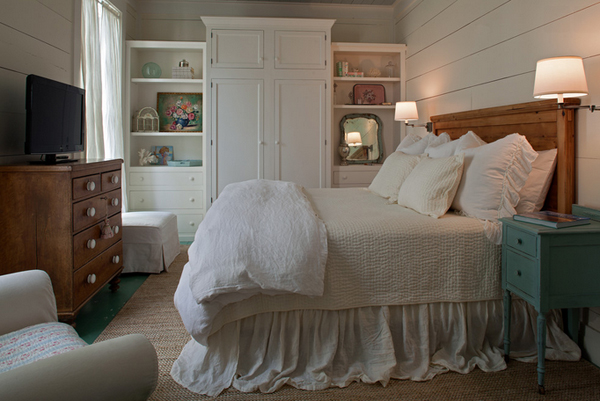 The first-floor guest bedroom was kept light and airy, with both the floors and walls painted entirely white.
7. Gaslight Square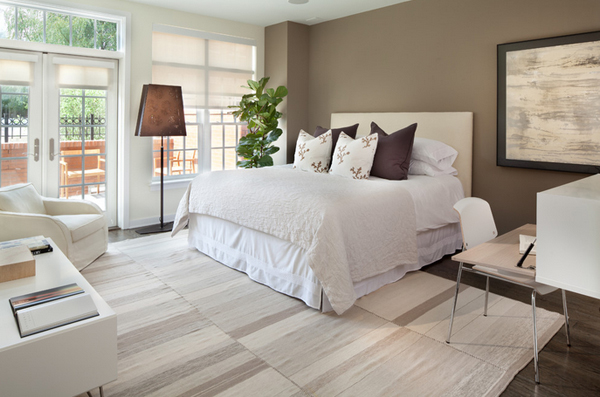 The Hampshire grey walls complement well with the white walls and the neutral area rug.
8. Greenwich Penthouse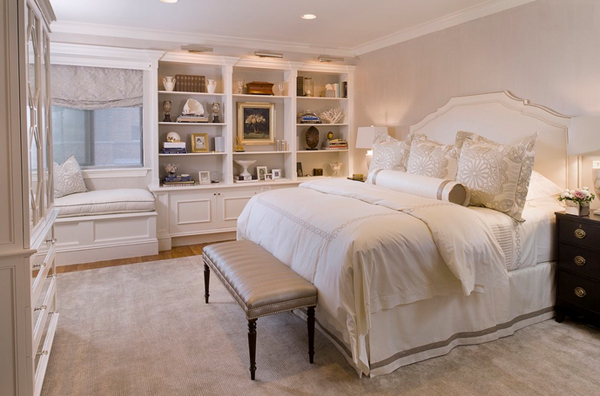 The bedside tables are antiques that have been refinished and ebonized by the designers; love the huge bed though.
9. Hawaii Tropical Bedroom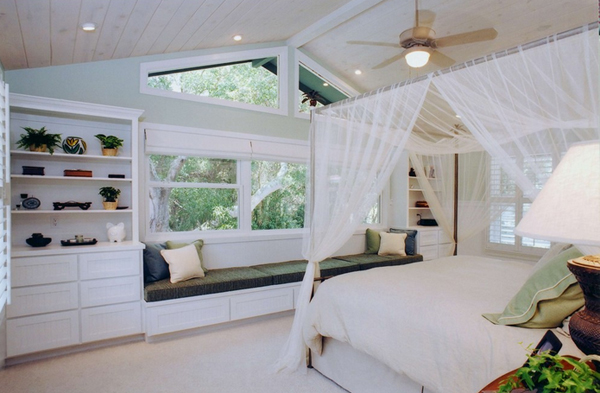 Another great texture to keep in mind is "wispy". Many Hawaiian-inspired homes have thin canopy bed covers like the one seen here. Combined with the pure white of the room this makes for an airy, light space that certainly says "Hawaii".
10. Klein Residence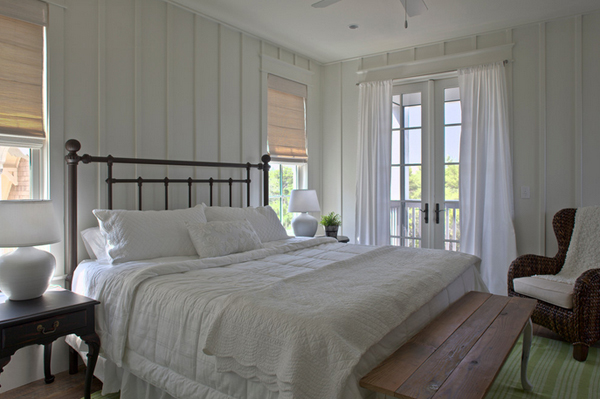 This is not exactly a historic farmhouse bedroom move, but more of an interpretation. Board and batten is typically seen on the exteriors of agrarian buildings, but bringing it inside is a popular way to add rural style these days. In a bedroom it adds dimension to the walls and feels more rustic than drywall. Because the lines of board and batten are so simple, they work well in traditional and contemporary homes.
11. Minneapolis Contemporary Bedroom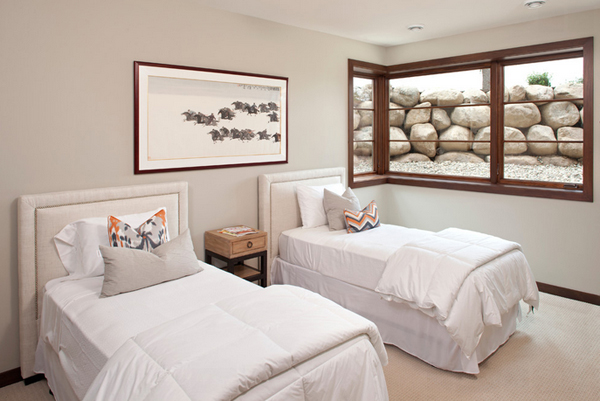 This is basically a basement type of bedroom with all those stone hedge outside the window – love the beds too, even if it's actually small.
12. Naples Florida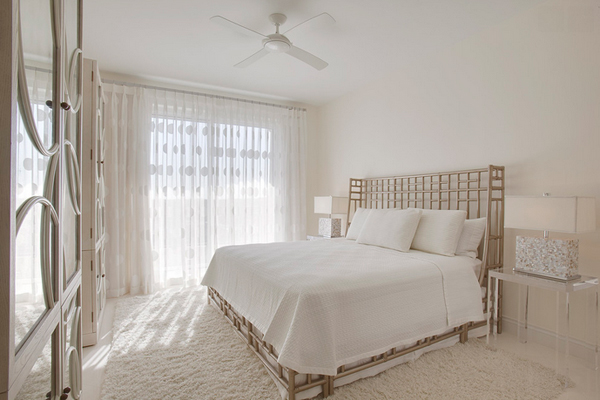 Is there any place you'd rather be than this bedroom on a Sunday morning? The all-white color scheme is so soothing, and the shag rug provides great texture and the perfect landing pad for cold morning toes.
13. New York Traditional Bedroom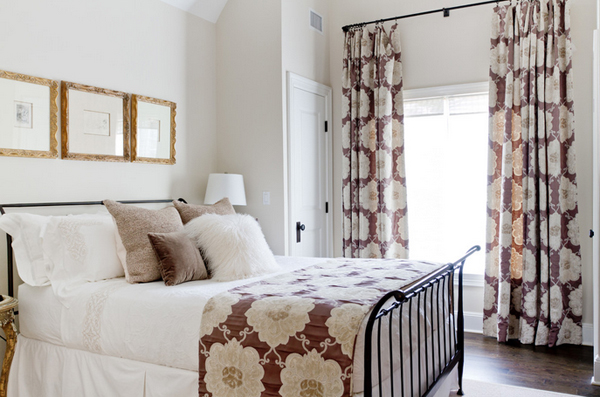 Small closet, but quite workable as storage space; also provides some interesting architectural planes.
14. Northway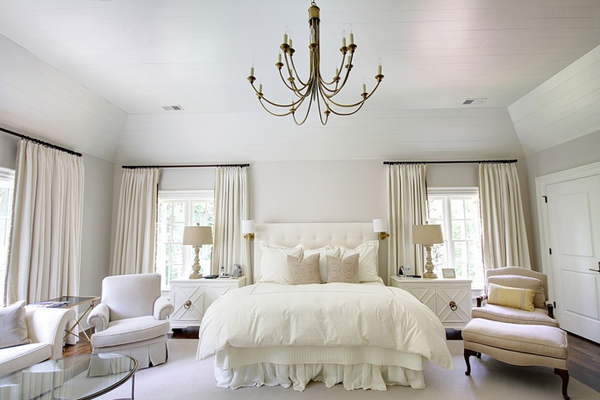 Match the whites to the room style. A cottage-style boudoir with a painted iron bedstead and ruffly curtains calls for warm whites, which feel cozy. On the other hand, an ultramod home office might be better served by stark, cool shades.
15. Private Residence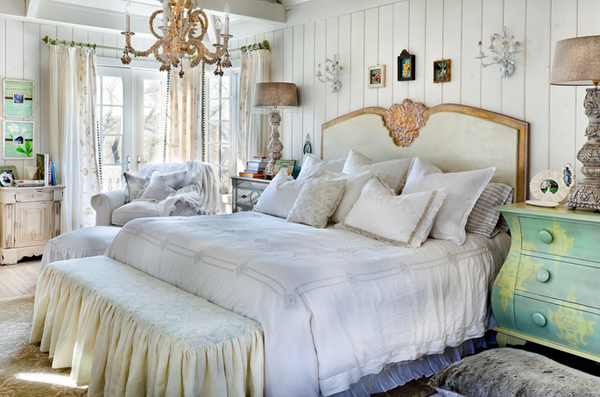 Love this entire bedroom! Decorations and bed in itself.
16. Seven Oaks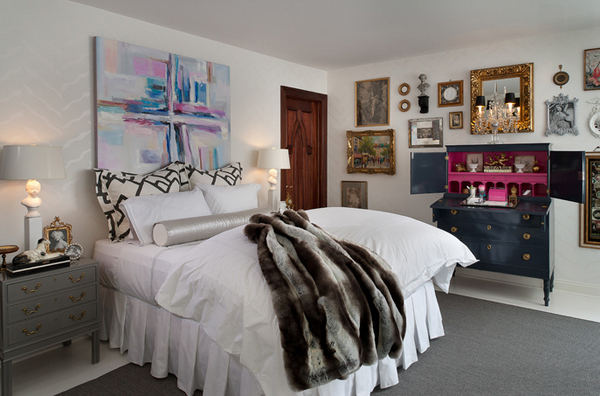 Notice the secretary on the side? Super pretty, right? Love the huge bed too!
17. Staging Manhattan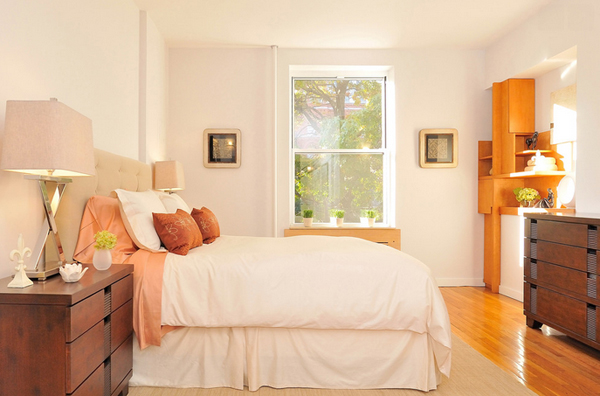 Love how bright and clean this is! Would be great for my own room!
18. Toronto Contemporary Bedroom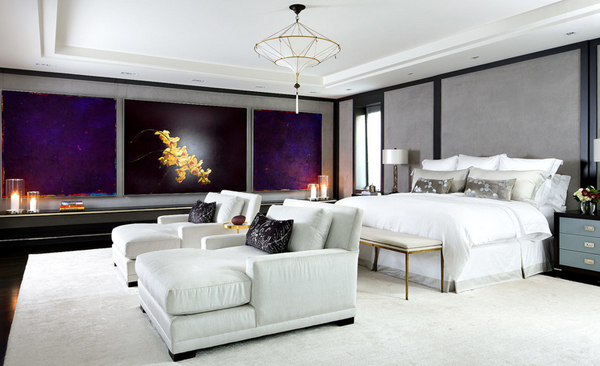 Overall look and feel. Not sure if I would use this light fixture in this space; would probably swap it out.
19. Waterfront Estate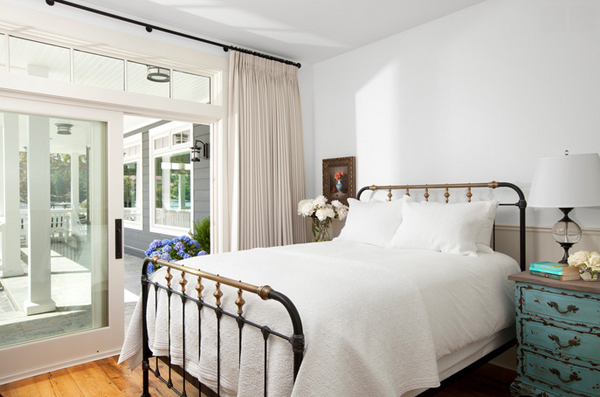 The beauty, strength and value of the iron headboard and base are cherished by all those who own one. In the later part of the 19th century, artisans hand poured and polished iron bed frames.
20. York Show House Bedroom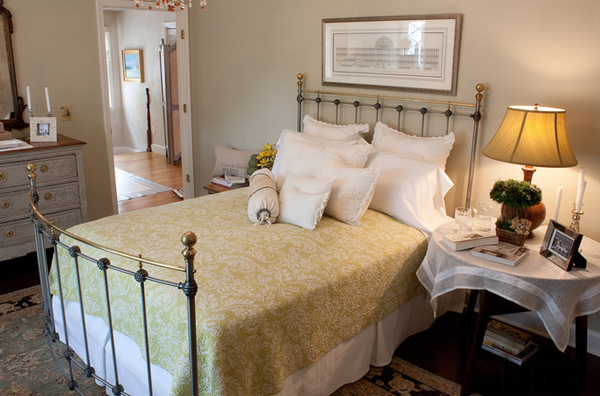 Bedside tables were seldom matching, as this was not the era of uniform bedroom sets. Try using one plain table, covered with a tablecloth or lace, and an antique table or old military chest for the other side.
Looking at all the beds above made me sleepier than I already am. The beds above look all too comfortable and huge that every bed might actually swallow you once you jump into it. White might be the most common color for beds and beddings, but it still is the most class and sophisticated option anyone would love – even when it is expensive dry cleaning those stunning bed sheets!