15 Lovely Tropical Bedroom Colors
Tropical colors in bright sunny yellows, fresh water blues, and lush greens are some of the colors you'll love to paint your room to give it a warmer feel. There are other bright and tropical colors like tropical breeze, Valencia orange, beach sand, mango peach, and sunset red which are featured in this list of 15 Tropical Bedroom Colors that could match your personality and style. Have one favorite color? Use a tone that you like and choose a bold color. Then use lighter shades of the same color throughout your bedroom.
It is not only the paint or wall paper that matter in your bedroom but even the colors of the textiles and furniture. These interior design accents are great to mix and match solids and patterns for an unfussy and cheerful sense to your interiors. Use tropical colors– or elect to choose your favorites and go wild with them! If you prefer patterns but not so bold, choose neutral colored fabrics to pair up with a few patterned accessories like pillows and area rugs. Usually, furniture and color like greens and blues are the key elements in tropical style bedroom. Bedroom furniture range from weathered or wicker furniture with fun tropical floral treatments and accent pillows. Let us take a look into this 15 Tropical Bedroom Colors.
Focal Point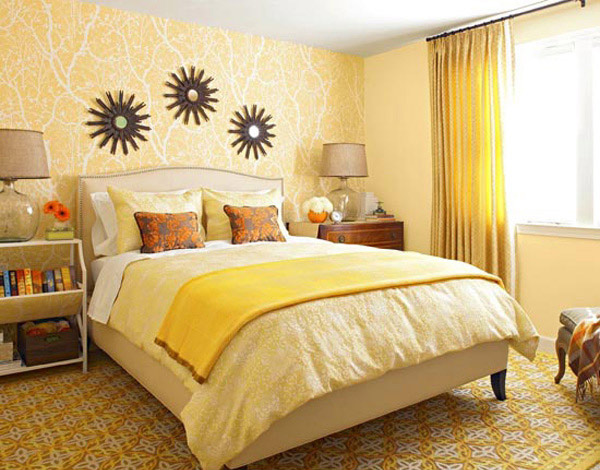 The accent wall in pretty yellow and white pattern gives a cheerful and fresh feeling.
Sophisticated Surf Shack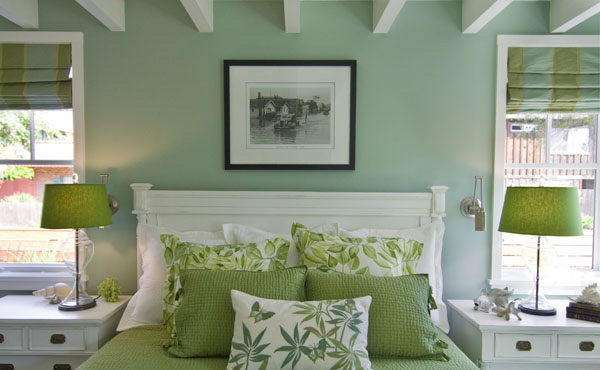 The blend of green and white in the bedroom along with the use of pillows with palm tree and leaves design adds up to the mood of tropical setting.
Pink and Green Bedroom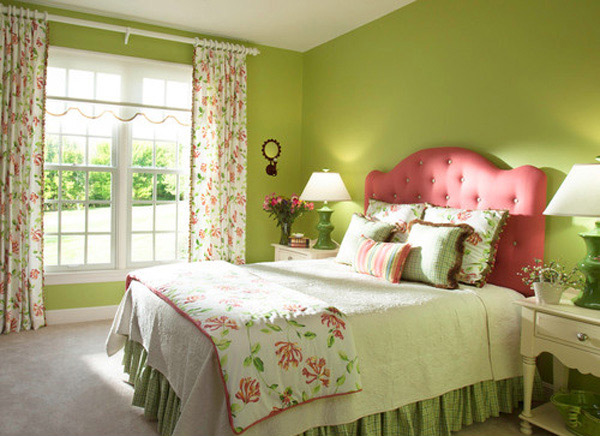 The added use of floral fabrics in curtains, bed pillows and blanket added a nature-like feel to the bedroom. The wall paint is soothing and relaxing. It alleviates anxiety and stress from the day's tiring work.
Cheerful Disposition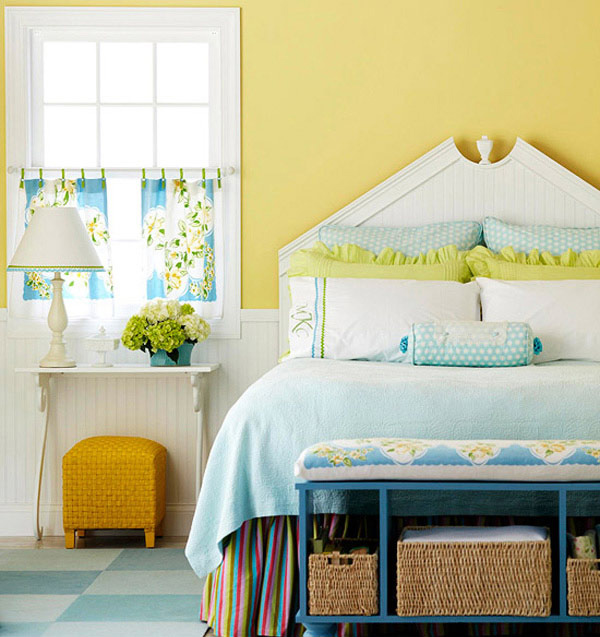 The daisy yellow walls create calmness and feeling of tranquility for this bedroom.
Contemporary Hillside Retreat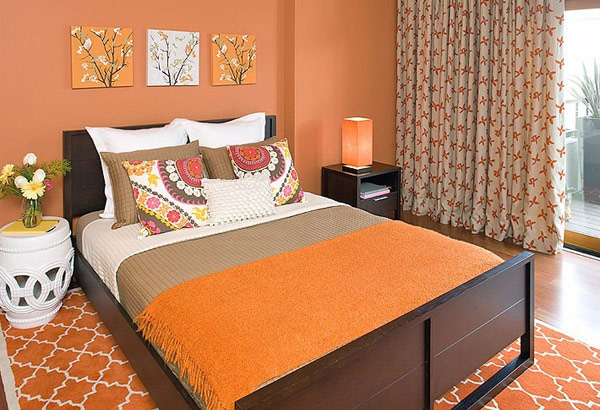 This room color is the mixture of the energy associated with energy and happiness. The orange color is often used as a transitional color or to represent a transition or change of some kind.
Spring Sensation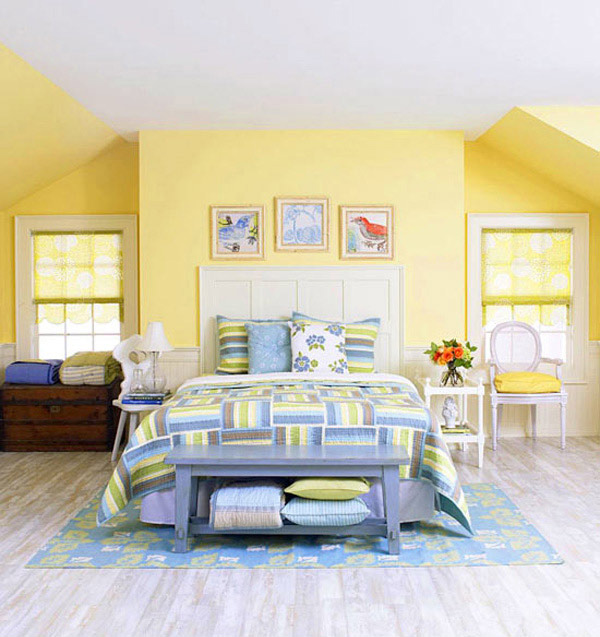 A shade of yellow is used to convey luminosity and enthusiasm to your bedroom. The decorative pillows attribute affable fabric that gets additional pattern and color to the room.
Stylish Transitional Home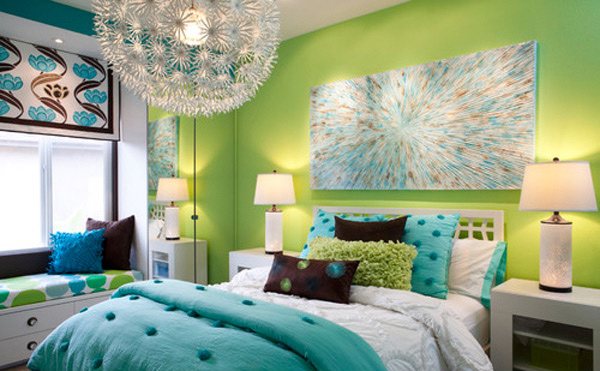 Its vivid combination of colors from the wall paint and fabrics give this bedroom a relaxing feel.
Palo Alto Residence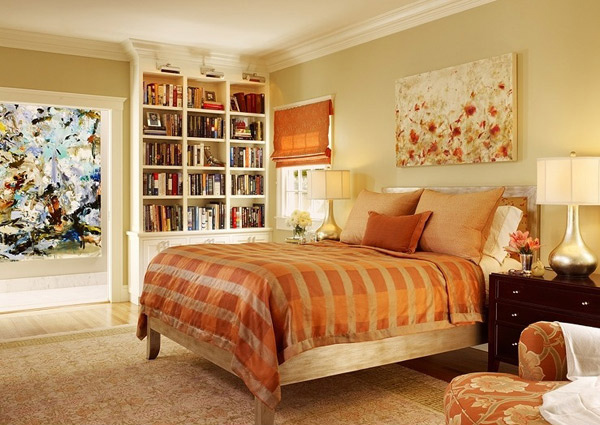 Having this color in your room, you will feel stimulated, vibrant and flamboyant.
Bedroom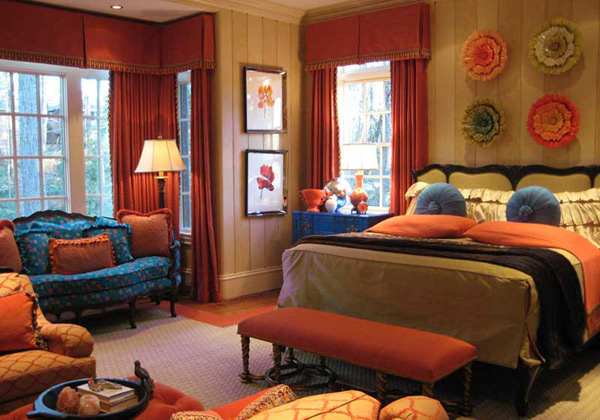 The wall decors add to tropical motif plus the furniture and curtains that may denote excitement and energy.
Lido Tropical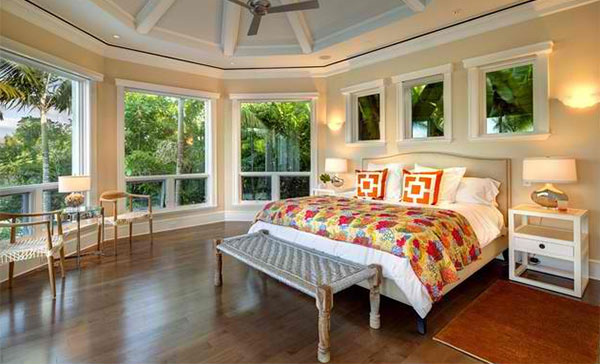 The color combination used here is fun yet sophisticated. The design of the ceiling gave that tropical look to the bedroom.
Tropical Bedroom with Red Accent Wall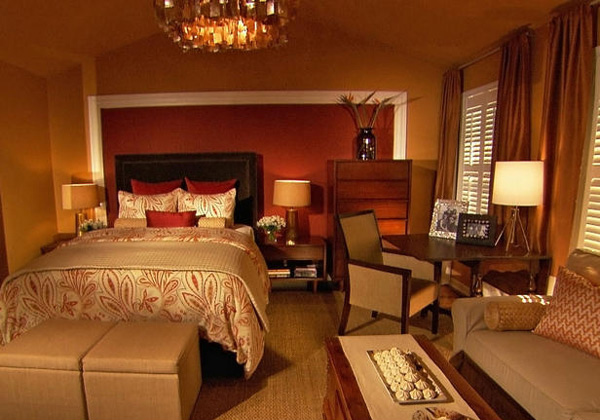 This bedroom suggests tranquility and beach experience because of the amiable and good-natured color tone.
Mokulua Hillside Residence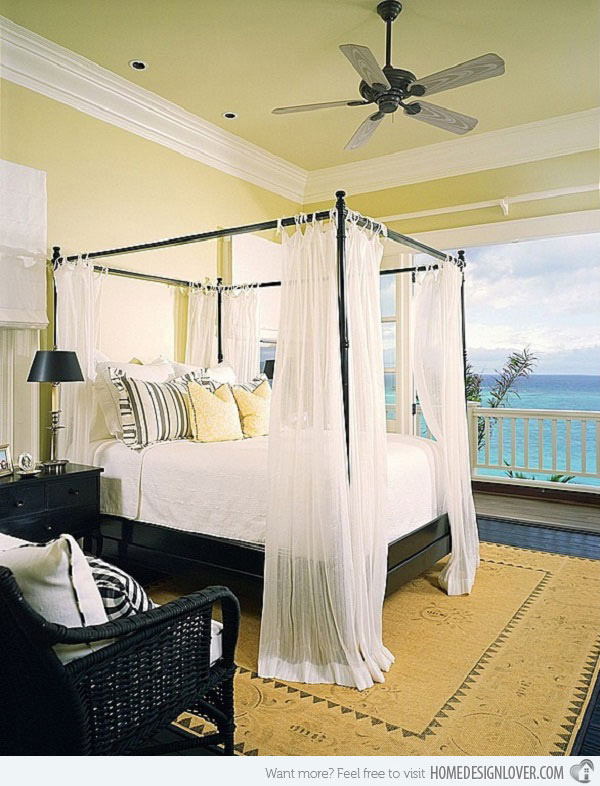 With its large window, one can see the lovely view of the ocean. It also allows the breeze to go into the whole room.
Austin House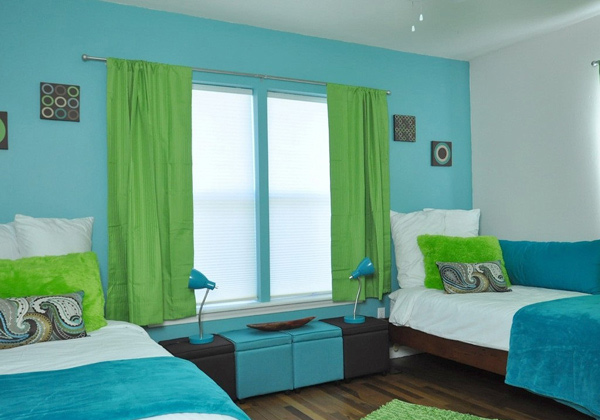 For vacationers, a bedroom like this will make you feel relaxed with its mix of green and blue which are pleasant and consoling for the short stay you will have.
Fragen Residence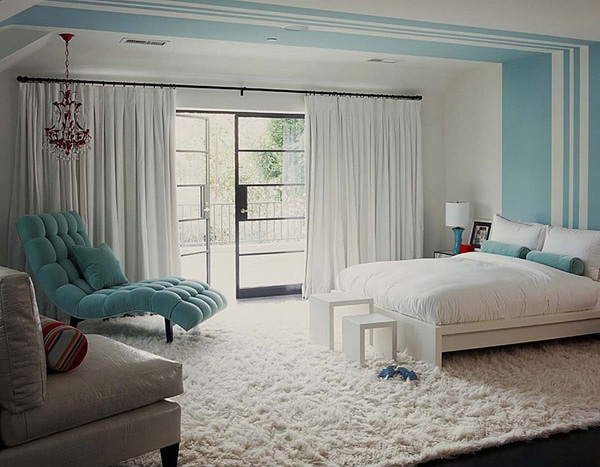 The bedroom is so relaxing and comforting. Aside from its color, the linen and the mat compliments each other.
Galaxy Macau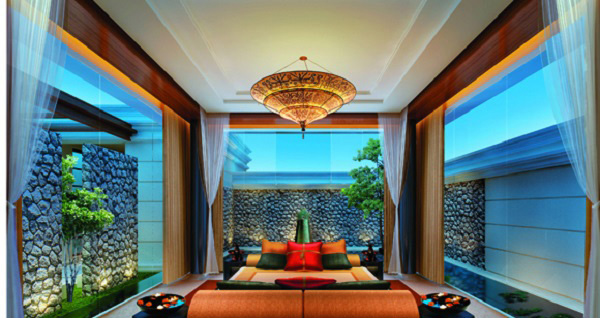 The ambiance on this bedroom aside from its in-suite relaxation pool is very calming and comforting.
The 15 Tropical Bedroom Colors that we have, features bedrooms that reflect a carefree lifestyle of warm hospitality, comfort, and ease of the designers. The key to having this kind of style in your bedrooms are bright and cheery colors. If you like one of the 15 Tropical Bedroom Colors featured here, make a choice of your favorites and integrate fun and interesting pieces here-and-there. If you are designing your bedroom, have pleasure with your creation with the ideas above!