20 Fancy Printed Bed Skirts
I'm pretty sure you already saw the previous list we have about bed skirts – I personally loved each one because of how comfortable each bed looked like and how the spaces were actually designed to fit around the bed. It's not usually the case but I think it is one smart move to do so that it makes ay bedroom space really fascinating and interesting.
Below is a list of awesome bed skirts – printed, plaid or checkered. They come in different skirt colors but mostly with white duvet or bed covers. This list is indeed a list to look at for because even when bed skirts are not really in trend nowadays, they still invite people in because of the comfort they project on the outside – check out the list below.
1. Amagansett Modern Farmhouse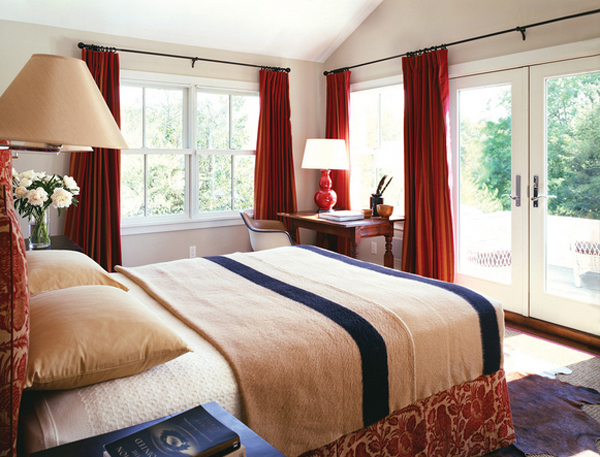 All other things being equal, high thread counts can indeed translate to increased comfort. Don't be tempted to buy 800- or 1,000-count sheets, however; you'll do just fine with a style in the 400 or 450 range. The extra thread count doesn't make enough difference in feel to justify the price. In fact, the highest-count sheets can even be stiff because so many fibers are jammed so closely together.
2. Arcadia 5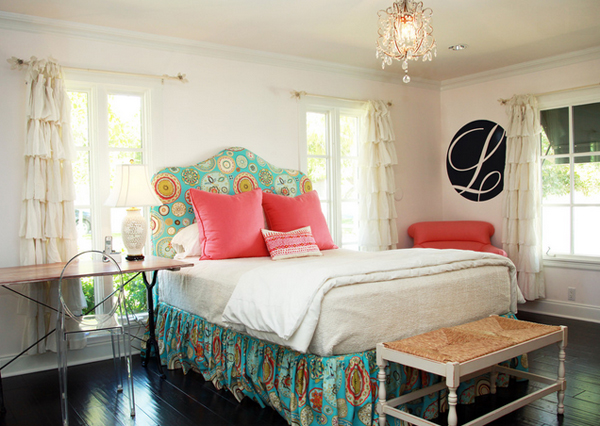 I like it when the headboard and bed skirt match, don't you agree?
3. Bridgeport Guest Bedroom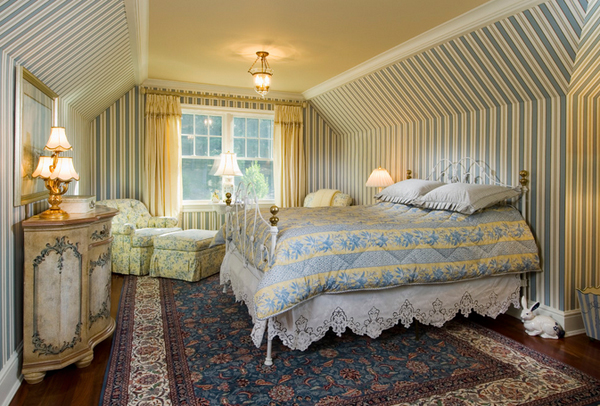 The custom bedding was kept understated by the choice of a casual print. The bending of the striped wallpaper by the angled walls breaks a straight line and introduces movement to the room. A decorative, hand-painted serpentine chest from Italy adds function to the room while pleasing to the eye.
4. Cooper Creek Master Bedroom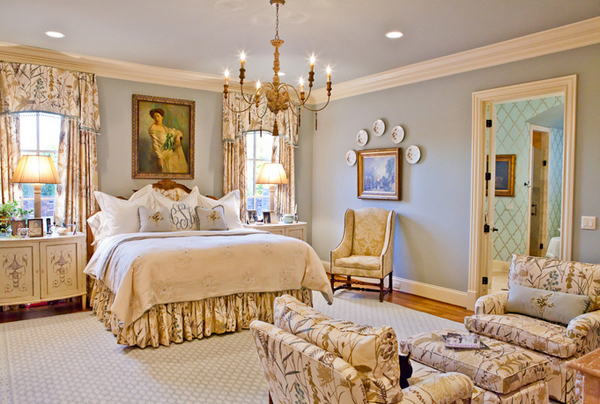 Master bedroom and bathroom have a beautiful floral motif that ties both together.
5. Cottage Style Model Home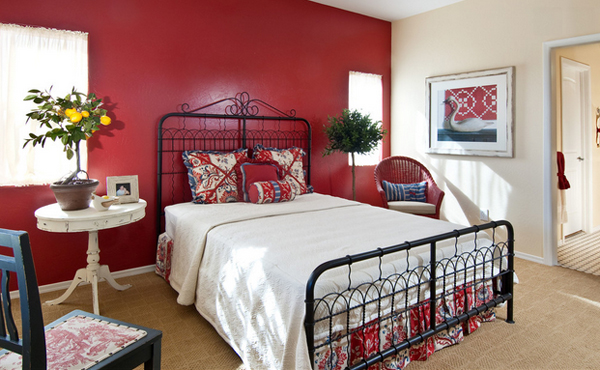 Love all the red with yellow and blue highlights in this bedroom; love the fact that the pillow cases match the bed skirt too.
6. Country Traditional Bedroom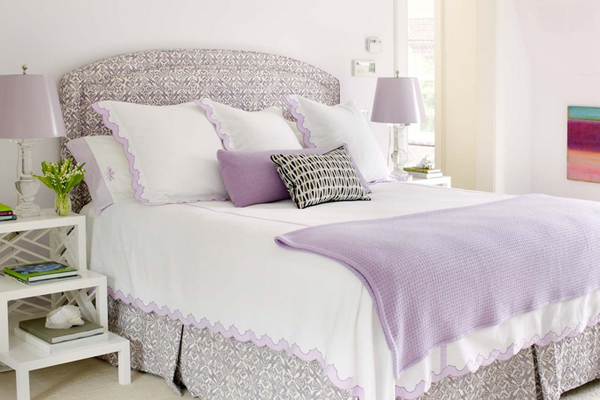 The lavender accents in bedroom is just lovely. The pastel undertones on this bedroom is perfect – too perfect!
7. Dallas Traditional Bedroom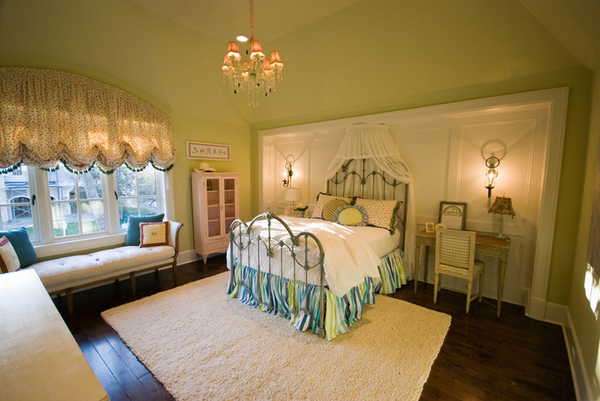 The window treatment fitted to arch nicely; a bit matching with the drapes above the bedroom.
8. Enchanted Oaks
The generous and lavish mix of linens in this elegant bedroom is the secret to its comfortable, ensconcing feeling. The various linens used – not only on the bed but on the windows, upholstery, decorative pillow and even the throw – all work together to create a feeling that says, "Come in and relax."
9. Southern Living Idea House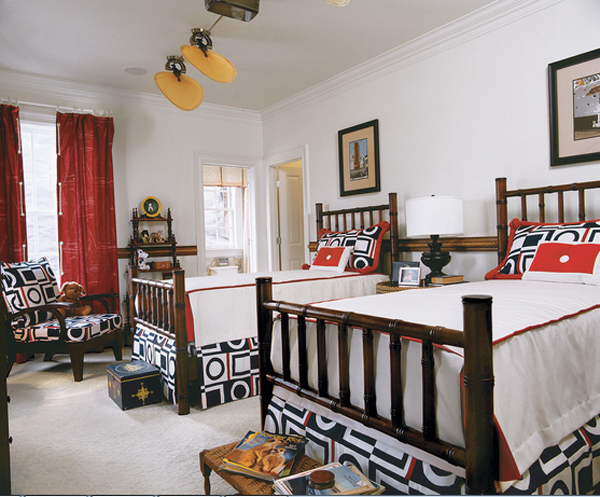 Matching bed skirt and shams with coordinating throw pillows.
10. Veranda House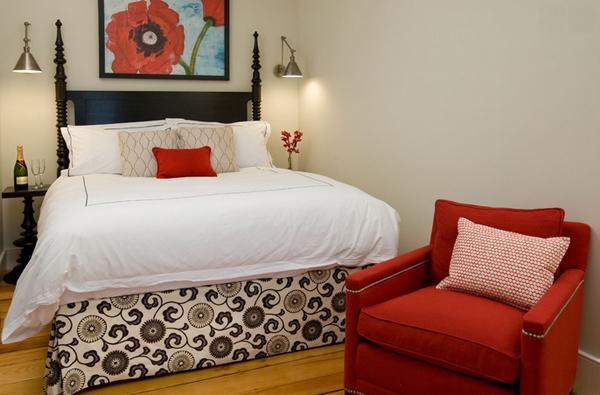 In this charming hotel room, the sconce allowed the designer to save the small nightstand space for a vase of blooms.
11. Gunning Residence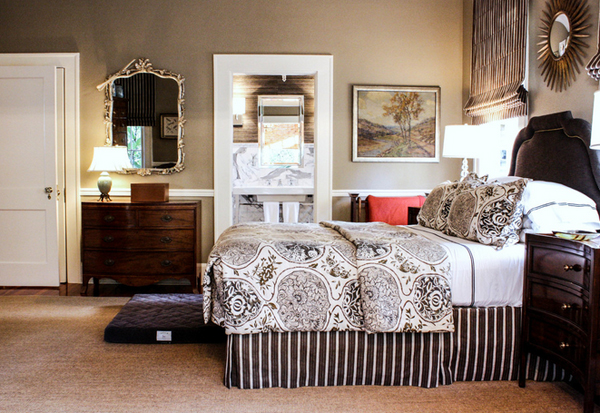 The master bedroom is decorated with a mix of antiques and has a dark palette that gives it a sense of elegance and tranquility.
12. HD Project 816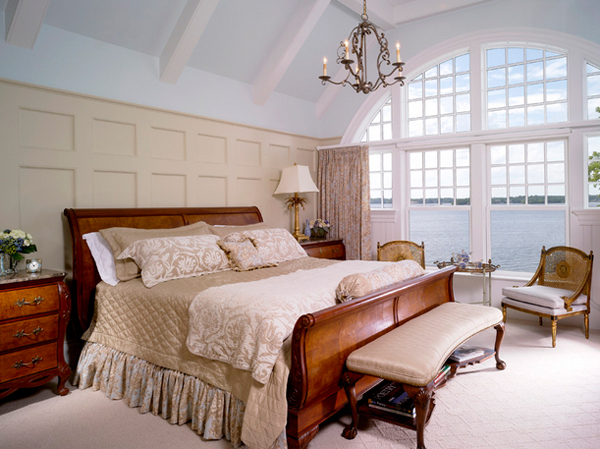 Not crazy about the colors, but it feels comfy.
13. Historic Estate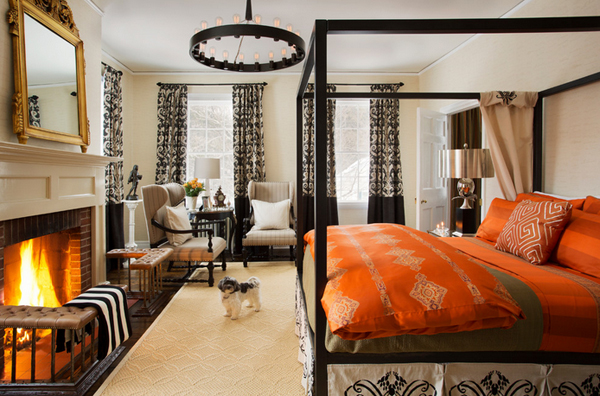 The master bedroom displays Favreau's pattern passion. Look closely and you'll see it starts on the walls. "The wallpaper is covered with all kinds of autographs," says Favreau. "They range from Paul Revere to Bruce Springsteen.
14. Houston Eclectic Bedroom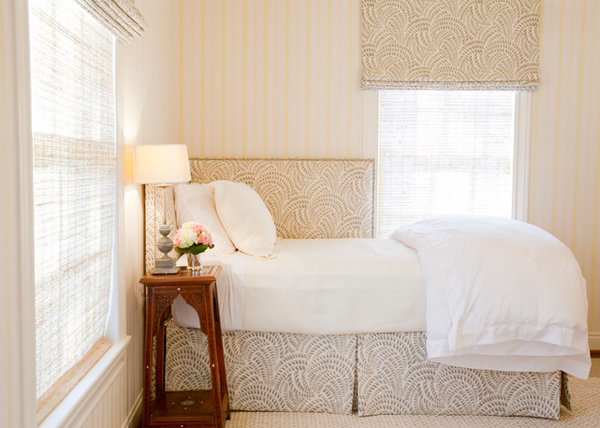 Extend an upholstered headboard. This gives the bed a stronger presence. It's a good opportunity to get more mileage out of a fabric and create a daybed feel in the corner.
15. Hunting Lodge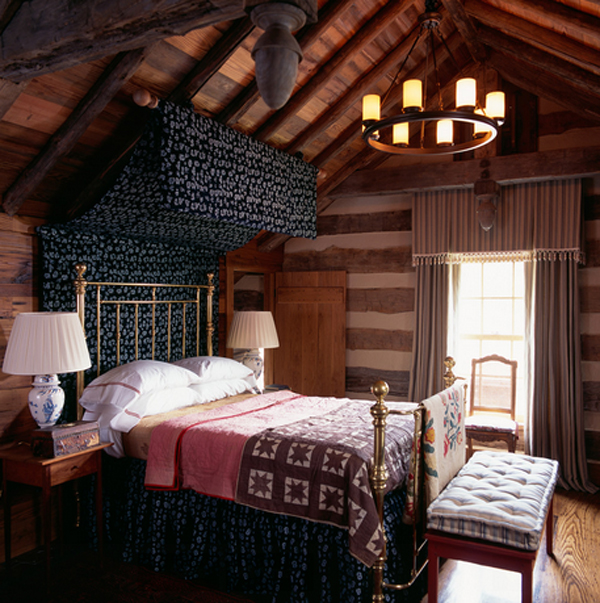 The interiors of this new hunting lodge were created with reclaimed materials and furnishing to evoke a rustic, yet luxurious 18th Century retreat.
16. Isle of Palms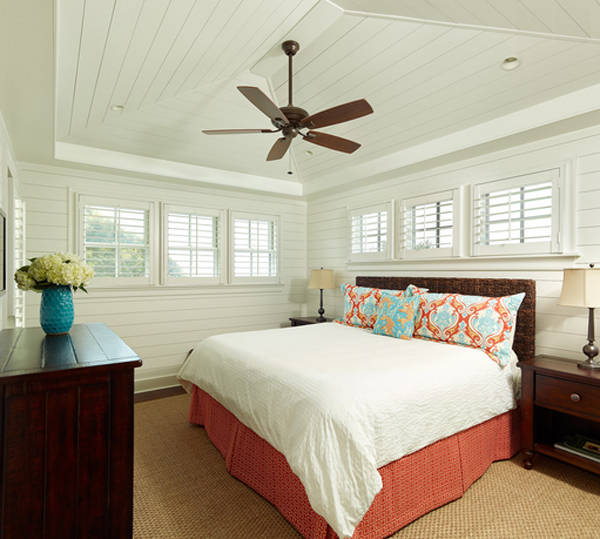 I love the contrast of the bed skirt and the duvet and the walls too.
17. Northway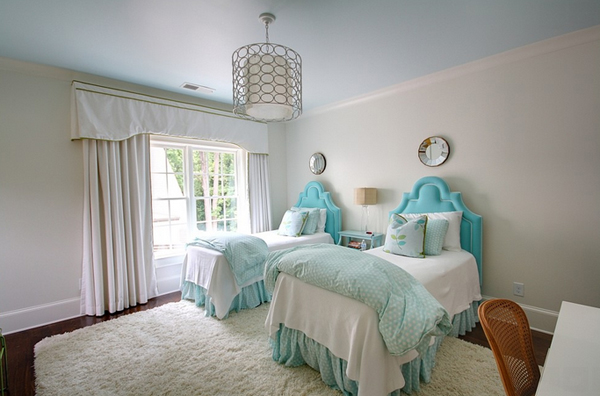 If your headboard has a unique shape, play around to emphasize it. These tiny little mirrors are the perfect exclamation point on these dual headboards.
18. Pacific Heights Home Bedroom
This 6500 s.f. new home on one of the best blocks in San Francisco's Pacific Heights, was designed for the needs of family with two work-from-home professionals.
19. Winnetka Residence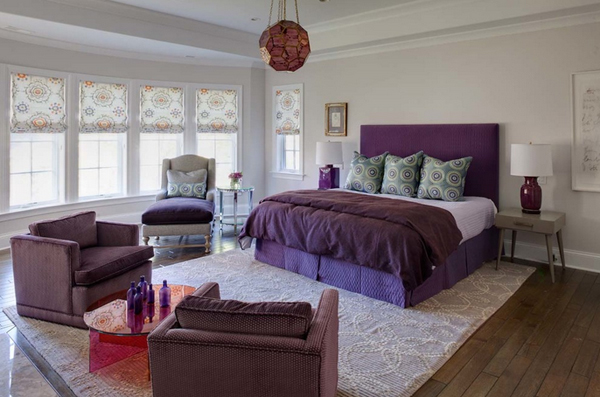 The color purple historically symbolized nobility and opulence, because the dye was so rare and costly to extract – it was made by crushing the shells of thousands of shellfish.
20. Santa Barbara Dutch Colonial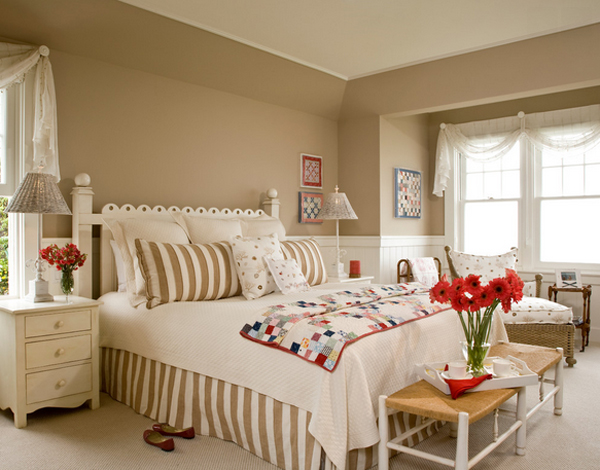 The country inspired guest bedroom features a white painted wood headboard with scalloped details. The bedding includes a matelasse bed cover and euro shams, a striped bed skirt and shams, and decorative throw pillows with a marine print.
This is totally an interesting list indeed. The designs and print of each bed skirt above is just as stunning as the next one. There are other bed skirt designs that are totally as interesting as this one. We are sure that this list will be an inspiring one because at some point you would want to have your bed somehow like this one of the beds above.