15 Inspiring Pictures of Bedrooms
There are a lot of wonderful bedroom designs nowadays. You could see it everywhere especially with our technology. Internet makes it easier for people to publish their beautiful works to the world. So almost everything that you like to know and see is just one click away, and today we are giving you the express lane for special photos that you might have been looking for.
We have a list of 15 Inspiring Pictures of Bedrooms for you to feast. Exciting different designs ranging from contemporary to eclectic to modern that you will sure to enjoy. Bedroom is not just a part of your home that you could just ignore and leave behind. It is your sanctuary, a retreat from your hectic life. If you are someone who are thinking of renovating your room, then the following pictures might just help you make it more serene and beautiful.
Elegant Bedroom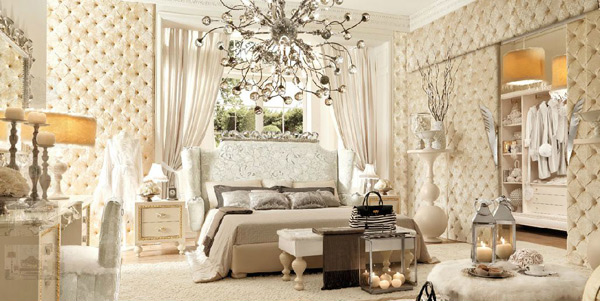 Every single detail in this bedroom design defines luxury and elegance. It is full of texture and patterns that is balanced with the muted hues used in the scheme.
Asian Bedroom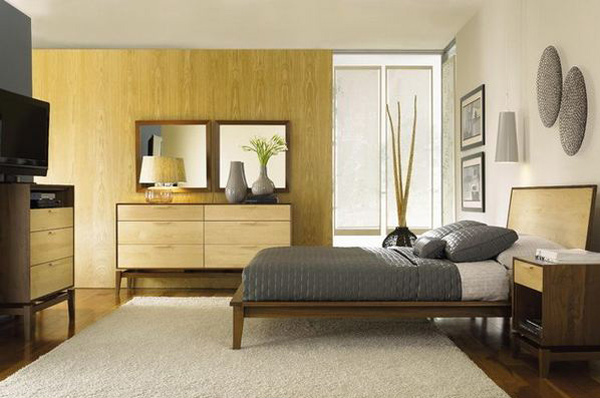 Get the Zen atmosphere in this Asian bedroom design with clean lines and nice textures playing in neutral scheme.
Art Deco Bedroom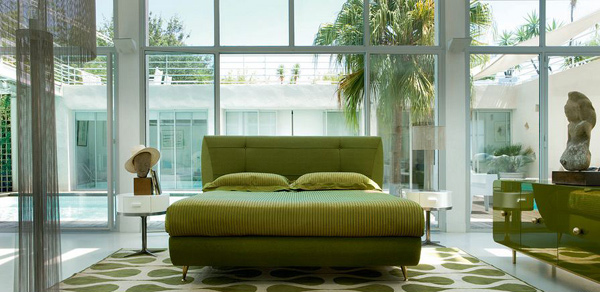 The fresh green palette that works in this bedroom design ties up the indoor and outdoor together. The modern furnishings, geometric rug, which is by the way a statement by itself and an amazing view is truly a sanctuary with a modern punch.
Minimalist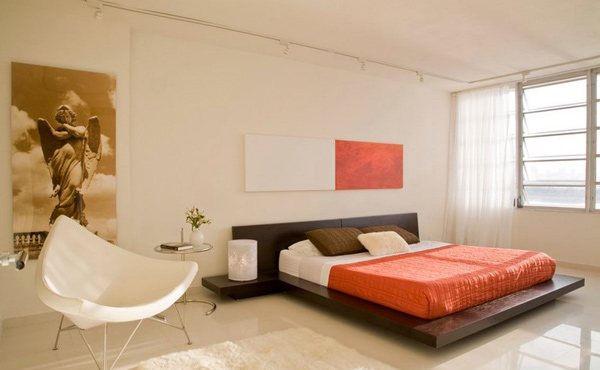 Sleek furnishing, clean lines and neutral hue, that's what minimalist is all about and in this bedroom design you will see an addition of warm color sparingly that makes this room standout.
Contemporary Bedroom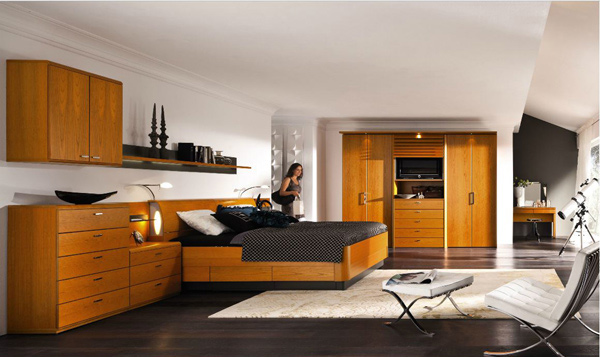 The white walls contrast beautifully with the wood finished furnishings. A contemporary with modern touch that will sure to give you a retreat that is simple yet spectacular.
Industrial Bedroom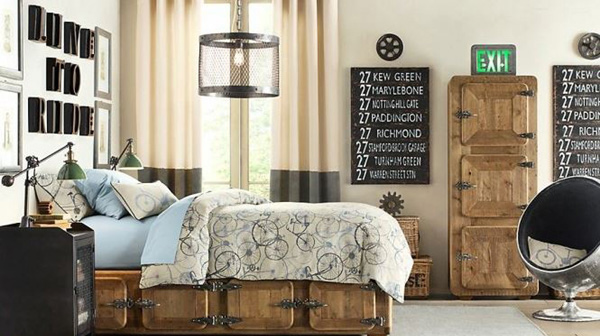 This bedroom design is perfect for a growing young man. The usage of metal finishes here and there creates a great accent against a neutral hue used in this design.
Modern Drama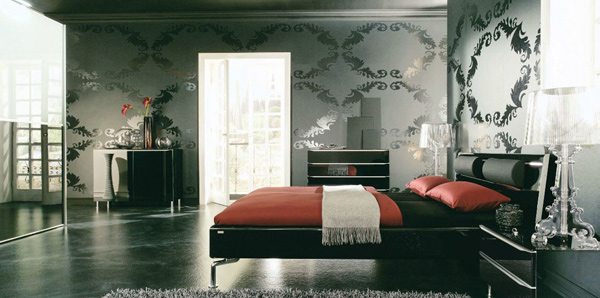 Lavish black in different intensities and textures to create a dramatic impact with red that accentuated the whole scene. This room is full of elegance and sophistication.
Floating Away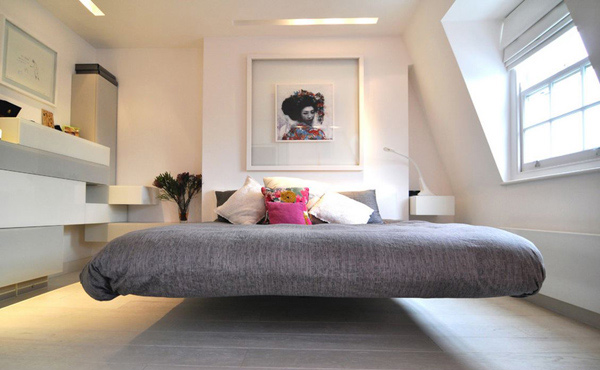 Amazing bed isn't it? Can't believe your eyes? Well, believe it! Wall cabinets were made in this bedroom to maximize the space. The bed seems to float because of its wall installation. This one is a great idea for a small bedroom space.
Classy Bedroom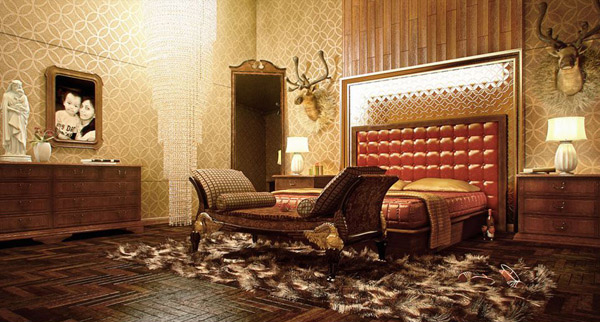 Thinking of renovating your bedroom into a classy yet rustic look? Take a look at this design maybe this is the one you are searching for.
Modern Sophistication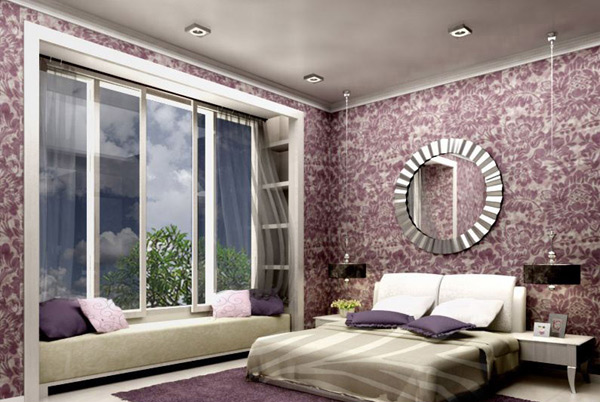 We love the color scheme used in this bedroom design; purple gives it a chic, sophisticated punch while black and white add a modern touch. The modern decors used in this glamorous bedroom balanced the ultra-feminine color that envelopes the room.
Modern Chic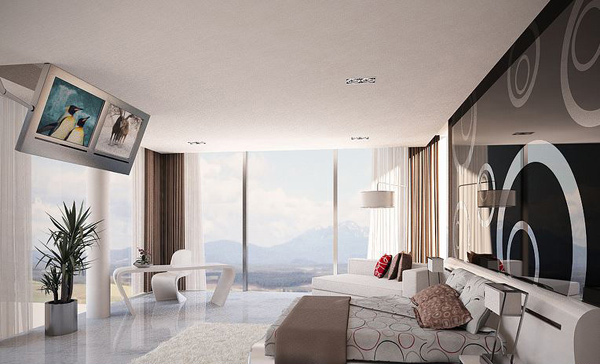 This design is perfect if you are looking for a modern chic kind of bedroom. The clean, sleek lines are softened by the curves on the furnishings, circular patterns on the accent wall and fabrics and the faux fur area rug making it a perfect place to relax and snooze.
French Flair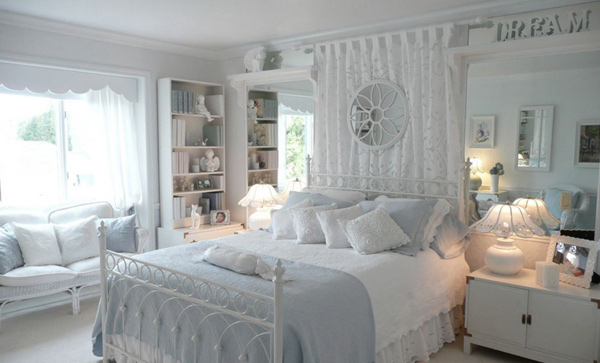 Now, let us play with fabrics and textures for a snuggly French-inspired bedroom design.
Shabby Chic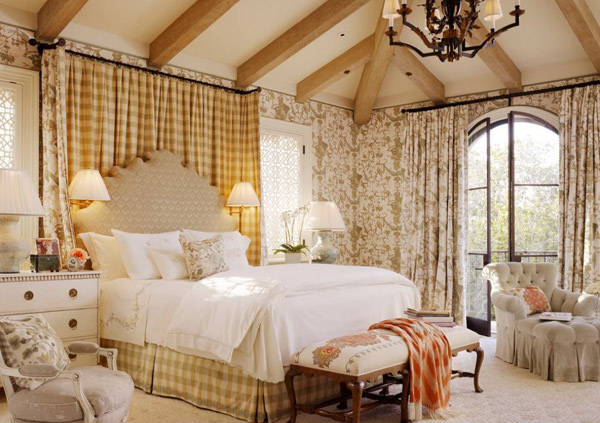 Go for that sumptuous bedroom design with this look. We love the country ambiance this design gives off.
Eclectic Bedroom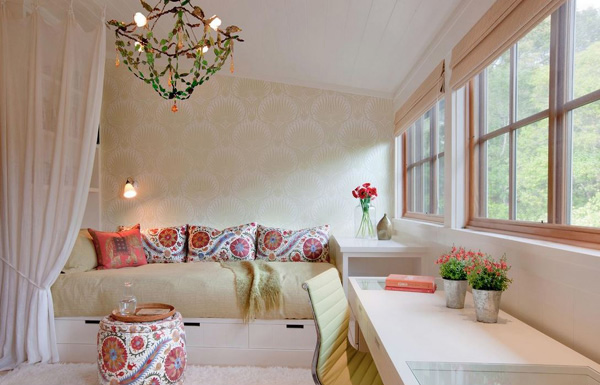 We love the color palette in this eclectic bedroom design. The pops of pinks and greens make this otherwise neutral bedroom, feminine, overflowing with softness and simply remarkable!
Traditional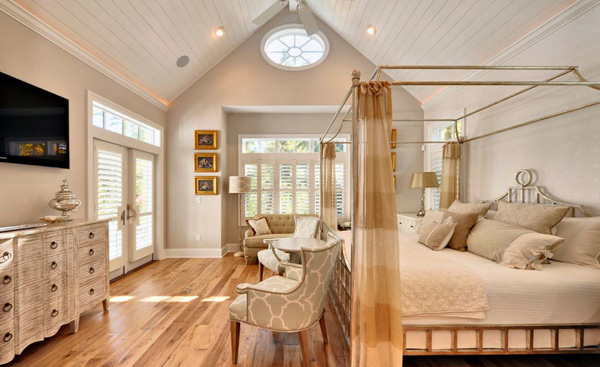 For those people who do not want to go modern, here is a treat for you – a traditional bedroom design. It has the comfort and coziness of a bedroom you grew up with.
There you have the list of 15 Inspiring Bedroom Photos we collect specially for you. There will be a lot more designs to look forward to here in Home Design Lover. We hope that you get some inspiration in our today's article. If you want to see other bedroom styles that we haven't covered yet, just let us know. We are more than glad to post it here. For the meantime, you can take a look at some bedroom color schemes.