Elaborate Opulence in 20 Luxurious Bedroom Designs
Who would not want to sleep and rest in a bedroom with deluxe design and glamorous ambiance? Who would not want to own a bedroom that would cause guests to admire them with wide eyes? Well, most of us would certainly want to have an opulent bedroom. This would not just look visually beautiful but it will also make us feel beautiful while relaxing and sleeping in this type of bedroom. Getting a luxurious bedroom is not just about placing expensive furniture and furnishings inside it. It is also about capturing a sophisticated look and giving comfort to the homeowners.
So, today we have gathered some bedroom designs that came from a luxury of brilliant minded designers resulting into equally luxurious bedroom designs. As you scroll down the page, try to notice the variation of style in each bedroom and the distinct manner of incorporating luxurious and sophisticated touches into them. Now feast your eyes in this long list of luxurious bedroom designs:
One Lazy Afternoon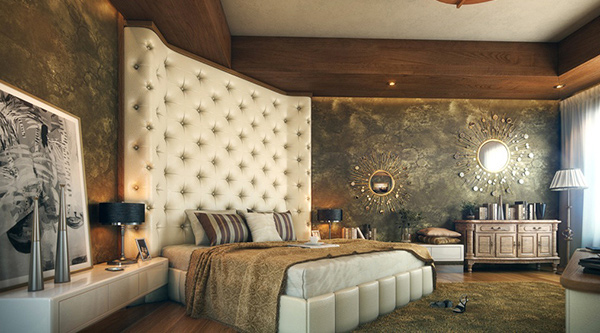 One lazy afternoon, the designer had nothing to do and decided to create this design. Well, how much more if he isn't lazy in working at all? The cushioned headboard, upholstered bed and the sunburst mirrors on the wall gave this bedroom a luxurious look despite the grungy wall texture.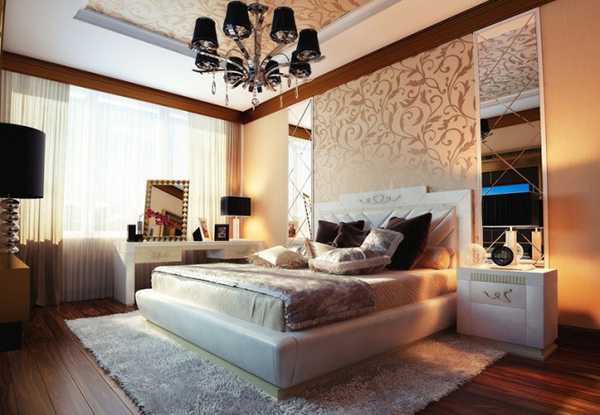 This bedroom is just small but the beauty that exudes from it is immeasurable. It cleverly used mirrors for the headboard that comes in two different designs with floral swirls and diamond patterns in order to create a large look.
Bungalow – Master Bedroom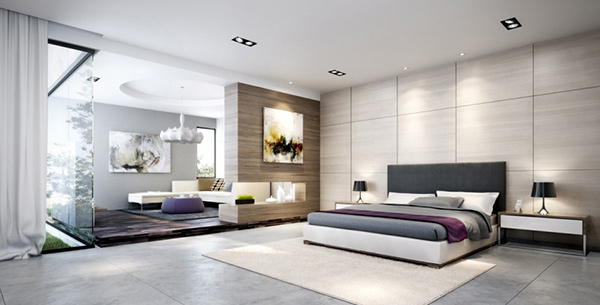 A luxurious bedroom doesn't have to be overly designed. It can be as simple as this one but you can notice that each detail of this contemporary bedroom has a brush of simple sophistication in it.
Modern Bedroom Furniture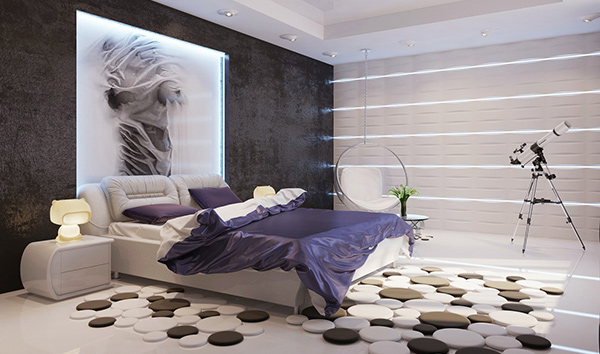 Who would not notice the unique circular area rugs in neutral tones? This is one modern bedroom that will give you the luxury of style and comfort.
Bedroom in a Private Home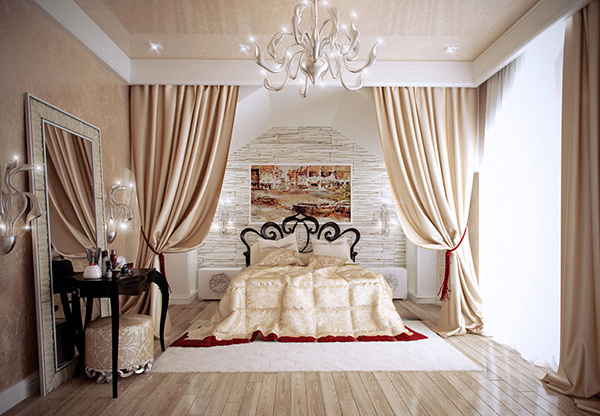 The choice of cream and beige for this bedroom make it seem like a shining interior especially with the use of decorative chandelier and wall sconces that matches the headboard in curves and swirls.
Bedroom Royalty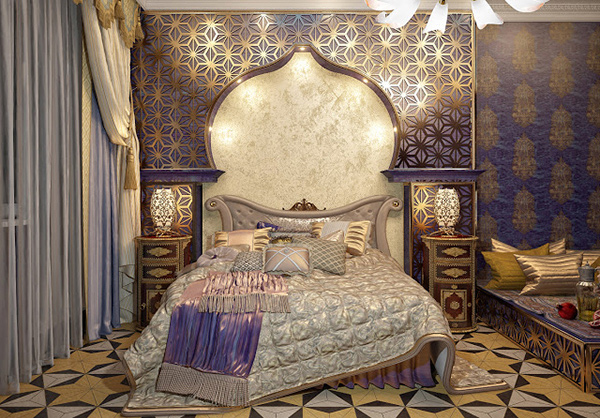 Anyone who sleeps in this bedroom would feel like a royalty! Well the patterns and colors in it sure are royal. You would agree with us that everything in this bedroom was placed with opulence in mind.
Bedroom Design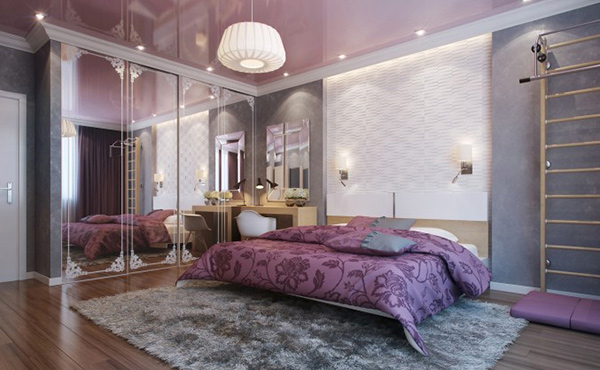 The wool area rug adds a soft touch to this bedroom of wooden flooring and glossy ceiling in lavender. The shades in it are indeed grand and divine!
Bedroom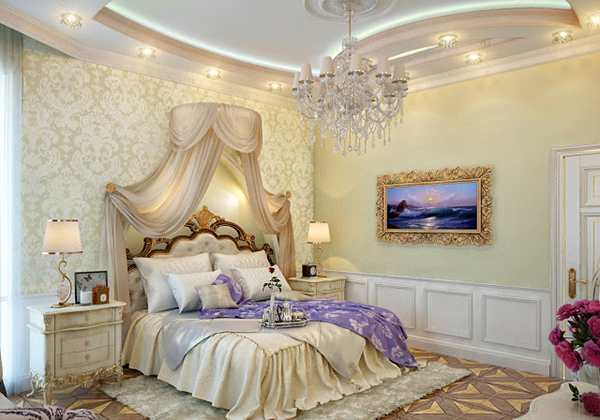 Decorative ceiling, crystal chandelier, fabric canopy, intricate headboard design, damask wallpaper- all of this complete the luxurious look of this bedroom. Isn't this breathtaking?
Estate Residence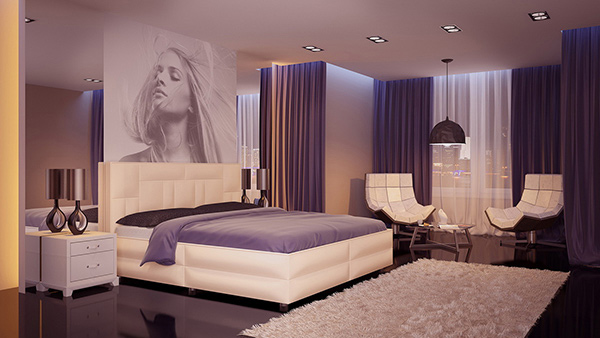 Another purple bedroom with drapes from ceiling to wall, short shag area rug in white and a beautiful portrait above the headboard. One look at this modern bedroom will make you say nothing else but "wow".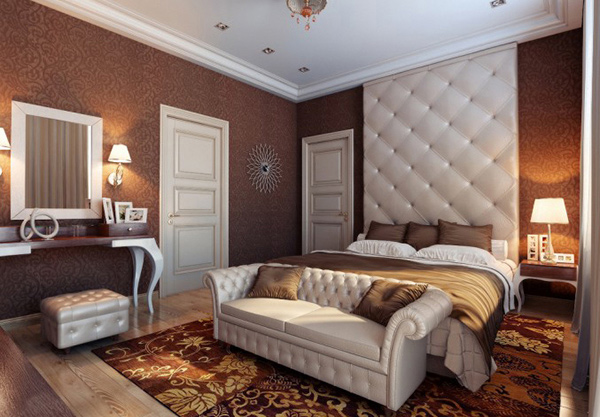 The floral traditional carpet was a good choice for this bedroom that has white cushioned upholstered furniture in it. It gave more emphasis to the furniture and balanced the look with the subtle floral touches on the wall.
Contemporary Bedroom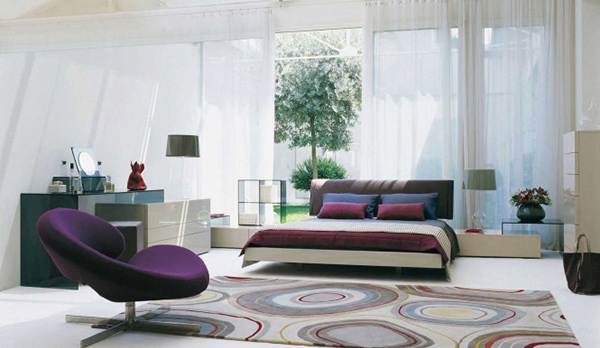 A breezy bedroom that would lullaby you to sleep. The aura is calming and serene which is very ideal for a bedroom. The colors are a good choice which was distributed all throughout the bedroom.
Luxury Bed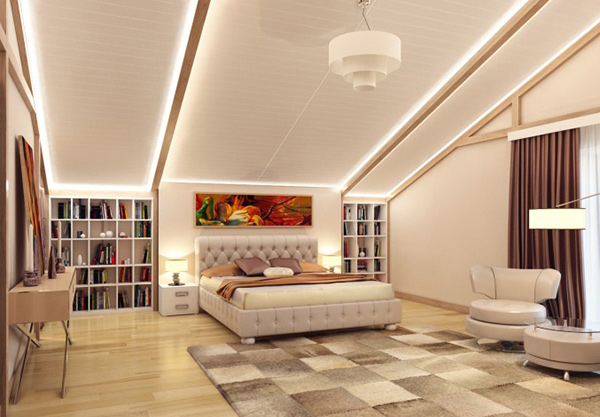 The recessed lights in the ceiling make this bedroom seem like a glittering gold. Lighting can really upgrade the look of a room especially in a space with lovely furniture and furnishings in it.
Yellow Grunge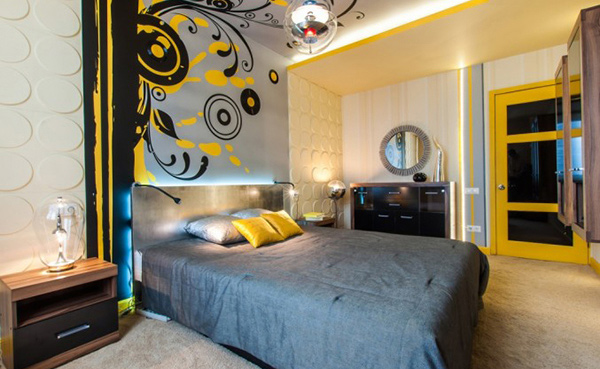 Combine grunge and modern design and you will get a bedroom like this one with striking yellow touches in it.
Country Bedroom Number 4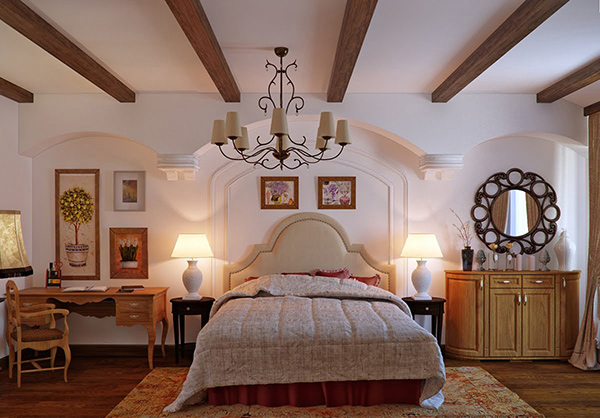 Even a country interior design can look luxurious. The exposed beams, wrought iron details, concrete wall arc design and moldings are beautiful.
Bedroom Glamour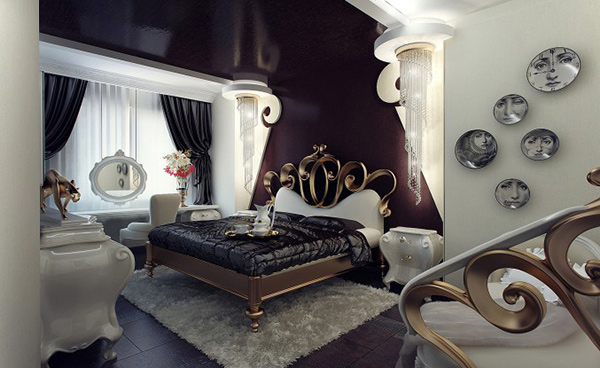 A glamorous bedroom with a very striking bed design and pendant lights of crystals on both sides. This is indeed a bedroom that anyone would dream of possessing.
Gorgeous Bedroom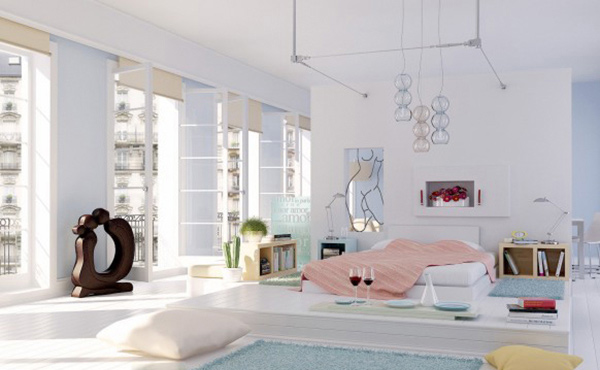 A white interior will never fail whatever is the bedroom's design and concept. This bedroom has subtle touches of luxury in it but if you look more closely, you will realize that it is indeed one lavishly designed bedroom.
Emily Bed Set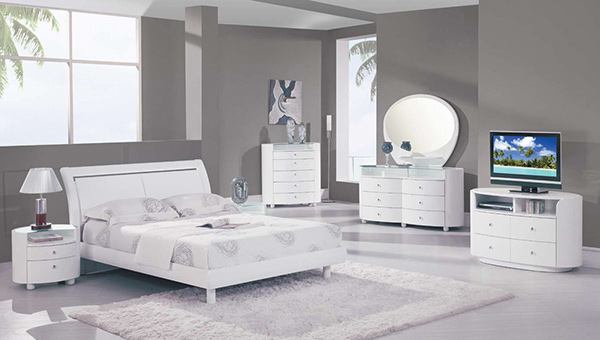 A bedroom set is presented in the image which are all in white but notice how simple yet dashing they all look together.
Bedroom in Minsk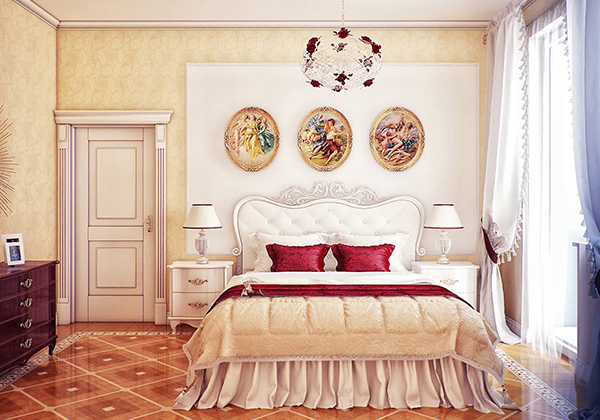 A small bedroom can also get a plush and chic look without crowding it. The wide window make this room appear visually spacious.
Bedroom Chic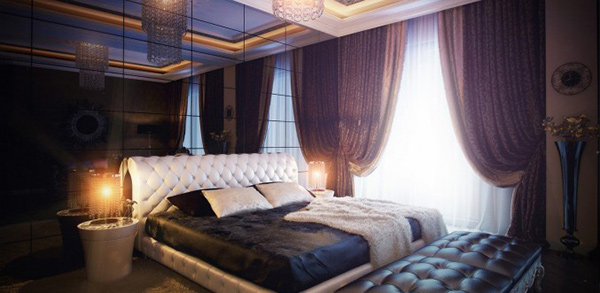 With a romantic touch, this bedroom creates a sensual aura in its use of lights and cushioned furniture.
Bedroom Large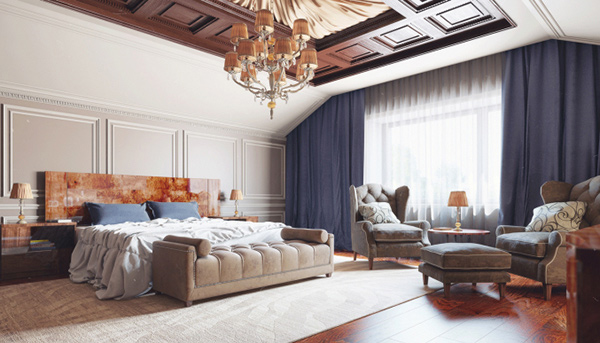 This is one spacious bedroom with beautiful ceiling and wall details. And yes, this is a luxurious space with the choice of classic furniture like the bed, ottoman and wingback chairs.
Isn't this a stunning list of bedrooms? We are sure you also loved this collection same as how we enjoyed collating these luxurious bedroom designs. Want to see more cool bedroom ideas? You can also check some pictures of bedrooms so you can have enough design ideas in decorating your own bedroom. Be back for more home design inspiration here in Home Design Lover.