15 Bedroom Designs with Earth Colors
Browns, tans, warm grays, green, oranges and reds are part of the earth color scheme. These colors are muted and flat and are drawn from nature's beauty. It has been said that these colors can have a very relaxing appeal to anyone exposed to it. So be ready because you will be seeing more of these appeasing hues in a bedroom design.
We are featuring 16 Earth Color Bedroom Designs that will captivate your hearts. Here you will see lots of inspirations from this beautiful color scheme. We will be showing you different styles of bedroom designs that used earth colors. Yes, that's right! Earth colors are not only limited to contemporary designs. You can also incorporate it on an eclectic style or even modern. There are a lot of ideas that you can get from today's collection. Browse through it and enjoy!
The Zen Bedroom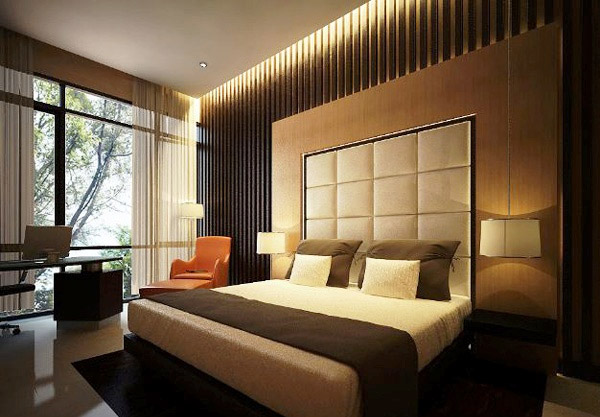 This bedroom was designed in a Zen Minimalist style. The pop of orange breaks the dominance of the dark wood finishing making it stylish yet serene.
SMPL Bedroom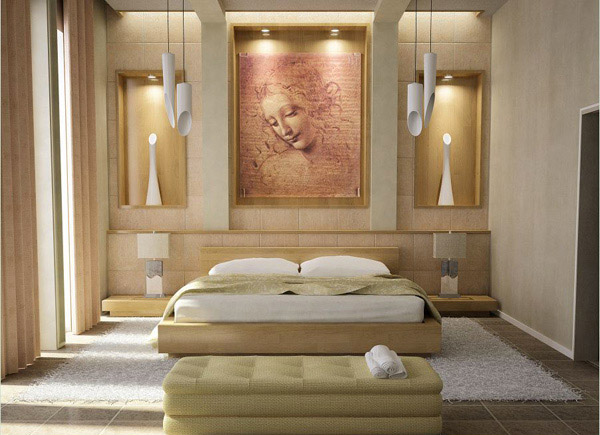 You got to admit, this modern bedroom design is impressive! Its simplicity brings the sophistication of earth colors in play.
L5 Master Bedroom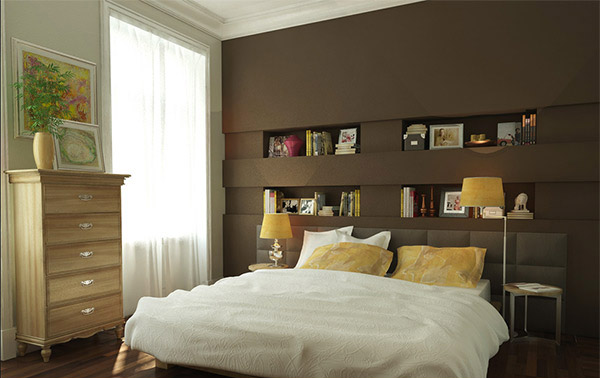 The huge shelving on the back of the bed made a remarkable focal point and the dots of yellow added fun to this contemporary bedroom design.
Bedroom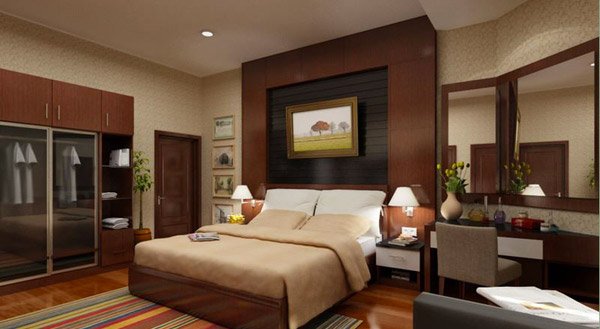 The combination of the lovely earth colors on the striped area rug complements this neutral hue bedroom design.
Dreamed Bedroom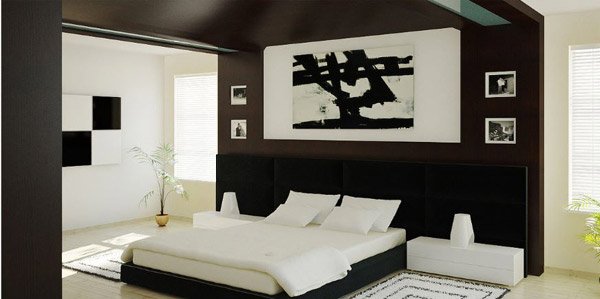 This modern minimalist design encourages tranquility and simplicity.
Neo Bedroom 2
An exquisite modern minimalist design accentuated by the abstract painting on the wall. This earth-colored room is airy and is really inviting.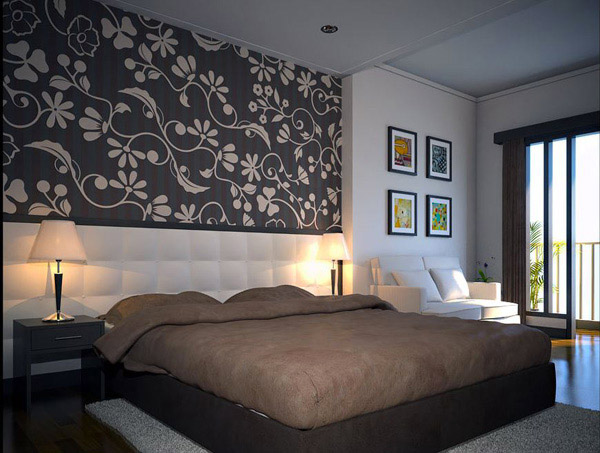 Big pattern, neutral-colored floral wallpaper makes a stylish accent wall in this bedroom design.
Seahound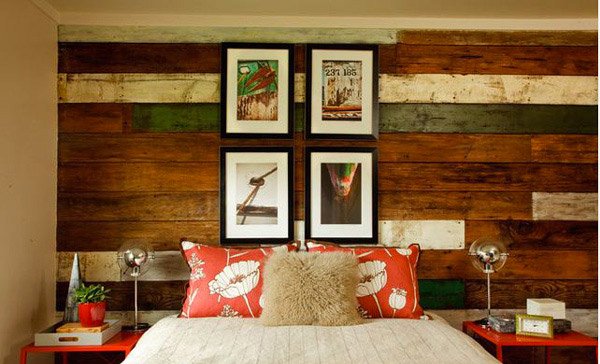 The stunning accent wall is made up of 100-year-old tongue-and-groove planks. Its natural beauty is just splendid!
Avant-Garde Bedroom Modern Version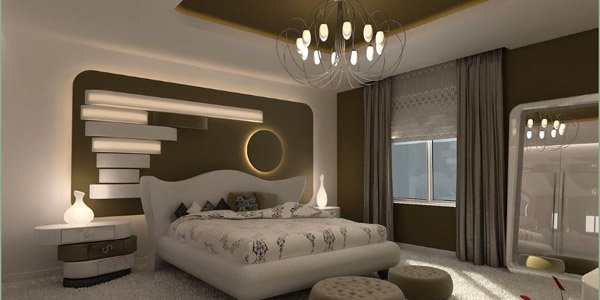 This earth color, ultra-modern bedroom design is so sleek. We love the lighting fixture and the texture of this bedroom design.
Weathered Elegance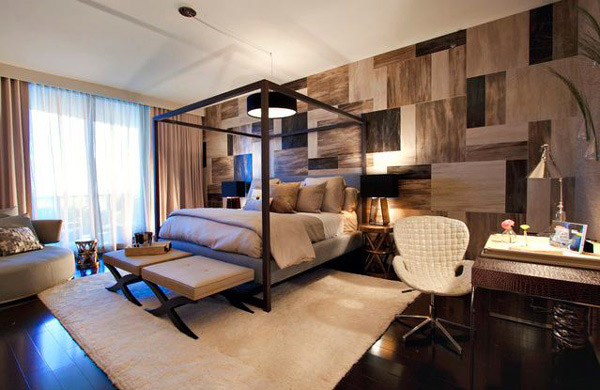 This bedroom design got their inspiration from natural elements such as weathered woods and stone and arranged it in an array of patterns. We bet you love how the wall accent catches your attention!
Bedroom Interior 1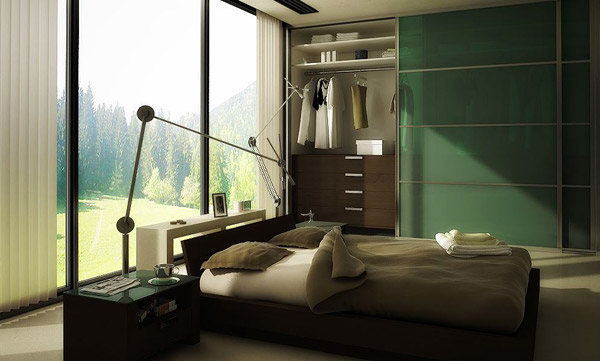 The deep green built-in wardrobe makes a soothing accent to this almost-all-neutral bedroom design.
Bedroom, India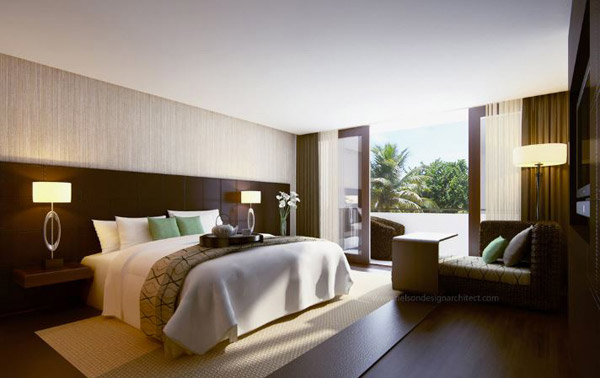 Let the natural light add brightness and beauty to your nature-inspired bedroom, like the above design.
Mountain View Master Bedroom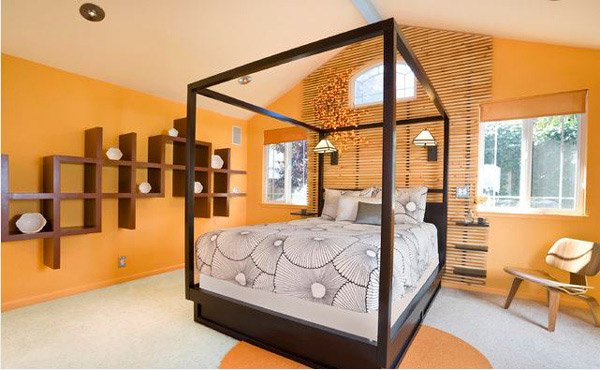 This tropical bedroom design is filled with texture, depth and balance. The architectural design of the shelving unit makes a striking focal point in this bedroom design.
City Zen Space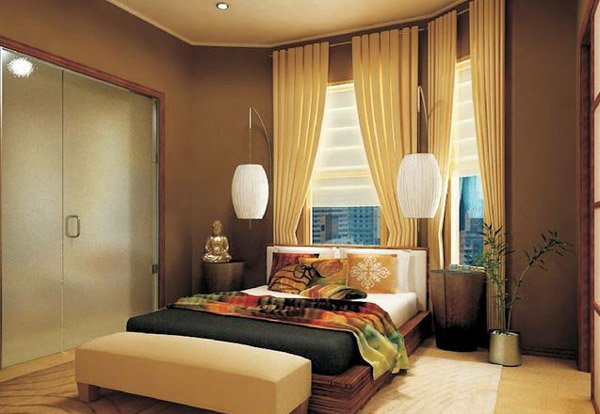 We love the variety of earth colors in this Asian bedroom design. It's playful yet it keeps a warm atmosphere. A very pleasant place to slumber in!
Kuikawa Master Bedroom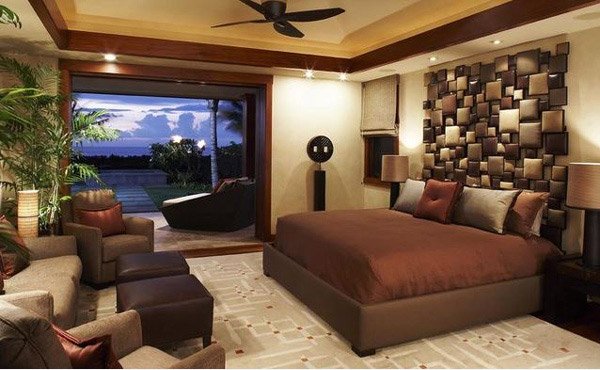 This upholstered squares headboard is really outrageous! This tropical bedroom design has a warm, relaxing ambiance. The colors just blended perfectly and everything inside here reminds you of nature.
That was our collection of Earth Color Bedroom Designs. Simple, yet bold and exceptional! We hope you were able to get ideas and courage to use earth tones in creating your own bedroom designs, after all these hues are very much suitable for a relaxing retreat like your bedroom. These tones might not be too loud or bright but it can always be classy. You can also try to get a touch of yellow or green in your bedrooms which can give an equally beautiful impact.