20 Chinese Home Decoration in the Bedroom
The Asian culture like any other culture out there is pretty interesting. The lifestyle each country have is very awesome to learn about – the practices and belief that each nation has is a jewel on its own. Today, we have created a list that covers the Chinese part of the Asian culture we are talking about; the main focus of this list is on the bedroom.
This list covers a whole range of furniture design and different and unique decorations that you can use as inspiration when designing or planning for an Asian bedroom – a Chinese bedroom to be more specific. Like most Asian art and design, you will see a lot of red and blacks and tons of gold colors and definitely earth tones, let us check them out below!
1. Ashbury Heights Residence 2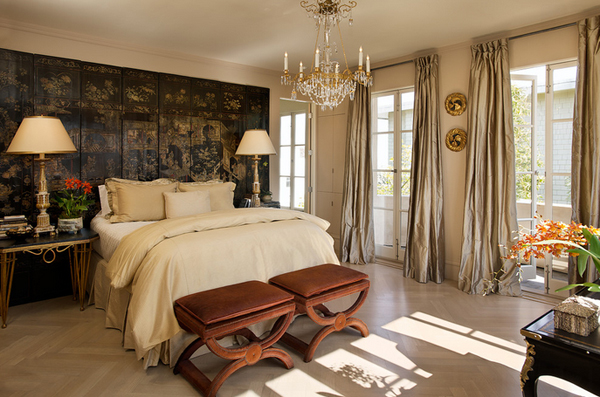 The master bedroom feels luxuriously soothing, with its soft palette and sunlight. In lieu of a headboard, Barnes used an antique chinoiserie screen in black and gold. A pair of art deco bronze tables with black marble tops ties the dark feature with rest of the decor.
2. Asian Influence in the Bedroom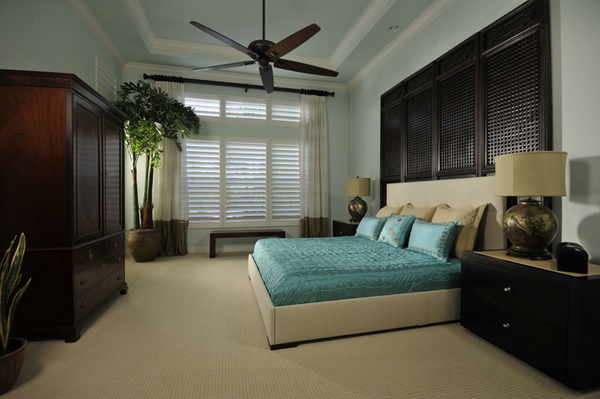 I like the bed and the ceiling fan in this bedroom! The screen by the head board is pretty too, I'm not sure though if there is a window behind that.
3. Atlanta Celebrity Residence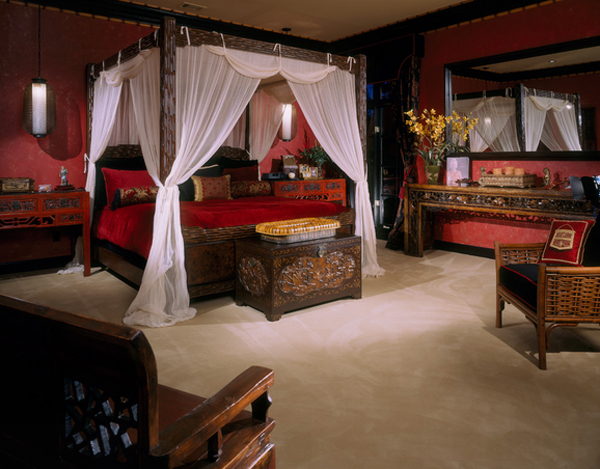 The room is nice with the color of red spreader all around it.
4. Beach Condo Renovation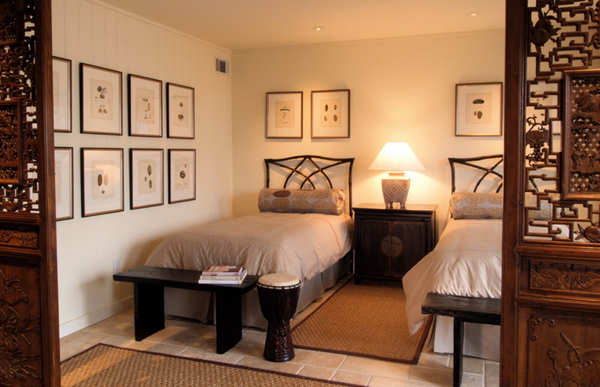 If you love prints but don't want to stick with the traditional two or three prints over the bed, try breaking up the pieces in multiple frames. Fill up walls with a gallery of your favorites.
5. Charlotte Asian Bedroom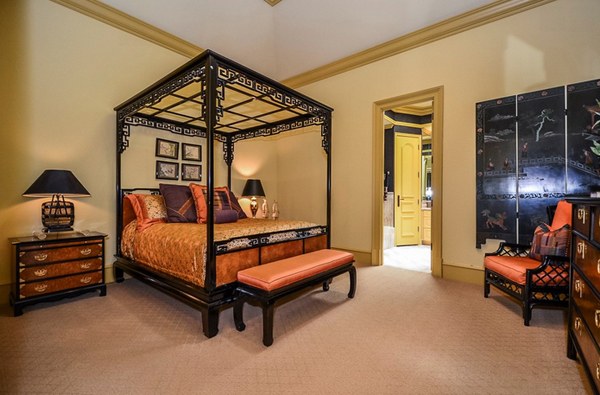 We have one gorgeous bed in this awesome home with stunning furniture and decor.
6. Cheng Soon Lane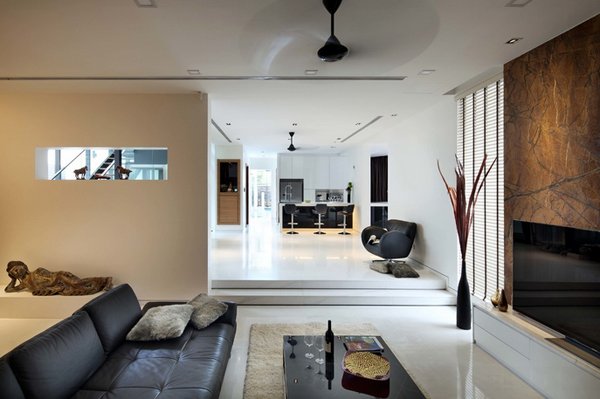 Simple bedroom in one large space – the bed is so comfortable and the screen separating the room from some other space is awesome!
7. Chicago Asian Bedroom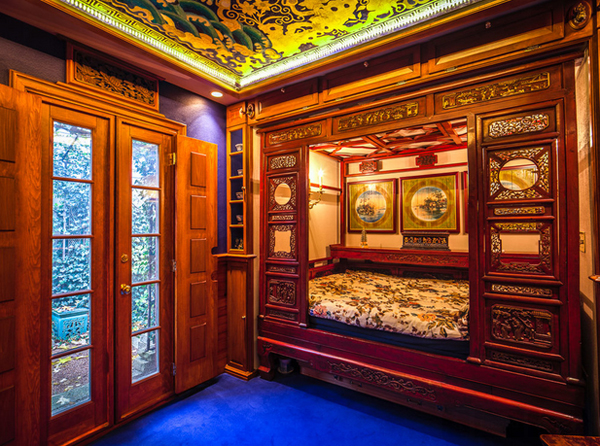 I like the bed blocked off and the deep wood color is always nice.
8. Coral Cottage at South Beach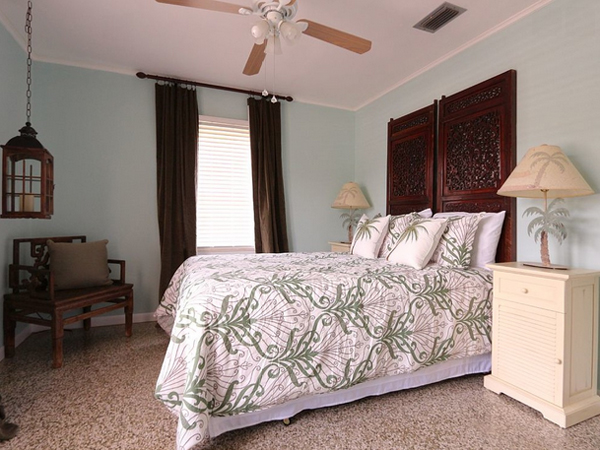 Superb bed headboard assembled with Chinese antique screens / doors (Late Qing Dynasty), note also the exquisite Chinese antique chair in the corner, and finished with simple tropical touches.
9. Island Lake, Michigan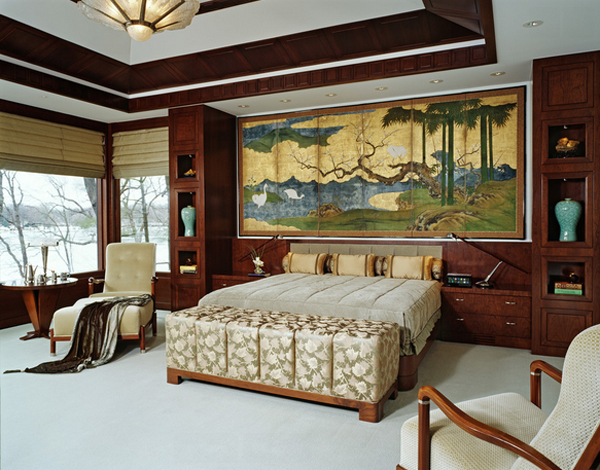 Built-in cabinet around an Asian painting for headboard – isn't that just awesome?
10. Koh Samui Private Residence
I totally love the low lighting – it makes the room seem like a dormant volcano of some sort.
11. Las Vegas Asian Remodel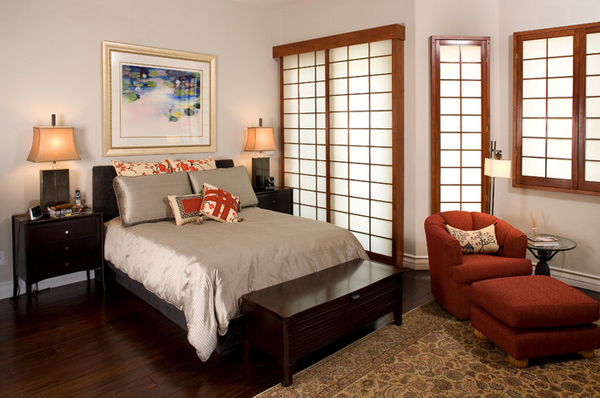 Windows are so unique. I like that the bed stain and floor stain match.
12. London Farmhouse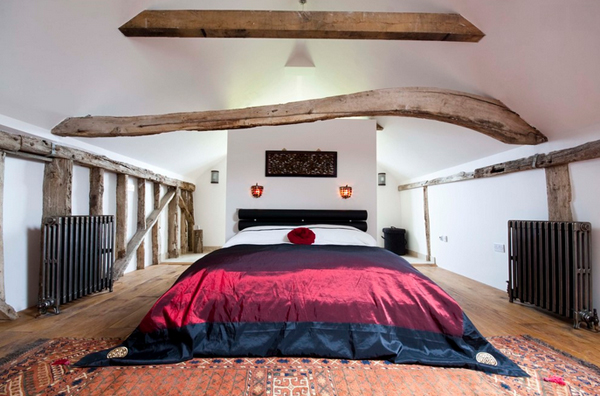 A Chinese silk bedspread adds drama to this eclectic open-plan bedroom in a farmhouse conversion.
13. Nashville Downtown Penthouse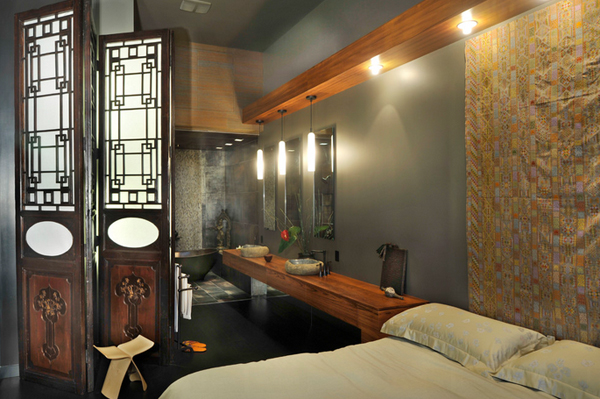 Imply a separate space without actually closing things off. This Art Nouveau screen provides a sense of separation for this loft's sleeping area.
14. New York Asian Guest Room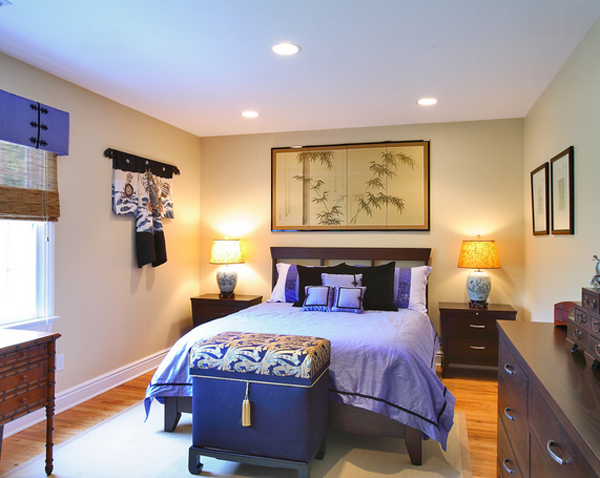 Mixing several shades of purple into the room makes the space feel richer and, in effect, highlights the periwinkle. This also proves you don't need to feel stuck in the rut of placing the typical bench or chest at the end of the bed: Try a colorful ottoman with an interesting design to spice up the space!
15. Philadelphia Asian Bedroom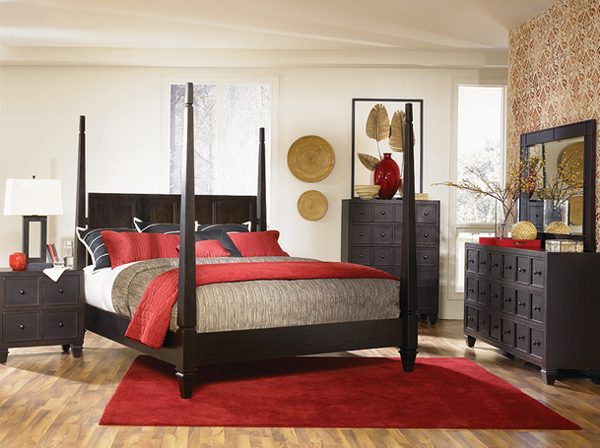 This bedroom is a very practical way to go Asian in your bedroom.
16. Pré Aux Clercs 5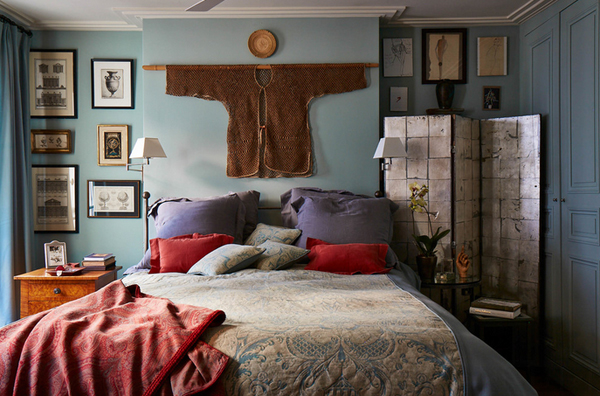 Many vintage and antique finds don't come in pairs, but who said bedside tables have to match? A wooden cabinet and a round glass-topped table flank this bed.
17. Toronto Asian Bedroom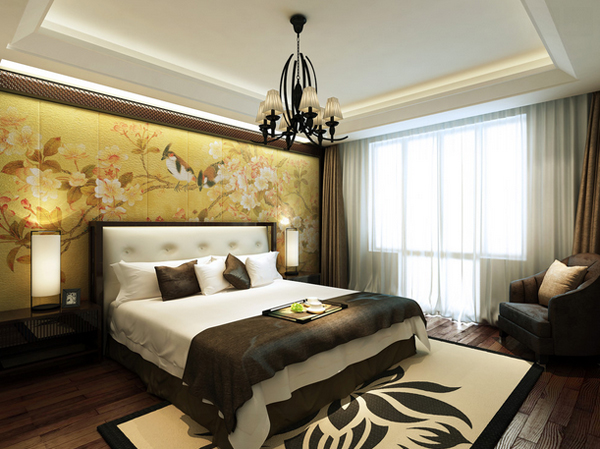 Like the idea of the wallpaper behind the headboard!
18. United States Asian Bedroom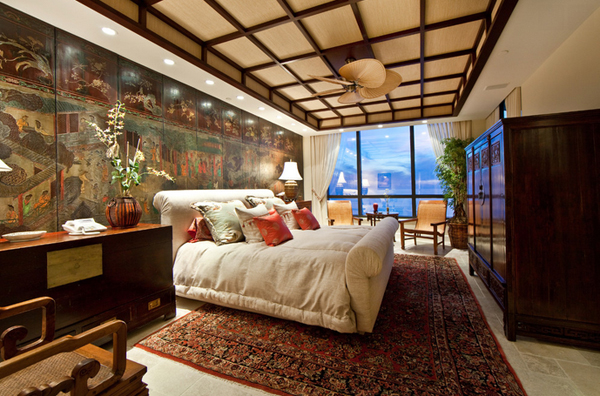 This is off-the-chain beautiful Asian décor at its best!
19. Vicente Wolf Home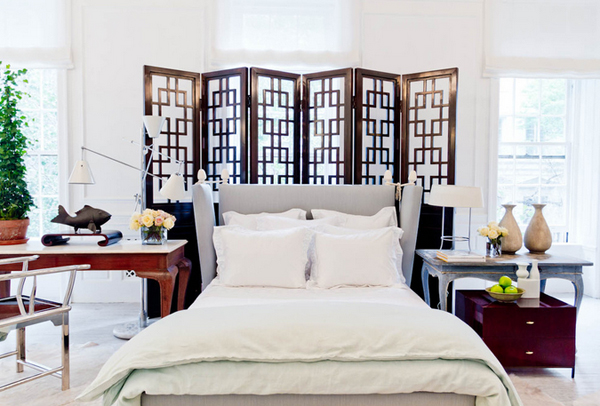 Make it easier for your guests to have a little privacy by putting up screens around their sleeping space. The more they feel secure, the more relaxed they will be – and the happier and friendlier they will ultimately be.
20. West Hills Master Bedroom Retreat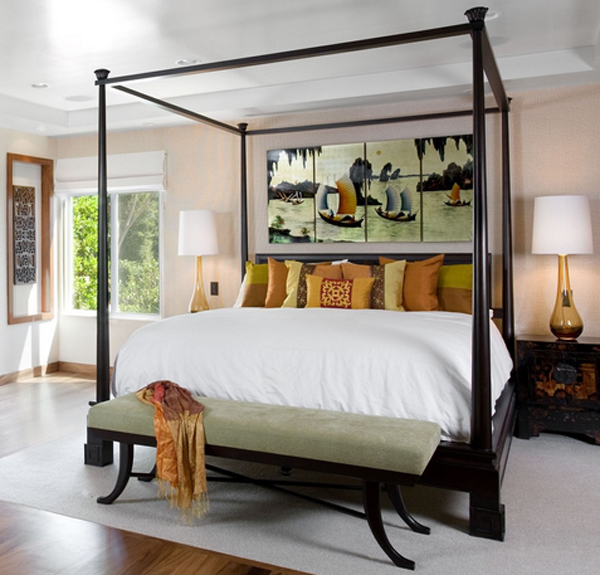 The picture above the bed looks totally awesome and reminiscent of the Asian culture. Love the poster bed too!
Well, ladies and gentlemen, there you have it, a list on Chinese home decorations for the bedroom – this lists' primary goal it to showcase how the Chinese culture presents their bedroom in the Architecture or Interior Design aspect. The designs and inspirations are lovely and beyond words – that's for sure! Don't be shy to write down those comment below.