20 Sophisticated Black and Yellow Bedrooms
The color black is always associated with class, sass and sophistication. With the right color combination – which of course we all know that anything you mix with black will definitely look great! So for today, we will be showing you a common color combination that makes any space as classy as one can get!
Below is a list of 20 Sophisticated Black and Yellow Bedrooms that showcase an awesome color mix that may not be as conventional and traditional as the black and white combo but this is one sure combination that will put you in awe – with the right amount of black and yellow in each space, you'll surely want to enjoy every bedroom we have in this list, check them out!
1. Canada Contemporary Bedroom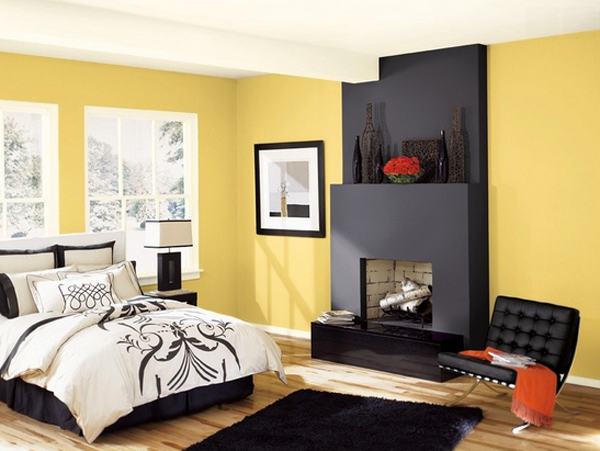 This color combination is just pretty! Love the bed sheets too!
2. Craig Ranch Drexel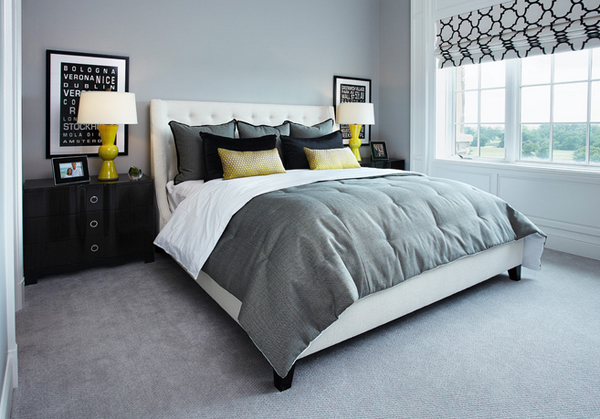 Just love the cleanliness of the lines and the blue and dark colors!
3. Crestwood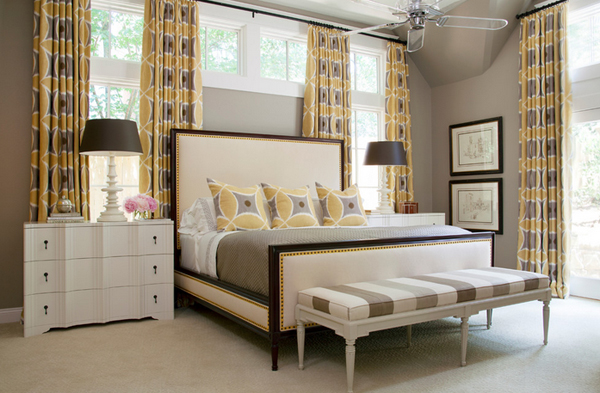 Neutral tones with just enough pop of color. Subtle mixture of patterns. Love the bedside tables and available storage.
4. Dallas Master Bedroom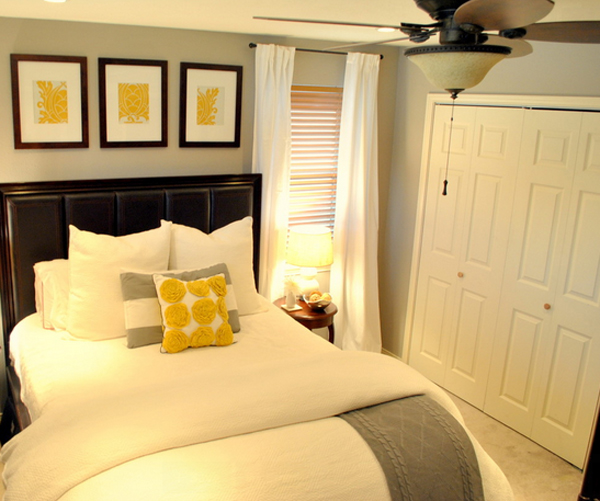 The petal fabric on this pillow keeps this bed area blooming with color and shape in a more controlled way.
5. Grand Rapids Contemporary Bedroom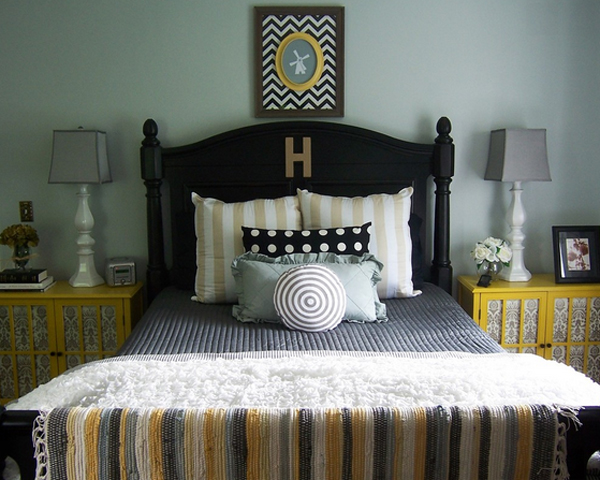 Love the trinkets you see in this bedroom; the fabrics on the bed, the funky pillows and the stunning yellow night stands!
6. HHL 2010 Bedroom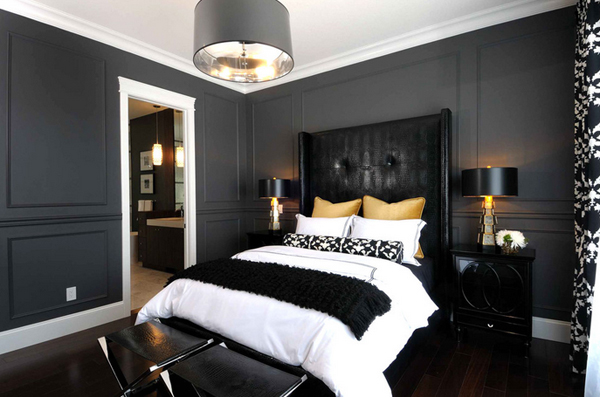 This exotic headboard fits nicely into the molding pattern on the walls.
7. Hollywood Regency Bed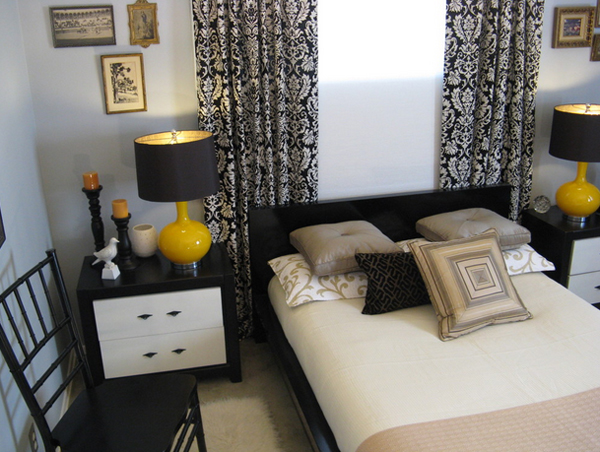 "Black, white and yellow in a high contrast, high drama Hollywood Regency style. We designed this room for impact. The nightstands and art are vintage finds.", says the designer.
8. Houston Contemporary Bedroom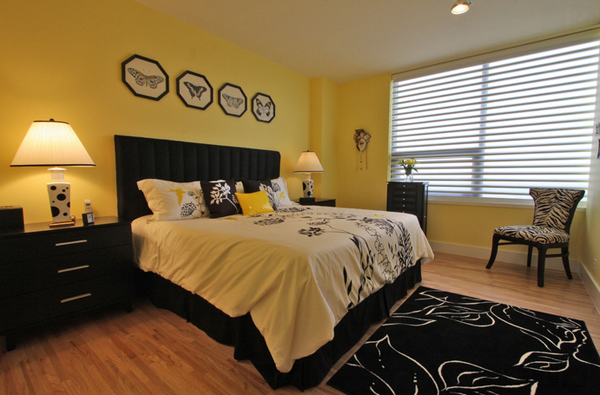 These handmade butterfly embroideries – or at least what seem to be embroideries – add a natural touch to this contemporary bed space.
9. Houston Master Bed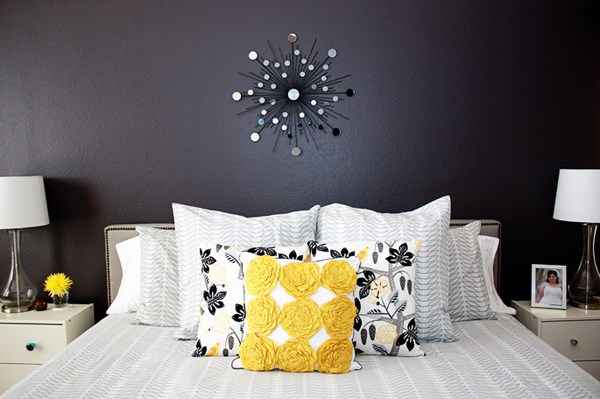 I want this throw pillow for myself! Love the starburst decor on the wall too! Where did they get these things?
10. Inverness Circle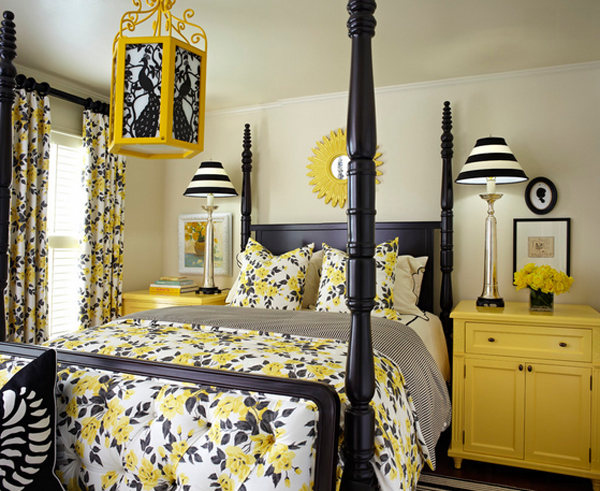 I should say, this Little Rock bedroom is fun and sassy.
11. Malibu Mediterranean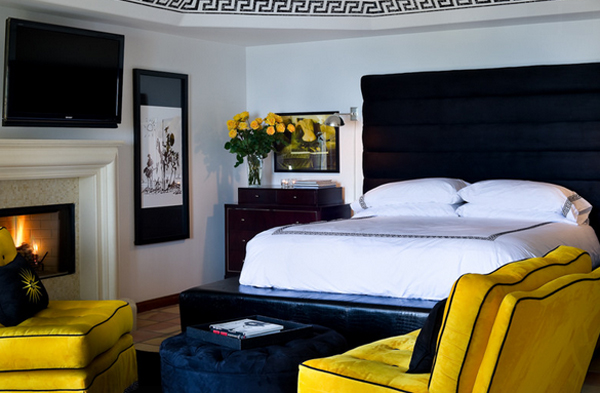 Tracey Murdock always surprises me with an unexpected shock of color, oversized piece, or interesting shape. This headboard is all of the above.
12. MBR Suite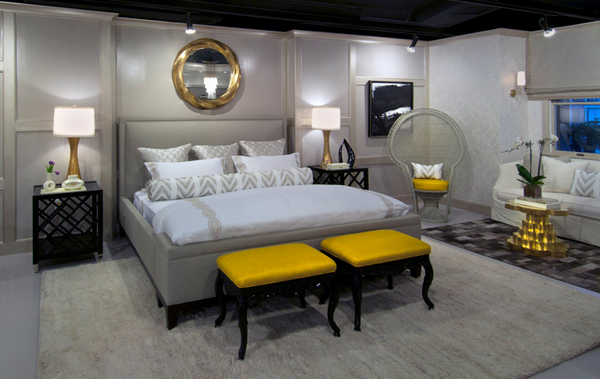 This is one eclectic bed that mixes awesome contemporary bed and decor and matching it all with a classy wicker chair.
13. Miami Master Retreat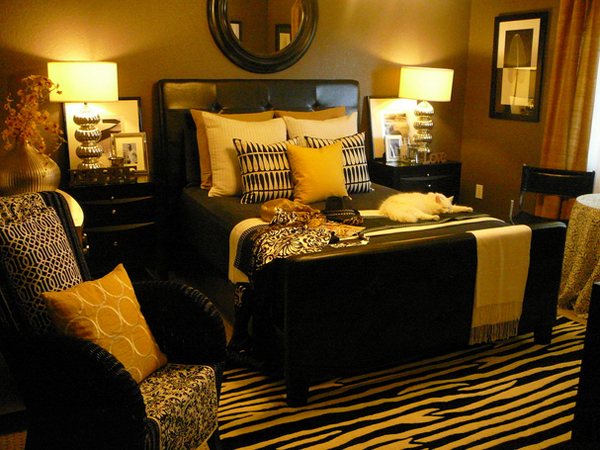 That lighting for this bedroom is super comfy, I think I'd be able to sleep ASAP. Note the stunning decor on the night stand too.
14. Midwest Home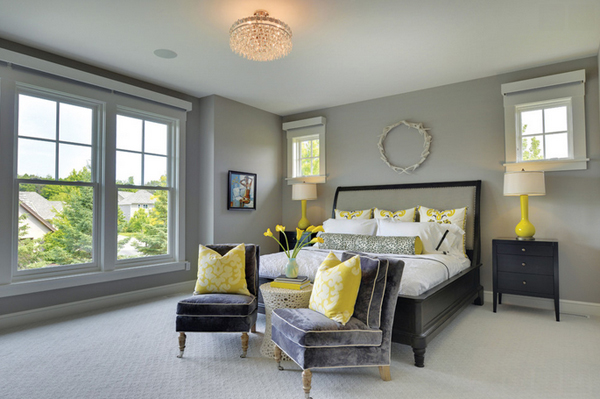 Great punch of color! I love this bedroom!
15. Newtown PA Home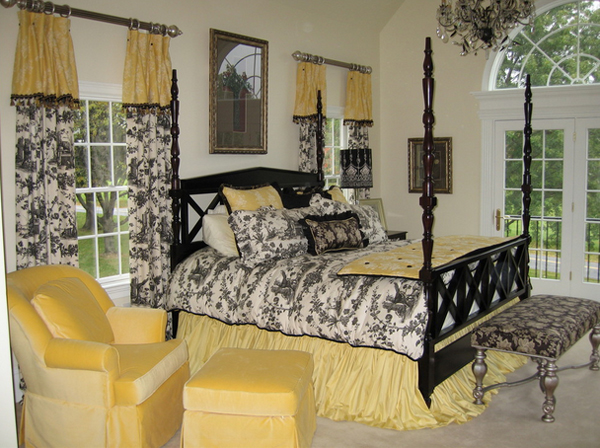 The addition of lemon yellow to the black furniture created a cheerful master bed with a soft romantic feeling. A combination of a classic black and white toile with a soft velvet yellow created a warm feeling with all the stark black furniture.
16. Orange County Bed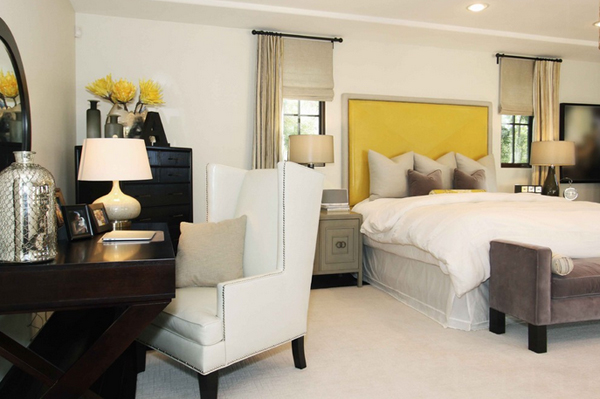 I love the way these window treatments are simple and anchors the bed.
17. Orlando Contemporary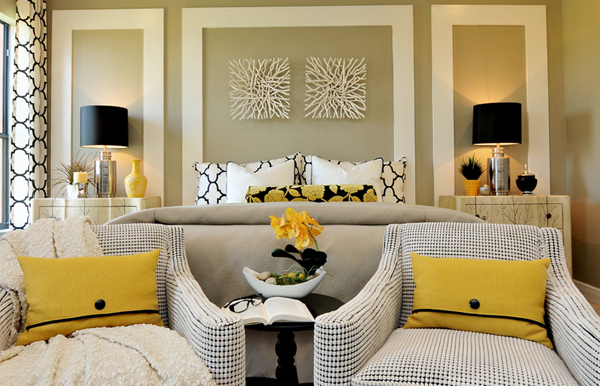 Again, a single color – in this case the golden yellow of the bolster and the lumbar pillows – even when added with a very restrained hand, can still revolutionize a room. This bedroom would sing a different tune without that hue.
18. Palm Springs Guest Suites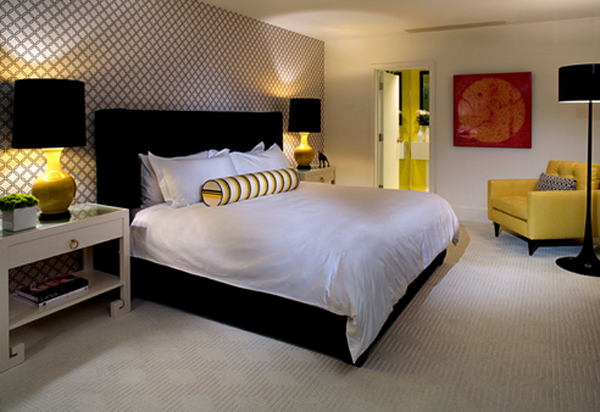 This guest bed space with wallpaper in black and white is just stunning and the yellow accents are totally divine!
19. San Diego Contemporary Bedroom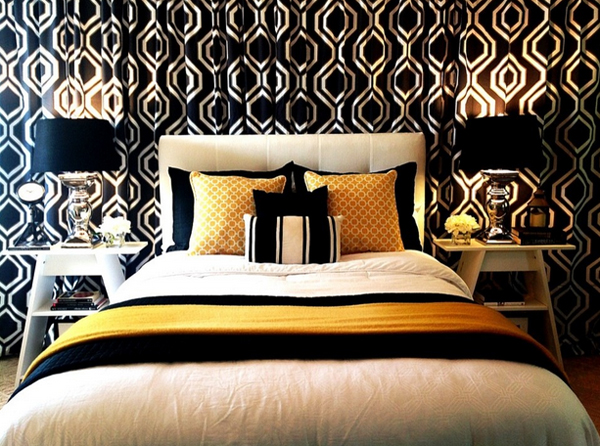 This is a staged bedroom. There was a large, tropical mural on the wall that I thought was quite taste specific, so covered it with drapes. The gold accents help to break up the black and white and add a pop of color. Any color of your choice could be used in lieu of the gold!
20. Wallpaper Favorites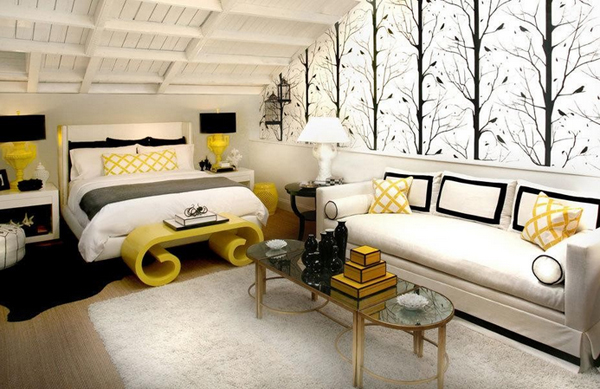 Nature motifs are all over the place – I like this graphic interpretation here.
How was that for an awesome and sophisticated bedroom designs? If you have noticed, every bed area in this list has enough black and enough yellow in them that the designers did not over-do any of the spaces here. You can also check out a list of other colors for the bedroom that are inspiring too! Have fun when you do though!