20 Wonderful Wooden Bathroom Furniture
Two days ago, my mother and I were at home depot looking for tiles and my Mom noticed the wooden tiles which actually charming and all that and I remembered about this list that deserves to be created; I mean why not? Wood is one of the best building material we have in the market which is definitely underrated at times.
So, for today, this list we have here is about wooden furniture we can see in the bathroom; the wonderful bathrooms that we have in this list sure is awesome – we have pictures of bathrooms from traditional to contemporary and to modern ones! I am betting you'd love some if not most of the pictures below because they sure are wonderful.
1. Allen Residence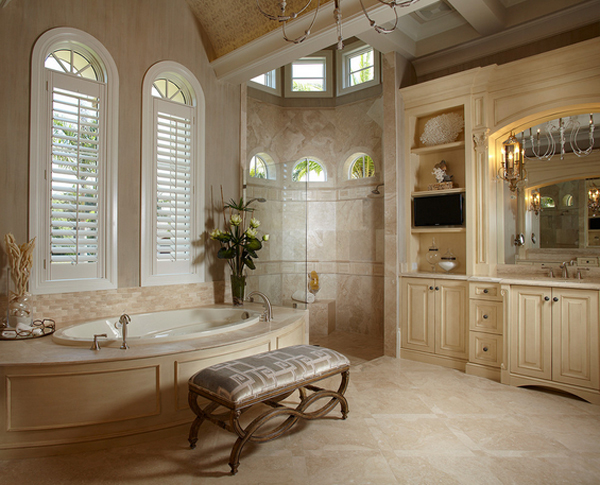 I like the way vanity is staggered; this is one stunning bathroom!
2. Aquatic Park Penthouse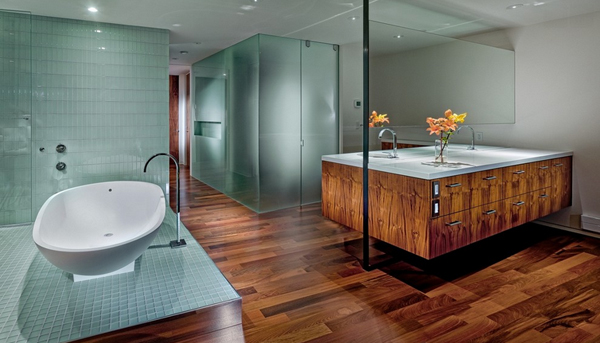 Modern finishes include book-matched walnut cabinetry, live edge walnut slab countertops, steel and walnut bookcases, hand-made mosaic tiled walls, gun blued steel and etched 1/2″ glass.
3. Barrington Residence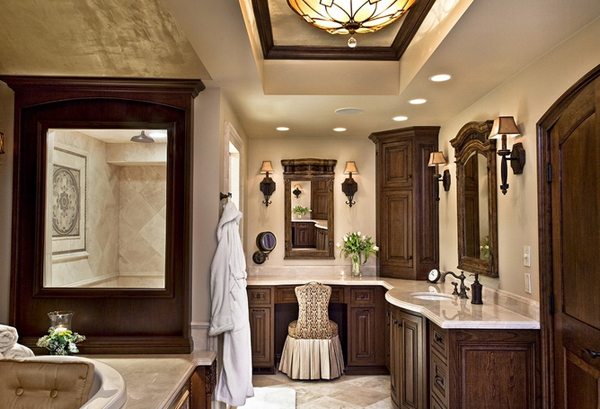 Tiered ceiling with center light fixture that may be a great centerpiece; I love the dark color of the cabinets, door and the mirror frame.
4. Kurth Residence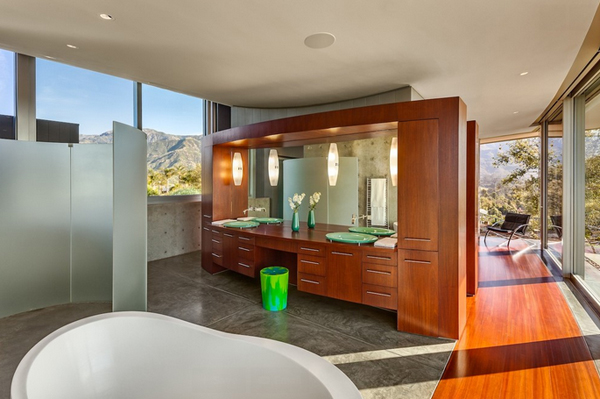 The shower in the master bath is freestanding and has a curved wall of translucent glass. Again, it's clear that the home's geometry is what creates privacy between rooms, as there's no door between the bath and the bedroom.
5. Classic Spa Bathroom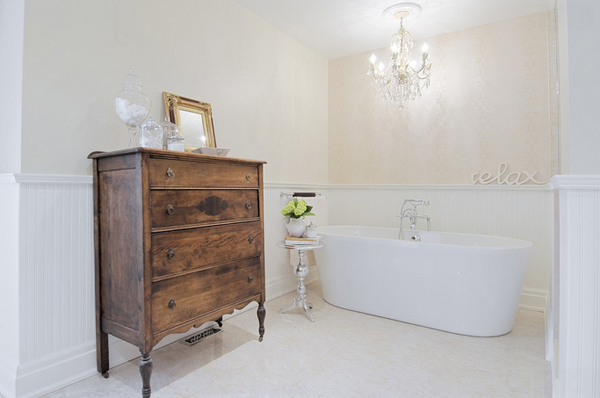 According to the designers, this artfully distressed antique chest was the inspiration for this dreamy bathroom. It provides just the right touch of warmth to the pristine surroundings as well as excellent storage for towels and toiletries.
6. Clinton Hill Brownstone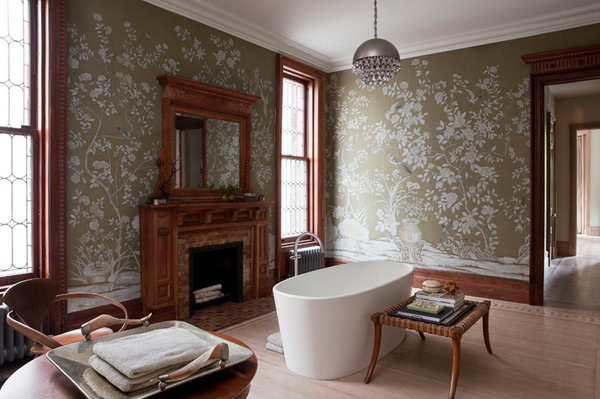 While the majority of us will never have a bathing room this large, it's inspiring to see surprising elements like the mural, the lack of tile, the fireplace, the light fixture and the furniture.
7. Vancouver Traditional Bathroom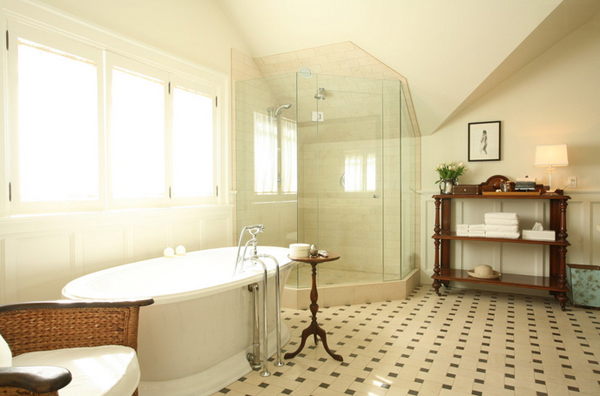 Look at the corner shower & pedestal tub beside the window that sure looks great with the weaved chair close to it.
8. French Country Master Bathroom
Kohler's stunning tub is awesome that complements well with the furniture and mirror!
9. Hawley Court Project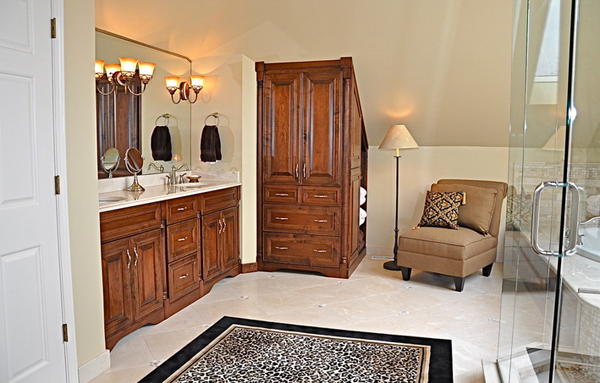 Check out the bathroom cupboard with the loft ceiling.
10. Los Angeles Bathroom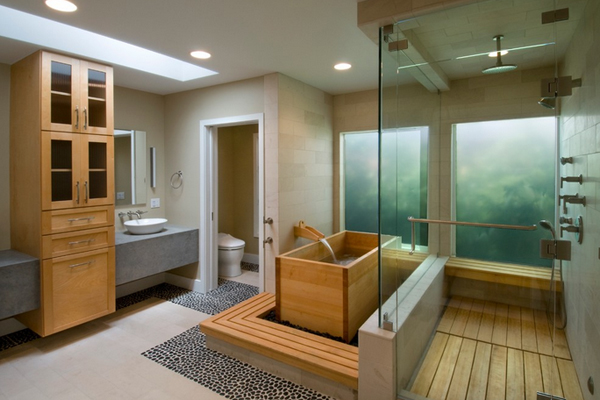 Look at the spa feeling that this bathroom have; love the wooden tub and the shower floor panels too!
11. Waverly Place Townhouse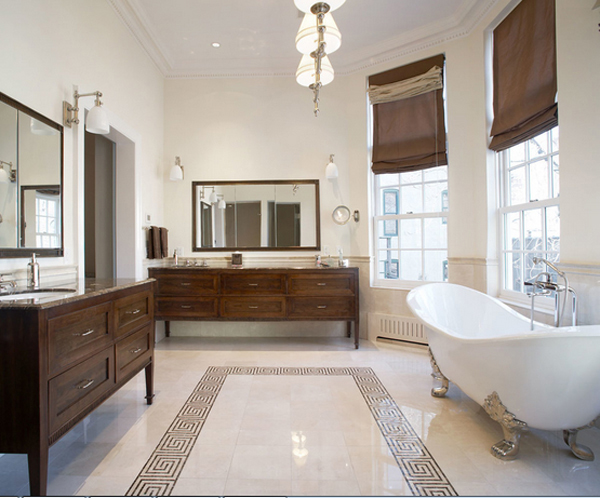 Don't you just love the legs of the tub? It's a bit modern and because of the wooden cabinets, this space is somewhere traditional to contemporary!
12. Minneapolis Rustic Bathroom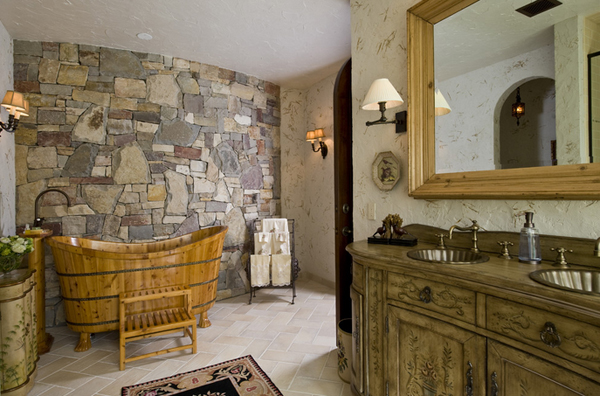 Just look at the fascinating the textures of this space is! The accent walls, the wooden tub and the awesome flooring!
13. Master Bath in Minneapolis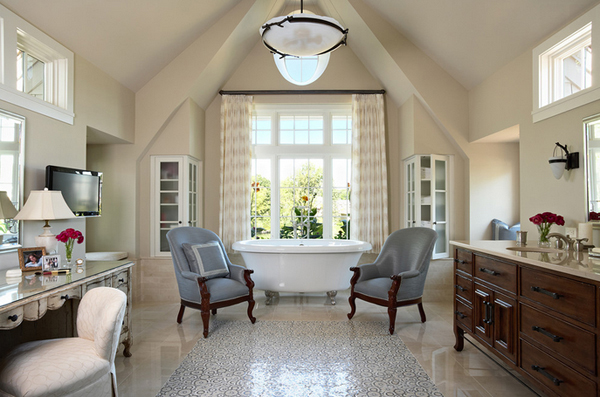 Look at the charming tile inlay and true corner shelves!
14. Minneapolis Bathroom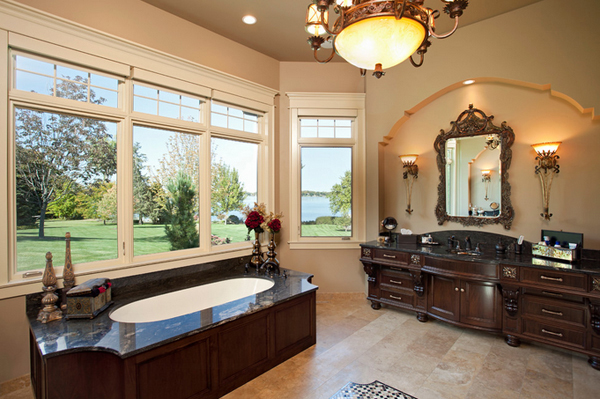 Cosmic Black granite on tub deck, shown with an under mount tub. Vanities and custom designed granite backsplash are also Cosmic Black granite.
15. Nashville Contemporary Bathroom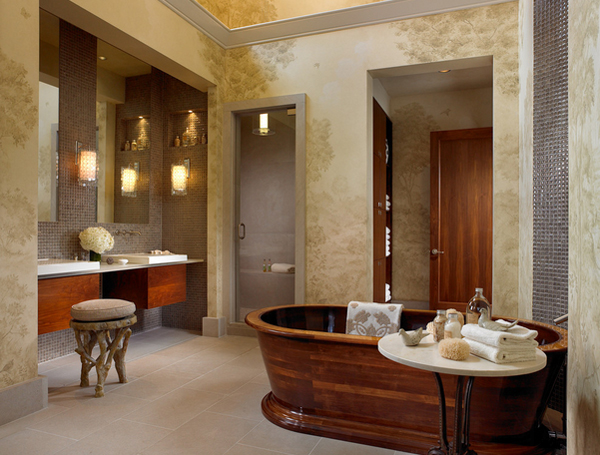 Perhaps the most unexpected use of a material in this house is the bathtub – it is solid walnut with birds-eye maple inlay trim. Another one of Jamie's creations, inspired by luxury wooden yachts, it is made entirely of wood and sanded with several layers of polyurethane for the shiny, smooth finish.
16. Olive Mill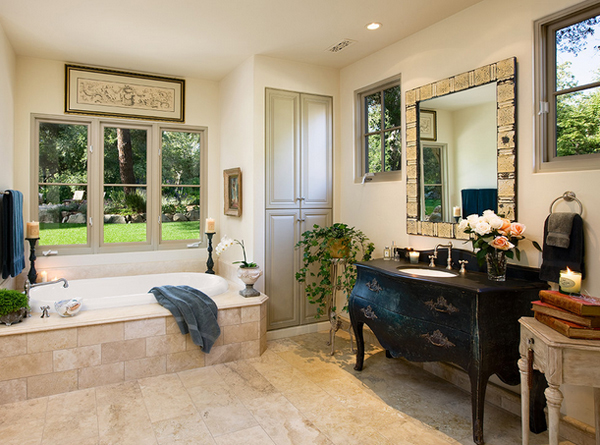 Repurposing older furniture pieces is a beautiful way to create a vanity that adds the warmth of well-loved pieces to your bathroom.
17. Wainscott Residence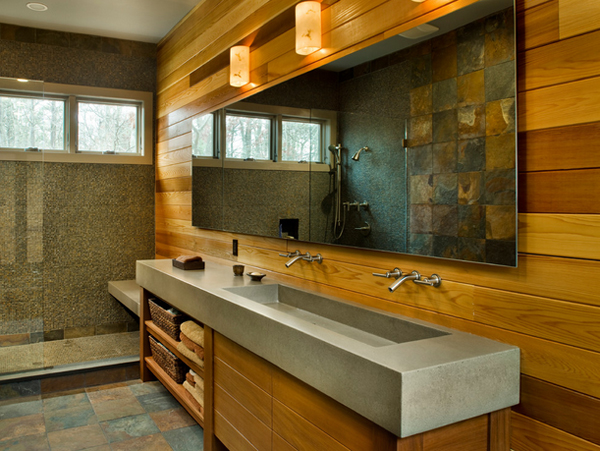 Custom concrete vanity for Wainscott Residence; how do you like this one?
18. San Francisco Mediterranean Bathroom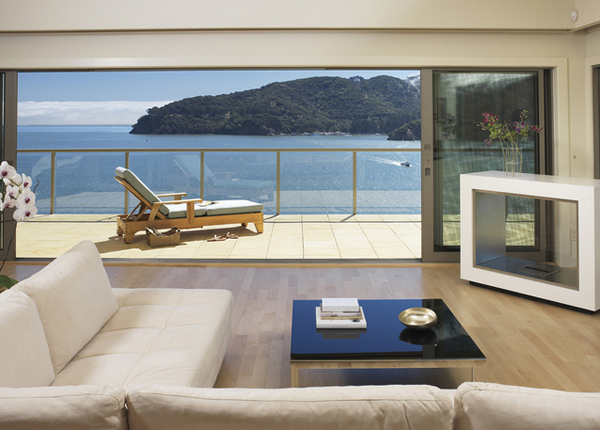 Textured, plastered walls are commonplace in traditional Mediterranean homes. Finishes can range from smooth and refined (like Venetian plaster) to highly textured and rough.
19. United States Bathroom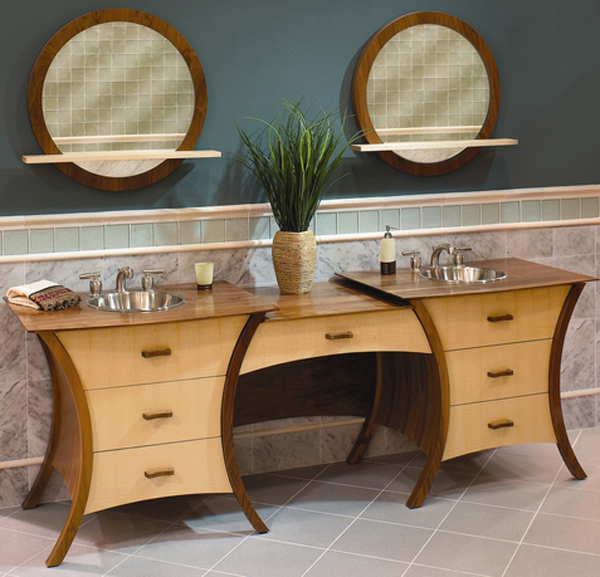 This is such a fun, curvy piece of furniture. It works well in an Asian motif or an eclectic-style bathroom. You can buy this by following the store links.
20. Upscale Master Bath Ideas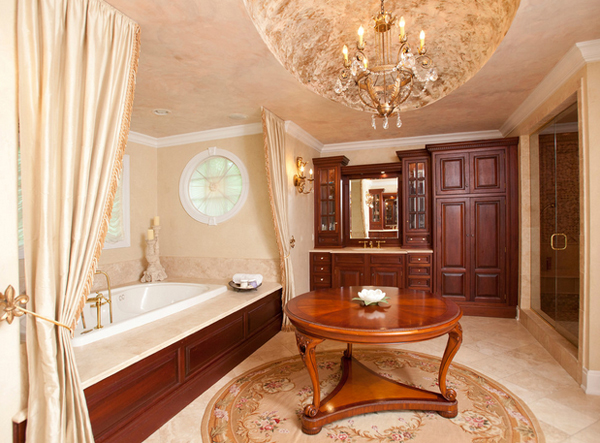 This bathroom is super stunning with all the right furniture and lovely tub; not to mention the cove where the chandelier is.
While completing this list, I sure got a weird feeling because we are decorating a bathroom at home and makes me wish I had one huge space to decorate and fill with awesome furniture; but oh well, better than nothing really.