Elegant Vanity Sets and Bathrooms from Versace Home Tiles by Gardenia Orchidea
Every home has different design concepts both for the architectural and interior design aspects. It would always depend on the desire of the client based on their taste and usage. When it comes to designing, it would always include paint colors, accessories, furnishings, tiles and more. Let us look into one of the important design materials which is the ceramic tiles.
Ceramic tiles come in different colors and sizes. They also have different decorations and designs that would fit into whatever the client's design preference is. It not only adds beauty to one's home but can also make it look neater, creating a better place to live in. Versace Home Tiles by Gardenia Orchidea could be a good choice for your home. It can be used in the living area, bedroom, bathroom and other areas of the house. It can also look good for a vanity set.
The Ceramiche Gardenia Orchidea Group lives in the world of fashion and design Made in Italy. When they decided to focus on mid-to-high end products, the Versace Home Ceramic Collections was born in 1997 with the prestigious Italian fashion designer. It created a strong bind in uniting interior design and decorative home details. It was even brought to the higher level when it teamed with Garfloor for porcelain stoneware materials. Now, let us take a look at a showcase of designs from Vesace Home by Gardenia Orchidea in vanity sets and bathrooms.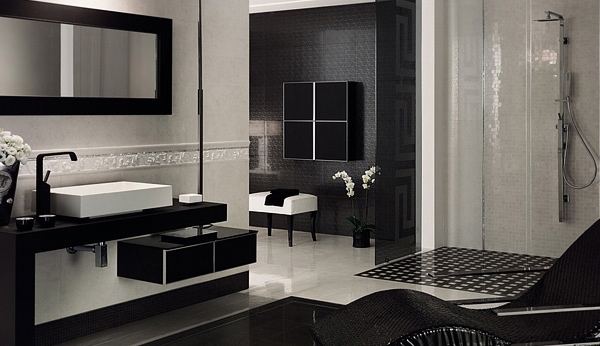 A combination of black and white makes this look elegant and stunning especially with the addition of furniture and accessories of the same shade.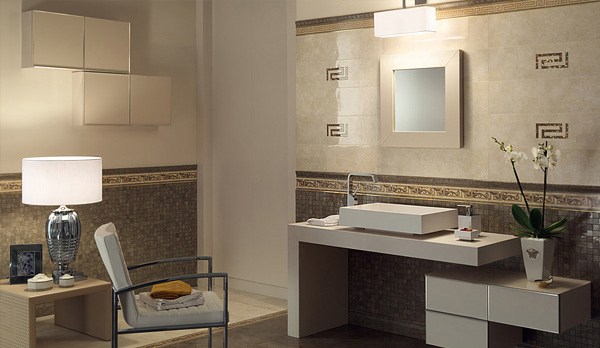 This one also looks elegant in its usage of biege, brown and cream shades for the floor and wall tiles. It looks neat for its white vanity set.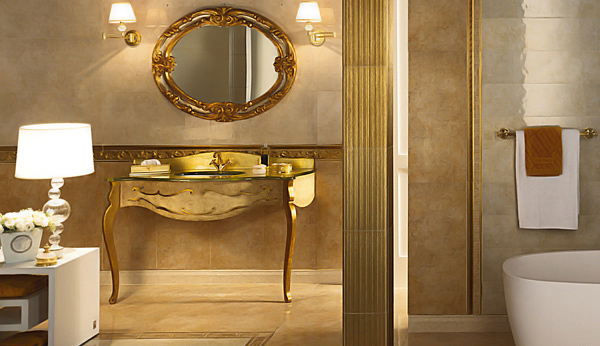 Truly a taste of royalty with gold accents, frames and borders. It also made use of tiles with golden marble shades.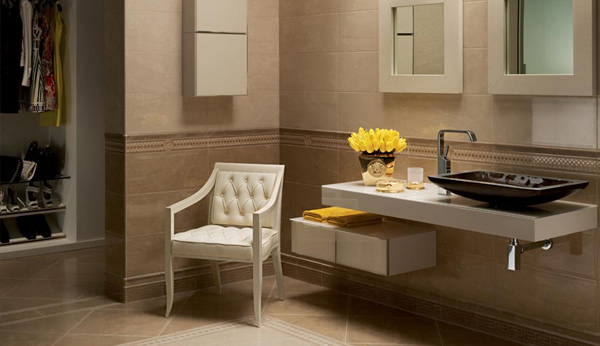 Using beige plain and marble tiles, this looks simple and neat yet retaining its fabulous look.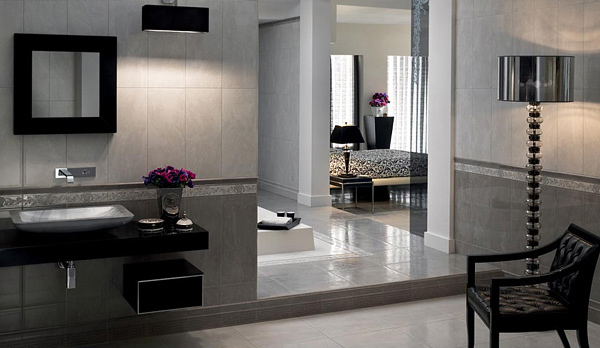 Darker wall tiles at the bottom half and lighter ones at the upper part of the wall gives this a great look with its contrasting colors.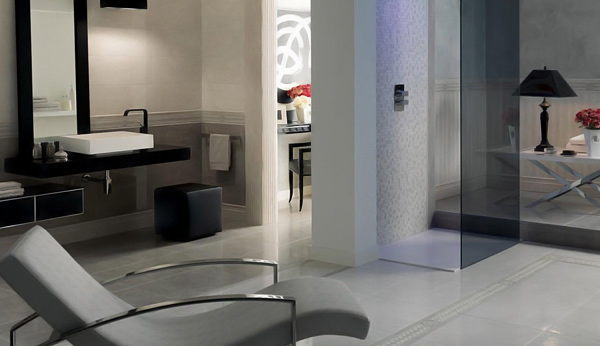 White floor tiles and biege wall tiles combined with a black vanity set gives this an impressive beauty.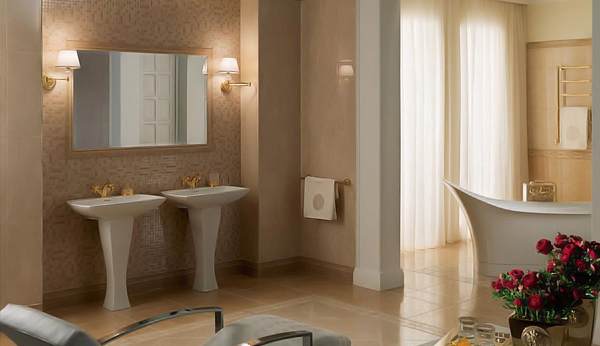 Mosaic tiles on a single shade looks creative but not overly designed because it is simplified with the choice of accessories and furnishings.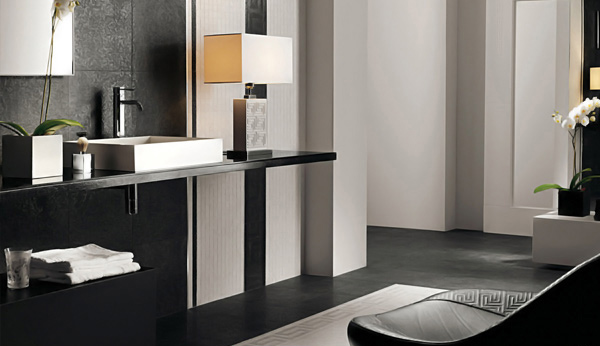 Another great combination of black and white tiles giving out a strong impact with glamour and elegance.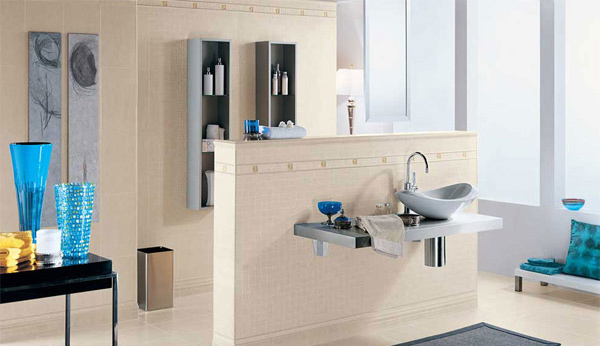 Cream tiles with blue accesories creates a cool appearance for this vanity set which also makes use of smart storage system for toiletries.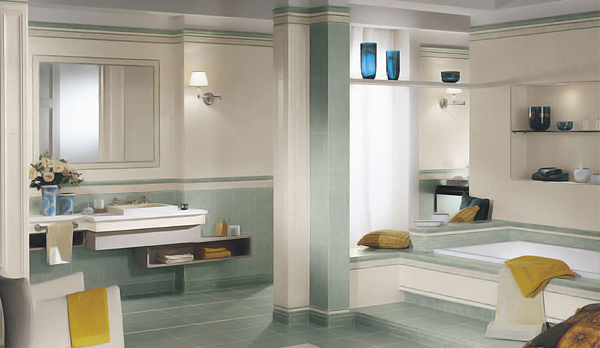 Choice of color makes it look a bit classical yet it still appears modern with its use of straight lines.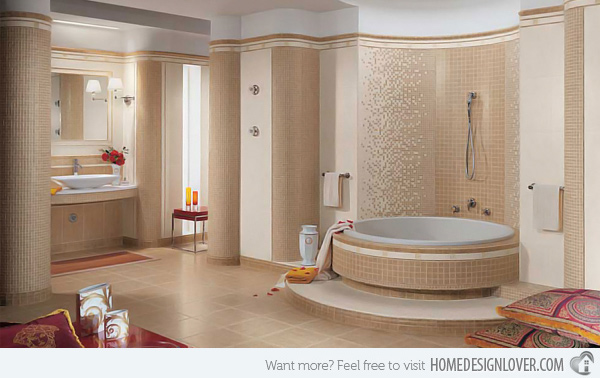 Simple decorative wall tiles and mouldings are used in this bathroom that truly suits for a celebrity.
The use of Versace Home Tiles undoubtedly made these vanity sets and bathrooms look stunningly impressive. The use of apt furnishings and accessories even added to the beauty of the entire set-up. You can also have one like what we have showcased above. You will surely feel relaxed when you have an ambience as cool and elegant as them. Also, do not forget that aside from the design, it is important that your areas are always clean and well-kept.
So, if you were inspired with the design you see above, you can still get more ideas if you look into our collection of Modern Bathrooms, Refreshing Bathroom Designs and many more. Feel free to browse on home designs and read on different tips that would surely help you.