15 Modern Swimming Pool Rooms You'll Envy
Having an outdoor pool is a source of entertainment, fun, relaxation and satisfaction for the family but if the weather isn't good, getting all the fun while bathing in the pool could be impossible. That is why, some homeowners opt to have an indoor pool. Today, we will show you just that.
Since modern design is the trend these days, we have collated some modern swimming pool rooms or indoor pools where you can get ideas and inspirations. There are actually more modern pools out there but as of now, this is the list we have collated for you. We hope you'll enjoy it!
Davis Residence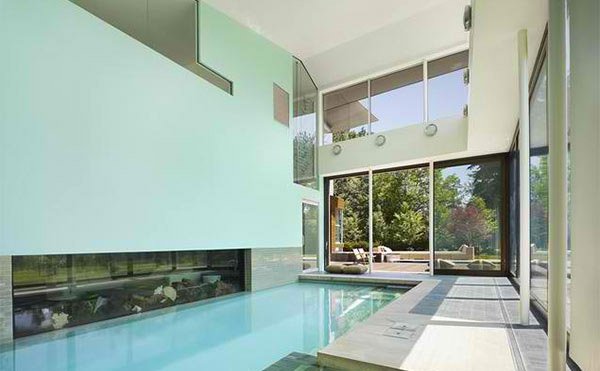 This indoor pool looks nice with the color of the wall that complements the pool color. The aquarium on the right side adds more life to it!
Indoor Swimming Pool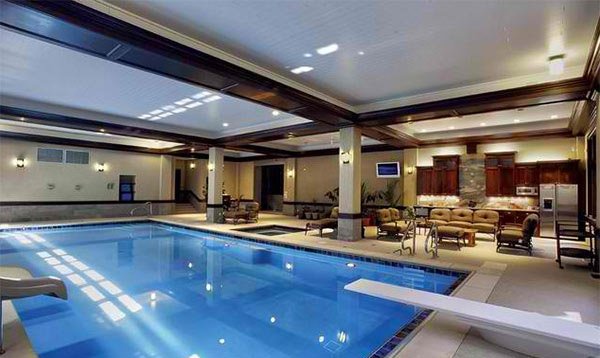 A large pool that has a living area and kitchen in one side. One can surely spend long hours in here!
Heath Hall Pool Room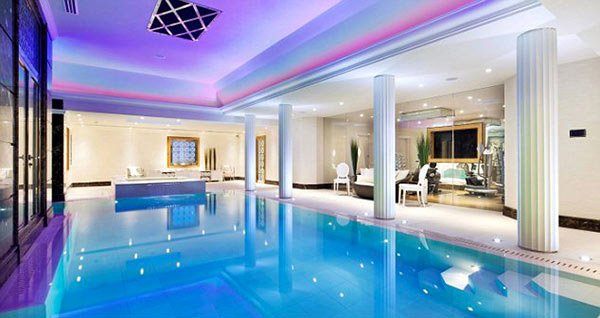 One of the most expensive houses on sale in the market has this luxury pool with a sauna and a snooker room.
Indoor Luxury Swimming Pool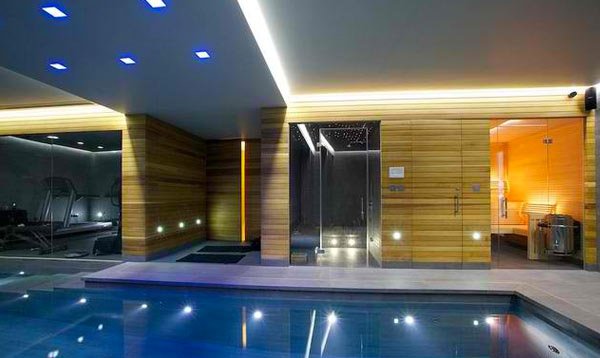 A modern pool has a serene feel with its neat design. A combination of tiles and wood are used on the wall. Lighting is also very lovely!
Bloomfield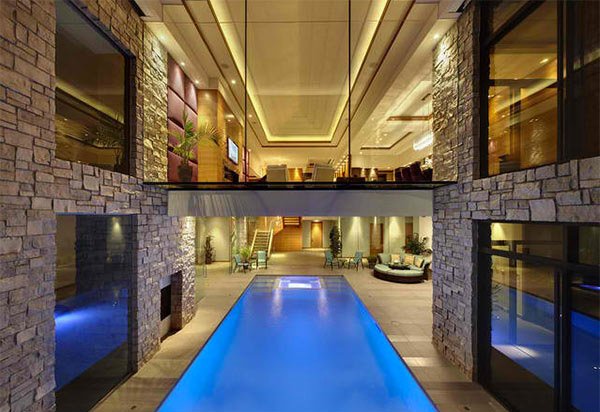 "A residential pool was designed to be the primary focal point of this residence. As one walks from the foyer into the living room, they will catch a glimpse of the pool below through the 4'x4' square glass floor panel beneath a 5'x5' glass table centered at the sofa. At the rear of the living room, the marble floor ends but a glass floor continues for an additional 4-feet allowing guests to stand directly over the pool below," defined DesRosiers Architects.
Caya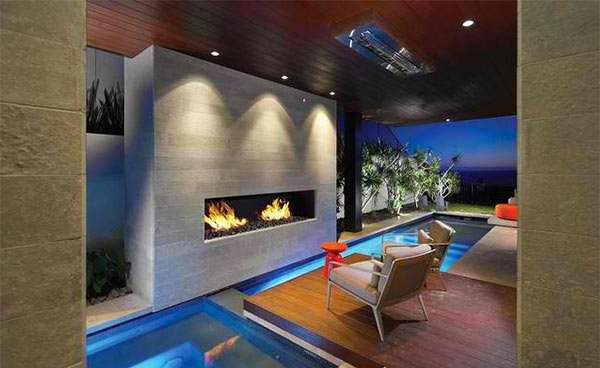 This is a lovely modern design of an indoor pool that extends outdoors. You can see porcelanosa tiles on the fireplace as well as recessed can lightings on the ceiling.
Casa Moru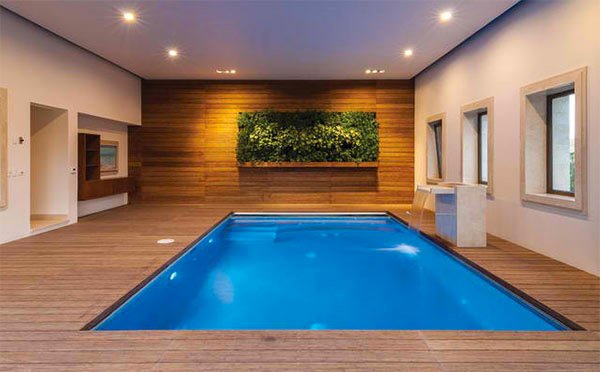 Natural bamboo deck is used for this pool area but what makes this indoor pool unique is the vertical garden seen on the wall.
Buenos Aires Pool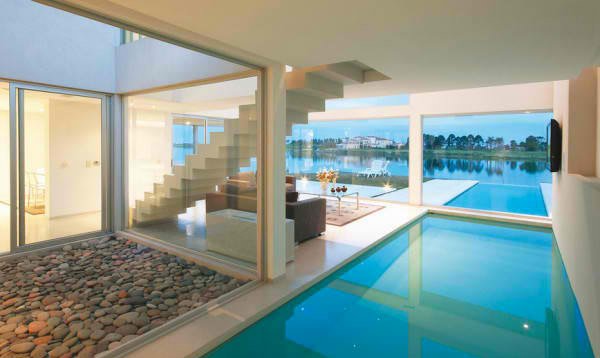 A double height sitting room functions as the indoor patio with a pool that has a beautiful modern design. It seems to extend right through the building's large windows and ends on a lagoon.
Penbrook Arc Floor Lamp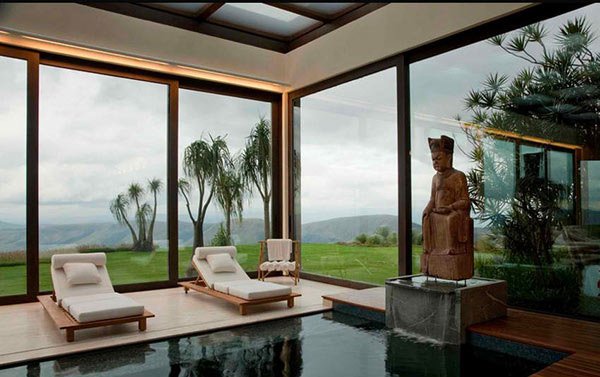 A modern pool with Asian touch- it gets a Zen feel because of the plants that can be seen through the glass walls and the Asian sculpture in the pool.
Pool House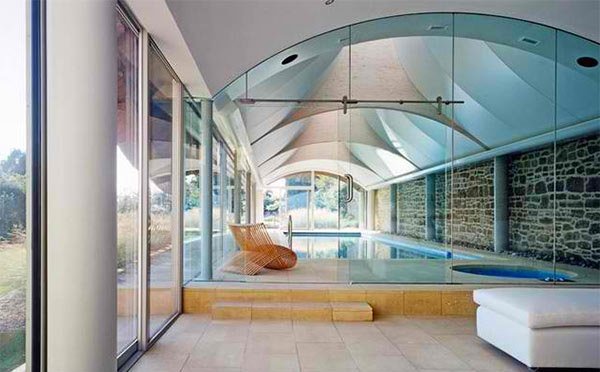 A beautiful pool room with sheaths of light and gentle curves from the ceiling.
Lap Pool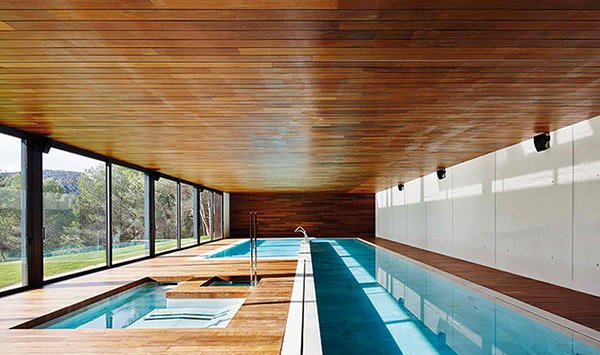 This lap pool cum hot tub is surrounded by wood from the decking and ceiling. The walls are white and glass providing a light and airy ambiance.
Indoor Pool Design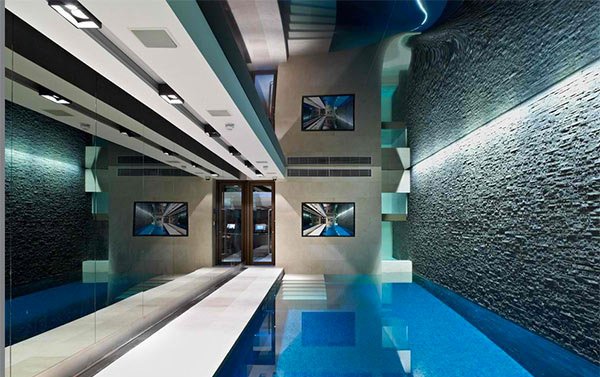 When we saw this indoor pool, all we could say was wow. Its modern details are just breathtaking!
Michigan House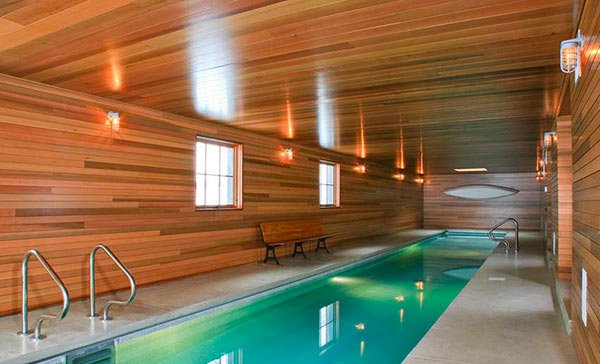 An existing 19th century barn in Michigan was converted into a beautiful home that boasts this indoor lap pool for never-ending fun!
Cape Schanck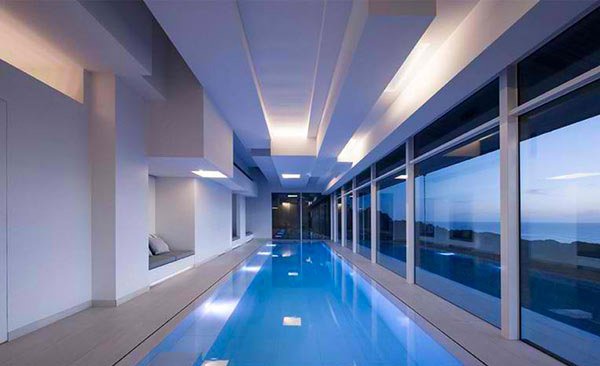 Large format porcelain paving and pool tile were used for this stunning lap pool with wet deck & infloor automatic pool cover.
West Village Townhouse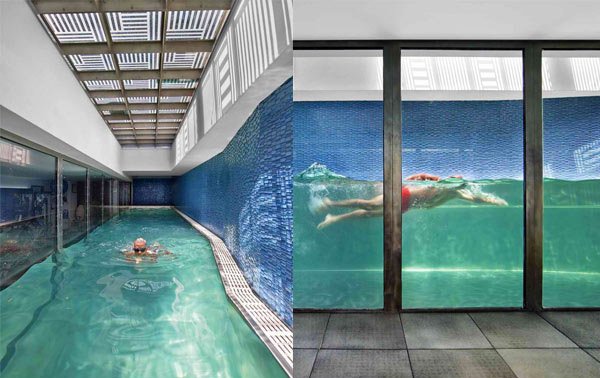 This indoor lap pool in the basement has a distinct beauty! It is transparent on one side while above it, you can get a glimpse of those walking above you.
You will surely get ideas on what you could do with your indoor pool if your home has a modern design. The swimming pool rooms that we have seen have beautiful designs in them using a mix of a variety of materials. You can always do a different design for your pool aside from what we have shown you above. For more indoor pool ideas, check on a list of 20 indoor pools that have impressive designs.