15 Circular and Curvy Hot Tubs
Yesterday, you have seen a list of square bath tubs. We are certain that you loved the setting of the outdoor spaces where the bath tubs were located. But if you think we are done with the showcase, we aren't. We still have another batch of hot tubs to show you. This time, the hot tubs are either circular or have curvy lines in it since some are pea shaped, paisley shaped and others.
Most of the time circular and curvy bath tubs have lesser spaces in it but they do look cute especially when installed in a lovely set-up. But aside from being cute, you have to think of your space, style and usage. Consider the number of persons to use it too. There are really spacious round hot tubs that can fit even ten people! So, this means that even circular ones can actually be perfect for a huge group who wants to relax and get some physical therapy for a while. Okay. Now it is time to check the list below:
Blu60 Slab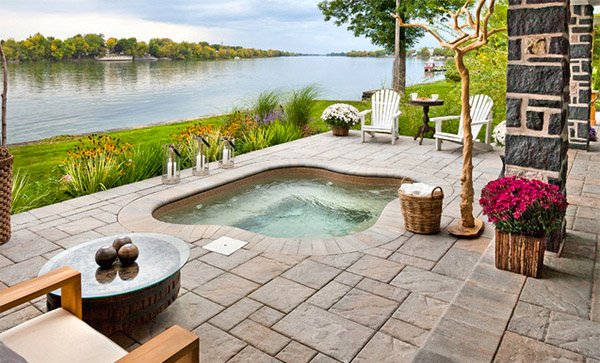 Would you love to get a hot tub as stylish as this? Look at all those curves in it!
City Penthouse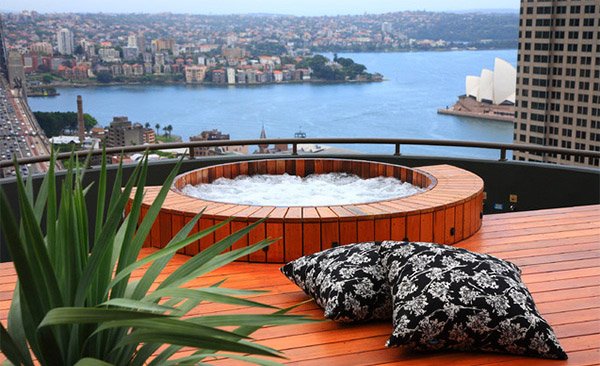 With wooden deck and round hot tub around, the homeowner achieved his desire to get a low maintenance garden set against a dramatic background of the city skyline.
Inground Swimming Pool & Spa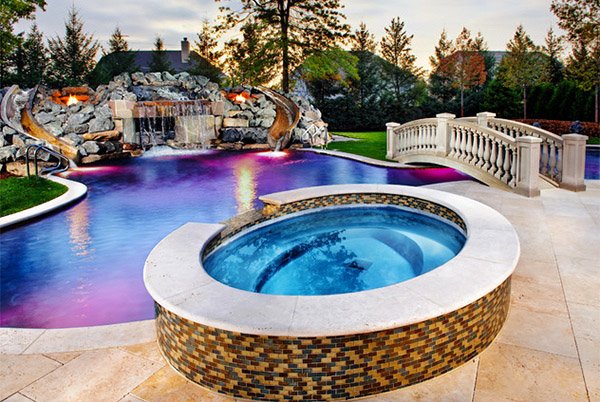 We so love the lights in this pool area and of course, the circular hot tub wasn't exempted because it has those lovely blue lights too.
Brennan Residence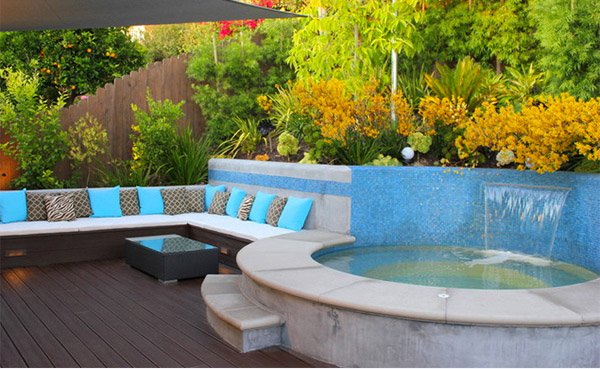 Instead of a full circle, this one only have a semi-circle placed against a wall but it does appear inviting especially with that falls.
Hot Spring: Hot Curve Spot Spas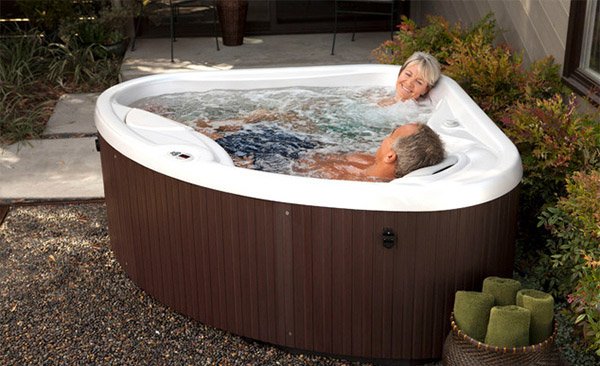 A hot tub that would fit a corner and could be perfect for two or three people.
Stunning Hot Tub Retreat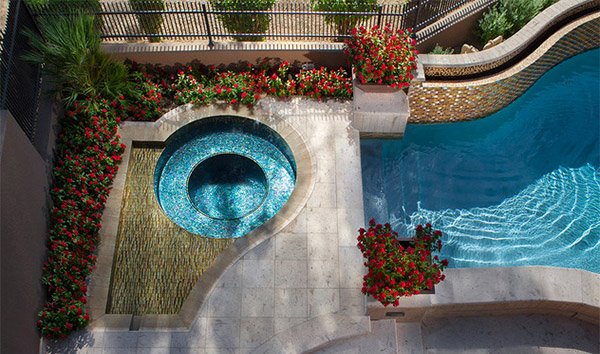 Stunning hot tub near the pool! Look at how it was enclosed with those lovely lines and curves. Its floor tiles as well as the flowers contributed much to its look.
Custom Spa & Deck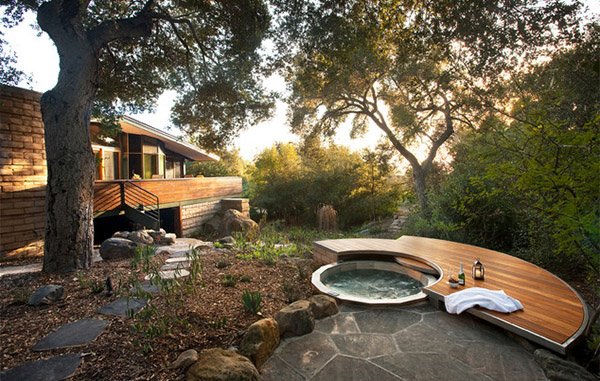 Who would expect that this steep hilly area has a hot tub on one side of it? Notice that it has a wooden cover too with the same material as the deck.
Remick Circular Hot Tub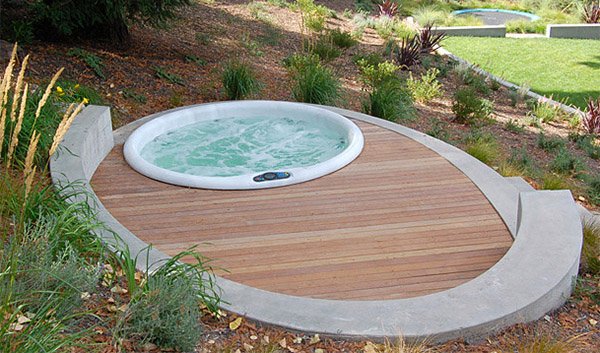 Another lovely design for a hot tub setting that made it appear like an eye!
Spanish Colonial Home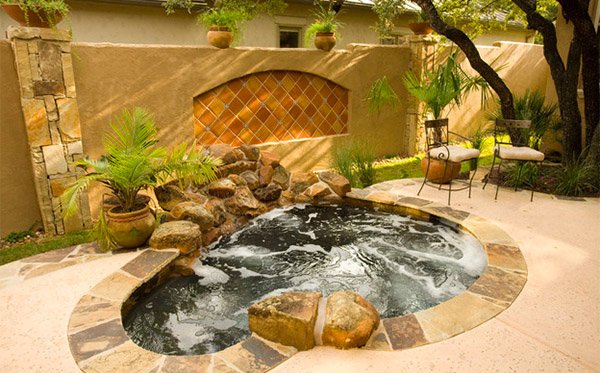 Stones surrounded this hot tub making it look like a natural body of water.
Panama Garden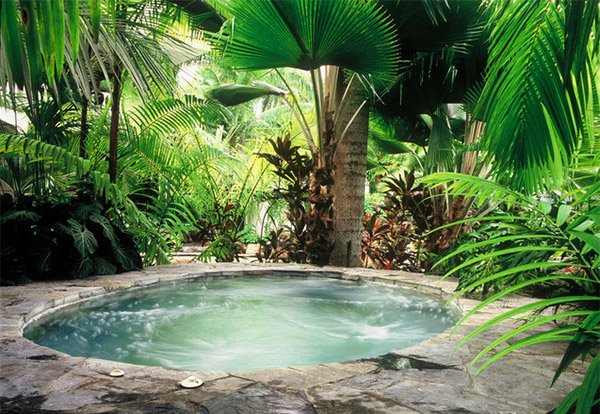 This one also has stones around it but minus the lining, it looked like a real hot spring in the middle of the wilderness.
Copper Falls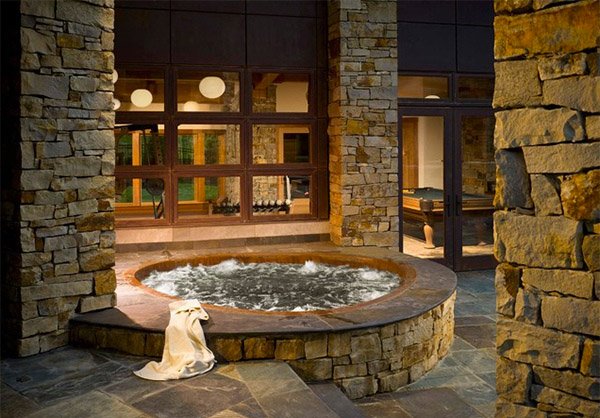 A patio has this circular hot tub which was also designed with bricks same as what we can see on the columns.
Modern Lifestyle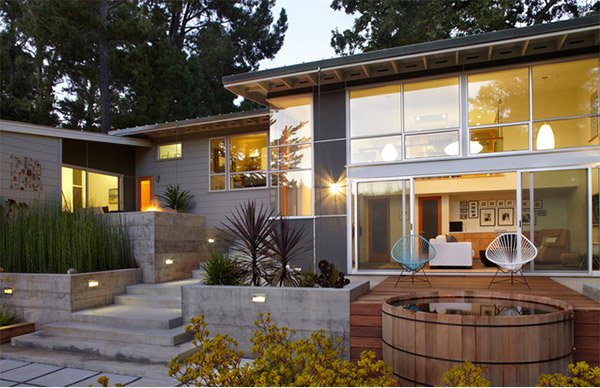 Yes, we know this house is beautiful but take a look at the round wooden tub. In case you do not know, that is actually a hot tub!
The Desert Oasis Pool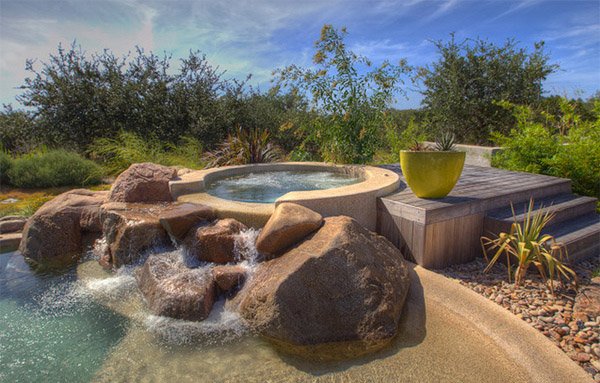 A natural pool area giving the users that feeling of bathing near the rushing waters from the waterfalls or maybe from a river. That hot tub on top would separate you from the pool but you will still feel its oneness since some water flows down from it.
Talwalker Project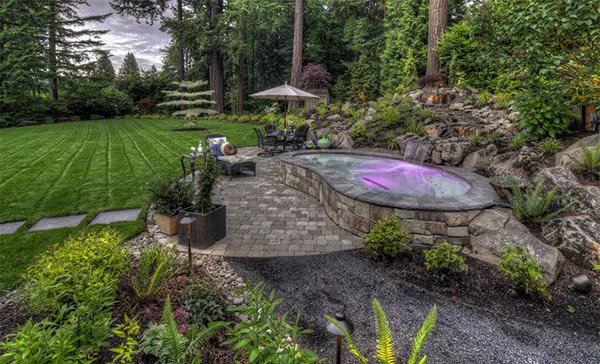 A Mediterranean courtyard with a kidney shaped hot tub. You might even hesitate to get inside it since it looks like a huge pond too.
Private Estate Circle Tub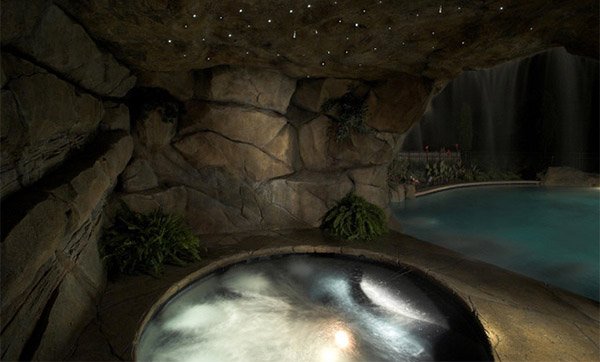 A rock grotto has a secret to unveil- a ten person circular hot water spa hidden inside it.
Loved this list? Well, make sure you won't miss the square hot tubs that we showcased yesterday. Now, can you tell us which you prefer, a curvy, circular or a square hot tub? Check your space and your style and you'll certainly get the answer. More to come here on Home Design Lover!