15 Ideas for TV Built-in Media Wall in Modern Living Rooms
Most living rooms have television sets in it although there are also homes that have a separate family room or entertainment area. But it is common to combine that in the living room especially if the space is limited. There are different ways to install a television in the living room. Some would merely have a free-sanding TV while others hang it on the wall. Still others place them on top of cabinets or are built-in the wall or in the media system.
For today, we will show you some living rooms with built-in wall TV. This will give you ideas on what you can do with your TVs. With this, you will be given different choices like a cover-up for your TV using paintings and others. Some are just left open but are found inside the wall system. Others are installed outside the wall but it looks like a part of the wall with the manner of installation. Now, take a look at the list we have below.
Crescendo Designs Experience Center and Showroom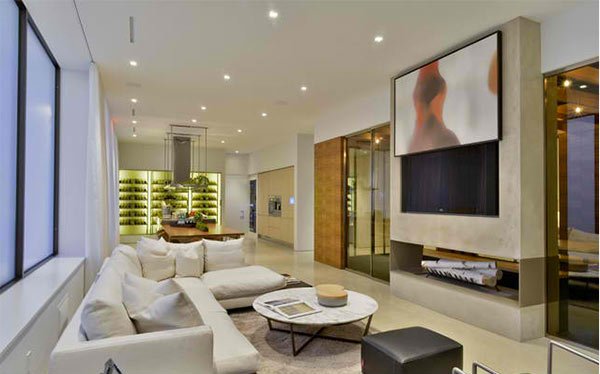 That photo over the TV is motorized. It can be opened and closed when desired. It is indeed a good way to keep the TV when not in use!
High Line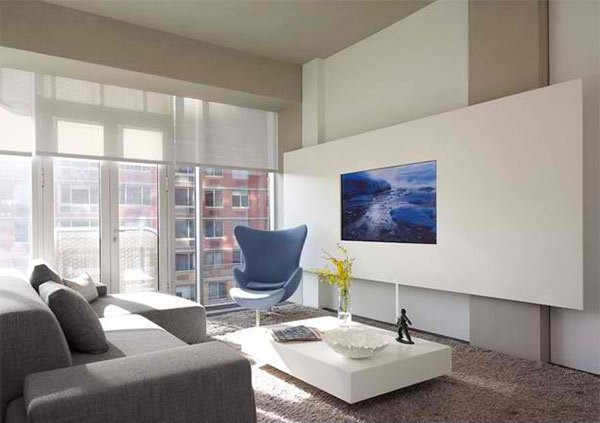 We know you like the neat look of this built-in wall system but you would also be drawn to the Jane table from FTF Design Studio.
The Orpin Group, Interior Design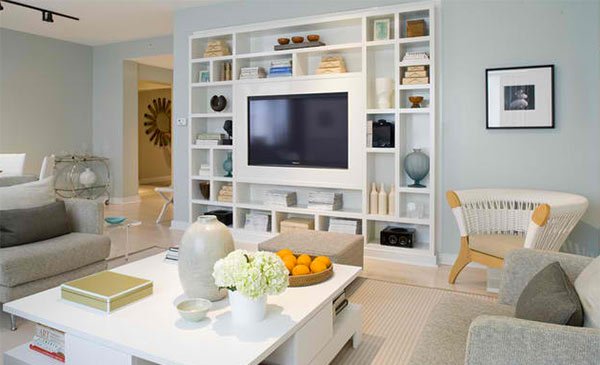 This modern living room is love! The Driade chair, the modern cocktail table, the Platner dining table, the wall unit- everything in it is adorable!
Soho Loft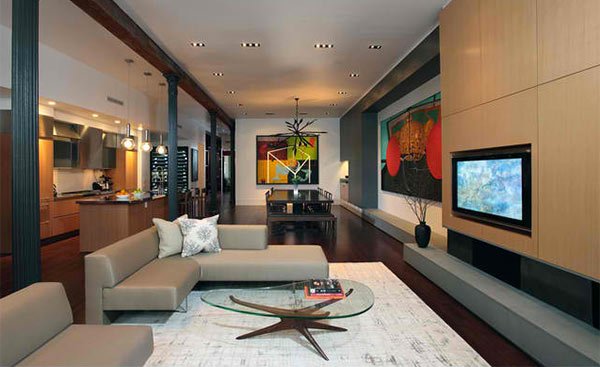 This isn't just a wall system for a TV because behind the TV paneling is a storage area. The fireplace millwork is a light oak veneer (rift cut).
Upper West Side Combo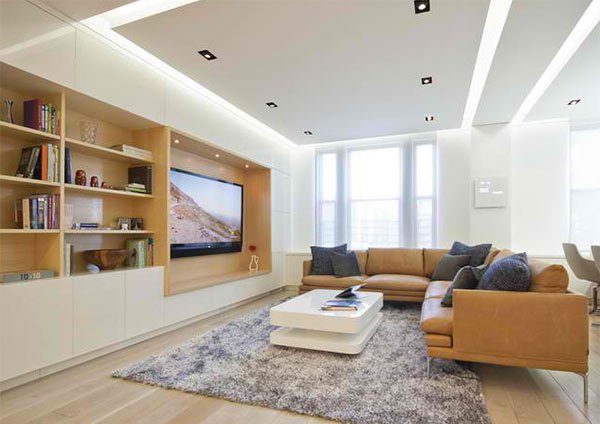 A wide TV is installed in this wall unit which is the center of attention for this living room. To provide bright wash of illumination, LED Cove lighting was utilized in the area.
Alamo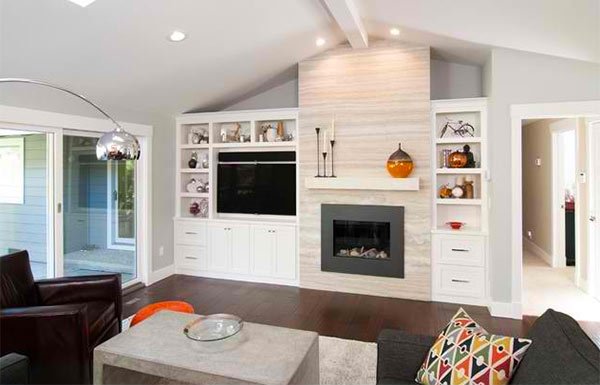 Full Overlay Maple in Swiss Coffee finish is used for this wall unit and we will all agree that it is a good choice!
Contemporary Guesthouse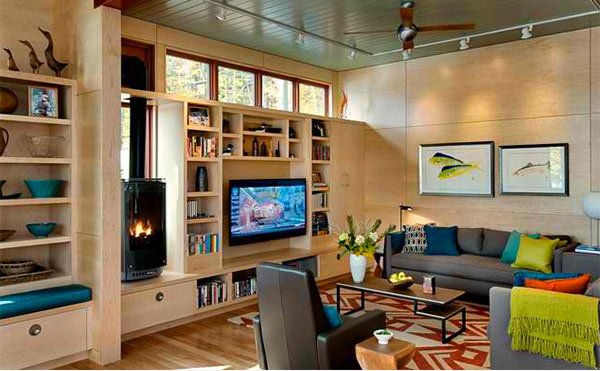 It is good to add a wall unit like this for it makes use of space smartly. You can also see a window seat with a drawer which is another good idea to save space.
Wood House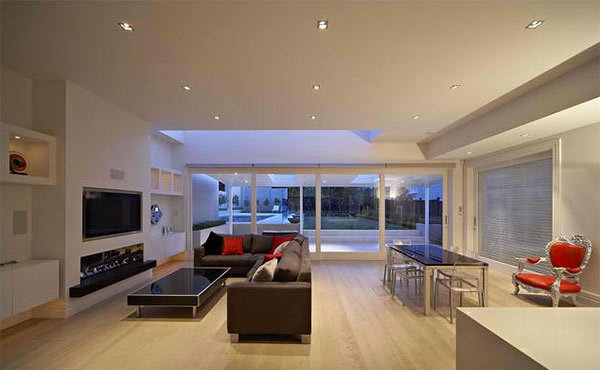 Such a pretty space with a very neat look! The position and location of the TV is just perfect!
Family room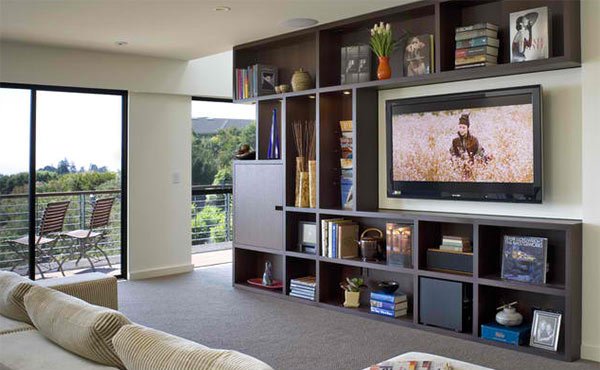 Different opening sizes may look cool for a wall unit with shelves and of course, that TV that is the highlight of this system.
Interiors of the Mill Neck Residence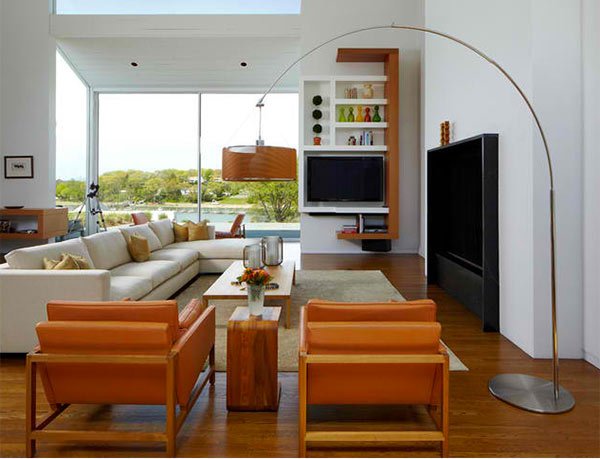 For a smaller wall, this could be a good design for a wall unit with a TV. The wood veneer shade nicely balances the other subtle wooden details in the room.
Miwa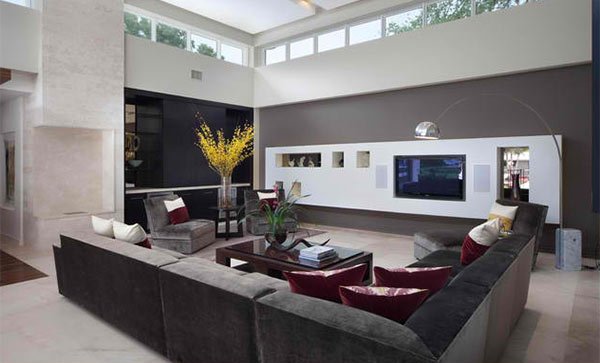 This modern contemporary living room features clean lines and extensive details even for the wall unit.
TriBeCa Loft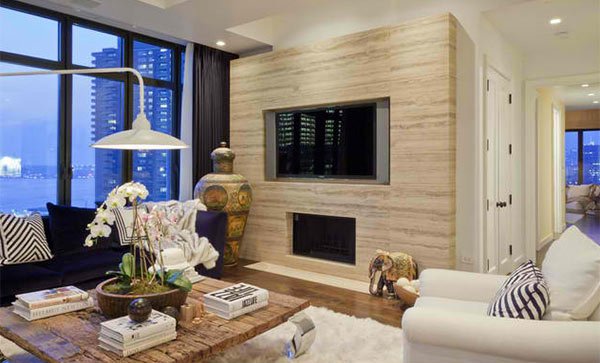 This is a lovely living room where in the fireplace and TV were built-in the wall made of limestone. Talk about luxury and sophistication!
Window World S.A.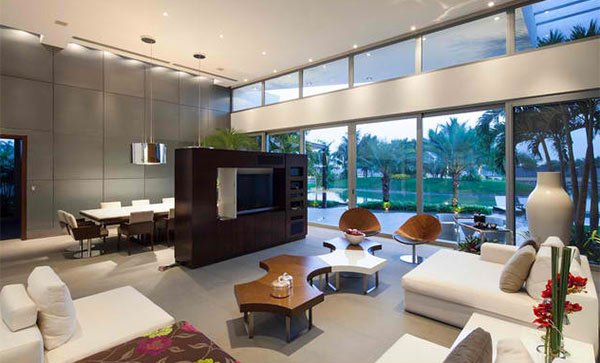 That wall unit is also a partition for the living area and dining area. Great idea, right?
Living Room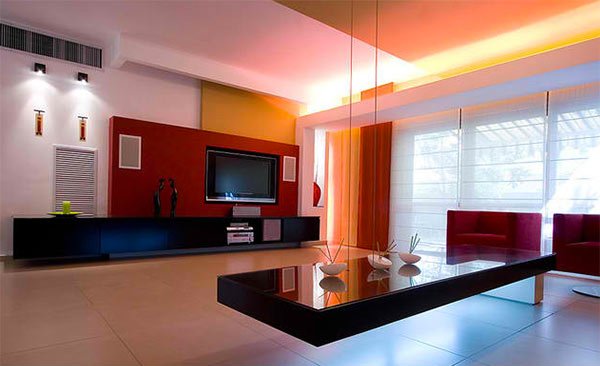 Who will not love the simple color choices here? It draws attention to color and shape throughout the space.
Bloomberg Tower, NYC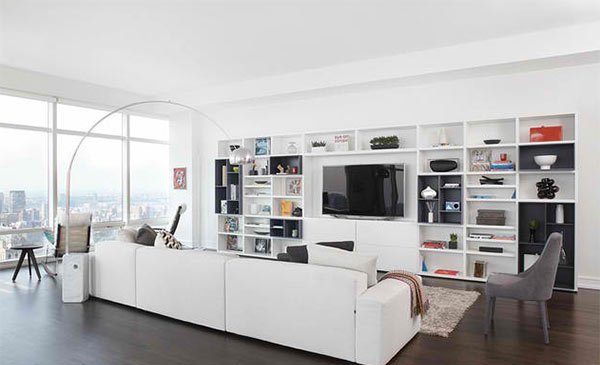 You can also opt for white color to give your living room a clean crisp look just like this space which used white even for the wall unit!
So, if you intend to use a built-in wall system for your TV, this list will surely give you ideas on how to do it. The clean look of the modern living rooms brings in a cozy appeal even with the televisions around. You have noticed that some media wall unit is just plain but others have shelving system that goes with it. You can also check on some flat screen TV furniture for your modern homes. You might be able to get ideas from that list too!