Fascinating Antler Chandeliers in 22 Interesting Living Rooms
Antler chandeliers have different level of charm especially when added in the living room.
I have missed writing and I hope that this list that I will be presenting to you guys would be something that you'd actually like. I have already created a list before about antler chandeliers and I think that it is just right that we show you living spaces that would look great with those stunning antlers you have in the garage.
Below is a collection of living spaces with antler chandeliers; the spaces need not to be rustic or mid-century or even vintage-ish because we have seen antler chandeliers being used in contemporary or even slightly modern spaces. Take note that in this list, you will be seeing different colors, sizes and kinds of antlers – stop, look and appreciate their beauty as they illuminate our living rooms, here you go!
1. Boog Campagne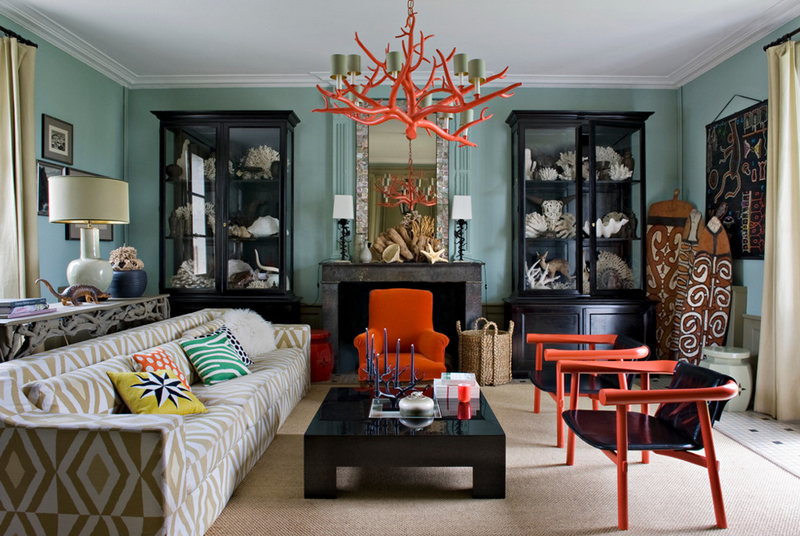 Notice the wonderful orange-colored antler chandelier in the center of this beautiful living room? Its color complements well with the color of the chairs in front of the printed long sofa.
2. Amagansett Modern Farmhouse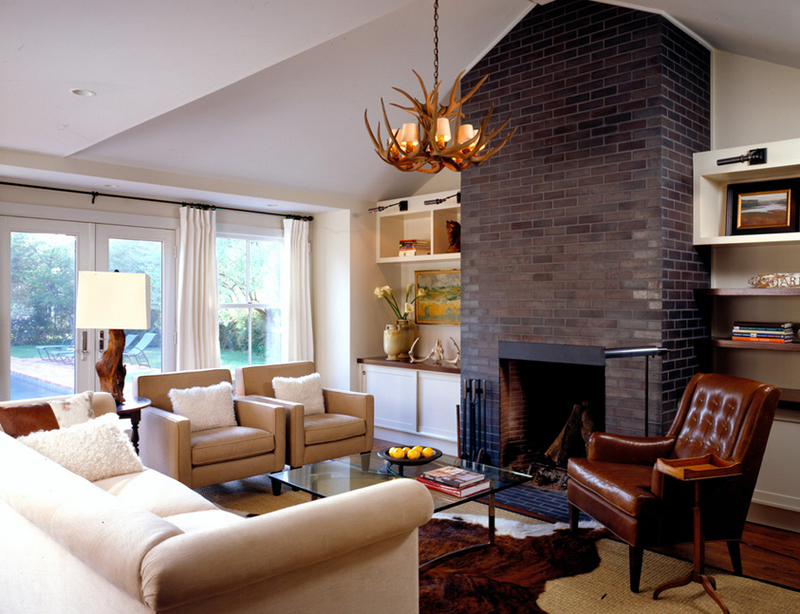 The lovely antler chandelier in its neutral color and form sure gives this contemporary living room a touch of a mid-century feel; although from experience, I know that browns, beiges and white with black create a homey feeling.
3. Hill Country Farmhouse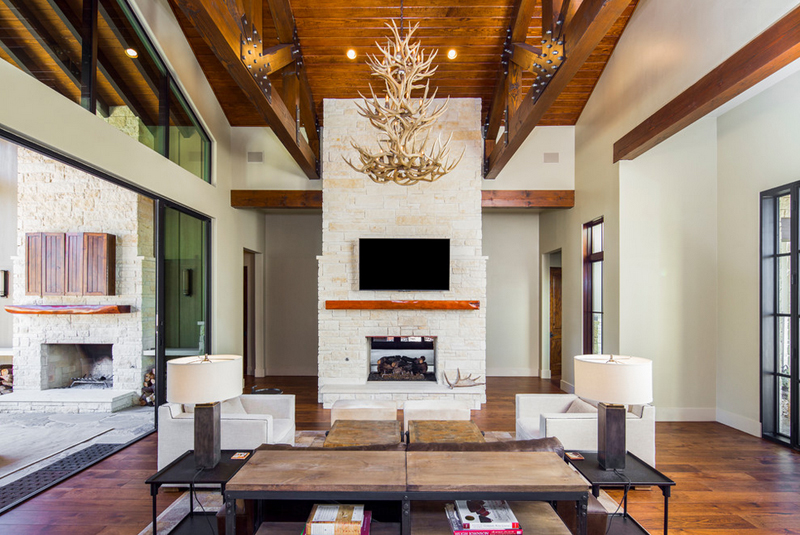 If you see the outstanding looking antler chandelier in this large, minimalist home, you will notice how ideal the size of this chandelier is. If you had high ceilings, getting a chandelier should coincide with the size of the space it will be illuminating.
4. Modern Rustic Great Room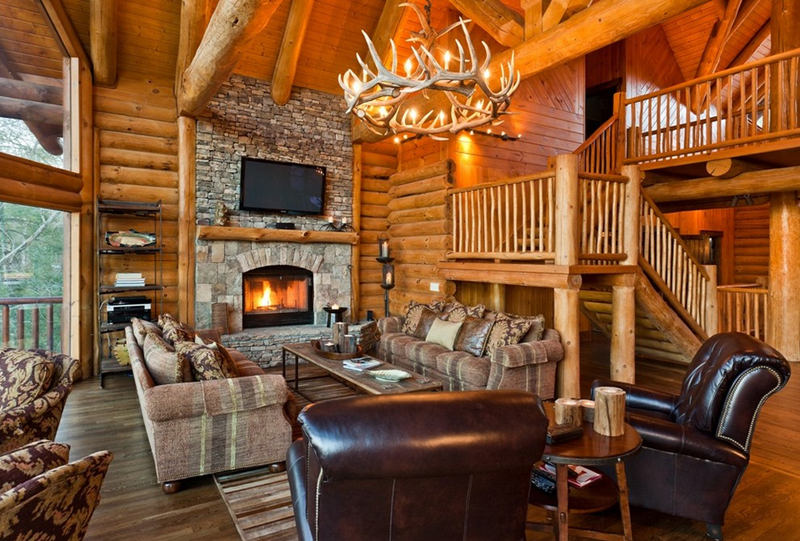 Here is one simple antler chandelier that complements well with the very rustic and mid-century home this home looks like. The material sure blends well with all the wood in this home and all the browns sure make for a great and homey environment.
5. Bayou Residence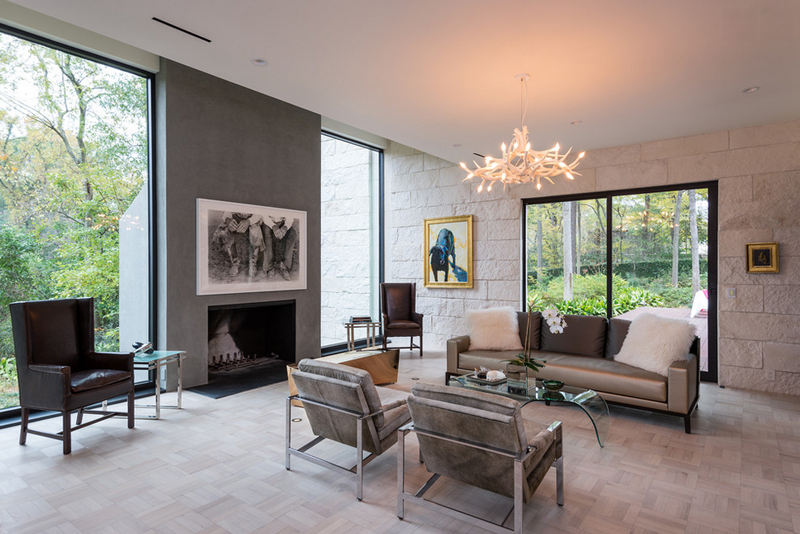 Content Architecture sure says a lot about their design style because of how this living room looks like. The color scheme is neutral which works really well for the antler chandelier we see in this picture.
6. Philadelphia Traditional Living Room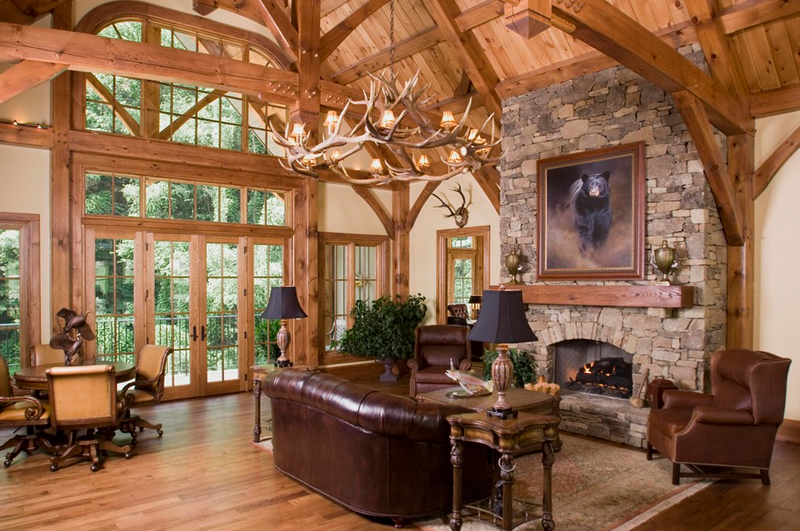 The fireplace area in this traditional living room is quite a neat place to hang out in – the lighting will surely make it more conducive for reading or even sleeping on the sofa just within the comforts of the fireplace.
7. 4 Lazy J Ranch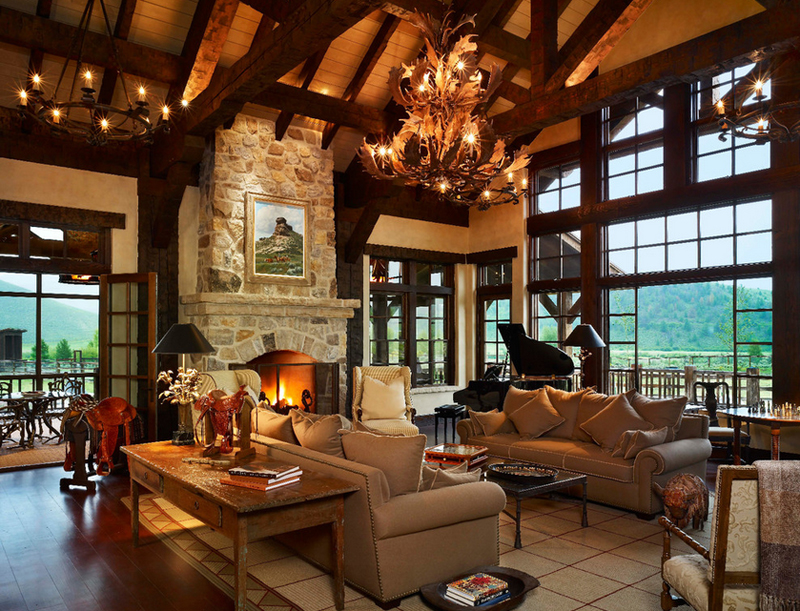 If you can see the beautifully made antler chandelier in this living room, you might notice more action in it than the simpler one we see regularly or even in this list. It complements well with the neutral-toned sofas and given the stunning view in this space, I bet people would love to visit this place.
8. Princeton NJ Town House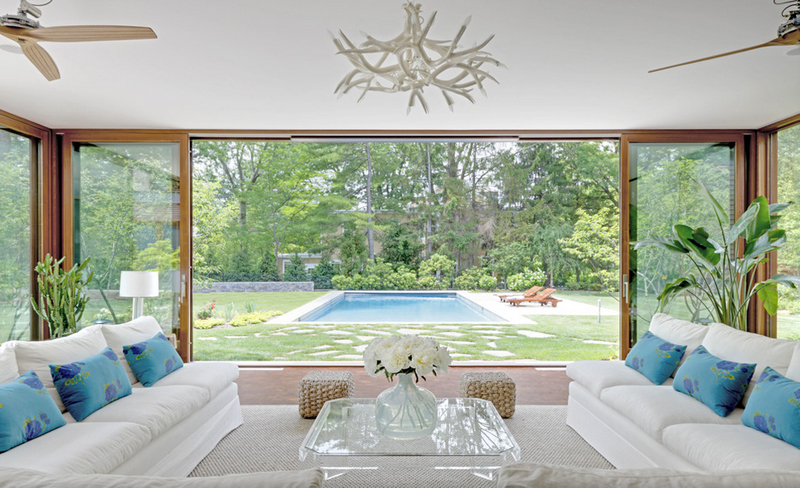 Now, this is one stunning living room! The color choice is really special even when it is simple and even common. This white, blue and wood combination is just pretty and comfy. Note the color of the antler chandelier in the center too.
9. Sage Mountain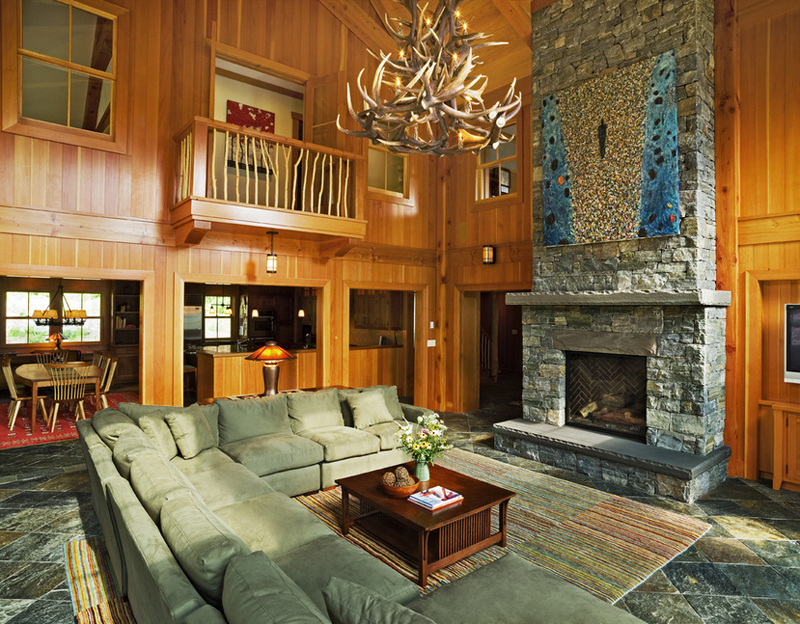 This is one of those rustic homes you see in movies that involves cabins – whether it is a romcom or straight up suspense or horror; although this one looks like it is from a romcom movie. Anyway, this space is neatly done in a rustic setting, the wood and the stones used in here create a vibe of a log cabin ideal for the winter.
10. T3 Ranch Cabin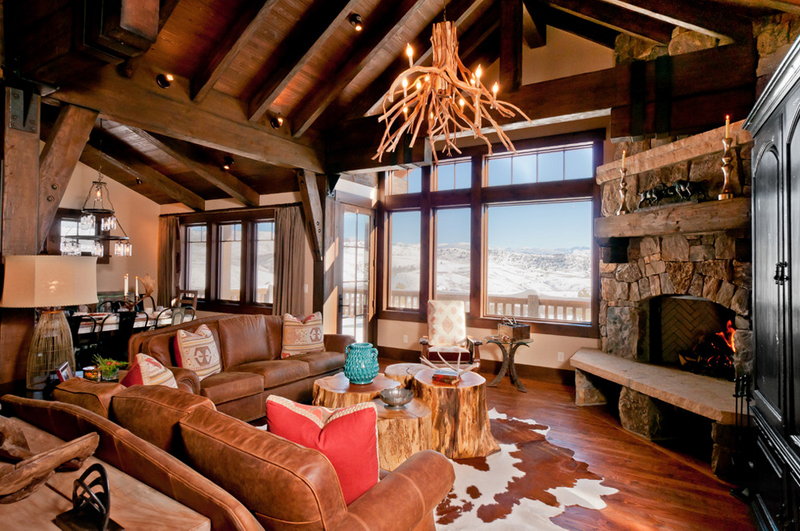 Here is a cute approach to rustic decor – take a look at the coffee tables, the fireplace and mantle, the cute windows that has this awesome view of the outdoors and the lovely antler chandelier with that cowhide leather just beneath it.
11. The Inn at John O'Groats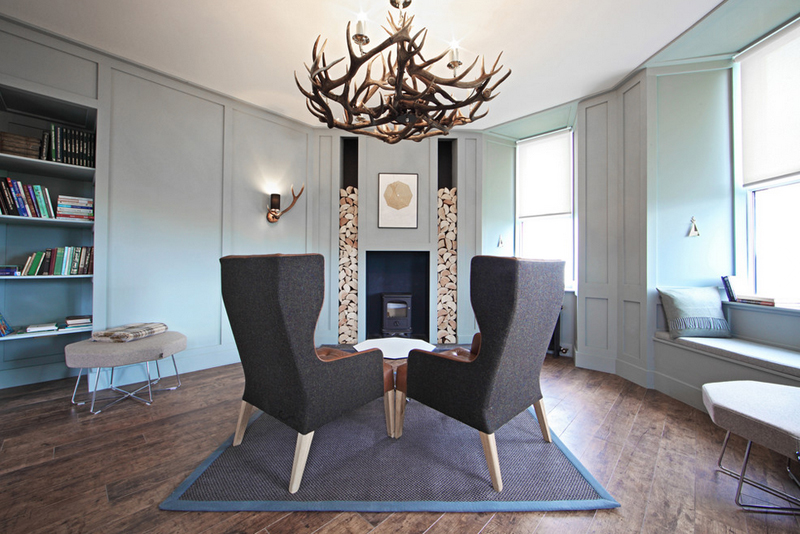 There may be minimal and uncoordinated seating arrangement and planning on this one but it sure looks contemporary, neat and sleek. The dark color of the antler chandelier sort of gives this space color and life.
12. Vineyard House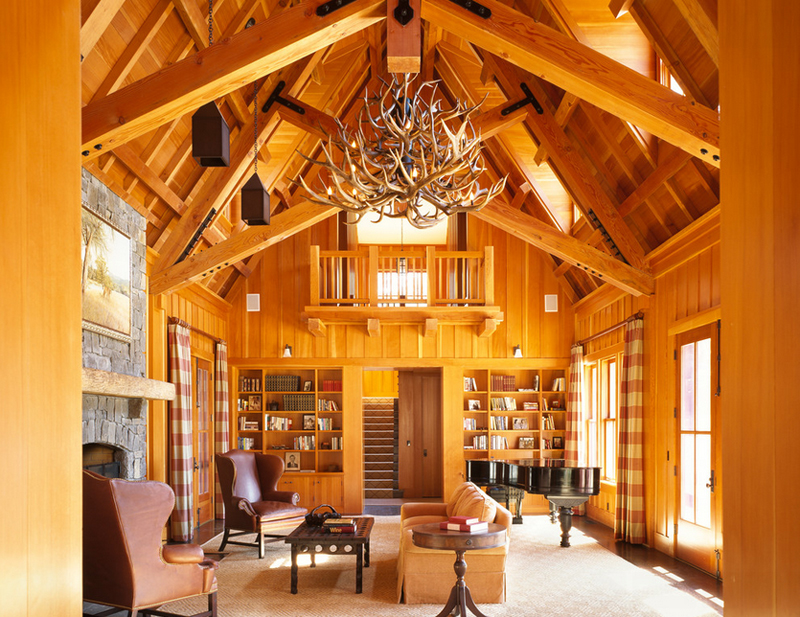 Take it from me when I say a space is awesome – it sure is awesome! Haha. Of course, people have different taste when it comes to home decor and design but this space sure looks enthralling and really pleasant to the eyes.
13. Sorrento Residence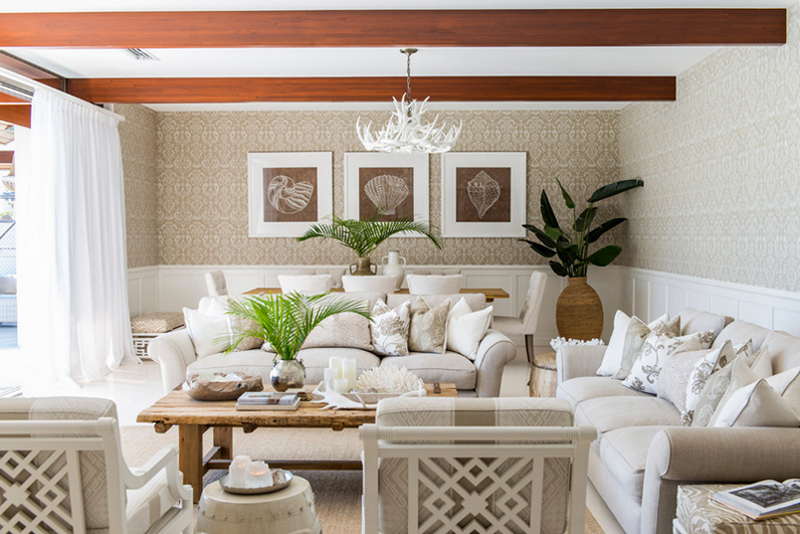 This lovely home sure is stunningly gorgeous! I mean, that may sound overrated, but the idea that you have a living space this lovely and perfect, would you still want to go out every weekend than hang out and invite your family and friends over?
14. Whiteside Lodge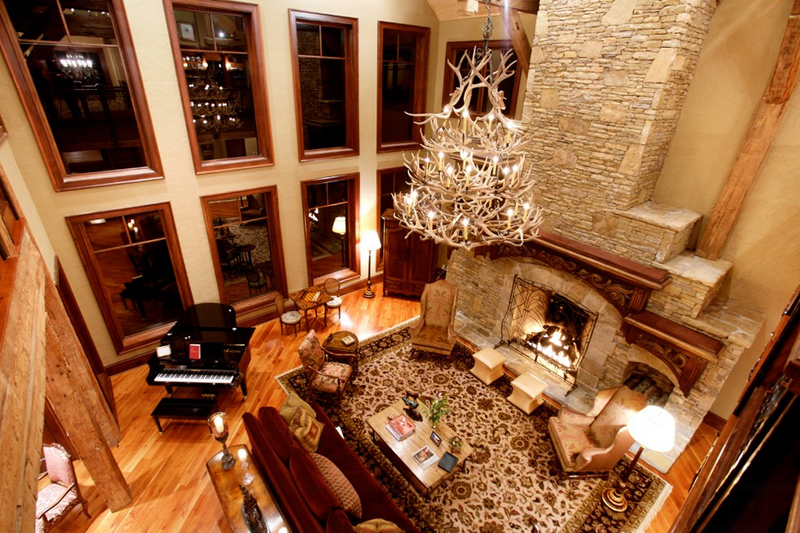 Now this is one glorious home! With ceiling this high, I can only imagine how much the overhead cost of maintaining and living in this house. Of course, it is obvious that whoever had designed this house and wanted their house to look like this has great taste and eye for perfection.
15. Beachfront House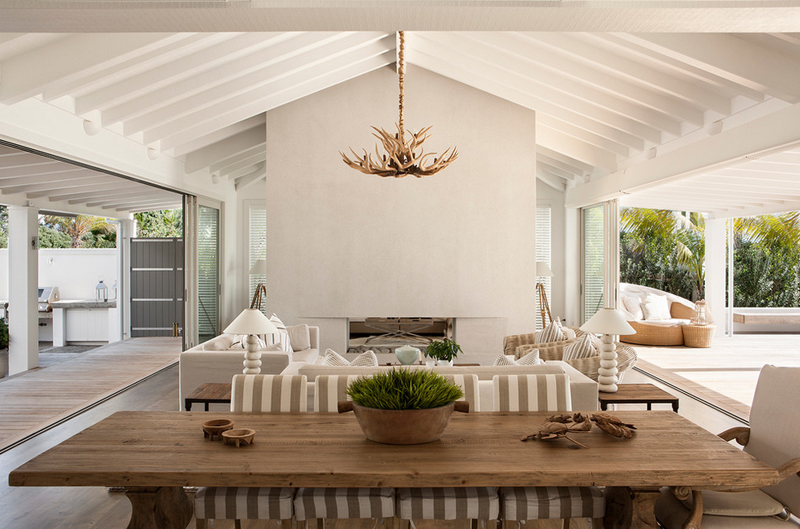 With an open floor plan like this one, I think that this is one extravagant and lovely home! The design of the walls being this wide and open show how eager the home wants to practice saving cost on lighting and ventilation – which of course should be something we try to do every time when we design.
16. Lot 26, Schaffer's Mill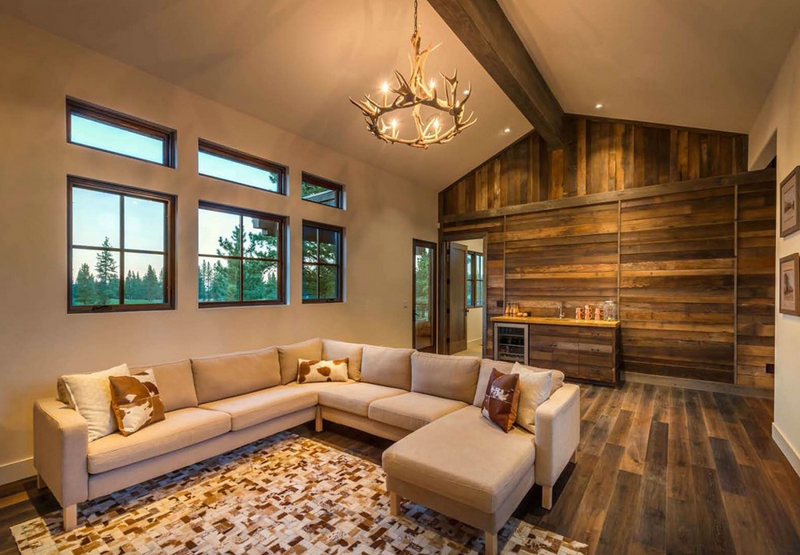 Even when this space looks like something smaller than what it actually is – it sure still looks wonderful and homey. The color combination is neat and pretty much ideal for homes that want to be more traditional, homey and maybe a bit rustic. Of course, we can see in here that they picked a contemporary sectional.
17. Jackson Hole Residence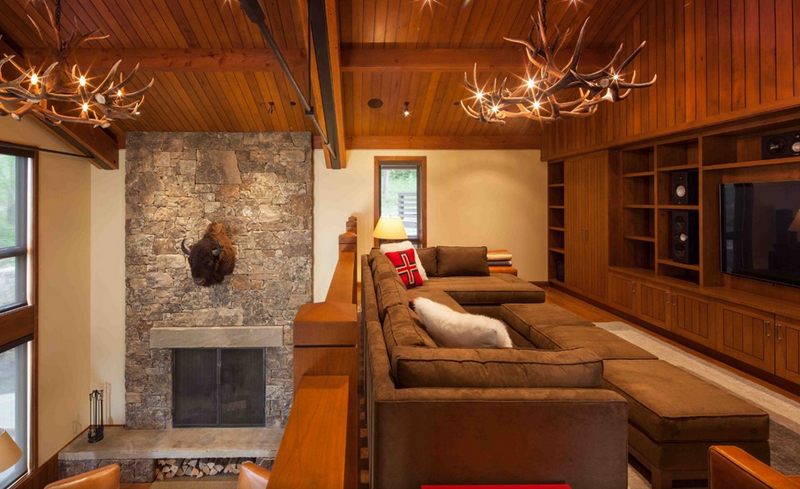 Looks like having two antler chandeliers are better than having one! In this home, we see that they fancy an awesome rustic space; just note the animal head decorated above the fireplace – whether original or faux, it sure still works for me!
18. Paradise Valley Residence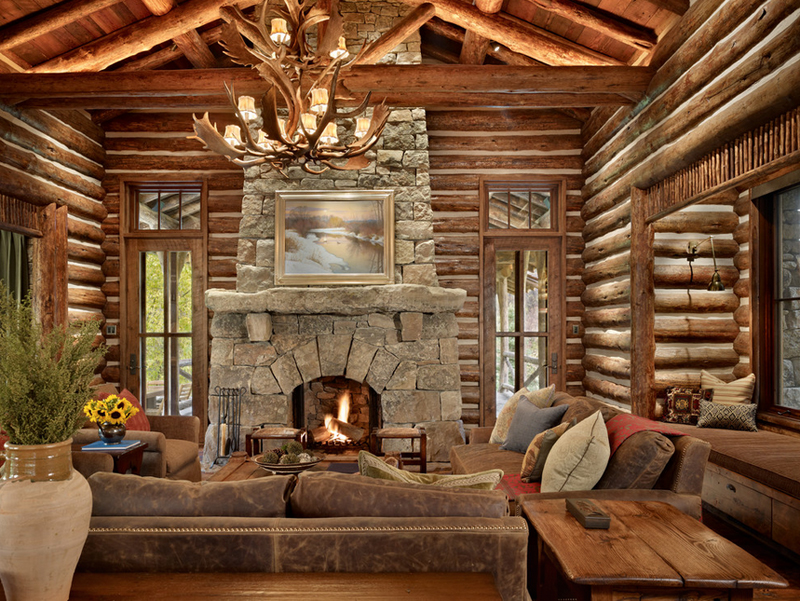 Here is one of those antler chandeliers that I mentioned above that is has a little variety on the antler pieces attached to it. This color or state that the chandelier is in is pretty much super matchy with the entire cottage.
19. United States Rustic Family Room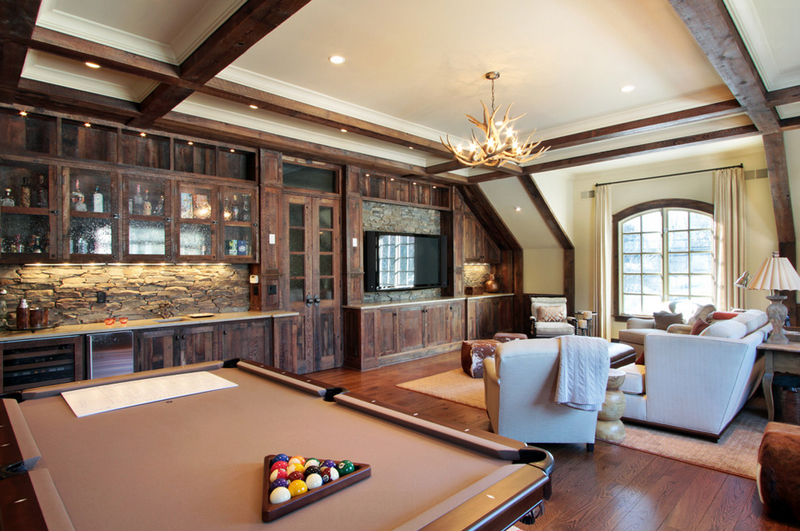 A living room with a billiard table in it would imply that either they have teenage boys or the husband actually loves to use it; in this case, it seems like the mother sure gave enough consideration for it to be in the living room. Haha! For what's it worth, this living room looks lovely!
20. The Hex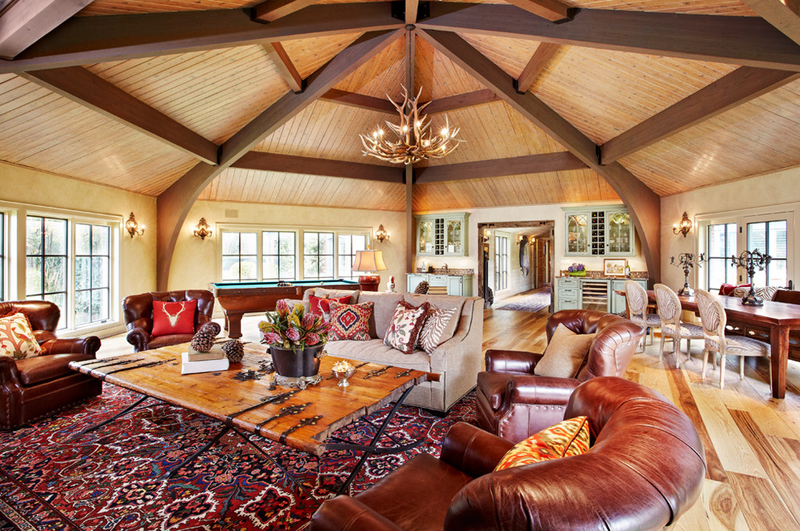 This is one large living space with an open floor plan and an awesome visible ceiling work. The materials used in the building sure are earthy and somehow eco-friendly. The thought of having windows on every side of this home sure gives it great lighting and ventilation.
21. Rustic Living Room in Canada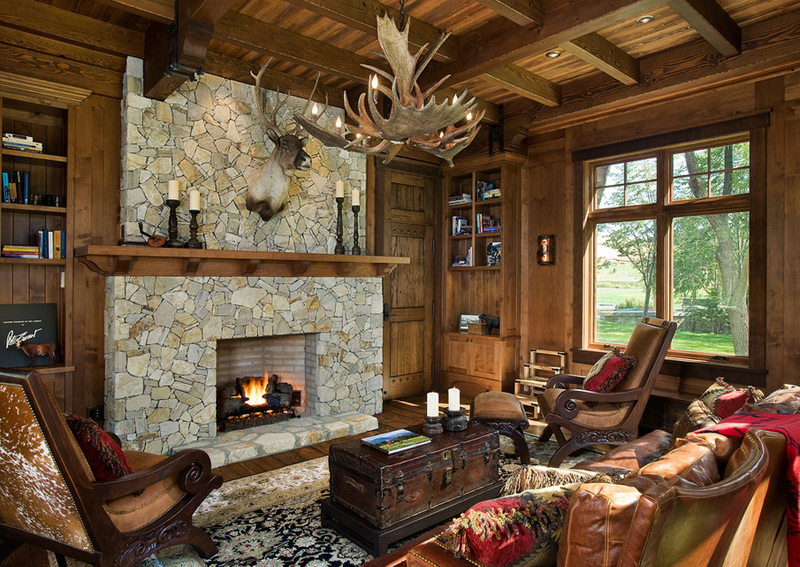 Another rustic living room in this collection and this looks a little bit like a small home but has enough seating that I can imagine people chatting and drinking hot cocoa. Well, I ideally think so.
22. Moonlight Ranch Residence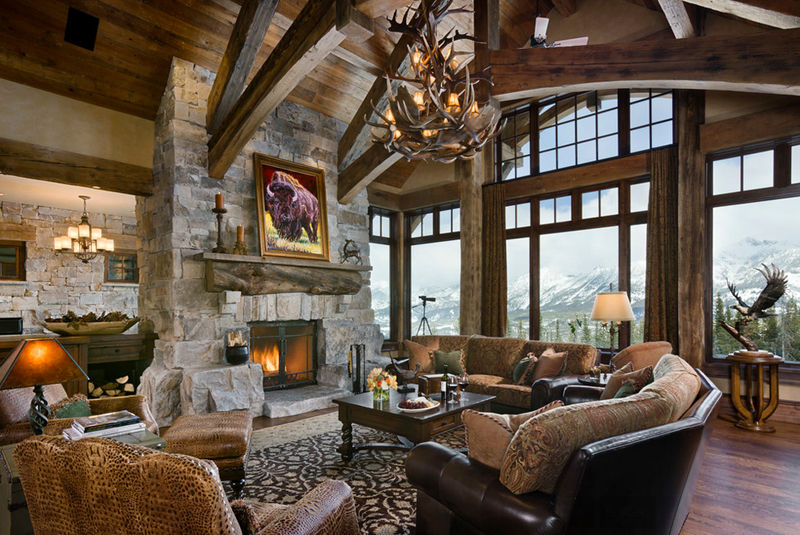 I really like homes with high ceilings and even skylights – this does not necessarily mean having a great view but it usually is the case and it saves you electricity – like tons of it, right?
It sure is a relief knowing that you can do so much with the right ingredients to create a stunning living room. In this list, we were able to see how antler chandeliers makes spaces prettier – whether the space is rustic, mid-century, turn of the century or even contemporary. The list about 20 Gorgeous Brown Antler Chandeliers is the list I was talking about that might interest you, so take a look at it too!