20 Living Rooms That Used Black and White Home Decors Flawlessly
You have seen many black and white spaces that we have featured here on Home Design Lover. Others may think that this color partnership is boring but we have already proved them wrong because of the number of round ups we have already created with this color. As a matter of fact, there are homes that used this contrasting pair in the entire interior and it looks pretty awesome!
Today, we are going to show you some living rooms that have black and white decors in them. It could be the throw pillow, wall art, rugs, vases, lighting fixtures and others. Of course, you would also see black and white in the furniture too. But for this 20 living rooms, let us focus more on the decors on them. Come and join us as we tour 20 different homes that used black and white decors in their living rooms.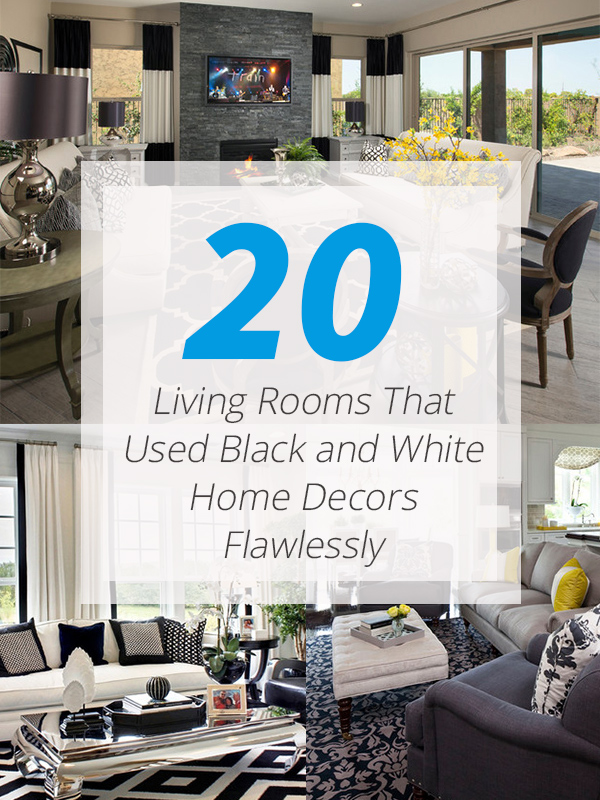 1. Annapolis Plan at Victoria | Phoenix, AZ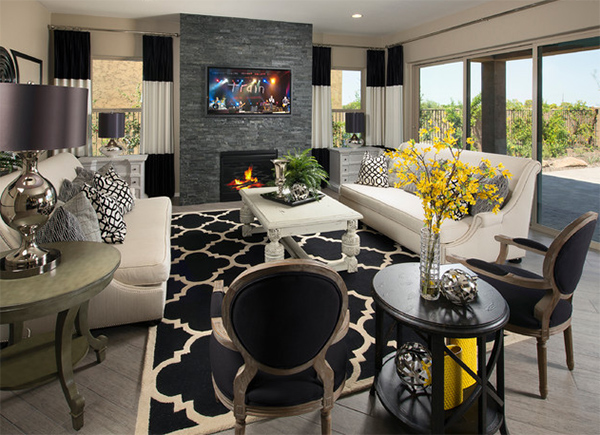 Adding pillows in black and white would always be lovely as it matched to the area rug of this living space.
2. Black, White and Red Living Room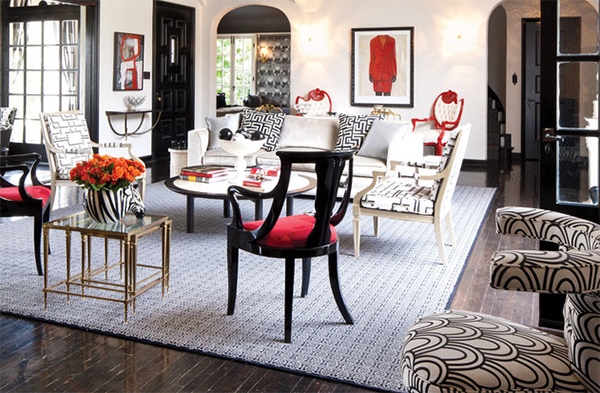 This grand space is given a bit of whimsy with the bold selection of patterned fabrics. Note that Zebra flower vase on the table!
3. Jen + Raymond Cleveland, Oh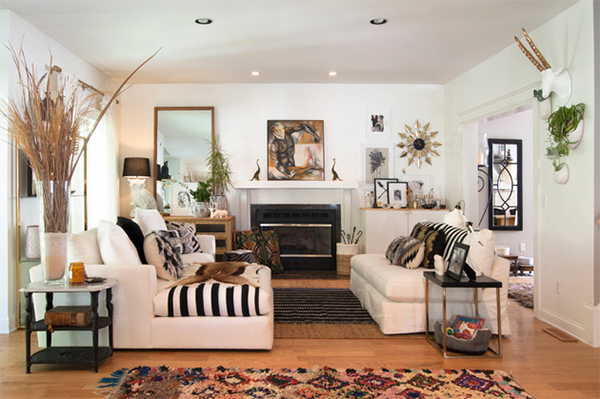 The vase and the throw pillow as well as the photos here are all black and white.
4. T Eatons Living Room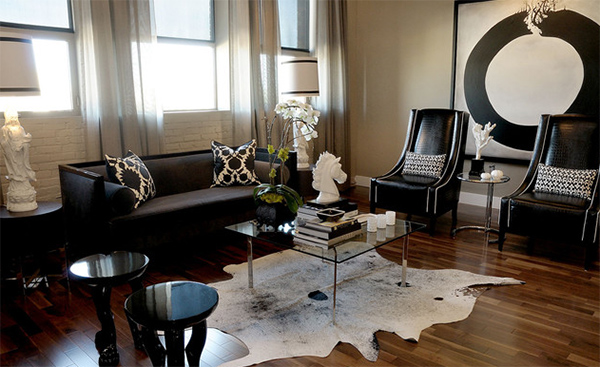 Oh well, this is a black and white living room. Even the huge wall art bear that color.
5. The Hampstead Apartment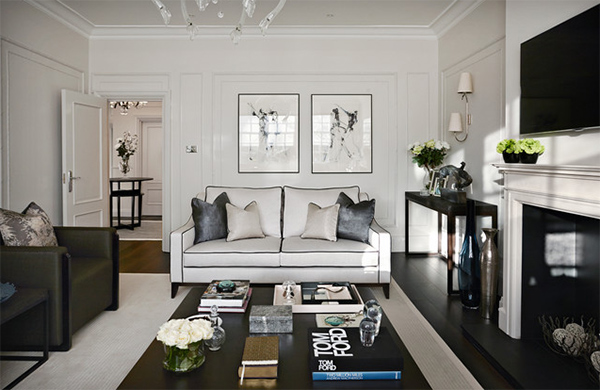 Who said framing photos in this color looks boring?
6. Living Room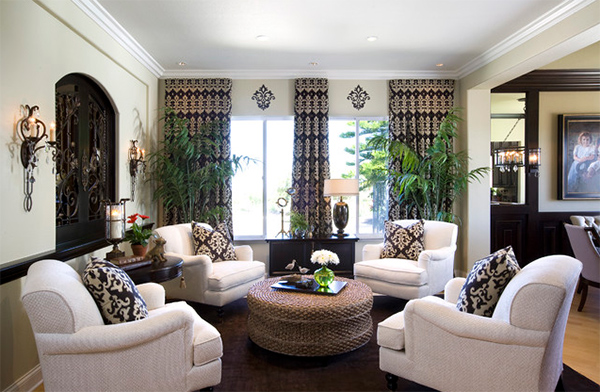 Aside from the pillows, you can use the black and white for the curtains too.
7. 2011 HHL Living Room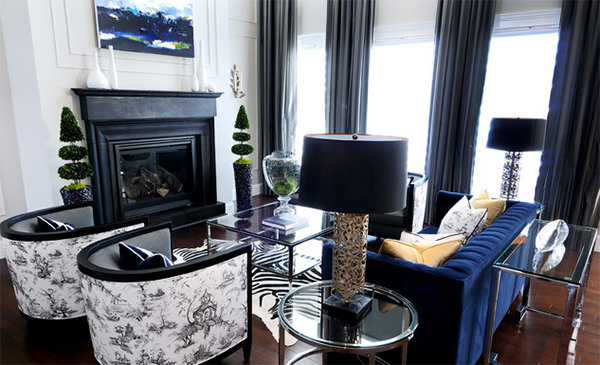 You'd surely notice the print of the chair but drive your eyes to that cow hide were a glass coffee table sits as well as the elegant matching lamps.
8. Silver Lake – Living Room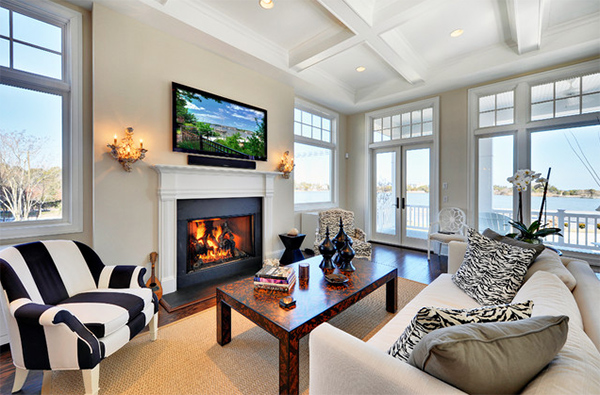 Who wouldn't love the pillows here and those lovely centerpieces?
9. Living Room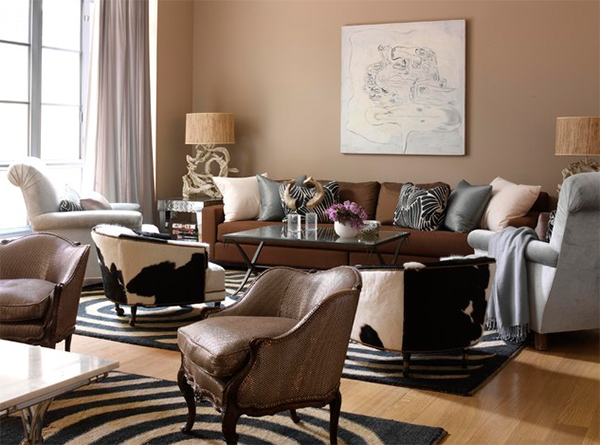 I know you can spot black and white decors here everywhere, though, the cowhide chairs are the stars in this living space.
10. West 18th Avenue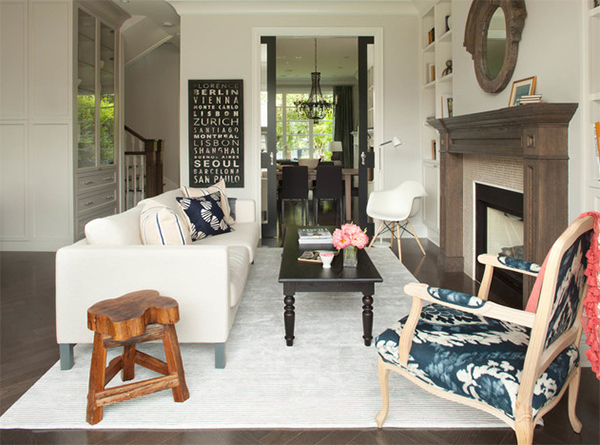 Look at that beautiful wall art with a play of type!
11. Beechwood Manor
I like the design of these clock throw pillows as well as the framed photos too.
12. Parkwood Road Residence Living Room 2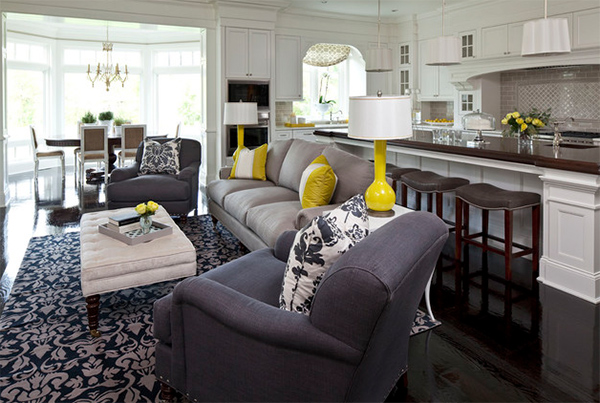 Floral black and white patterns are used for the pillows and area rug. Don't you think this looked even prettier with the yellow accents?
13. M/I Homes of DC: Maryland :: Crown – Picasso Model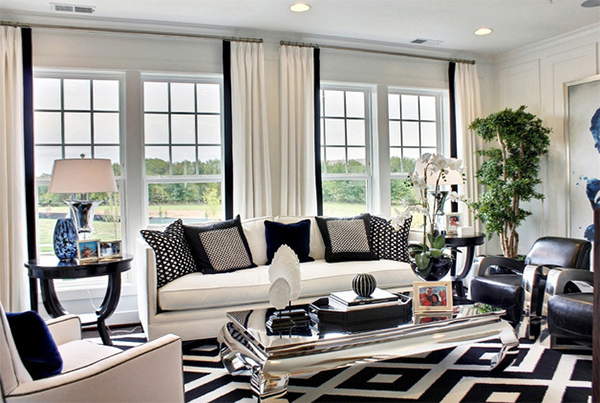 Yes, it isn't just the pillow here that are black white but even that cute item in the centerpiece and the carpet.
14. Gloucester Road – London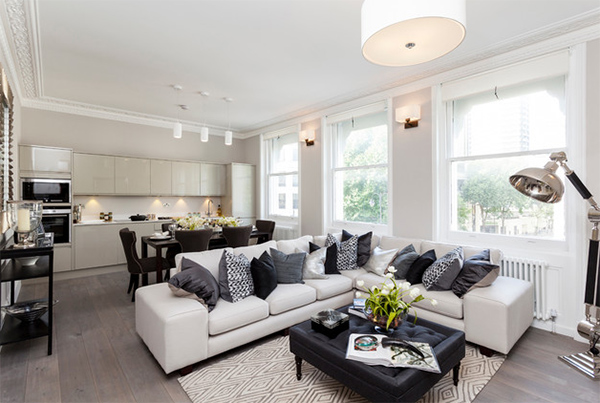 Putting together throw pillows of different patterns but the same shade would be a good idea.
15. Cranleigh: Modern Country Home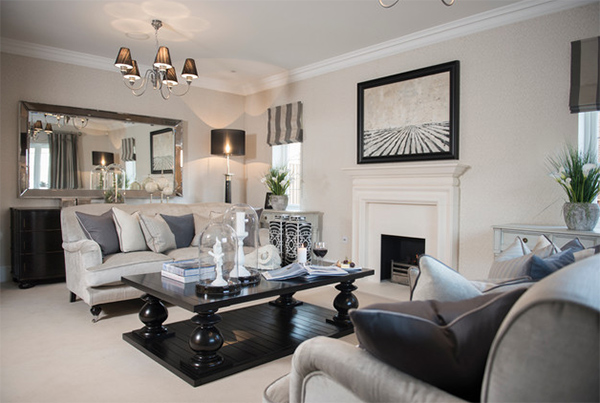 The patterns of that pair of ceramic vase is lovely!
16. River Re-Development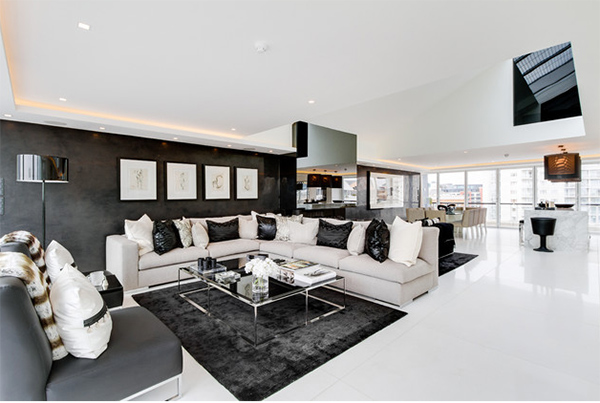 Placing black and white photos on a black wall would look totally gorgeous!
17. The Glass Farmhouse Loft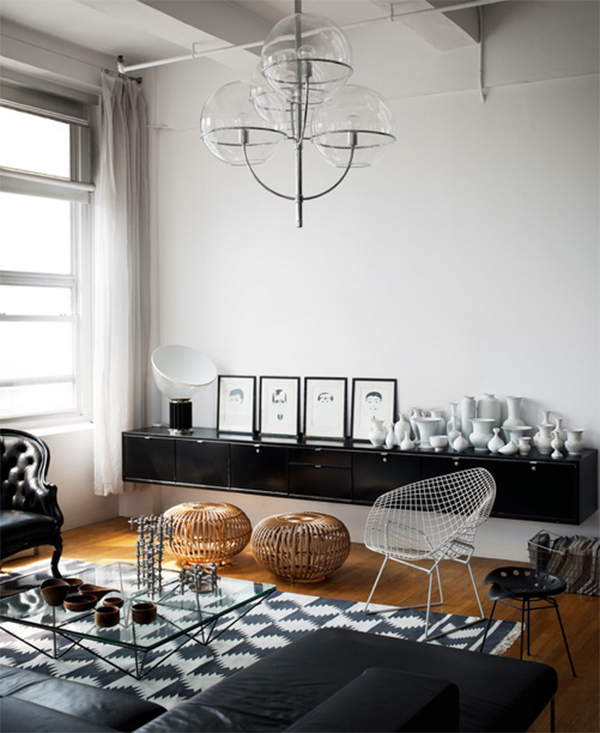 What lovely decors this living area has especially the white vases and the framed arts that stand on a floating low shelving!
18. Retro Beach House in Alys Beach, Florida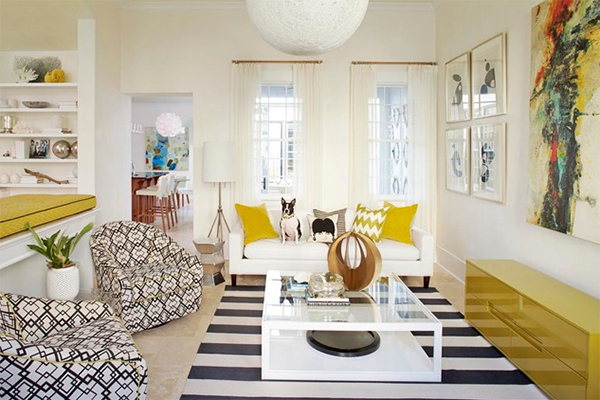 Graphic patterned black and white barrel-back swivel chairs are being accented by the striped rug as well as the throw pillows and wall arts.
19. NYC Fashion PR Firm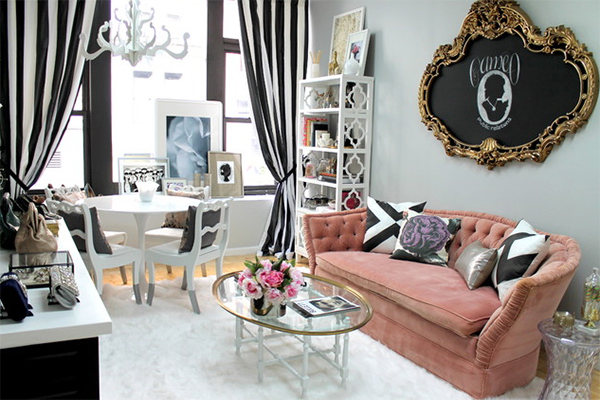 That vintage sofa and gold trimmed wall decor with black and white design is just stunning! Even the throw pillows and curtains add appeal to this space too.
20. Ralston Courtyard Apartment Model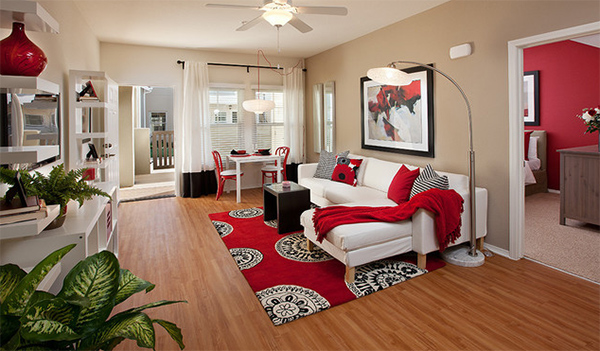 This color combination looks Japanese but it isn't. Note how black and white looked amazing with red here.
Well, most of us like the combination of black and white even for the decors. You have noticed that some of the spaces above actually have a bright or bold primary color and were merely accented with black and white. It does look stunning that way! There are many way we can use black and white because this is a combination that never fails! Am I right?