15 Luscious Orange and White Living Rooms
Color affects your mood, and it's a proven fact! When choosing paint colors for your home or even your office, think of what type of ambiance you want to create. If you want the space to feel cozy, choose a slight darker, richer tone. But if you want the space to look larger and feel brighter, choose a lighter, neutral color especially living rooms with low ceilings or does not really have a lot of natural lighting.
So, for today, we will be showing your photos of 15 Luscious Orange and White Living Rooms which will give us ideas as to what we would want to have in our very homes. You will notice some rooms having orange accent walls and some that are most likely orange because of the furniture or decor they have in the space, but all in all, white helped all the rooms in the list that we have below, check it out!
Orange Teen's Living Room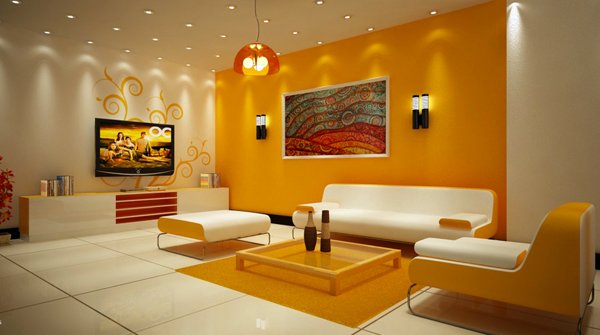 Notice how a beautiful accent wall became more stunning because of the colorful wall art. The two-tone living room set blends well with the entire room.
Contemporary Family Room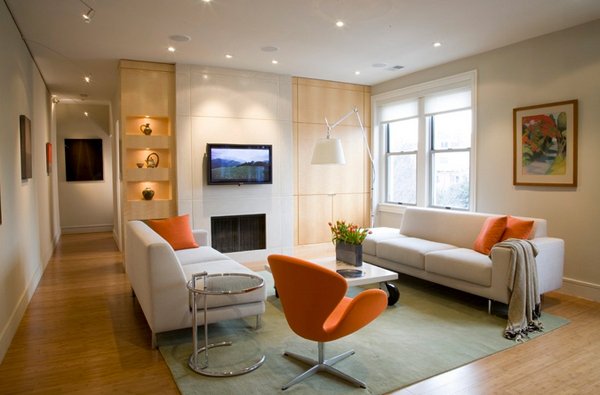 This contemporary family room showcases a lot of beautiful things for the interior. Great seating and carpeting and not to mention the stunning bamboo fireplace.
Contemporary Orange Grey Living Room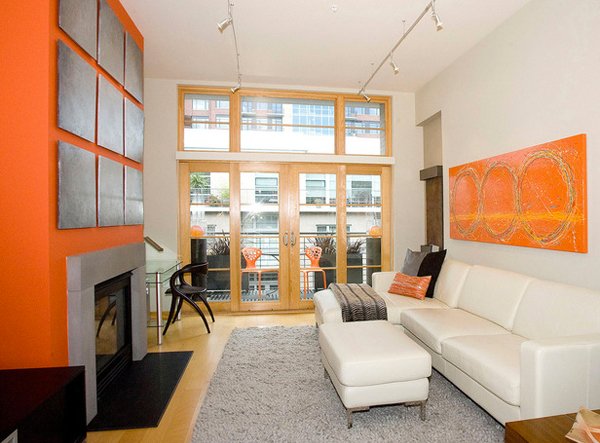 This modern condo is a pied-a-terre where the client stays when coming into the city to enjoy the Portland art scene. The large accent wall, a vibrant orange, reflects the client's favorite color. The painting above the sofa is an original by the designer.
Designer Home in San Francisco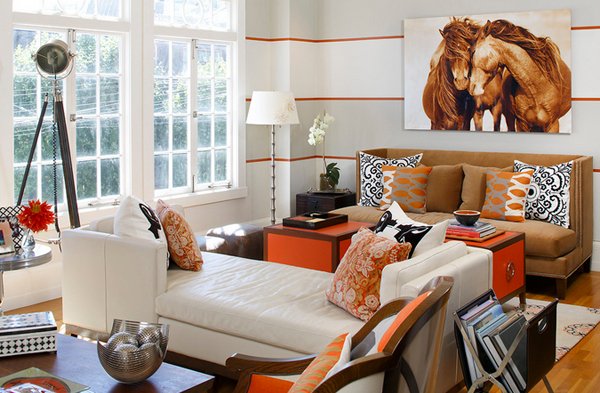 Use oversize equine art for a dramatic impression that keeps the look from becoming stuffy.
Design Den Orange Wallpaper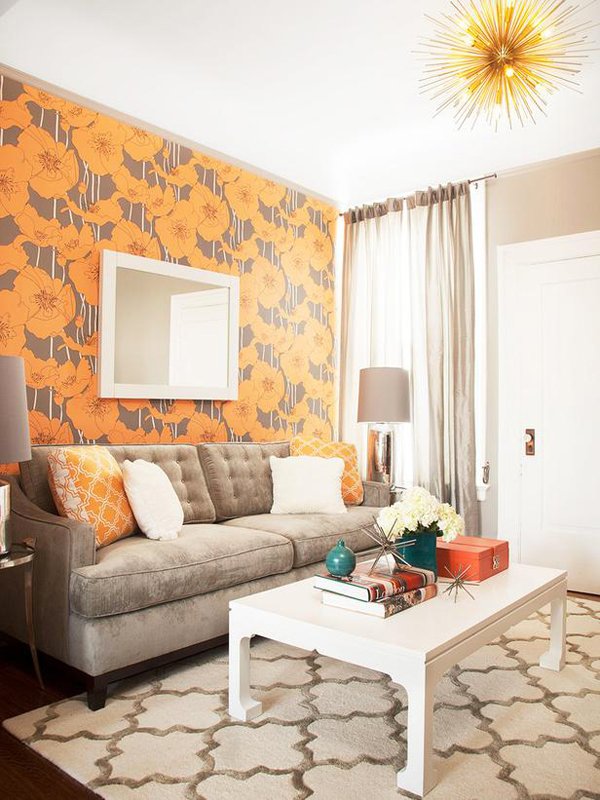 The den features a custom velvet sofa set against a wall of graphic orange and gray wallpaper. A large, white coffee table, Moroccan-style area rug and vintage silver side tables complement the overall look.
Mid-Century Modern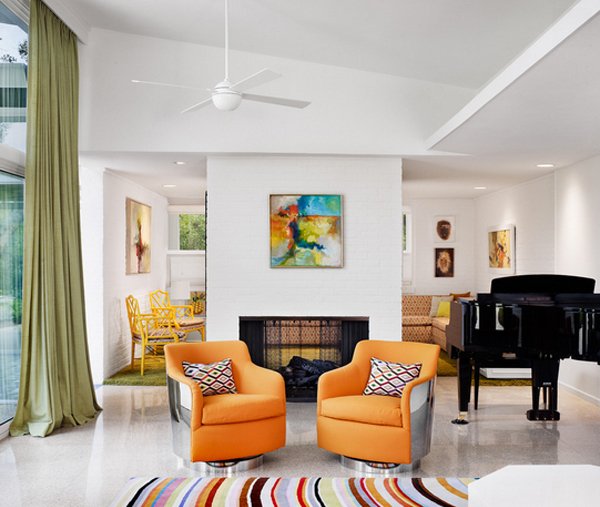 When we first saw this photo, it was the fan-light combo that was the favorite piece in this space. Using colorful pillows, painting and carpet looked awesome. But, don't you just think the chair is fab?
Modern Orange Living Room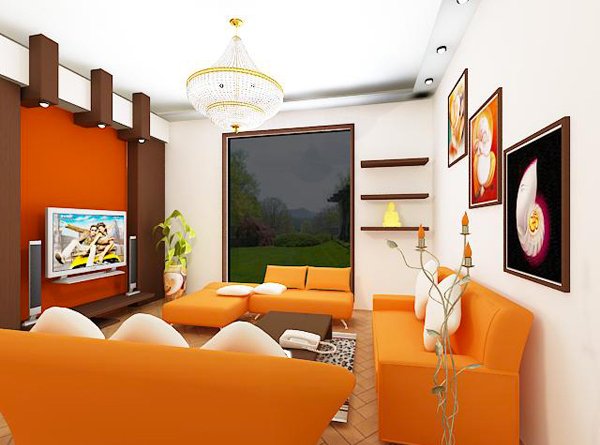 We know of a particular who would actually love to have this living room because of all the orange used in it. From wonderful seating and even the stand lamp – simple, but really awesome!
Moraga Residence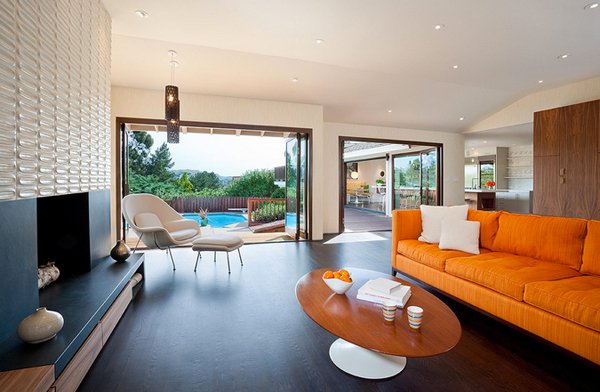 Seen on the fireplace surround in this modern living room, rectangular white Heath Ceramics tile from Ann Sacks sets a tranquil mood. Each tile is meticulously laid in a grid pattern while the raised oval in the tile adds interesting texture and pattern.
Noe Valley Residence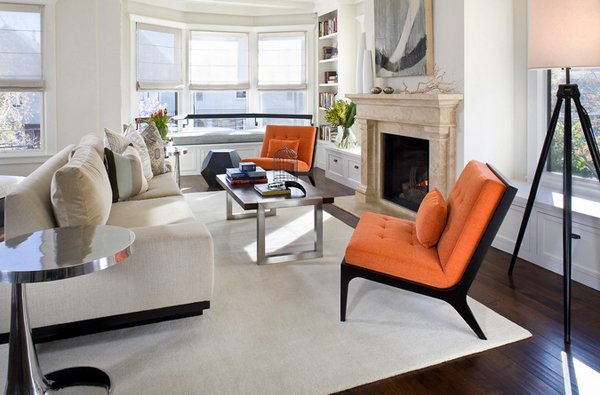 The mantle is truly superb and the love seat is pretty and looking really comfortable and inviting. The orange accent chairs complement well with it.
White Living Room Pops of Color
An all-orange room would be over-stimulating. That's why orange works best as an accent color. Choose one or two pieces of orange furniture to stand out, like these chairs, or incorporate the color in smaller details, such as a pattern or a painting.
Modern Family R0om with Orange White Sofa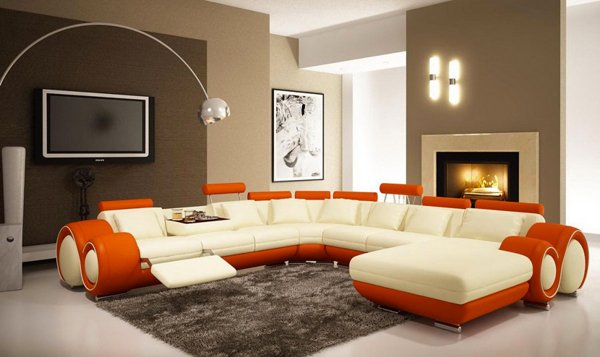 We don't know about you, but we sure love this futuristic seating design. It is big and quite bulky but surely is comfy. You can always bring friends over and this seating is a conversational piece all-in-all.
Los Angeles Modern Living Room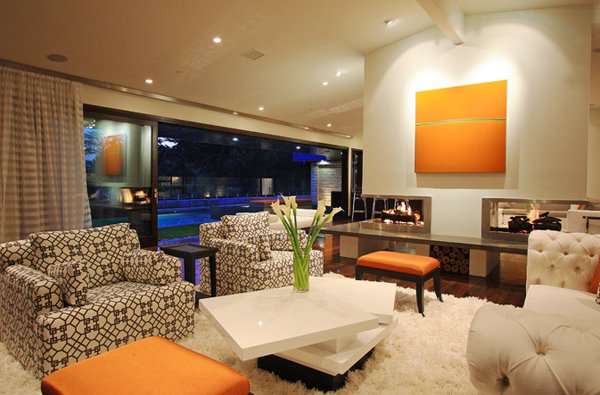 Did you notice the double dose of double-sided fireplaces? This living room is incredible. It's like the total package! Great seating, fun and funky furniture and fixtures with a simple touch of art on the wall, this space is perfect!
Orange Modern Interior Home Design
The orange panel by the television and console looks exponentially stunning. It created a feel of enclosure but stylish and creative. It matches the seating which makes the look complete.
Utopia Projects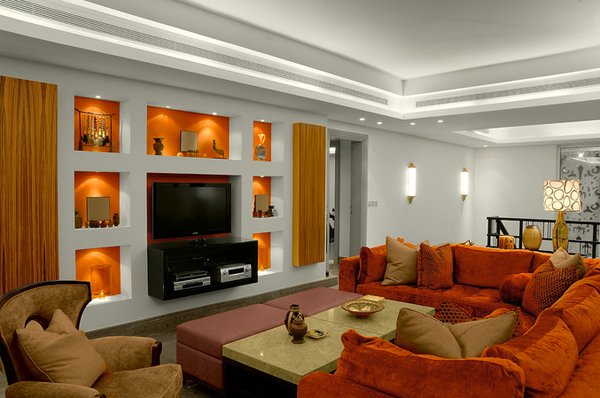 These shelves with lit orange interiors would look amazing even without the matching orange sofa.
Orange Contemporary Living Room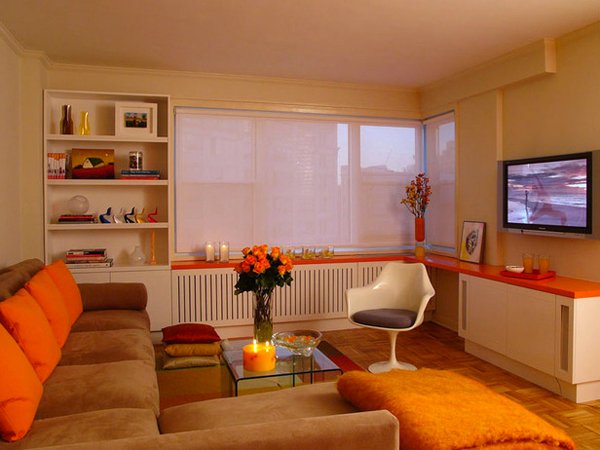 To brighten the cream and white surroundings, designer Celia Berliner added a surprising splash of orange to the living room's wraparound countertop. To keep the space balanced, she replicated the hue in the throw pillows, bookshelf accents and flower vases.
How did you like the photos? We are guessing a lot of homeowners are thinking orange the least when choosing for a scheme for their spaces, and if you ever choose it, white is the number one choice as a pair. It's like salt and pepper altogether. The 15 Luscious Orange and White Living Rooms match really well, so do check the 15 Lovely White Themed Living Rooms and tell us what you think!