17 Beautiful Contemporary U-Shaped Kitchen Layouts
Figuring out what layout you wanted for you kitchen? Well, we know for a fact that getting the U-shaped kitchen maybe the best option – this is of course, if the space you have for the kitchen can actually accommodate it. As they say, the U-shaped kitchen lends itself to high-efficiency cooking. If some of the pictures below would suggest, this layout is also known as the C-shaped kitchen.
One of the few perks of having this type of layout for your kitchen space – is that you can do all your food preparation and cooking on one side while your family members or friends can watch or observe on the other side. This layout may come in different shapes and sizes which you will be able to observe once you get to checking out the 17 Beautiful Contemporary U-Shaped Kitchen Layouts we have collected for you.
Alameda Kitchen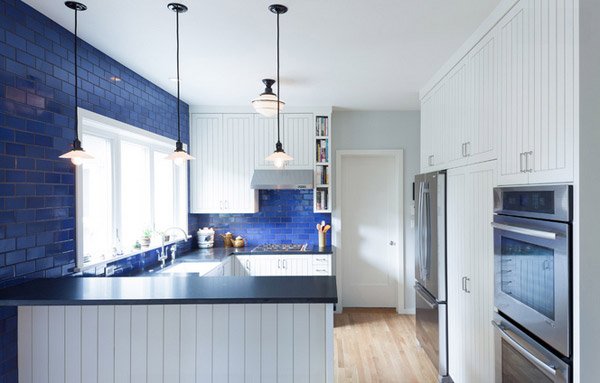 The new kitchen for this English-style 1920s Portland home was inspired by the classic English scullery – and Downton Abbey! A royal color scheme, British-made apron sink, and period pulls ground the project in history, while refined lines and modern functionality bring it up to the present.
Big Valley Ranch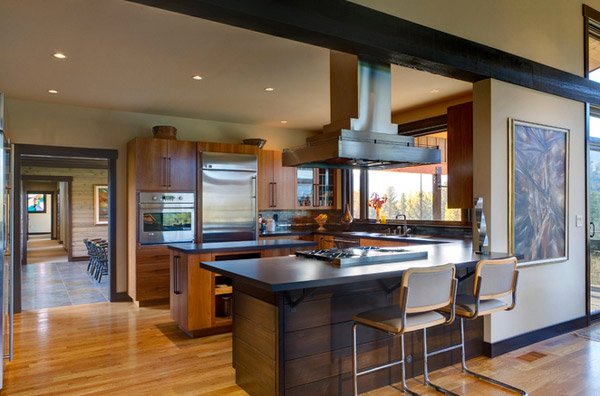 The open concept used in this kitchen makes it all-together prettier because of the flow of traffic made easy.
Carriage House
This is a Carriage House conversion that combines historic and modern elements. Note how lovely the peninsula is.
Chicago Contemporary Kitchen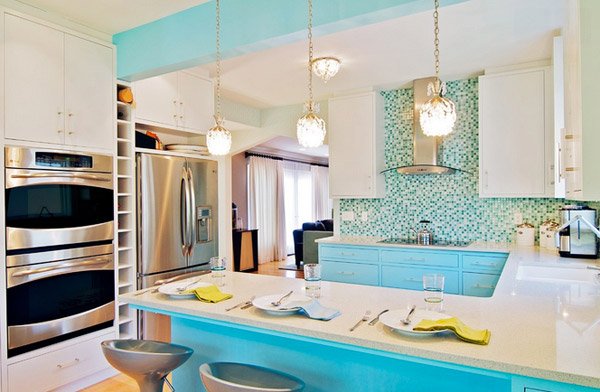 Bright turquoise picked up from the backsplash tiles is continued on the cabinets, giving this kitchen a South Beach Deco style.
Denise Richards Residence
We like the appliances, double stove and nice big range, also tons of work space in the large U-shaped island and counters.
Kloof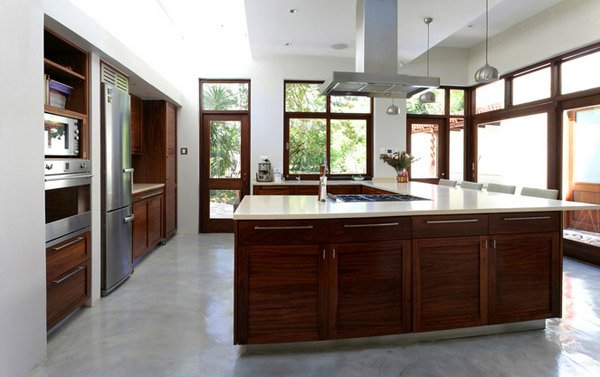 According to Reto Kitchens, "the wood used is an African wood called Kiaat. We have also given it a light stain but it does have a lovely natural warm color in its raw form. We used a combination of solid wood and veneer in the manufacture of this kitchen."
Modern Springs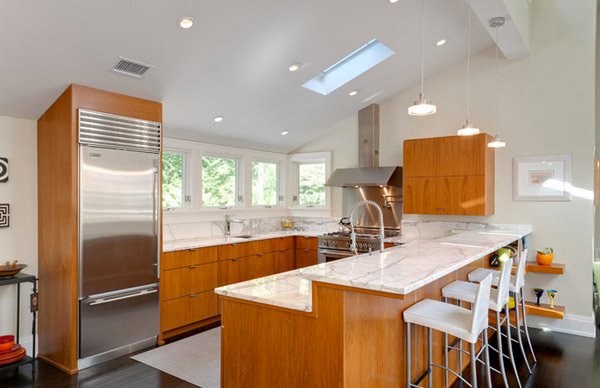 If you have an open-plan kitchen and cook often, we can't emphasize enough how important it is to install a high-quality, properly powered ventilation hood that vents to the outside – just like this kitchen.
New Jersey Modern Kitchen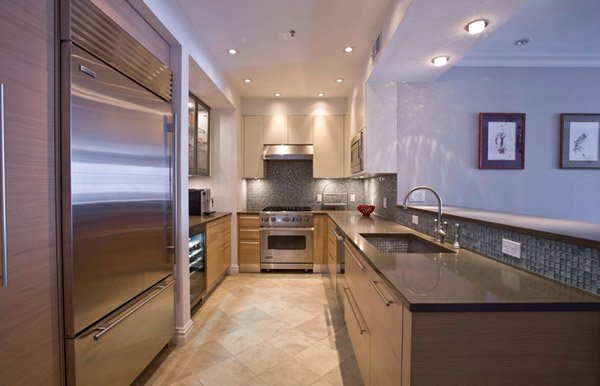 The color combination of this kitchen is simple but really pretty. The U-shaped counters give more space for food preparation and cooking.
New York Kitchen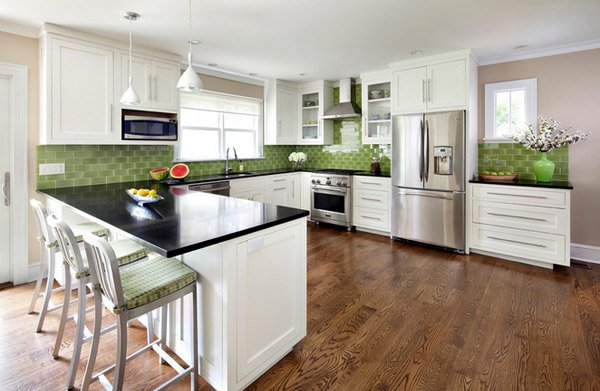 These hand-crafted tiles have subtle variations in color, which adds much charm and warmth to this gorgeous kitchen.
Old Riomar I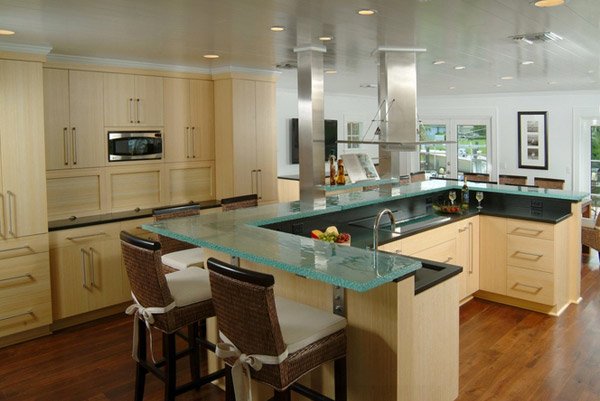 The U-shaped island in an open kitchen is one of the most efficient designs there is. In this remodel, the designer opened up three small rooms to design the kitchen with a dining room.
Raleigh Contemporary Kitchen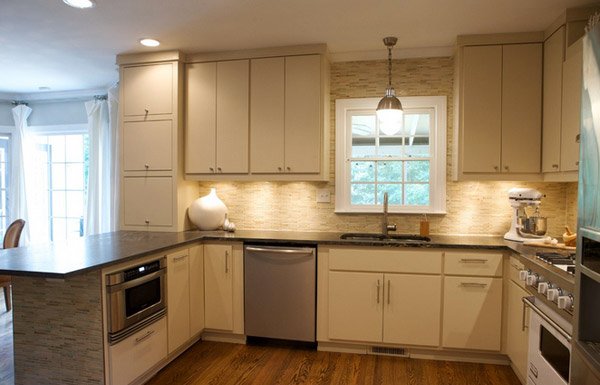 The layout of this space is simple and pretty much regular, but the color combination, the backsplash and the flooring is just superb.
Regal Heights Residence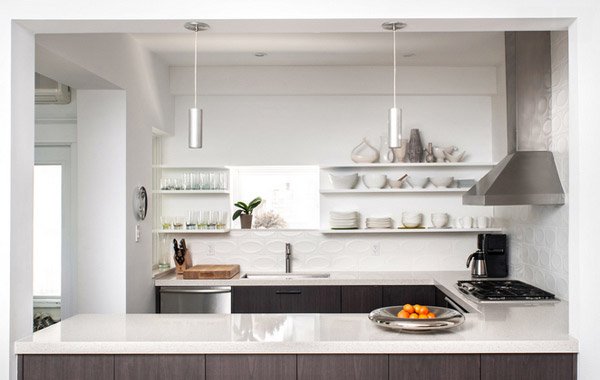 "The kitchen looked as if it had doubled in size after taking down the upper cabinets," Meisels says. With open shelving, Meisels recommends storing a matching set of dishes to make the look more uniform. Note how neat and artistic the white china looks against the white tile and shelves here.
Ritz Carlton Baltimore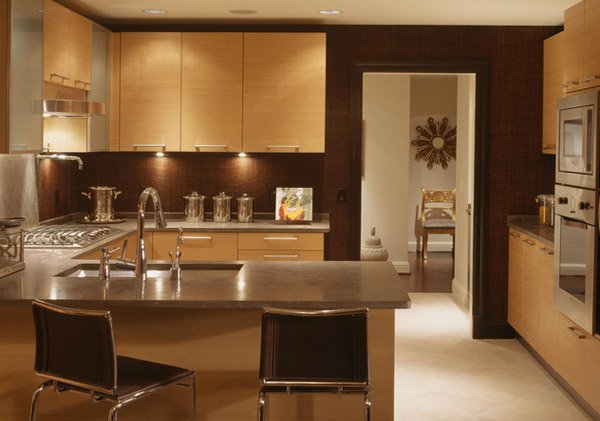 The simplicity of this Baltimore kitchen makes it more sophisticated and glamorous. Space management and design is everything.
Riverhouse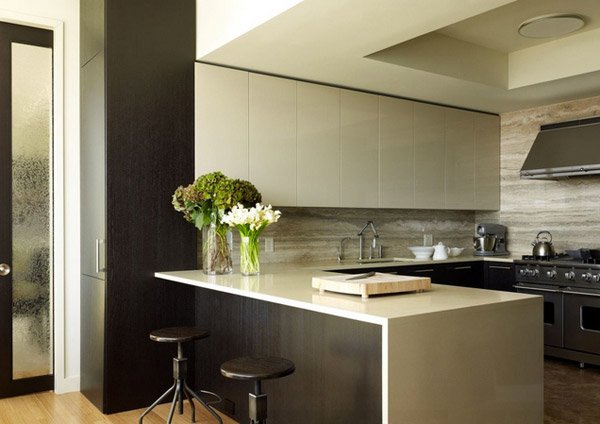 The cabinet styles, colors, ceiling detail, backsplash – is just wonderful! This New York kitchen is not only modern but gives off a warm feeling.
San Diego Contemporary Kitchen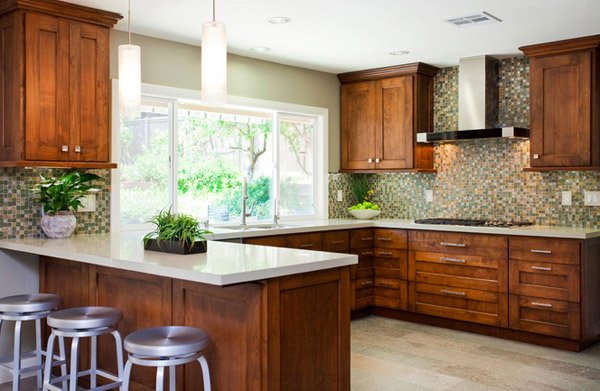 We know that we have to focus on the U-shaped kitchen, but look at those gorgeous windows! Aren't they just the window to beat?
Southern California Home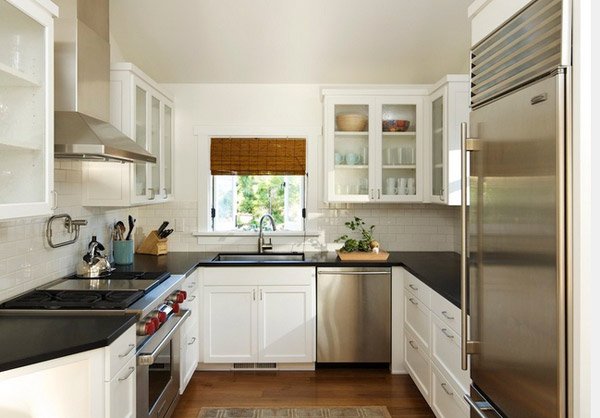 A closed-off kitchen's isolation also can be its main downfall. This layout doesn't allow for direct access from the kitchen to the dining table, or vice versa. And it's difficult to interact with friends and family while whipping up meals, since most of the room is reserved for the work triangle.
View Ridge Residence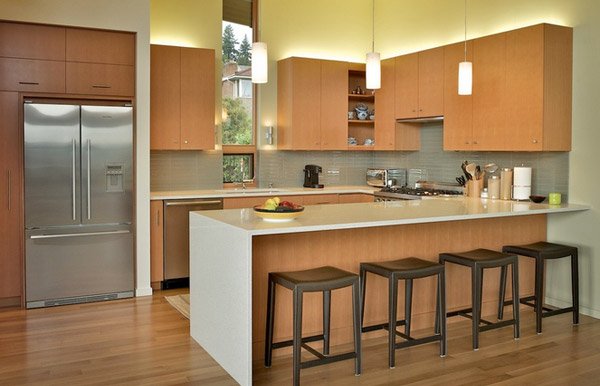 According to Adam Mohler, "the kitchen is in an open living/dining/kitchen space with a tall, sloping ceiling. We did not want to put recessed down lights in the ceiling so we used valance lighting under and on top of the upper cabinets (along with some simple pendant light) to illuminate the space."
Kitchen layout may come in different letters if you might notice – there's an L-shaped kitchen, a C-shaped or the U-shaped, but what matters is that you are able to use your kitchen space efficiently and effectively; just like with the 17 Beautiful Contemporary U-Shaped Kitchen Layouts we have featured above. If you have the time, do check out the list about the 18 Beautiful Designs of Kitchen Remodels and tell us what you think!