20 Creative Bike Storage Ideas for Small Spaces
Don't just leave your bike on the floor. Store it in a creative manner!
Homeowners have varying interests from sports and other activities. This can be seen in their homes and the different spaces that they need in order to perform some tasks related to their work and to their interests. In some cases, they even require a separate shed for it that is why we have sheds for writers, painters, for musicians and even for sports equipment. Others use one space for multiple purposes like how a garage could also be an area for storing sports equipment including your bicycles.
But not all homes have enough spaces to store a bike- how much more if you have more than one bicycle! While most homeowners keep their bikes in the garage, there are others who look for more creative ways to store it because of the lack of floor area. In truth, there are more than one ways to store your bike and you will surely be pleased to know that you can actually store it in a way that makes it look like an added decoration for the home. So let us take a look at 20 creative bike storage ideas for small spaces below.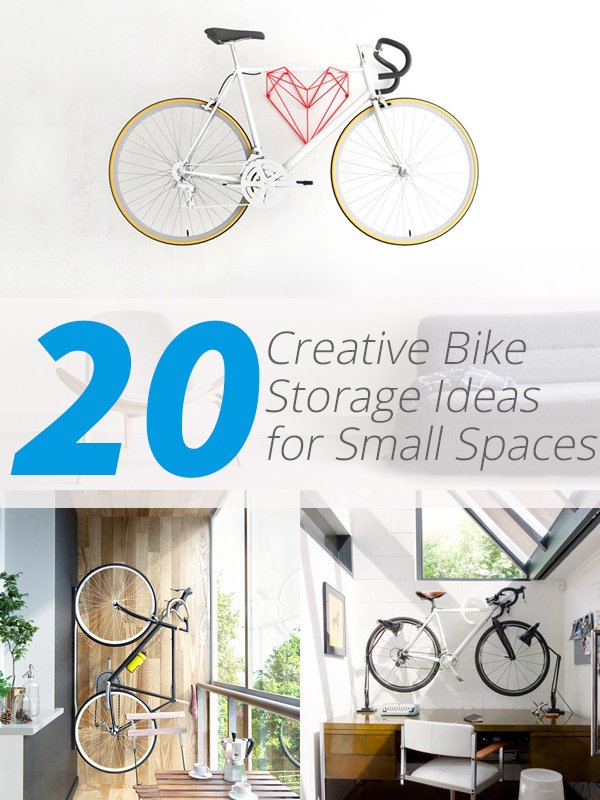 1. Apartment in Minsk, Belarus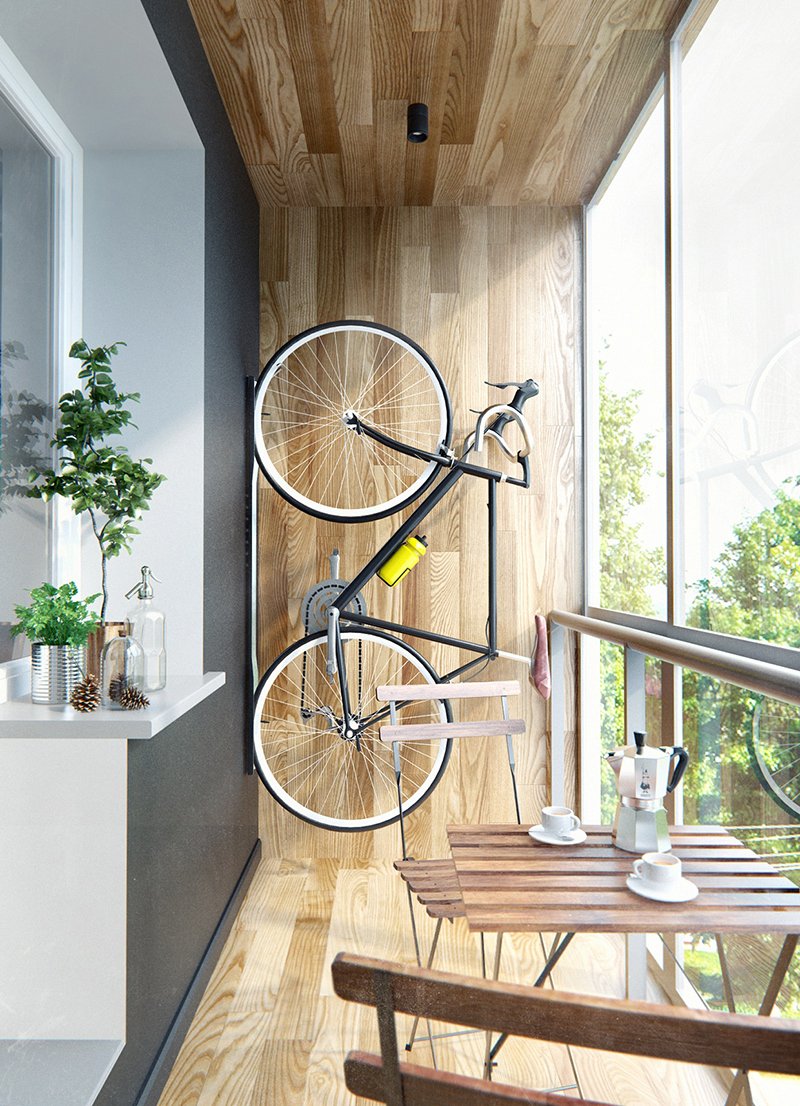 Storage is an issue in this small apartment. Because of that, it used a vertical bicycle rack, turning a utilitarian object into its own work of art, while also preserving floor space at the same time.
2. California Contemporary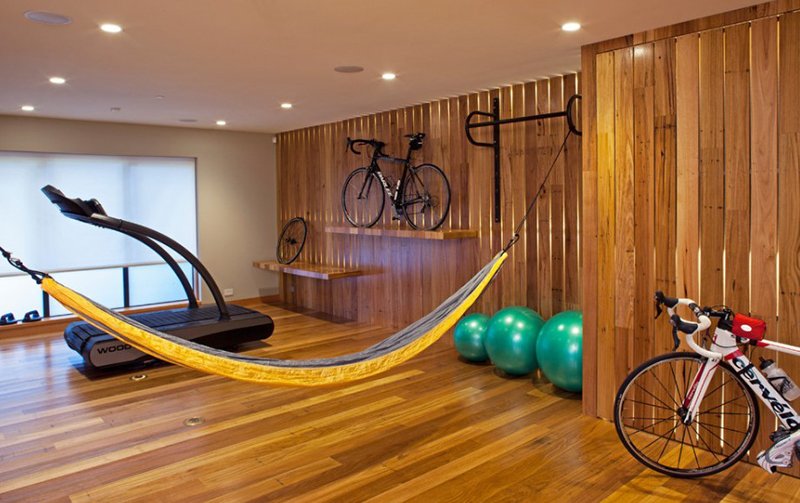 An oversized shelf can also be used to store the bike. It will also be easy to grab and go when it is stored this way.
3. 100k Stair Wall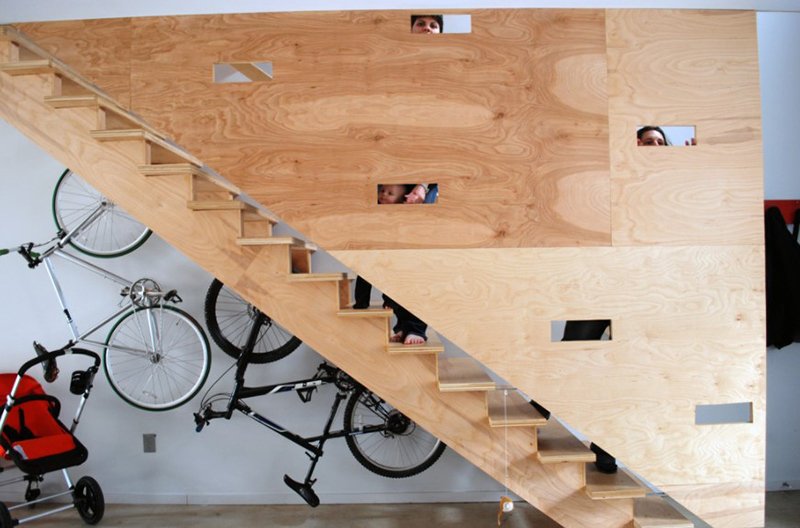 Got some space under the staircase that you haven't figured out how to use? Why not turn it into a bike storage like this one!
4. IKEA hack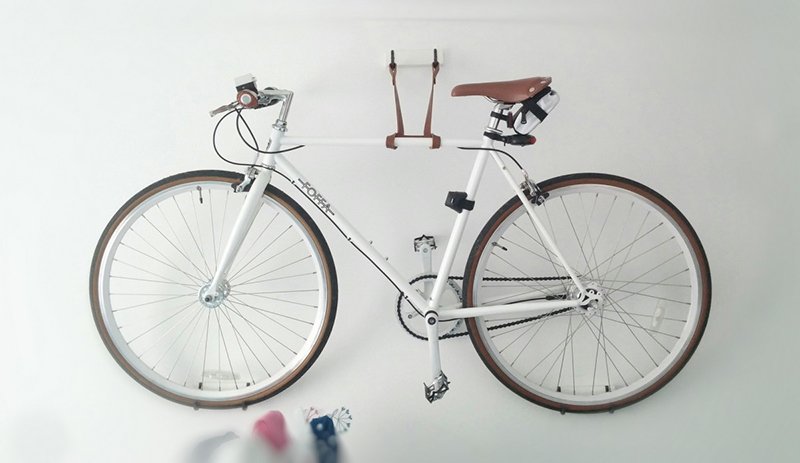 There are many IKEA items that can be turned into something even more awesome than the original product or you can make one similar to an IKEA product. For this one, make three wall hooks and a stylish leather strap a bike rack on the wall.
5. Bike Hanger # 2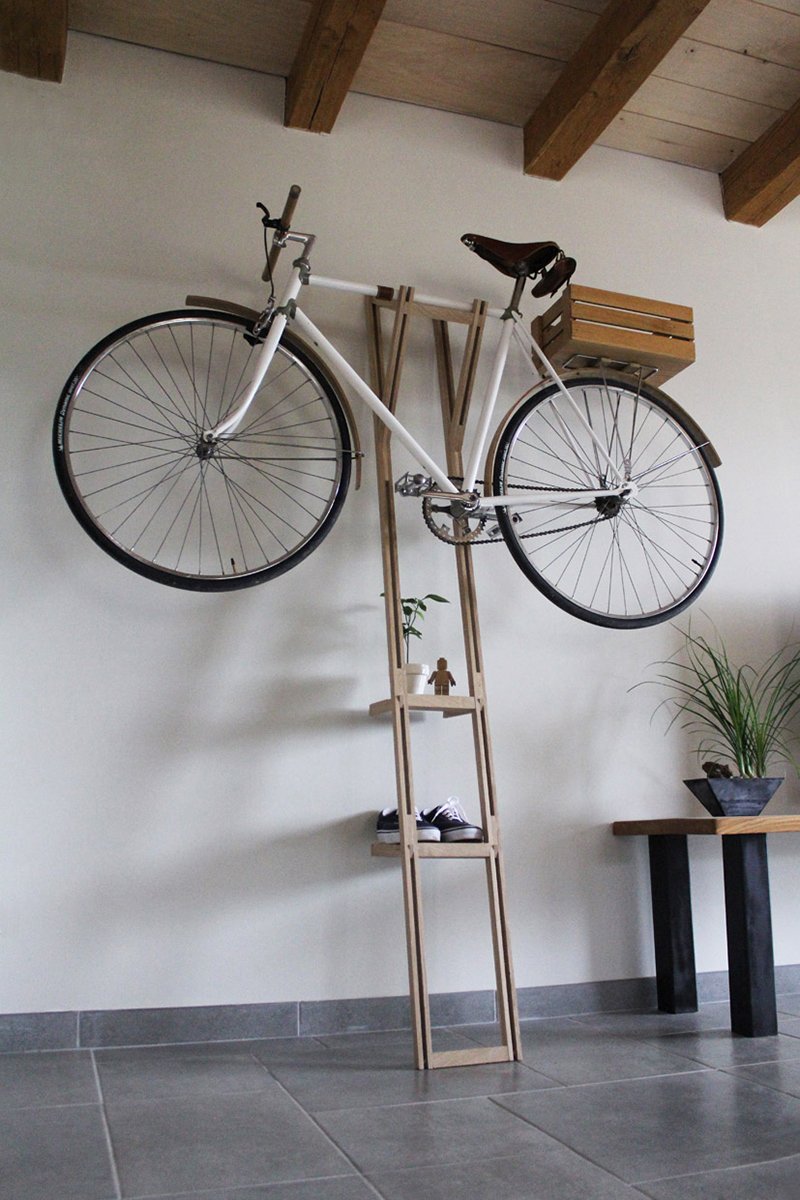 This unique bike hanger uses a minimum of space with its ergonomic design. It becomes part of the decoration of the home which is designed based on the ladder principle. This is foldable which makes it easier to transport and store. What makes this wooden bike hanger more impressive is that it has shelves that can be used for holding displays and even for other storage purposes.
6. The Bike Shed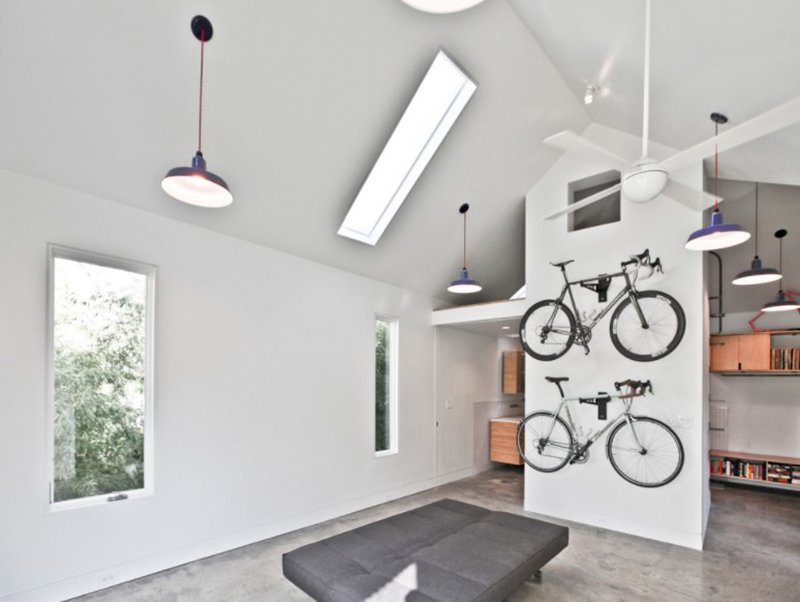 If you want a minimalist look, this simple wall mounted bike rack will work well for you.
7. Modernist House Renovation in Southampton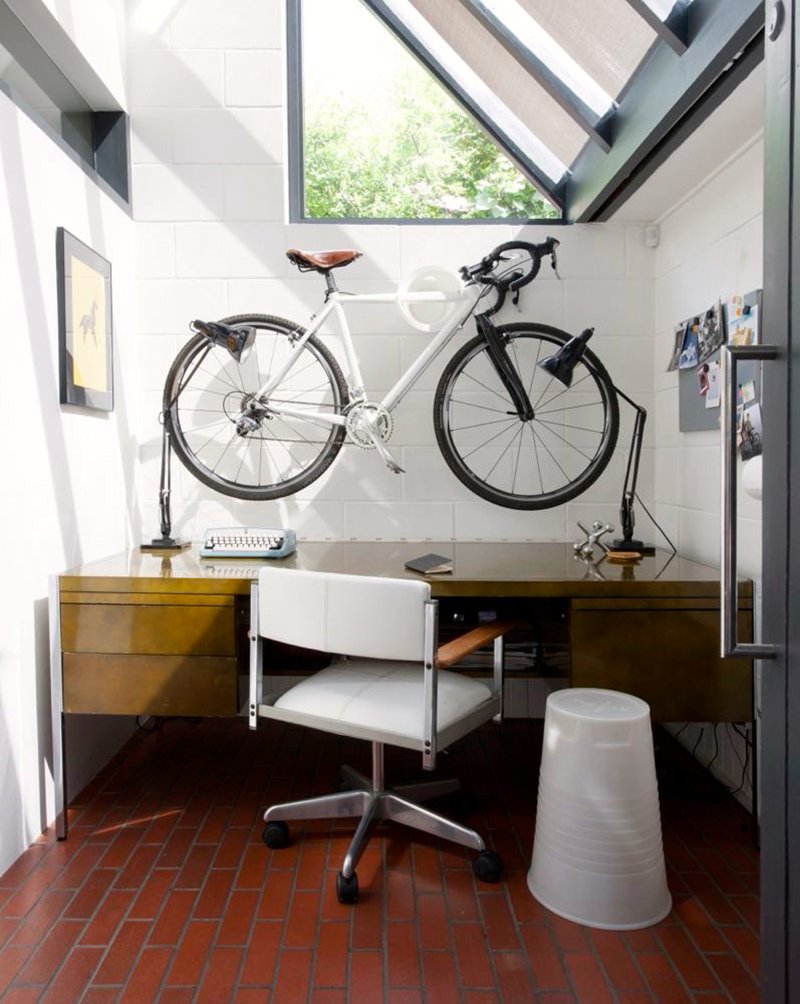 This white model adds interest to a modern home. You can opt for a wall near the front door if you intend to use your bike most of the time.
8. Real World Portland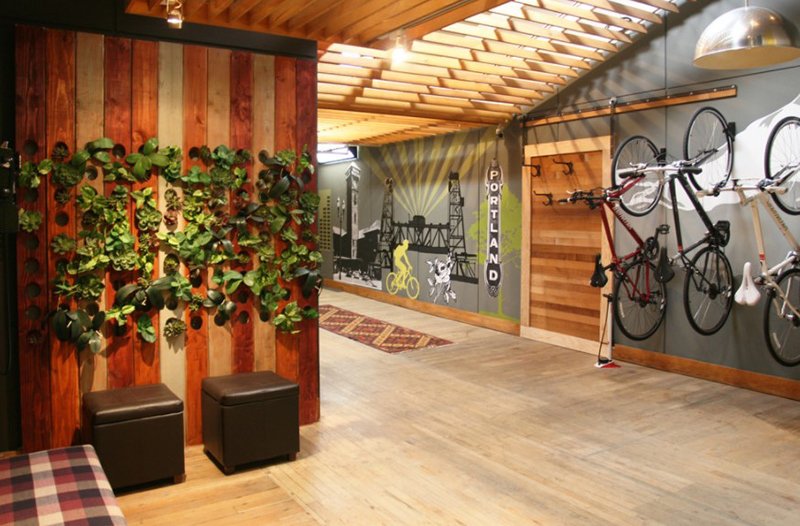 Seen here is a rack that holds a bike at 90 degrees to the wall. When positioned in the right way, it can work perfectly well. But this rack can't be in a high-traffic area and is generally designed to be positioned in a corner.
9. East 14th Street Coop Combo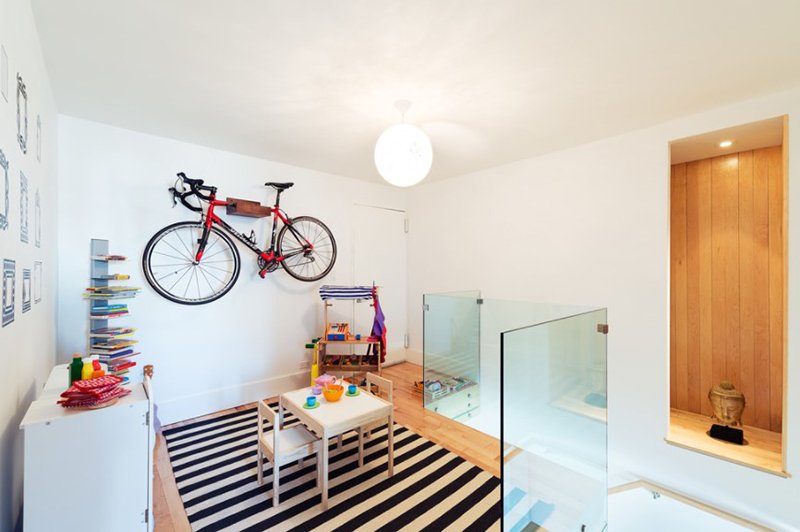 Yes, you don't necessarily have to rest your bike just on the floor. As you can see in this children's playroom, the bike shelf is used like a bracket so that an adult's bike is stored high above and out of the way of the kids. Just make sure you put it properly to avoid the risk of falling.
10. Heart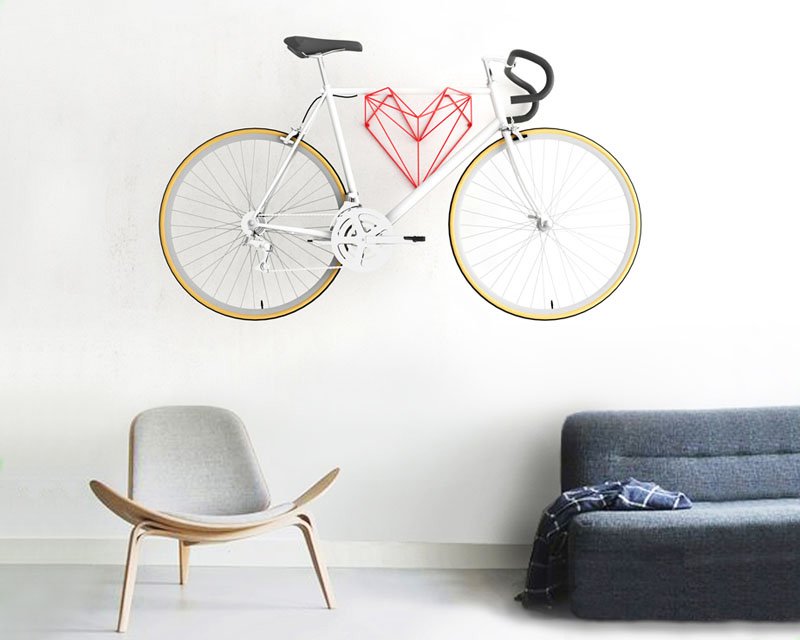 Isn't it cute to hang your bike on a heart-shaped hanger? This new wall-mounted bike rack design looks just as good by itself as it does when it's storing a bike. It is light and airy but despite that, it can sustain holding a bike.
11. Loft Living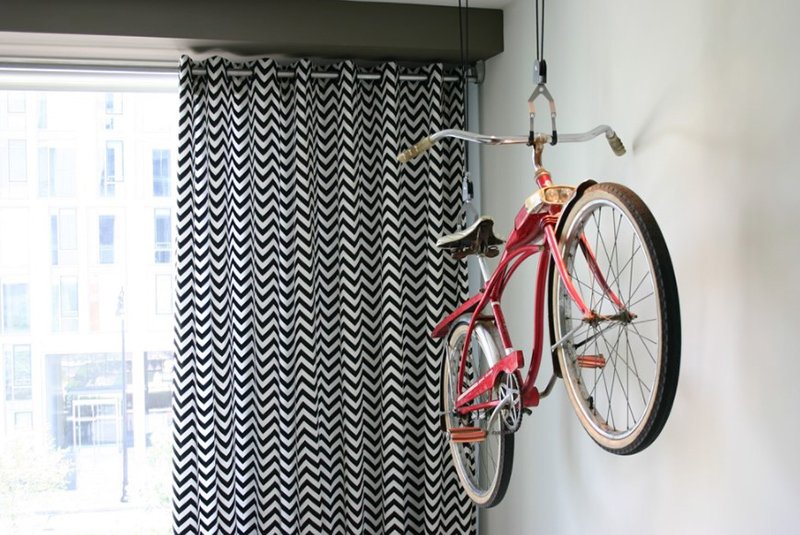 When one lives in an apartment, it often means that storage is limited. Hence, you can suspend your bike from the ceiling or on a wall just like what you can see in the picture. This way, the bike isn't only kept up and out of the way, but it also turns the bike itself into a work of art.
12. Bike Rest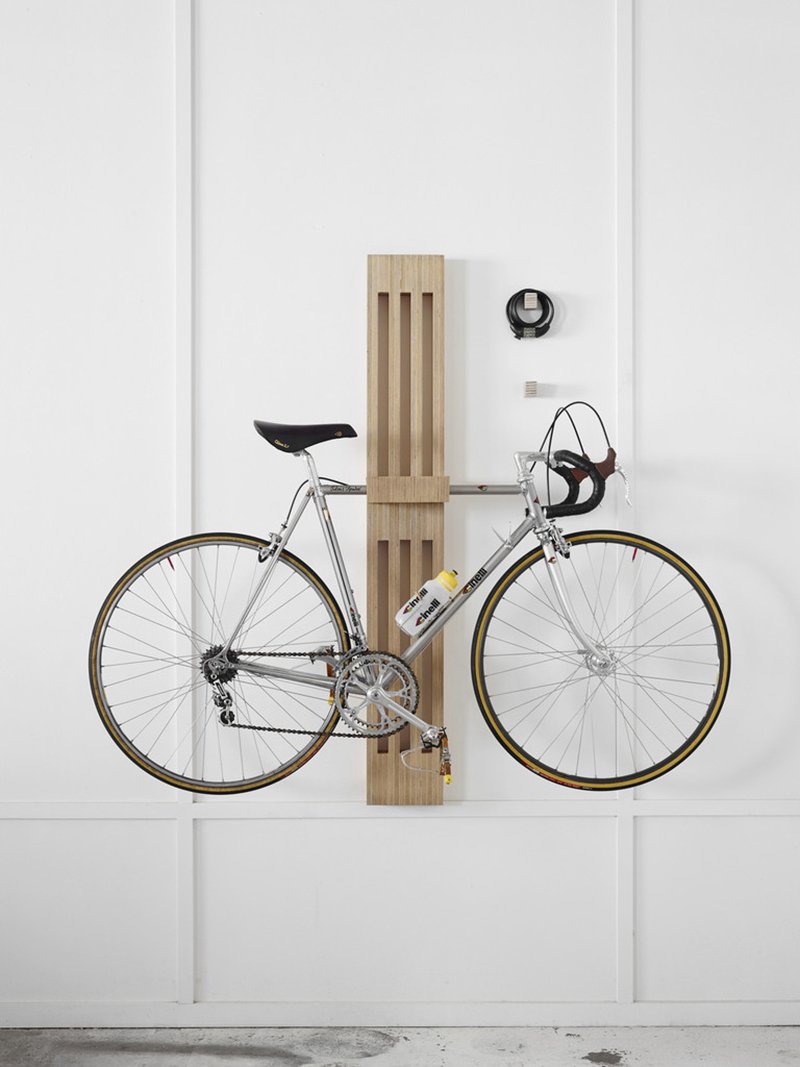 This handmade Australian bike rack is the perfect storage system for cyclists. It is made with local timbers + low chemicals and black leather slings. And yes, it looks pretty nice on the wall too.
13. The Frayant Arc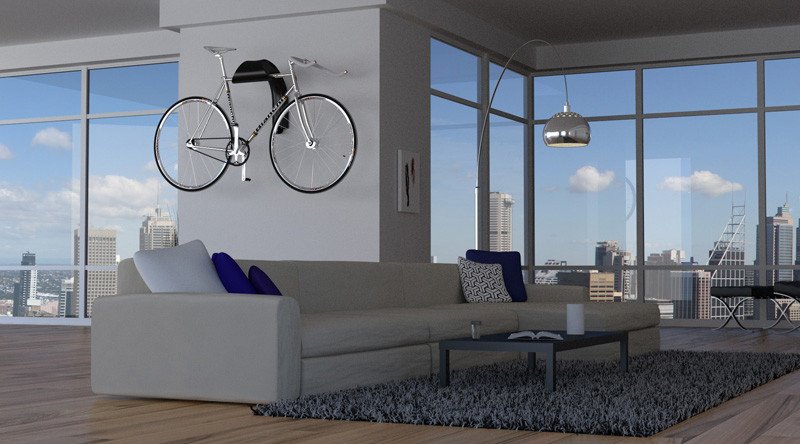 You can store your bicycle in an innovative and beautiful way by using this curved steel arc that slides down onto the base place to conceal the fasteners. Totally modern looking, right?
14. Contemporary Living Room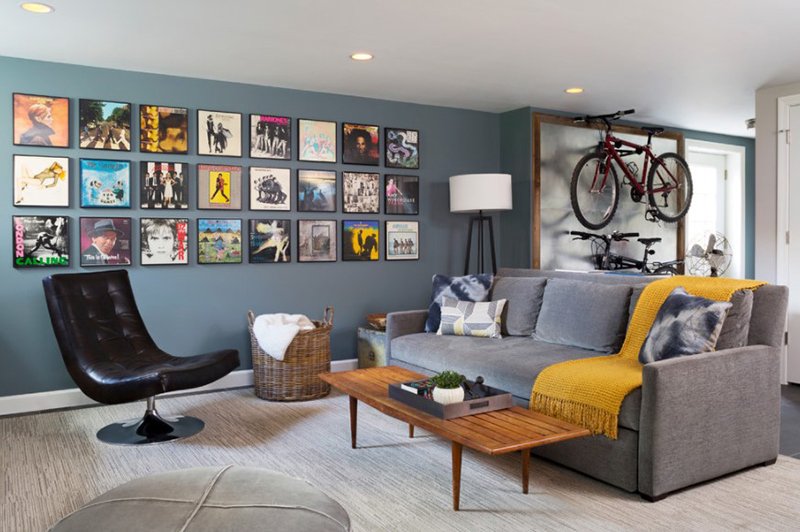 This mid-sized contemporary open concept living room with gray walls gives us another idea on how to store a bicycle on the wall. Notice that there are two bikes wherein the other one is above the other.
15. Duncan Avenue Basement Renovation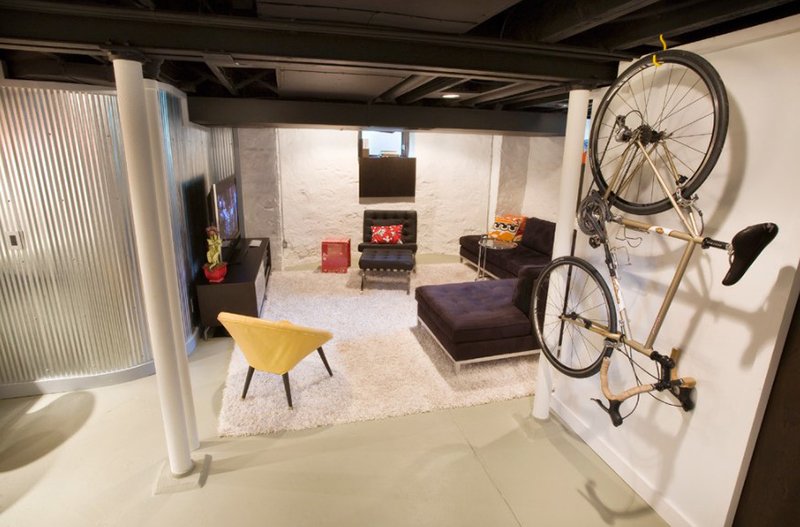 Another simple way to hang a bike is by using a hook. In this basement, the hook is installed from the beam.
16. SLÎT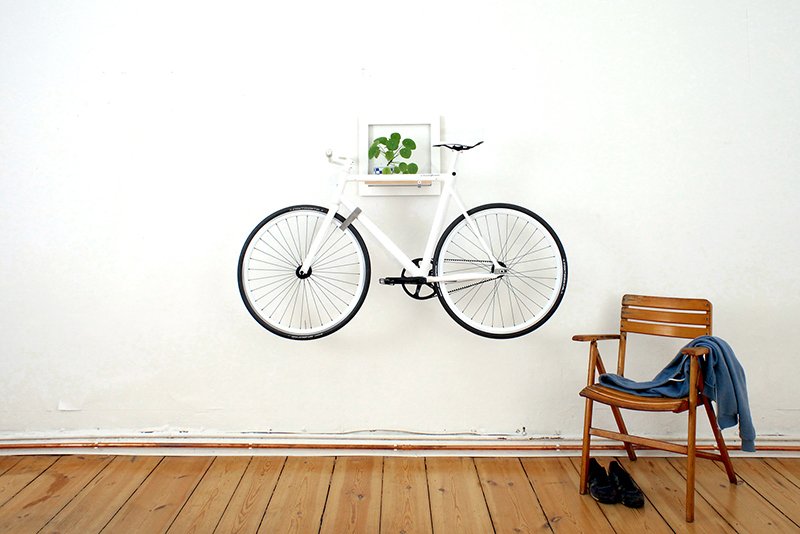 According to the designers, SLÎT can be what you want it to be! This understated and beautifully designed bike holder will fit in with your furnishings. It does look really beautiful too and you can add other decors on it like plants and others.
17. The (Original) Bike Shelf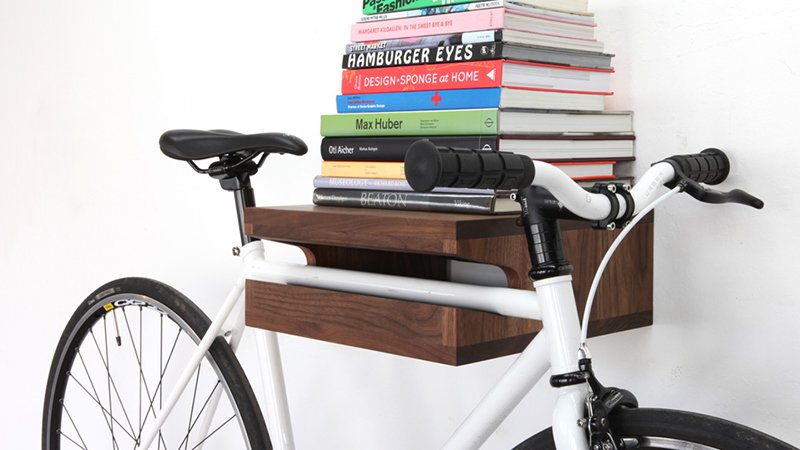 The designer of this bike shelf wanted to create a piece that kept bikes off the floor but didn't look like it belonged in the garage. Notice that the design allows the owners to use it as a shelf for books and other items.
18. 13 Square Meter Apartment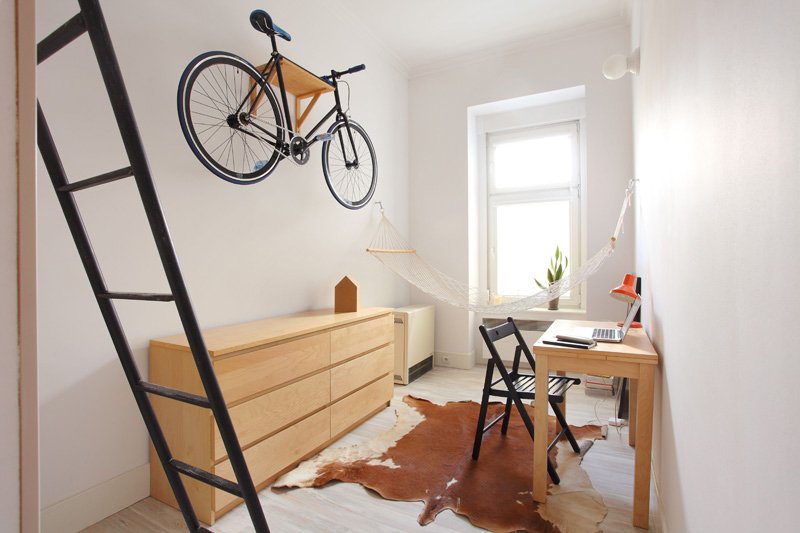 The owner of this small apartment uses a bike to roam around. And despite the small space in his home, he was able to allocate an area to store his bike by hanging it on the wall.
19. Marina Del Rey, CA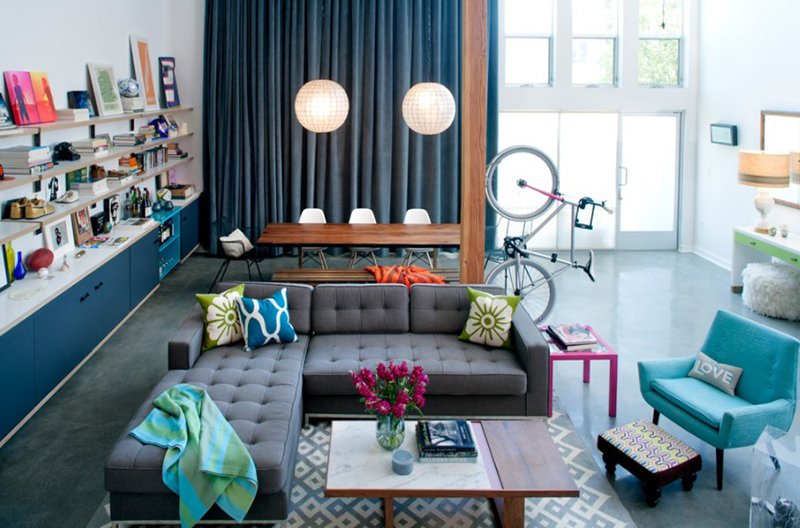 I know this is a beautiful living room but take a look at how they stored the bicycle here. You can actually park it vertically on a pillar, beam or wall.
20. Bike Hanger Iceberg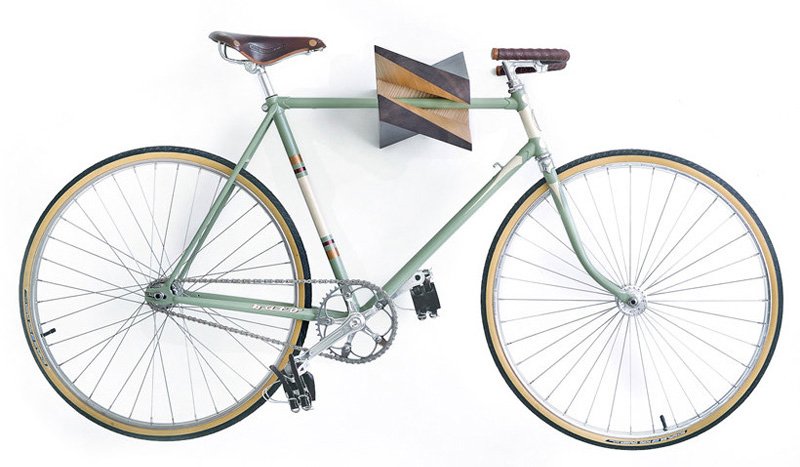 This wooden bike storage is a lovely wall decor at the same time. To store your bike, simply tilt your bike's cross bar to place it into the bike mount, it then locks in place when it naturally tilts back in the other direction. It is fully handcrafted made from the highest quality Oak wood stub cross cut, birch, and Oak plates.
These bike storage ideas are indeed awesome, right? Yes, you don't need to place your bike on the floor. You can actually store it in a creative manner which can also turn it into a home decor. One good thing about it is that you have so many options from sleek looking ones to those that can totally stand as a wall decor on its own. With bike holders like these, you can definitely save floor space and you don't have to worry if you have one when you live in a small apartment. Which of the above bike storage ideas would you probably use?