20 Fashionable Turquoise Bedroom Ideas
Turquoise is known as a rare and valuable stone used for ornamentation. The unique combination of blue and a small amount of yellow gives this gem its greenish-blue glow. In recent times, turquoise has been known as a color rather than a valuable gem. It has been used as a fashionable color for themes and motifs in celebrations like weddings, birthdays, baptisms and baby showers. More and more people are drawn into this color because of its bizarre and vibrant quality that is not overpowering. It encourages serene and happy mood.
Since turquoise looks good in clothing and accessories, might as well see how good this color is when used in bedroom decorations. I have seen a lot of accent items that wear this color and all of it bring instant boost in the space. It bears coolness of blue, a refreshing and inviting calmness of green with the fun and uplifting energy of yellow. It is such a pretty color that can enliven any space in an instant, so why not bring it to your bedroom interiors! Let us take a look at these 20 Turquoise Bedroom Ideas to incorporate this amazing color in your sweet retreat.
1. Turquoise Canvas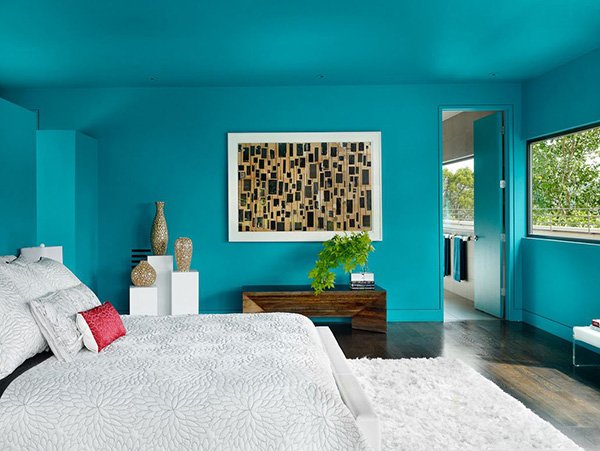 Paint your bedroom walls and ceiling with this bright turquoise hue to get a bold, fun and sophisticated look.
2. Look Up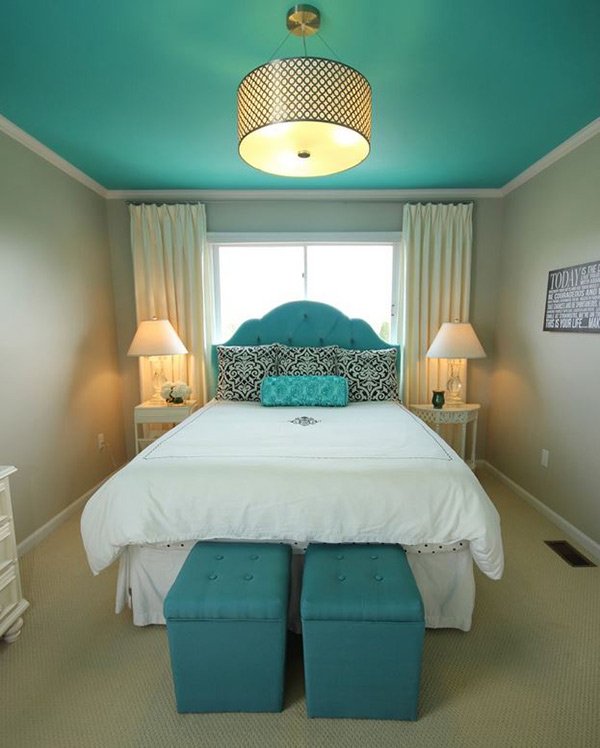 Create a beautiful focal point by painting your ceiling with turquoise and keeping everything in white or neutral. It is best accentuated with a chandelier that sparkles like gold to give you a modern glamour.
3. Fabric Pattern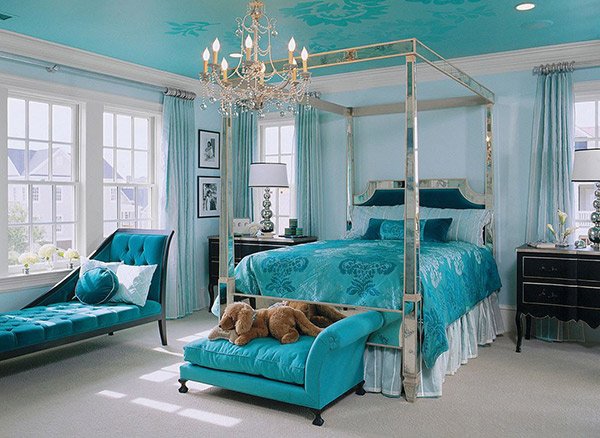 The ceiling was hand-painted to match the patterns from the duvet cover and it turned out beautifully. This bedroom design used all variants of turquoise to get this classy, stunning result.
4. Shelves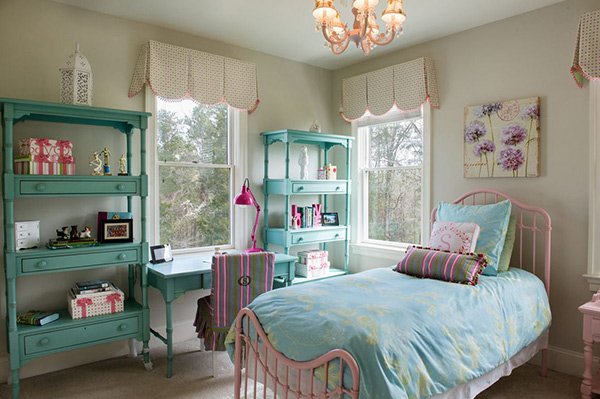 These adorable muted turquoise shelves and desks when paired with pink bed frame create a sweet and dreamy retreat for your little girl.
5. Striped Walls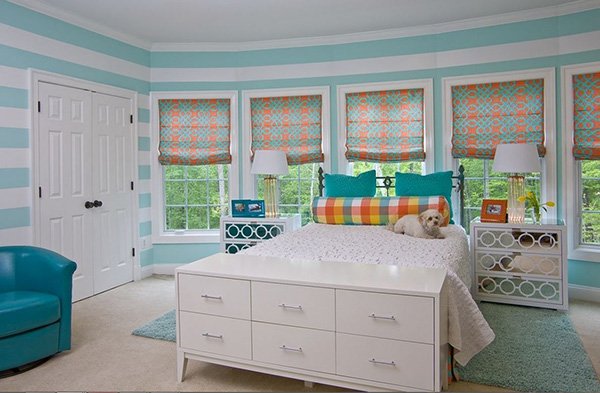 The striped walls of white and muted turquoise bring fun and interest while keeping it serene and light.
6. Get Framed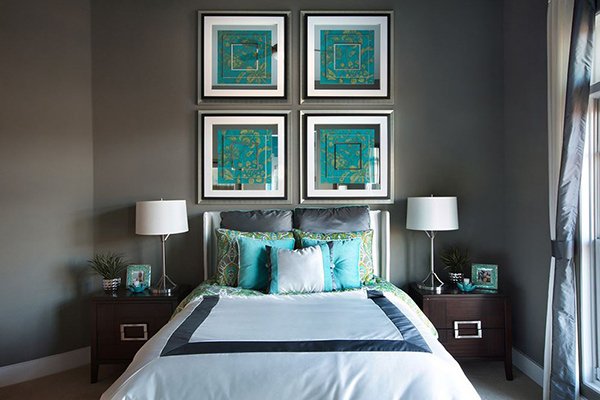 Match your deep gray walls with a darker hue of turquoise for a more sophisticated look. Framing it on your accent wall is a great way in bringing this bold color in your bedroom.
7. Walls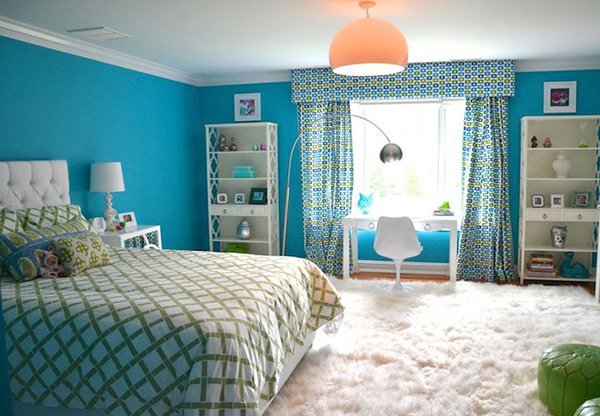 Cover your walls with the lovely turquoise hue, paired it with white ceiling and white tufted bed over ivory sheepskin rug for a dreamy and whimsy appeal.
8. Hang It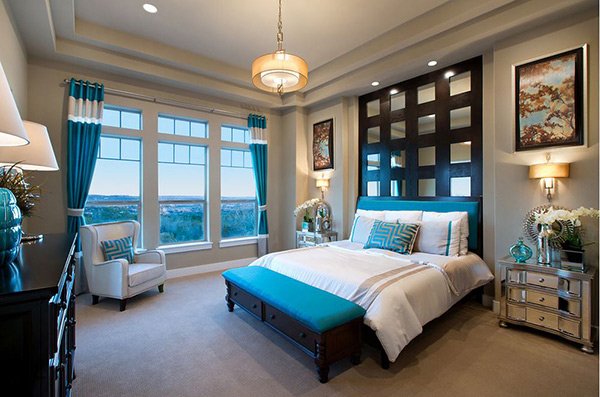 Warm neutrals and light colors accentuate the dark hue of turquoise in this bedroom design giving its dramatic and glamorous appearance. The window treatment continue its turquoise and white scheme to the bed and furnishings giving its cohesive look.
9. Light Up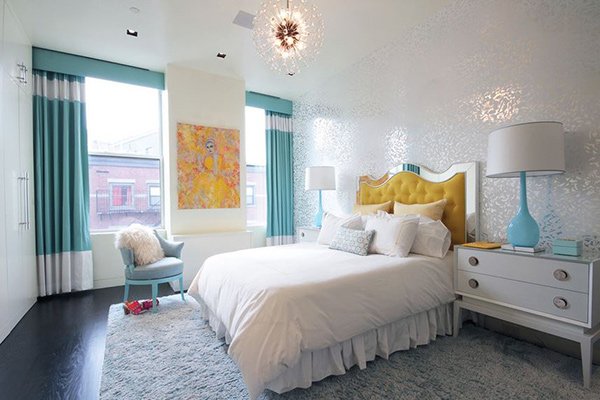 Pops of lighter turquoise hue on table lamps can make a big impact on your bedroom design. In this dreamy white bedroom interiors, the pop of turquoise in pastel gives off a youthful and refreshing feel in this room.
10. Turquoise And Pink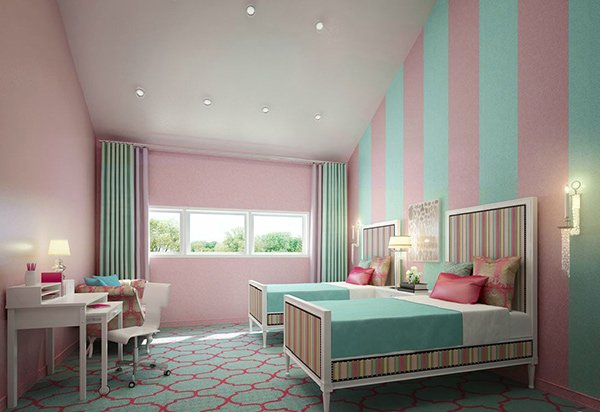 This eye-candy color scheme of pink and turquoise bring a playful and feminine touch to this bedroom design.
11. Decals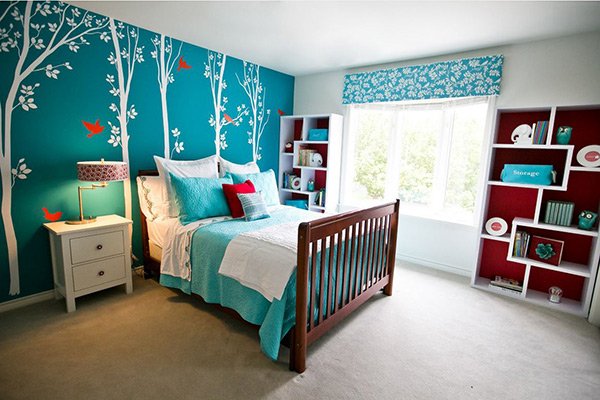 A striking vivid turquoise can serve as a beautiful canvas for a playful wall decals to create a fun and stunning focal wall.
12. More Greens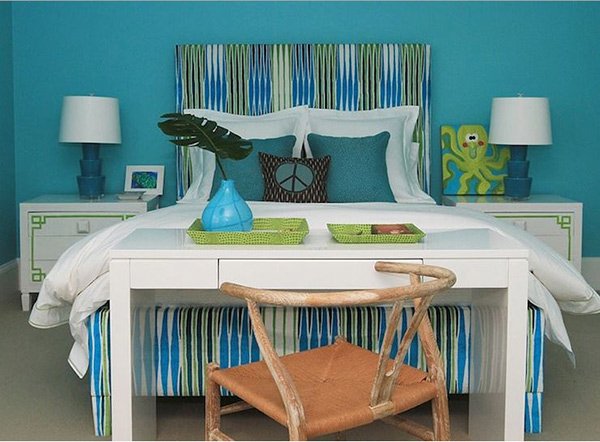 Accentuate your turquoise room with a combination of green and turquoise for a fun, contemporary appeal.
13. Chartreuse And Turquoise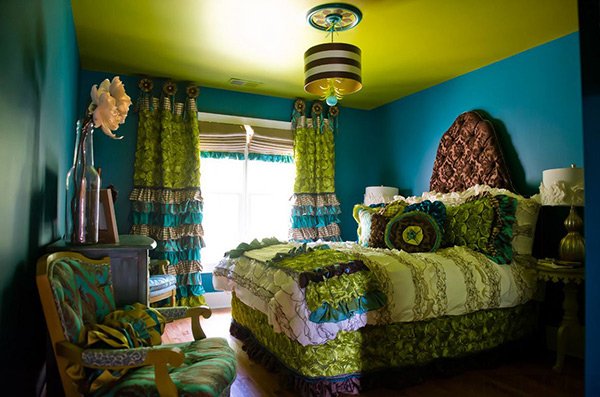 Boho-chic bedroom design with bold chartreuse, deep turquoise and browns make this space anything but boring.
14. Mint Turquoise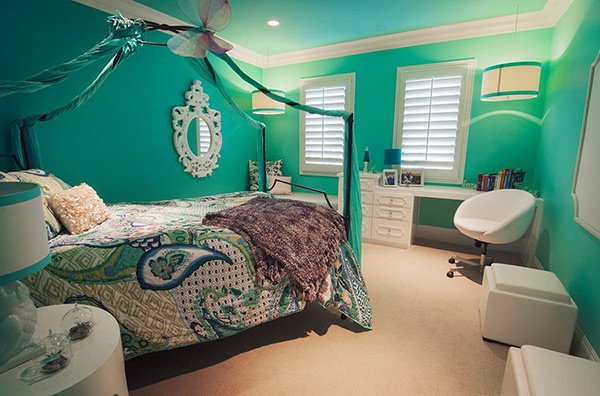 I love the bold, mint turquoise gracing in this bedroom! This is one gorgeous bedroom design that is sure to grow with your little girl.
15. Minty Bed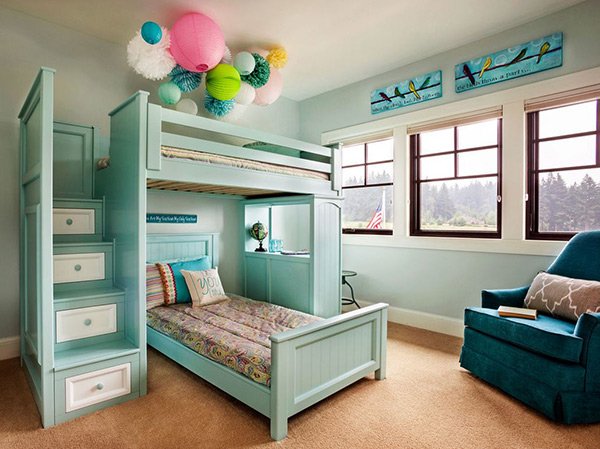 If painting your walls with turquoise is too much for you, there is no need to worry! You can still take a bold leap and paint your bed frame with a lighter shade of turquoise. It infuses a serene and calm feel while adding interest and life to your room.
16. Chic With Gold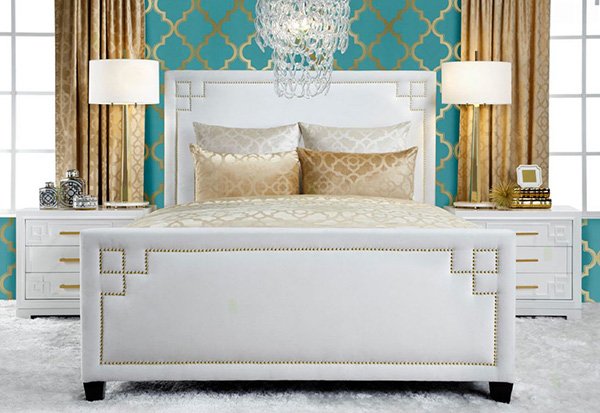 Hints of gold with turquoise in geometric patterns in your bedroom decor give off a chic and modern vibe.
17. Dress 'Em Up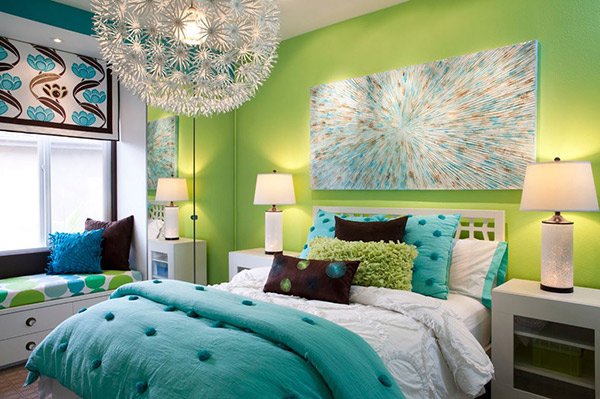 The easiest way to add turquoise in your room is by using it on your beddings. Dressing up your bed in bold hues, brings instant comfort and fun in your bedroom.
18. Pops Of Turquoise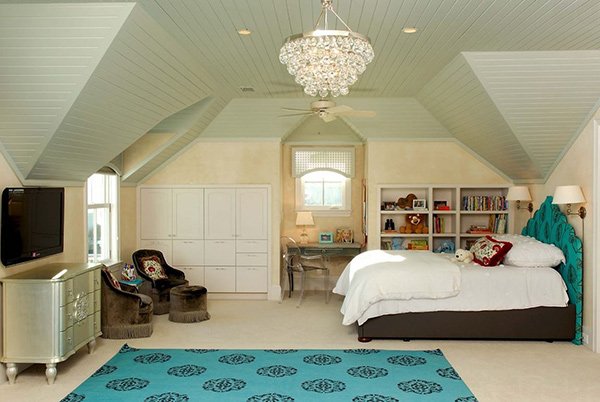 Turquoise makes a beautiful contrast against white canvas. Pops of this stunning color on the headboard and area rug bring a perfect touch of glam and eclectic feel in your bedroom.
19. Sitting Pretty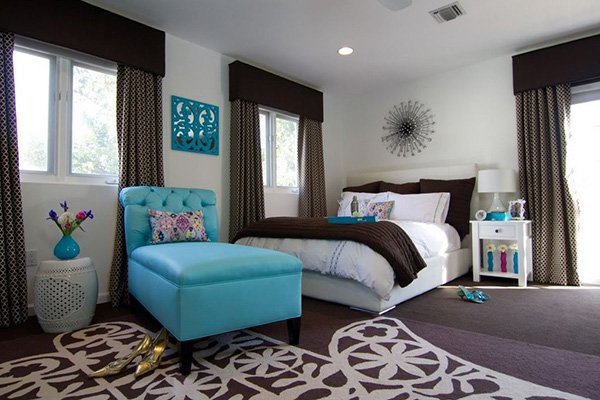 This turquoise chaise lounge is a perfect addition in this neutral bedroom design. It adds fun and elegance this retro-chic space.
20. Striking Wall Art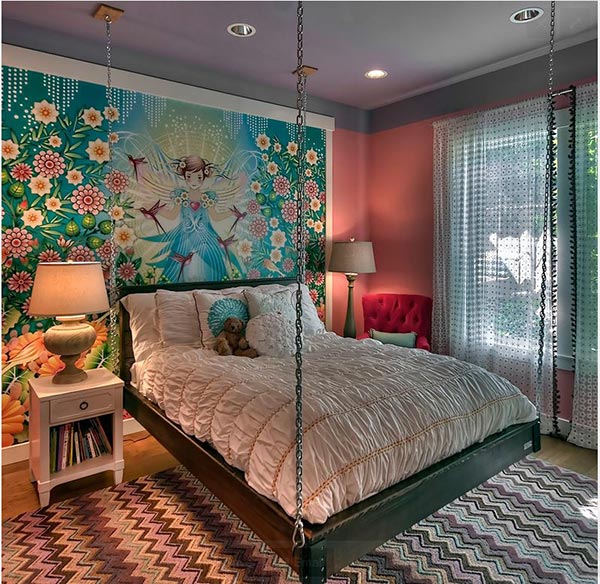 Another interesting way to add turquoise in your bedroom interiors, is by using a custom mural on your accent wall. It is bold and brings fun and playful ambiance in your room.
Turquoise is one happy color. This vivid color can instantly create excitement and fun in any space. There are a lot of ways to bring this bold color in your bedroom and the 20 turquoise bedroom ideas above will help you get started. Using tone on tone is a great way to add interest too. Different saturations of this color give off different feels in your space. The closer it is to green than blue, the refreshing and inviting it is. The closer it is to blue and white, the calm and sweet it brings. While the darker the turquoise gets, the sophisticated and dramatic the mood it creates. So know your shade, and give your bedroom an instant glam and fun with turquoise.