20 Cute Bedroom Ideas You'll Surely Love
Want a cute bedroom for your kids? Here are some inspirations you'll surely love.
When we think of cute bedrooms, we often associate it with childish decor and colors. Yes, it may be more of a child-inspired room but what is more pleasingly pretty to the eyes than to have a touch of youth in it? This kind of style is not limited to kids rooms only. You can also have a dainty look in your master bedroom as well. Getting an adorable appeal has something to do with the decor you used and of course colors. The key is to use eye-candy colors or muted ones, which we all know are charming to look at.
Here is a list that will inspire and help you in achieving a charming bedroom design that you have always wanted. Have fun and enjoy browsing through our gallery of 20 Cute Bedroom Ideas we hand-picked especially for you. You will see a lot of beautiful mixes- colors, patterns and textures in this article. It will amaze you at how some simple designs turned out to be a darling. So come on and swoon over to these charmers.
1. Bright Hues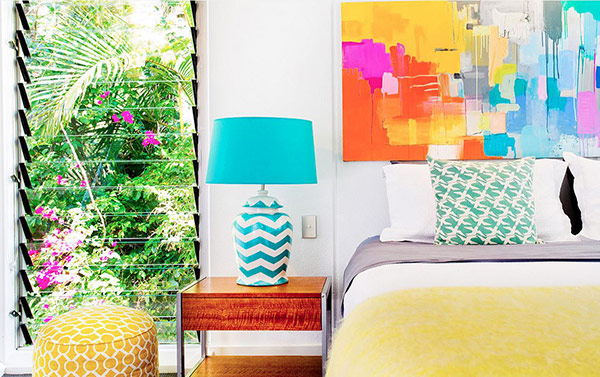 Using fun bright hues on your wall art, pillows, duvets can easily boost your space and these accents can easily be swapped once you want to change the mood.
2. Gallery Wall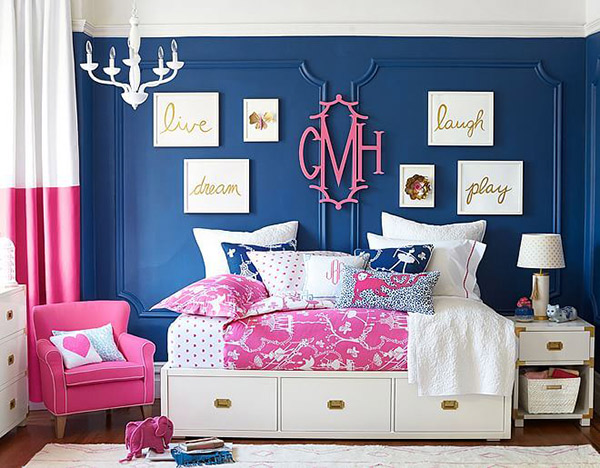 Add glam and charm with these mix and match white frames with gold prints and a punch of personal touch with this adorable Pagoda Monogram.
3. Rock Star Room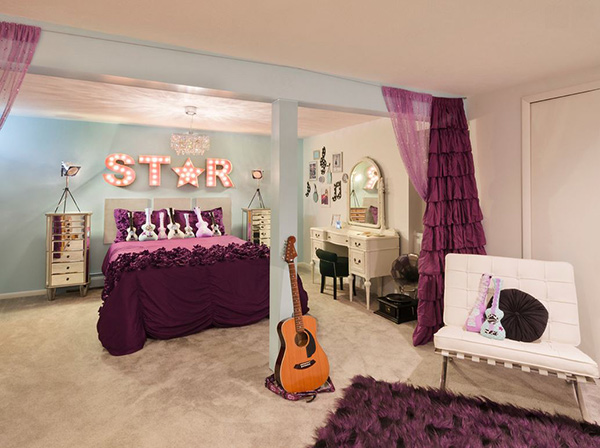 With its stage-like appeal, adorable purple pillows, duvets and ruffle curtains this room rocks with glamour.
4. Hints of Yellow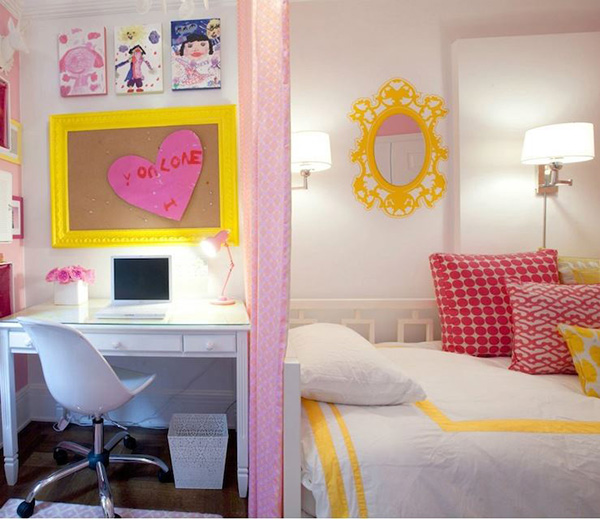 The hints of yellow in this girl's bedroom give an instant joyful and youthful glow.
5. Blue As The Sky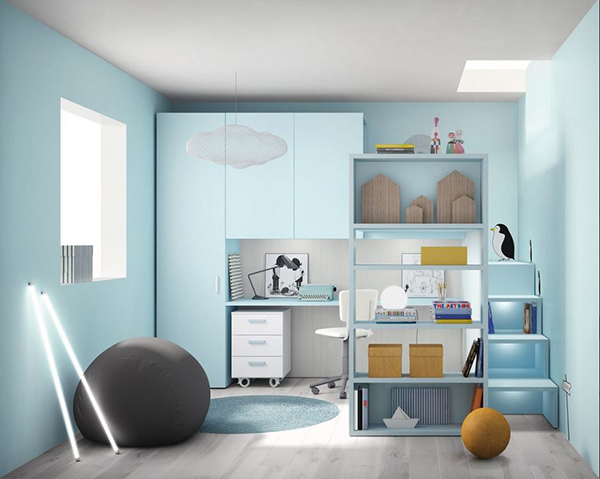 Create a dreamy and serene place for your teen with this space-saver loft bed in muted blue.
6. Pink And Purple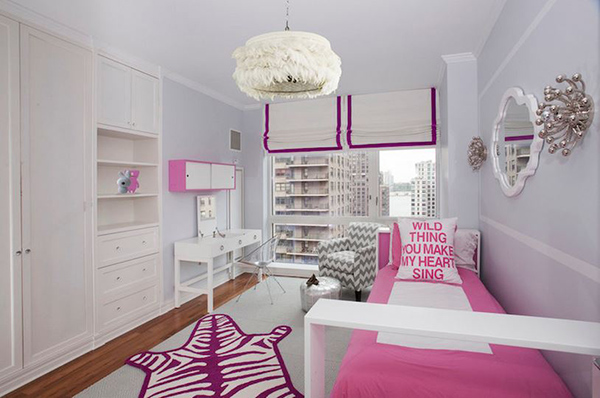 This almost all white bedroom design was made gorgeous with pops of stylish pink and purple accents.
7. Chartreuse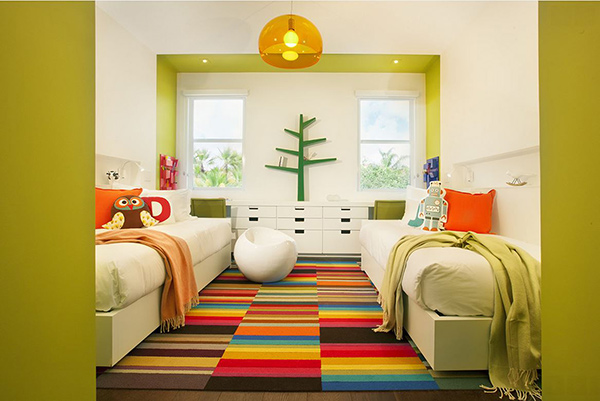 Wrapping your accent walls in pretty chartreuse can instantly give your room a bold modern update.
8. Disney Themed Bedroom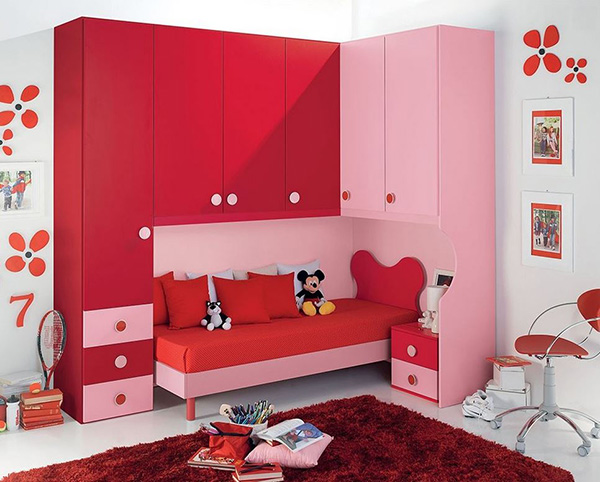 Who would not find a Mickey Mouse inspired bedroom design, cute?
9. Solid Vibrant Colors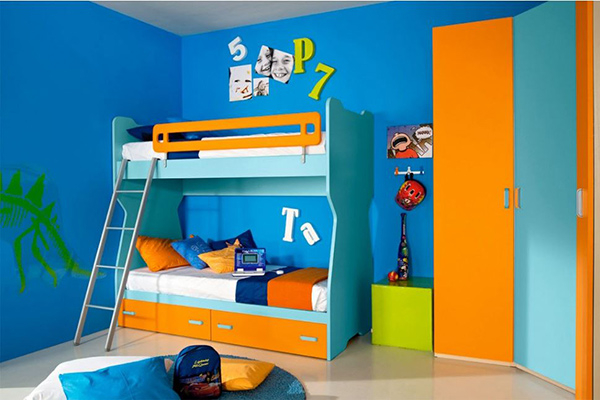 Using bold, solid colors in your child's room that create a cohesive look is sure to bring modern and youthful vibe.
10. Floor To Ceiling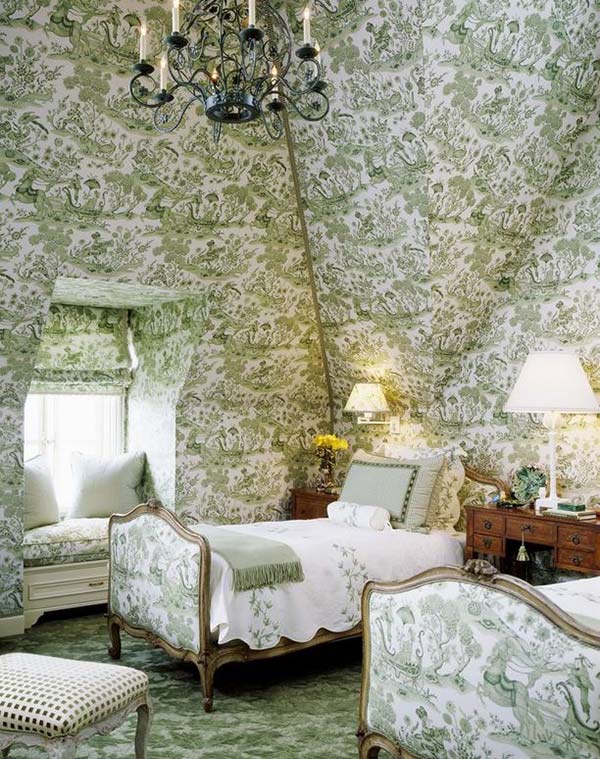 For an enchanting look in your vintage-inspired room, upholstered your walls to ceiling in green forest toile and use a carpet with the same design for a unified look.
11. Fabulous Red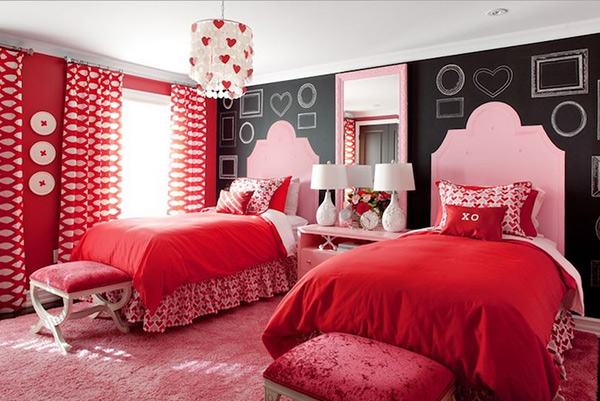 Bring drama and glamour in your space with this fabulously cute hearts theme bedroom in red and pink.
12. Mobiles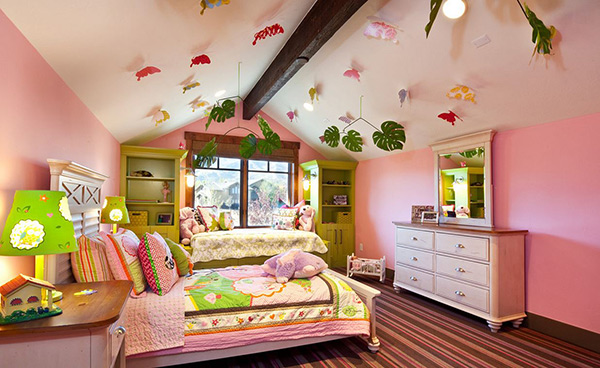 If you think that mobiles are only for babies, you are wrong. Create a whimsical room for your growing child by using a group of mobiles arranged in tableau on your ceiling and help your child boost her imagination.
13. Clean Lines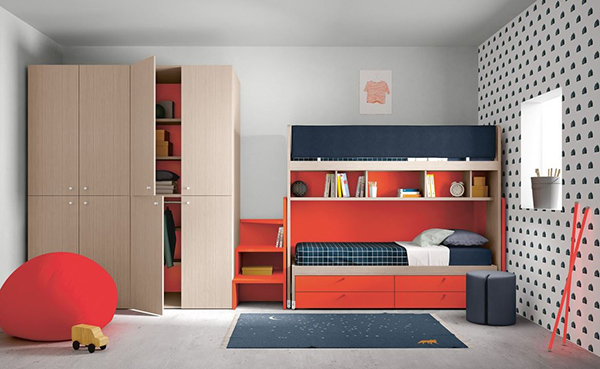 I don't know about you, but I always find clean lines and retro colors pretty adorable for a kid's room.
14. Bubblegum Pink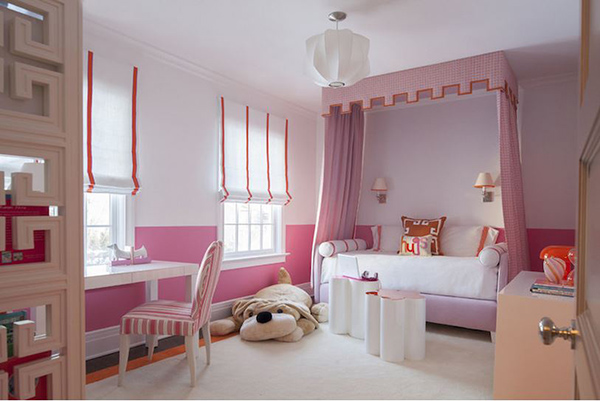 Windows dressed in pink grosgrain trimmed roman shades, a modern white pendant hung above, a pink canopy with orange trim above a daybed make this white and bubblegum pink room so adorable.
15. Cozy Lighting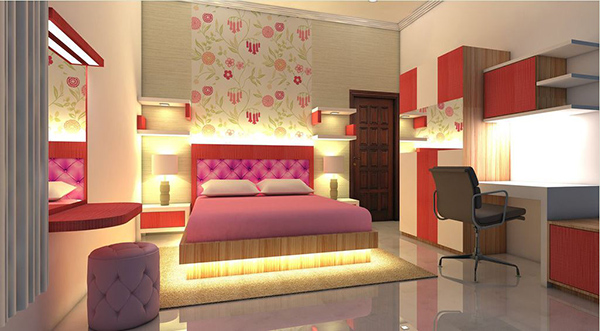 A dainty and warm look can be achieved with the help of some good lighting. The cozier the room the more appealing it is.
16. Raspberry Pink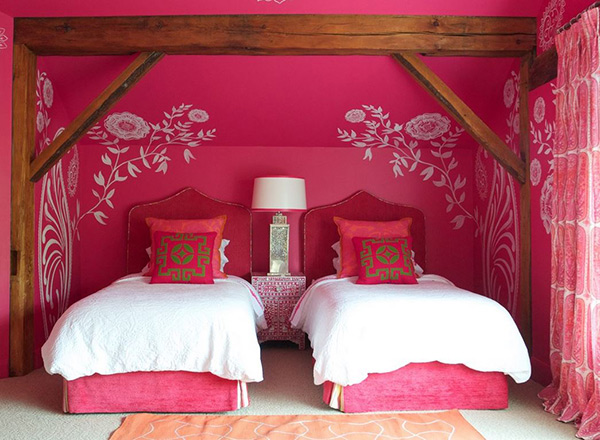 Keeping the palette simple when a bold hue dominates the room is a great way to make the room fun but not overpowering.
17. Playful Patterns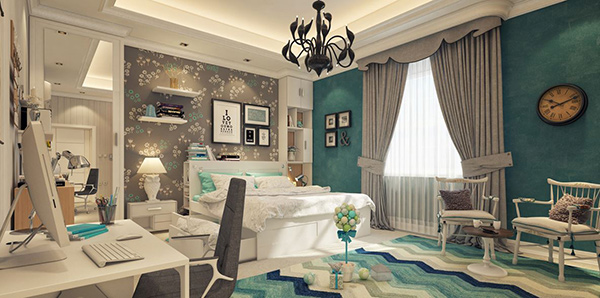 Brighten your room with a mix of different patterns from your accent walls to your area rug.
18. Polka Dot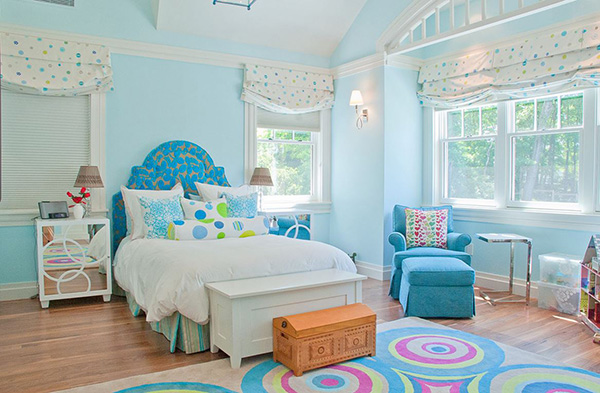 Liven up your space with these pretty polka dots in pastel and have a playful vibe.
19. Coral Pink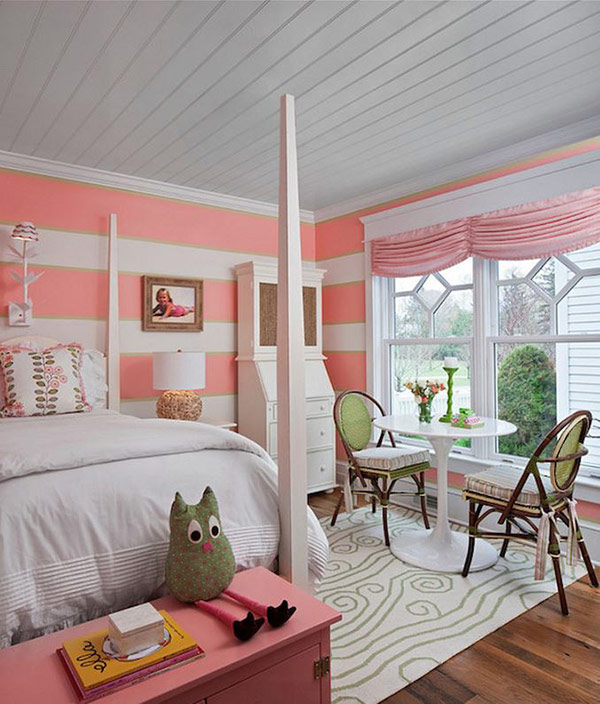 Coral pink and white striped walls frame a white four poster bed in this sweet girl's bedroom.
20. Castle Bed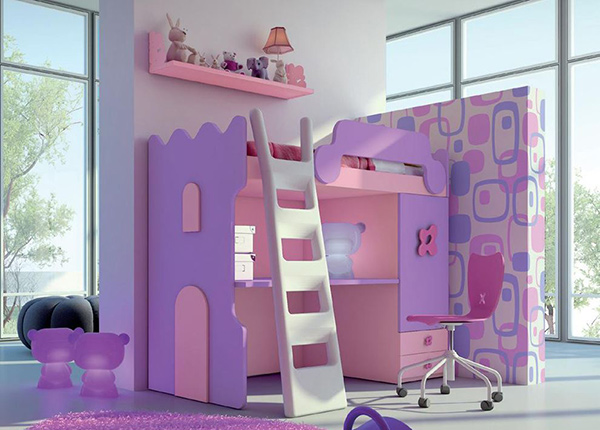 Spark your child's imagination by giving her a modern-castle-inspired bunk bed with desk, wardrobe and bookcases in one.
These bedrooms are so adorable! I can't get enough of them! Candy-colored walls, soft and vibrant hues and mix of playful patterns can give your room an instant update that is fun and charming. Aiming to get a cute and dainty room is another excuse to break some rules and have loads of fun. I hope you enjoyed our list of cute bedroom ideas.