20 Fun Boys Bathroom Decors
Having only one brother but tons of male cousins and nephews; male-themed bathrooms is not something new to me. Although it is just my rich cousins that really have these cool and fun male-themed bathrooms, makes me think about designing or decorating one for my brother too – one in his man-cave of course. If you have brothers, I'm pretty sure you'd love to give them one of these – especially if they were younger.
Below is a list of 20 bathrooms that has awesome decors that makes you think how fun is it to have one cool bathroom like one of the photos you will be seeing. The next photos below will not only interest you, but also encourage you to maybe re-arrange or re-design your very own bathrooms at home for your young boys, check out the list guys.
1. Basement Bathroom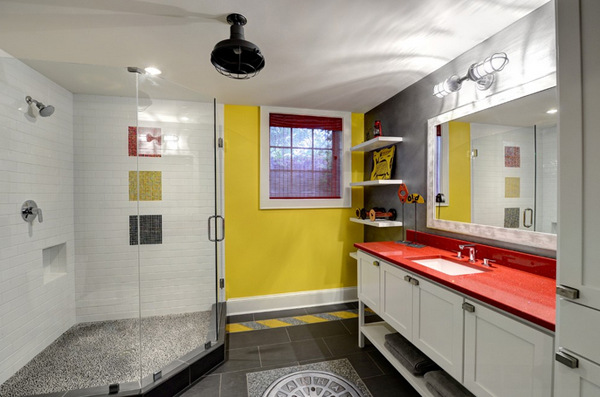 "Designed a bathroom as part of a full basement build-out. I was asked by the client to incorporate some yellow/black street tiles and a manhole tile. I created a bathroom that simulated being outside on a road and the glass tile in the shower represent a stop light," says the designer.
2. Webster Home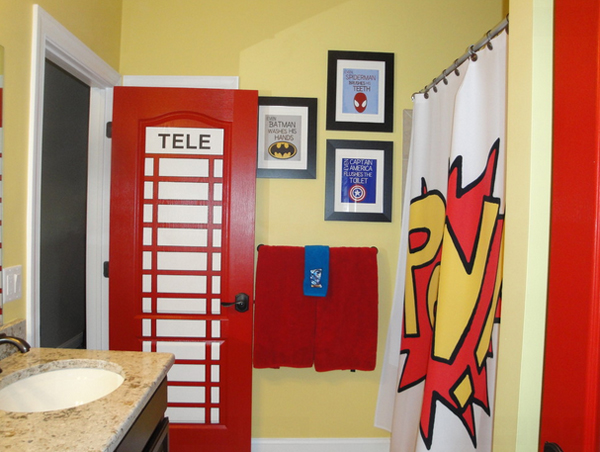 This bathroom sure is fun and colorful! Pow!
3. Gaudi Submarine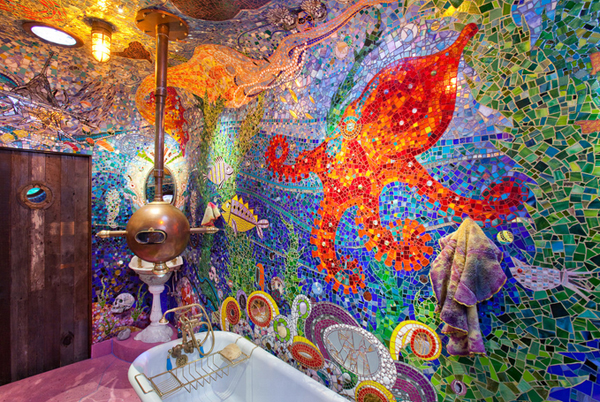 Now this is what an ideal bathroom is supposed to look like.
4. Grand Rapids Kids Bath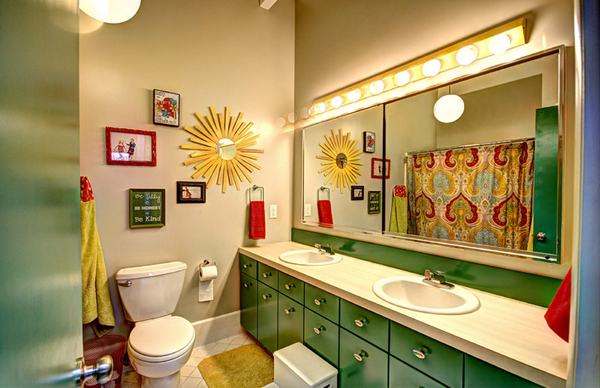 Old vanity was refaced with bright green new doors for fun, playful look in this kids bathroom.
5. Hickman Street Residence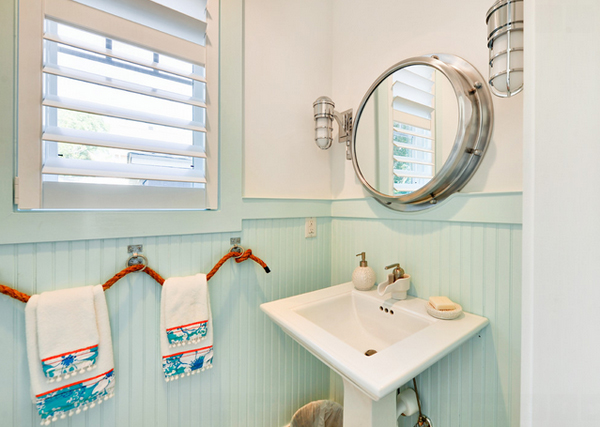 What could be better with a porthole medicine cabinet than a rope towel rack? To add to the authenticity, the cord is suspended from dock rings usually used to tie up a boat.
6. Lake Front Home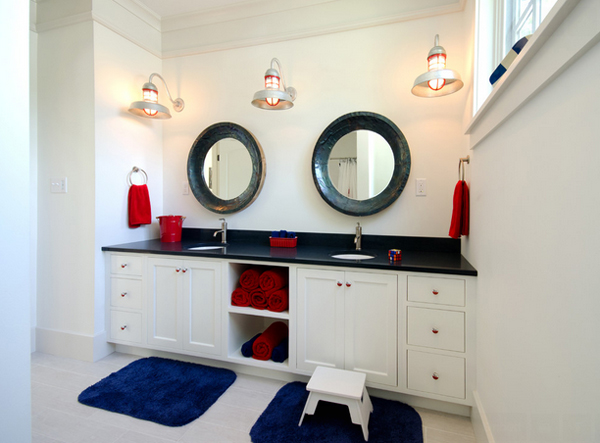 A nautical theme adorns this children's bathroom. Windows placed high in the wall, allows for plenty of light and ventilation, while offering privacy.
7. Lawrence Park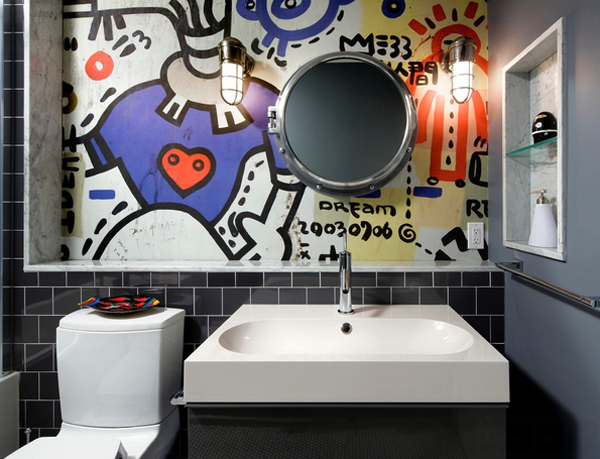 Noticed the shelf on the right side of the room? Cute right? That does not match with the cuteness of the wallpaper though; all in all, this bathroom is beautiful and catchy!
8. Moore Residence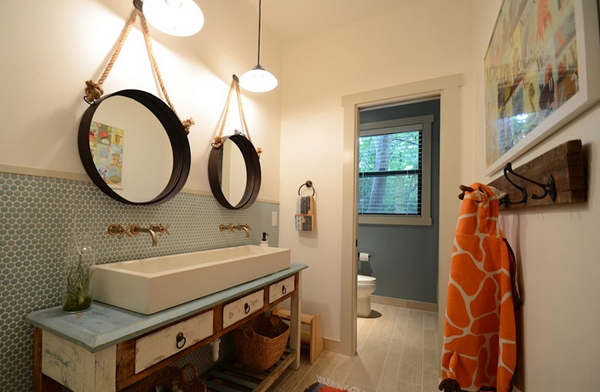 The best feature of this bathroom may be the cute hanging mirrors above the sink with double tap – do you feel the same as I do?
9. Nautical Bathroom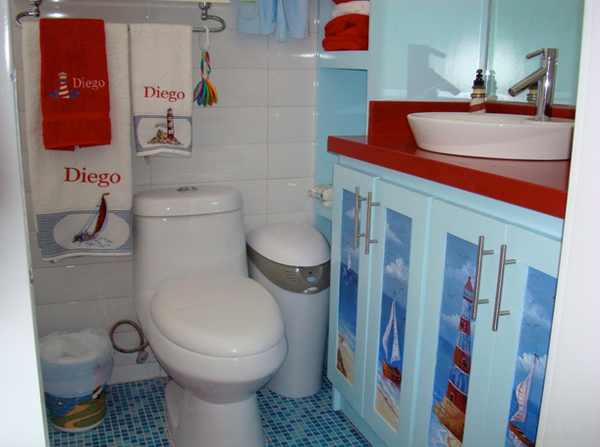 Stencil on a design, or if you are artistic, paint something free hand, in the center of the cabinet doors! Use the pattern of nautical signal flags, or something as simple as just a few fish shapes or anchors down the face of the cabinets.
10. Philadelphia Kids Bathroom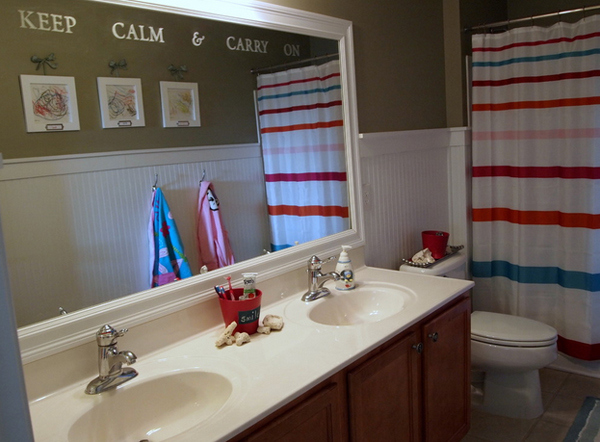 The use of bright white wainscoting fitted to a custom rustic chair rail, a calming paint palette, and chunky framed mirror creates a timeless cottage feel in this children's bathroom. Fun was added thru Splashes of color, the kids artwork, pieces of coral found on vacation, and special quotes throughout.
11. Remodeled Bathroom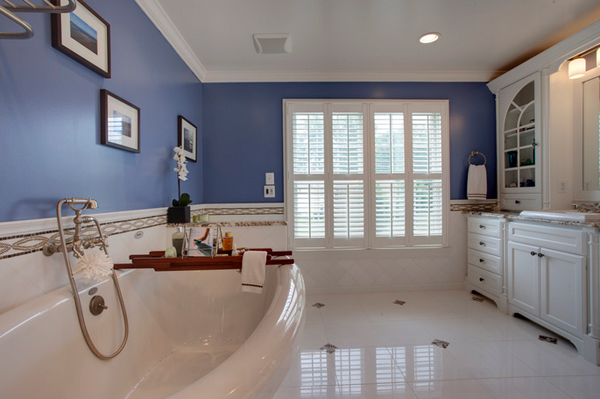 I like the somewhat larger bathtub – do you do too?
12. San Francisco Bathroom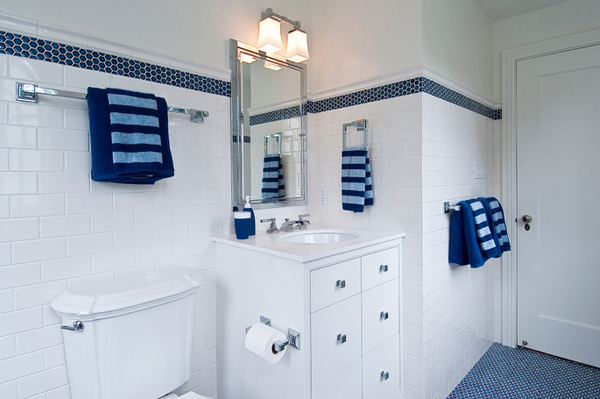 It is always smart to use penny mosaic with subway tiles.
13. San Francisco Top Floor Bathroom Addition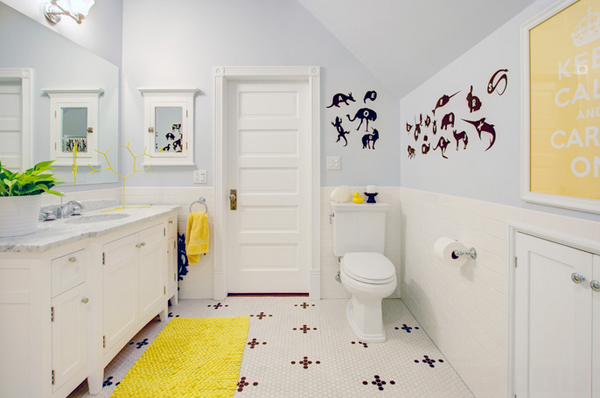 Tile floor and walls. Single vanity. Color scheme – so much stuff to love in this bathroom?
14. Seattle Modern Bathroom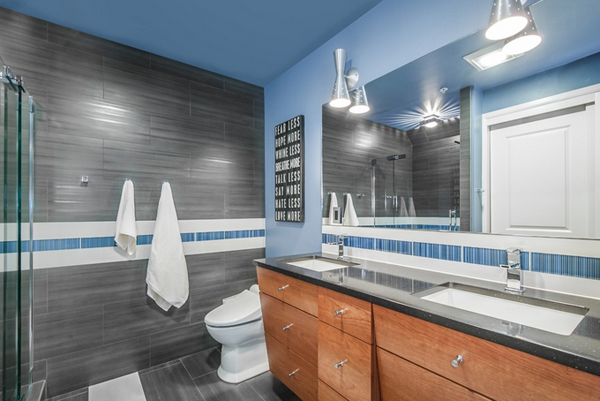 Large tiles mixed with small mosaic.
15. Stolp Family Bathroom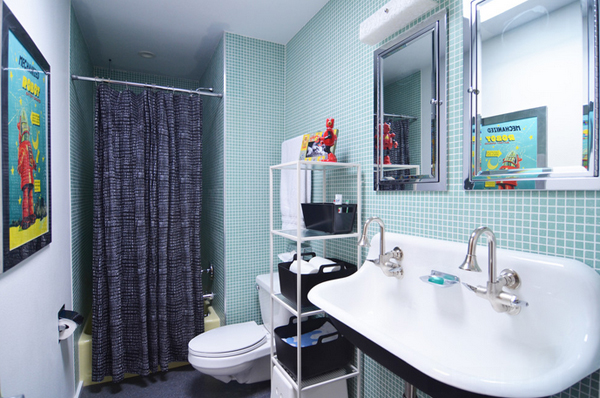 Sugar cube tile in aqua and a double sink from Kohler make the boys' bathroom a showstopper.
16. Valentine Estates, Woods Cross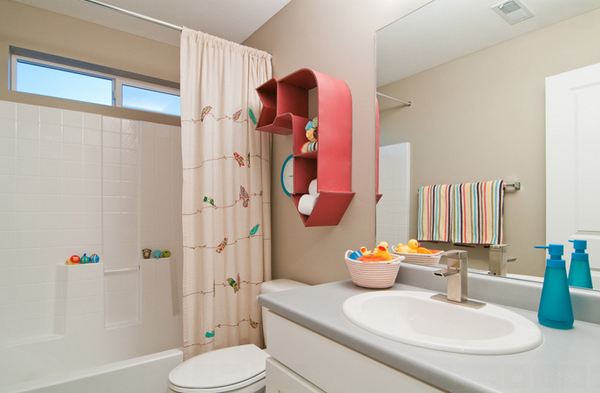 Love the arrow cabinet on the side and the child-friendly sink in this oh-so-clean-bathroom!
17. Venice Loft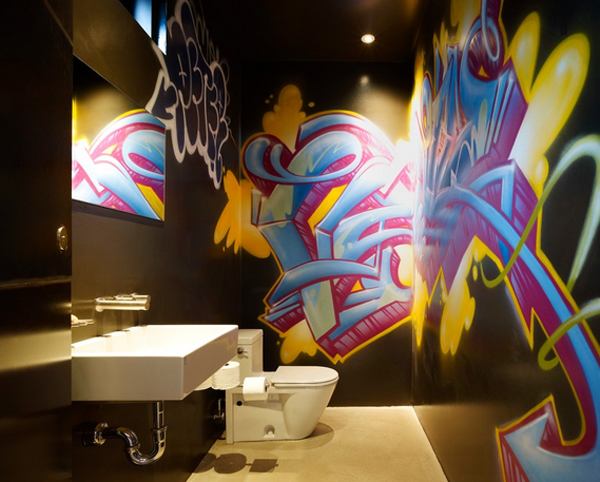 Incorporate it in dark spaces. When natural light is limited, brighten up your room with some graffiti. This powder room's dark foundation makes the bright yellow, purple and blue hues pop.
18. Classic and Colorful Kids' Bath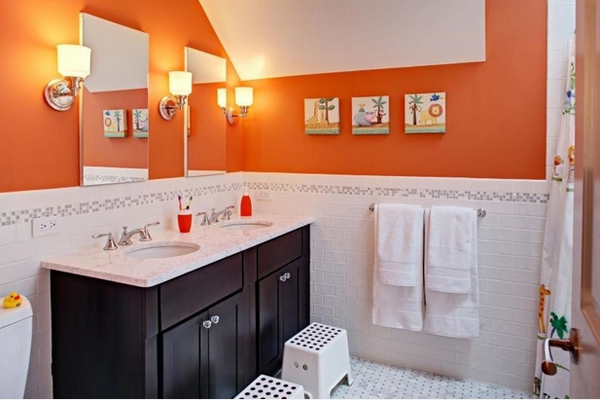 Like how the orange walls contrast with white appliances and a grey/white floor.
19. United States Bathroom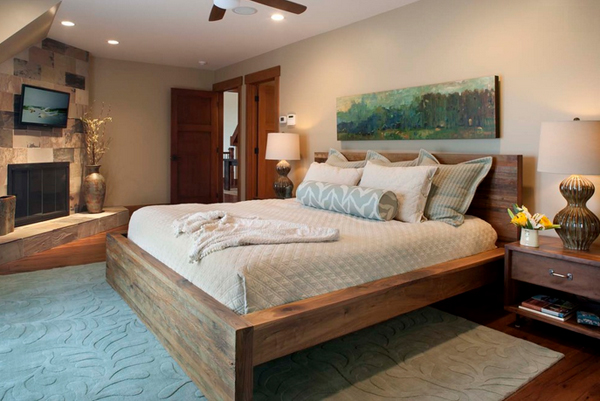 Love the freestanding towel rack just beside the stunning bath tub!
20. Barber Shop Style Bathroom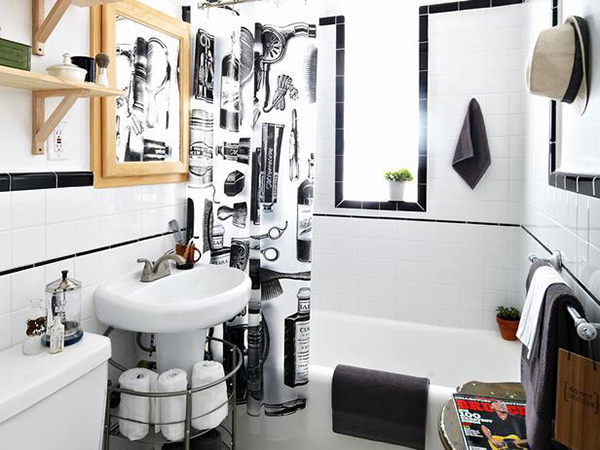 This is what a fun male bath bathroom would look like if you apply a Barber shop theme. It looks like a merge of modern and vintage design.
Fun, cool and somehow colorful – these bathroom decors surely made my day, I hope it does to you too. Seeing a list on how to decorate a bathroom gives a great idea for parents out there who are looking to redecorate the bathroom of their kids – check out the decors in each photo and see which ones could actually go well with the liking of your kids and matches what is already existing in your bathrooms.