20 Lovely Ideas for a Girls' Bathroom Decoration
With all the spaces and rooms inside the house, sometimes we overlook the bathroom – for some people; they just disregard this space because they feel that all you do there is take a bath and you know that else – but then again, it is one part of the house that is always used. With that in mind, I remembered someone who made sure that his bathroom is the prettiest place in his house aside from his bedroom.
Below is a list of bathrooms for your teenage girl. This is a list with tons of pinks involved in it, plus tons of floral, beads, cabinets, glass and a lot of class! Go ahead and check out the list below because we are pretty sure any teenage girl would love to have one bathroom just like the ones below – I mean, I want one too, you know.
1. Chelsea Town House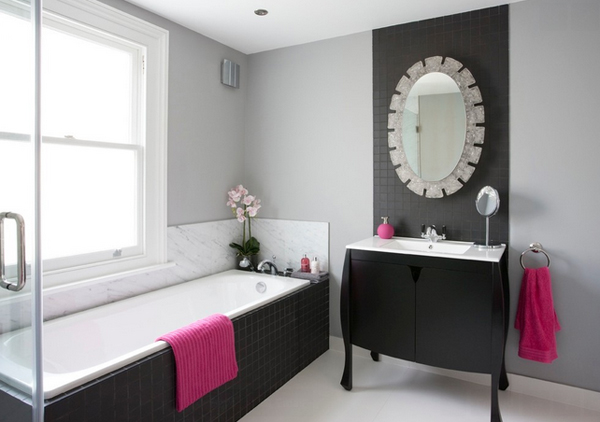 A 1970's German illuminating vanity mirror adds originality to this classic London bathroom.
2. Contemporary Pink Glitter Bathroom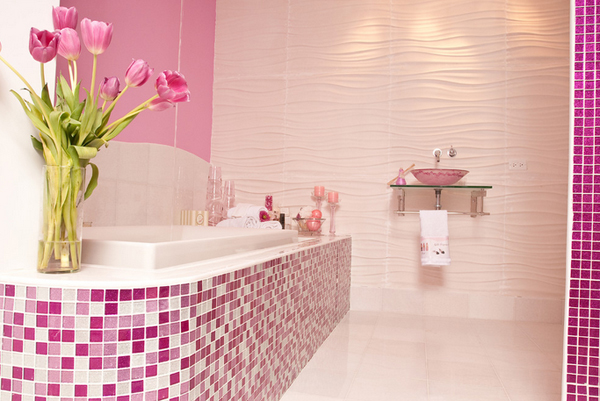 Sparkly mosaic tiles reflect light beautifully and add a girly touch to this modern bath. Our glitter tile in shades of pink and white is custom blended by hand in our studio for a fun and unique look.
3. Detroit Lovely Bathroom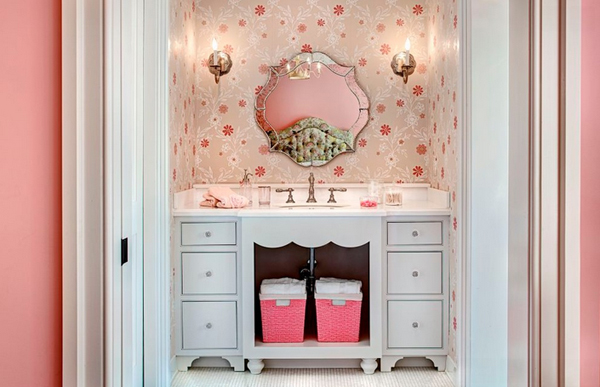 This is one stunning girls' bathroom but don't like open under sink.
4. East Edina Home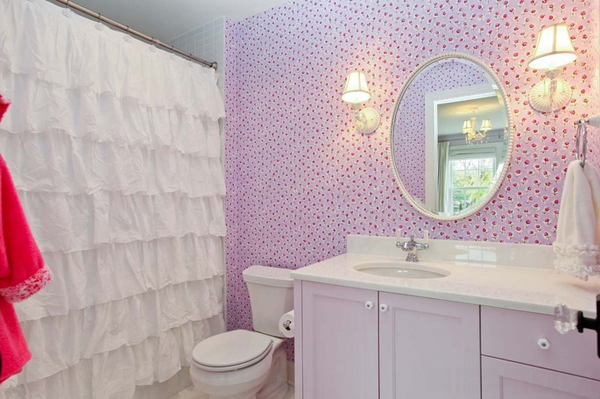 Like the purple cabinets and purple around mirrors.
5. Eclectic Bathroom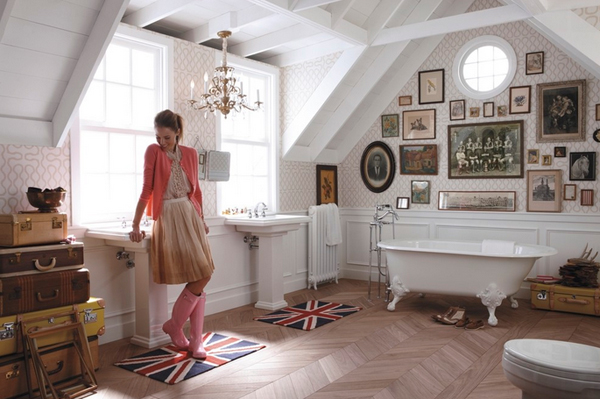 A gallery wall and antique chandelier add an eclectic edge to an otherwise traditional bath.
6. Gatesville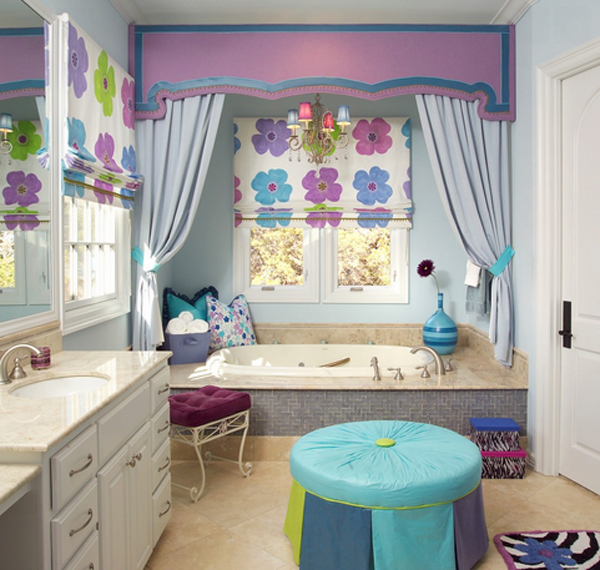 Cute shower curtain idea for a kids bathroom.
7. Girly Girl Bathroom Remodel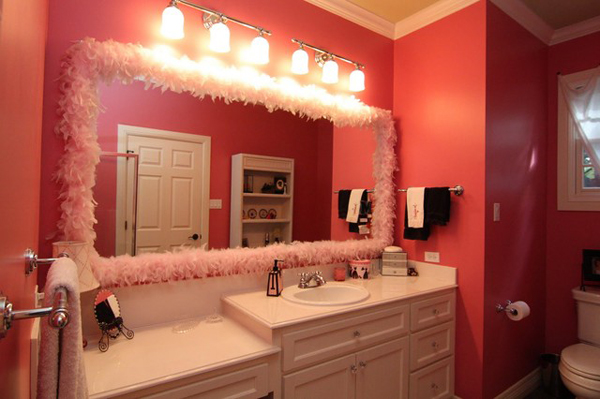 Young girls like their bathroom to reflect their personalities as well. Here is the vanity for a young girl in Austin, TX.
8. Mediterranean Teenage Girl's Bathroom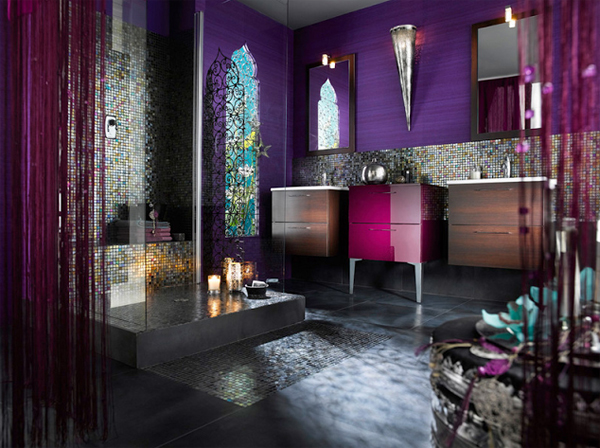 I like the idea of two sinks in one bathroom for teenage girls to share.
9. Minneapolis Light Pink Bath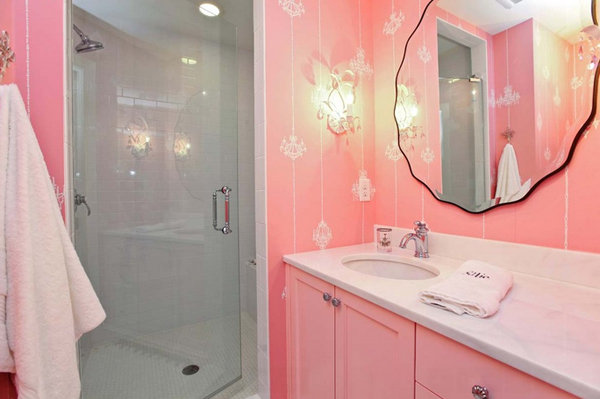 Go ahead and paint your bathroom cabinets pink. Use a slightly darker shade on the walls for a monochromatic look.
10. Modern Bathroom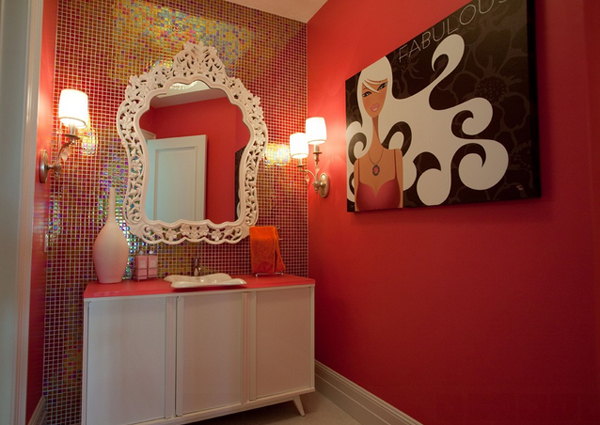 Get glamorous with an accent wall done in iridescent tile. Complement it with sophisticated bold shade topped with white trim to brighten the space. You'll never leave your bathroom feeling anything less than red-carpet worthy.
11. New Springville Residence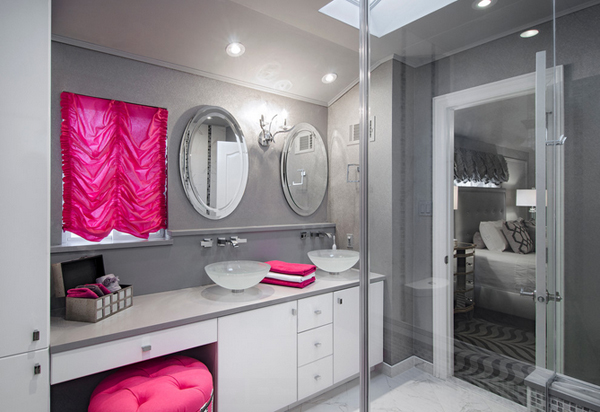 I love everything inside this bathroom except the grey walls – it looks so sad at some point.
12. Orange County Eclectic Bathroom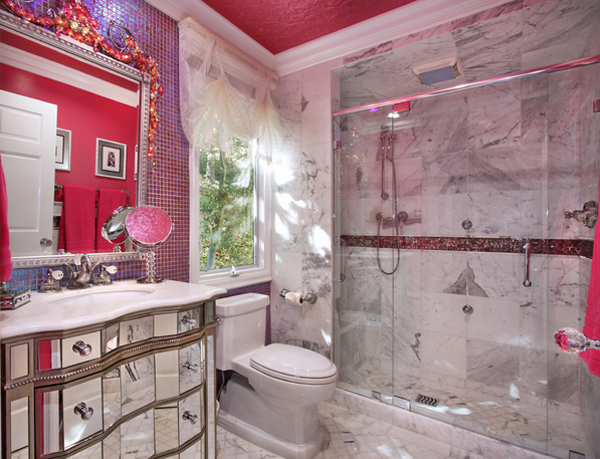 Like the color and painting the ceiling dark looks good!
13. Palo Alto Residence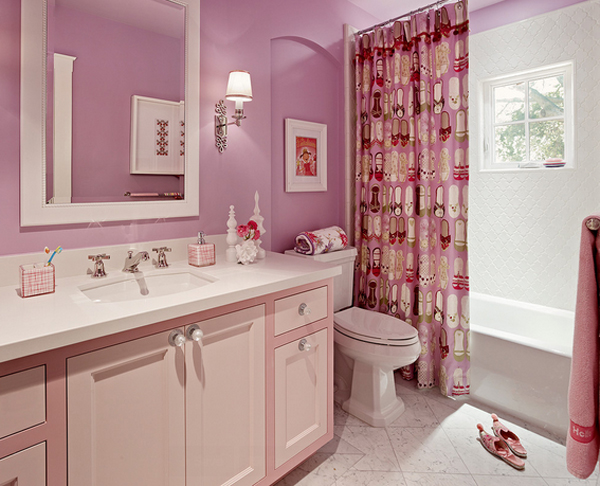 This San Francisco bathroom features a custom shower curtain and vanity; what do you think about the cute sconce beside the mirror?
14. Redfern Residence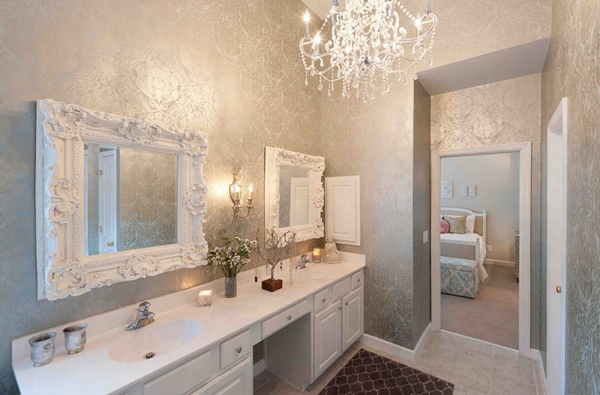 Foil wallpaper. Happenin' rooms from the era also embraced the metallic look in wall coverings. Today we appreciate the way these coverings reflect the light and add glamour.
15. Teen Girls Bathroom Idea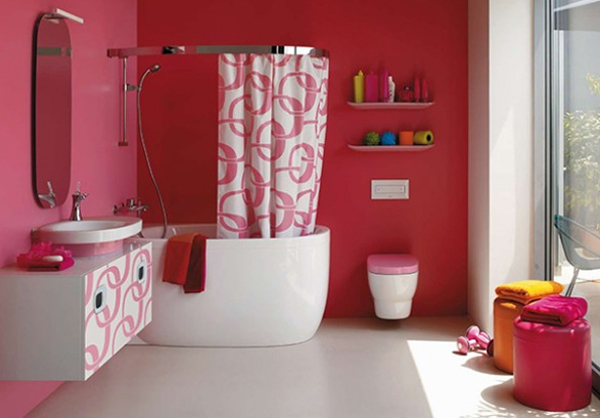 Don't you just love the look and the aura for this teenage girls' bathroom? The space is all pink and fun – this is one bathroom to beat!
16. Traditional Pink Bath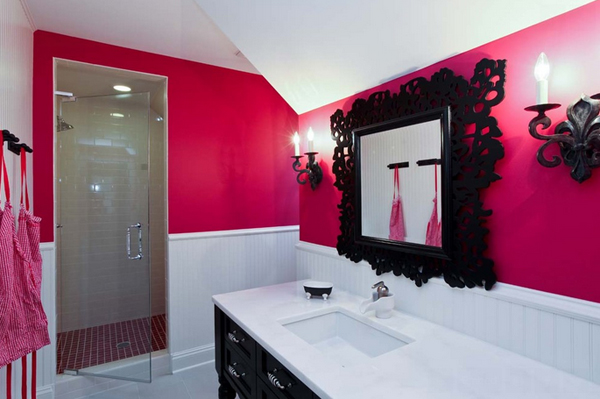 Using fuchsia can be frightening, but if you love pink, it's best to use a vibrant tone in rooms with very little sunlight. Pairing pink with black and white creates a very glam look.
17. Valentino Tiles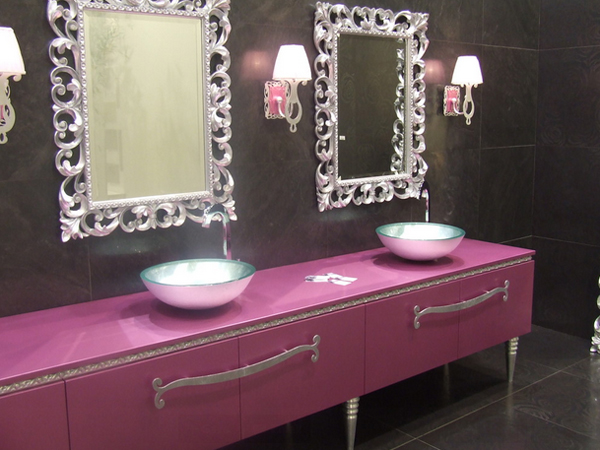 This bathroom makes an artistic fashion statement as part of the metallic trend. This is a very feminine look. Here's a similar ornate floral mirror.
18. Vintage Girly Bathroom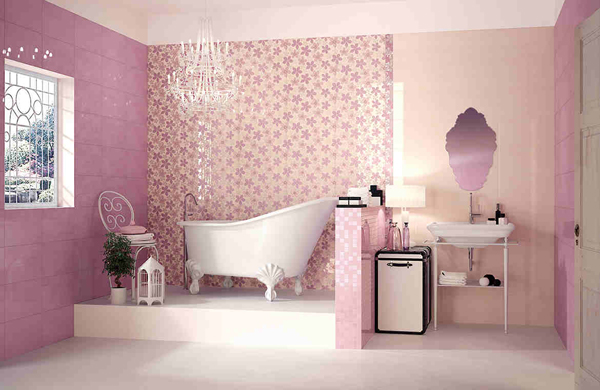 The vintage feel and look of this bathroom is just fancy and makes me feel like I'm I-G-G-Y!
19. Well-decorated Girl's Bathroom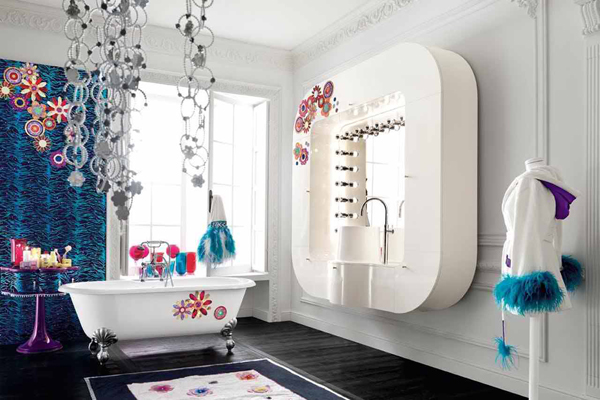 This bathroom's lavatory and vanity is unique and surely custom made for the teenage daughter of the house's owner.
20. Woodland Road West Girls Bathroom 2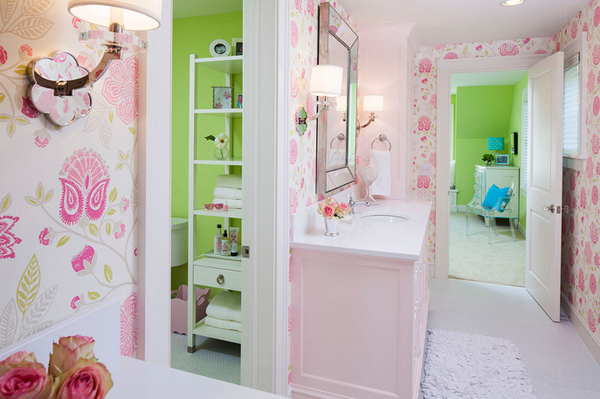 Don't you just love the wallpaper and pink cabinets with the white countertops with matching mirror and wall lights.
You might have some favorites in this list because I know I did – but for those of you who do not have teenage girls but likes the designs of one or some of the bathrooms here, you can always create a do-over with your existing bathroom like a change in the paint or wallpaper, or maybe update the cabinet or vanity in there. This list sure is enticing, we hope you liked it.