20 Creative Bathroom Wall Decals
Stickers or decals that you stick on your walls is one of the easiest ways to create a new look or a new feel to any space. When we check online wall decals, we usually see them on living room walls and bedrooms, but for today, we have a list that showcase an amazing line up of bathrooms wall with decals or stickers.
The designs below start from flowers, animals, plants, quotes and even cute robots – these are some of the designs that we see online or in magazines. Wall decals can either be stickers on the walls or painted. It is always an option for the client how he or she wants the decal. Let us go ahead and check out the list below and be amazed at the options we have in stored for you!
1. Black and White Animal Wall Decal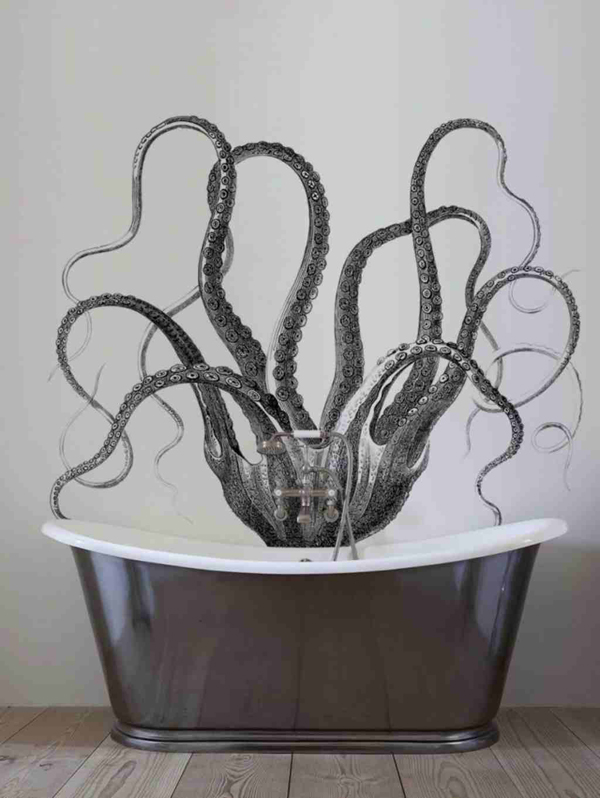 I'm not sure if this is actually creepy at some point, but it sure is interesting and crafty!
2. Bathroom Wall Decals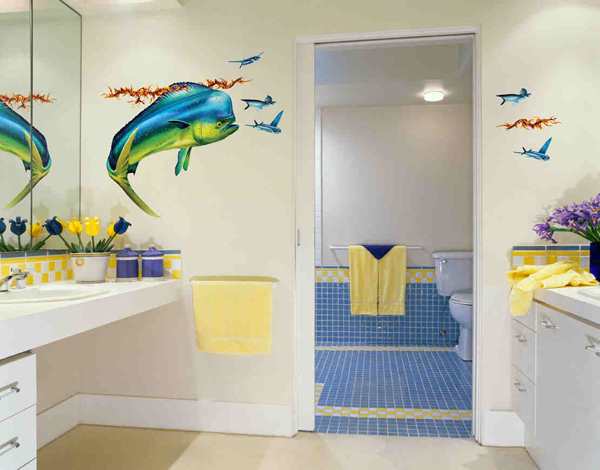 Stickers are great ways of adding beauty and creativity to anyone's spaces; just like the fishes pasted to the walls of this bathroom.
3. Butterflies Bathroom Wall Decals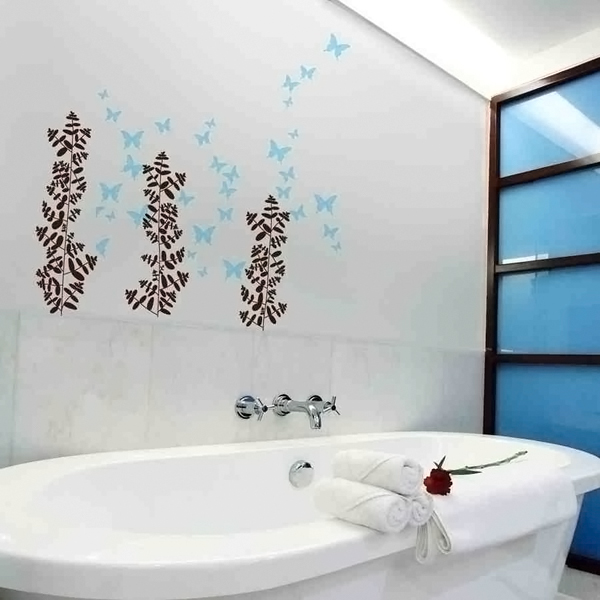 Pretty butterflies that accentuate the walls create a slight natural feel to this bathroom.
4. Habitat Wall Decals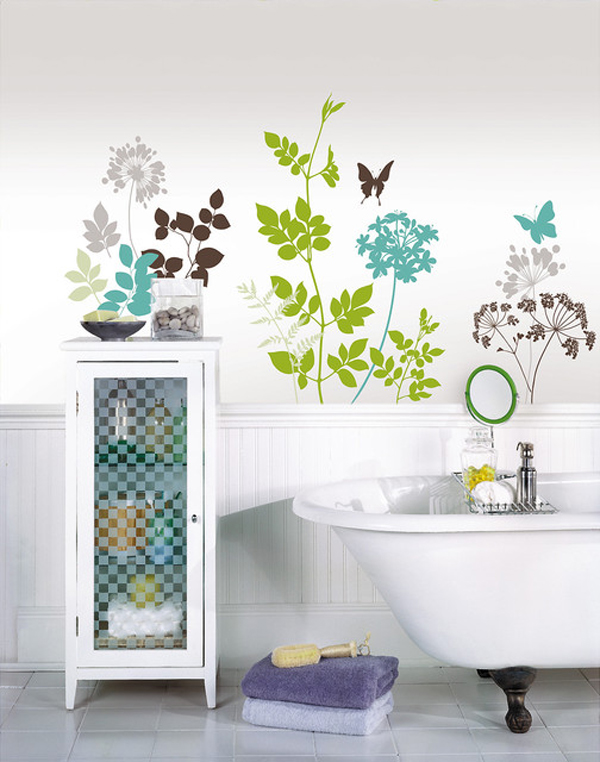 This decals look stunning and hand-painted. Lovely right?
5. Quirk Appeal Inside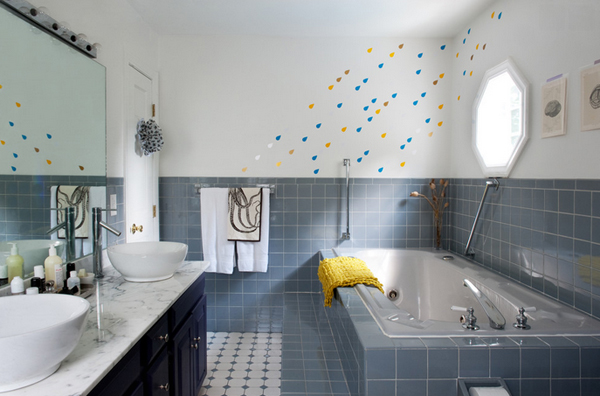 Raindrop decals add whimsy, color and movement to the master bath. "The diagonal patterns help break up an otherwise sterile corner.
6. Seattle Contemporary Bathroom
The wall mounted vanity is visually lighter than a traditional vanity and makes the room feel larger. And we can't forget the giraffe – a fun and colorful accent for a true animal lover!
7. Top Floor Bathroom Addition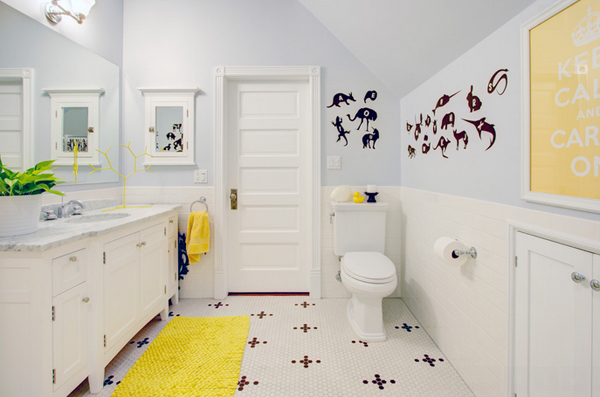 Tile floor and walls; single vanity; color scheme – super stunning!
8. United States Bathroom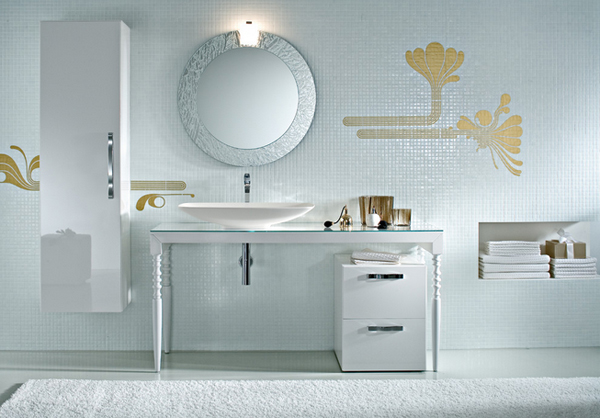 I like the round contemporary mirror above the bathroom sink.
9. Whale Bathroom Vinyl Wall Sticker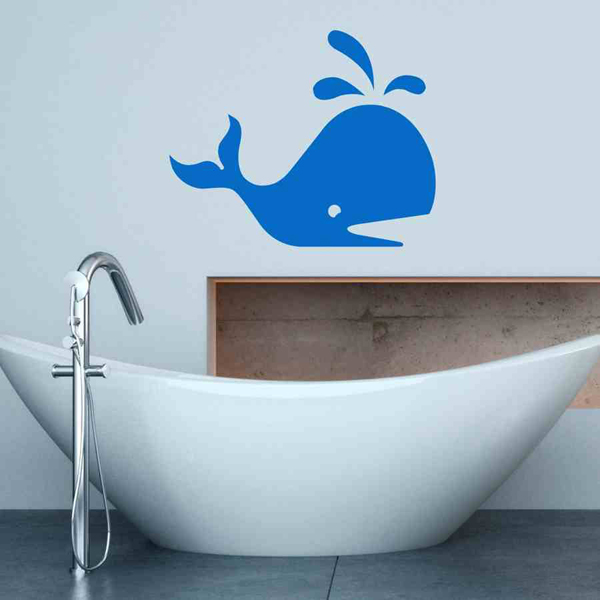 Cute dolphin for a contemporary bathroom; reminds me of Moby Dick!
10. Ocean Animals Art Stickers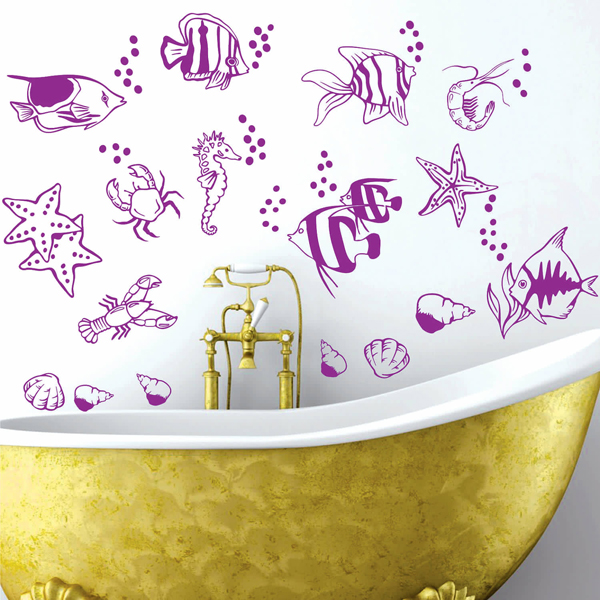 In this picture, we see a lovely tub and a stunning background of violet-colored underwater elements!
11. Bathroom Ducks Vinyl Wall Sticker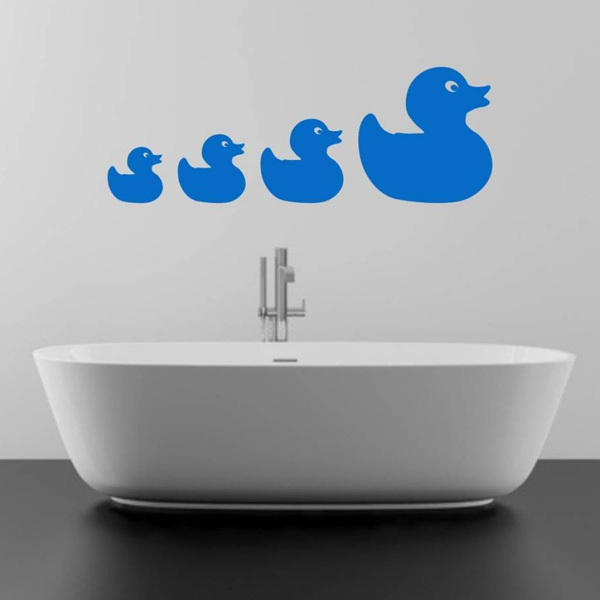 Who says you can't add duckies on the wall?
12. Portobello Residence, Dublin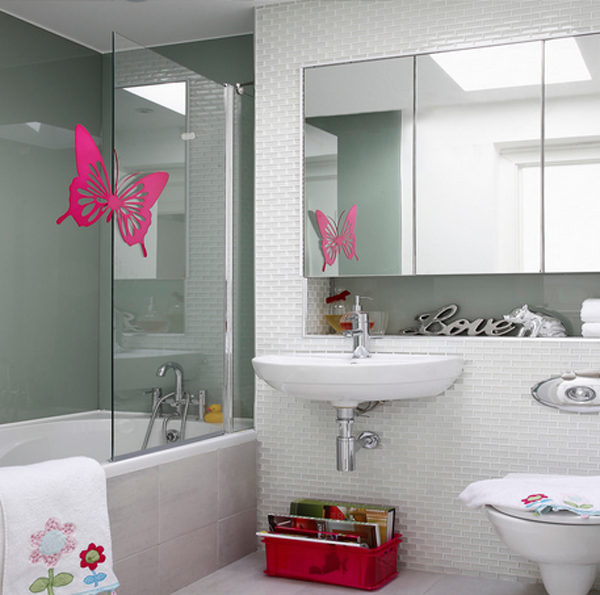 The same colored glass from the kitchen, this time in a subtle gray, covers the walls of this shower. The hard-wearing material not only adds color but also reflects light.
13. Creative Wall Stickers Idea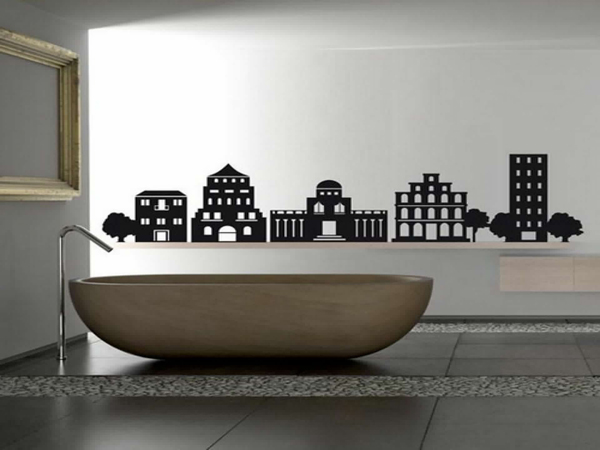 Interesting building decals stuck to the wall. The home owner might be an Architect, Engineer or maybe a traveler.
14. Fish Bathroom Wall Stickers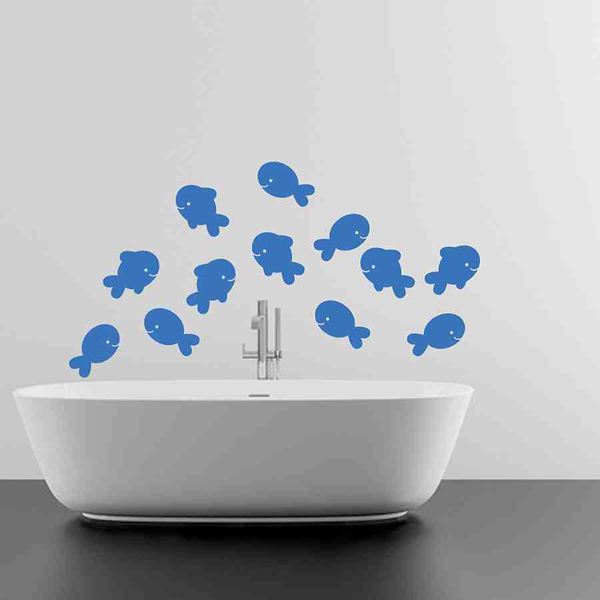 Here are cartoon-ish versions of fishes placed on the wall.
15. Fishy Dolphins Wall Stickers Bathroom Wall Art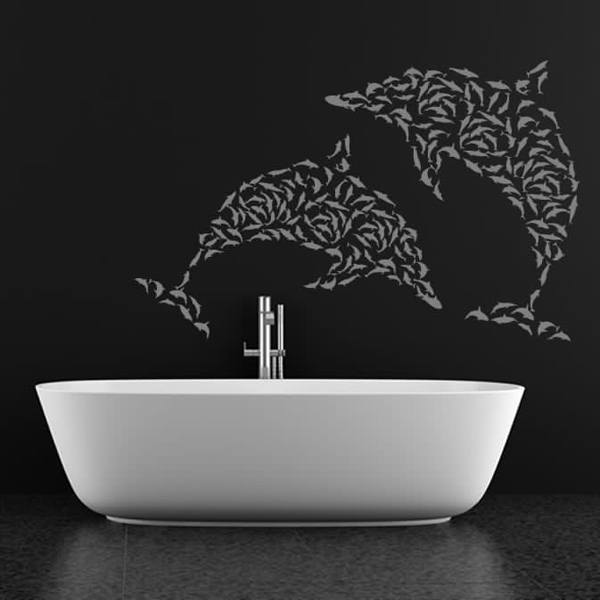 Charming wall decal of fishes that come together to look like dolphins!
16. Tentacles Vinyl Wall Decal Sticker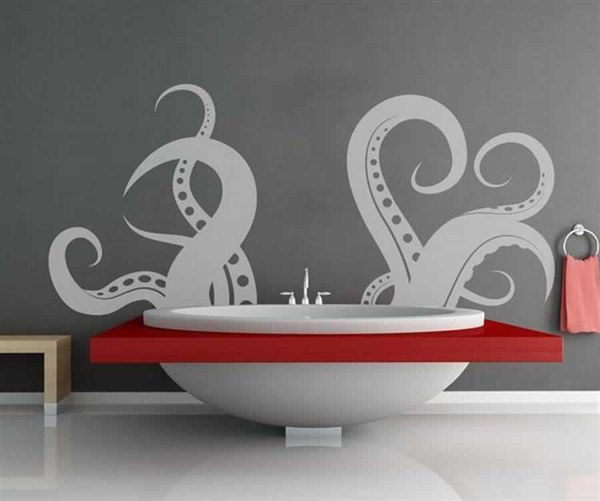 I'm not sure about you but this wall decal is sure interesting and unique.
17. Under the Sea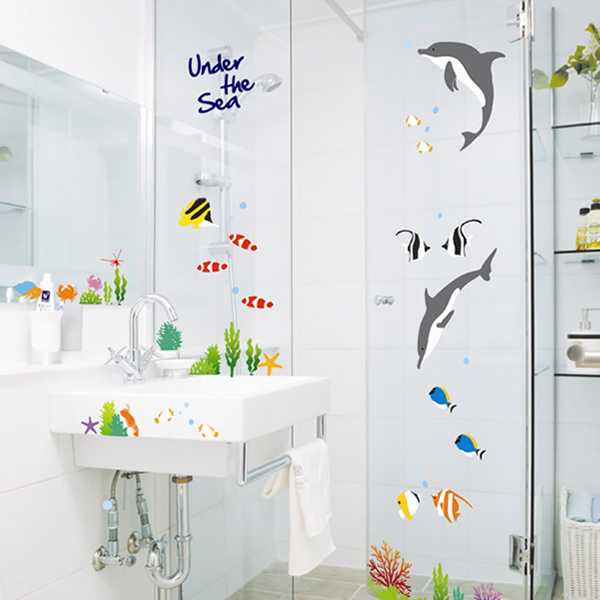 Look at all the colorful fishes you can see in this bathroom!
18. Suburban DC – Cahill Residence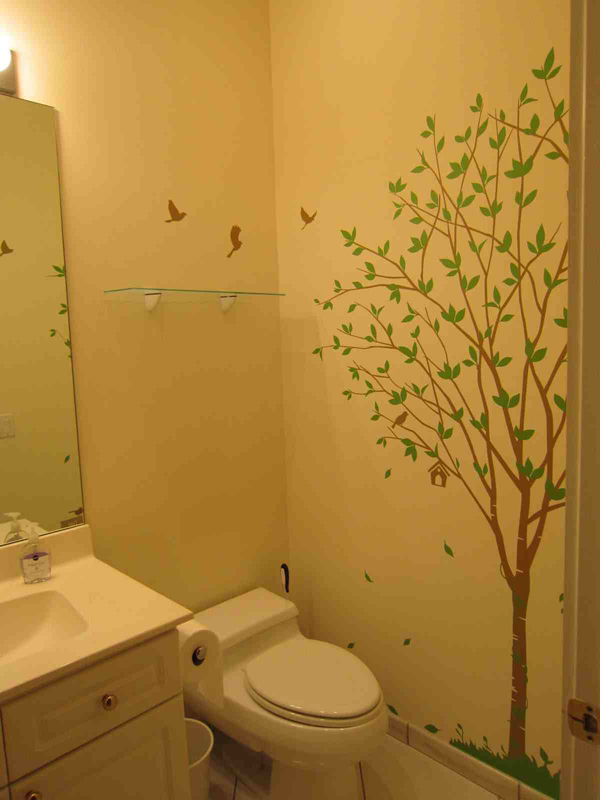 Fun and cute wall decals of a tree and a few birds.
19. White Flower Vase Wall Sticker Above A Rolltop Bathtub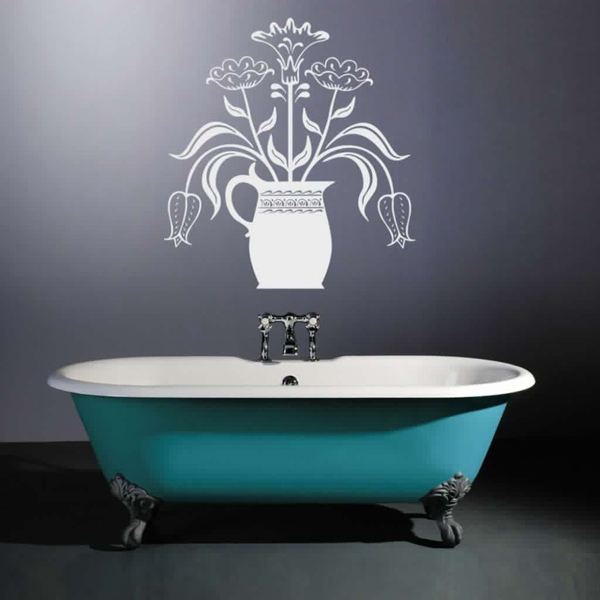 This is one awesome flower vase filled with flowers atop a vintage-looking tub – love the color of the wall and the tub!
20. Crab Silhouette Bathroom Wall Sticker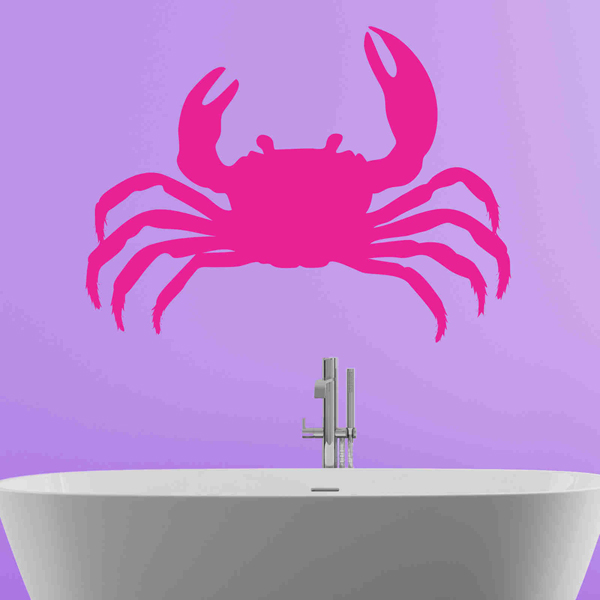 Talk about favorites! The owner of this bathroom seems to love crabs since they stuck one whole piece of crab on the wall.
This list is indeed fun and is basically a source for creativity and an inspiration for more of the artistic liking of both the clients and the designers or the decorators. It all boils down to what the client wants and how they want it done, there are tons of examples we can see online that will be useful if you decide to add wall decals on your bathrooms!