SOL House: Appealing Modern Home Design in Germany
A sleek modern home with a spacious garden and a pool.
I know that you have seen so many modern homes already of various designs. Some have elaborate use of geometric lines while others merely look simple. But in whatever way they use it, they still look amazing, impressive and attractive which makes us want to have a home of our own. We are even more inspired when we see a beautiful house that seems to be the perfect picture of our dream home. But then, you might end up confused of what you want for a home when you see many other house designs that looks really beautiful and of course, very functional too. With that, we have another modern home to add to your list of inspiration.
Aside from the exterior, this house designed by Alexander Brenner Architects also has a gorgeous interior and garden which all have a modern design. The house is called SOL House located in Stuttgart, Germany. The house has three levels and a pool in the rear area. It has a spacious garden too with tall trees of various types. In the interior, it used white paint to make it look even more relaxing, neat and cozy. For sure, this is what we all want for a home. Even the choice of furniture is very beautiful too and added more visual appeal to the interior of the house. We can take a look at the house design below.
Location: Stuttgart, Germany
Designer: Alexander Brenner Architects
Style: Modern
Number of Levels: Three-storey
Unique feature: A modern three-storey home with a beautiful relaxing interior, a spacious garden, geometric pool and sleek lines for the exterior.
Similar House: Not An Ordinary Modern House: La Jolla Residence in LA, California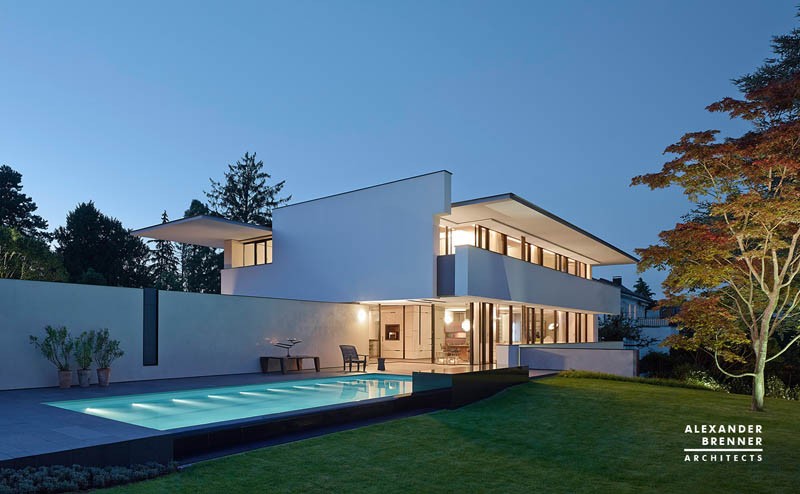 The house made use of sleek geometric lines for the exterior. It looks even more beautiful because of its white color. It appears simple but lavish. The house also features a modern pool with dramatic pool lights that made it look more inviting.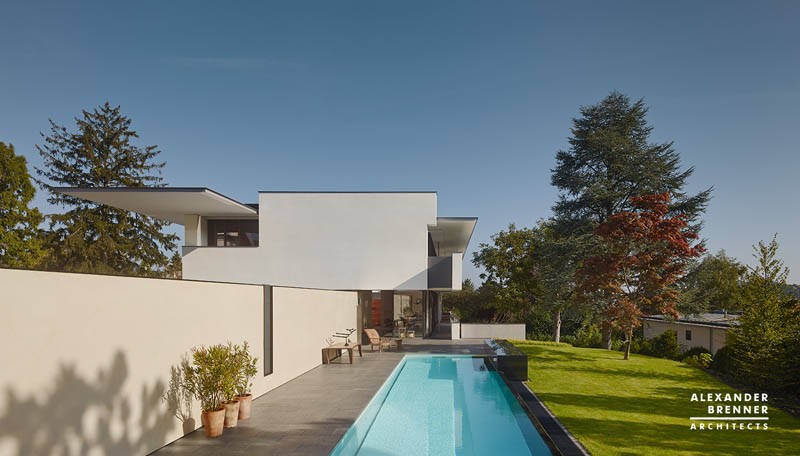 The outdoor area of the house has a pool with a rectangular shape. You can see the steps of the pool inside it with blue floor tiles. Around the deck of the pool are potted plants and a lounge chair. Aside from that, the garden has green lawn and tall trees of various species.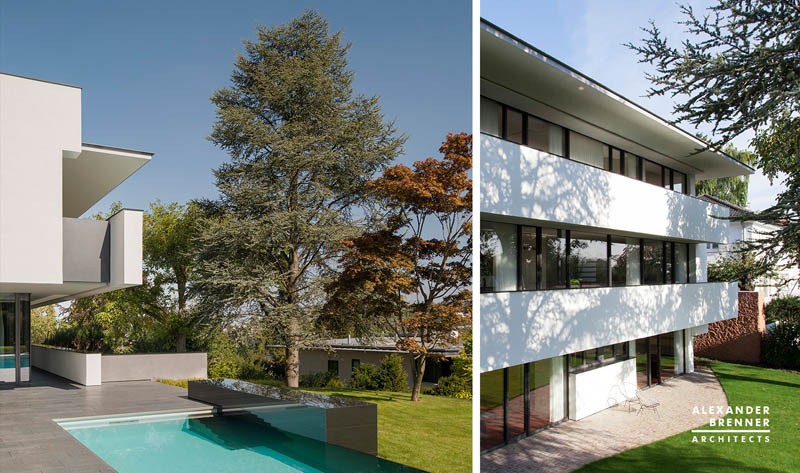 Another look at the pool area which is elevated from the ground. It is actually an above ground modern pool. On the other photo, you can see the lawn and how the ground area near the building was landscaped with stones.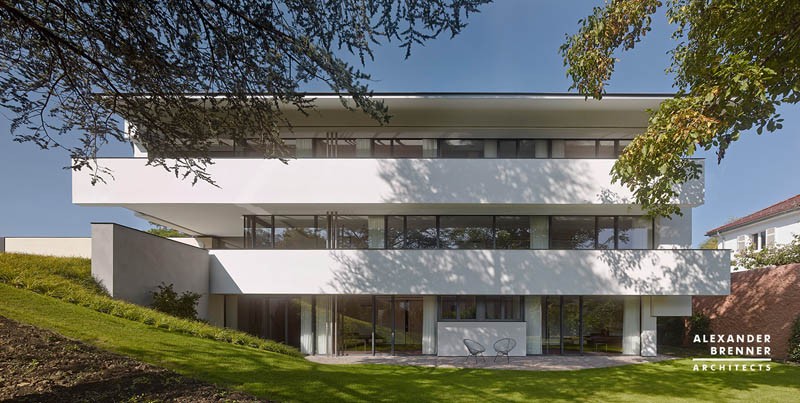 On the other side of the house are sleek lines for the exterior which used glass windows and doors that allow the entry of natural light into it. At first, it might make you think that you are looking at a commercial space but you are actually looking at a residential building with a modern design. The house does look very quiet and serene.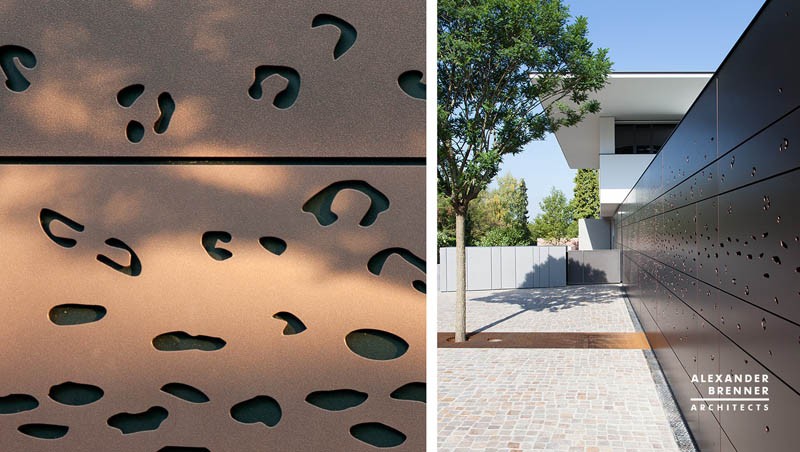 In the facade of the house, there is this area with a steel fence. The fence has holes that mimic that of a leopard print. Isn't it nice? On the ground, there are stone pavers that cover it. You can also notice that corten steel lines the ground too where a tree grows.
Read Also: Casa MM: A Modern House with An Inviting Pool in Brazil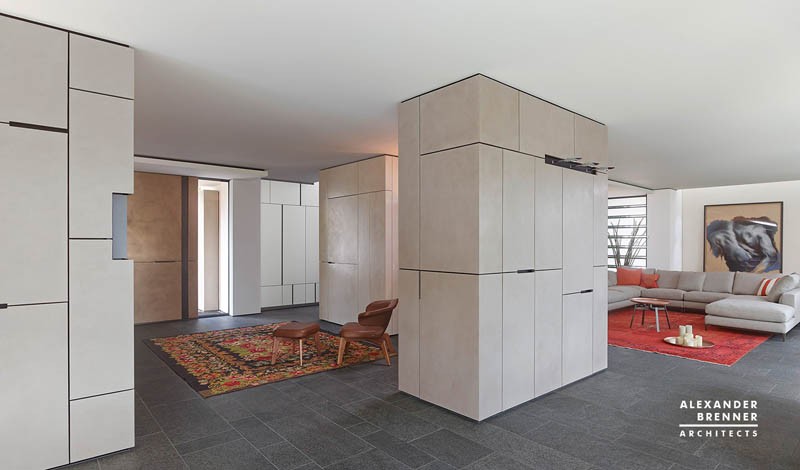 The interior of the house has many storage areas and blocks which is one unique feature of the home. You can notice many blocks here with doors that open to storage areas or hidden equipment. Aside from the blocks, there are pops of colors seen from the area rugs and furniture too.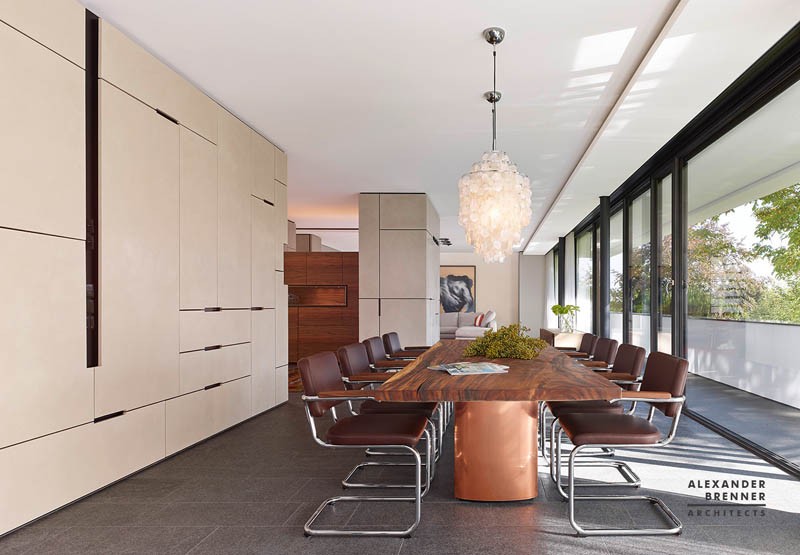 This is the dining area with a wooden dining table equipped with a corten steel base. The combination looks very sophisticated. What surrounds the dining table are dining chairs that are upholstered and has steel legs and frames. Above the table is a chandelier crystal that looks very luxurious.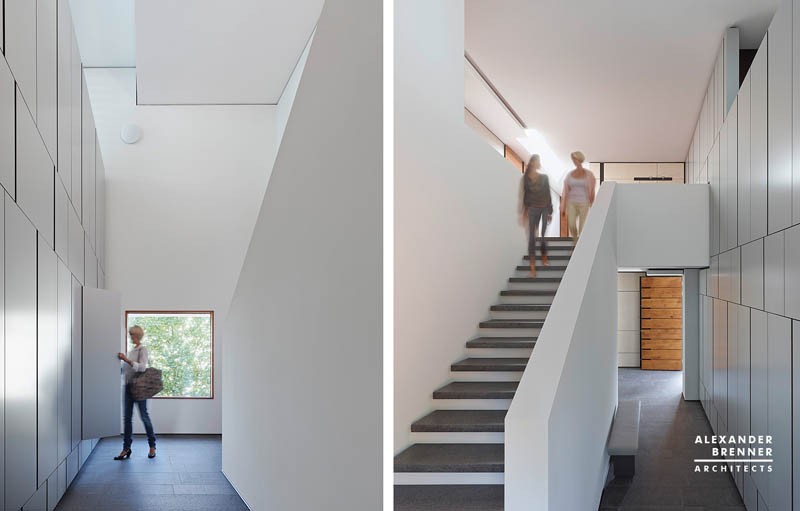 You can see here that there are even more storage spaces all around. It is like a home with cabinets in every corner. You can also see here the staircase with gray treads. Apart from that, there are windows everywhere too, even on the upper area.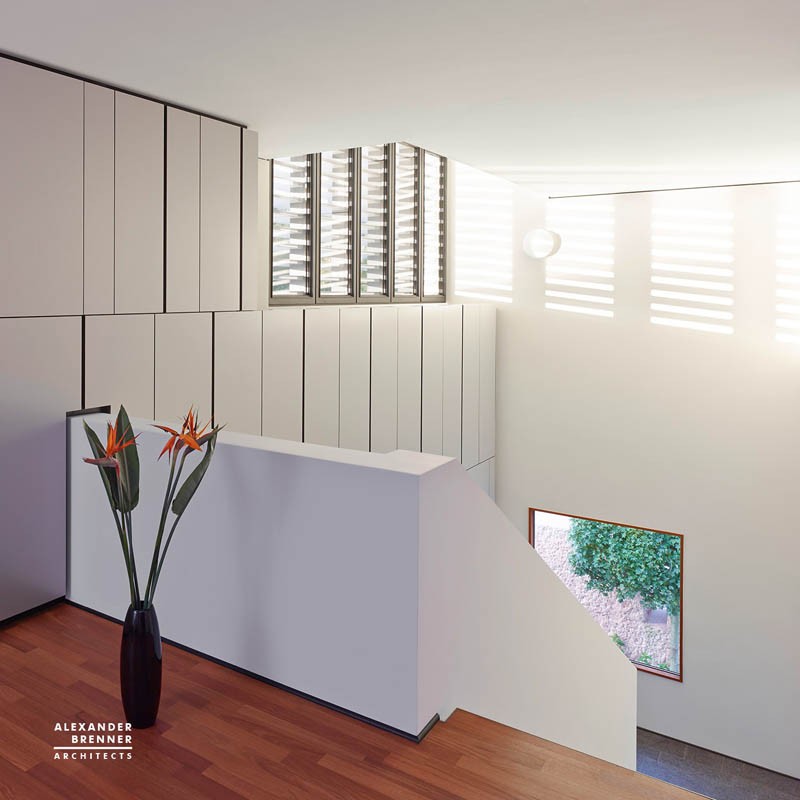 This is the landing from the lower level. Instead of adding furniture or crowding the space, a plant was added here. To make it appear like there are still doors on the walls, the design was done this way. Wooden laminated flooring was used here too.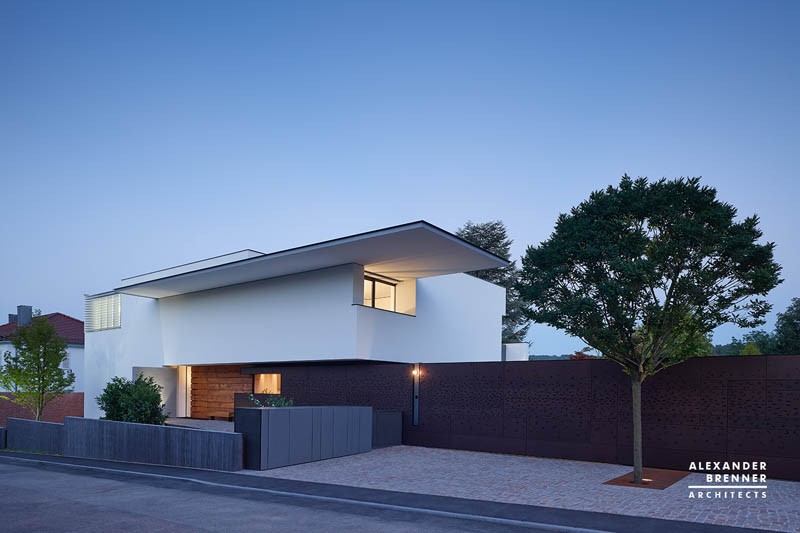 The facade of the house looks different with more creative play of shapes. It also combines various textures too from stone brick walls to steel with holes on it and a neat white exterior finish. Notice the design of the fence used here as well.
Isn't this a beautiful modern home? From the exterior, it looks really neat as it played with geometric lines and colors. Aside from that, it also made use of the lot are really well by allocating a space for the garden which is a good idea so that people can still be able to bond with nature even if they are in a modern space. It actually completes a good way of living if there are plants and trees around. This house is designed by Alexander Brenner Architects who successfully made a home that suits the needs of the family who owns it. One good feature it has is the glass windows around it that allows light to enter the house in every corner of it. What can you say about this home?