Not An Ordinary Modern House: La Jolla Residence in LA, California
We know you are not tired of seeing modern homes. We aren't tired of them too. As a matter of fact, they look even more inspiring from time to time because each house design has a different approach despite dwelling on the same architectural and interior design style. So, we are going to give you another staggering house design today.
La Jolla Residence is located in Los Angeles, California. This private modern residence has a design that may look a bit simple but has subtle sophistication in it both from the exterior and the interior. We are talking about not just the materials used for the house or the furniture inside but everything about La Jolla. Take a look at the images and you will know what we mean.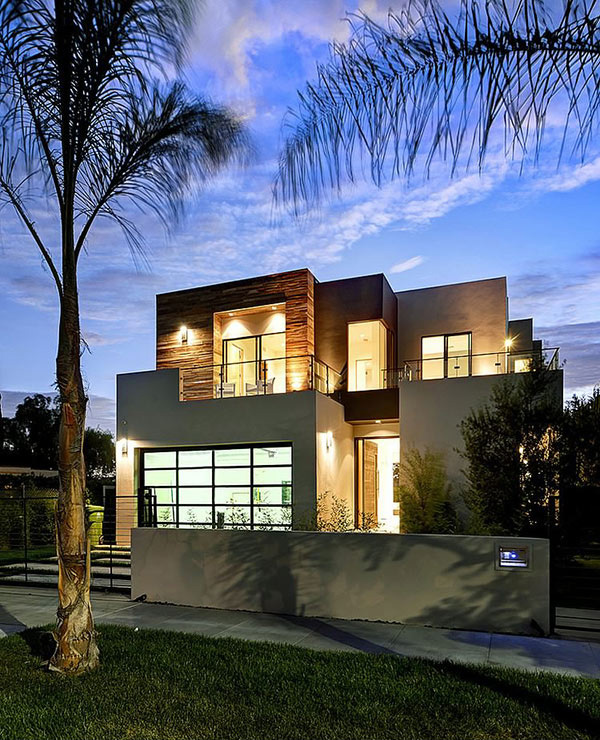 The house has this exterior with simple sleek lines in it. Notice how the designer creatively integrated a touch of nature with its choice of materials and the addition of plants.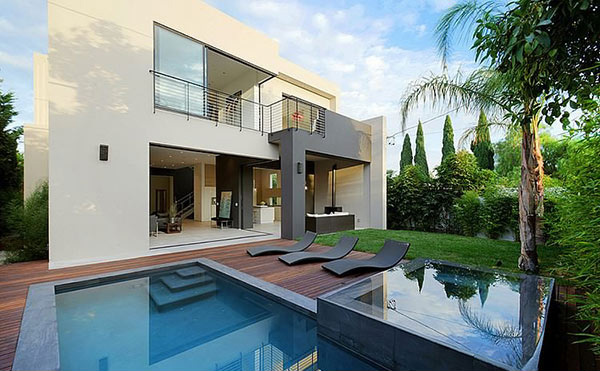 Once you are inside, you will be greeted by this small yet lovely pool area surrounded by lush greenery.
While in this living room, one will be able to get a good glimpse of the surrounding.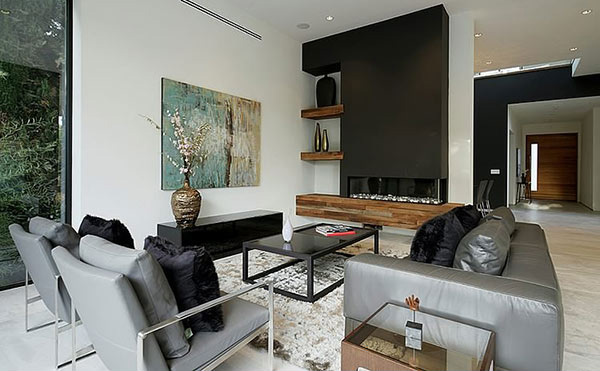 Modern furniture and accessories were also used in the interior like what you can see in the living room.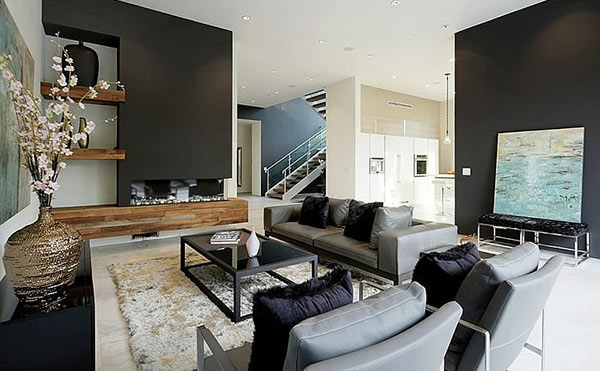 Pairing a black wall with that wall that contains creative shelving and fireplace is a good idea to add contrast to the space.
Transparent pendant lights were used for the kitchen area which looks pretty with the white surrounding.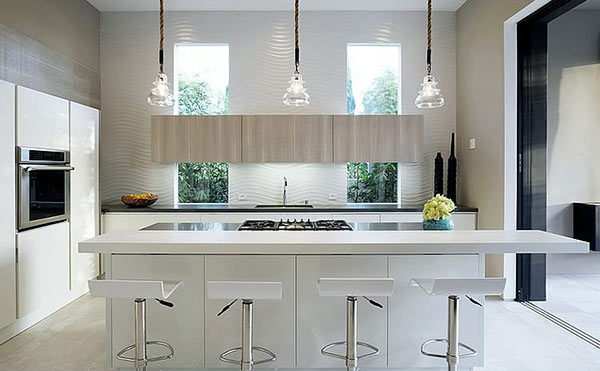 But what makes it even more dashing is the textured wall on one side of the kitchen.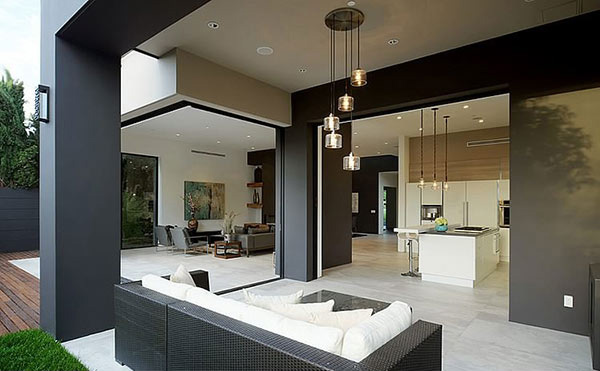 Just outside the kitchen is this area where the family can relax and unwind.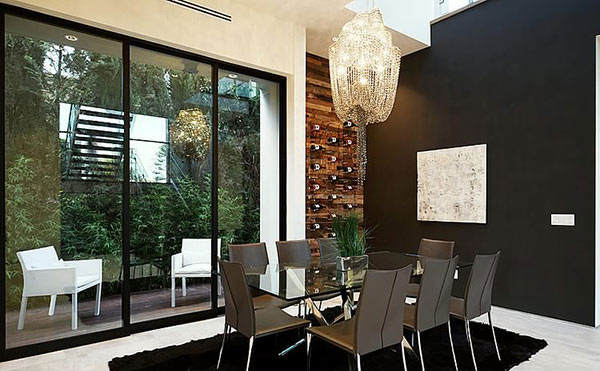 The dining room also has a black wall as well as black dining chairs and area rug. Note the wall with wooden panels that was converted into a wine rack.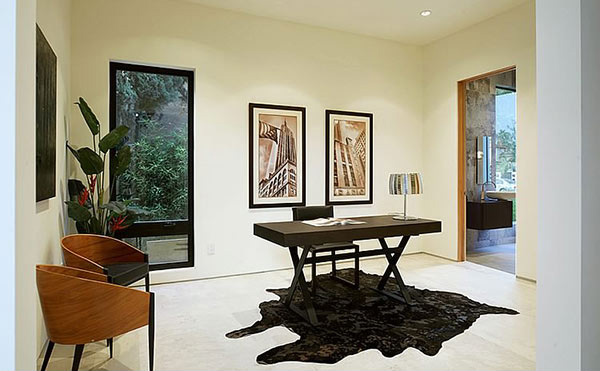 And there is an small working area or home office too with lovely wooden chairs and hints of black.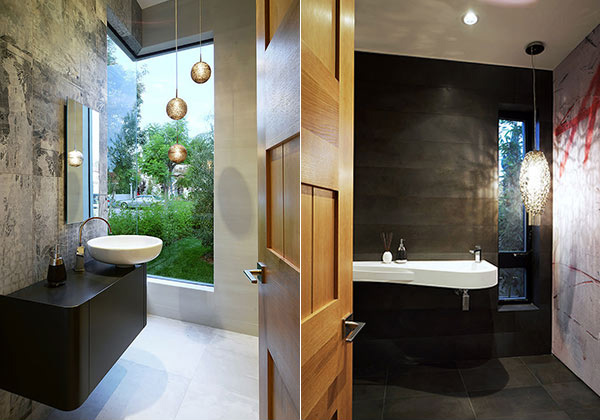 The bathroom is also in black with one artistic accent wall.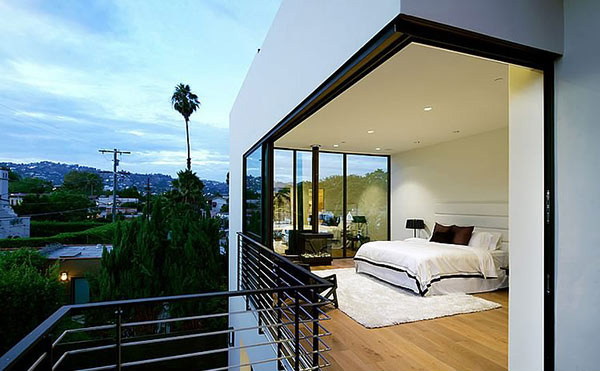 Bedrooms are found on the second level with terrace.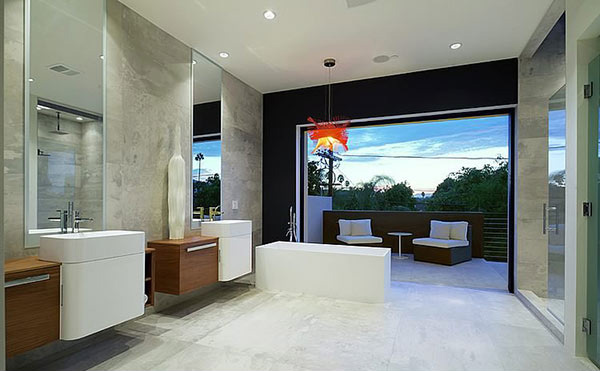 Aside from a terrace there is also a huge bathroom in gray.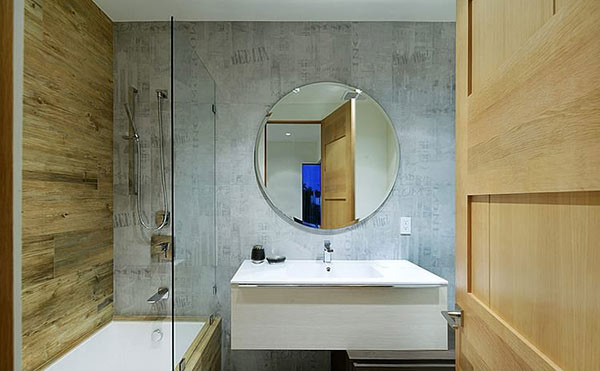 A closer look at the interior of the shower area with a vanity on the side. Note that wooden wall inside the closed shower area with a tub.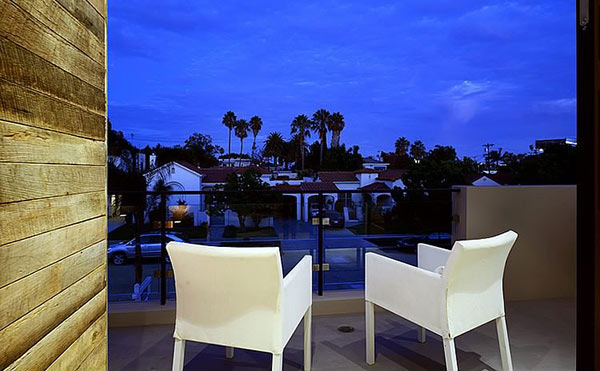 In this photo, we could see that from the upper level of the house is a view of the other neighboring homes which are as elegant as this!
We really like this house because even if it doesn't have a large space, it was able to add everything that the homeowners wanted like the pool area. Adeet Madan really did an awesome job to this house design. We also love the neutral colors and the bold black walls in the interior as well as the exterior. Overall, this is one house that we would certainly include in the list of our inspiration for our dream house!