Energy Efficient Ash House in Portland
A beautiful contemporary home with multiple energy-efficient features in it.
Aside from the design of the house, there is one thing that we need to look into that will make us even more proud of the homes that we live in and that is the sustainability and earth-friendly features of the house. Green architecture and engineering isn't practiced to most homes yet but this is actually possible especially if the home owners demand for it. We have seen many homes that use this feature and it always amaze me that a house can actually be more than just a home. This is what we will see in the house that we will feature today.
The home has multiple energy efficient solutions which combines it with this contemporary architecture and its high performance sustainable design. The Ash House in Portland, Oregon is designed by Hennebery Eddy Architects with many energy efficient inclusions, like radiant floor heating, a large dedicated solar panel area on the roof, and a geo-exchange heat pump. Aside from that, its architecture and interior design is also impressive. From the outside, you will see a stunning contemporary facade while inside is a well-designed layout with beautiful furniture. It also features a swimming pool area and an outdoor space where the family can spend time together. Let us look at the images of the house below.
Location: Portland, Oregon
Designer: Hennebery Eddy Architects
Style: Contemporary
Number of Levels: Two-storey
Unique feature: A beautiful contemporary house with wooden features inside it and a beautiful exterior has many energy efficient solution sin it like a geo-exchange heat pump, solar panels on the roof and a radiant floor heating.
Similar House: The Pond House at Ten Oaks Farm: Angled Sustainable and Energy-Efficient House in Louisiana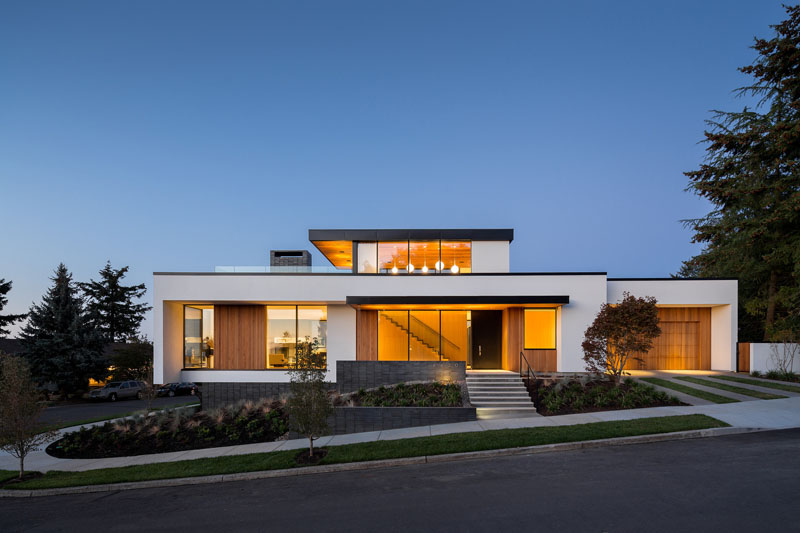 Isn't this a stunning facade? It sure is! Who wouldn't love its lines and shapes put together? Aside from that, the materials used are also beautiful and it has a beautiful landscaping that adds curb appeal.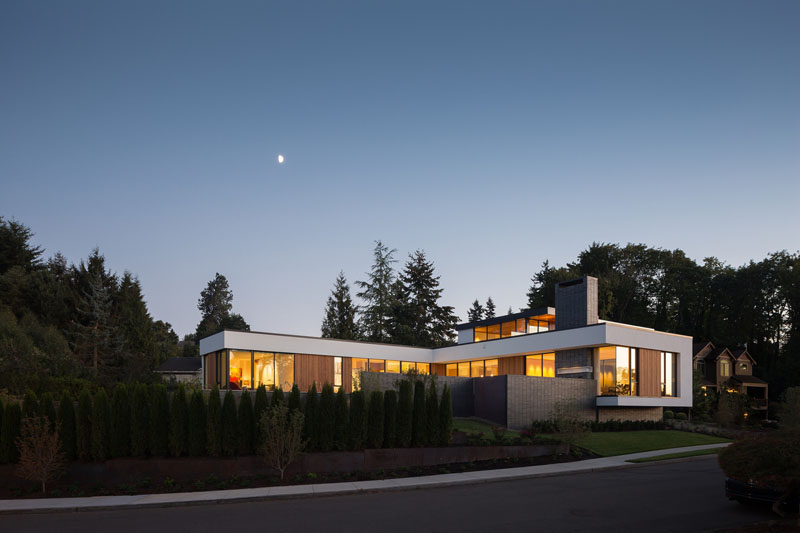 On the side of the house, it doesn't just have a concrete fencing but the fence is also covered with tall bushes which makes the home look more inviting.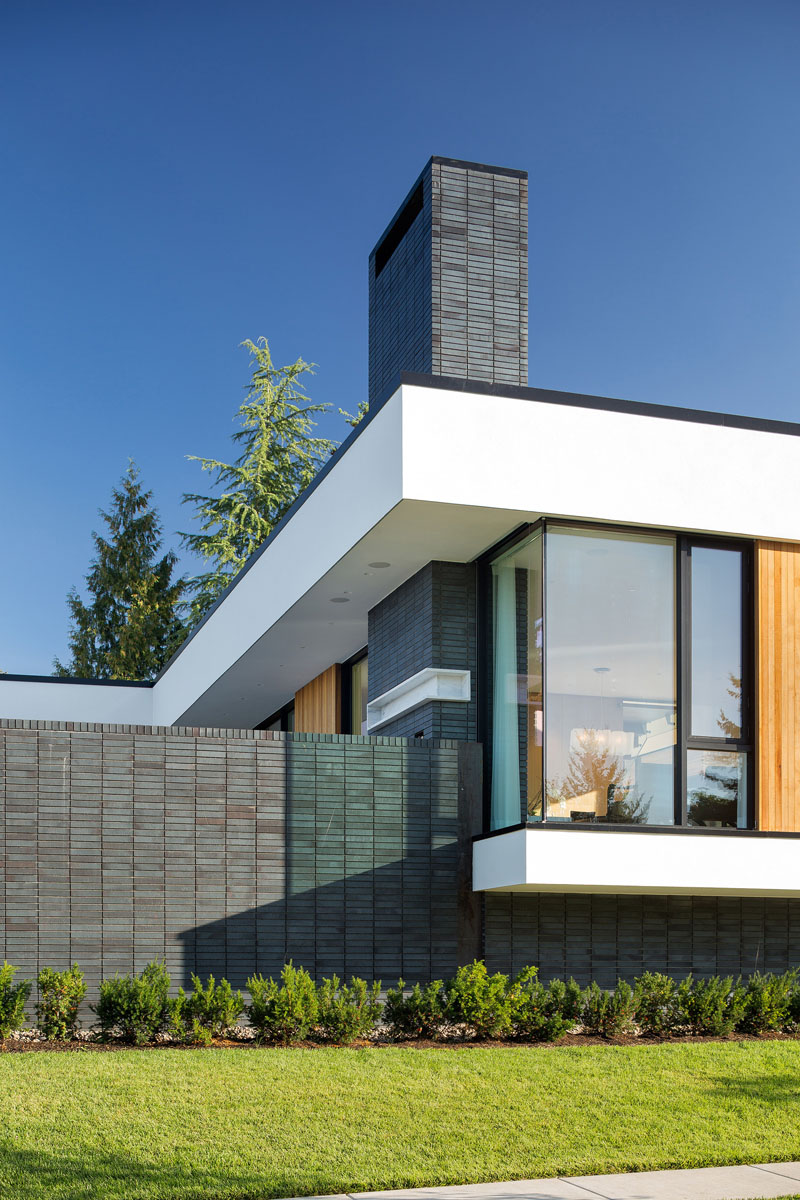 The home has been designed in a simple L-shaped plan, placing the main living and gathering spaces in a separate wing from guest and master bedroom spaces.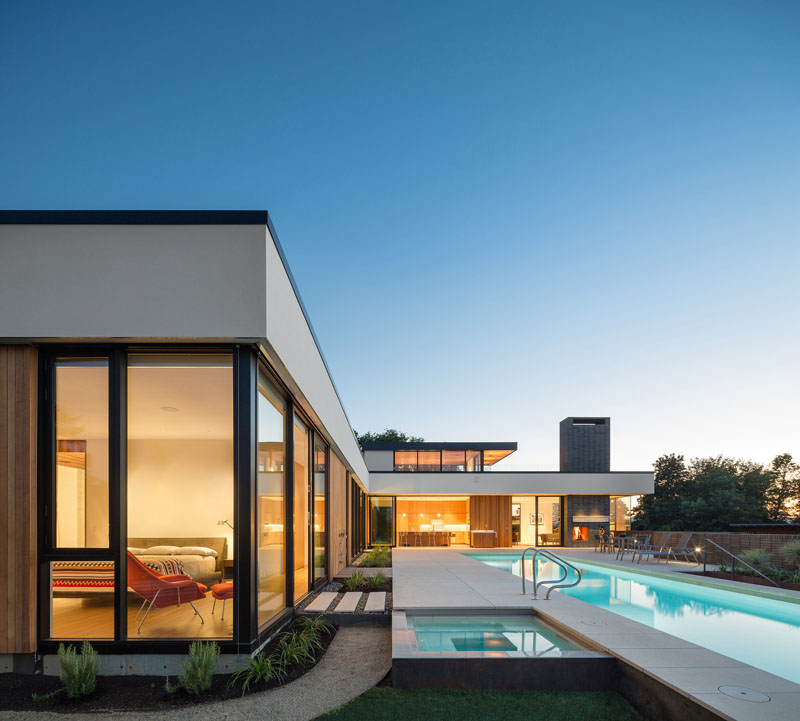 The home also has a pool area which is a great space for relaxing and entertaining guests. Around the pool area are plants for a more refreshing appeal.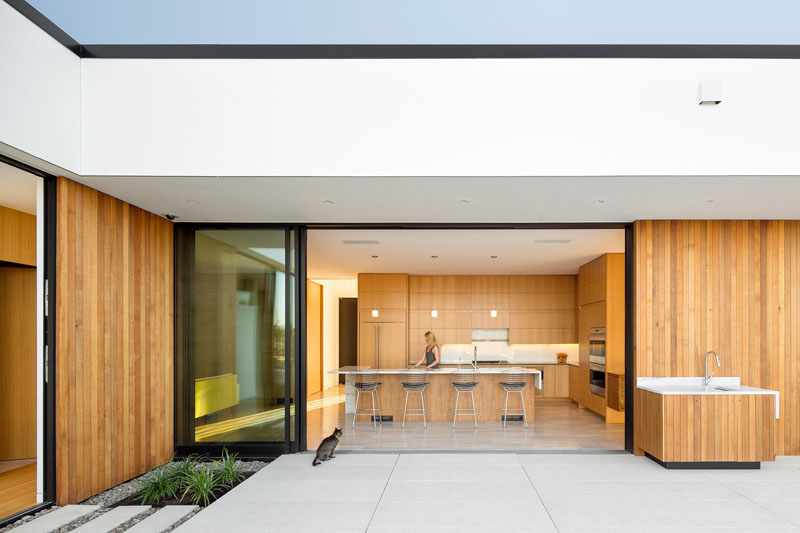 Just off the pool is the kitchen, with an island large enough to seat four people.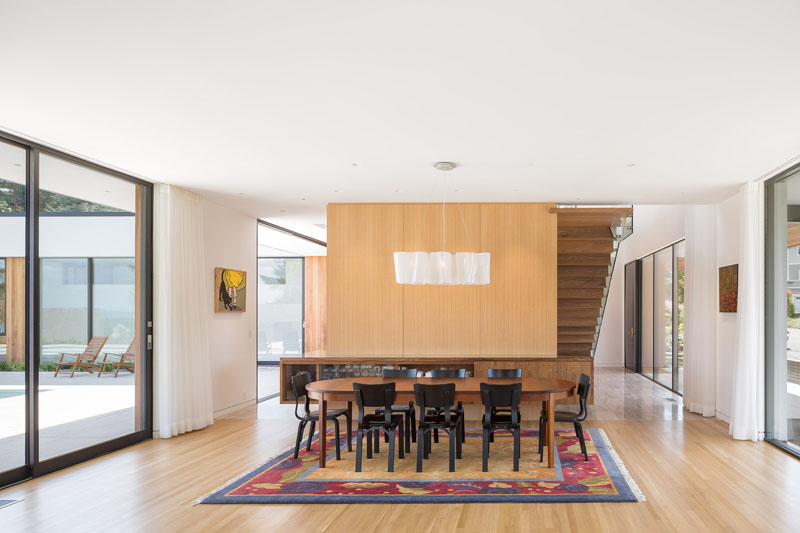 In the dining area, natural light floods the space from the windows on either side of the home.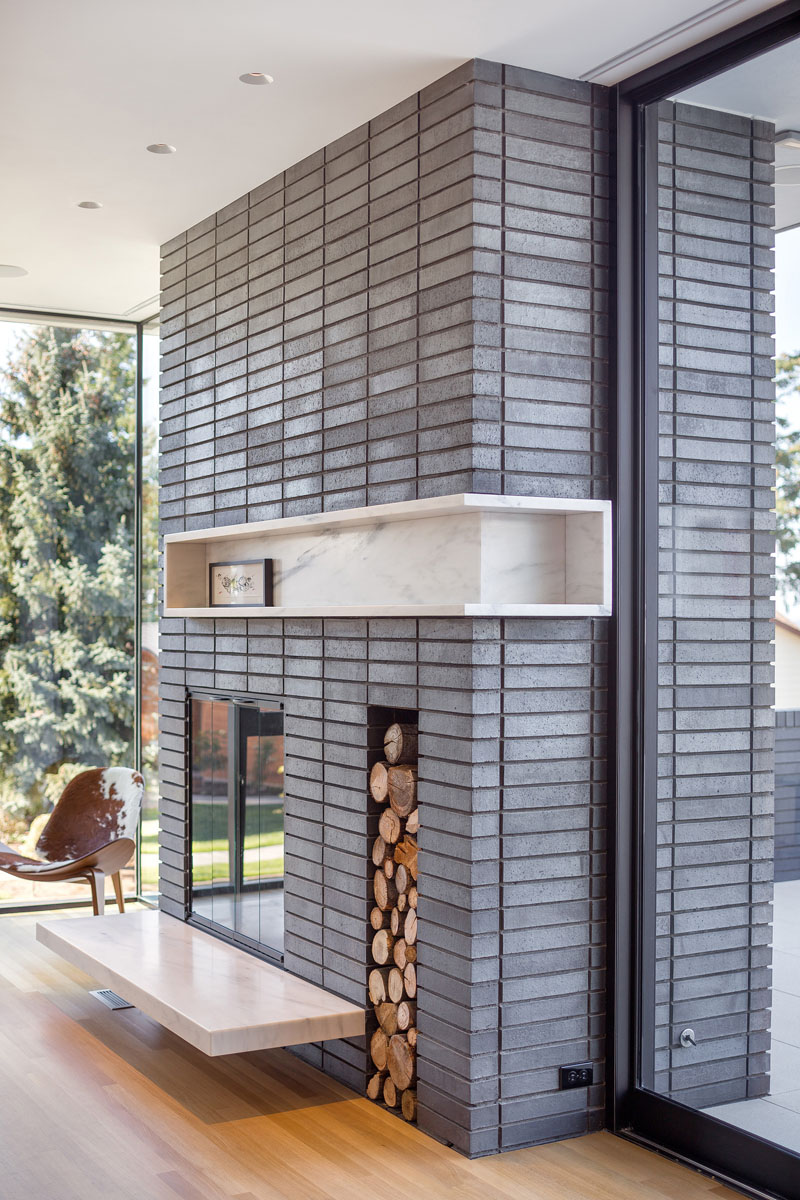 There's a large grey brick fireplace that can be enjoyed from the inside of the home, as well as from the outdoor area.
Read Also: Villa N: A Beautiful Sustainable Home in Italy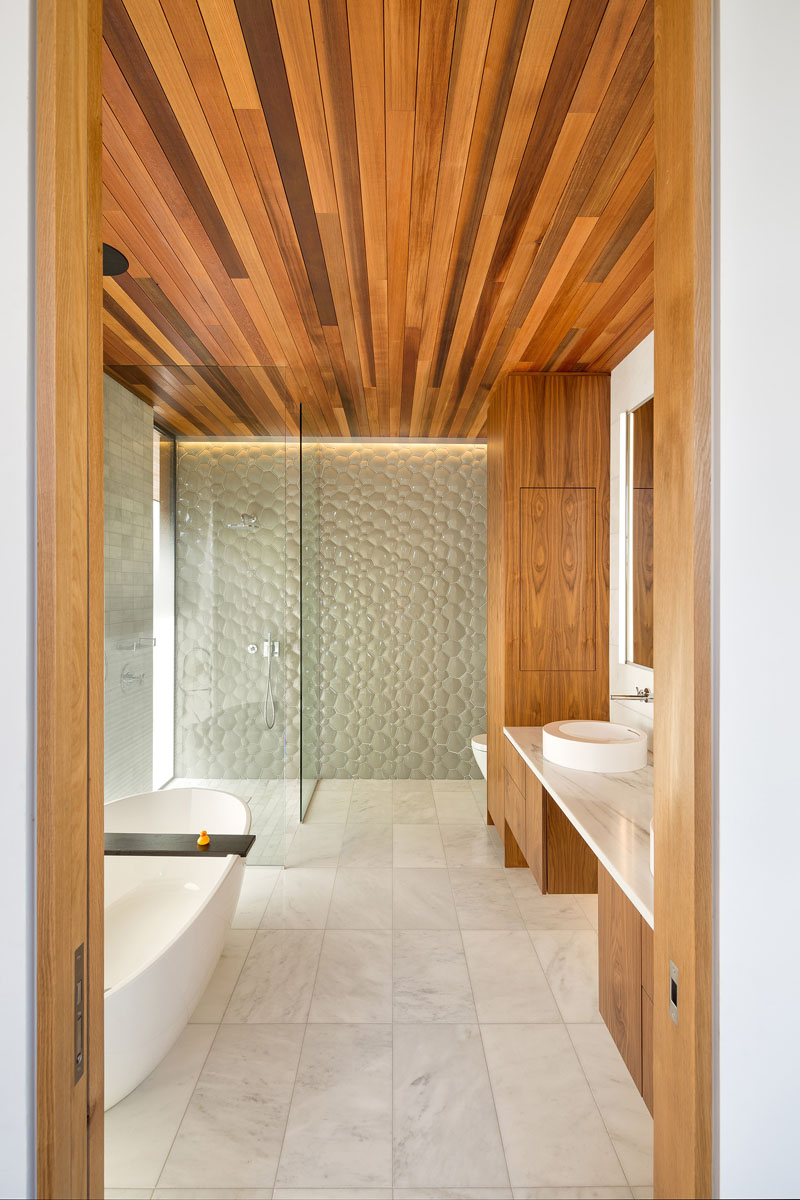 Wood, white marble, and playful glass tile have been used in the design of this bathroom.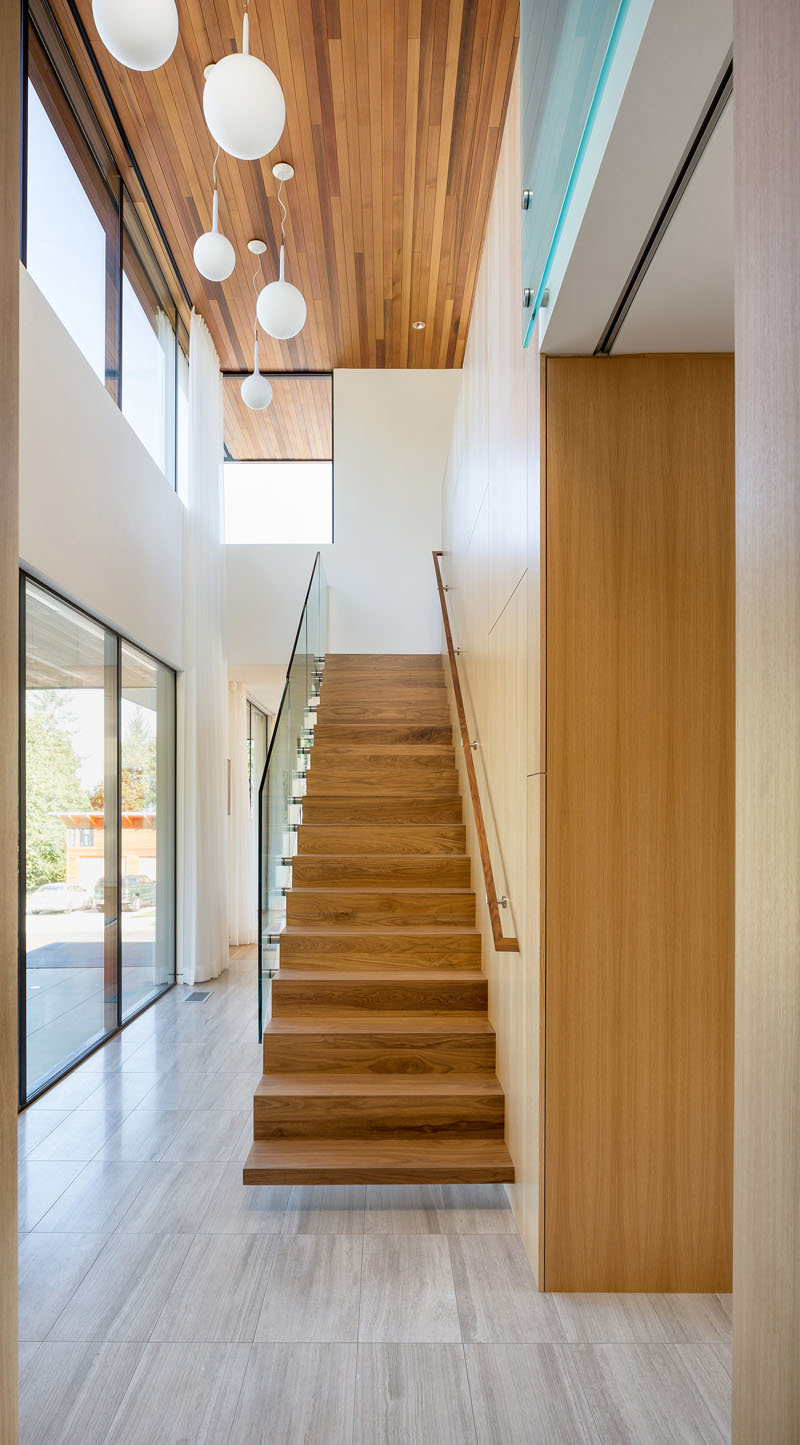 Leading you up to the roof terrace, are some cantilevered walnut stairs with a glass safety railing.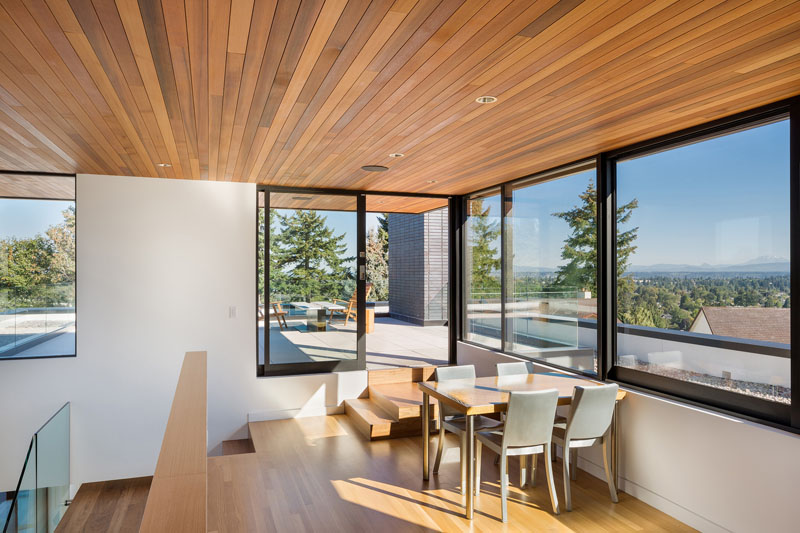 At the top of the stairs there's a 'view box', a small area where you can sit inside and enjoy the view.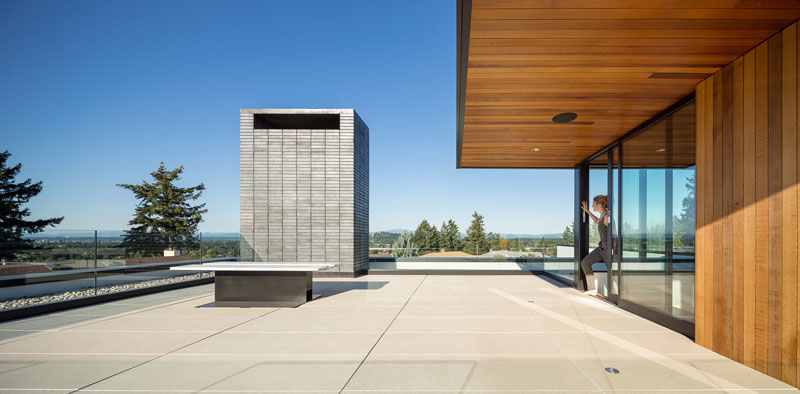 Outside, there's a rooftop terrace with views of the surrounding area.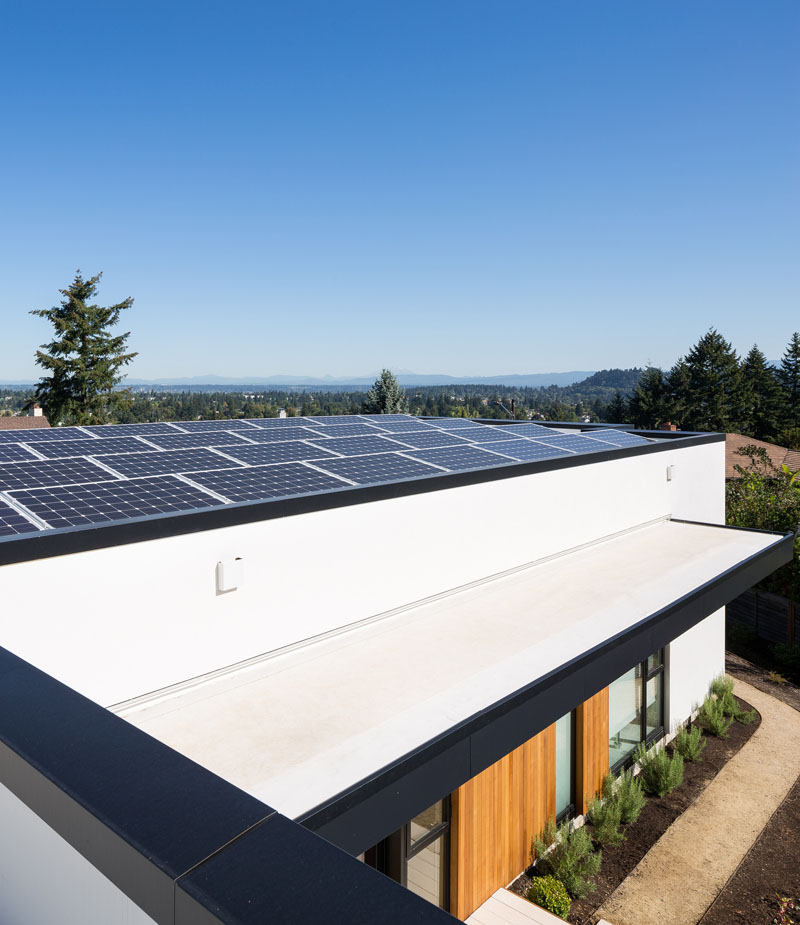 Aside from the terrace on the roof, a large area of it is dedicated to solar panels which provide power to the house.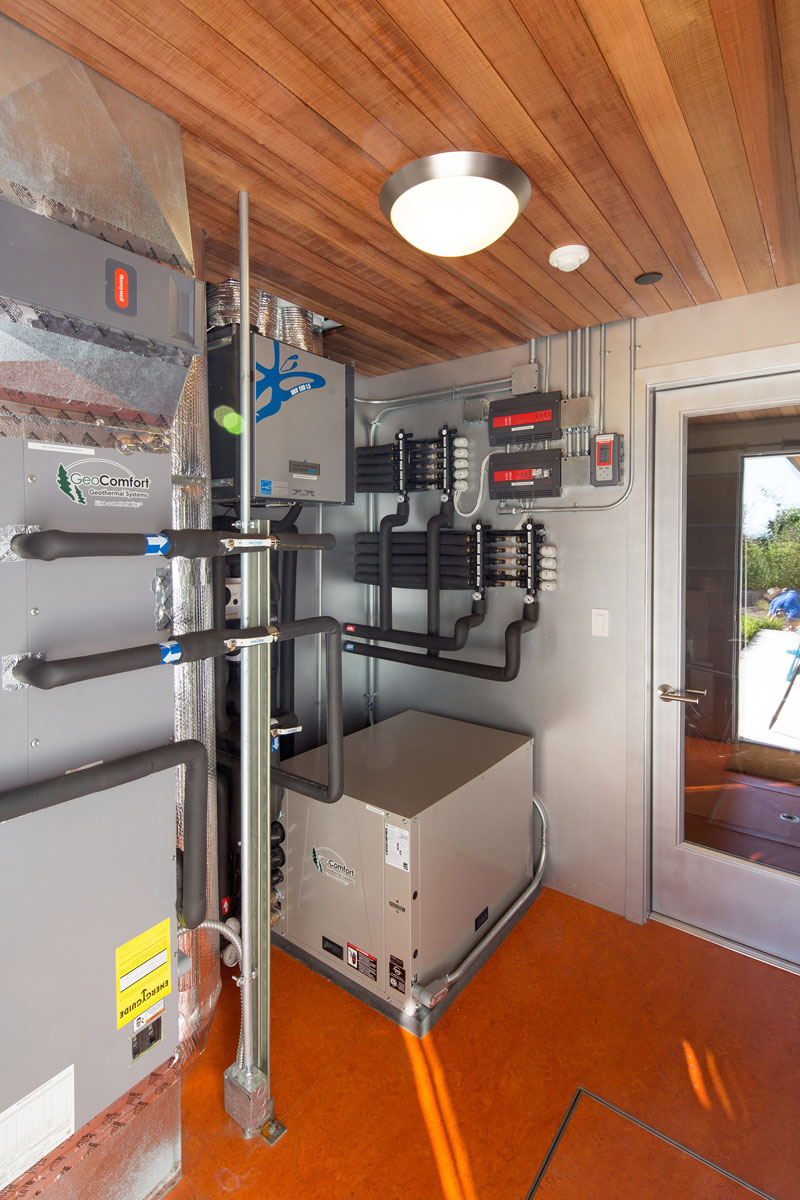 The home is Certified LEED for Homes Platinum. The project incorporates a geo-exchange heat pump, under-floor radiant heating, triple glazing, LED lighting, exterior blinds to control heat gain, rainwater recovery providing potable water, a 10 KW photovoltaic array (solar panels), solar pool heating, and a storm water swale.
It is really nice to see homes like this that aside from being aesthetically impressive, it has even more impressive features that helps nature and also help the owners save power and electricity. I am looking forward that more homes like this will be built everywhere in the world. This home is designed by Hennebery Eddy Architects who made sure that it will not just be beautiful but will also be sustainable and energy-efficient. Have you seen other homes like this? We have actually featured some here on Home Design Lover.