Small White Studio For Interior Stylists in Australia
A unique studio for interior stylists with many beautiful features.
For sure, if you have enough space in your yard, you would add a shed or a small private space where you can work without anyone disturbing. Others do this to have their own office separate from home. Still others just want some privacy especially for works that need one like for crafters, writers, designers, painters and others. Well, whatever it is that you want to do while you are in your shed, one thing that we would look into is the design of the shed. We have featured some shed before or those that are called tiny homes. And they all look really cute! After seeing it, you will surely want to have one for your home too. So today, we are going to feature a small white studio that is owned by interior stylists.
Australian architecture firm Marc&Co worked on the design of the bright white studio owned by, interior styling firm Indigo Jungle. They would like to have a small pavilion in a subtropical garden that they could use as their studio space. And that is exactly what they got. Aside from the function that it is intended to, the studio looks really beautiful with a contrast of colors and with gorgeous lines and shapes put together. I especially like the black accents in it on the window as well as on some parts of the exterior. Also, the interior looks really nice as well. It will actually make you want to work because of the colors and the way the interior was designed and arranged. Another nice feature are the tall shelves on one side of the wall as well as the built-in desks that faces the windows which means that one can work with a great view of the outdoor area.
Location: Australia
Designer: Marc&Co
Style: Modern
Type of Space: Studio Shed
Unique feature: A small studio shed that is intended for interior stylists with a bright white color and some black contrasts on the exterior.
Similar House: A Serene Wooden Writer's Shed in London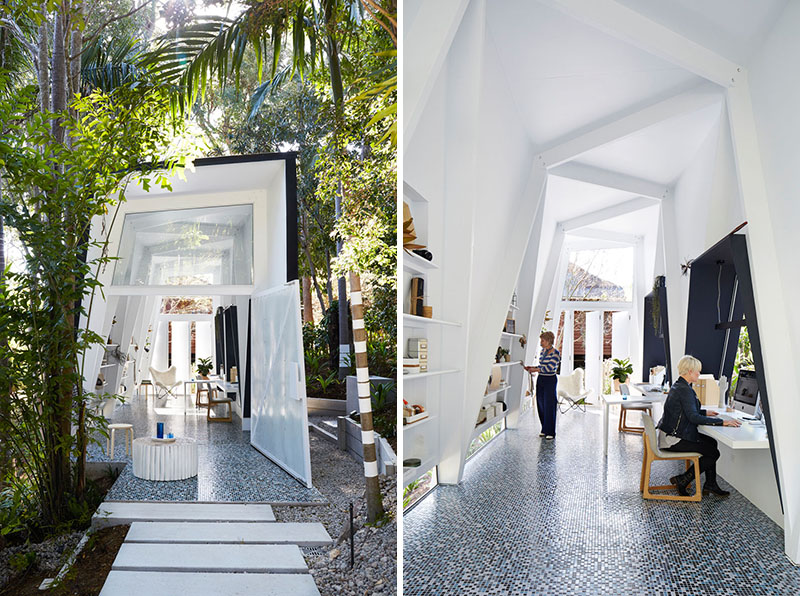 Ladies and gentlemen, you are looking a shed. Yes, it is a shed and it sure is not like the ordinary shed that you have seen before. From the structure to the interior, this shed around a tropical themed garden sure is an eye candy!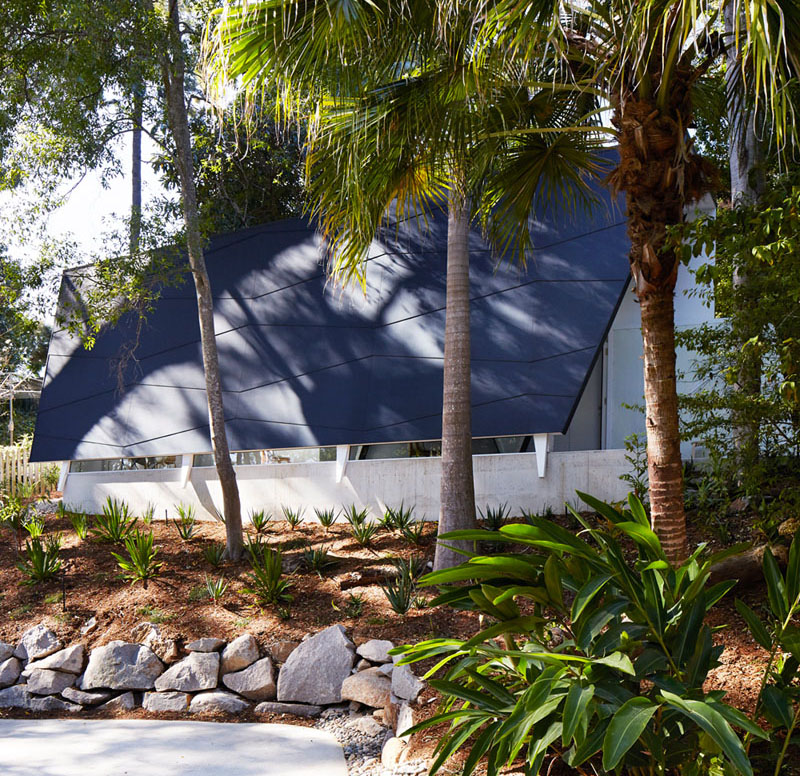 The shed has many trees, bushes and plants around it which gives the interior stylists a good view and some fresh air while working. You can see on this side its creative walling. Who would think of creating something like this? Others would merely put some wood together thinking that it is just a shed anyway.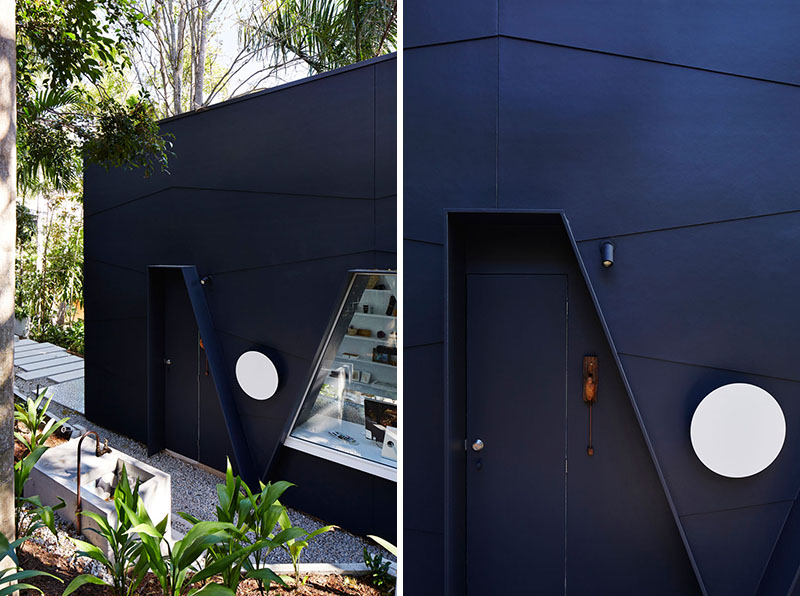 The architects and the owners worked together with builders MCD Construction. The design was created by the architects to make a structure with an angled super skinny entry door that welcomes guests. As one enters the pavilion, the dark building is forgotten as it opens up to an all white interior which creates a sense of space and openness. Yes, the exterior of the shed is black but inside it, it is all white!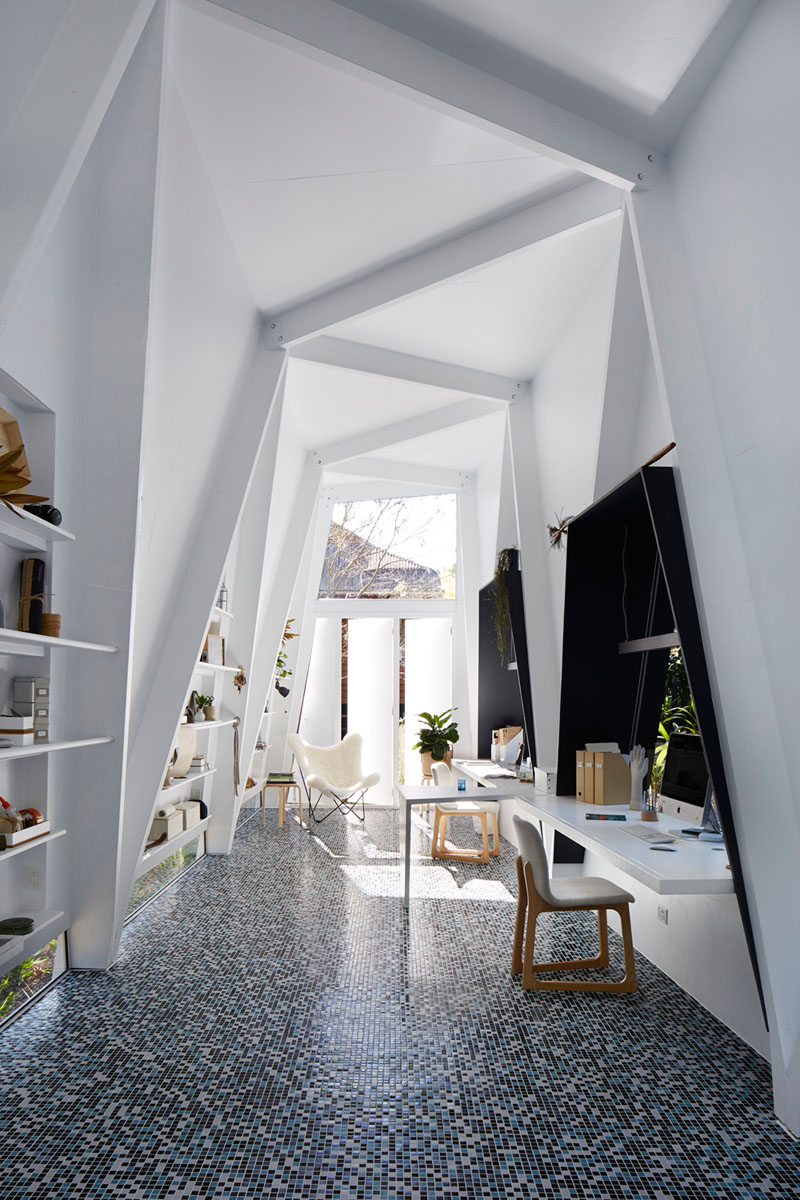 The zigzag pattern from the exterior has been carried through to the interior as seen on the ceiling and on the walls as well. In between them are shelves where the owners kept important items that they need for work.
Read Also: Brick Bay House- An Elegant Shed in New Zealand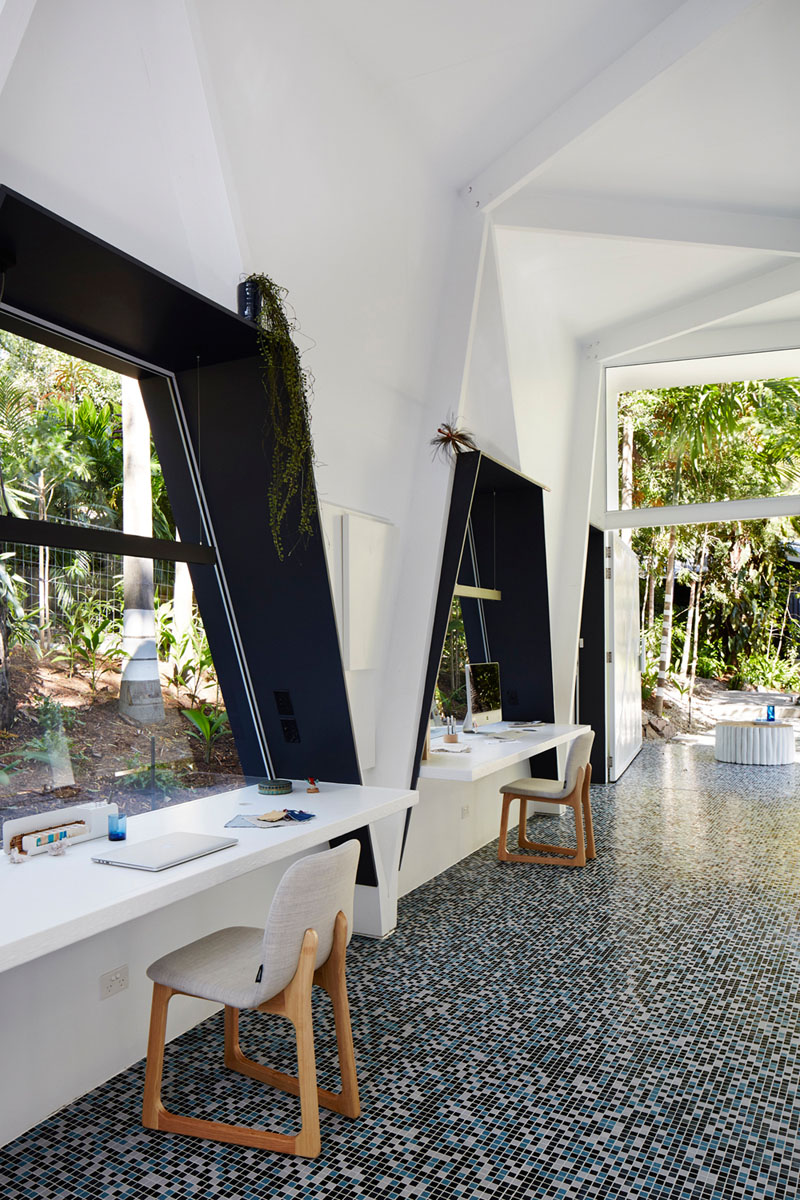 Work desks have been integrated into the building's design, fitting them between the zigzag angles of the structure. And it is a good idea to face it to the window so that they can enjoy the view of the garden while working. Notice also that each working desk has its own convenience outlets.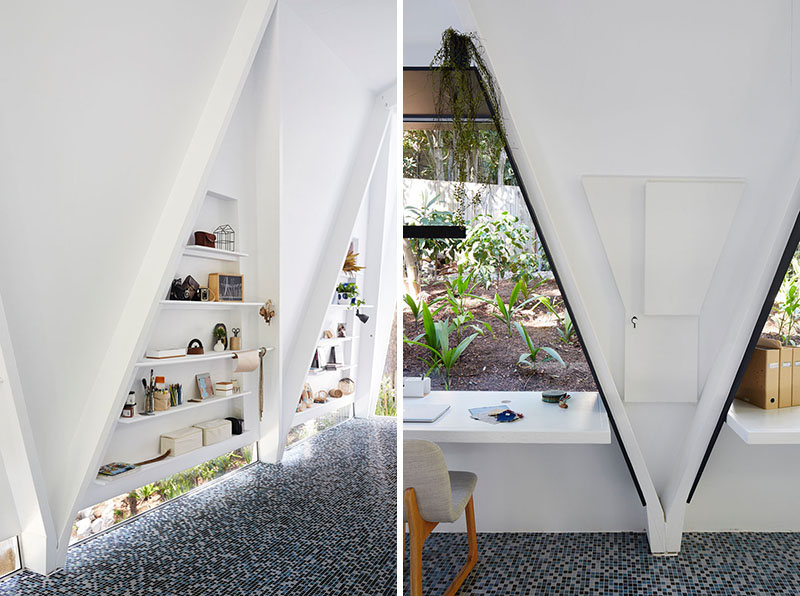 The space has windows positioned high and low which perfectly frame specific landscape views and that lets natural light into the area. You can also notice that it used beautiful mosaic tiles for the flooring. It is a good contrast to the bright white walls and ceiling of the studio.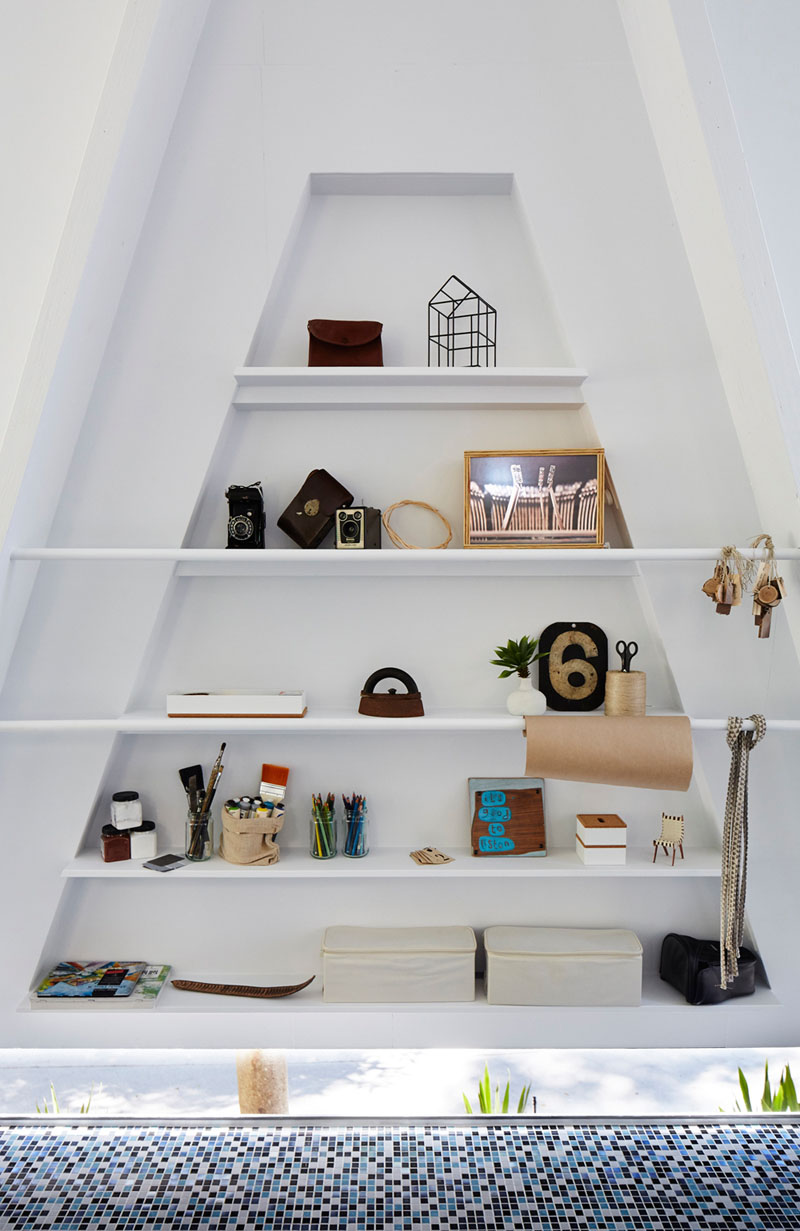 Since the interior is all white, it's an ideal backdrop for the interior stylists to display and test their ideas just like what you can see in this shelf. Isn't this very cute?
It would really be nice to have a space like this where you could work without anything and everything. And what I like in this shed is that it has a unique design. It sure isn't just an ordinary shed. When you look at its exterior, you will immediately know that it is totally different and when you take a look at the interior, you will also know that it has many unique features in it from the beams to the flooring and to the windows. Everything in this shed is just lovely and it is definitely a work of art!Marc&Co designed this studio and it turned out really nice. It also has every function one needs for a working area. I honestly love how this one looks like despite its small floor are. I would definitely love to have one!