Meadow Farm House Boasts Solar Power from Its Wavy Roof
The wavy roof of this house isn't just a roof. It is also a source of solar power. How cool is that?
These days, there are many sustainable products and designs that are being applied for the house just like collecting rain water for usage in the home or using solar panels. Some would have a roof garden or a green roof where rain water could be collected. Merely using natural materials for a house will already bring some sustainable feature to it. But we would certainly be more impressed if aside from these features a house also has a beautiful design. Talk about function and aesthetics all together just like what we can see in this house we will feature today.
The Meadow Farm House, a home in Northern California, features a wavy roof with solar panels. The house sits on a small organic farm wherein it "transitions from a cultivated landscape of orchards, gardens, and farming towards a restored native ecology of meadow grasses and coastal live oaks". The design of the home's architecture as well as its site celebrate the native Northern California landscape creating a deep connection to area. A series of pavilions is featured n the main house. It has zinc roofs with a design that echoes waves and wind patterns that are coming off the ocean. This is visible from the property. On the exterior, striated color patterns in rammed earth walls are see on the gentle curve of existing site topography. According to the designer, "the farm is a net energy exporter and includes comprehensive rainwater and gray water harvesting. The project is LEED Platinum certified and is a pilot project in the Sustainable Sites Initiative™ (SITES™)." But it isn't just that that made this house appealing, because its visual appeal alone already has a huge impact. And yes, even in the interior! You'll see that in the images below.
Location: Northern California
Designer: William McDonough + Partners
Style: Contemporary
Number of Levels: One-storey
Unique feature: A contemporary house with coastal aesthetics and modern lifestyle featuring a courtyard that offers a comfortable year-round lifestyle.
Similar House: A Stunning Transformation of a Farm House into a Private Residence in Netherlands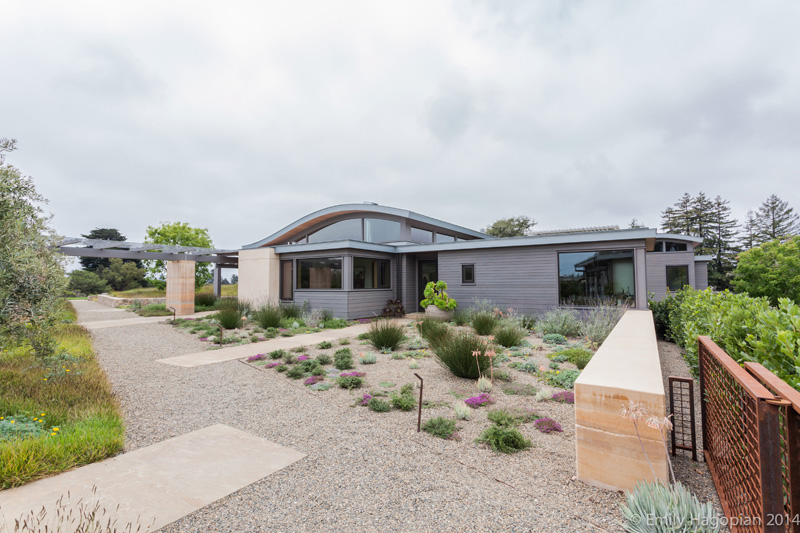 At first look, your eyes will surely be drawn to the curvy roof. The house has a humble look but if you look closely, it is an amazing home design. Its gray exterior is woven well to the site as it doesn't seem to appear too bold. I am not certain of the materials it used for the exterior, although it looks like wood with some gray finish.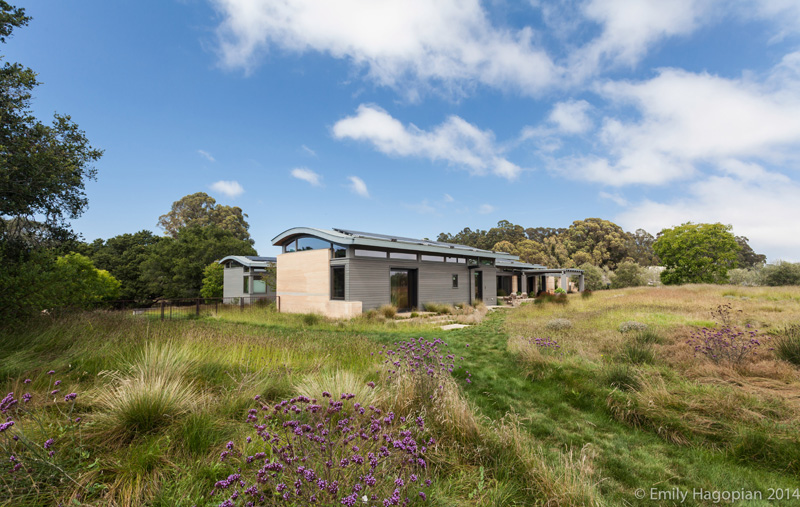 Such a refreshing site! Love all the greens and grasses here as well as the purple flowers. It would be nice to walk here with all the freshness from the trees and the surroundings. I can just imagine the soft breeze here even when inside the house.
The house also boasts a lovely desert-like landscaping that his not boring at all. Seen here are a variety of trees, shrubs and plants. There are various colors too that you can spot here which is a good thing to add more life to the outdoor space.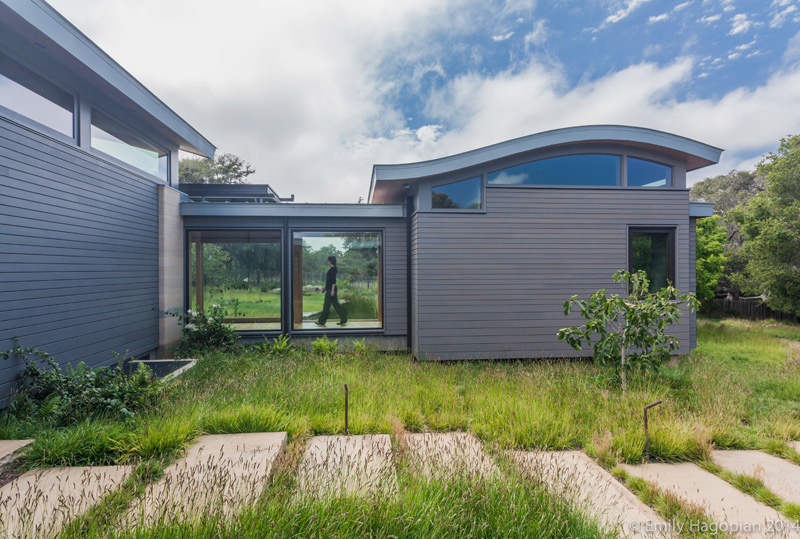 Aside from the rectangular walkway and steps, a beautiful feature of the house is also seen here. A rectangular tube connect it to another area of the house. This is a nice way to create a hallway surrounded with glass windows.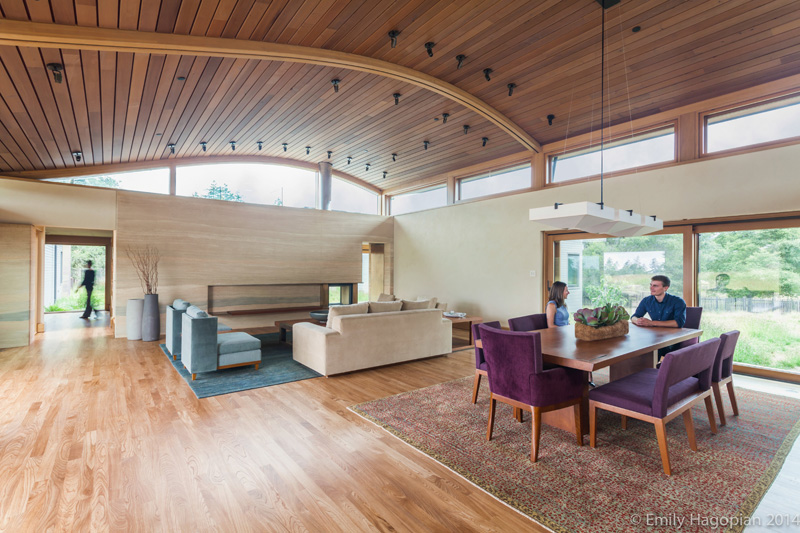 Seen here is the dining area with pretty purple velvet chairs! I know you didn't expect to see this in a modern farmhouse home but look at how charming these look in the open layout of the home. A white lighting is suspended above it, adding more beauty to this area.
Read Also: Warm Aura of the Modern Farmhouse Eastbluff Residence in California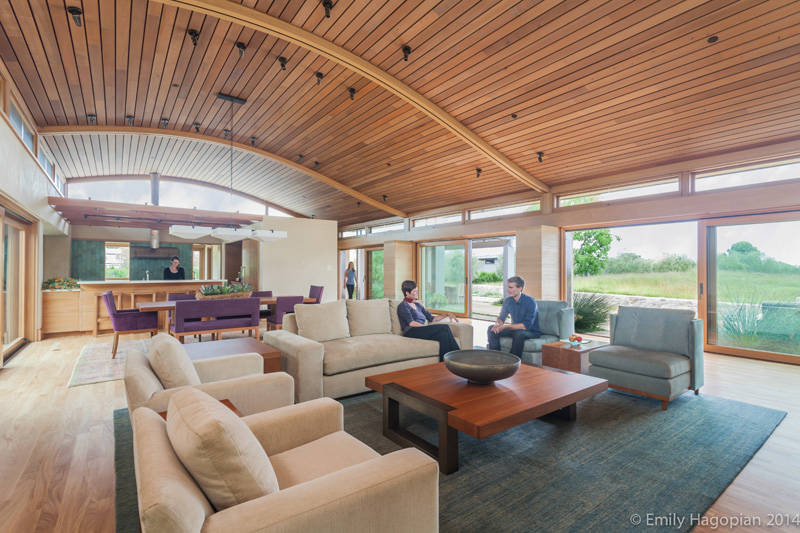 The living room has beige sofa that is mixed with blue seating. It is a good idea that the colors of these chairs aren't that bold because it matched well with the feel of the home. I like that wooden center table and that centerpiece too!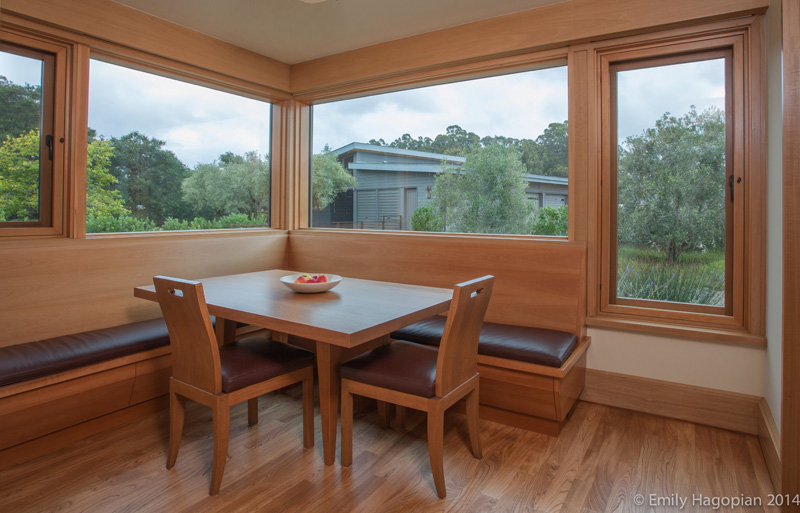 The breakfast nook room just this small with wooden tables and chairs. The L-shaped bench that goes to the wall has upholstered cushions on it for a more comfortable seating. Dining here would be lovely because of the view outside.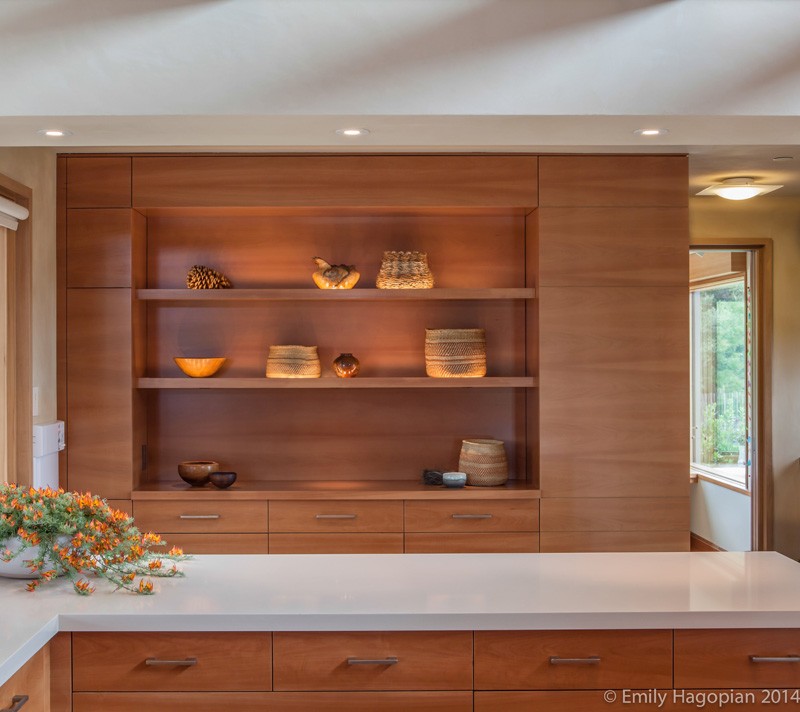 I really like to see shelves like this. This shows us that a shelf doesn't really have to be full of display. It actually looks even better with breathing space. This one even has lights behind the items which is a much better idea.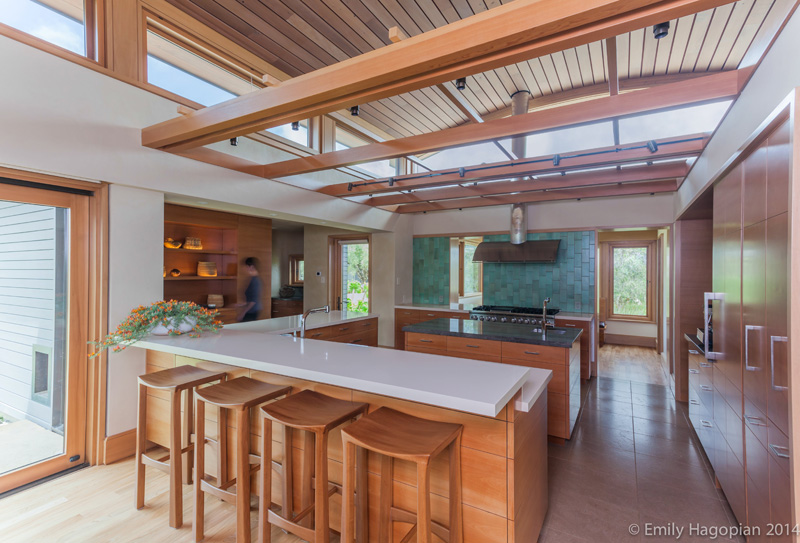 The kitchen area has an L-shaped design with white countertop. Notice that the island's design has two levels for the countertop which is a good idea as it hides the sink on the other side. And there is also a central island too. Nice layout indeed.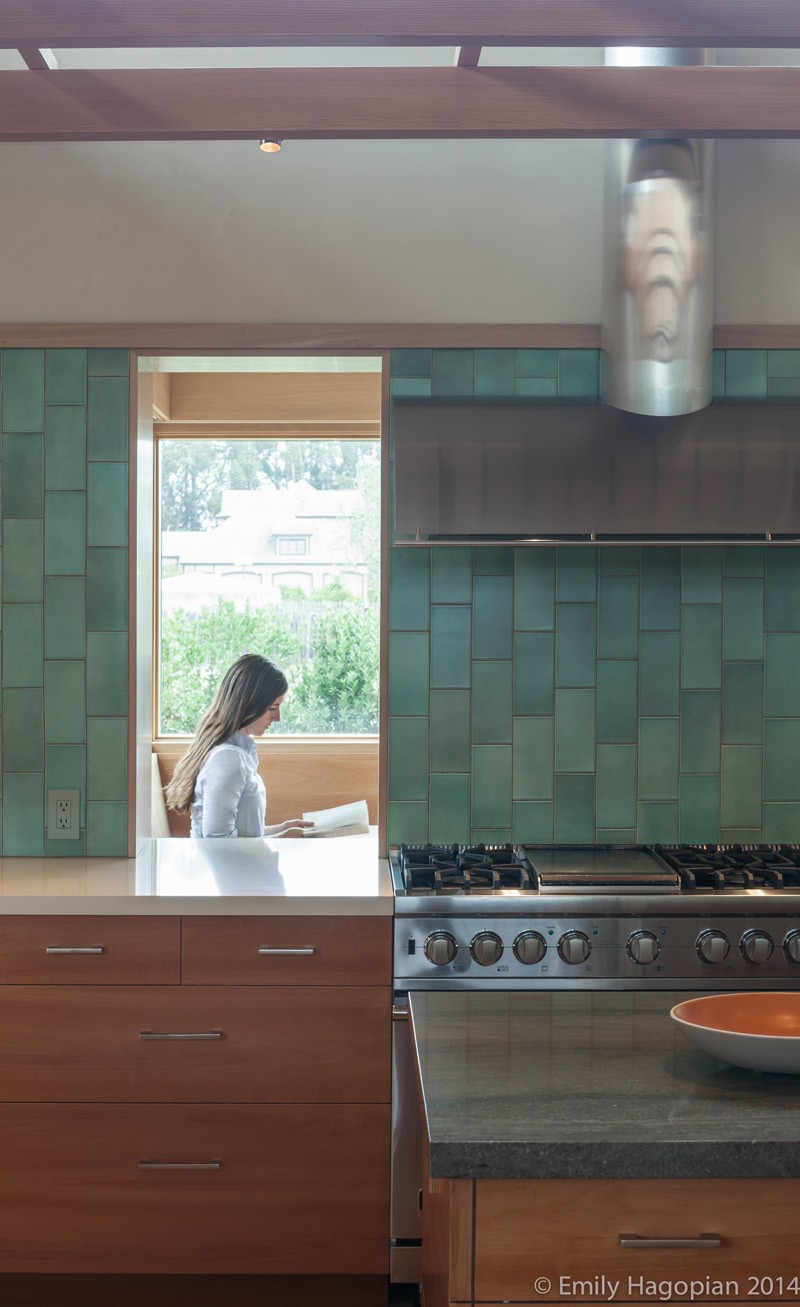 The kitchen has green tiles on the wall for its backsplash. But what I find pleasing isn't just the backsplash or that gas range but that opening on the wall were you can peep and hand food to breakfast nook just like in a restaurant.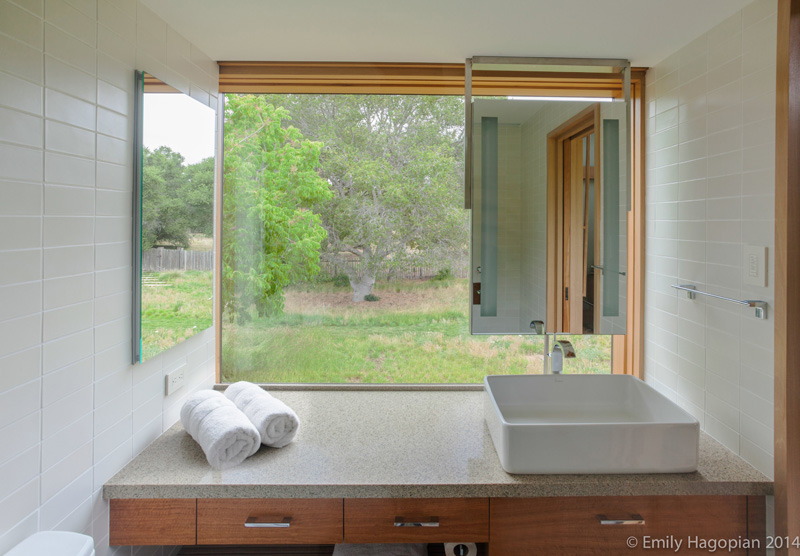 The vanity has a beautiful stone countertop that sits on wooden cabinets and drawers. A top-mount sink is used here with a modern faucet design. It is nice that they added a picture window in this area. And yes, the white tiles on the walls are lovely too.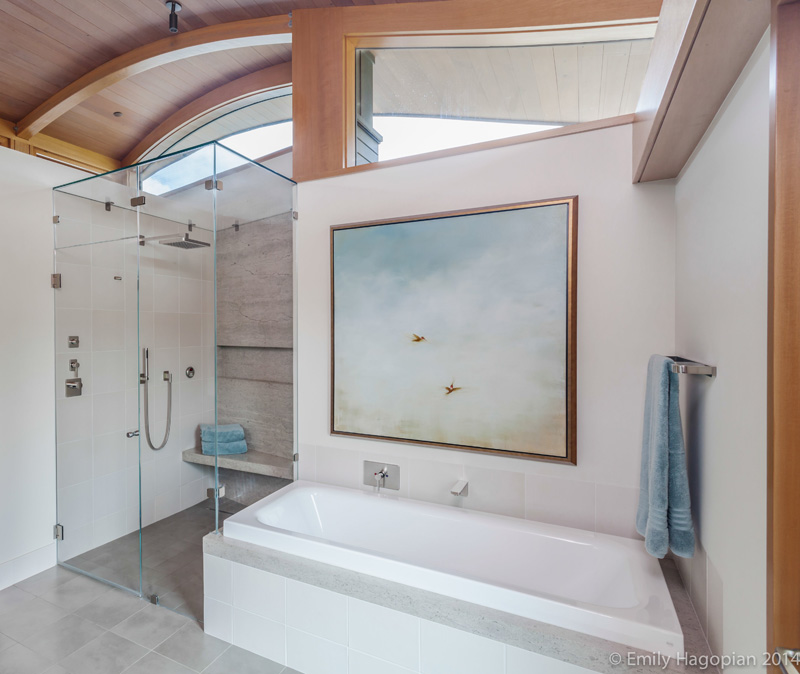 Who says you cannot put up some wall decors in the bathroom? Well, this one has a large painting on it and it looks totally nice. The ceiling of the bathroom is curvy as well with a glass shower area.
True, the curvy roof of this farm house is indeed stunning and eye-catching! Even the wooden ceiling is a certified beauty that goes parallel with the design of the roof. I'd love to have a roof like this for my own home. Really! But I actually think it is quite challenging to make and it might not be that resistant to strong winds because of its waves. This house design is done by William McDonough + Partners who did a very impressive job! Even from afar, you can certainly appreciate the beauty of the house because its landscaping is also very attractive as well!