20 Luxurious Design of a Mediterranean Living Room
We have been discussing before how does a Mediterranean inspired style for bedrooms do looks like. I'm pretty much sure that you have loved the way that the design has transformed the look of the bedrooms. Well if that's the case it is our pleasure to help you more or may just add some little update on your idea book. For today let us try to help you out on how would you also transform your living room into a deluxe look. Your living rooms serves different functions; just like you can consume your leisure time by just relaxing while watching television, or a simple quality talk with your friends or family. As you start to think for its perfect design you must not disregard its purpose. Choose appropriately the best color choice, furniture, decor and accents.
Mediterranean living rooms have also the same appearance as what your Mediterranean bedrooms do have. You must have a unified design with the rest of the Mediterranean inspired rooms. What I love most about this design is, there is a sense of formality and in the same way it is full of sophistication. A perfectly designed Mediterranean living room must have the important detail that this place must have, and it is the fireplace. And also, the use of antiques or vintage accents is very helpful in achieving the said design. But above all, to greatly have a perfect look you should go with marbleized table added with more chairs or lounge chairs and ottoman to give a polishing look. Fabrics and other linens and rugs should also match perfectly with the tones and shades of the area.
1. Mediterranean Living Room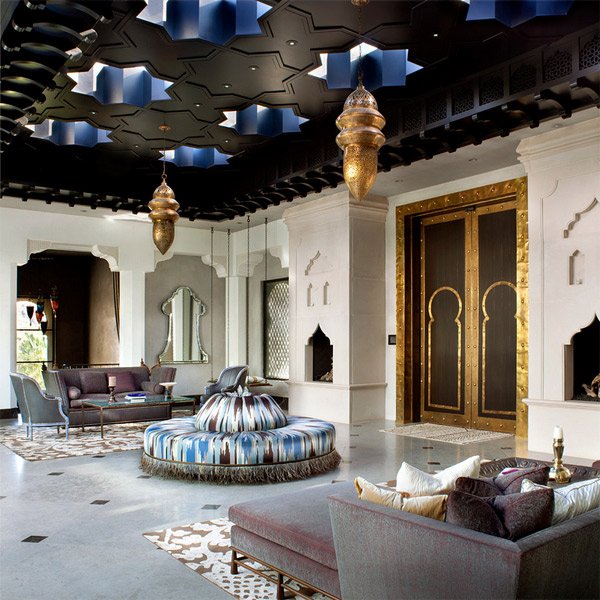 The setup of this living room is just like in the movies. The rounded middle chair and the ceiling creates a drama to this area.
2. 104 Shore Oaks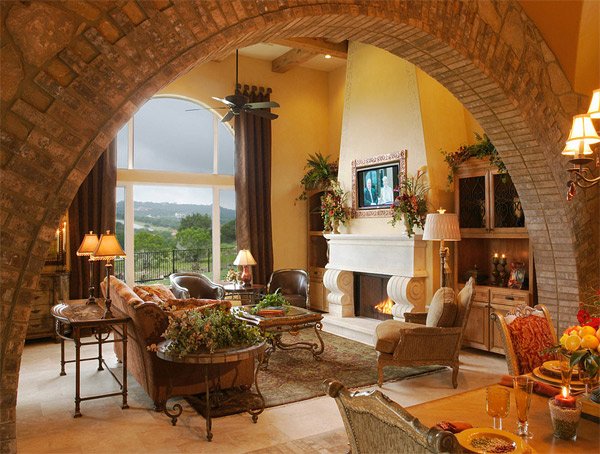 The arch between the living room and dining room gives a grand look to the overall design.
3. Private Residence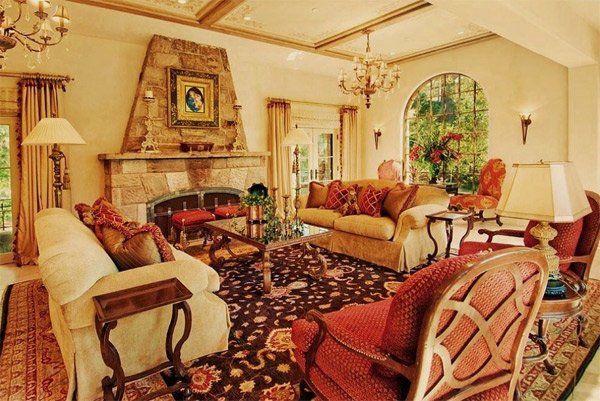 The rugs, pillows and the color of the area fit accordingly to one another. The beauty of the stenciled ceiling grows more with the elegant chandelier.
4. Villa De Frazier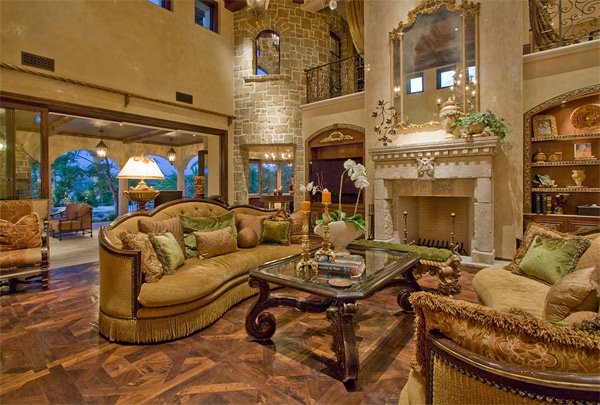 The luxurious mirror above the fireplace gives a grand look to the living room.
5. 13229 Villa Montana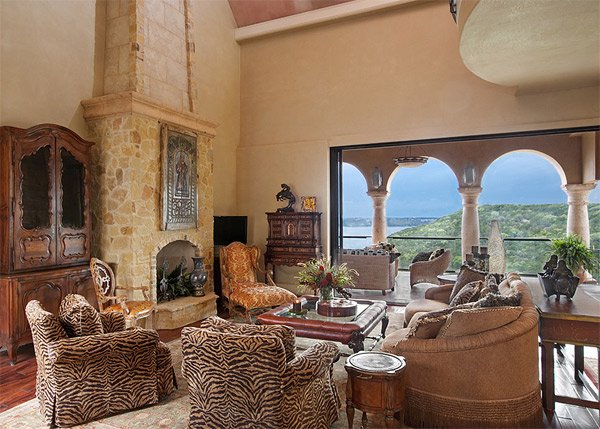 What a nice view from this living room, glazed wall is a great idea if you have a breathtaking view from the outside.
6. Luxurious Mediterranean Living Room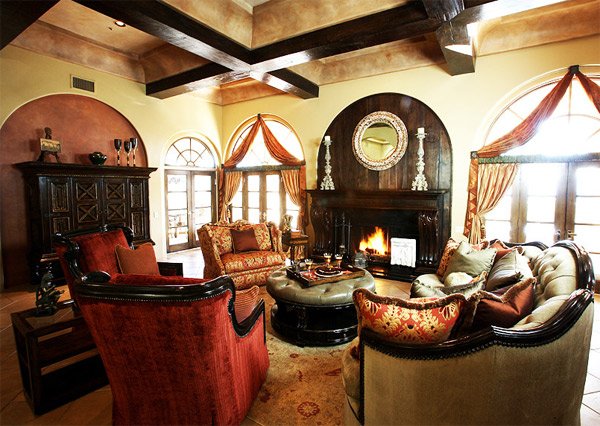 The exposed beams bring a rustic yet old charm to this living room.
7. Mediterranean Space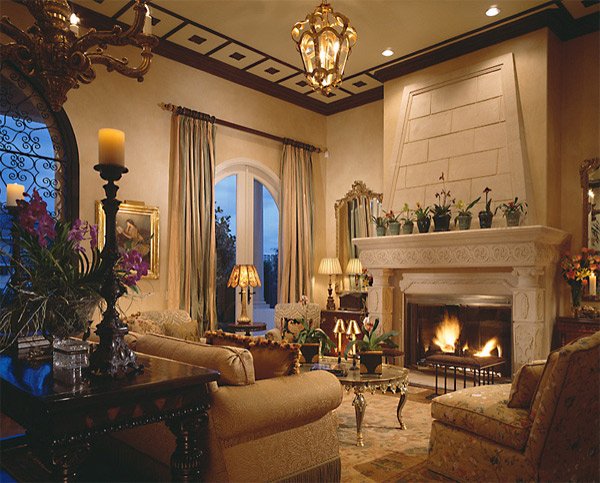 Looking into this creates a sense of formality; constructed with high ceilings and decorated with series of beautiful fixtures.
8. Beverly Hills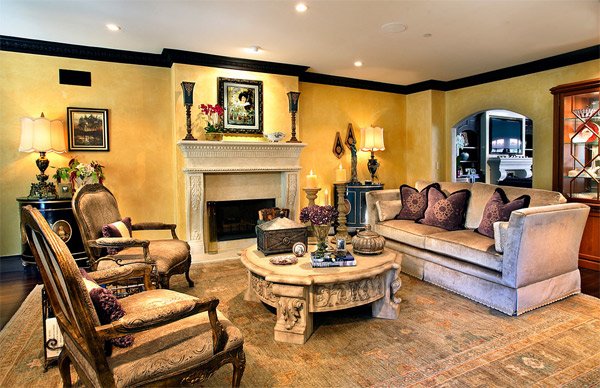 This got an elegant style yet very comfortable place to relax in. Antique furniture and materials are displayed all over.
9. Mediterranean Home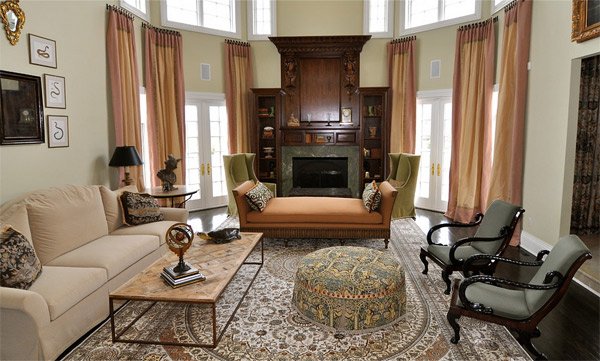 This space is very accommodating with lots of cozy chairs.
10. Avila Residence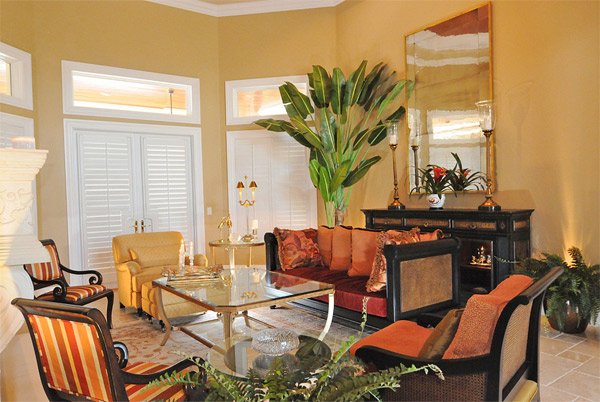 The color and the design of this living room create a warm and welcoming conversation area.
11. Living Room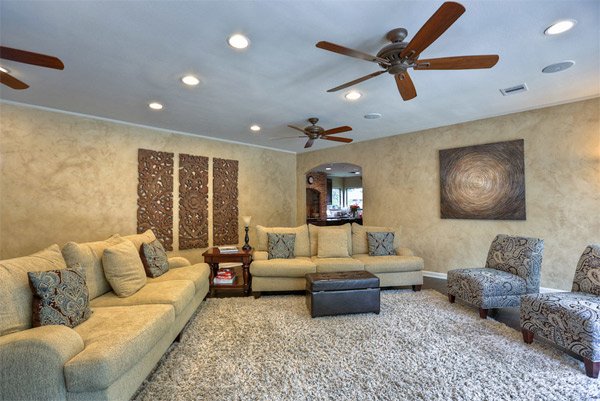 The faux finish painted wall brings an earthy texture and creates a warm atmosphere.
12. St. Armand Residence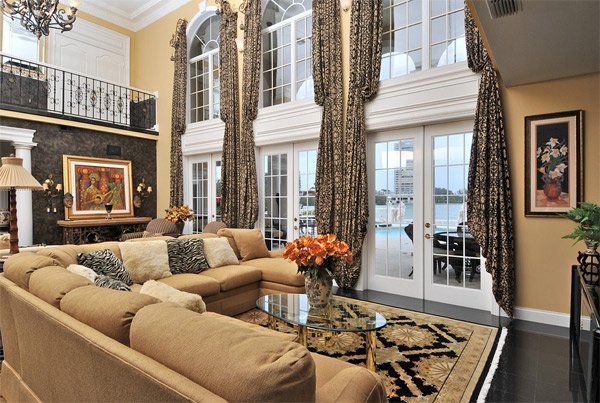 The drapes are very high and elegant and perfect for the high windows.
13. Richmond Estate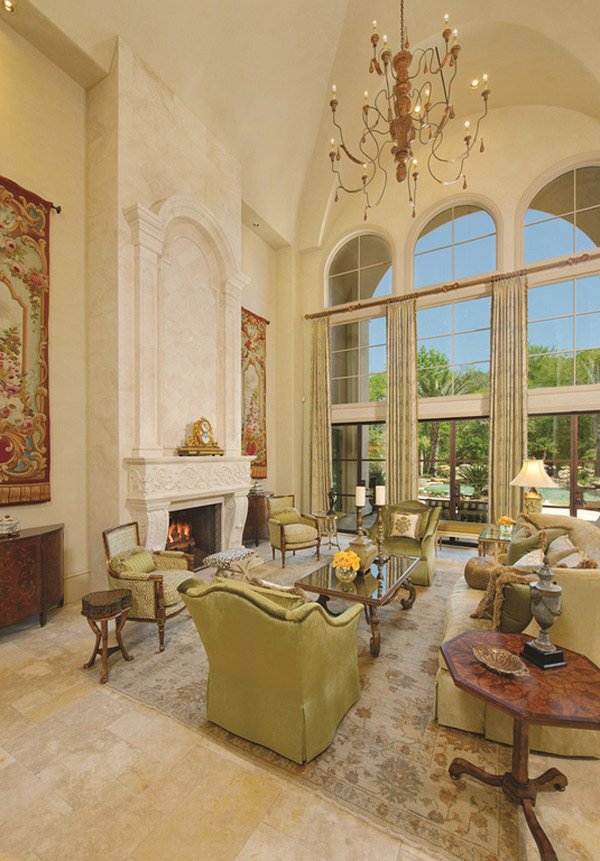 This living room displays warm and neutral colors that look very formal.
14. Mediterranean Interior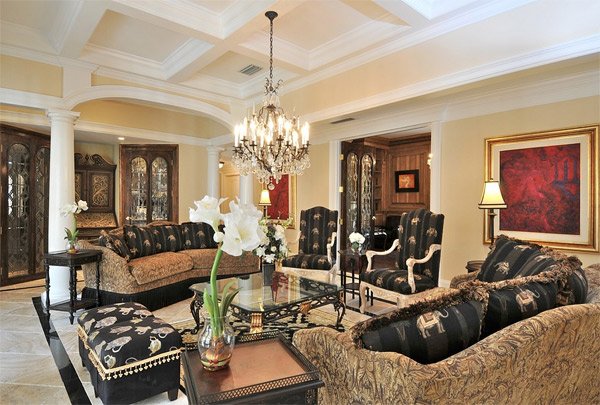 Neutral colors are also seen here giving a warm aura.
15. Street of Dreams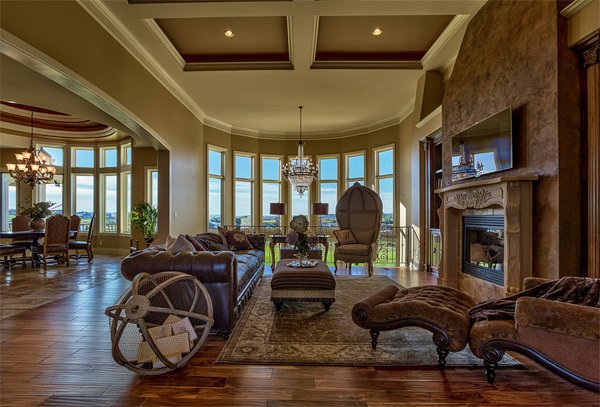 Looks very luxurious! The canopy chair and the lounge chair are placed properly that adds flair to the space.
16. Spanish Revival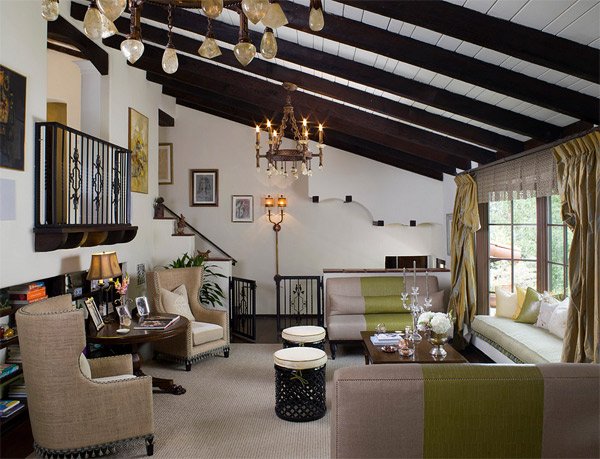 What I love about this space is the bench on the windows and balcony that overlook to the living room.
17. Richard Custom Home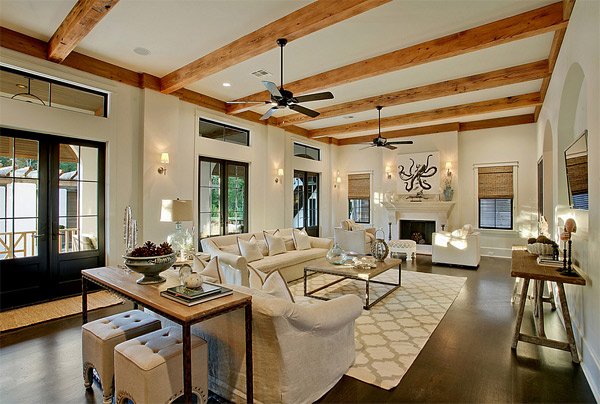 The way beams are made from slated wood creates a warm and sophisticated look to this living room.
18. Traditional Mediterranean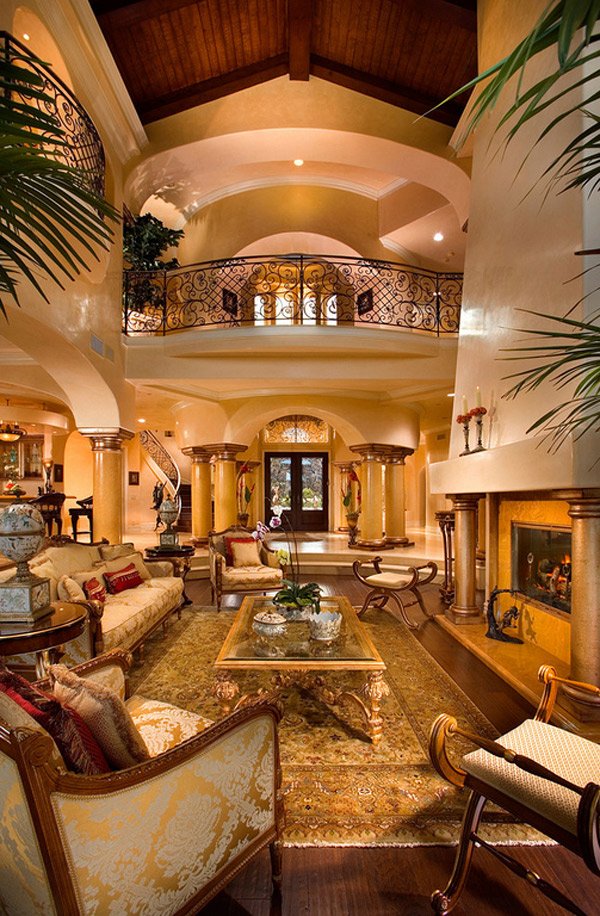 The ceilings are so high that makes the whole area be very dramatic.
19. Spanish Colonial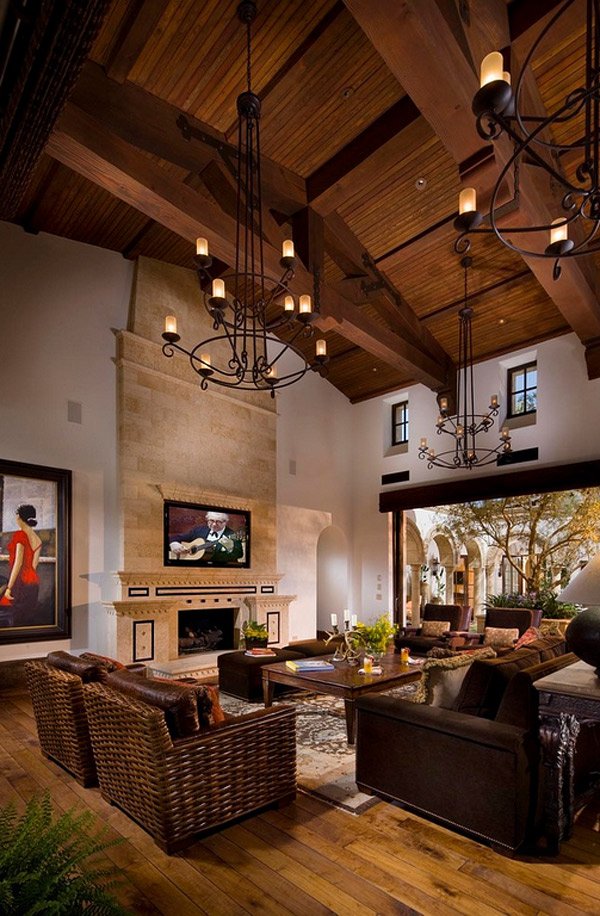 The wooden ceiling accented with wrought iron chandelier brings a rustic and Mediterranean look.
20. Montecito Andalusian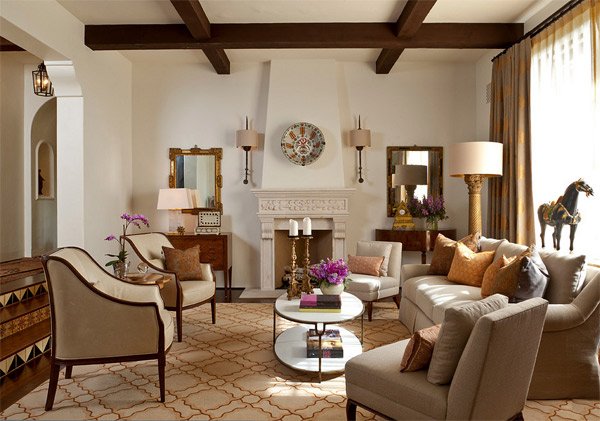 Simplicity is its key! Warm and neutral colors are commonly displayed in this design.
So now you have already completed your ideas about Mediterranean inspired home. It looks like you're so much excited on how the finish look would appear to be. Designing your living rooms would be very easy if you'll just follow the needs and wants of the design. But as always, our goal is to help you gather ideas so we can also show you different designs of living rooms that would fit into your taste of style. Enjoy decorating!