How To Decorate Long Narrow Living Room
Do you have a long narrow living room in your house and you are like "Ugh, how am I supposed to put everything in here?" Well, you really don't have to be bothered that much. Before you worry, think well first and picture out the scene in your living room. And yah, you can always go ask Google on how you can decorate your living room and end up to this post that will surely give you the tips that you are looking for.
Worry not. It is simple to decorate a living room that is long and narrow. It might be brain cracking at first but once you start, you will enjoy the task of decorating it and putting in the furniture for it. But the size of the living room would matter too. If it is spacious then you can put in more stuff but it would be advisable to keep things simple. And now for the tips…
1. Study your space.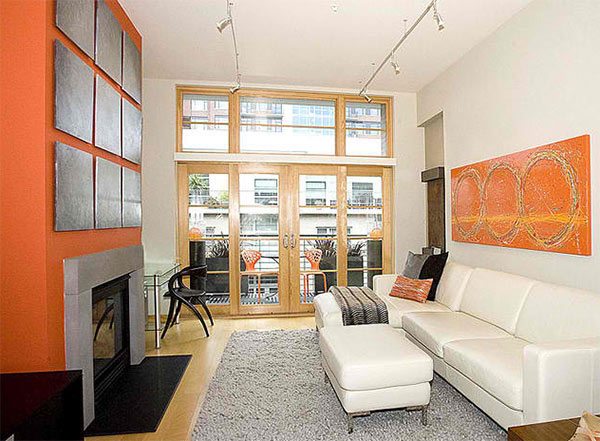 Before you actually get stuffs to place in the living room, look closely at your space. How do you picture it? What is your style? Do you want it to be clean or you want an eclectic look? Then think of the items that you want to add. Does it fit well in the area? Will it not hinder the traffic or block one's passage?
2. First arrange your furniture.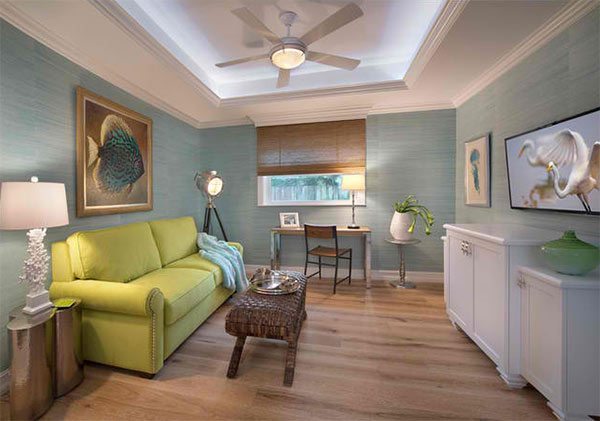 This post may not be about furniture arrangement but it is always important to start with the furniture first. Place your sofa close to the wall. A sectional sofa will work well for this kind of layout. You can also place a back to back sofa arrangement or two separate seating areas to accentuate the tunnel effect of the space. You can just add some accent furniture too.
3. Hang artworks and mirrors.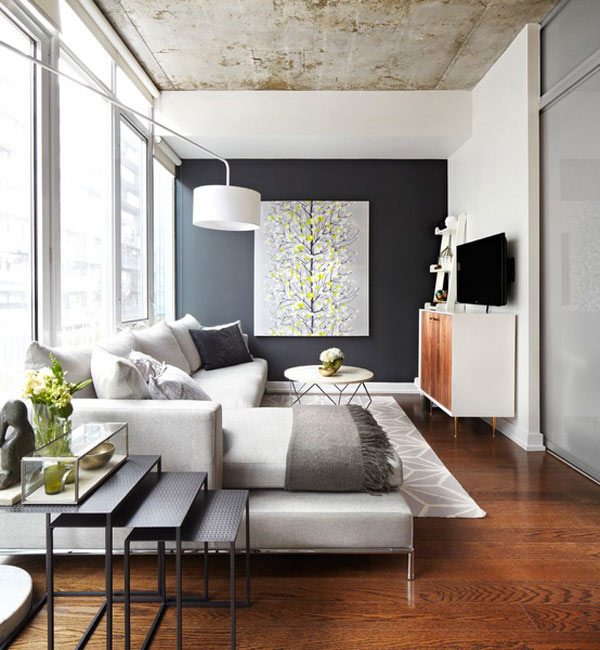 It would be best if you place them on the walls where your seats are. This way, it will define the arrangement of your furniture. Putting put different wall arts on various places where furniture sits on the floor will define another space. This way, the gaze will break up in the living room. Adding mirrors can also help to keep the area well-lighted.
4. Use rugs to help define separate areas.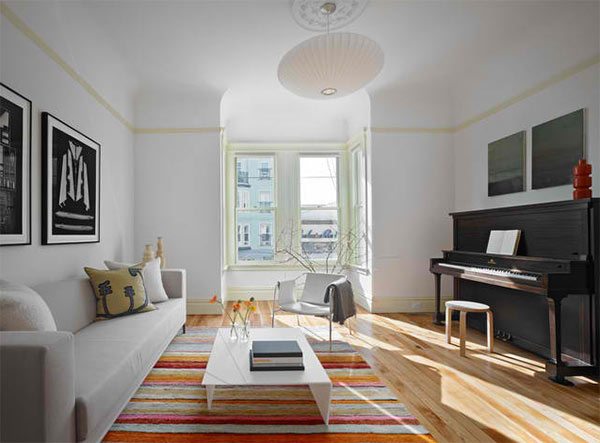 Another good way to decorate your living room is by using area rugs. Choose those that have patterns that will make the room look larger. A striped area rug is a good choice just like the ones in the picture. If you have two seating areas, you can always use two separate area rugs to define the spaces.
5. Add open cubbies and shelves on the wall.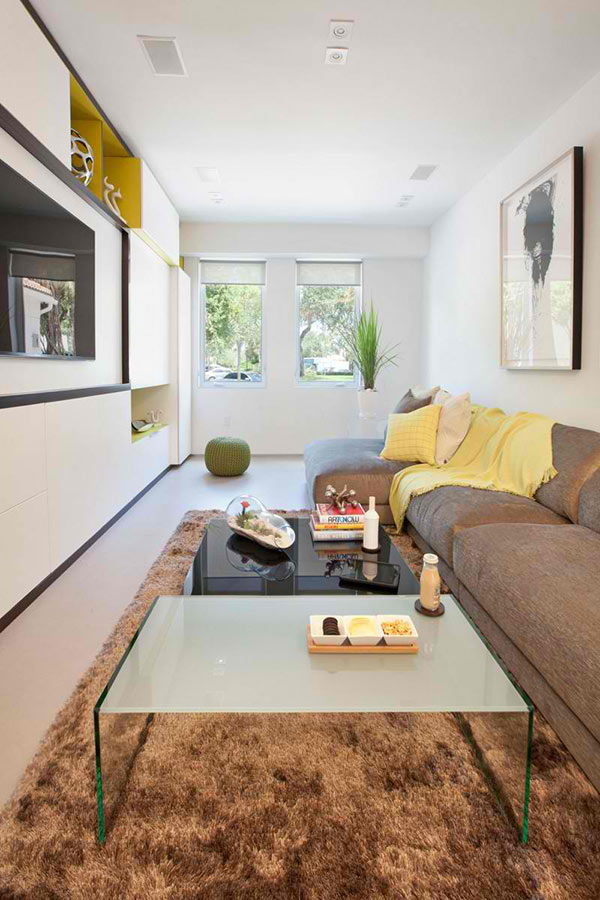 Instead of using another floor area by putting an armoire or cabinets, make use of the wall system you have. Or you can place an open shelf above a fireplace. Then place some interesting pieces on top of it. This way, your living area will not look dull.
6. Color the walls.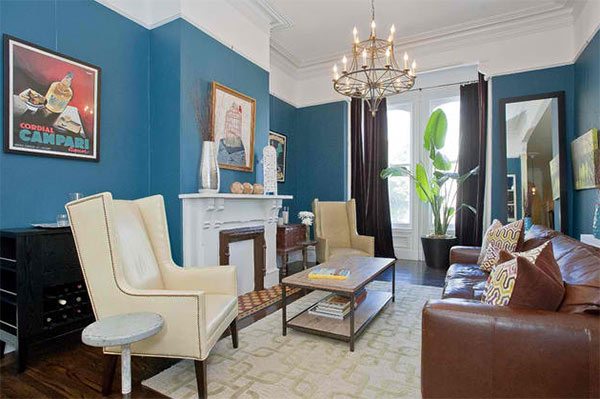 Don't be afraid to add some colors to your walls. This will add some lively vibe to your living room. But yes, you can also stick with the usual neutral colors like white and beige for these colors are safer. Pick a bright or a pastel tone. The trick for painting walls in long narrow spaces is not to put that color into the entire walls. Like, you can just paint a part of the wall or one side of the wall or half of it. This will avoid a boxy feel.
7. Bring in some plants.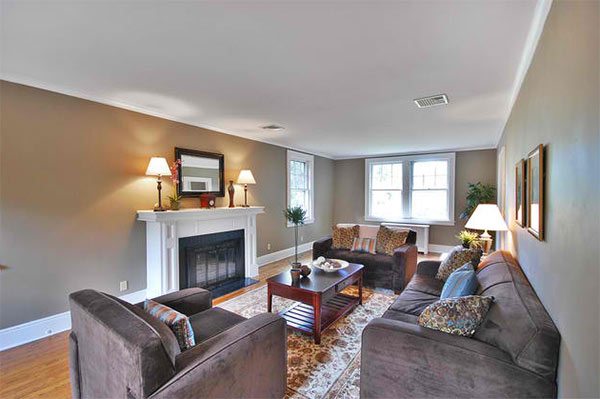 Of course, you have to pick the right plant that would strive indoors and then let in bring Mother Nature into your space. Use a large house plant to fill an empty corner. Then place smaller house plants on other areas like on top of a corner table, around the fireplace or even as a centerpiece.
8. Choose a nice color scheme.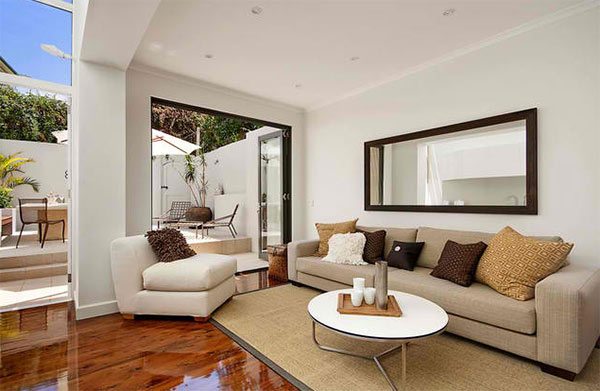 Colors aren't just about your walls but it can also be seen in decors and accessories in your home. Use warm colors could make a large room appear smaller and cozier like the colors yellow, orange. Lighter tints such as lemon, rose, coral, salmon or apricot will also be nice for your living room. Once you have decided the color scheme of your living area, choose decors that have some hints of these colors to create coherence.
9. Make sure the room is well lighted.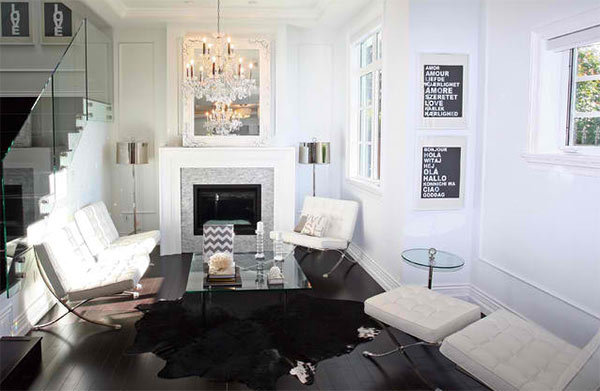 Yes, aside from windows that will allow natural light in, lighting fixture can contribute a lot to the brightness of a room. Make sure the bulbs in lamps, chandeliers or recessed lights are warm, using either yellow or white light for this will enhance the warm color scheme in the room. Your lighting can also add drama to the look of you living area especially if you pick those with sophisticated design. A little reminder about ceiling lamps and floor lamps, don't get those that aren't so bulky and big unless you have high ceilings.
10. Remember not to over accessorize.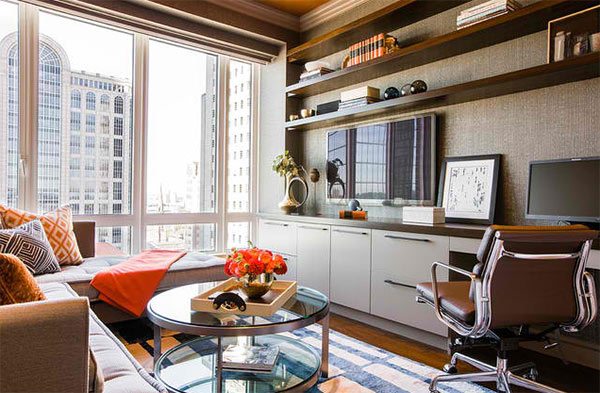 Your space will look crowded if you place so many decors. When decorating include "empty space or negative space" as an accessory. This way, you can keep things to minimal. It is okay to add throw pillows and even floor vases. Just don't overdo it.
Well, a long narrow living room will not be boring after all. You can decorate them while making sure that you do not crowd the area. It can still be a cozy place to stay in. You can also let furniture and other décor surround a focal point like a fire place or a television. We have a list of long narrow living rooms for you so that you will get ideas on how to decorate it through the pictures from the list.