15 Modern Day Living Room TV Ideas
Anyone you ask would probably say that they'd love to have a brand new LCD TV in their living room or den. Aside from entertaining you and your family; sometimes, the bigger your TV screen is, the more fun it is to invite your friends over to watch a great movie or have a TV series marathon with them. Well, basically, having a television in the living room aids us from really just chatting and hanging out at home.
Today, we will be showcasing 15 Modern Day Living Room TV Ideas which help us with how we can display the beautiful LCD TVs we have at home; or even the older models – some of the designers or the homeowners show off their TV screens or plainly put a painting on top of it to hide it when it is not needed or being used. You will see the TVs being placed above a mantle, in the middle of the bookshelf or even by the cabinet. Check them out!
525a Upper Changi Road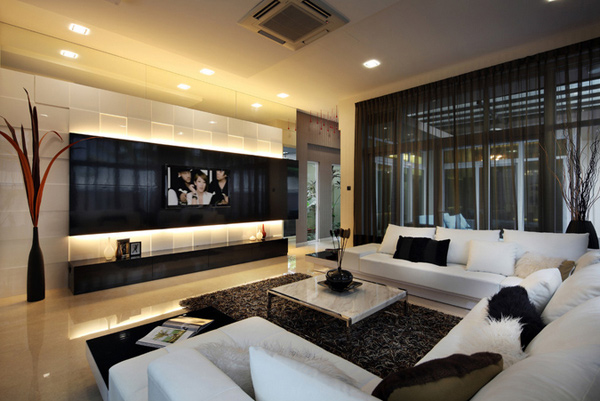 The white panels are made from acrylic panels whereas the black material is black colored glossy laminates which really brings out the beauty of this living room. Using the classic black and white color palette made a lot of difference.
Art Deco Influence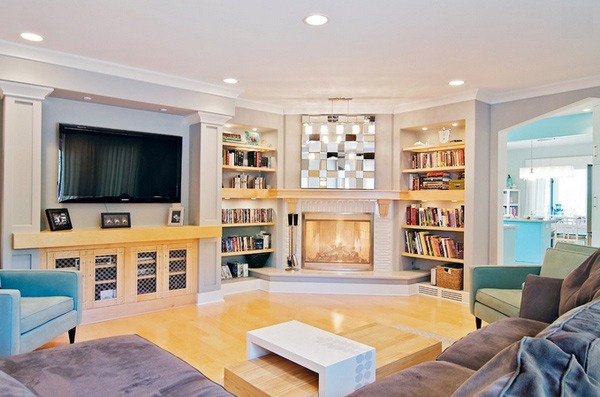 Flanked by dual bookcases, this corner fireplace vies for attention with a flat-screen television. But because it sits on a pedestal and upholds a beautiful mirrored panel, it's a winner each time.
Calgary Contemporary Living Room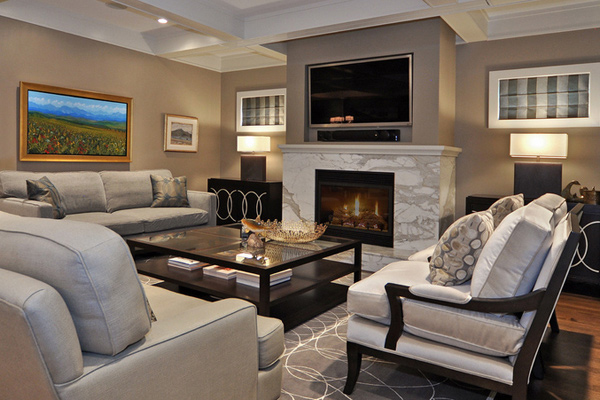 We can see that the homeowners decided to actually place the television screen above the fireplace. It was recessed to the wall for it to just plainly mix with the wall design. The regular color of the TV complements well with the color palette of the living room.
Delaware Place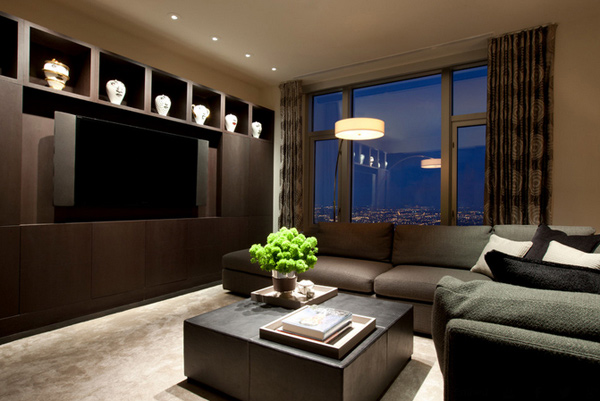 This Chicago contemporary living room seem really masculine because of the darker colors used for it – from the dark wood for the TV console, the color of the seating and coffee table, even the curtains seem dark; but of course, they all complement the walls, the ceiling and the flooring.
Glasgow Family Room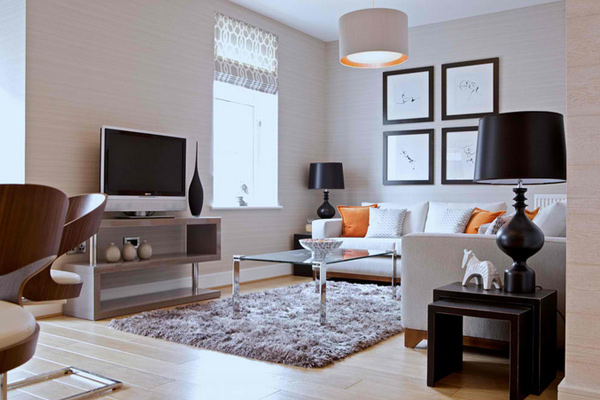 The advent of flat screens gave rise to console tables and media cabinets. This freed up space and allowed for airier, lighter rooms. At the same time, better-looking TVs made it more acceptable to keep them out in the open.
Green Dream Home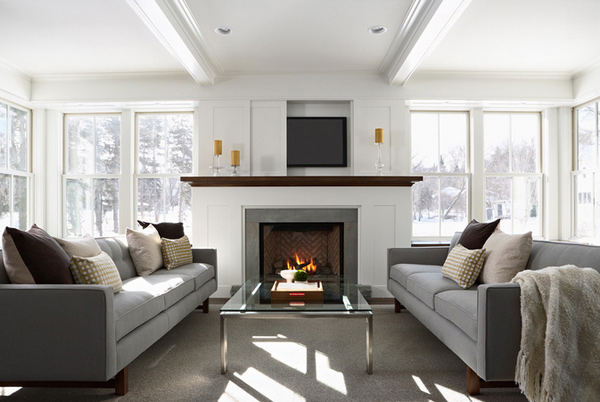 In this living room, we see how smartly the designer and the homeowner would cover up the television set when it's not in use. And during events, you can always let the TV covered while you add decorations on the mantle.
Lima Residence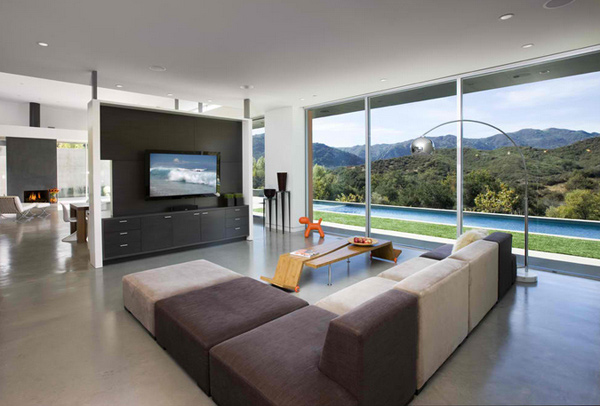 Putting up your television above a console may be the simplest thing to do but because of the great wall paneling done in this space, we can definitely say that it was well-thought of. Good job Abramson Teiger Architects!
Montreal Media Room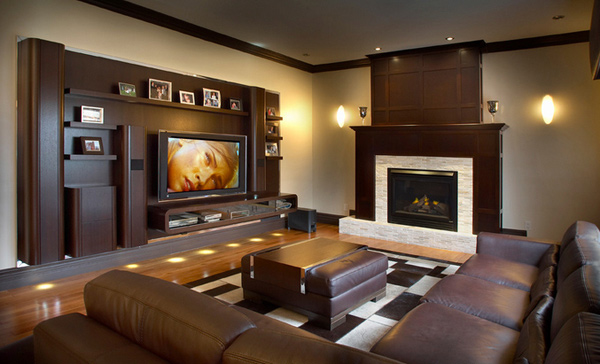 A warm inviting functional family room with a custom designed wall unit for motorized plasma bracket and integrate Bose stereo and speakers. Storage area was designed for DVDs and video games and equipment. The Italian oak custom wall unit is floating with a chrome frame and LED lighting above and below.
Northbrook House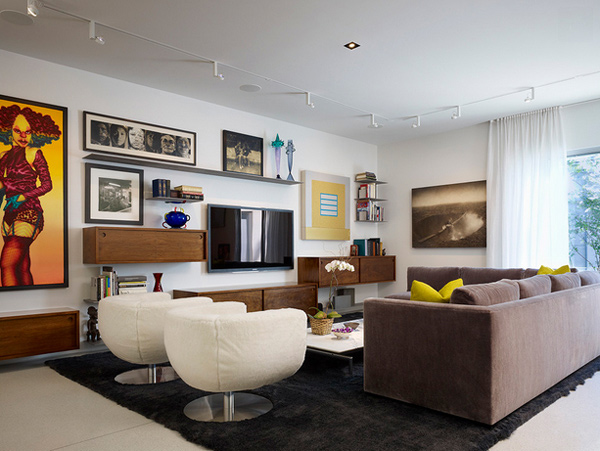 If you have a television, consider mounting it to the wall. Using swing arms and wall mounting a television set take away the need for a cumbersome media console and free up floor space from entertainment units.
Presidio Heights Residence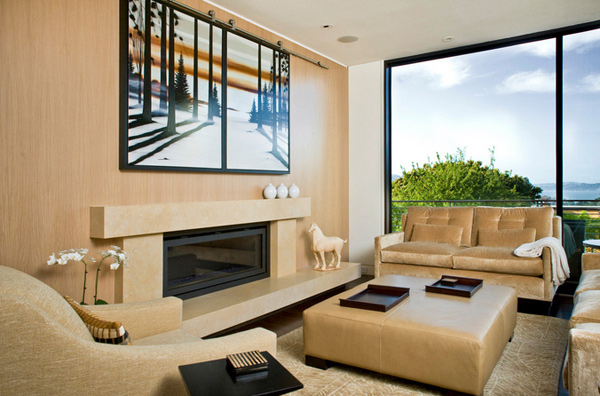 Here is another great example of keeping and at the same time showing off you television. You are basically putting the device in a hole and adding in an artwork in a sliding rail to use it. Pretty smart, don't you think?
Spire Theater Room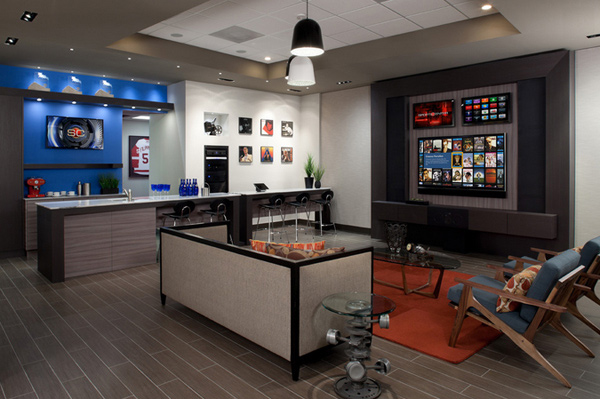 This media room is one techy space, not everyone can live in. But truth be told, that this is a space all teenagers would probably enjoy being in – its high-tech, its design is simple, its decor is awesome and it is not cramped.
Sunny Flat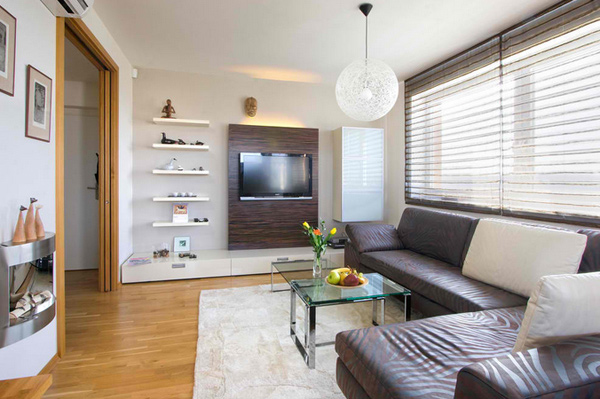 Neutrals, neutrals and more neutrals. Adding a stained dark wood behind the television cut the light color charade on the wall – it's sleek, clean and really livable.
Tailor Made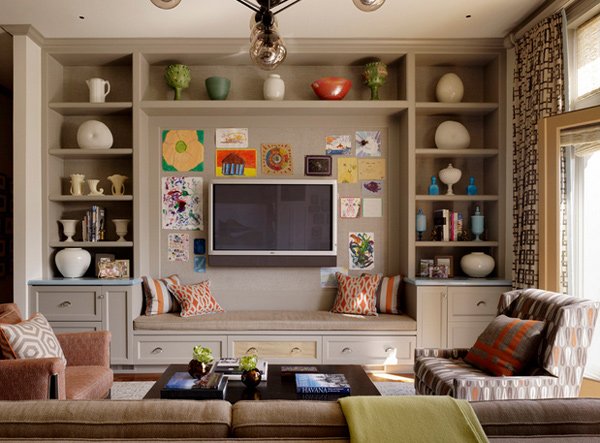 Knickknacks scattered around a room look more like clutter and tends to lose their importance. When grouped together they make a statement and become more relevant to the homeowner.
Small Wonder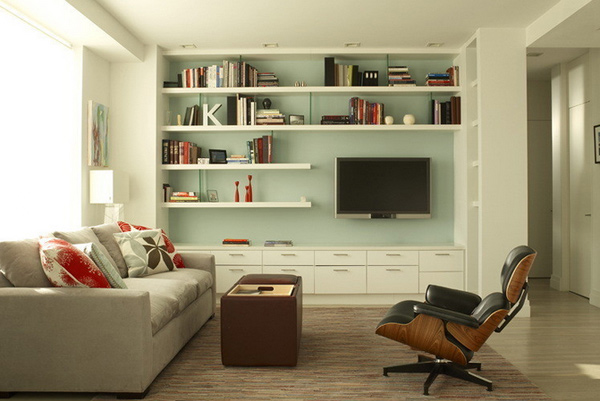 Use several shelves together to cover the full wall above the TV, and shorter lengths beside it; cabinets below provide closed storage for media and extra cords. Positioning the screen off-center looks fresh and can actually be more functional than a centered TV, depending on your seating arrangement.
South Penthouse in Dallas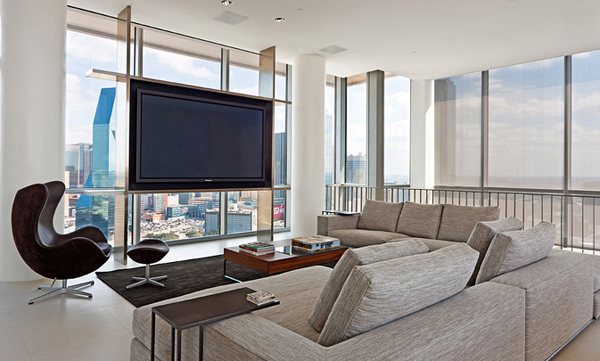 For our last living room space, we have an all-white and beige space which is highlighted with the huge LCD TV screen and an awesome accent chair with a cute footrest and a brown-colored coffee table. Minimalist space for a stunning lifestyle.
Like the grey and green living rooms, the 15 Modern Day Living Room TV Ideas are but living room interiors that can help us in all the designs and layouts we actually need or want at home. Re-arranging and redecorating our living spaces is always a good thing because it gives us more inspiration with our day to day work. Maintaining one look for the living room is okay, but sometimes it gets boring, so add a little spice on your spaces just like the photos we have above! Hoped that this list help you one bit!
Bonus Video: Building a Modern TV Rack