15 Pretty Brown Living Rooms
This color means business. It's serious, down-to-earth and signifies stability, structure and support. This color encourages a strong need for security and a sense of belongingness – with family and friends being the most important in someone's life. In the meaning of colors, brown is the color of material security and the accumulation of material possessions.
Brown is friendly and approachable. It is loyal, trustworthy and dependable in a practical and realistic way. In color psychology, brown is honest, genuine and sincere. It relates to the hardworking, the industrious and reliable, with both feet planted firmly on the ground. It is sensual, sensitive and warm, engulfing one in a feeling of calmness and comfort. All that and more can be seen in the next photos that we will be showing you below of the 15 Pretty Brown Living Rooms.
Carmel Mid-Century Living Room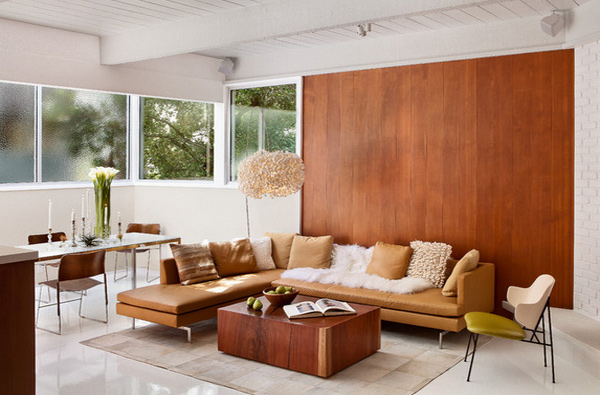 Look at the stunning wall panels and the sectional that match the center table and pretty much complement the ceiling and the flooring!
Fort Lauderdale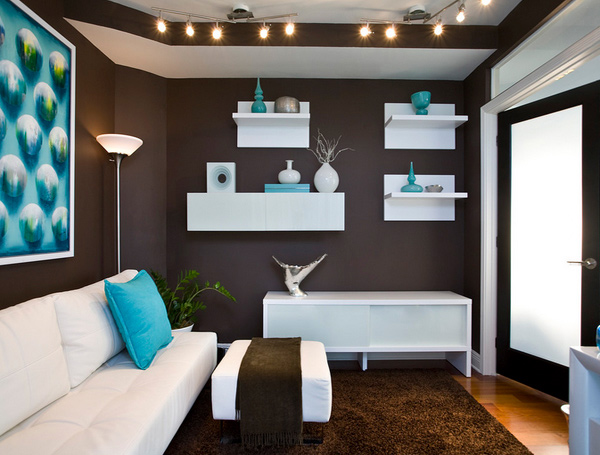 Wooden floor, lovely area rug and simple white floating cabinets, tables and white sofa that look definitely stunning. The color combination for this living room is really beautiful!
Foyer and Living Room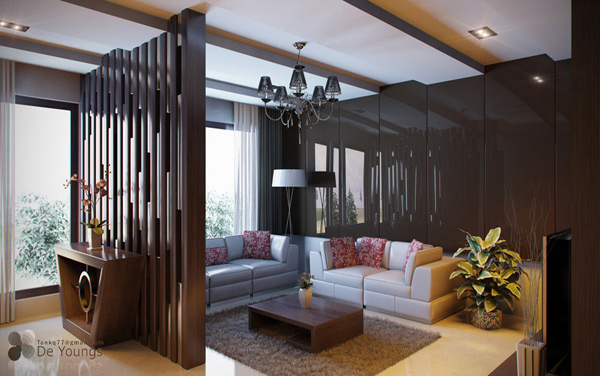 One of a kind brown divider with a pretty console and center table that have relative colors with the wall panels. They are complemented with light-colored living room sofa and flooring that made this living room rather pretty.
Hollywood Hills Retreat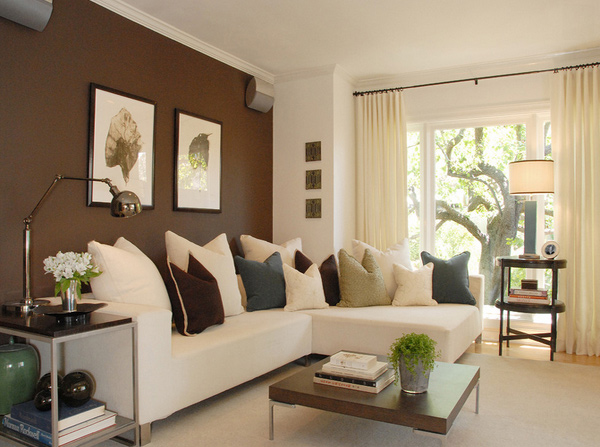 A Hollywood Hills Retreat living room that has lovely white and beige walls, ceiling and sectional which pretty much complement the brown accent wall.
Kundalini Residence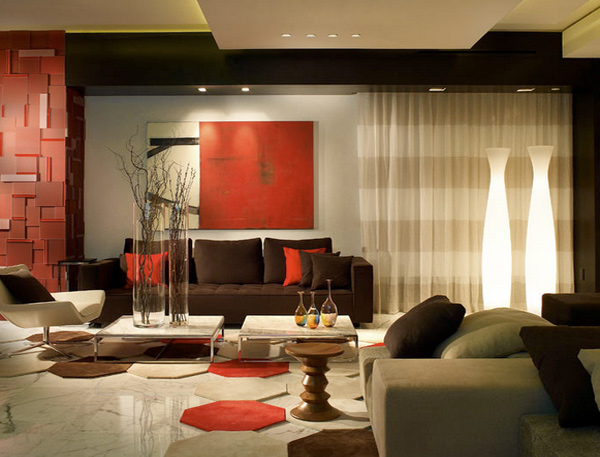 The aura of this living room seems dark because of the exposed dark beams and the brown sofa. The reds, the whites and beiges are minor colors that give drama to this living space.
Marcelo Brito & Pedro Potaris Living Room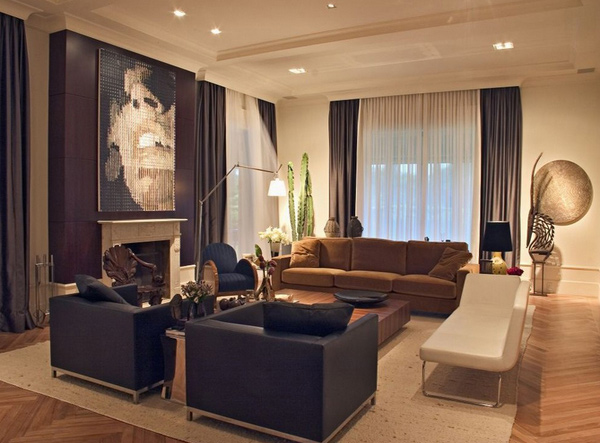 The dark colored furniture look amazing because of the combination the designers did with this space. We love the wall decor by the fireplace mantle.
Mill Valley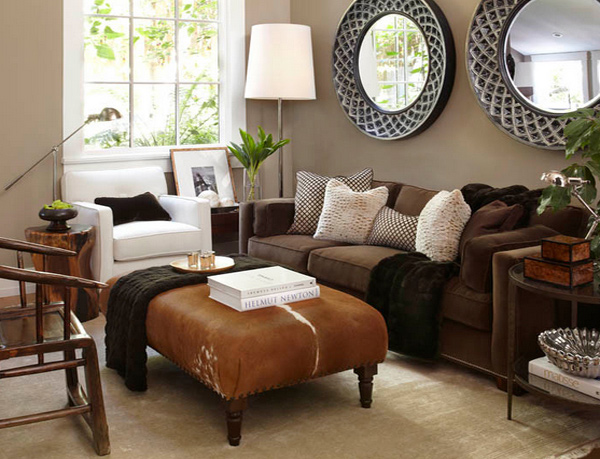 Winston Churchill once said, "I cannot pretend to feel impartial about colors. I rejoice with the brilliant ones and am genuinely sorry for the poor browns." We're not sure if he would have said this after seeing the different shades and textures in this relaxed but elegant room.
Modern Media Room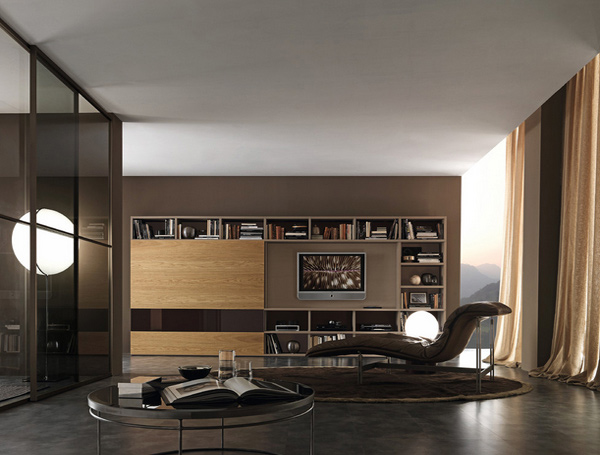 Media unit with structure in mat brown lacquer, sliding doors in aged natural oak and dark brown under painted glass. Back panels in mat brown lacquer.
Philadelphia Modern Living Room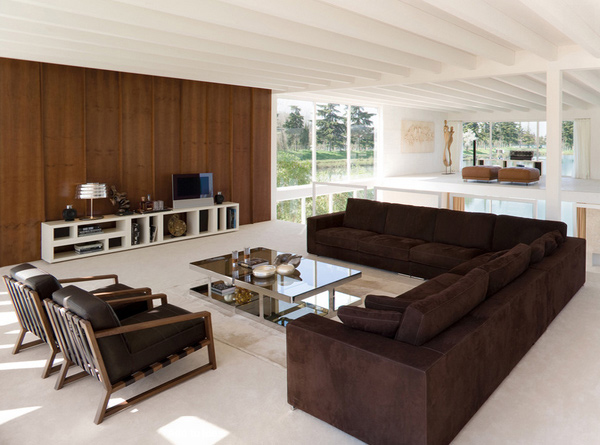 Here is an example of a similar sofa system placed together to create an elongated corner sofa. What an impact this arrangement has on the space!
Rustic Road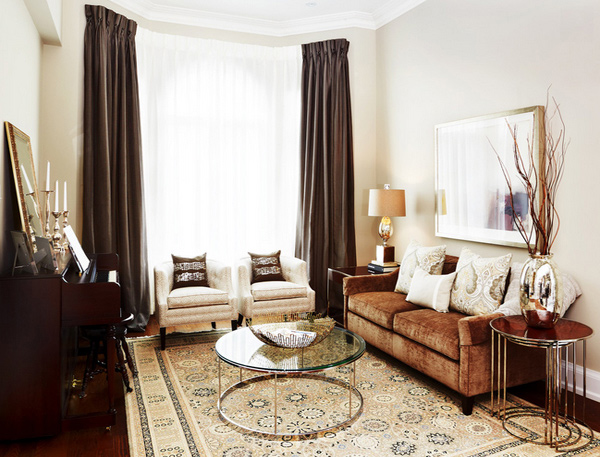 Blend warm neutrals for an easy, elegant look. A warm cinnamon-brown sofa anchors this living room arrangement, supported by espresso drapes and pale latte-foam-colored walls.
Smithcliffs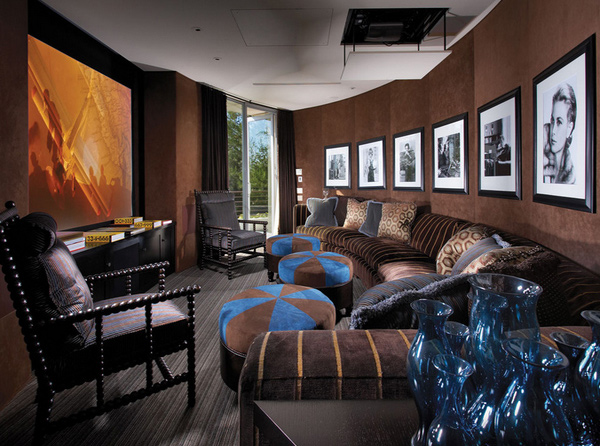 This theater room elegant and cozy. It's not too big and is not too small. We like that it is wide rather than deep. However dark the color palette is, it still is warm and homey.
Tribeca Triplex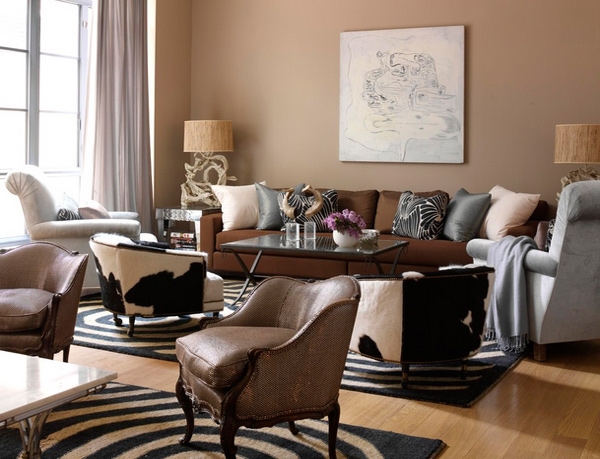 This room is so interesting and it works on so many levels. Lots to learn here about working with a neutral color palette. In making rug decisions for a room, another approach would be to bring in multiple area rugs. This can be very effective when the room is large with more than one seating arrangement.
Vallecito Reservoir Residence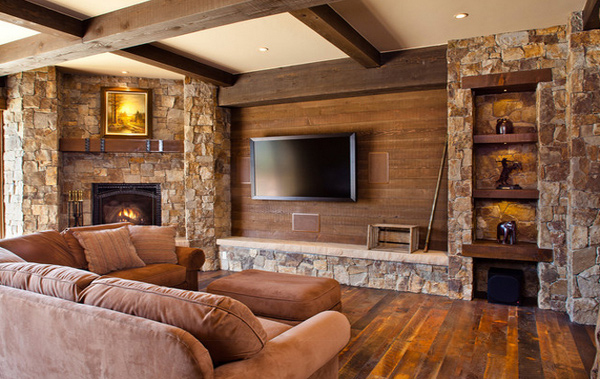 Smaller scale on a single wall, with pale brick and white wood. The minimalist concept for this space is really interesting and full of texture.
White Pine Canyon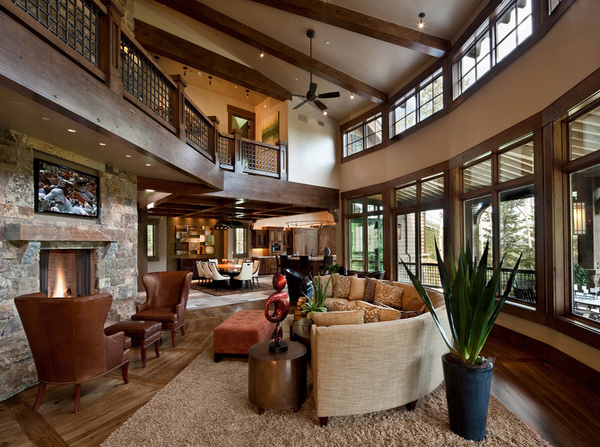 Few things we love about this living room: Trim. Fireplace. Timbers. Wood. Kitchen ceiling. Everything. This space is one of a kind!
Willow Hill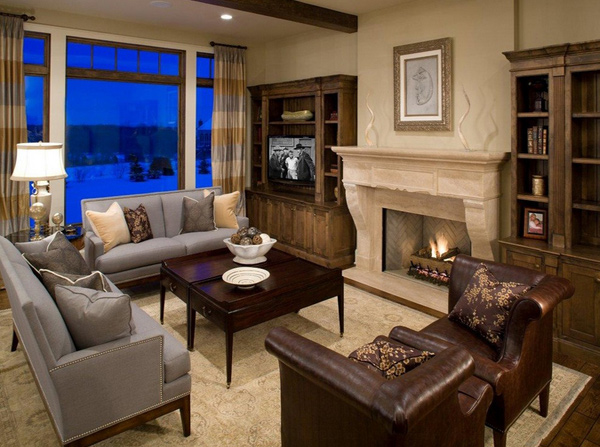 The shelving unit are fabulous! They look like a combination of vintage and traditional. The dark center table and brown sofa looks great paired with the grey sofas and light-colored walls.
How did you like the list that we have just posted above? We would like to add that brown is a solid color with strength and maturity. It prefers to function in its own safe little world – it is not carefree and spontaneous and doesn't like surprises. It can be considered dull, boring and unexciting by many. In fact it is one of the least preferred colors in the western world, along with orange and yellow. With that, we hope you can also check beige living room designs for images in the line of earth tones but really lighter!