Before and After Photos of Pettigrew Yard in California
I have a feeling that you will envy the owners of this beautiful farm and garden the same as me with its lovely outdoor spaces.
A boring and dull yard that wasn't utilized for a long time can actually be a good area for the family to bond together; it can also be a perfect place to grow plants and even raise chickens – just like what this family did.
Couple Michelle Pettigrew and Jerry Kaplan purchased their Georgian colonial home in Hillsborough, California. They wanted to have a place that can provide entertainment and playtime for their daughters.
Their outdoor area has an outdoor swimming pool, a play structure, an oversize chess set, a ball court, and a trampoline as well. It has a large chicken coop and an edible garden.
There were some changes when the daughters of grew up and you will see that below too.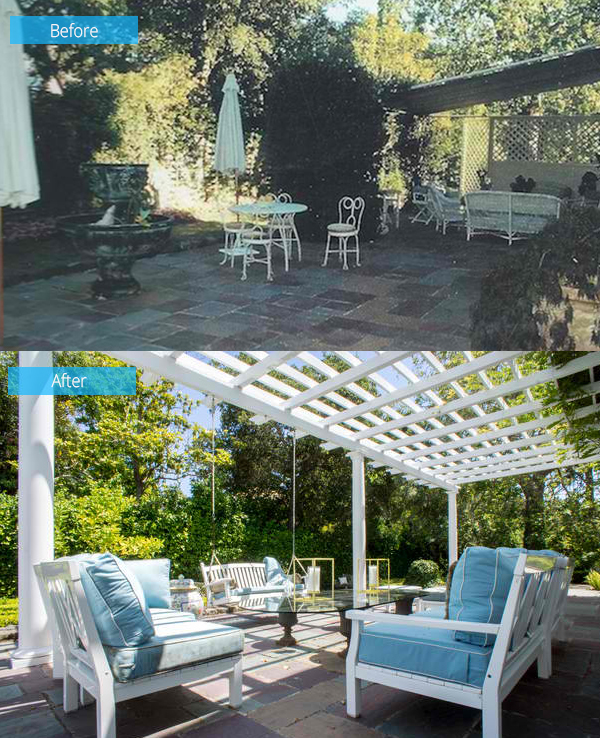 Before, the yard lacked coherence and was dull. But it was transformed into a side terrace with pergola that is accessible from the living room. The original Connecticut bluestone was preserved.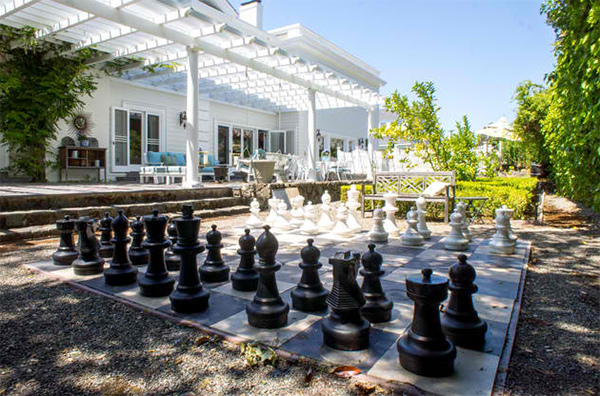 And this is the highlight of the garden. It has a built-in life size chess set which sure is an attractive part of the yard.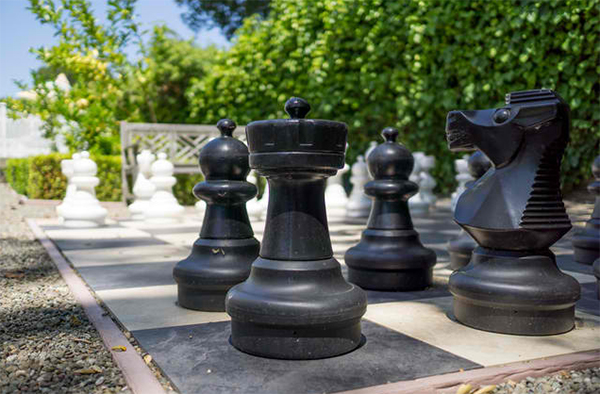 These were made with much detailing that resembled the real chess set we can play by hand. And yes, it looked very beautiful with the green backdrop of plants!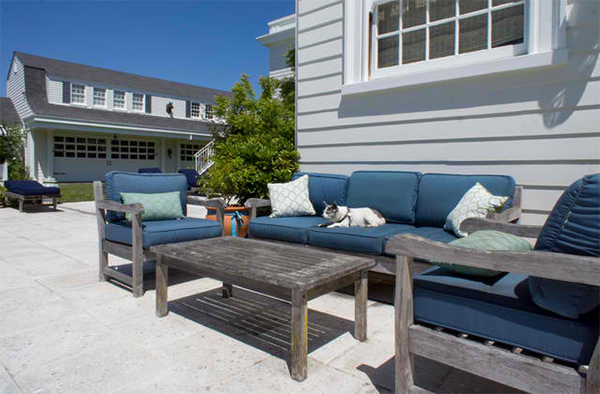 The seating area on the terrace has pretty blue comfy pads that will make the guests enjoy their time here.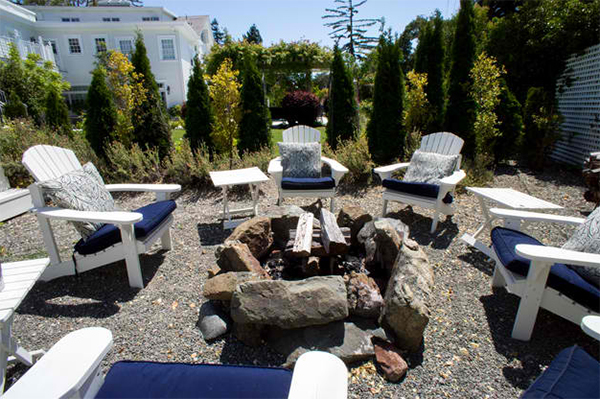 The once trampoline area was turned into fire pit because the kids already grew up. You can see here six Adirondack chairs where guests and family enjoy some night time chats and relaxation.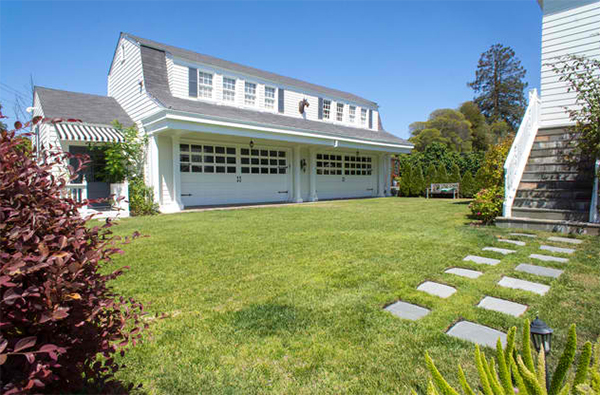 What you see here is behind the main house. It is a garage space that was converted into a multifunctional room used to host parties for a large number of people.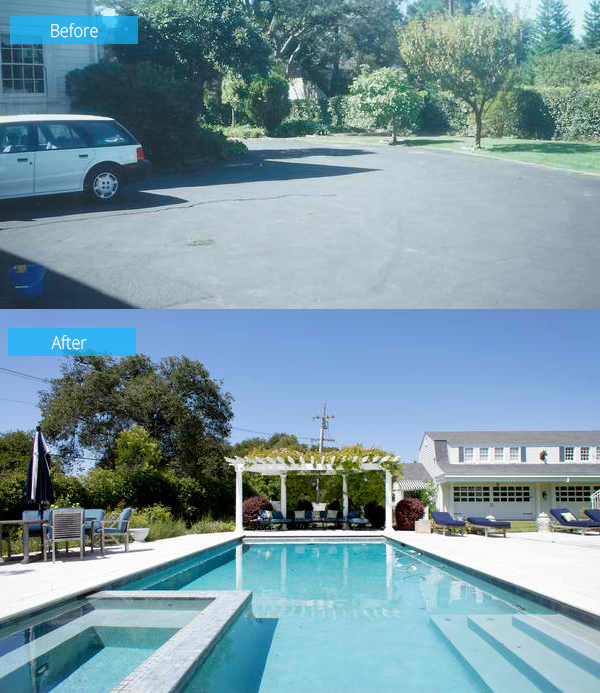 Another before and after photo where we can see the area behind the house which was once covered in asphalt. Since the space was not used, it was turned into a swimming pool making it the favorite part of every family member!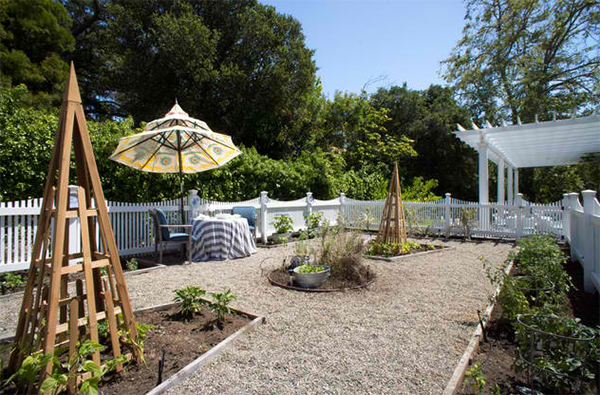 Adjacent the chess set was a play structure but as the kids grew up, it was no longer utilized. Hence, it was transformed into a farmer's-market-inspired edible garden. It grows artichokes, tomatoes, squash, potatoes, peppers and a plethora of berry varieties.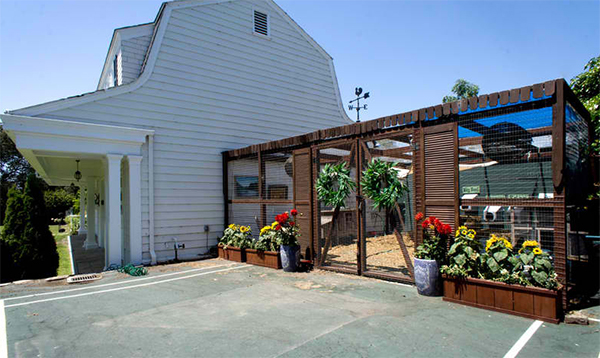 And of course it has a large chicken coop with five chickens. The chickens can move around freely here.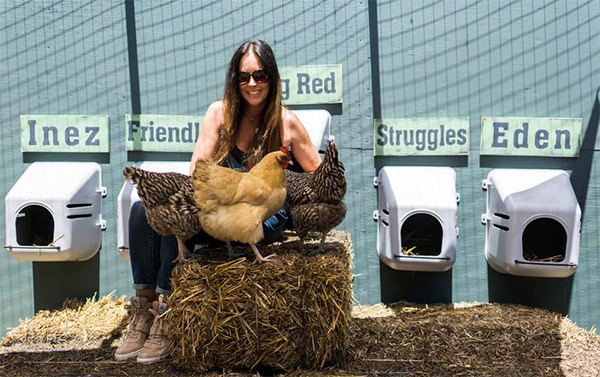 For sure, you will know what the names of the five chickens are and we can see how happy the owner is with them!
Now this is indeed a beautiful yard makeover! It sure is spacious too because the family can host around 300 people in the outdoor area. There is also a fountain area with benches and some box hedge plantings where you will surely see butterflies and bees! Landscape Architect Michael Callan did this redesign of the outdoor space and we are certain that the family is very happy with how it turned out. One thing that we noticed is that they kept on changing things to suit their needs which is a good thing. No one wants to leave a pretty space unused after all!