23 Wooden Finished Porcelain Tile Kitchen Floor
We have already featured a list just recently about kitchens with porcelain flooring – today, we have a list for you, still about porcelain flooring except that they are somehow creates with a wooden finish most people who prefer an eco-friendly look and approach to their home spaces would love.
Here are 23 Wooden Finished Porcelain Tile Kitchen Floor that will definitely make your day much better than it already is because of how beautiful this kitchen designs are along with the wooden porcelain finish they have to them. These kitchen designs may be simple, maybe even monochromatic – but they are all beautiful in their own rights and I am sure that all the designers, decorators and the home owners of each kitchen below is proud of these spaces. Check them out!
1. 87th Street Kitchen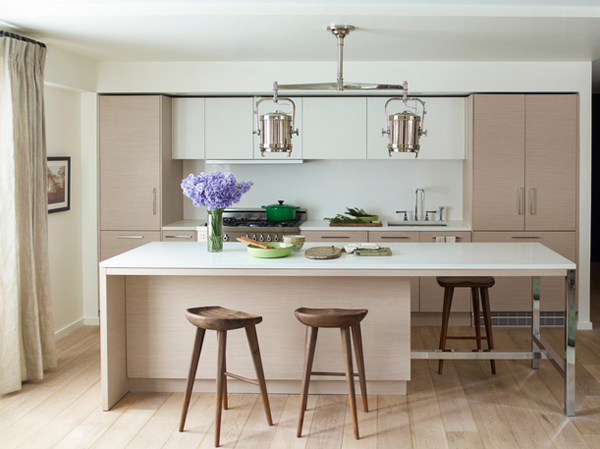 This New York kitchen is one stunning space with an amazing neutral color palette which looks amazing.
2. Arbutus Lodge Lake House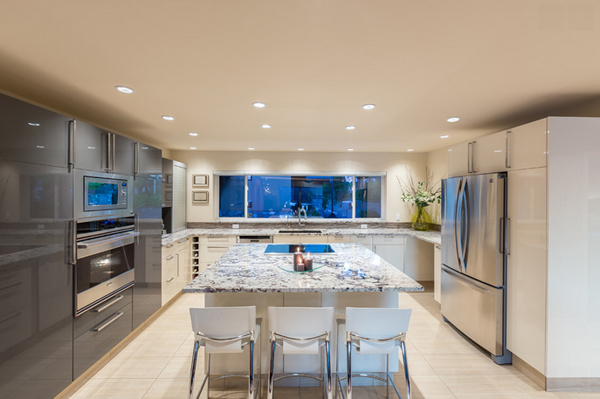 The porcelain 12×24 tiles on this kitchen complements well with the color of the counter and the appliances on the left side.
3. Atlanta Transitional Kitchen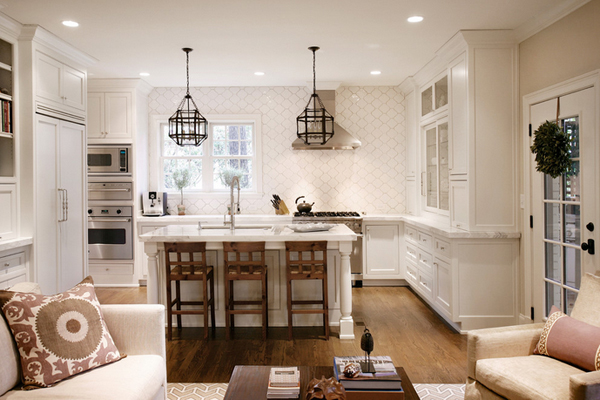 This is one transitional Atlanta kitchen that has stunning decor and porcelain tiles for the flooring.
4. Bayview House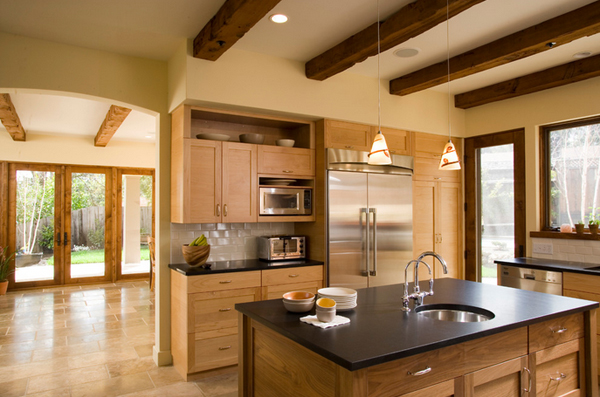 The backsplash contrasts with the wooden cabinets and drawers and stand outs because of the shiny wooden porcelain tile work.
5. Beach House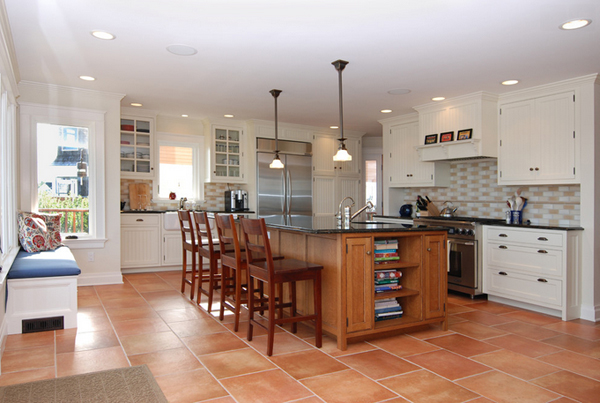 The flooring of this Huntington kitchen is porcelain tile, looking like a large scale terracotta.
6. Boise Traditional Kitchen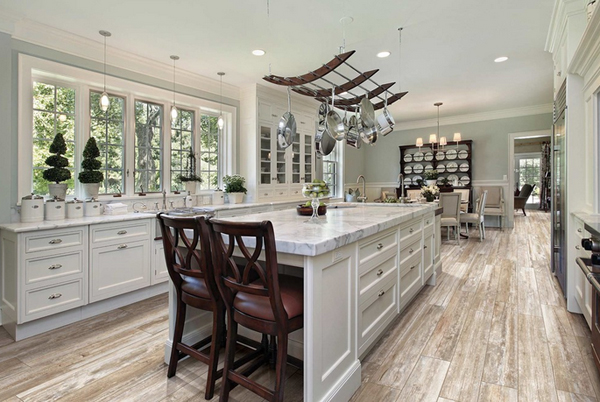 Boardwalk Myrtle Beach porcelain wood floor tile is used in this Boise kitchen that sure looks beautiful.
7. Butler Creek Residence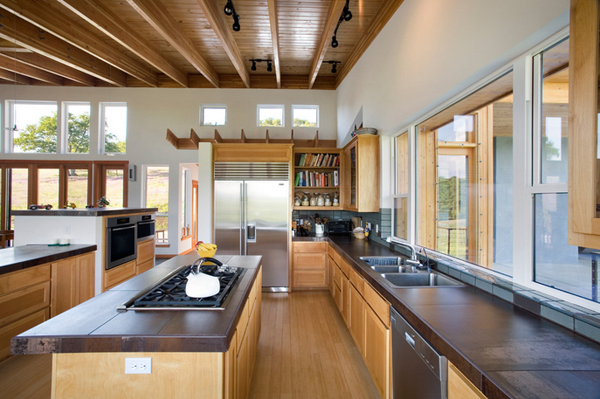 Love the color & lines in these concrete countertops that complement with the cabinets and the porcelain flooring.
8. Campbell House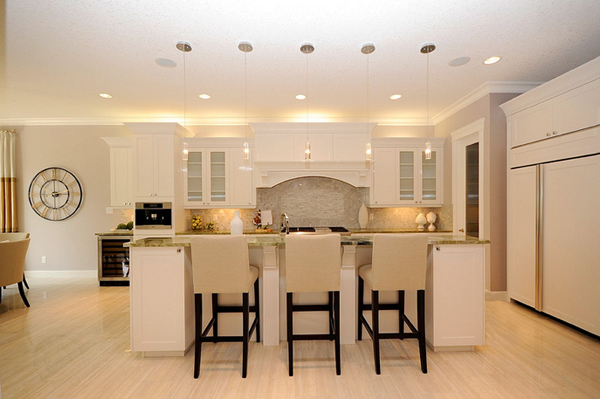 An Edmonton contemporary kitchen has a ravishing look which I'm sure a lot of people would love. From floor to ceiling, decor, furniture and appliances.
9. Crane Residence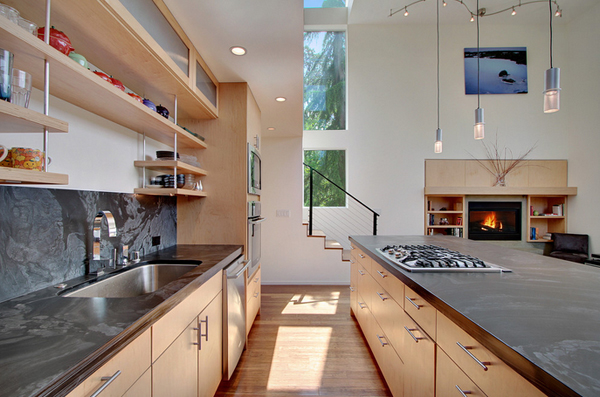 The obvious downside to a single bowl sink is that it's not a very good multi-tasker. For those who primarily hand-wash their dishes, it's not as easy to wash, rinse and drain/dry dishes with just one sink bowl at hand.
10. Curved House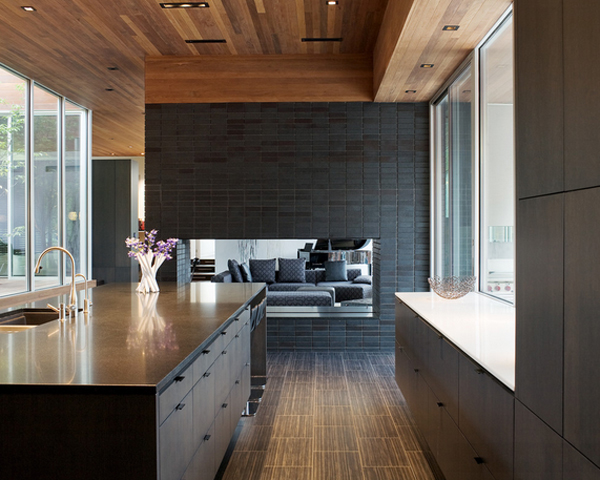 This modern kitchen has a dividing wall as a fireplace, making a bold design statement with a streamlined flame that travels from one side of the room to the other.
11. Knopp Scott Residence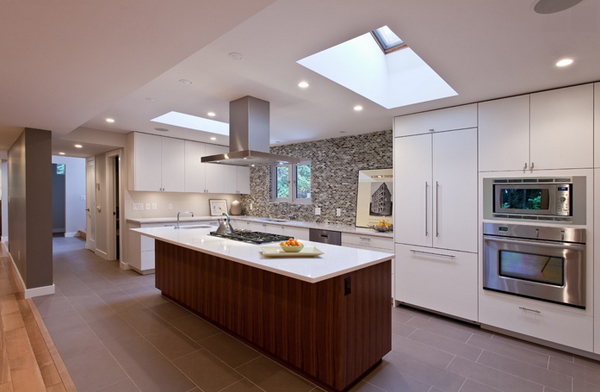 I like the skylight and angularness of ceiling of this Vancouver kitchen.
12. Los Angeles Kitchen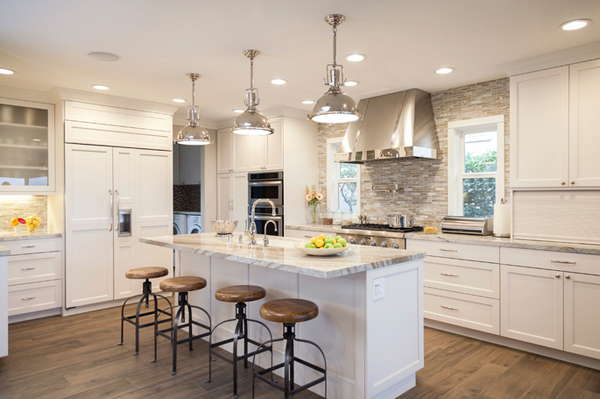 Love the combination of the Walker Zanger tile with the quartzite.
13. Meyerland Ranch House Renovation
The red birch with slab doors and drawer fronts is done nicely. Contrast on the cabinets and the flooring is cool.
14. Naples Luxury Townhome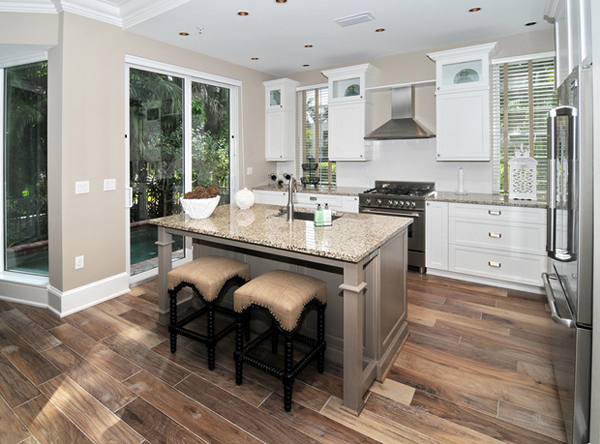 This Miami kitchen has a fascinating flooring and awesome furniture added to the kitchen island.
15. Penn Valley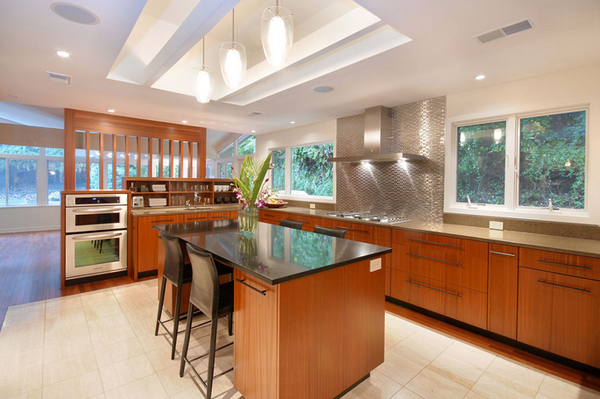 Contemporary kosher kitchen in sapele mahogany in a mid-century home in Philadelphia's Main Line.
16. Piedmont Kitchen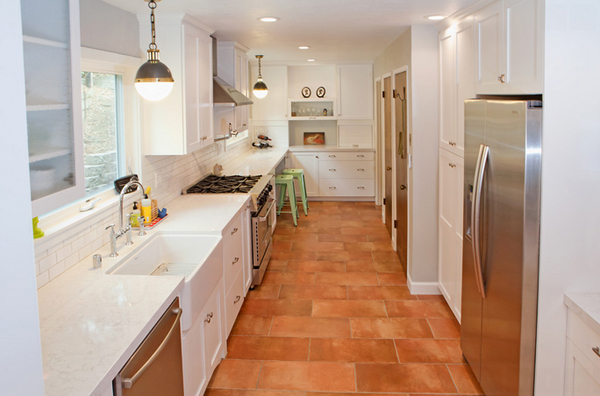 White cabinets and white marble countertops contrast nicely against terracotta colored porcelain floor tiles.
17. Queen Anne Residence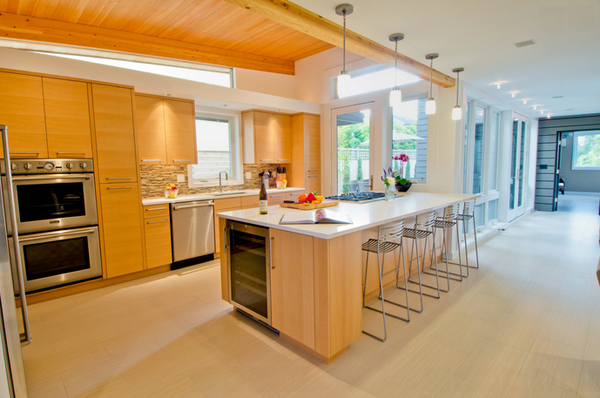 I like the clean kitchen with white counter & beverage fridge.
18. San Diego Custom Residential Coastal Home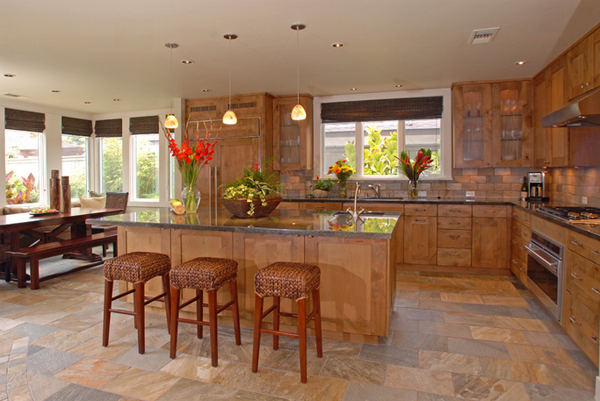 Monochromatic spaces are not that attractive but seeing this space is pretty awesome.
19. San Francisco Kitchen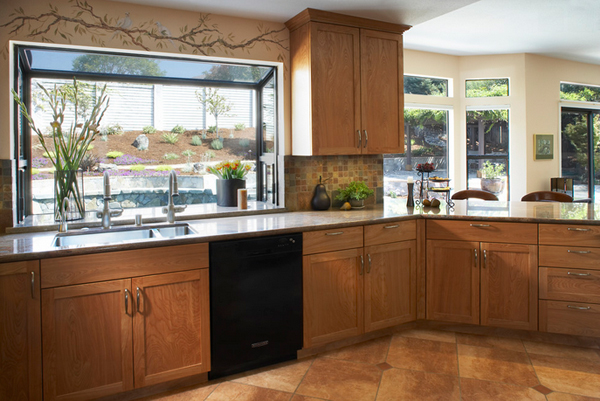 The warm colors used in this kitchen is very compelling for rest and love of nature.
20. Seattle Contemporary Kitchen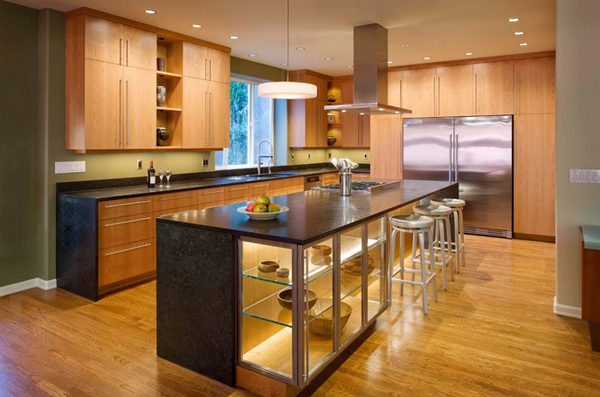 Similar to windows, cabinets affect a wide range of trades people who are lined up to work directly after their installation. Flooring, tile and countertop installations are all linked to the casework in kitchens and baths.
21. Tuscan Cherry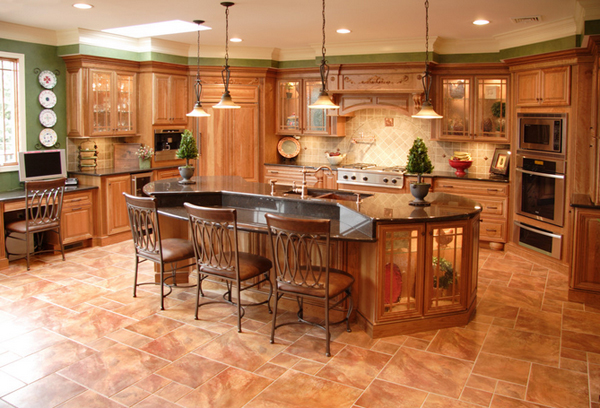 Specially designed for entertaining and family gatherings, this Tuscan inspired kitchen, features Natural Cherry Glazed Cabinets, Dark Brown Granite Countertops, Rust Color Glazed Porcelain Floor Tiles (in four sizes), and Neutral Porcelain Backsplash Tiles with Decorative Copper Inserts.
22. University Park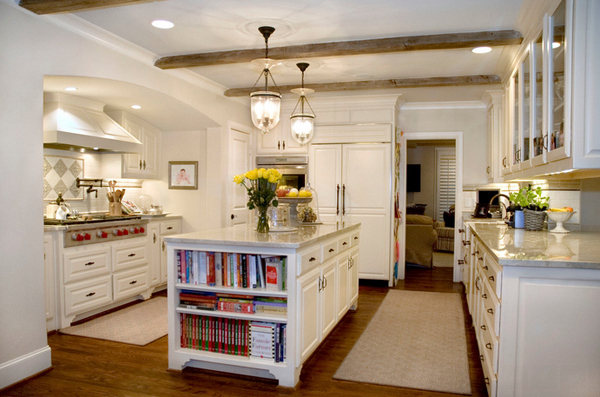 The book shelves at the end of the island is a smart way of using a possible space intended for cabinets or drawers. Also, check out the stunning wooden porcelain flooring in this Dallas kitchen.
23. Weston Kitchens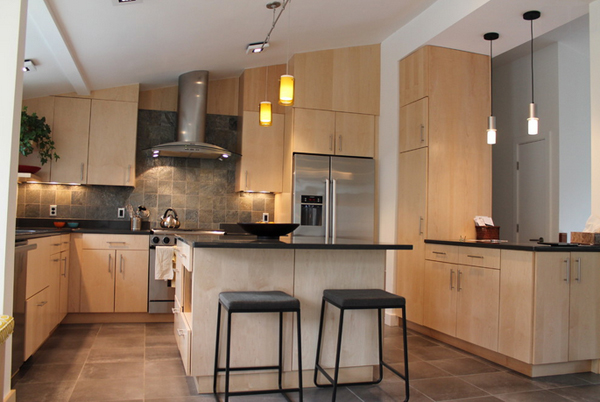 I love the finish used for the cabinets for this Boston kitchen that followed the lines of the ceiling – not to mention the stunning flooring that complement well with the counters.
Totally love the kitchen designs above! How about you guys? There are also kitchens porcelain flooring that we created before. They have similar flooring – porcelain except that they have different finishes. This list is an awesome list because of simple each kitchen seems at some point when you are not actually aware that the floors are made of porcelain. We love them totally! More to come in Home Design Lovers!