20 Gorgeous Glass Kitchen Cabinet Doors
As conscious as we are with the right function and design of a certain space is, we should never forget that cabinets are essentials – especially in the kitchen for storage and design. Okay, let me explain the storage and the design factor I just mentioned. Storage is important in any part of the house; we all know that, pretty explanatory actually. It is necessary for us to keep our food or groceries and for us to store important things that are not being used; and for the design part – imagine your kitchen without them. I know, you're welcome.
So for today, we have collected a couple of pictures of cabinets in contemporary kitchen spaces wherein we are able to have a clear view of the cabinets that we are talking about. These cabinets mostly have a wooden base but have glass door. You will notice the different materials used in each cabinet and we are sure that you'd love each one of them!
1. 1920's Mediterranean Revival Kitchen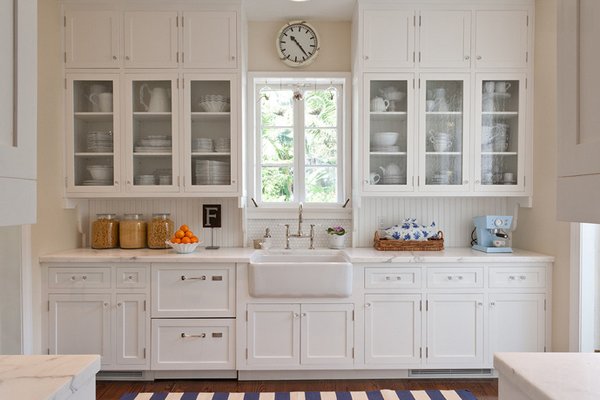 Custom maple kitchen in a 1920 Mediterranean Revival designed to coordinate with original butler's pantry. White painted shaker cabinets with statuary marble counters. Glass and polished nickel knobs.
2. Andrea & John's Kitchen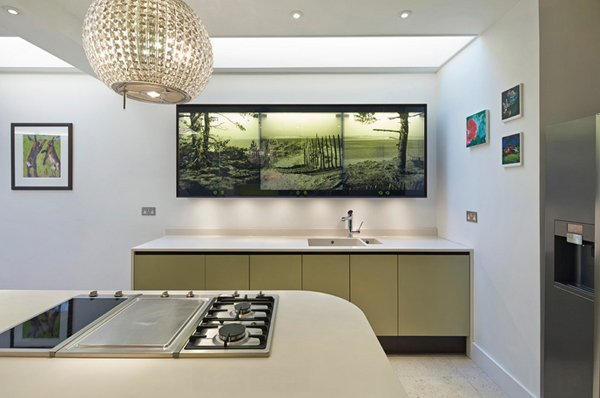 It is ideal to have a window at your kitchen sink. But if you don't have that luxury (or you would prefer the extra cupboard space instead), take photographs of some favorite personal places and have them screen-printed onto glass cabinet doors.
3. Azul Kitchen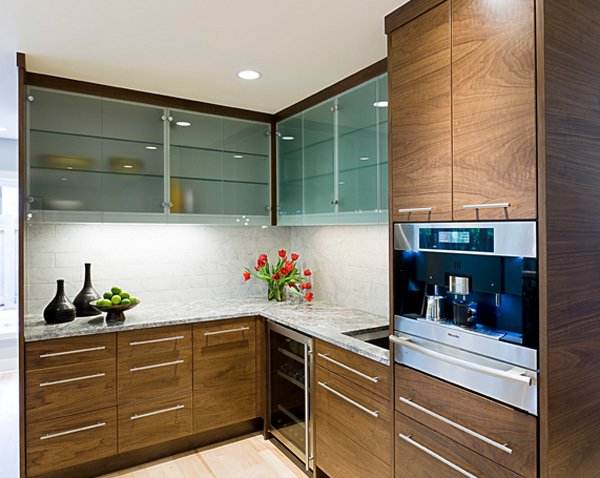 Traditional glass-front cabinets have a wood frame with a glass center panel. Frameless glass-front cabinets have just one sheet of glass for the entire cabinet front.
4. Bespoke Salem Home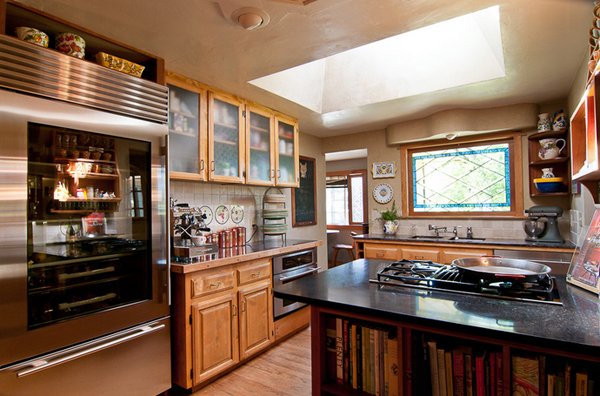 Sal built the island, pantry and fridge enclosures. The rest of the existing cabinets were stripped and refinished, and the wood doors were replaced with glass insets.
5. Calamus Circle Residence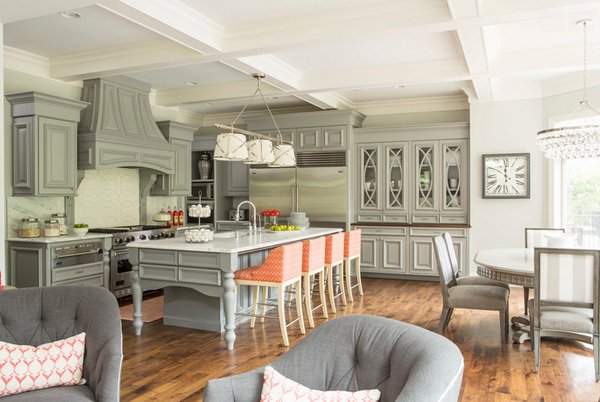 "Our designers work across the range of styles, and it's always a treat to try something new. We don't go into our work with preconceptions or a design agenda. Instead, our goal is to help our clients achieve their vision and to take that vision to its full potential."
6. Coco Chanel Inspired Kitchen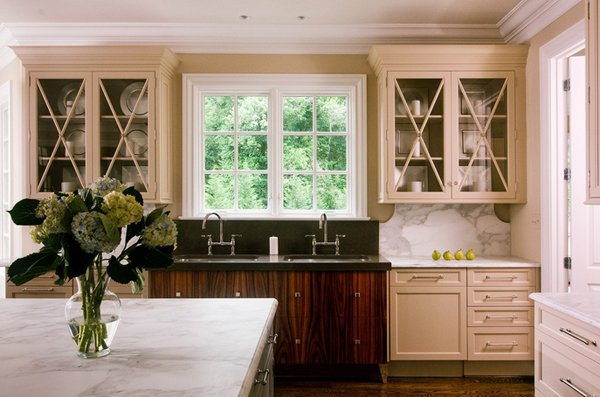 I like how the smoky white granite matches well with the white cabinets above it.
7. Contemporary Kitchen in DC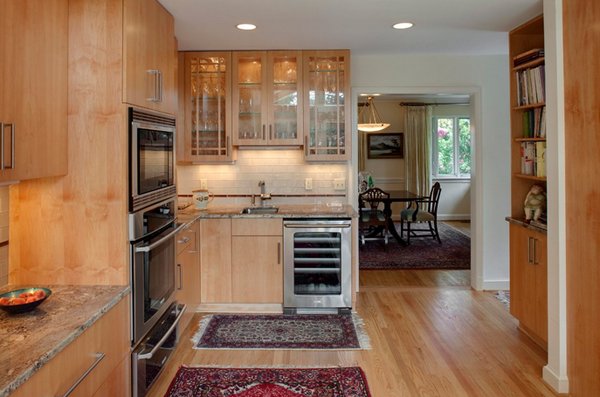 Look at the white backsplash with gray granite paired with the wooden cabinets.
8. Courtyard House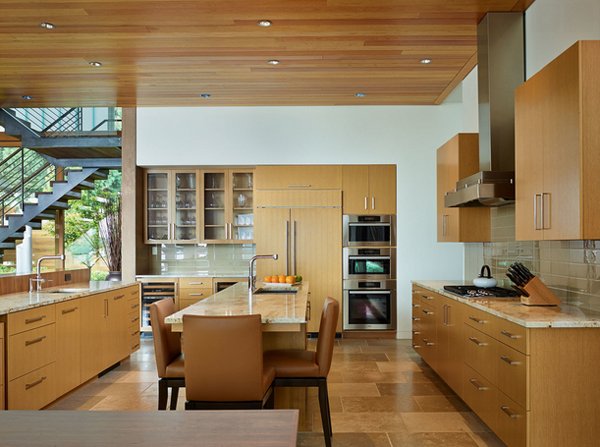 The Marly limestone floors, stained white oak cabinets and honed Colonial Gold granite continue the feeling of warmth in the contemporary space. A glass tile backsplash and glass cabinet doors reflect the light.
9. Curtis Units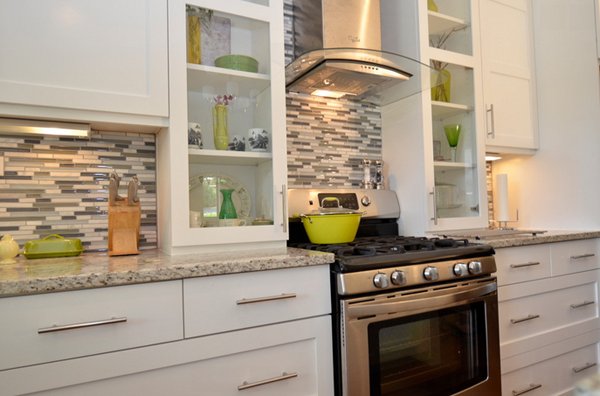 "We designed countertop to ceiling cabinets to allow for as much storage space as possible. With 10 ft ceiling this allowed for the space to have a grander feeling while still remaining visually grounded."
10. Gorski Residence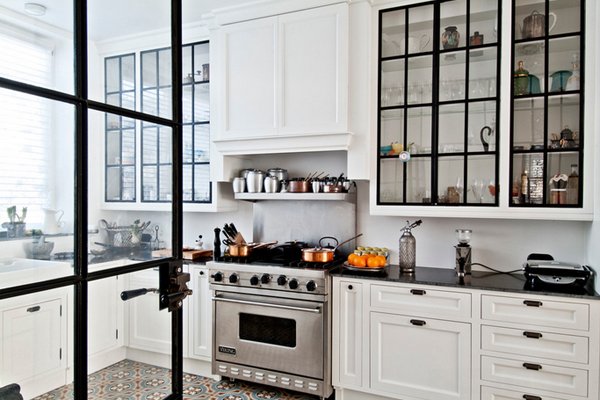 People who saw this picture said that they definitely love the tall paned glass cabinet doors; well I did too.
11. Greitzer Residence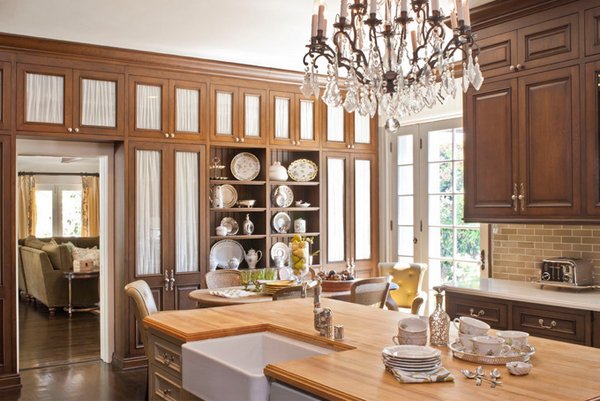 Love the idea of fabric behind the glass.
12. Kalorama, NW, DC. Whole House Remodel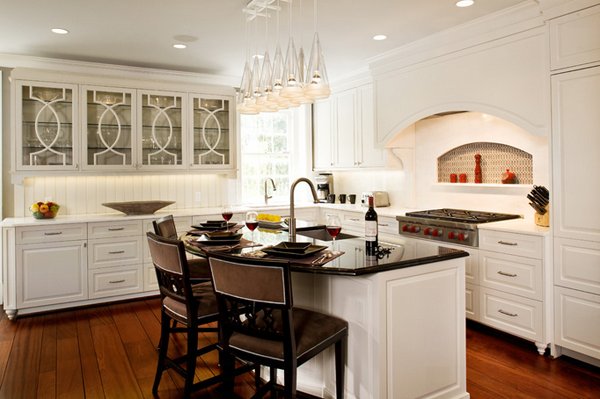 More great trim details on glass fronts!
13. Lincoln Ave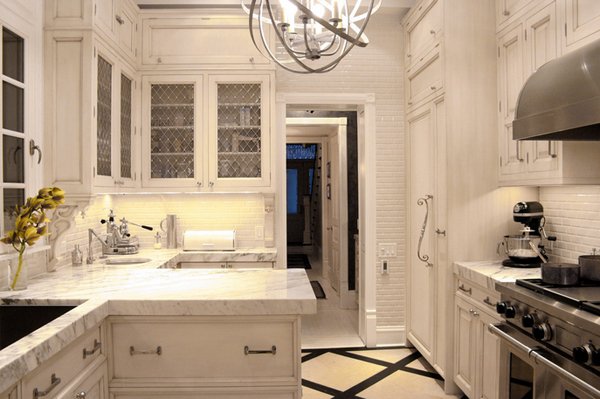 Here the same designer used some more fanciful touches, like that fabulous spherical pendant, the S-scroll door pull, the patterned floor and the details on the glass cabinet doors to add personality to a white slate.
14. Nantucket Orange Street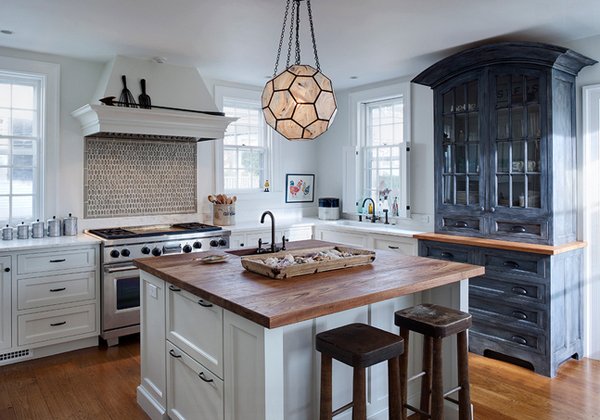 "The top cabinet is a great place to have glass cabinet doors," says Grelli. "This is your showpiece, and everything within this area should have a story. It's where you can show off your grandmother's china, your nicer stemware and other year-round effects that don't get used every day."
15. Native Woods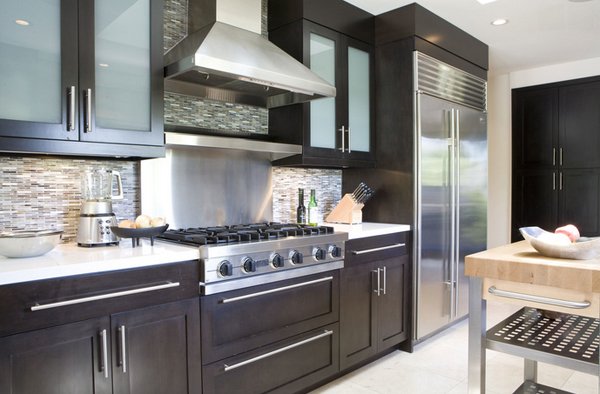 "These handmade tiles are slightly irregular, causing them to have a wonderful touched-by-hands quality that reflects light in an uneven way and sparkles,"
16. Portland Remodel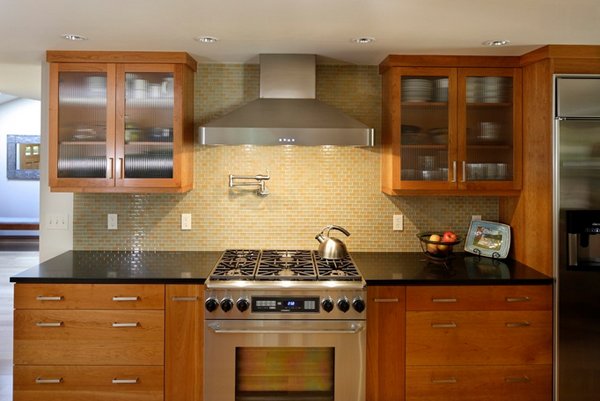 Look closely at the flat front natural wood cabinetry with dark counter tops and stainless steel appliances.
17. Samantha Manning's Kitchen Design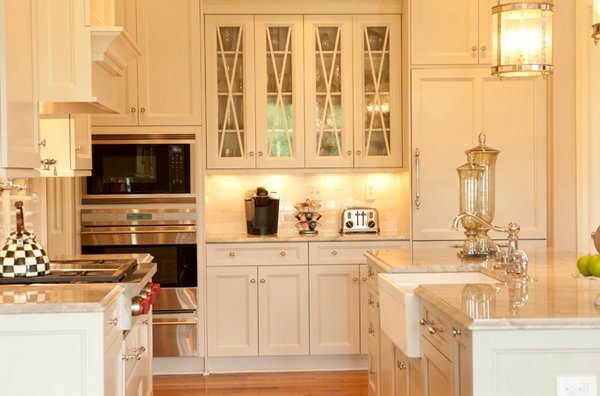 I love the soft glow with off white cabinets and stainless with light colored marble.
18. Sea Cliff Hideaway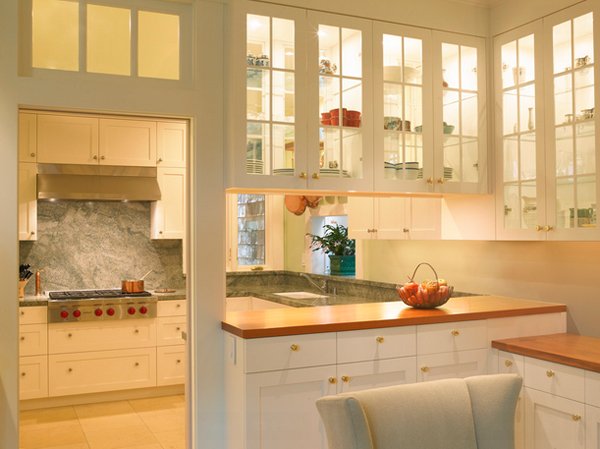 This kitchen combines open and closed in a way that allows the chef to still be part of the party. A peninsula limits the flow of traffic into the kitchen and creates more space for working cooking magic. Upper cabinets add to the partially enclosed effect.
19. The Green House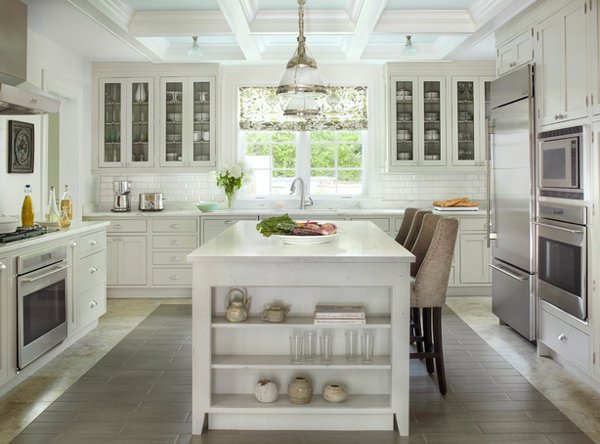 This new kitchen was created to be light and airy with an abundance of natural light. The hand selected chandelier floats above the center island. This is truly a cook's kitchen with magnificent cabinets, some with glass panels, and built in, state of the art appliances including Sub Zero and Wolff. The butler's pantry flows into the eat-in kitchen.
20. Yarrow Point Residence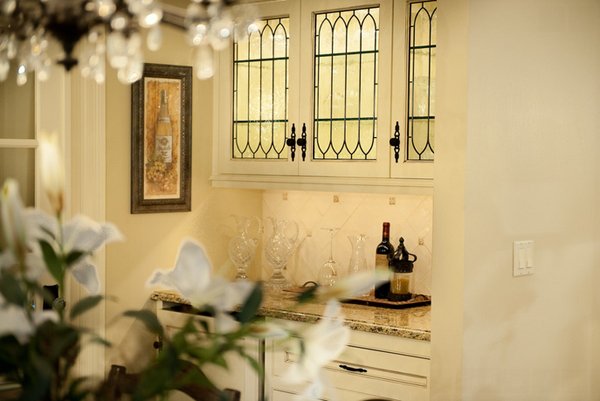 Leaded glass. This would make a nice bar area between kitchen & dining room.
People may have different views in designs – especially for designers, decorators an even the client themselves, but we all know the how important cabinets are and when you do not have them in your kitchens, please do get one!