15 Small Kitchen Tables in Different Kitchen Settings
Some of our friends recently shared a dilemma, as single women, it's either they eat out or cook in their apartments. Choosing to practice cooking or be able to save time can be a real toughy.
So now, since most apartments do not have so much of a kitchen and a dining area, adding an area where they could actually eat would probably do the trick. So today, we will be seeing 15 Pretty and Small Kitchen Tables they can actually choose from.
The bar tables we've seen come in two sorts. There are the nearly chest-high tables that require bar stools, and then there are the smaller two-person cafe tables.
The higher tables tend to create a sense of space without making us feel crowded in a small kitchen, but it's also nice to be able to sit down at a normal-sized table for breakfast. Either way works – take your pick!
Barn Restoration In Harding Township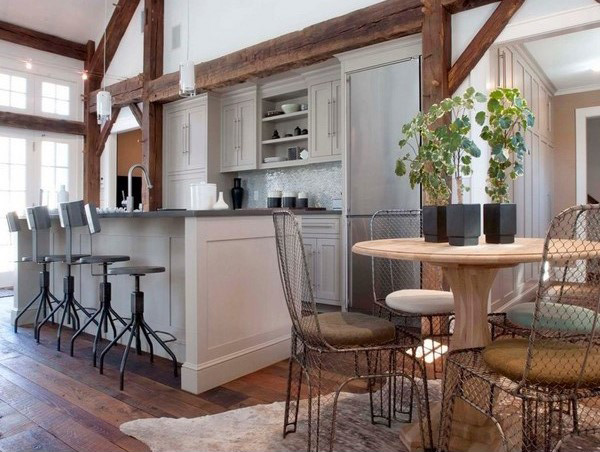 A small round kitchen table and industrial counter stools provide more casual and intimate gathering spots. The patina on the metal chairs and stools picks up on the weathered gray tones of the old barn wood.
Austin Contemporary Kitchen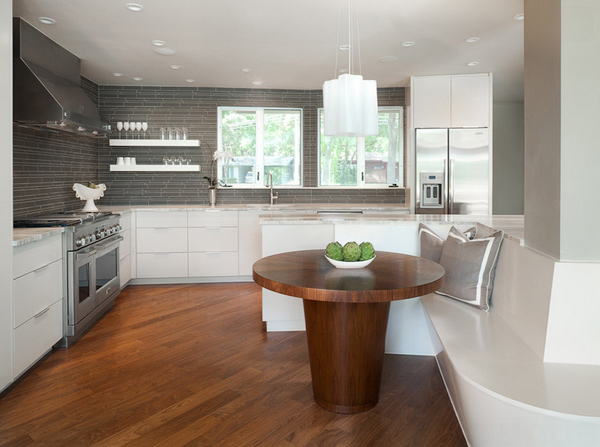 The designers found this enchanting Crate & Barrel Orion table from the makers themselves, although according to them they no longer produce tables like these. Isn't the table plain adorable?
Calm, Cool & Collected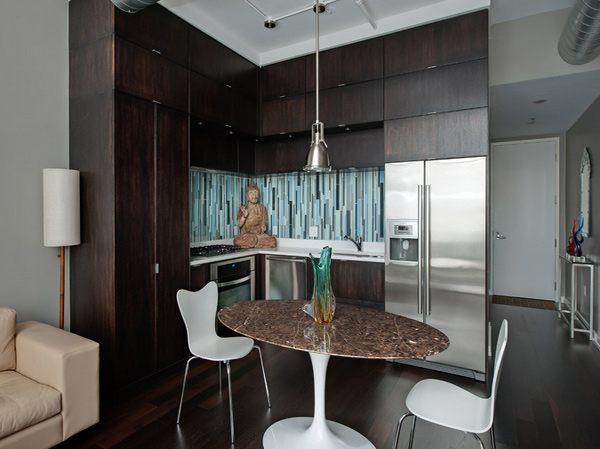 Have you ever seen a custom made Saarinen table? Well, you have now! A fab and totally stunning kitchen table!
F65 Transit Village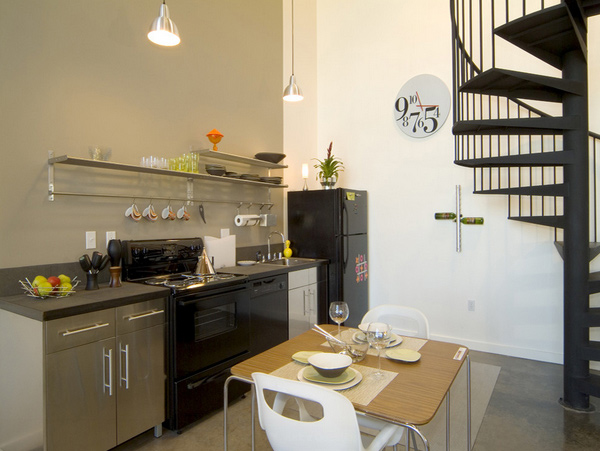 Two-toned wall kitchen with a minimalist touch! State of the art appliances match the simplicity of the kitchen furniture and industrial lighting.
Fjardelangg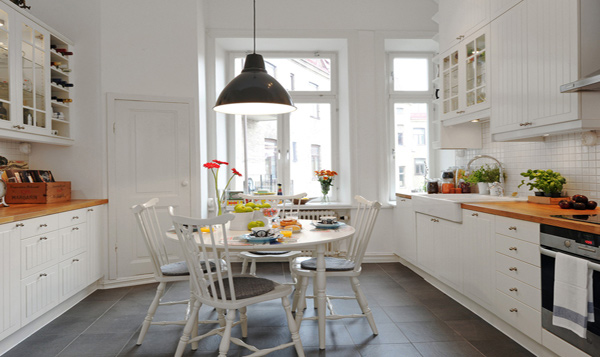 Rather than dismantling their roots and history, the homeowner, along with the designer found that this gorgeous space can be recreated as a chic kitchen. Notice that the kitchen table and the chairs completed the look.
Modern Island Kitchen Design Using Stainless Steel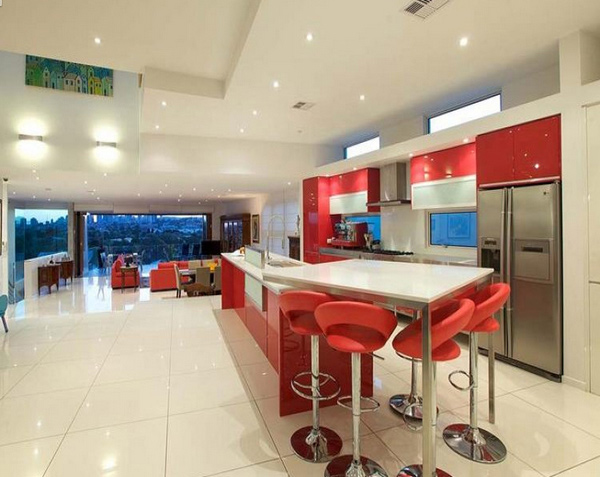 Using a bold color for this kitchen makes this home one spectacular place to be in. Using a high table with stools gives it a classy look.
On Que Interiors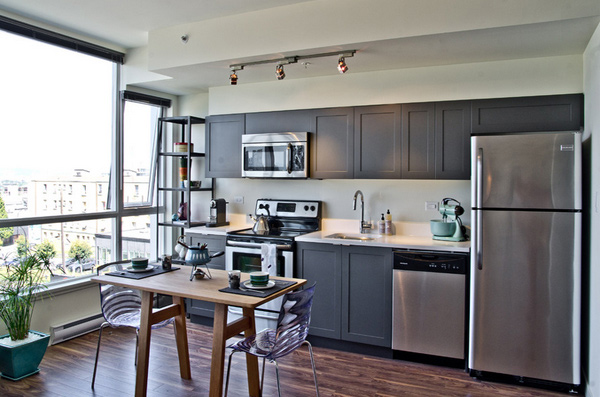 While the designers wanted to keep things fresh & modern, shaker style cabinets were chosen to show some heritage roots. Furnishings from a number of local sources including design house, mint, full house, bombast and attic treasures.
MVH Home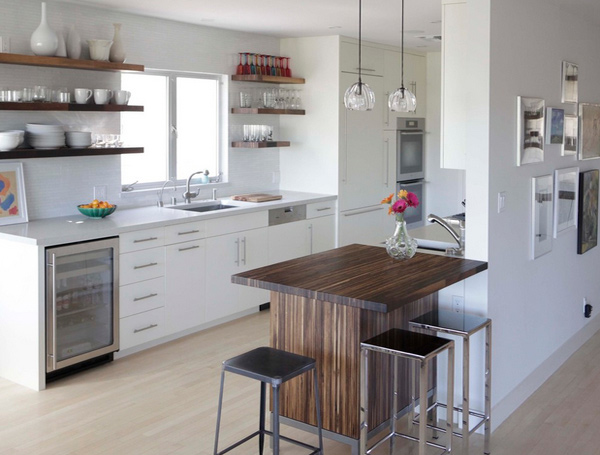 Cute and brown kitchen table in a white kitchen makes it really stand out! Note the pretty stain it has which makes it stunning and nice to look at.
Historic Bungalow Renovation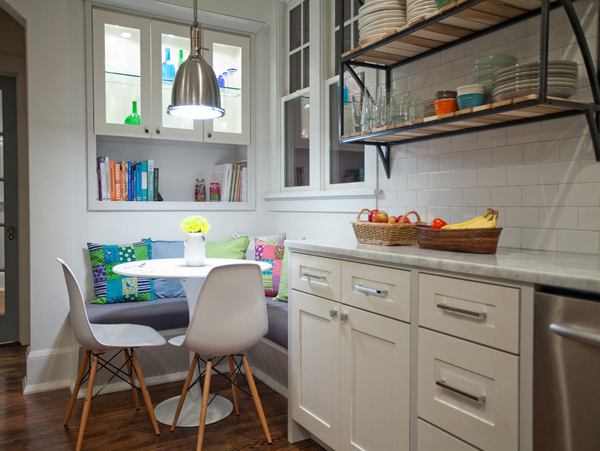 Cut the countertops off before they hit the wall. This saves a corner for a banquette and two chairs. This room also uses a thick wall cleverly, creating a recessed display cabinet and a shelf for cookbooks.
San Francisco Apartment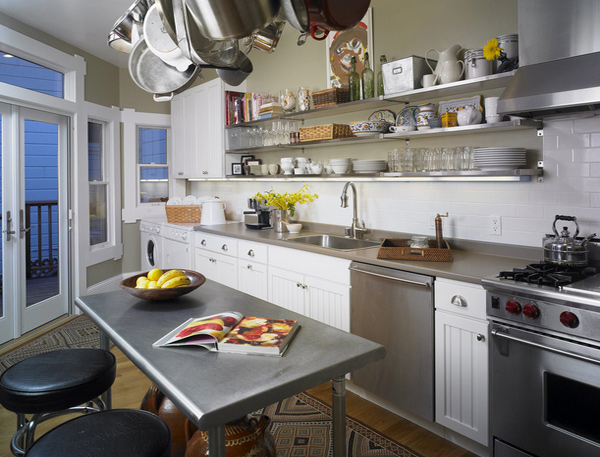 The openness of the shelves makes the kitchen brighter and provides impetus to keep the shelves uncluttered and stocked with pretty, matching dishes; the shelves match my chrome freestanding shelving unit
Hvitfeldtsg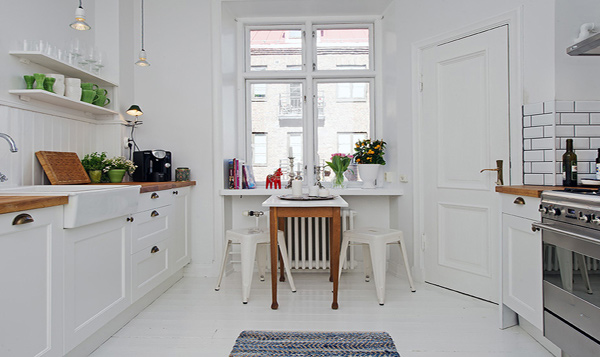 According to the home owner, the living room is "also our dining room, home office, painting studio and part of our kitchen," she says. "I totally don't mind the open floor plan and actually love that one space spills into the other."
Small Cottage Kitchen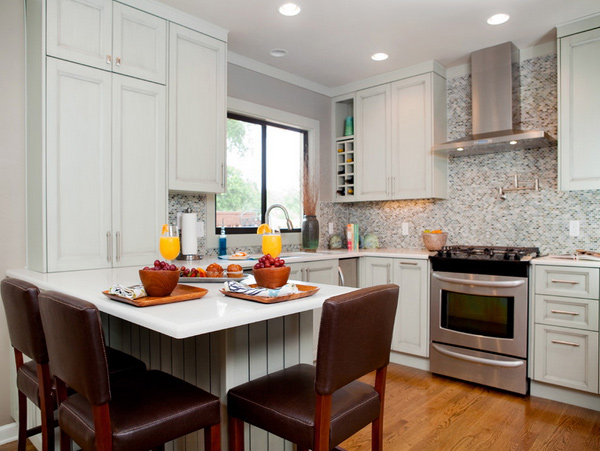 Note the homey feel to this contemporary kitchen wherein it makes us think about how the things were made in the room – the backsplash is gorgeous even when it seems like a lot is going one, but opposite it is the small white kitchen paired with brown high chairs – totally stunning!
Small Moscow Flat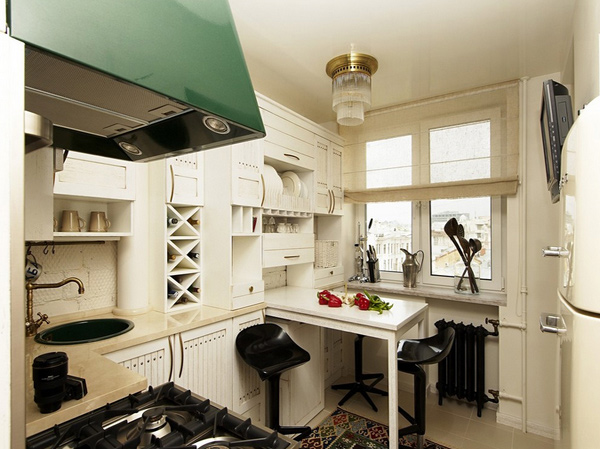 Classic, simple-looking materials became a huge priority, including marble counters and white MDF cabinetry. An all-white palette visually enlarges the small space.
Westmount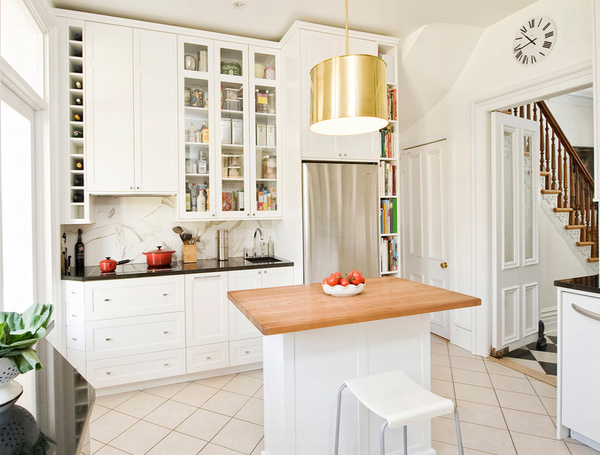 When you're entertaining, avoid a constantly swinging door by using a doorstop. Once the food is served, get rid of the stopper to hide the messy kitchen from guests. Obviously, the home owner does that in this kitchen, and thanks to the small kitchen table in the center of the room, whoever is in the kitchen can use it to place items or even to eat-in.
Now that were table choices we can all relate to – they differ in sizes, in shapes and in material. Of course choosing what's best for your home varies too, and the designs and style would totally depend on how you want your kitchen to look. The take on the material would also depend on the availability of it being in the market – oh well, we can get everything online too so material is not a problem. Hope you did like the collection on the 15 Pretty and Small Kitchen Tables and if you're craving for more tables, do check 20 One of a Kind Living Room Center Tables and tell us what you think about them!