20 Fascinating Red Bathroom Accessories
This maybe the first time that I created a list for the bathroom. This sure was pretty interesting for me because there was already a list about this only in purple and it was a great list! So, this time, I thought of creating a list closely similar to that other list. What we would be showing you is a list about red bathroom accessories!
Whenever we see a bathroom sink, we usually see a toothbrush holder, a soap dispenser or a soap holder and a glass. But today, with this list, you will be seeing more items like a garbage bin, a toilet brush and holder which are simple items but pretty much a necessity when you think about it. Check out the list below.
1. Bathroom Accessories in Red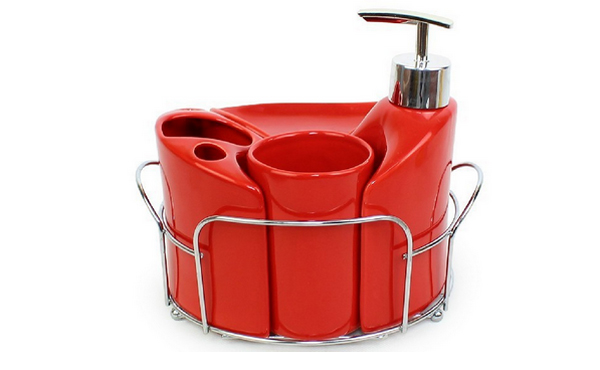 Installing solid colored accessories in the bathroom, for example red bathroom accessories, may help the bathroom to look bold and fierce against the main bathroom's color scheme.
2. Bathroom Set in Red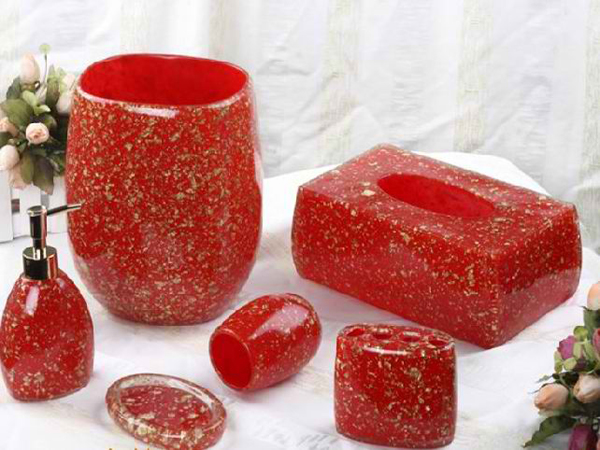 Another idea is installing the red accessories in one corner or in a particular spot. By installing such red accessories in a particular corner of a bathroom, you can create fancy bathroom decoration.
3. Cassina Vine Gradient Red Sistance Gift Red Bathroom Set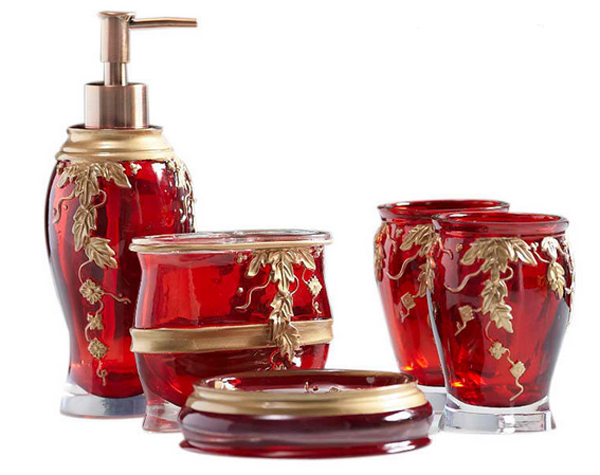 Cassina Vine set is made of glass, so we have to be pretty careful with it in the bathroom. The intricate design of this set reminds me of candle holders.
4. Contemporary Bath and Spa Accessories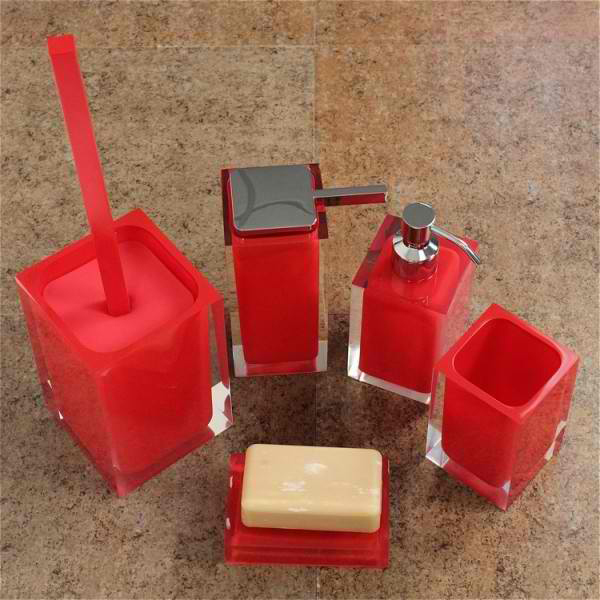 Plumbonline has this design in other colors. It looks contemporary because they changed direction of creating it with a square base unlike others that are circular or a bit oval.
5. Esprit Resin Bathroom Accessories in Red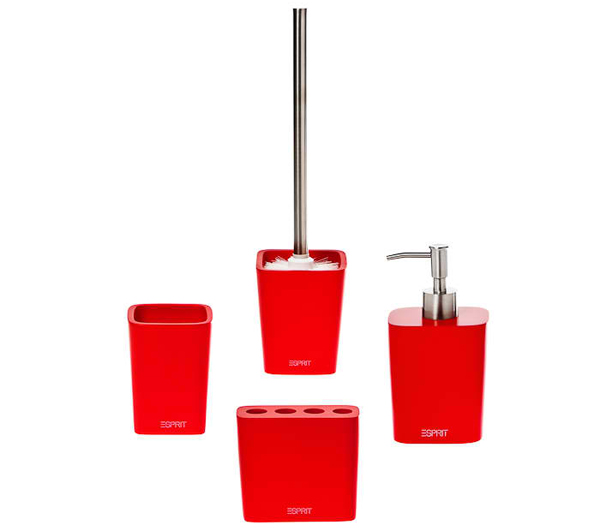 Another 4-piece bathroom set in red that is square and rectangular. How do you like this set?
6. Kyoto Red Faux Leather Bathroom Set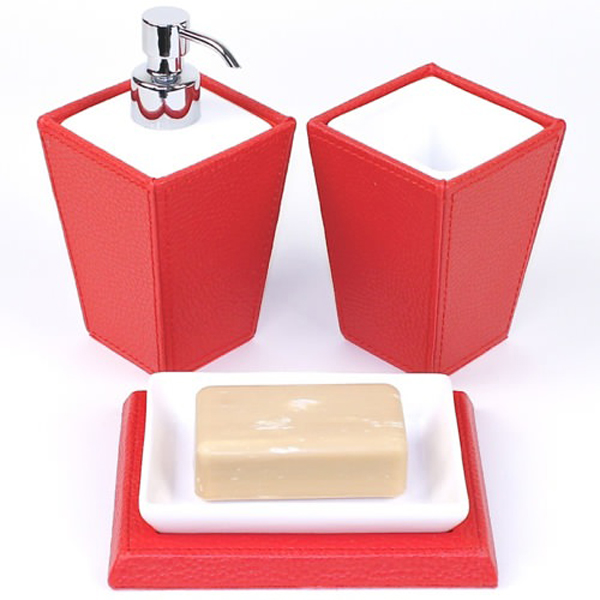 A soap dispenser, a toothbrush holder and a soap holder too! It comes in faux leather so it is not breakable; it is a good thing to use regularly, especially when we have kids at home!
7. Modern Red Bathroom Set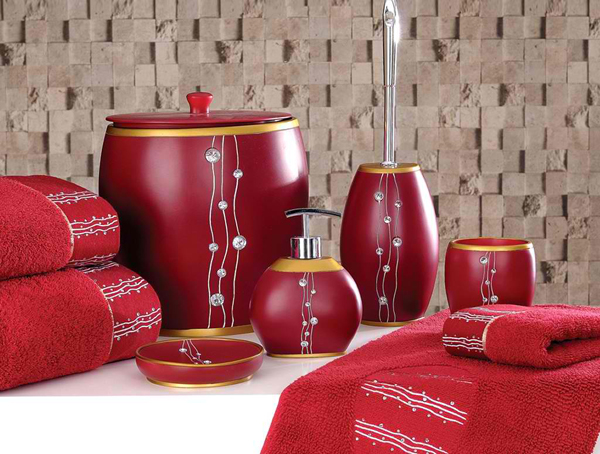 This modern bathroom set looks like lotion containers in red. The simple addition of studs and silver lining makes it a bit classier!
8. New 6-piece Bathroom Accessory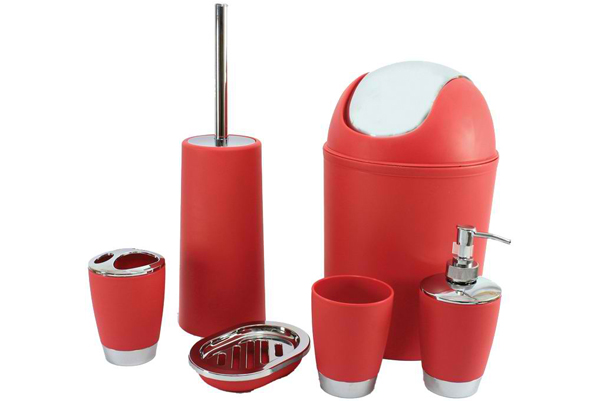 I like this bathroom accessory set because it comes with a garbage bin – most of the pictures in this list doesn't have one; and I think this finish is good because it basically scratch-resistant.
9. Rainbow Wenko Bathroom Accessories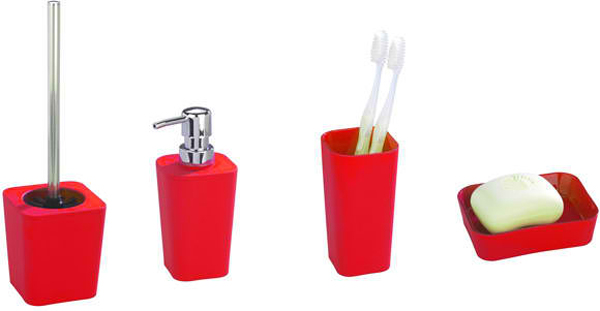 Since this set is made by a German manufacturer, it is assured that these bathroom accessories are durable and superior in quality.
10. Red Accessories for the Bathroom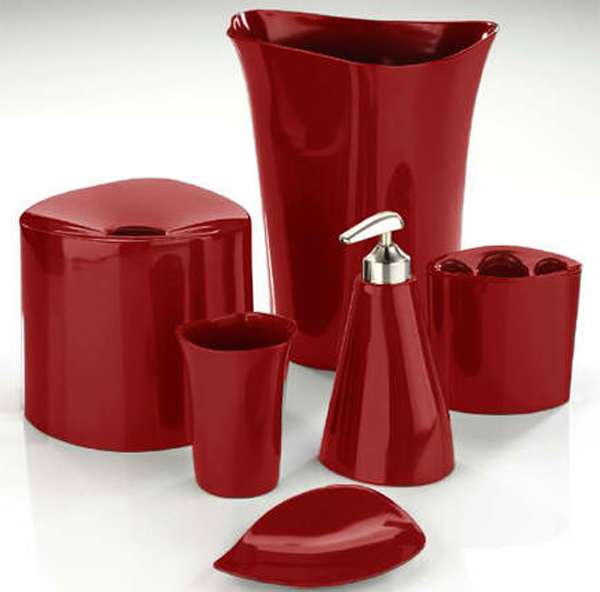 This shade of red is one of the favorite shades of lipstick of someone I know – and who wouldn't want this? It's stunning, glamorous and sensual.
11. Red Accessory Set of Thermoplastic Resins

Thermoplastic resin was used to create this classy bathroom set!
12. Red and Black Bathroom Accessories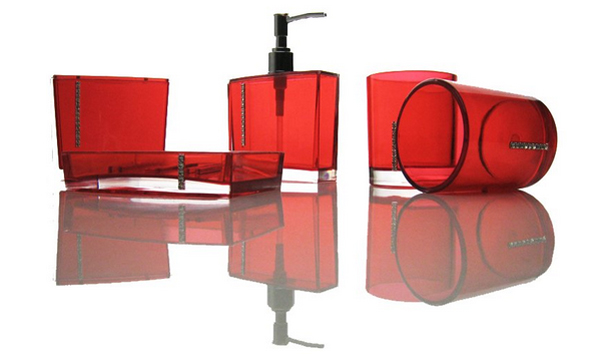 Mixing red and black is always a great combination especially when used with great care! This bathroom set maybe one of my favorites!
13. Red Bathroom Accessories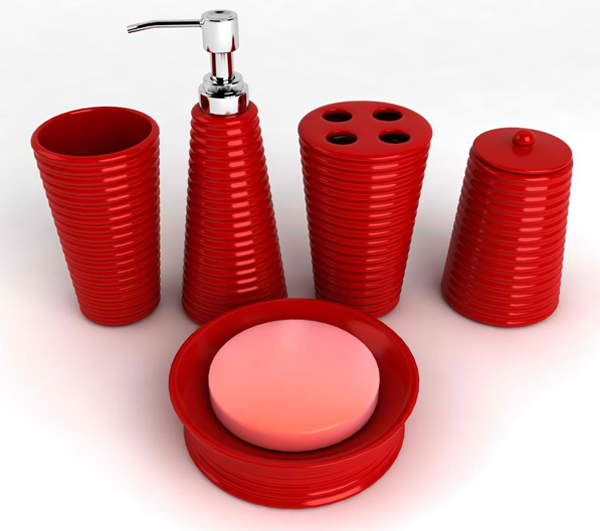 This red bathroom set was created for 3dmax users, but take note that this set is sure interesting and beautiful!
14. Red Cylindrical 4 Piece Glass Bathroom Accessory Set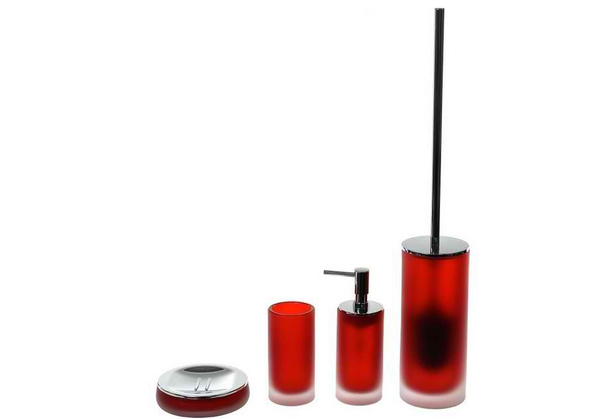 Unique bathroom accessory set including soap dish, soap dispenser, toilet brush holder, and toothbrush holder. I like the finish on this thing!
15. Red Glass Bathroom Accessories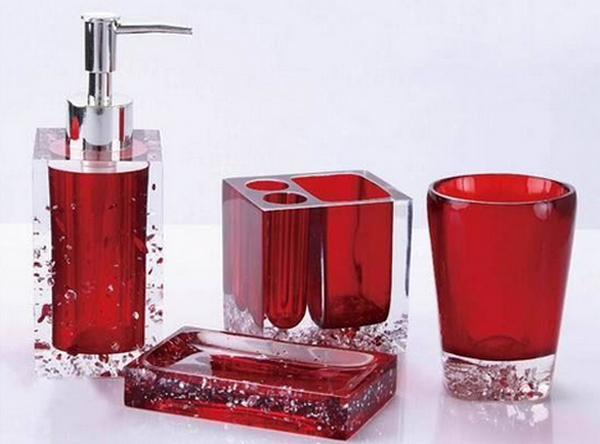 Here is another red bathroom set made from thermoplastic resin only with a bit of unique design. I personally like the toothbrush holder.
16. Submarino Bathroom Set Red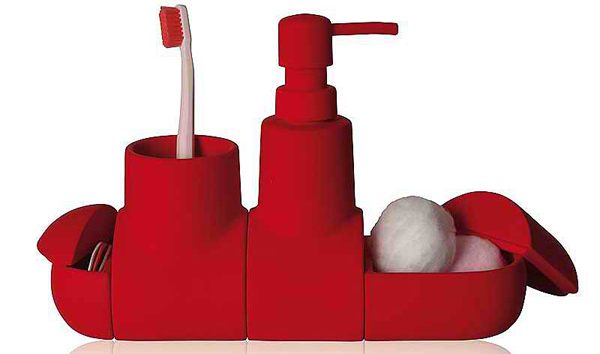 Submarino is made from porcelain with a rubber paint finish and is held together with magnets.
17. Trend Alert Red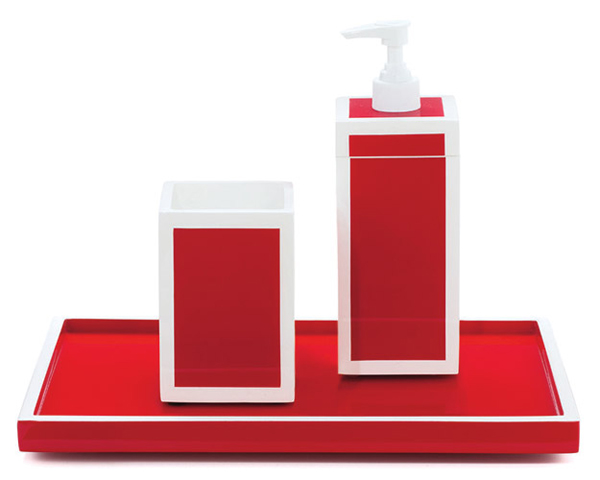 Red alert! This duo sure would fit your bathroom which will beautify your already interesting bathroom!
18. Ladelle Trenton Red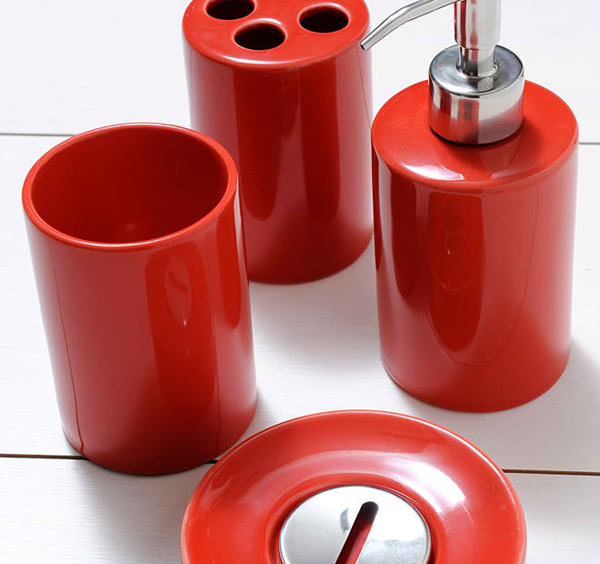 This Ladelle bathroom set is a usual set we see in the department stores or home depots – regular looking but beautiful.
19. Unique Round Bathroom Accessories Set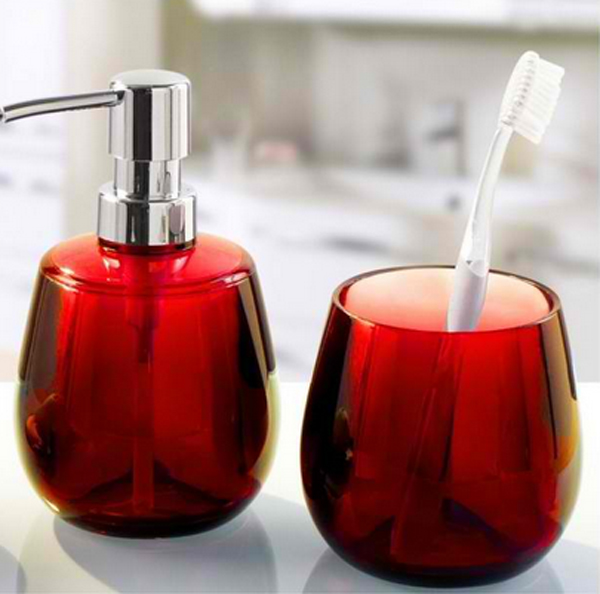 Colorful round bathroom accessories set made from beautiful durable acrylic. This 2 piece impact resistant contemporary round soap dispenser is unique, fun and very cool.
20. Visone Set in Red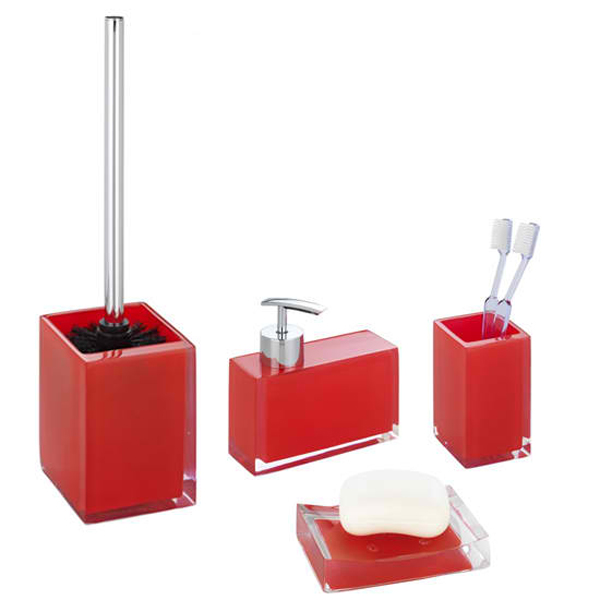 Visone in rectangles and squares! Pretty stunning right?
And there you have it, a list about red bathroom accessories just like the purple bathroom accessories! The list sure may be a simple collection when you think about it, these are important items that we need in the bathroom – things that we need daily. When you think about it, even if it's for the bathroom, we can always choose to be in style! More to come with Home Design Lover!