15 Kid's Area Rugs for More Enjoyable Playtime
Kids are the joy of the family. They are fun loving, sweet, and playful. And most of the time they tend to be clumsy, free going, unconstrained and unrestricted with their actions. It is important that their environment is free from harm and they are well protected most specially that as they grow, they are having the sense of ownership with their space. Their space is their territory and place of comfort. They would love to roll over, lie down, run around, occupy much of the space and even own it only for themselves. So it is also important that the things around them are made up of friendly materials, are easy to clean, non-slippery and provides them warmth and comfort. And now we're talking about rugs.
Putting up a rug as an accessory is very much helpful not only for keeping your children from the cold floor and to keep them going with their activities, it is also vital in beautifying and putting up accent to your kid's room. The design should be enticing to the eyes, has a splash of cheerful colors and should be your kid's own choice and favorite since most rugs for kids are uniquely designed which could be in a form or shape of a cartoon character and other patterns and not the usual or traditional rectangular, square or oval pattern. So now see it to believe it. We have lots of cool, fun, exciting and unique area rugs for your children. Check on these:
Playway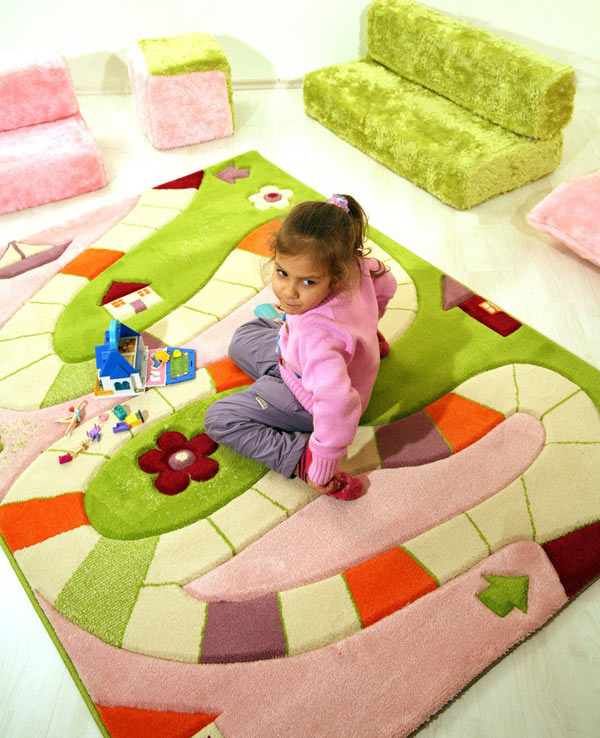 This 3D rug can enhance your kids' creativity and imagination. They can create their own village by placing houses and other figures along the street or they may also race along the path using their dolls or other cool toys.
Bear Hug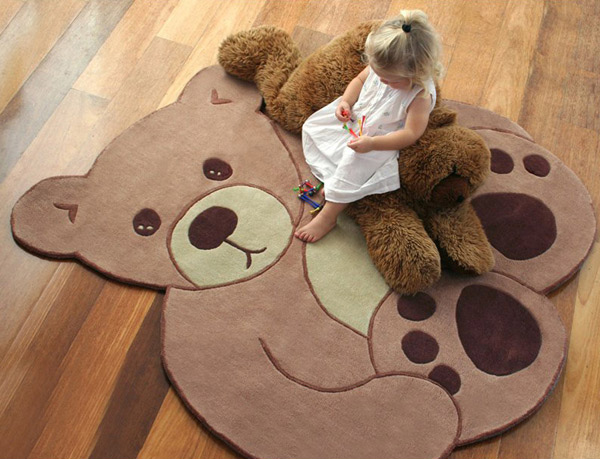 Who would be afraid of this cute bear rug? Surely your kid will be at ease sleeping or lying on the floor with this soft and cuddly huggable brown bear.
Imperial Puzzle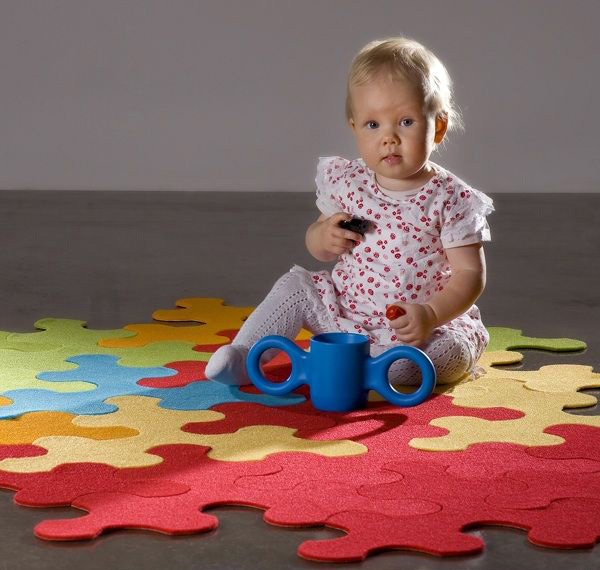 Let your kids enjoy not only the warmth that this rug will give them but also the excitement and playful experience while completing this puzzle rug.
Flying High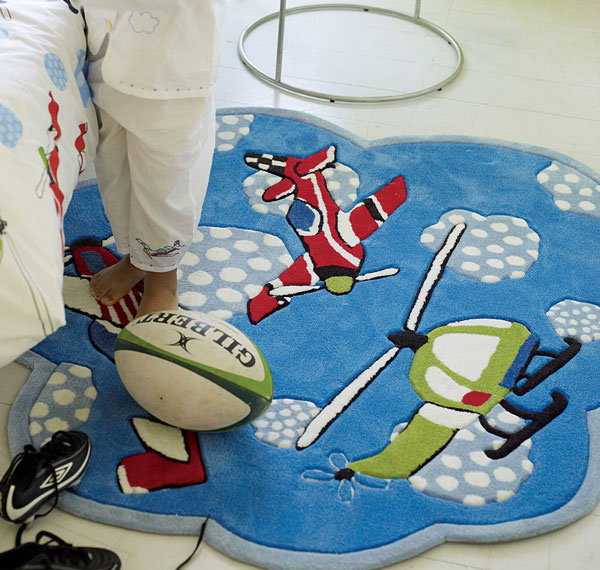 This cloud shaped blue area rug will provide them a good time nap while feeling floated in the air and flying around the puffiness of the clear clouds. Sore high pilot dreamers!
Circus Parade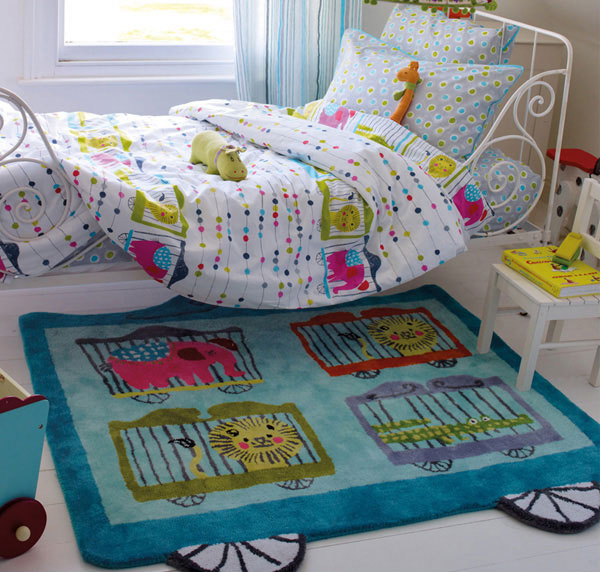 Kids will enjoy this amazing and thrilling carriage shaped circus rug featuring the animals from the wild. It will surely put a spin into the room.
Colorful Cow Rug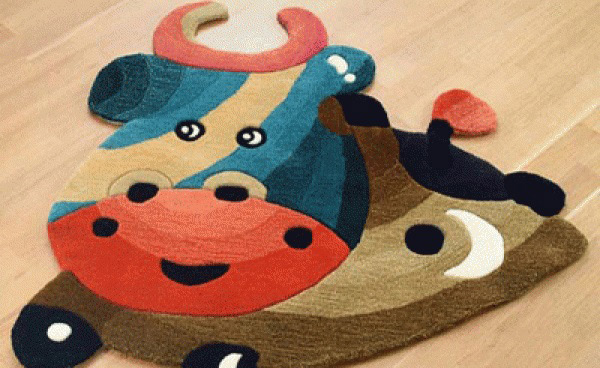 Cow boys and cow girls will enjoy hours of sitting and will fancy on this colorful and vibrant cow rug.
Cars and Trucks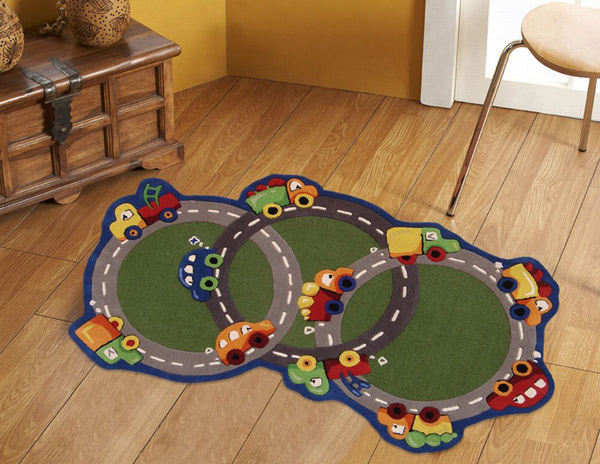 Zoom your kids' playful imagination with this three overlapping circle rug. Now be careful when crossing the street. You don't want to get hit by any of those cars or trucks.
Air Safari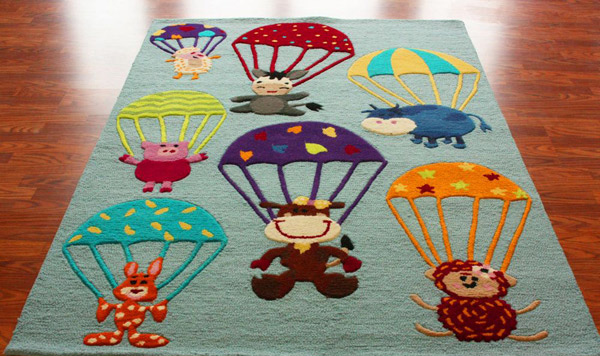 Envision flying with much glee up in the air with the barn animals. This rug is a perfect match for any wall colors on the room.
Track Pink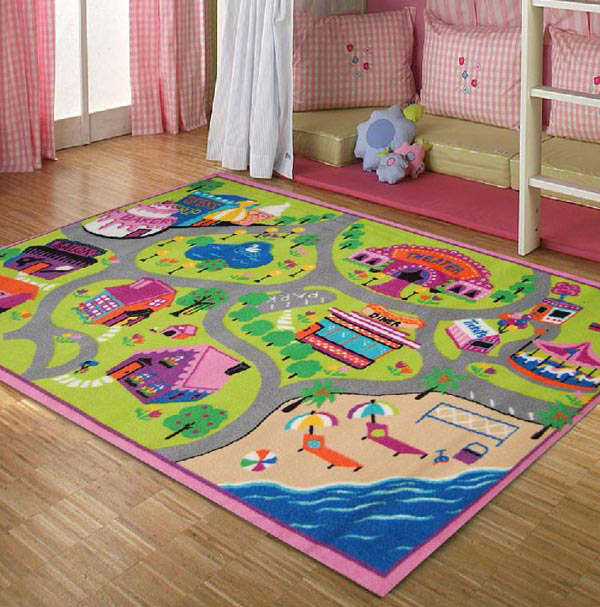 Let your kids enjoy their own world of fun and imagination strolling around the rug which features the beach, circus and park with this eye-catching play rug.
Butterfly Garden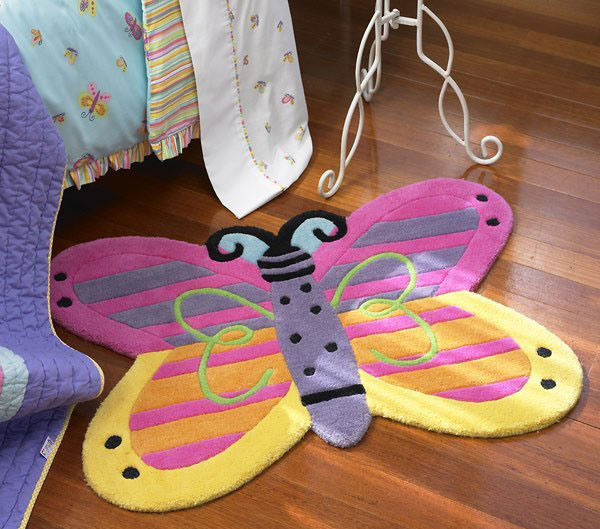 What an awe to see this pretty butterfly wandering around your house. Girls would want to make her room look preppy and this butterfly inspired rug is just as perfect as it can get.
Elgin Flower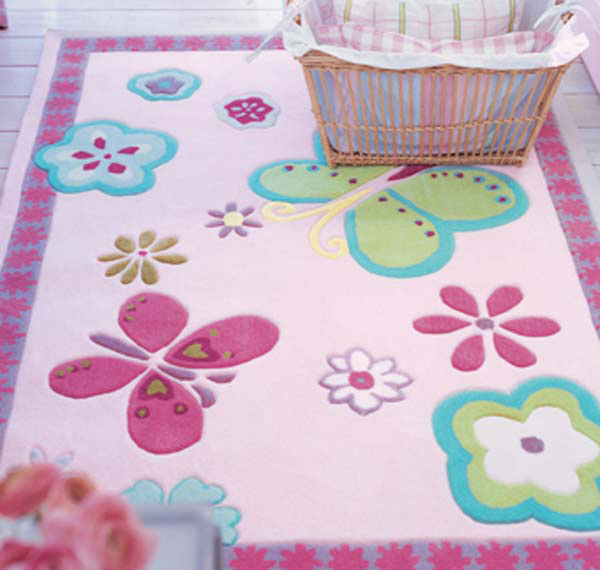 Ease the room by bringing in the soothing aroma for your girl's love for garden, flower and butterfly. This beautiful rug is suited to fit any part of the house.
Sphinx Alphabet Letters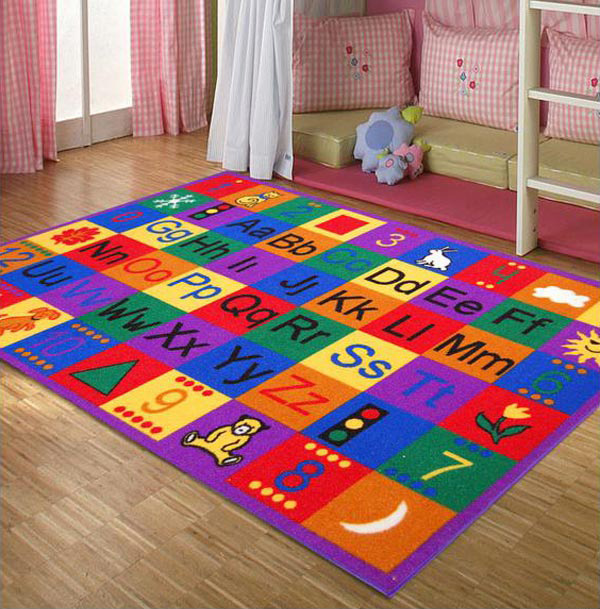 Rugs are not only a decorative piece. This looks great in the nursery and kids will love to learn the alphabets and the numbers by tracing these out using their own fingers. And you might also wanna sing along while teaching them.
Dollhouse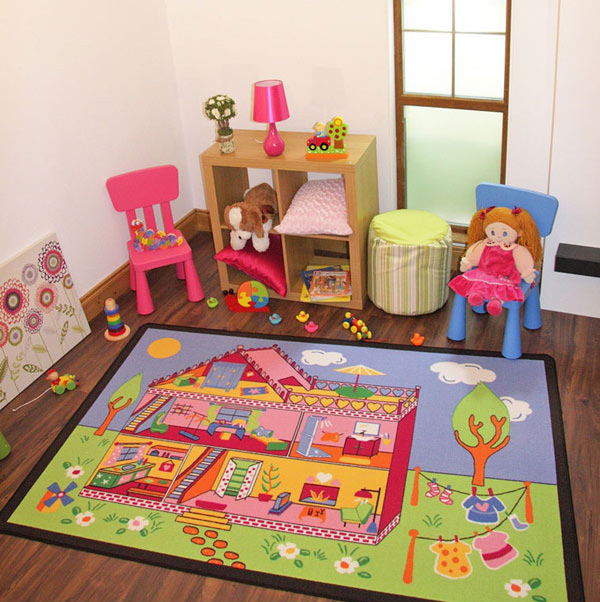 Lightning McQueen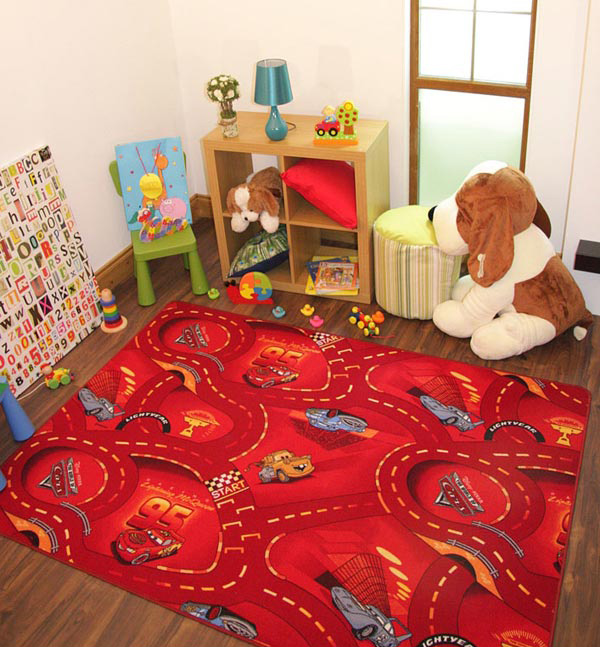 While the girls are having some tea party over, ready your boys for some speed and action. Let them invite their friends, race along and run their toy cars on it.
Pink Hopscotch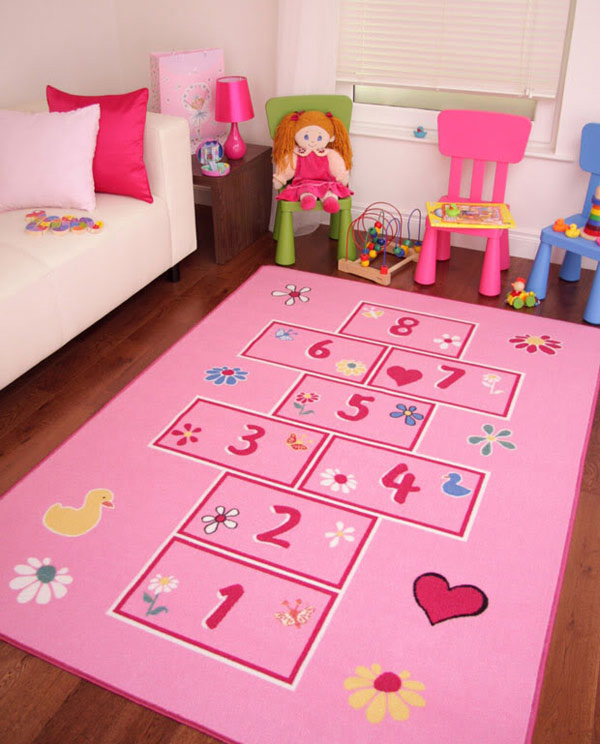 This pink hopscotch area rug is very much convenient for the kids as well as for the parents. Aside from not worrying that they need to play outside the house, you can also be at ease that they will also be dust- and allergy- free. Bye bye dusty chalks.
Who would not love playful and colorful area rugs for kids? Choosing the right rug for our kid's room isn't that as complicated as one might think. All you just need to do is to take into consider your kid's favorite color, pattern or icons. There you go. Our 15 Area Rugs for Kids which are uniquely designed and suited for your kids playroom. For sure the other kids in your neighborhood will enjoy coming and playing over your place. You might also want to check on some colorful area rugs for your home.