22 DIY Clocks That'll Make You Hate Your Old Boring Clock
A clock is something we need around the house in every room so that we are aware of what time is it. But it doesn't have to be boring after all. As a matter of fact, you can make your own clock or revamp a clock you already have and turn it into something exciting and attractive. This way, you are putting some personal touch to your clock.
In truth, I don't like the boring clocks we see in stores. That is why I never got one.Lol. Aside from the fact that time and I are not friends because it always goes ahead of me and I am always left behind. In short, I am always late! But seeing this list made me think of buying a cheap clock and redoing it into something I'll be totally proud of! Now, let those tick-tack thingy go glam and lovely!
1.DIY Photo Clock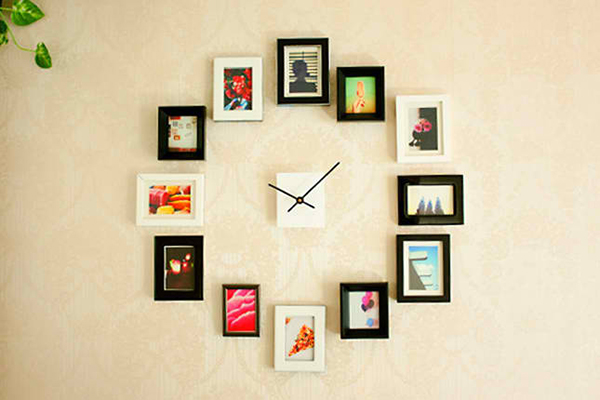 Well, if you don't want to stress yourself with all the materials you need to buy to make a lovely clock, just surround it with frames.
2. Heart-Shaped Chalkboard Clock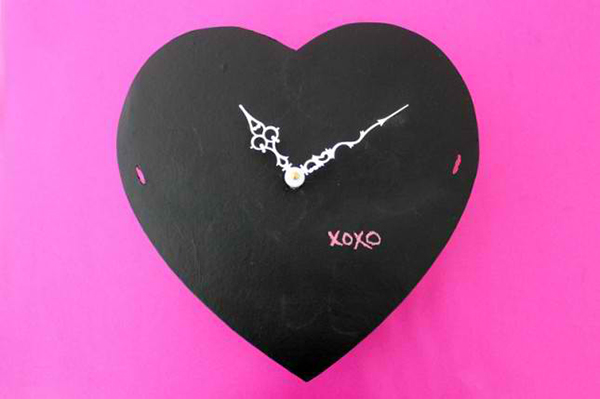 Hearts hearts hearts. I love hearts and when I saw this, I knew it is a must try!
3. DIY Domino Clock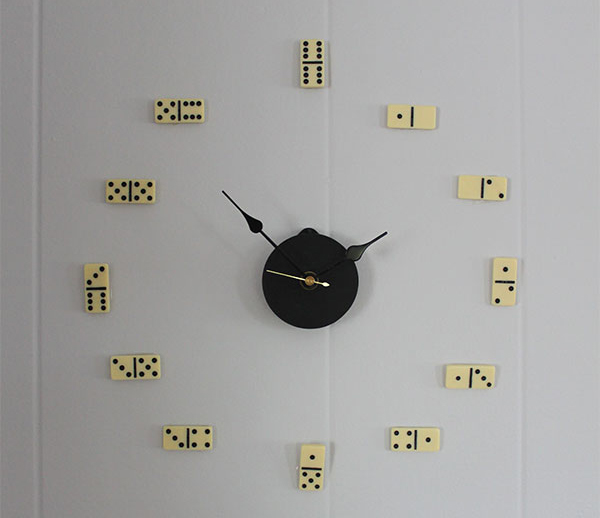 Gather those dominoes and create a unique clock like this.
4. Minimalist Wooden Clock: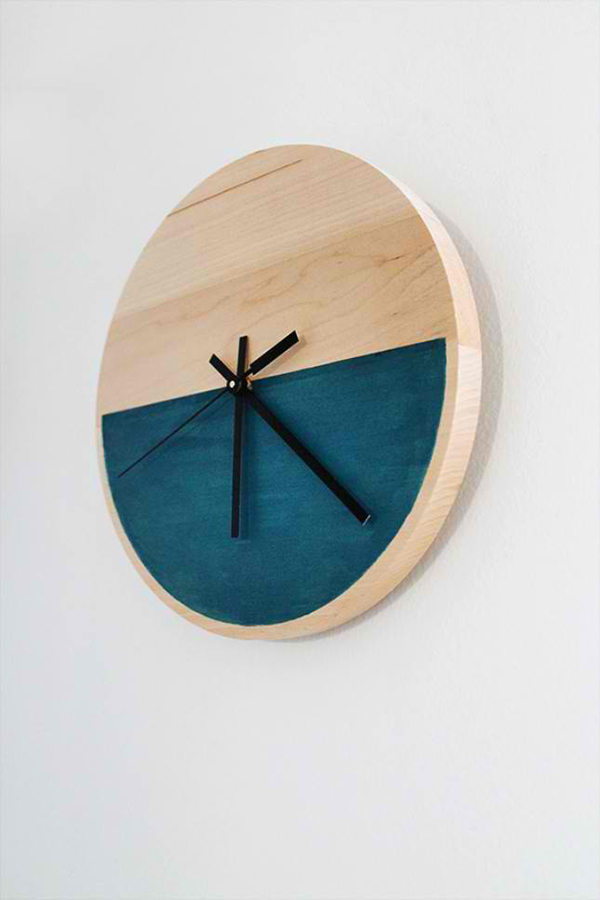 Color blocking looked simple and really modern for this wooden clock. Just a few painting will do the job.
5. Leather Wall Clock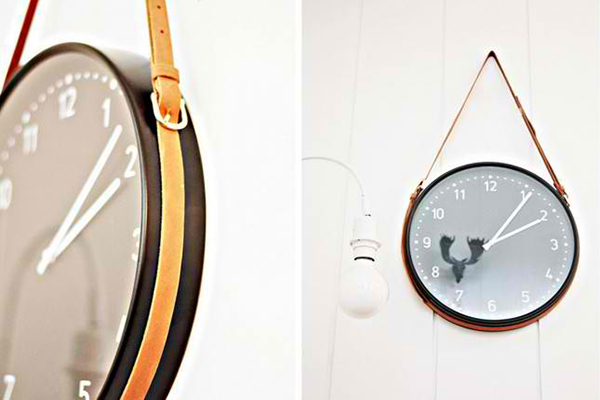 This is beautiful and would fit into a manly bedroom!
6. DIY Doily Clock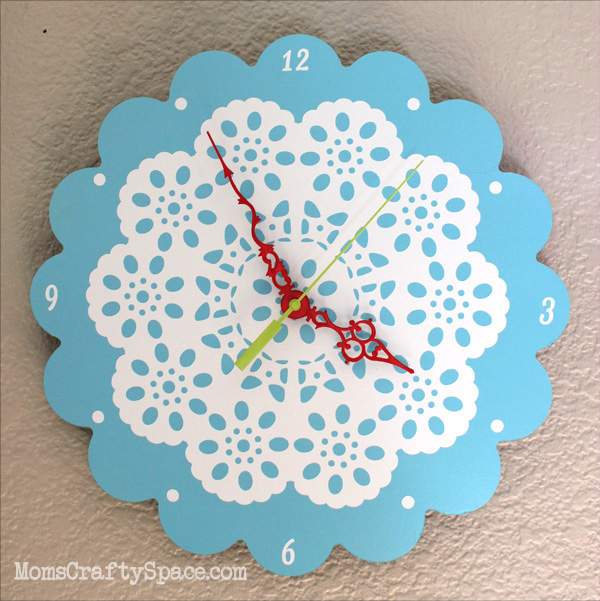 I don't know about you but this one is really a stunner for me!
7. Paint Swatch Clock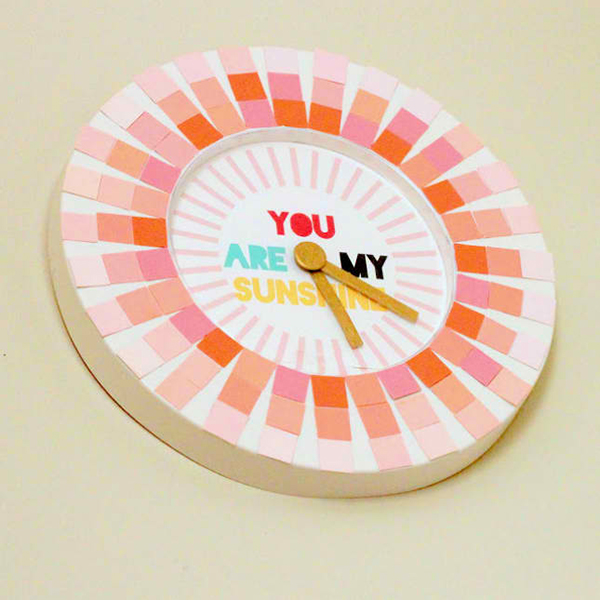 This DIYer got a blank canvass clock from Ikea and look at what she did to it using paint swatches!
8. Colorful Outdoor Clock
A quick outdoor clock which is easy to make. Just play with the colors just like this one that mimics a color wheel.
9. Hoop Clocks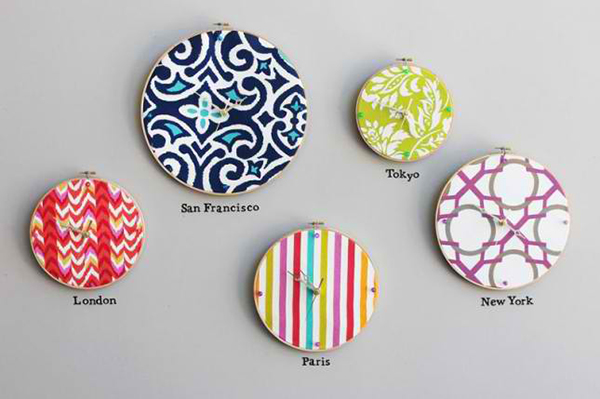 Embroidery hoops with patterned fabric look really gorgeous especially when it comes in different prints.
10. DIY Floating Numbers Wall Clock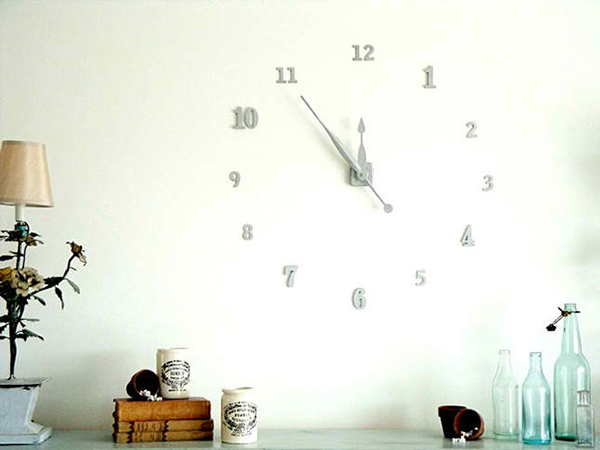 Get some numbers and place it around a clock. Done!
11. DIY Color Sample Clock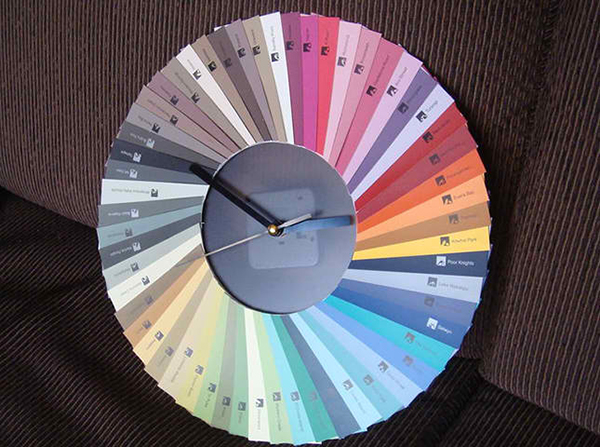 If you got some paint chips that are just sleeping in your drawer, you can use it to revamp a clock!
12. Minimal Mountain Clock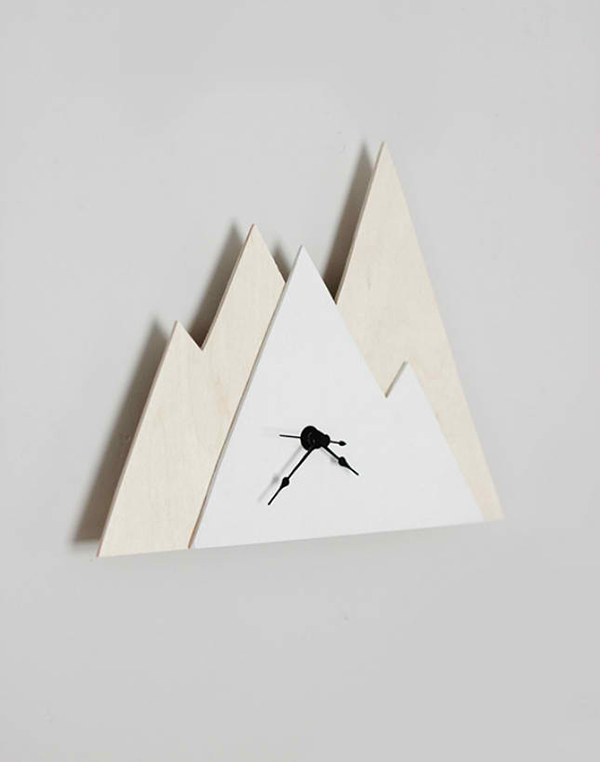 A modern geometric clock that is easy to make but adds glam to your space.
13. Wood Slice Clock: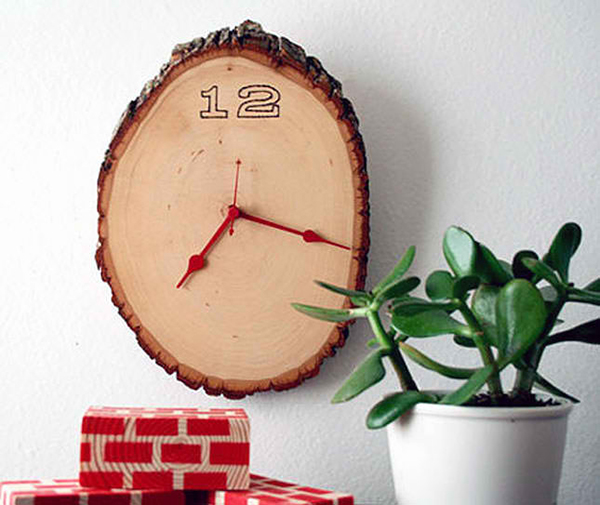 A rustic interior will look nice with a wood slice clock!
14. Old Books Into Clocks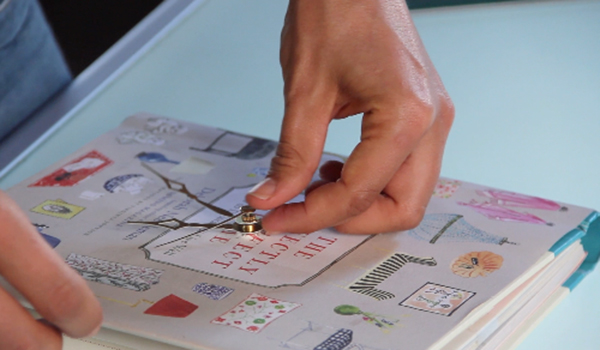 You have this old book and you don't want to throw it away. Turn it into a clock!
15. DIY Chrysanthemum Wall Clock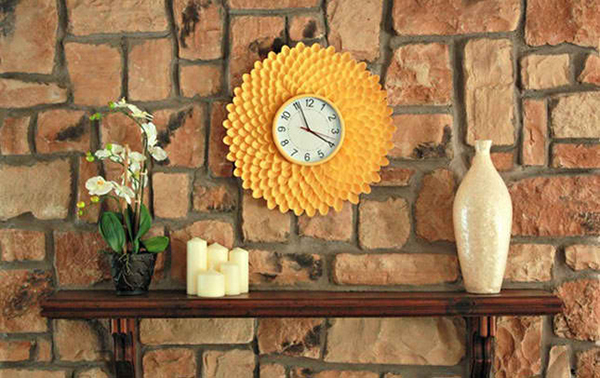 Flower? You'd never guess that this one is actually made from plastic spoons!
16. Pencil Desk Clock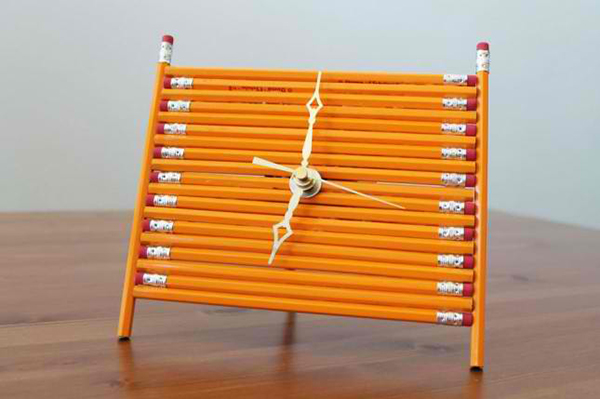 Got a bunch of pencils? Turn it into a creative school themed clock!
17. Ornathology Clock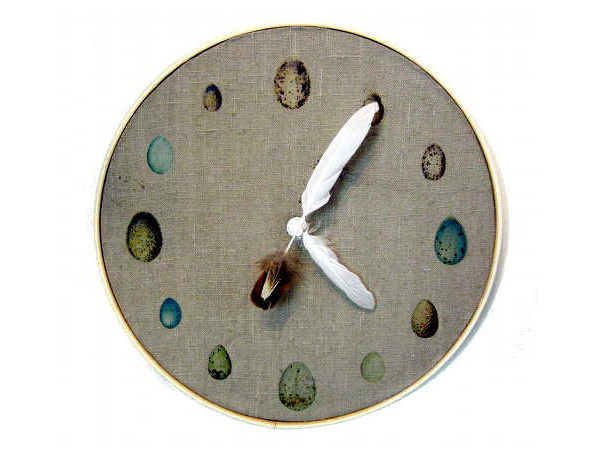 A pretty clock made from canvas. What I like most here are the feathers!
18. Paper Face Clock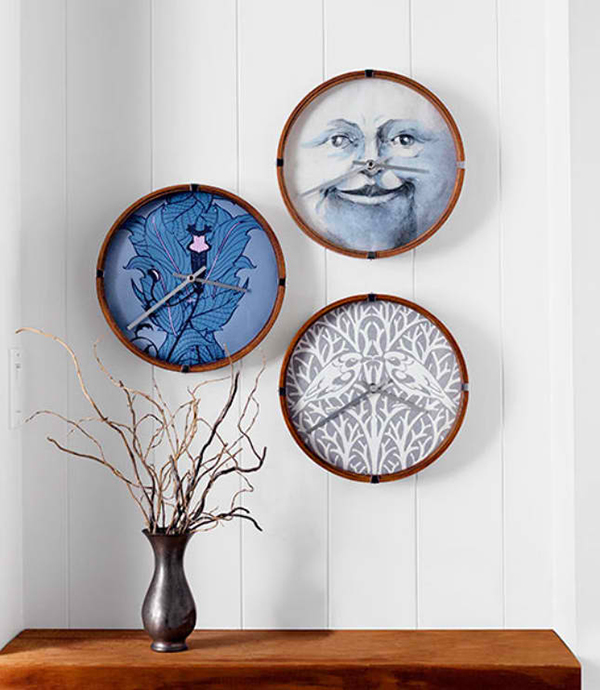 This one is just simple. Grab some pattern paper or wrappers with prints that you love and you'll get this look.
19. Pie Pan Clock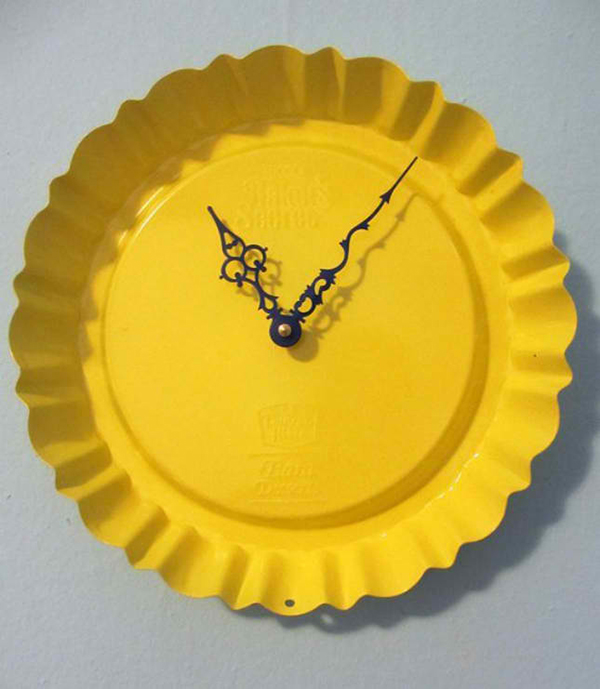 If you have a pie pan that you no longer use, why not make a clock like this one? It will be great for the kitchen.
20. Silk-Screened Clock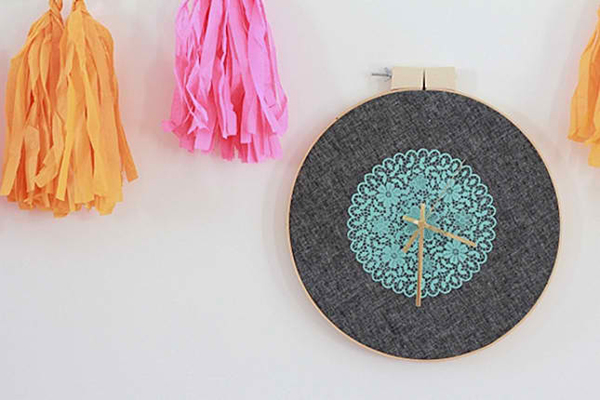 What a pretty turquoise silk-screen doily! This would look nice in a craft room or even for your bedroom too.
21. DIY: Starburst Clock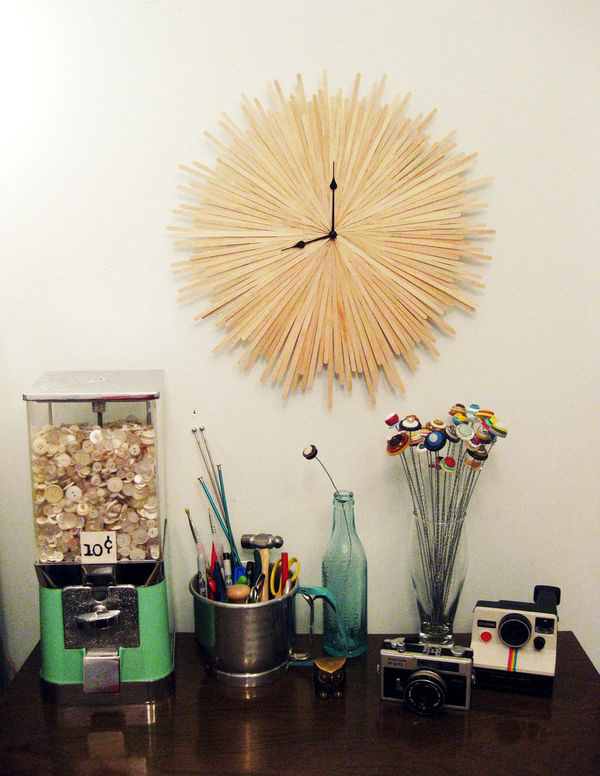 Beautiful, right? Sure it is. Those are just wooden coffee stirs guys and of course, you can make one too.
22. Make a Doily Plate Clock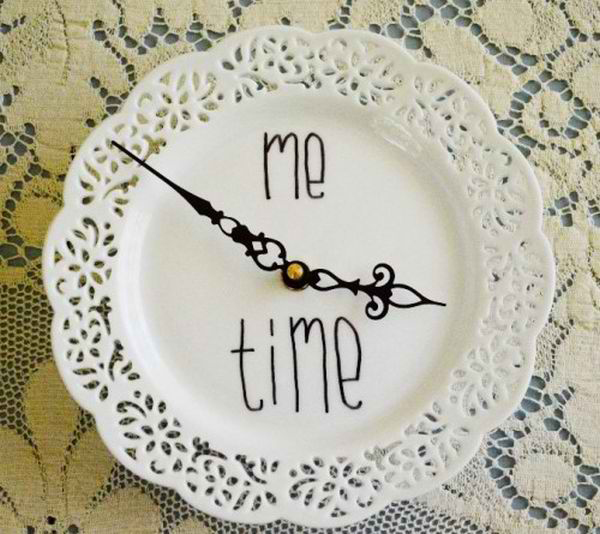 If you want to get a chic look for your interior, why not try turning a doily plate into a clock?
This really looks fun! And it inspires me to make a clock of my own too. That would be exciting to work on. See? Even a boring clock can look lovely once you let your creativity work. This would save you a lot of money too because decorative clocks are a bit pricey. But if you don't want to make one for yourself, you can always get a unique clock from the market too for a quick change to your interior.