Stylish Closet Organization with 20 Decorative DIY Hangers
When we organize our closet, we usually use hangers. This way, we could hang our clothes well and we can even do it in a stylish way. Some hang their clothes according to color, others hang them according to the type of clothes while still others just hang them in whatever way they want. Well, hanging clothes doesn't really need to be an art but you can do it too if you want your closet to look very pretty. You can even decorate your hangers too!
Yes, your plain boring hangers can look really fab if you want to. You can redo the look of the hangers and turn them into something that will suit your taste or something that will make your closet look even more fashionable. Not only clothes could look fashionable because even your hangers can look very gorgeous too. There are many ways to beautify your hangers and you will see that in the series of photos below.
1. DIY Mod Podge Hangers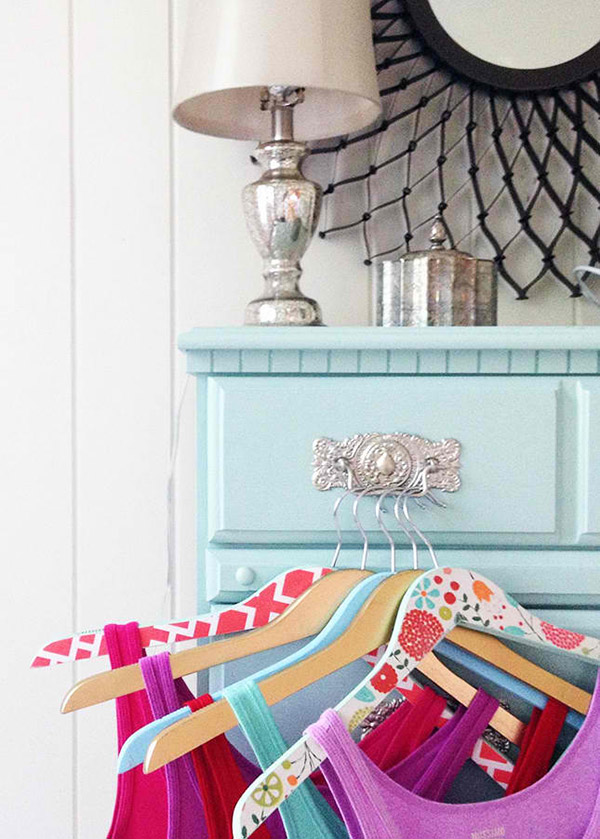 Modge Podge can really do many things and could help you express your creativity just like these hangers.
2. Hand Beaded Hangers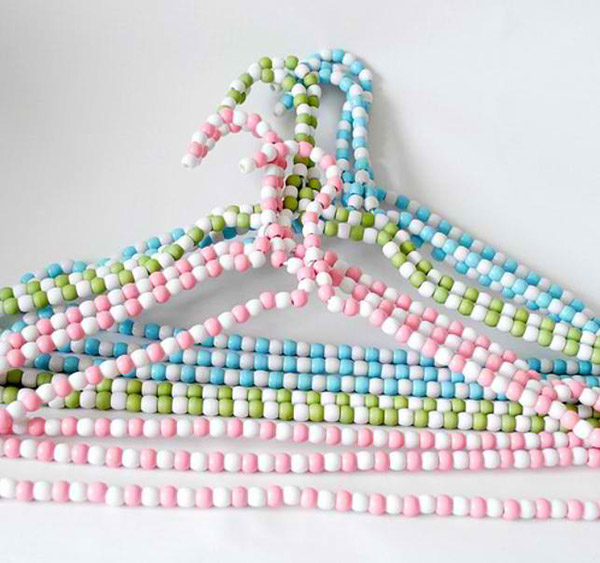 If you are feeling really crafty, then go get some beads and bead your hangers.
3. Glitter Hangers DIY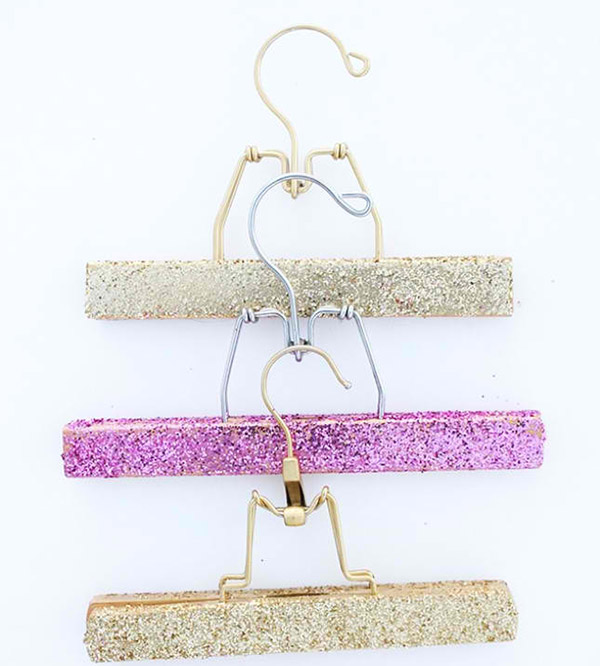 It isn't just gold that glitters but even hangers too! Add some sparkles to your hangers and they will surely look totally glamorous.
4. DIY Printed Hangers: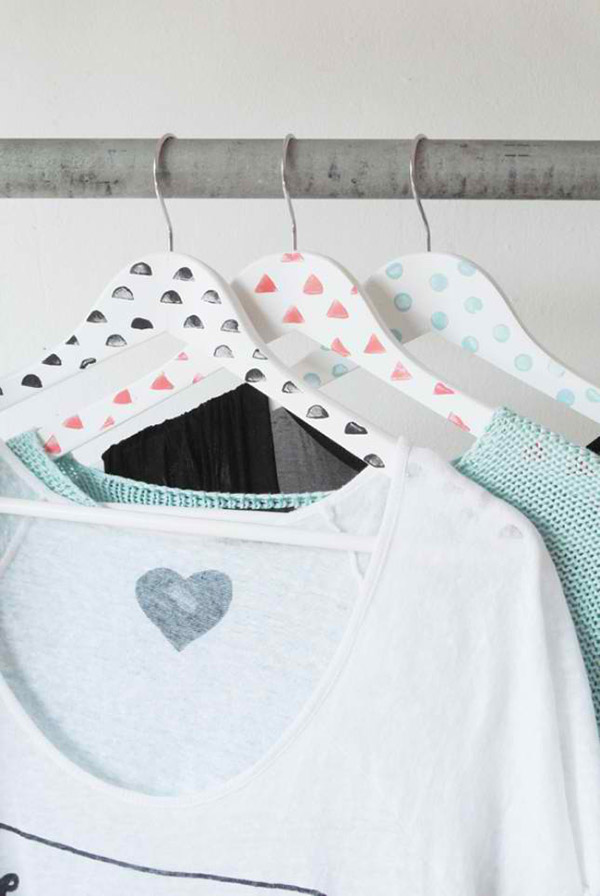 Use erasers as stamps to decorate your hangers like this.
5. DIY: Fabric Hanger Makeover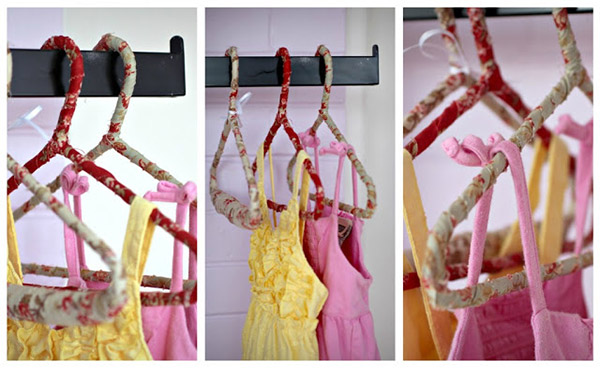 Got some scrap fabric? Use them to wrap your hangers. Mix different prints to they will look very pretty.
6. DIY | Vintage Scarf Covered Hangers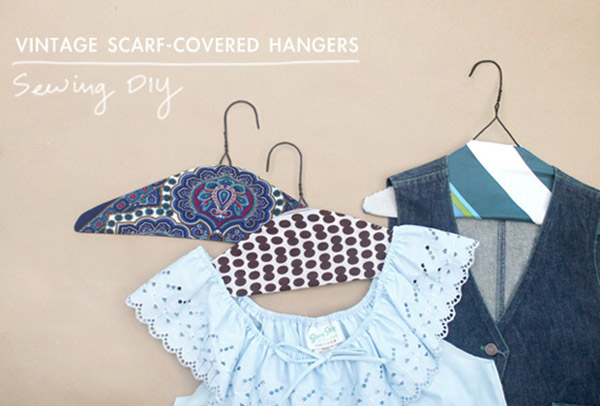 If you have some unused scarf, use them to wrap hangers and they will look as eye-catching as these.
7. Cute DIY Personalized Hanger For Girls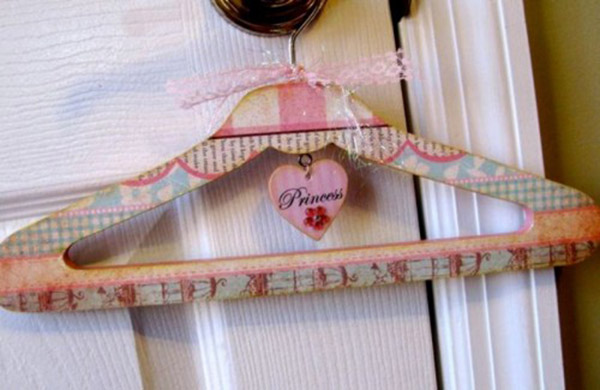 This one used modge podge, sparkles, scrap papers and others Go creative to make a personalized hanger with a name on it.
8. Wooden Stamped Hangers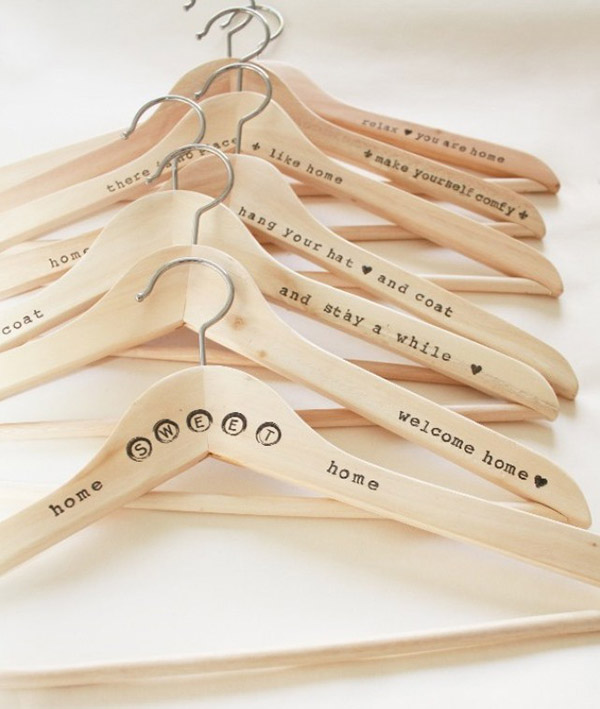 Add some personal messages to hangers which you can use in your mud room to make your guests feel at home.
9. Washi Tape Hangers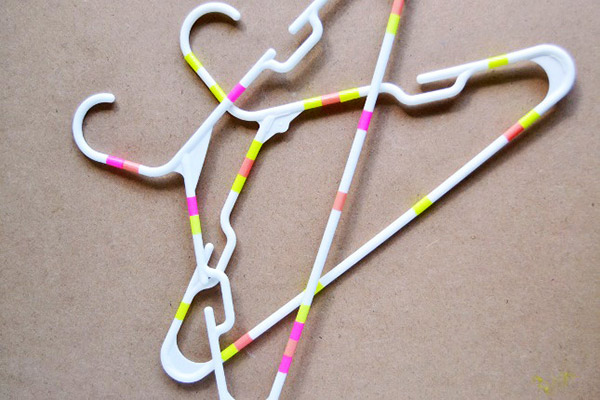 Grab those washi tapes and decorate your hangers. The ideas of using it are limitless!
10. Fabric Hangers DIY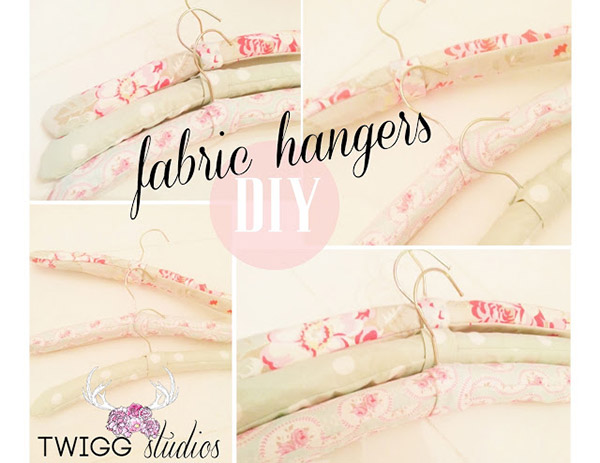 This looks really cute! Just grab some foam, fabric and you have this vintage looking hangers.
11. DIY Neon Nonslip Hangers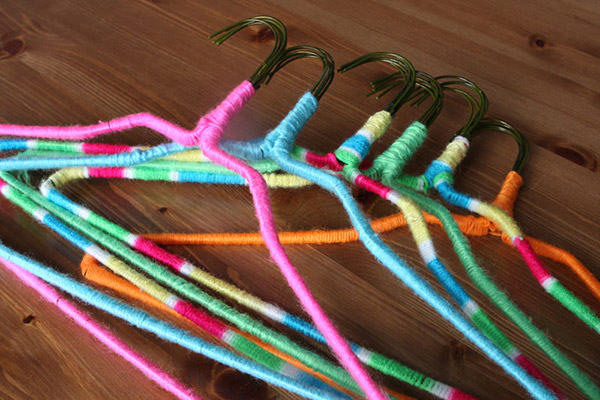 Wrap some yarns around a hanger. Choose different colors and you'll get pretty neon hangers!
12. DIY Wrapped Hanger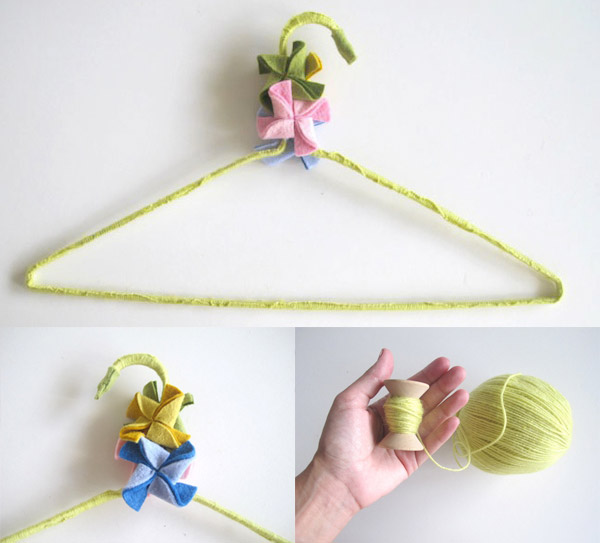 This also used yarns to wrap the hanger only in a different way. Add some felt pinwheels to embellish it.
13. DIY Sequin Hanger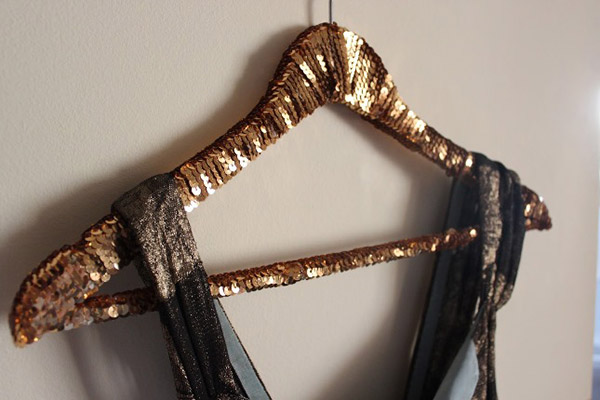 If you love sequins, then go get one and wrap them around your hangers for a sparkly closet!
14. DIY Neon Hanger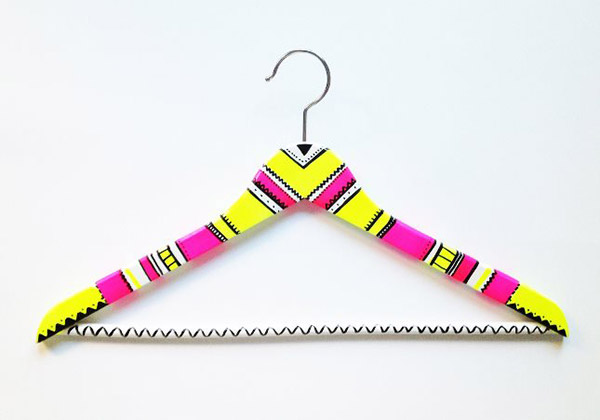 This Aztec hanger is really beautiful but you have to be patient and creative in making the print.
15. Pretty DIY Sequin Display Hanger with Bow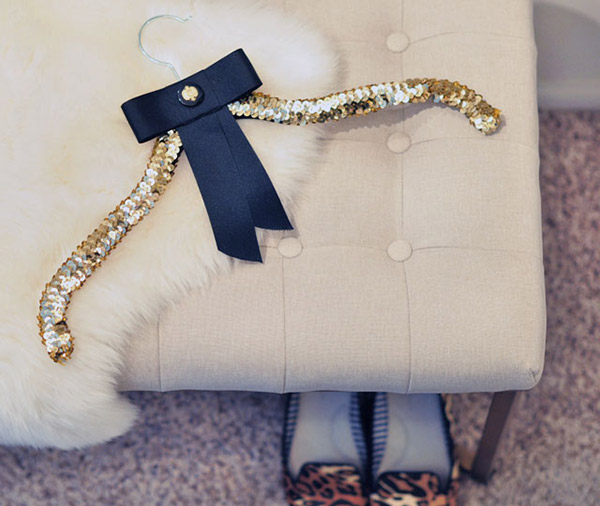 Another hanger that is wrapped with sequins but that black bow made it look even more beautiful.
16. DIY Floral Fabric Wedding Dress Hanger Tutorial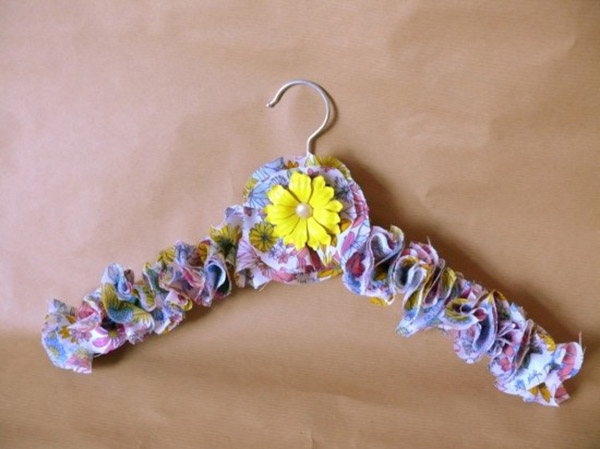 Cut a fabric into circles and use them as flowers for this hanger.
17. Colorful Hangers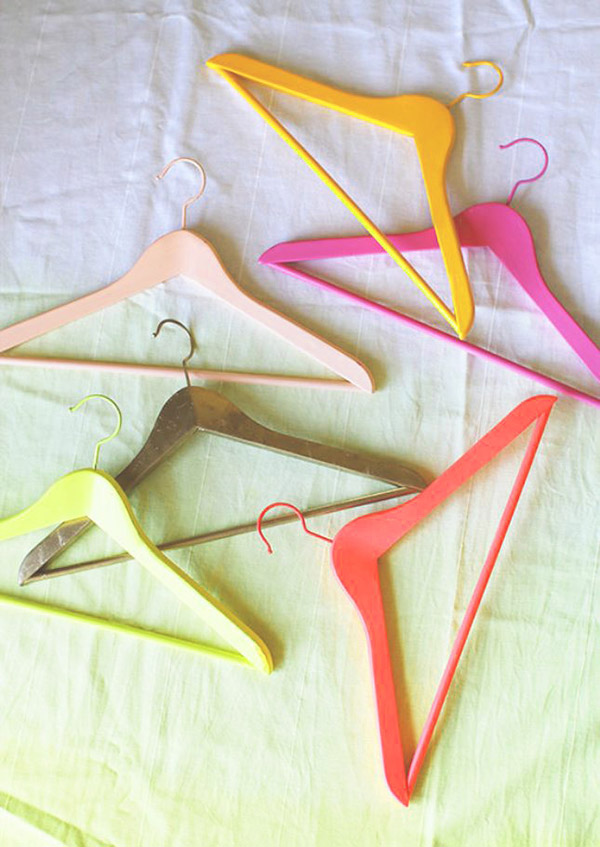 If you just want to add colors to your closet, just paint your hangers in different colors!
18. Audrey Hepburn Inspired Hanger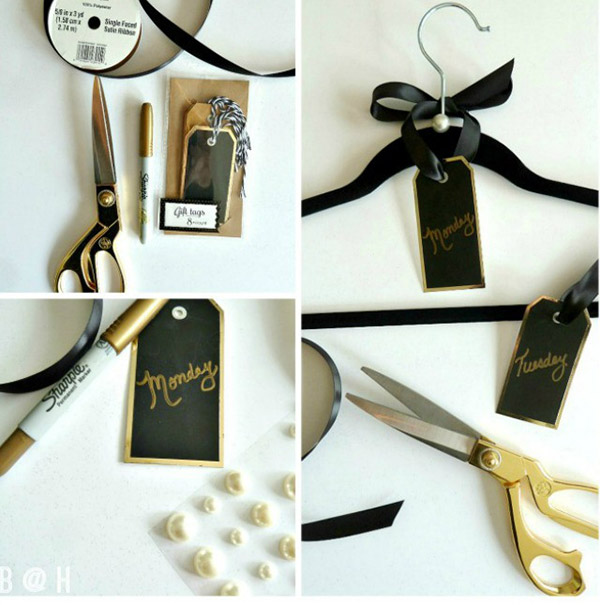 Use the colors of Audrey Hepburn for a glamorous and fabulous hanger with some gold, black and pearls.
19. DIY Secret hanger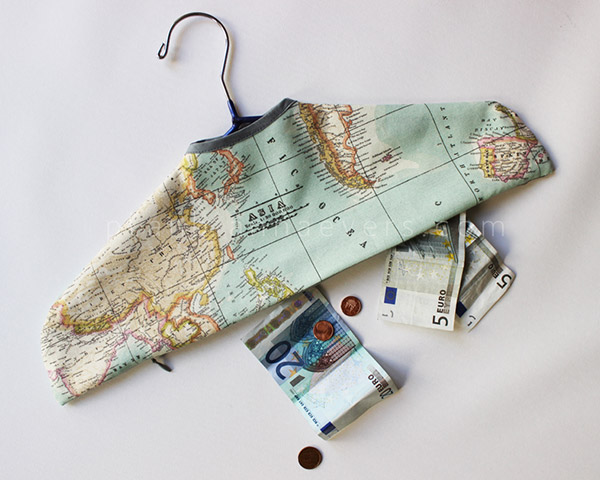 Make a hanger wrap like this which you can zip open and close to keep some important stuff.
20. Embellished Hangers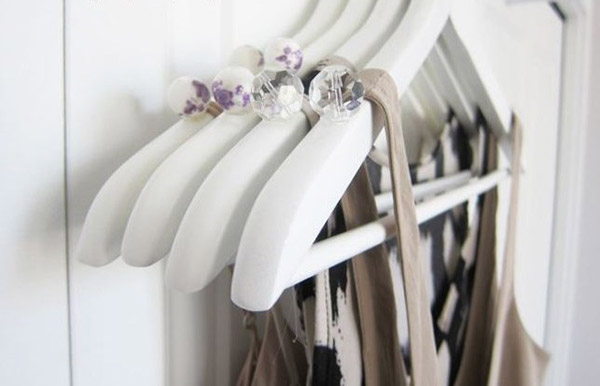 You can grab some crystals and beads and glue them on both edges to avoid your clothes from slipping down.
I could say that the DIYers above are really very creative since they were able to come up with lovely designs for their hangers. I even feel like redoing the look of my hangers too after seeing this fabulous list! Just imagine how your closet would look like with hangers like this. Number 2 and 15 are my favorites. How about you? Tell me which hanger appeal to you and would most likely do to your own hangers too.