15 Purple Dining Room Ideas
In today's article we are going to show you photos of lovely purple dining room inspirations. For sure you have seen how purple wonderfully transforms a bedroom into a luxurious getaway through our previous articles. You have seen how it works surprisingly with other vibrant colors and earth tones and we are certain that you have been captivated by the results as much as we did.
Purple in a dining room is an elegant choice. It can bring drama, luxury and well for a dining room it can balance your appetite. That's why we have picked 15 Purple Dining Room Ideas to help you create your own. Liven your dining rooms and enjoy as you scroll through our list.
Purple Dining Room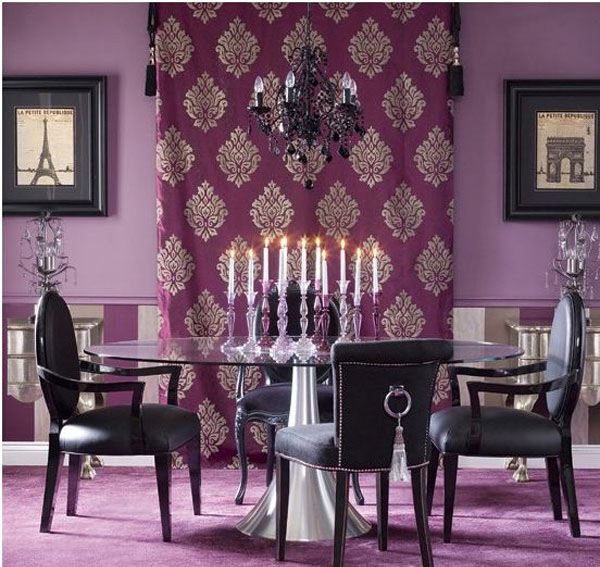 Going overboard with purple will make a grand result. A stunning backdrop, punctuated by black decors and mismatched dining chairs will give an eclectic appeal.
Modern Dining Room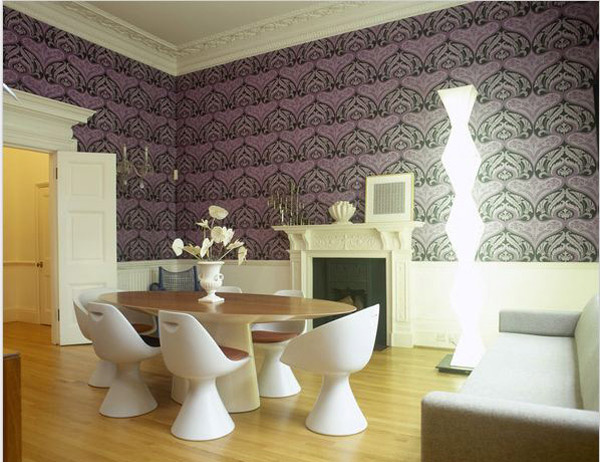 A great way to create a purple dining room is to choose a purple, geometric wallpaper to dress your walls. Matched it with modern furniture and decor and you will have a modern dining room full of texture and drama.
Westchester Showhouse 2011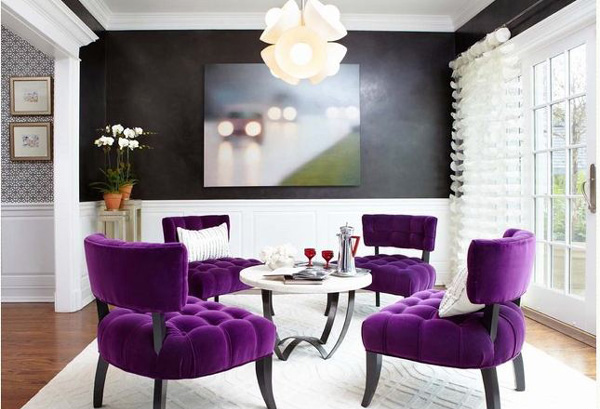 Liven up your dining area by adding vibrant-colored furniture like the purple tufted dining chairs above. It will instantly make your otherwise ordinary dining room to a fabulous one.
Casual Dining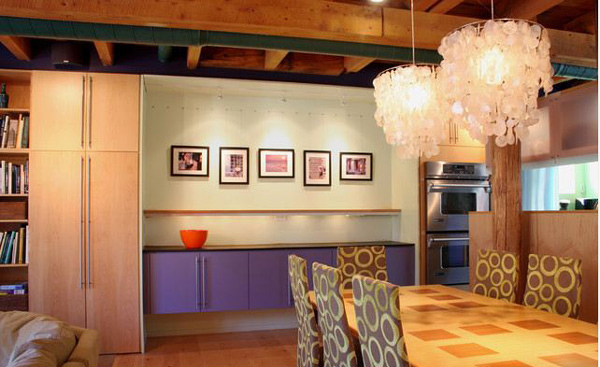 Painting is still the cheapest and easiest way to update your room. So here you go, be bold and edgy and do some makeover using brighter and lighter hue of purple to your cabinetry and make it as a focal point. It will energize your room in no time!
Dramatic Dining Room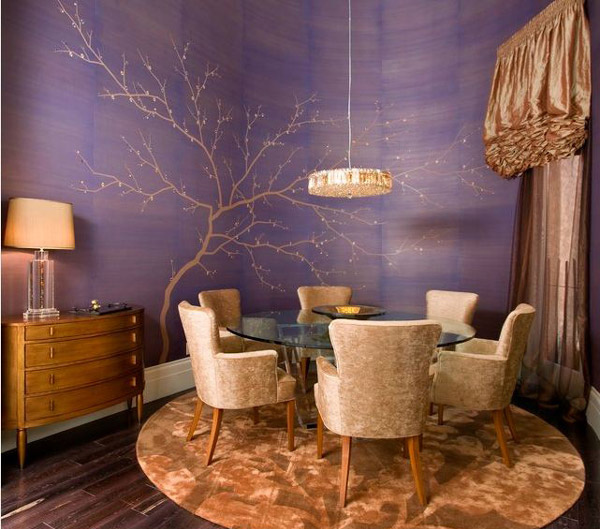 Creating a wall mural like this periwinkle-purple wall with intricate details contrasts beautifully with gold decors, can transform your dining room into a cozy and a fairytale-like space.
Reservoir Dining Room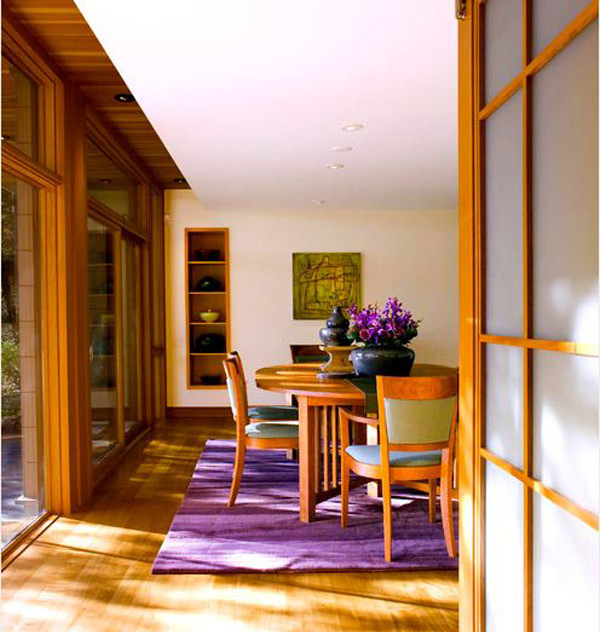 Simple addition of a bright purple area rug can light up your dining room. In this design the purple rug enhances and highlights the color of the dining furniture set.
Altamoda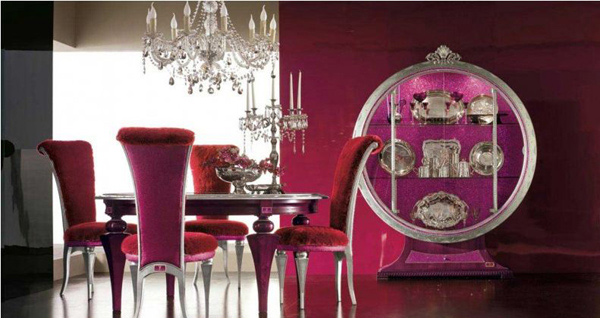 Add character and sophistication to your dining room by getting glamorous purple furniture and decors like those from Tiffany collection by Altamoda.
VP Interiors 2010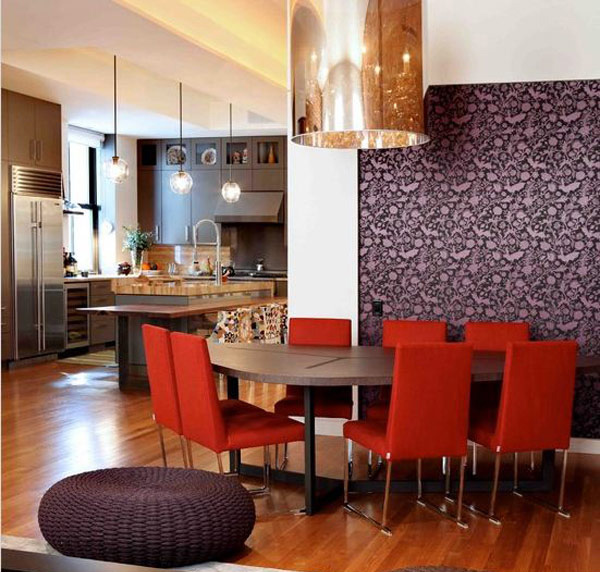 Use a muted purple floral wallpaper as a focal wall to beautifully contrast to a bold colored dining furniture and you will sure to create a chic dining atmosphere.
The Astors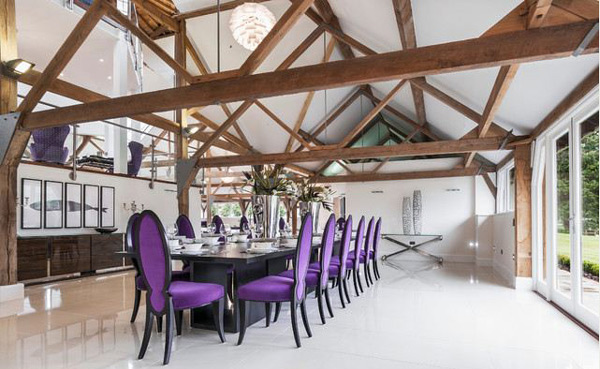 Deep purple dining chairs accentuated with black finish matched with a grand dining table sure to give a luxurious treat to the open ceiling.
Lavender Field in Provence Wall Mural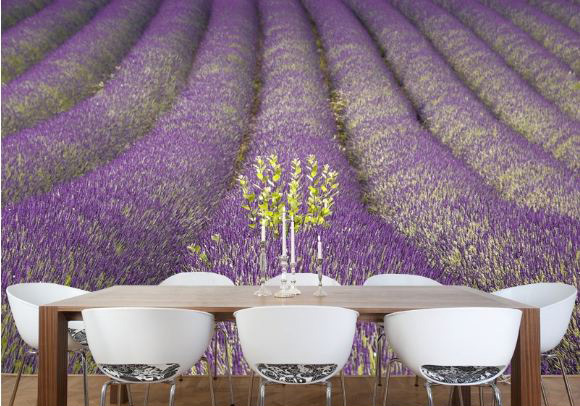 Purple and green create a cheerful effect when combined. So if you want to add a unique and vivacious vibe in your dining area incorporate a wall mural like this lavender field and it will sure to make your room standout.
Dining Rooms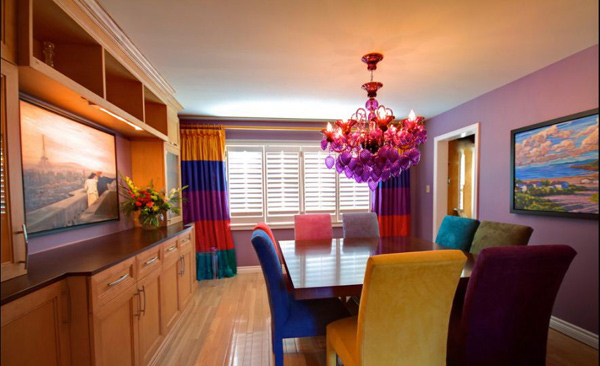 The purple anchors all the colors in this eclectic dining room design. If you want to have an exciting, unique and full of vivid-color-room then make sure to have one color that will dominate the scheme for it to work.
Dallas: Alicia + Adam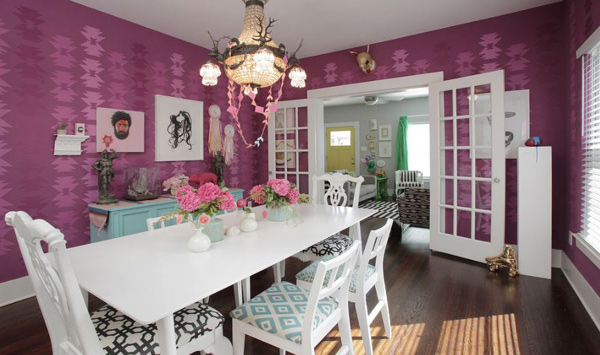 The Southwestern-inspired stencil for the dining walls in purple and violet shades creates great texture and lavish color. Matching these walls to a charming country dining furniture makes it over chic.
Dining Room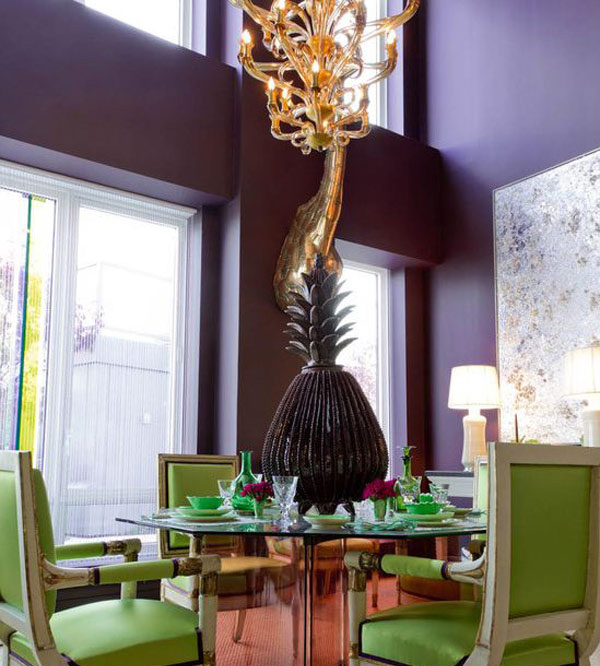 Purple walls complements perfectly with green and in this design, it blended perfectly with a luxurious gold chandelier that works as a jewel in this exuberant dining room.
Purple Passion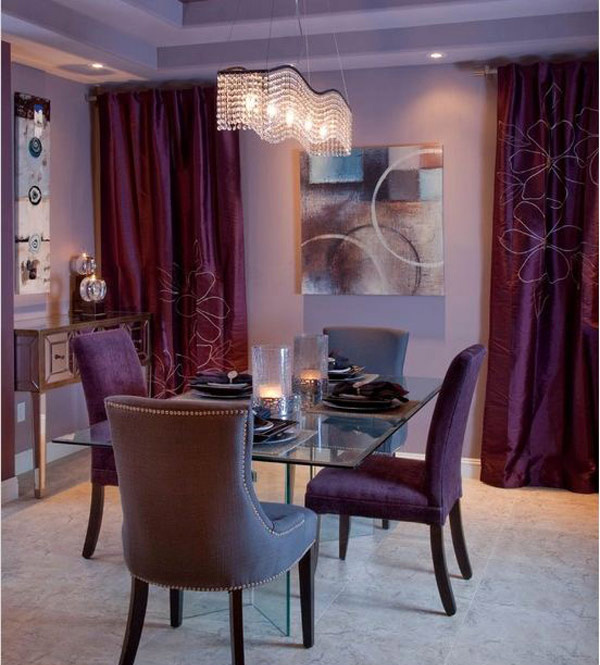 The velvet purple drapes serve as a stunning backdrop in this already glamorous dining room.
Beautiful Wall Mural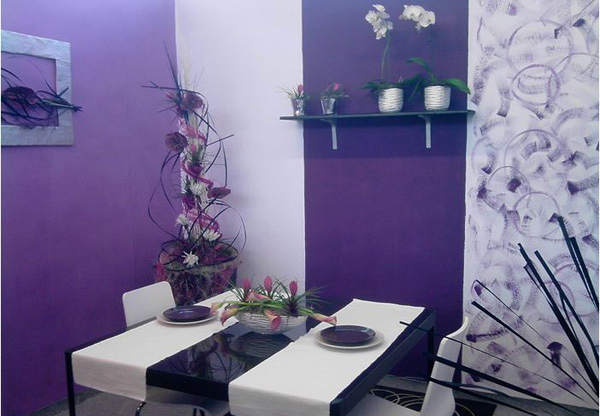 Use crisp white hue to keep a calming and soothing contrast with a purple wall mural. Keep furniture and decors in neutral colors for purple to take a center stage in your dining room.
So that was our collection of 15 Purple Dining Room Ideas! We are sure you get some tips on how to decorate your dining room with purple from a simple area rug, to glamorous purple furniture and stunning wall murals anything can be done. With your great imagination and creativity you can create the purple dining room of your dream! Take a look at purple bedroom ideas and purple bathroom designs that we have also collected for you.