20 Stylish And Functional Modern Dining Room Furniture for Your Condo
Gorgeous ideas for adding a modern furniture in your condo's dining area.
Dining room is one of the most used spot in a home where you, your family and your guests can hang around, get the conversation flowing while enjoying those savory food. So, yes, it is pretty much one of the rooms you should give attention and highlight when it comes to decorating and choosing furniture to use for. In a place where space is sometimes challenging like a condominium, picking the furniture that you like can get a bit tricky. You have to bear in mind the limited space that you have and use it as a factor in getting the right furniture for your home. Modern furniture that is multifunctional is very much welcome if you are working on a small space, and so is being creative and innovative will take you a long way.
Below are modern condo dining room furniture that is sure to make your space stunningly beautiful may it be enormous or small. Decorating may get a bit challenging at times, but with your creativity, artistic ideas and gorgeous furnishings your dream space may come true. So go ahead and dig in to our appetizing gallery of modern furniture for your condo. Its curves , straight clean lines and bold touches will definitely give your condo a boost. If you are looking for ideas on what furniture to get for your condo, these amazing pieces will get those light bulbs switched on.
1. Fannie Allen Design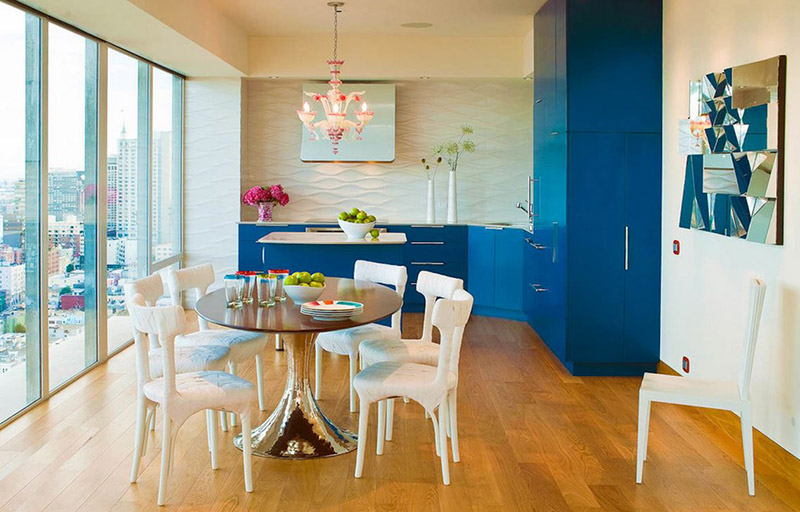 Round table is a great choice for those who are decorating with limited space. It can fit right in, in narrow areas. It usually allows more seating than a rectangular table does. So you can fit more seats and accommodate more guests when the situation calls for it.
2. PFuner Design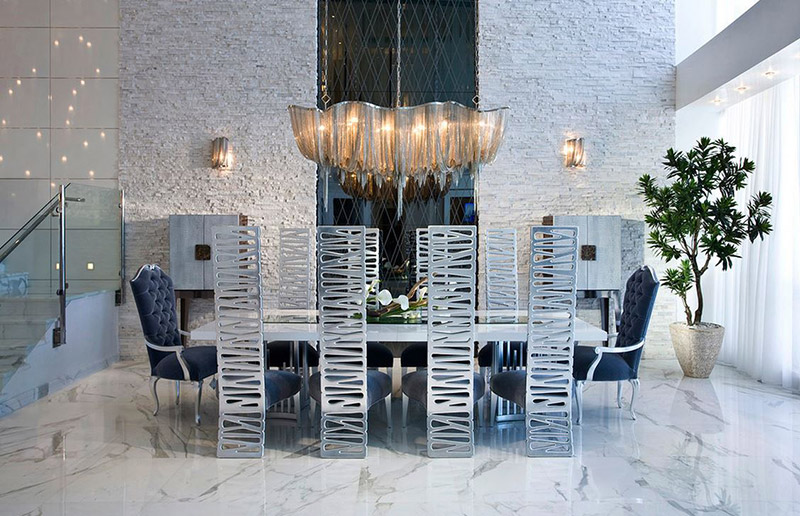 This is a glamorous way of styling your condo dining room if you have the space for it. Mismatched dining chairs in two different kind of style (modern and contemporary/Victorian)in the same color scheme will give you a rebellious yet cohesive look.
3. NYC Dining Room
Go cozy and casual with acrylic furniture! A glass round table easily tucked in a corner and defines a dining area for this small space condo. The wall art helps in creating a retro feel in the space while the blue acrylic chairs give a modern vibe that is fun and airy.
4. Roy Campana Photography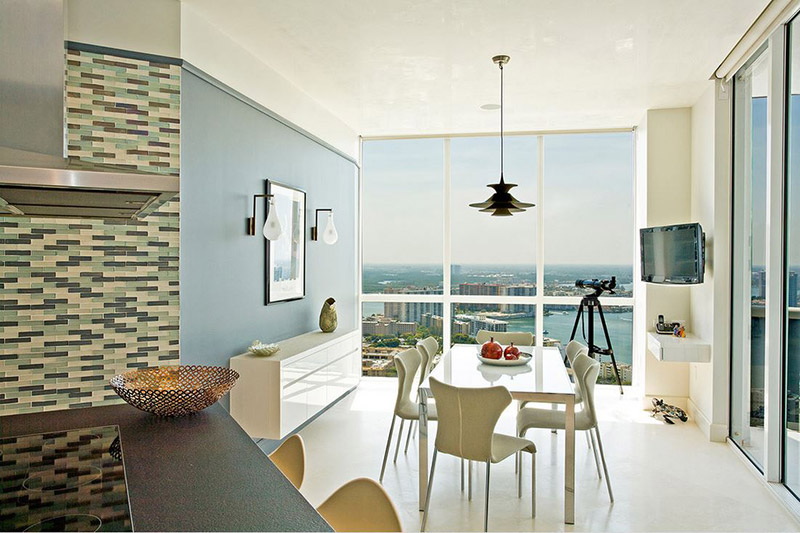 Place the dining table in the center to also function as a kitchen island when needed be. Adding a focal wall in soft, watery blue hue paired with muted greens and sandy browns bring a beach-vibe in this almost all-white, modern space.
5. Creazioni Botte Dining Table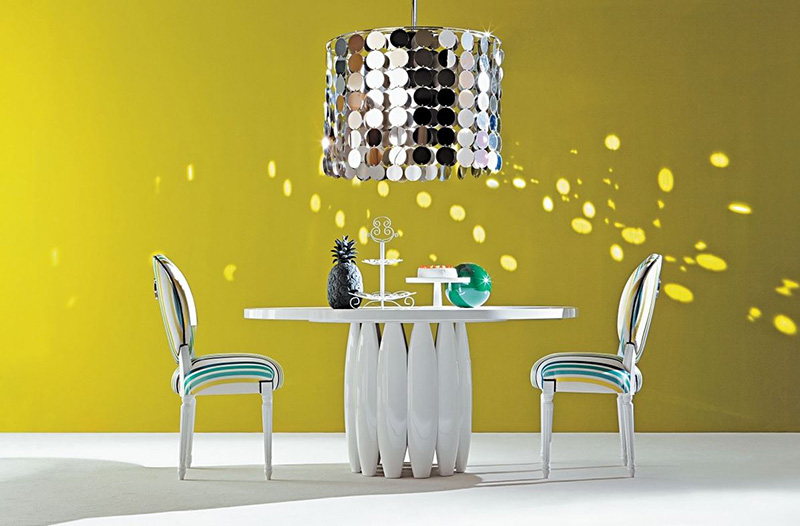 I love the modern-retro vibe in this dining room! This dining table and chairs are so chic and stylish! The stunning, large round dining table in shiny white finish complements perfectly with those fun white dining chairs with teal, yellow and black accents. The fabulous dining chandelier creates a disco feel that is sure to jazz up your condo!
6. Bellini Line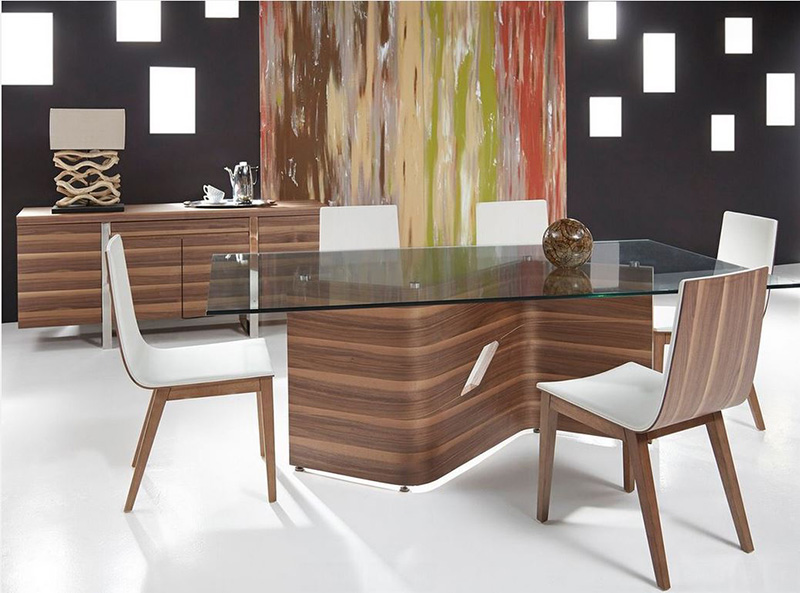 The touch of wood on those modern dining table and chairs create a comforting and soothing ambiance in the space. The unique look of the table is sure to grab everyone's attention with the matching chairs and sideboard, its uniform look makes it more modern and simply stylish.
7. Arros Group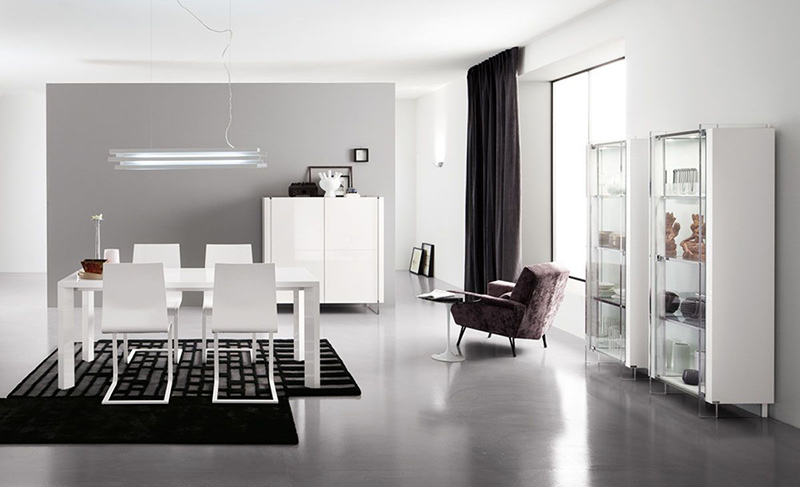 Well-arranged furniture can create a visually bigger room. Extendable tables like this beautiful white dining table are a great solution for small spaces. This dining table has double extension feature that can accommodate a larger group and collapse when not needed.
8. Bellini Line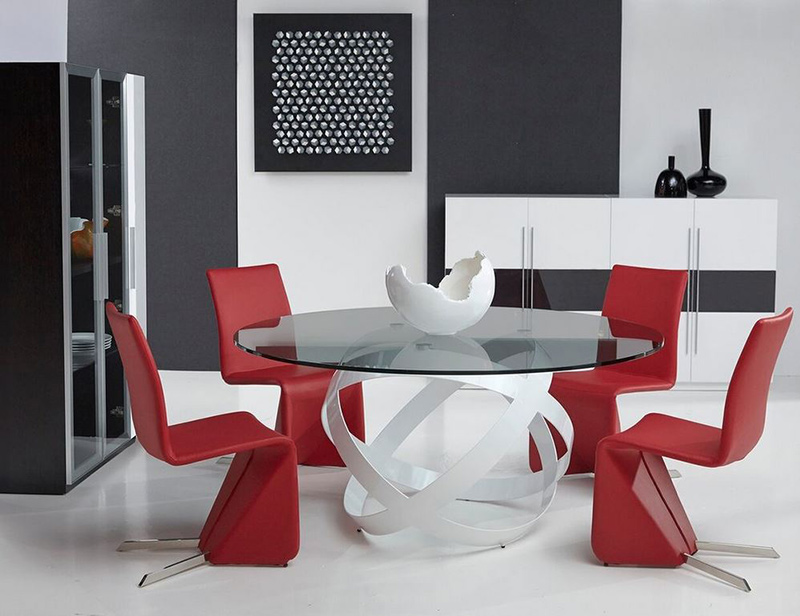 So chic and refreshing! The pop of red on the dining chairs creates a bold and fun accent while the unique look of the base of the table brings interest and personality. Keeping the rest of the furnishings in black and white helps keep the scheme in balance and not crowded.
9. Usona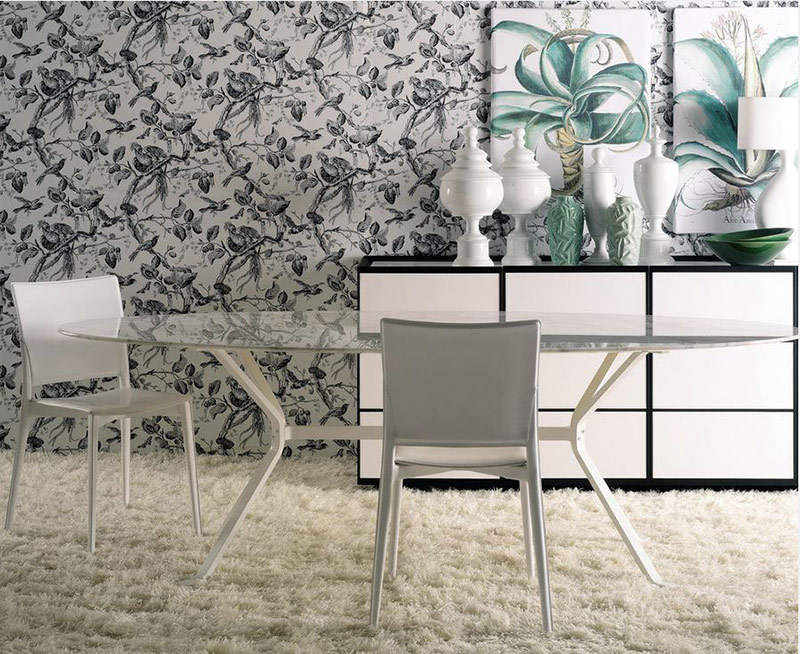 I love the clean lines and the chic vibe coming from the white dining furniture in this space! The traditional floral wallpaper in black and white ties all the colors in the room creating a unified look.
10. Lollo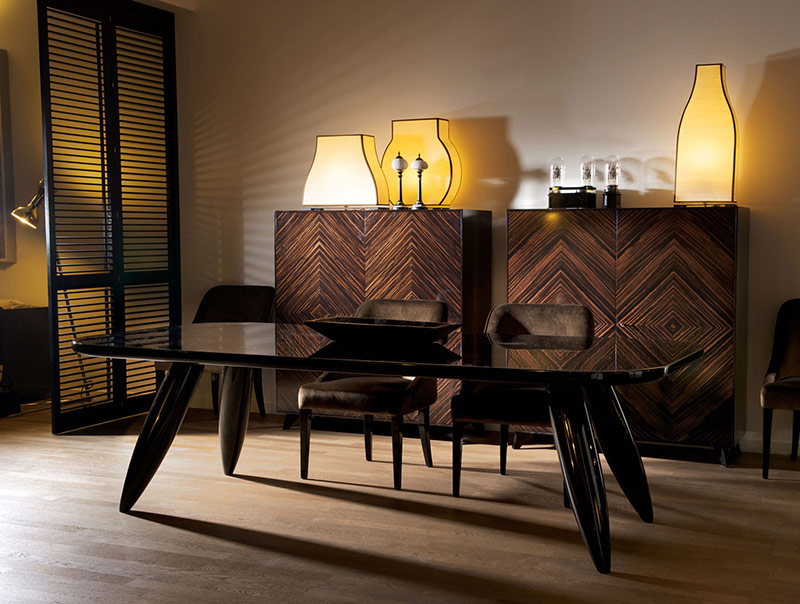 I love the cozy look in this dining room design! The modern table with its glossy lacquered top brings a modish vibe while the brown leather seats exude contemporary elegance.
11. Dupen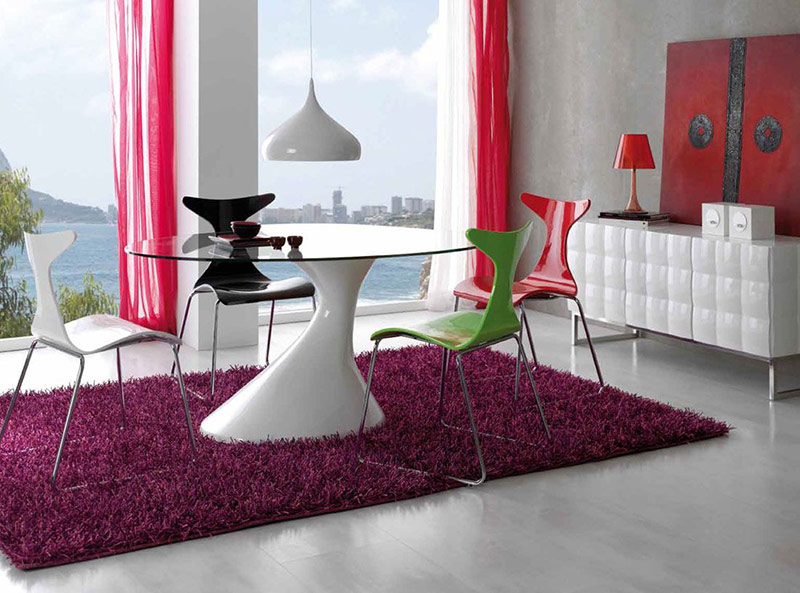 So sleek and chic! I love the smooth curves from the base of the table to the back of the seats. The different colors of the chairs lend fun and bold statement to this space. The modern pendant light and the sideboard all give a cohesive look that makes this room bright, airy and lively.
12. Bellini Line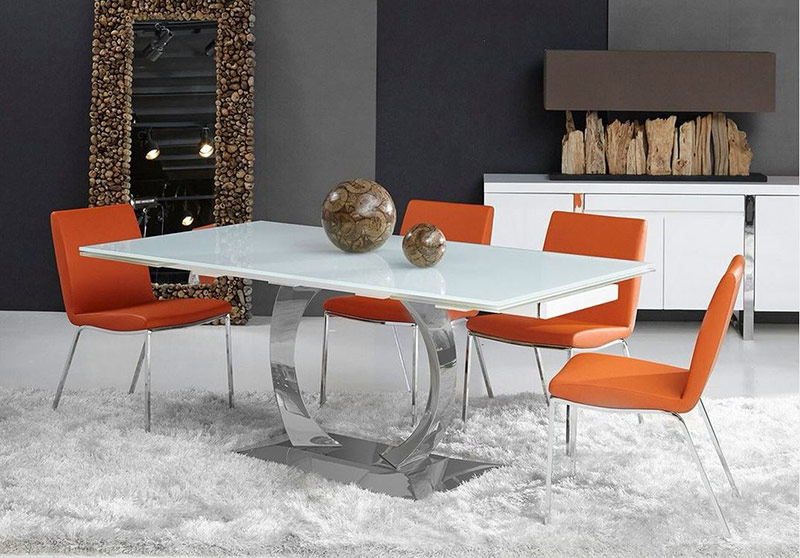 The pop of orange from the chairs, adds fun and modern vibe to the whole space. Placing an oversize mirror against the wall brings depth and drama to the room. It also creates a visual illusion for a bigger space, a great way to make your limited space seem bigger.
13. Park Avenue South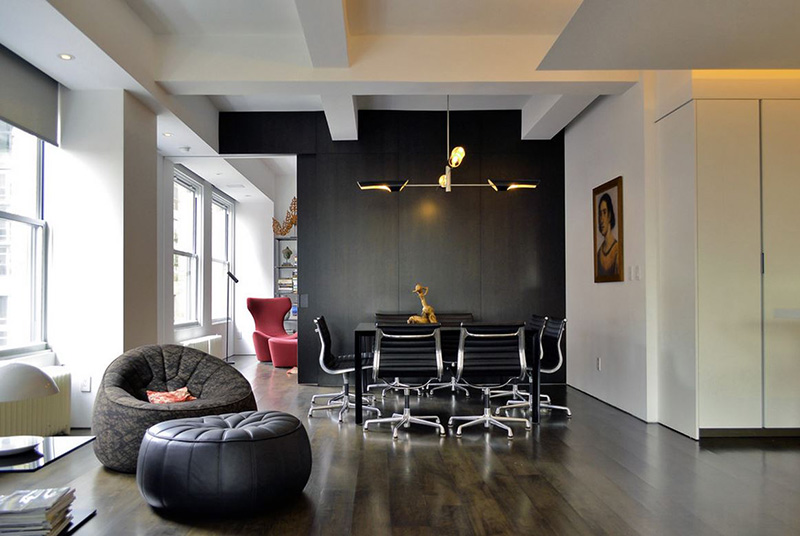 For those with an open layout, define the space into separate zones by using a good furniture placement. Your living room furniture should face away from your dining space like the one above. Also, getting a minimalist look on all furnishings for one space creates harmony bringing spacious illusion for your home. In this design the all black modern dining furniture and chandelier lend drama and a cozy ambiance while the browns on the wall art and the centerpiece on the table add an eclectic feel to it.
14. Elvis Big 02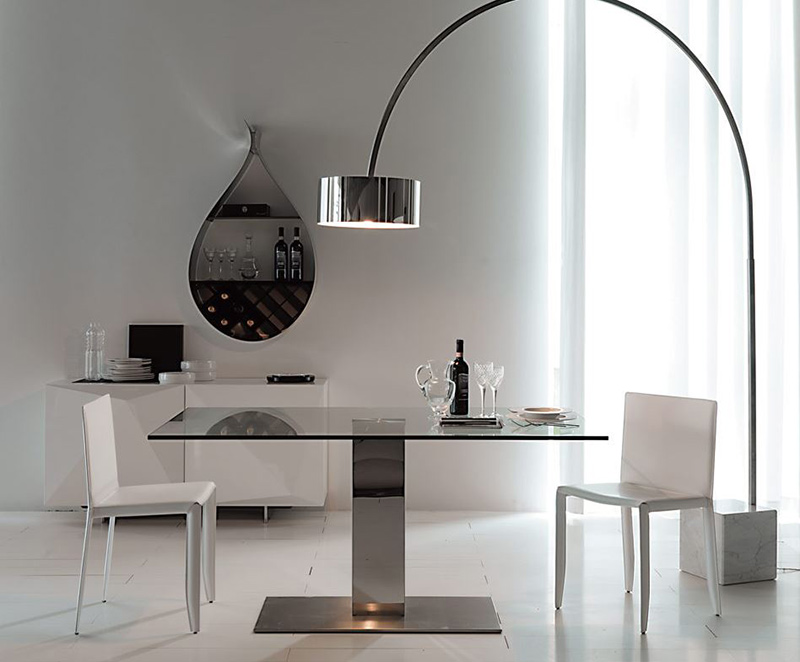 I love the minimalist look in this dining room setup! The clean lines, glossy surfaces, and the white and chrome scheme all bring a modern feel to the entire interior. This dining room furniture will look amazing whether you have a small or huge space. I guess what's missing here is the soft texture of a shag rug or carpet and everything else is perfect.
15. Unit T-3 de Samcon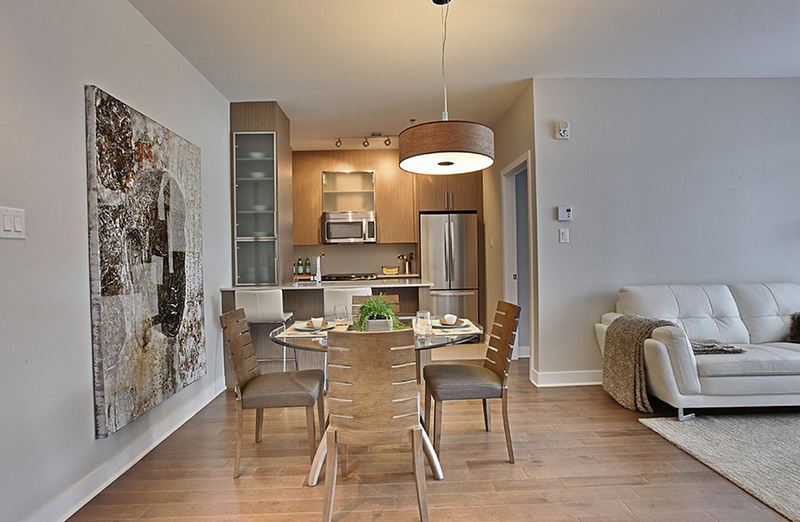 The large scale wall art defines the space for this dining room. It also ties the whole look together. The neutral colors on the dining chairs and chandelier create a cohesive look with the wall art. The pop of green from the centerpiece is a welcome touch that is needed in this almost-all-woodsy tone space.
16. Brera 03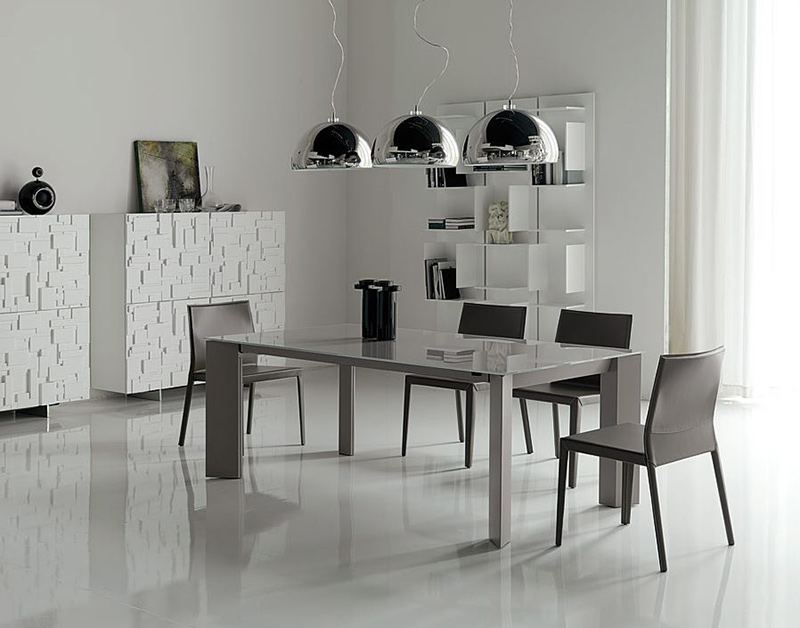 Adding textured sideboards and stylish bookcases in a dining space is a perfect finishing touch in modern dining room. The glossy chrome pendant lights make an interesting focal point while the minimalist dining set is accentuated by it.
17. Unit T-3 de Samcon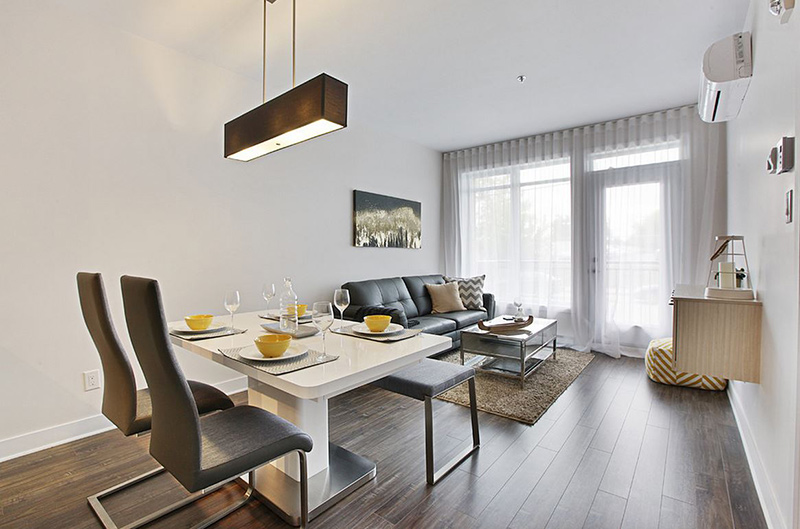 A modern dining table with clean lines and chrome base gives an up-to-date feel while the contemporary chairs and bench in gray upholstered seats and chrome base bring a rather eclectic feel that is fun and chic.
18. Chilton Dining Table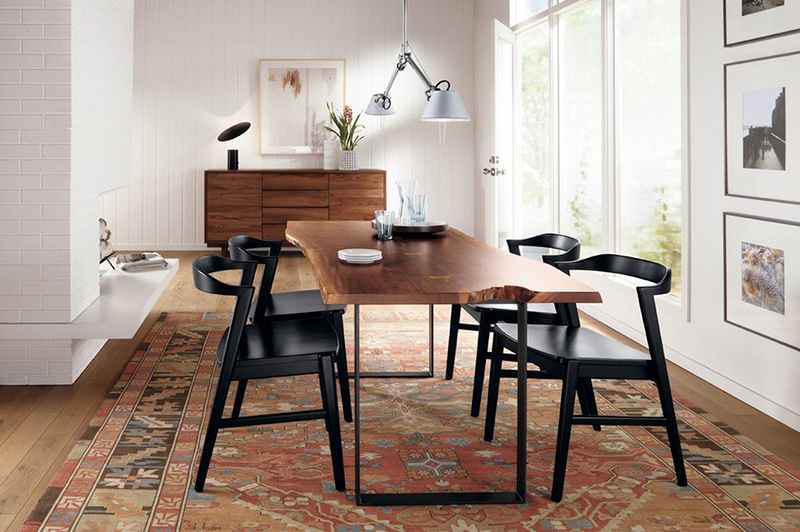 Another modern furniture with different styles giving an eclectic vibe. The area rug pull the dining space together as it adds warmth and charm.
19. Bellini Line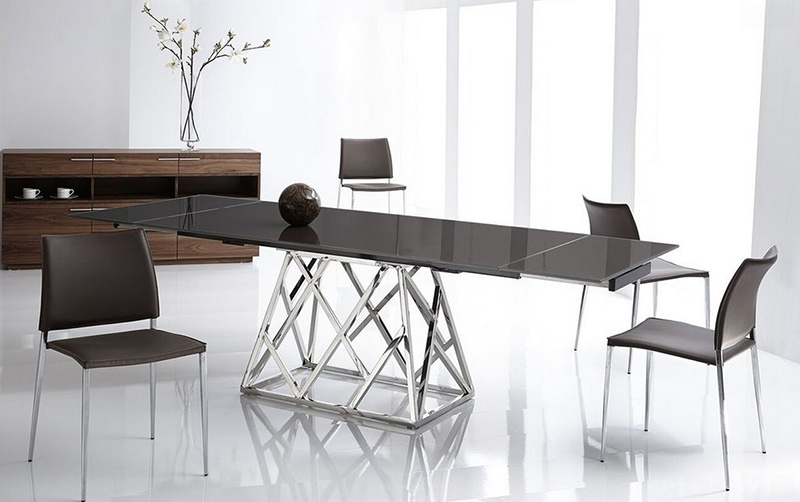 This is an elegant and stylish dining room layout and furniture for a spacious condo. I love the sleekness and the geometric pattern on the base of the table together with the clean lines from the rest of the furniture which create a stunning charm!
20. Miami Townhouse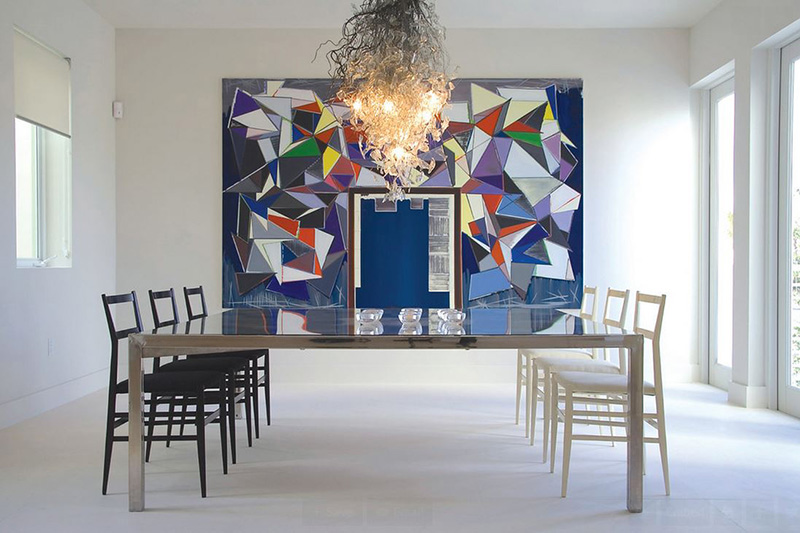 Abstract art-inspired dining space! Two focal points in one space are doable if you have the rest of the furnishings in minimalist style. The gorgeous chandelier with its unique design, brings a whimsy flair while the abstract mural on this dining room creates a g bold impact that is fun and intriguing. Keeping the dining furniture in minimalist design is the best option for this room to go. Balance is achieved and the whole look is not overpowering.
Choosing a modern condo dining room furniture is now easy to do. A lot of stores have those modern designed dining sets available for you, you can even place an order online. As easy as it may seem you still have to be mindful of the fact that there are certain factors you need to consider and not just pure aesthetics. Consider the space you are going to use and the look you want to achieve.