15 Dark Wood Flooring in Modern Bedroom Designs
Modern bedrooms are well known for its clean and streamlined look. Aside from that, most modern bedrooms also use wood for the flooring which is one good choice because it isn't cold and it gives a natural look to your space. We love bedrooms that have wooden flooring but what we may not be aware about is that wooden floors also vary in stain and type too. So, today, we will show you some bedrooms with dark wood flooring. This is just one of the many wooden flooring types that you may use.
Using dark wood flooring will seem to highlight the entire bedroom especially if you will use light colors in your space. It will appear like lifting the entire bedroom up to be given more emphasis. This is the effect of using dark flooring. It will even be more effective if the walls are lighter or brighter. So, if you worry of using dark wood for the floor because it might make your space dull, the images of bedroom interiors below will help you decide. Take a look at the list below.
Hampton House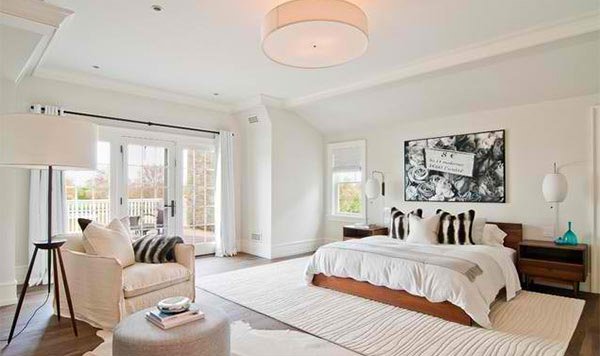 Surya carpets give a soft touch to this bedroom in white with dark wooden flooring.
New Canaan Residence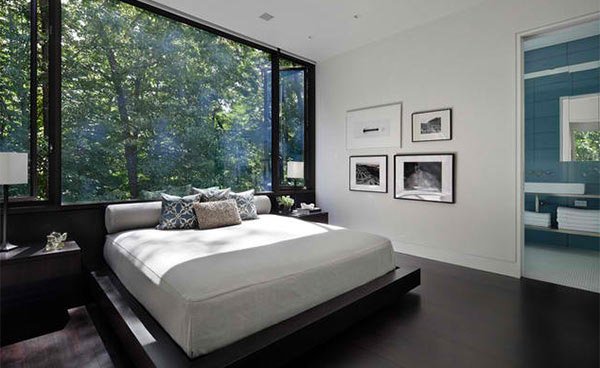 Ebonized Oak floor graces this bedroom that used black for the frames and the bed.
Bathija Residence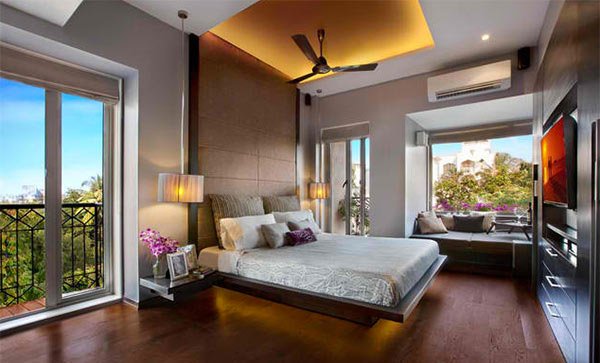 This Mumbai bedroom suite captures the feel of a hotel while maintaining the function of an apartment. It really looks stunning with ceiling that seems to appear like a canopy.
W Residence Master Bedroom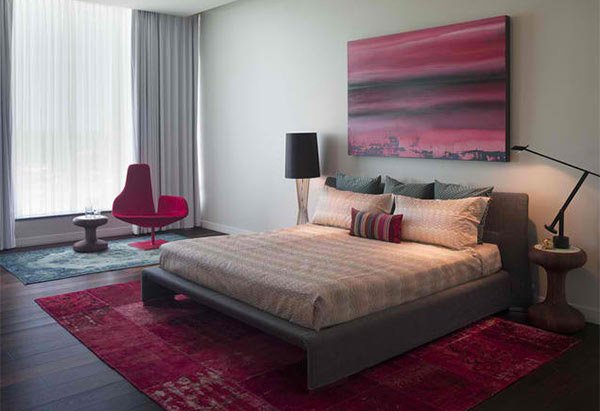 A master bedroom that was kept light, open and airy to maximize its wonderful size adding some pops of cheerful color into it. Note the dark floor that was given more life with the Golran Carpet Reloaded Rugs which was the source of the color palette.
57th Street Residence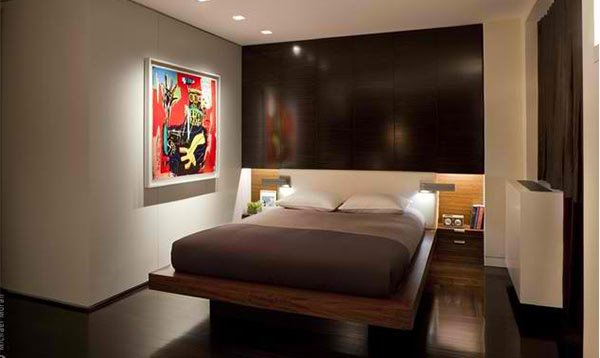 The color of the wood used in this space is catchy and we really agree with that. It was even adapted to the cabinets too!
Flat in Kiev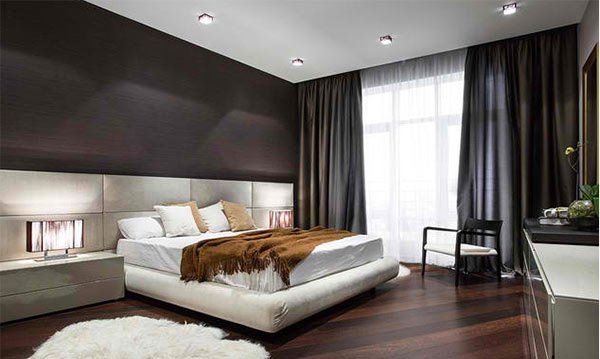 Look at how gray matched with the wooden flooring of this bedroom. Just beautiful!
Wine Country Modern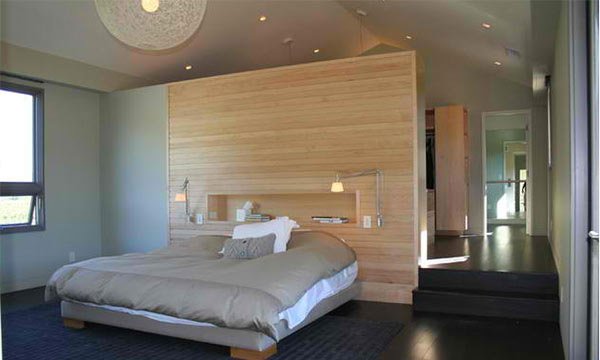 Dark flooring plus light wooden planks on the headboard- what a combo!
Modern Bedroom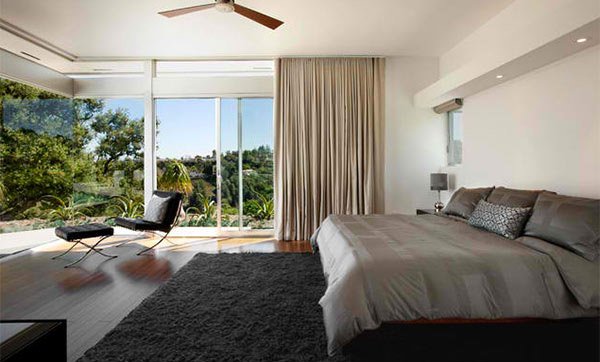 The dark area rug looks nice with the dark brown wooden flooring in this bedroom that has some metallic accents in the bed covers.
Fogscape / Cloudscape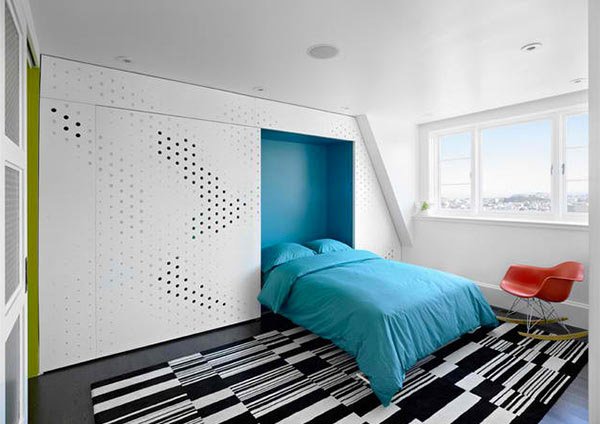 Full wall cabinetry was used to hide the Murphy bed in this modern bedroom which is best to give it clean lines. Black and white area rug in geometric design is just lovely!
Ran Master Bedroom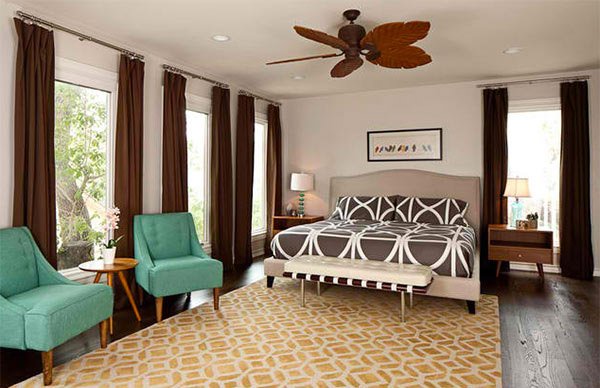 A modern retro bedroom that combines stunning colors and shapes on top of that dark wood flooring.
Master Bedroom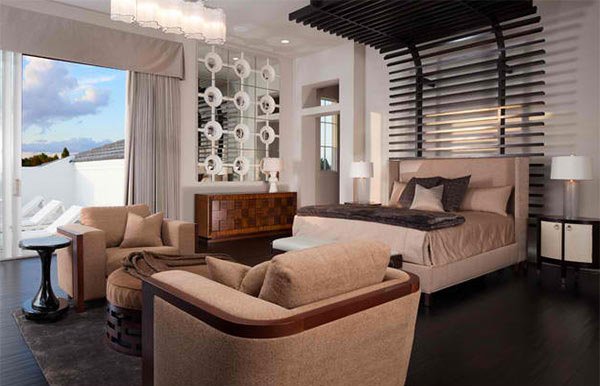 We love the look of this bedroom with its skeletal design for the canopy of the bed as well as its choice of colors which fits well with the dark shade of the flooring.
Bath Club in Miami Beach, FL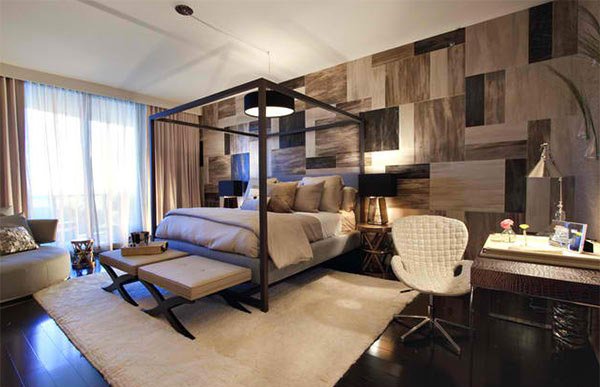 Natural elements such as weathered woods and stone in an array of patterns were used for the wall accent of this bedroom with dark wooden floors. What a creative idea!
Magnolia Modern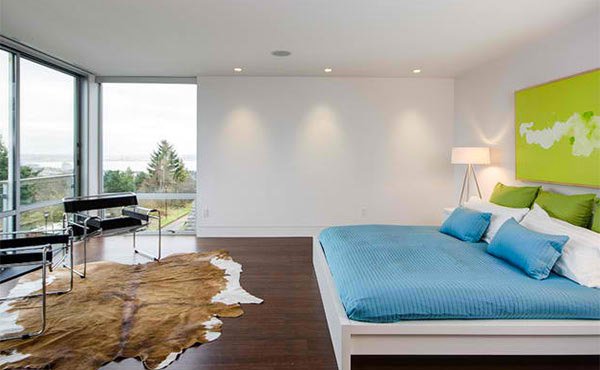 Who said that you can't use dark flooring for a bedroom with bright colors? Well, you can!
CT Pool House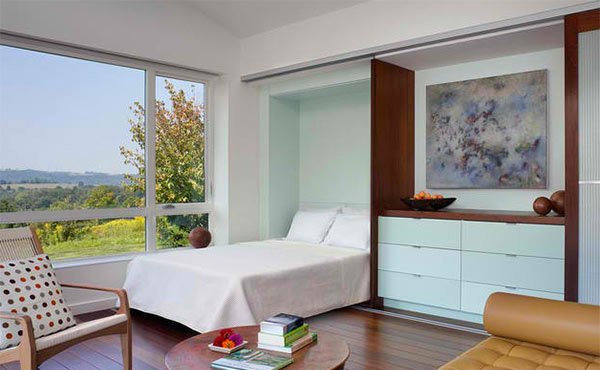 That bed is going in to the wall giving it that impression of a Murphy bed. The light green colors added to the cabinets and walls fit perfectly with the wooden flooring.
West Lake Hills Residence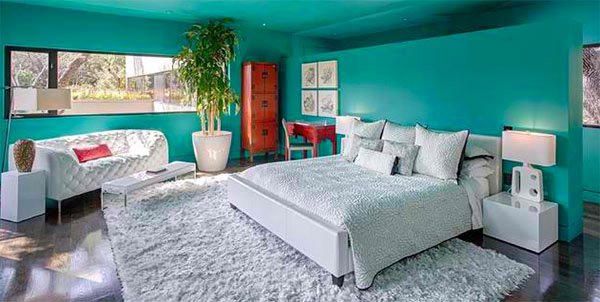 The couch Providence Loveseat is a sure win for this bedroom! But everything in looks really pretty especially with its bright turquoise wall!
What can you say? The modern bedrooms above are really beautiful. And yes, the dark wood floor looks really nice in the bedrooms featured above. Don't worry of using color combinations for your interior because it will work well with dark floor too. You can look into our list of blue and lime green bedrooms. Try to check out some bedrooms in the list that have dark flooring too so you will know that it actually works with different colors combinations for the interior.